Transfer learning with AkidaNet for PlantVillage
This tutorial presents how to perform transfer learning for quantized models targeting an Akida accelerator.
The transfer learning example is derived from the Tensorflow tutorial where the base model is an AkidaNet 0.5 quantized model trained on ImageNet and the target dataset is PlantVillage.
Transfer learning process
Transfer learning consists in customizing a pretrained model or feature extractor to fit another task.
Base model
The base model is an AkidaNet 0.5 that was trained on the ImageNet dataset. Please refer to the dedicated example for more information on the model architecture and performance.
Classification head
Customization of the model happens by adding layers on top of the base model, which in AkidaNet case ends with a global average operation.
The classification head is typically composed of two dense layers as follows:
the first dense layer number of units is configurable and depends on the task but is generally 512 or below,

a BatchNormalization operation and ReLU activation follow the first layer,

a dropout layer is placed between the two dense layers to prevent overfitting,

the second dense layer is the prediction layer and should have its units value set to the number of classes to predict,

a softmax activation ends the model.
Training process
The standard training process for transfer learning for AkidaNet is:
Get a trained float AkidaNet base model

Add a classification head to the model

Optionally freeze the base model

Train the model head for a few epochs

Quantize the whole model

Optionally perform QAT for a few epochs to recover accuracy
While this process will apply to most of the tasks, there might be cases where variants are needed:
for some target datasets, freezing the base model will not produce the best accuracy. In such a case, the base model should stay trainable and the learning rate when tuning the model should be small enough to preserve features learned by the features extractor.

quantization in the 5th step might lead to drop in accuracy. In such a case, an additional step of fine tuning is needed and consists in training for a few additional epochs with a lower learning rate (e.g 10 to 100 times lower than the initial rate) and with the base model unfrozen.
1. Dataset preparation
import

 

tensorflow

 

as

 

tf




import

 

tensorflow_datasets

 

as

 

tfds





# Define task specific variables




IMG_SIZE

 

=

 

224




BATCH_SIZE

 

=

 

32




CLASSES

 

=

 

38





# Load the tensorflow dataset




(

train_ds

,

 

validation_ds

,

 

test_ds

),

 

ds_info

 

=

 

tfds

.

load

(


    

'plant_village'

,


    

split

=

[

'train[:80%]'

,

 

'train[80%:90%]'

,

 

'train[90%:]'

],


    

with_info

=

True

,


    

as_supervised

=

True

)





# Visualize some data




_

 

=

 

tfds

.

show_examples

(

test_ds

,

 

ds_info

)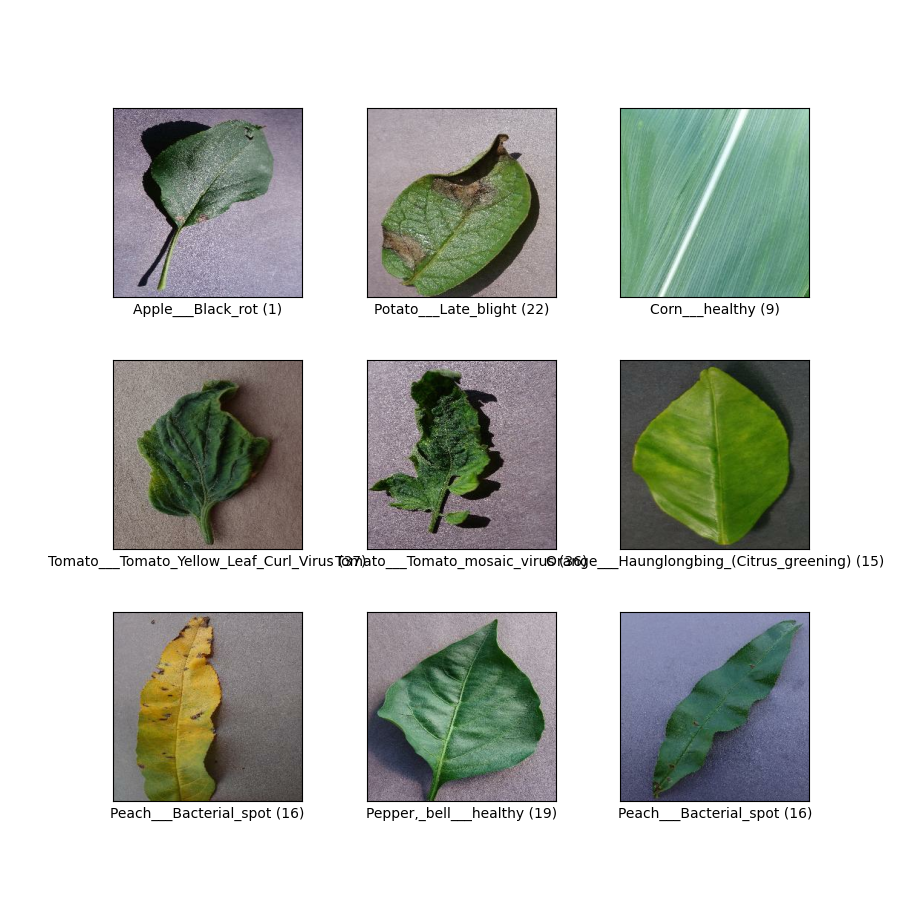 Downloading and preparing dataset 827.82 MiB (download: 827.82 MiB, generated: 815.37 MiB, total: 1.60 GiB) to /root/tensorflow_datasets/plant_village/1.0.2...

Dl Completed...: 0 url [00:00, ? url/s]

Dl Size...: 0 MiB [00:00, ? MiB/s]


Extraction completed...: 0 file [00:00, ? file/s]
Dl Completed...:   0%|          | 0/1 [00:00<?, ? url/s]

Dl Size...: 0 MiB [00:00, ? MiB/s]


Extraction completed...: 0 file [00:00, ? file/s]
Dl Completed...:   0%|          | 0/1 [00:01<?, ? url/s]

Dl Size...:   0%|          | 0/827 [00:01<?, ? MiB/s]


Extraction completed...: 0 file [00:01, ? file/s]

Dl Size...:   0%|          | 1/827 [00:01<19:00,  1.38s/ MiB]
Dl Completed...:   0%|          | 0/1 [00:01<?, ? url/s]

Dl Size...:   0%|          | 1/827 [00:01<19:00,  1.38s/ MiB]


Extraction completed...: 0 file [00:01, ? file/s]

Dl Size...:   0%|          | 2/827 [00:01<09:13,  1.49 MiB/s]
Dl Completed...:   0%|          | 0/1 [00:01<?, ? url/s]

Dl Size...:   0%|          | 2/827 [00:01<09:13,  1.49 MiB/s]


Extraction completed...: 0 file [00:01, ? file/s]

Dl Size...:   0%|          | 3/827 [00:01<06:02,  2.28 MiB/s]
Dl Completed...:   0%|          | 0/1 [00:01<?, ? url/s]

Dl Size...:   0%|          | 3/827 [00:01<06:02,  2.28 MiB/s]


Extraction completed...: 0 file [00:01, ? file/s]

Dl Size...:   0%|          | 4/827 [00:01<04:30,  3.04 MiB/s]
Dl Completed...:   0%|          | 0/1 [00:01<?, ? url/s]

Dl Size...:   0%|          | 4/827 [00:01<04:30,  3.04 MiB/s]


Extraction completed...: 0 file [00:01, ? file/s]

Dl Size...:   1%|          | 5/827 [00:02<03:39,  3.75 MiB/s]
Dl Completed...:   0%|          | 0/1 [00:02<?, ? url/s]

Dl Size...:   1%|          | 5/827 [00:02<03:39,  3.75 MiB/s]


Extraction completed...: 0 file [00:02, ? file/s]

Dl Size...:   1%|          | 6/827 [00:02<03:13,  4.24 MiB/s]
Dl Completed...:   0%|          | 0/1 [00:02<?, ? url/s]

Dl Size...:   1%|          | 6/827 [00:02<03:13,  4.24 MiB/s]


Extraction completed...: 0 file [00:02, ? file/s]

Dl Size...:   1%|          | 7/827 [00:02<03:09,  4.32 MiB/s]
Dl Completed...:   0%|          | 0/1 [00:02<?, ? url/s]

Dl Size...:   1%|          | 7/827 [00:02<03:09,  4.32 MiB/s]


Extraction completed...: 0 file [00:02, ? file/s]

Dl Size...:   1%|          | 8/827 [00:02<04:04,  3.35 MiB/s]
Dl Completed...:   0%|          | 0/1 [00:02<?, ? url/s]

Dl Size...:   1%|          | 8/827 [00:02<04:04,  3.35 MiB/s]


Extraction completed...: 0 file [00:02, ? file/s]

Dl Size...:   1%|          | 9/827 [00:03<04:55,  2.77 MiB/s]
Dl Completed...:   0%|          | 0/1 [00:03<?, ? url/s]

Dl Size...:   1%|          | 9/827 [00:03<04:55,  2.77 MiB/s]


Extraction completed...: 0 file [00:03, ? file/s]

Dl Size...:   1%|          | 10/827 [00:03<05:11,  2.62 MiB/s]
Dl Completed...:   0%|          | 0/1 [00:03<?, ? url/s]

Dl Size...:   1%|          | 10/827 [00:03<05:11,  2.62 MiB/s]


Extraction completed...: 0 file [00:03, ? file/s]

Dl Size...:   1%|▏         | 11/827 [00:04<05:11,  2.62 MiB/s]
Dl Completed...:   0%|          | 0/1 [00:04<?, ? url/s]

Dl Size...:   1%|▏         | 11/827 [00:04<05:11,  2.62 MiB/s]


Extraction completed...: 0 file [00:04, ? file/s]

Dl Size...:   1%|▏         | 12/827 [00:04<05:01,  2.70 MiB/s]
Dl Completed...:   0%|          | 0/1 [00:04<?, ? url/s]

Dl Size...:   1%|▏         | 12/827 [00:04<05:01,  2.70 MiB/s]


Extraction completed...: 0 file [00:04, ? file/s]

Dl Size...:   2%|▏         | 13/827 [00:04<04:47,  2.83 MiB/s]
Dl Completed...:   0%|          | 0/1 [00:04<?, ? url/s]

Dl Size...:   2%|▏         | 13/827 [00:04<04:47,  2.83 MiB/s]


Extraction completed...: 0 file [00:04, ? file/s]

Dl Size...:   2%|▏         | 14/827 [00:05<04:31,  2.99 MiB/s]
Dl Completed...:   0%|          | 0/1 [00:05<?, ? url/s]

Dl Size...:   2%|▏         | 14/827 [00:05<04:31,  2.99 MiB/s]


Extraction completed...: 0 file [00:05, ? file/s]

Dl Size...:   2%|▏         | 15/827 [00:05<04:18,  3.14 MiB/s]
Dl Completed...:   0%|          | 0/1 [00:05<?, ? url/s]

Dl Size...:   2%|▏         | 15/827 [00:05<04:18,  3.14 MiB/s]


Extraction completed...: 0 file [00:05, ? file/s]

Dl Size...:   2%|▏         | 16/827 [00:05<04:05,  3.31 MiB/s]
Dl Completed...:   0%|          | 0/1 [00:05<?, ? url/s]

Dl Size...:   2%|▏         | 16/827 [00:05<04:05,  3.31 MiB/s]


Extraction completed...: 0 file [00:05, ? file/s]

Dl Size...:   2%|▏         | 17/827 [00:05<03:52,  3.49 MiB/s]
Dl Completed...:   0%|          | 0/1 [00:05<?, ? url/s]

Dl Size...:   2%|▏         | 17/827 [00:05<03:52,  3.49 MiB/s]


Extraction completed...: 0 file [00:05, ? file/s]

Dl Size...:   2%|▏         | 18/827 [00:06<03:39,  3.68 MiB/s]
Dl Completed...:   0%|          | 0/1 [00:06<?, ? url/s]

Dl Size...:   2%|▏         | 18/827 [00:06<03:39,  3.68 MiB/s]


Extraction completed...: 0 file [00:06, ? file/s]

Dl Size...:   2%|▏         | 19/827 [00:06<03:29,  3.85 MiB/s]
Dl Completed...:   0%|          | 0/1 [00:06<?, ? url/s]

Dl Size...:   2%|▏         | 19/827 [00:06<03:29,  3.85 MiB/s]


Extraction completed...: 0 file [00:06, ? file/s]

Dl Size...:   2%|▏         | 20/827 [00:06<03:20,  4.03 MiB/s]
Dl Completed...:   0%|          | 0/1 [00:06<?, ? url/s]

Dl Size...:   2%|▏         | 20/827 [00:06<03:20,  4.03 MiB/s]


Extraction completed...: 0 file [00:06, ? file/s]

Dl Size...:   3%|▎         | 21/827 [00:06<03:11,  4.20 MiB/s]
Dl Completed...:   0%|          | 0/1 [00:06<?, ? url/s]

Dl Size...:   3%|▎         | 21/827 [00:06<03:11,  4.20 MiB/s]


Extraction completed...: 0 file [00:06, ? file/s]

Dl Size...:   3%|▎         | 22/827 [00:07<03:03,  4.38 MiB/s]
Dl Completed...:   0%|          | 0/1 [00:07<?, ? url/s]

Dl Size...:   3%|▎         | 22/827 [00:07<03:03,  4.38 MiB/s]


Extraction completed...: 0 file [00:07, ? file/s]

Dl Size...:   3%|▎         | 23/827 [00:07<02:57,  4.52 MiB/s]
Dl Completed...:   0%|          | 0/1 [00:07<?, ? url/s]

Dl Size...:   3%|▎         | 23/827 [00:07<02:57,  4.52 MiB/s]


Extraction completed...: 0 file [00:07, ? file/s]

Dl Size...:   3%|▎         | 24/827 [00:07<03:00,  4.46 MiB/s]
Dl Completed...:   0%|          | 0/1 [00:07<?, ? url/s]

Dl Size...:   3%|▎         | 24/827 [00:07<03:00,  4.46 MiB/s]


Extraction completed...: 0 file [00:07, ? file/s]

Dl Size...:   3%|▎         | 25/827 [00:07<03:24,  3.92 MiB/s]
Dl Completed...:   0%|          | 0/1 [00:07<?, ? url/s]

Dl Size...:   3%|▎         | 25/827 [00:07<03:24,  3.92 MiB/s]


Extraction completed...: 0 file [00:07, ? file/s]

Dl Size...:   3%|▎         | 26/827 [00:08<03:47,  3.52 MiB/s]
Dl Completed...:   0%|          | 0/1 [00:08<?, ? url/s]

Dl Size...:   3%|▎         | 26/827 [00:08<03:47,  3.52 MiB/s]


Extraction completed...: 0 file [00:08, ? file/s]

Dl Size...:   3%|▎         | 27/827 [00:08<03:56,  3.38 MiB/s]
Dl Completed...:   0%|          | 0/1 [00:08<?, ? url/s]

Dl Size...:   3%|▎         | 27/827 [00:08<03:56,  3.38 MiB/s]


Extraction completed...: 0 file [00:08, ? file/s]

Dl Size...:   3%|▎         | 28/827 [00:08<03:58,  3.35 MiB/s]
Dl Completed...:   0%|          | 0/1 [00:08<?, ? url/s]

Dl Size...:   3%|▎         | 28/827 [00:08<03:58,  3.35 MiB/s]


Extraction completed...: 0 file [00:08, ? file/s]

Dl Size...:   4%|▎         | 29/827 [00:09<03:54,  3.40 MiB/s]
Dl Completed...:   0%|          | 0/1 [00:09<?, ? url/s]

Dl Size...:   4%|▎         | 29/827 [00:09<03:54,  3.40 MiB/s]


Extraction completed...: 0 file [00:09, ? file/s]

Dl Size...:   4%|▎         | 30/827 [00:09<03:48,  3.49 MiB/s]
Dl Completed...:   0%|          | 0/1 [00:09<?, ? url/s]

Dl Size...:   4%|▎         | 30/827 [00:09<03:48,  3.49 MiB/s]


Extraction completed...: 0 file [00:09, ? file/s]

Dl Size...:   4%|▎         | 31/827 [00:09<04:07,  3.21 MiB/s]
Dl Completed...:   0%|          | 0/1 [00:09<?, ? url/s]

Dl Size...:   4%|▎         | 31/827 [00:09<04:07,  3.21 MiB/s]


Extraction completed...: 0 file [00:09, ? file/s]

Dl Size...:   4%|▍         | 32/827 [00:10<04:43,  2.81 MiB/s]
Dl Completed...:   0%|          | 0/1 [00:10<?, ? url/s]

Dl Size...:   4%|▍         | 32/827 [00:10<04:43,  2.81 MiB/s]


Extraction completed...: 0 file [00:10, ? file/s]

Dl Size...:   4%|▍         | 33/827 [00:10<04:52,  2.71 MiB/s]
Dl Completed...:   0%|          | 0/1 [00:10<?, ? url/s]

Dl Size...:   4%|▍         | 33/827 [00:10<04:52,  2.71 MiB/s]


Extraction completed...: 0 file [00:10, ? file/s]

Dl Size...:   4%|▍         | 34/827 [00:10<04:50,  2.73 MiB/s]
Dl Completed...:   0%|          | 0/1 [00:10<?, ? url/s]

Dl Size...:   4%|▍         | 34/827 [00:10<04:50,  2.73 MiB/s]


Extraction completed...: 0 file [00:10, ? file/s]

Dl Size...:   4%|▍         | 35/827 [00:11<04:40,  2.82 MiB/s]
Dl Completed...:   0%|          | 0/1 [00:11<?, ? url/s]

Dl Size...:   4%|▍         | 35/827 [00:11<04:40,  2.82 MiB/s]


Extraction completed...: 0 file [00:11, ? file/s]

Dl Size...:   4%|▍         | 36/827 [00:11<04:27,  2.96 MiB/s]
Dl Completed...:   0%|          | 0/1 [00:11<?, ? url/s]

Dl Size...:   4%|▍         | 36/827 [00:11<04:27,  2.96 MiB/s]


Extraction completed...: 0 file [00:11, ? file/s]

Dl Size...:   4%|▍         | 37/827 [00:11<04:15,  3.09 MiB/s]
Dl Completed...:   0%|          | 0/1 [00:11<?, ? url/s]

Dl Size...:   4%|▍         | 37/827 [00:11<04:15,  3.09 MiB/s]


Extraction completed...: 0 file [00:11, ? file/s]

Dl Size...:   5%|▍         | 38/827 [00:12<04:02,  3.25 MiB/s]
Dl Completed...:   0%|          | 0/1 [00:12<?, ? url/s]

Dl Size...:   5%|▍         | 38/827 [00:12<04:02,  3.25 MiB/s]


Extraction completed...: 0 file [00:12, ? file/s]

Dl Size...:   5%|▍         | 39/827 [00:12<03:49,  3.43 MiB/s]
Dl Completed...:   0%|          | 0/1 [00:12<?, ? url/s]

Dl Size...:   5%|▍         | 39/827 [00:12<03:49,  3.43 MiB/s]


Extraction completed...: 0 file [00:12, ? file/s]

Dl Size...:   5%|▍         | 40/827 [00:12<03:38,  3.60 MiB/s]
Dl Completed...:   0%|          | 0/1 [00:12<?, ? url/s]

Dl Size...:   5%|▍         | 40/827 [00:12<03:38,  3.60 MiB/s]


Extraction completed...: 0 file [00:12, ? file/s]

Dl Size...:   5%|▍         | 41/827 [00:12<03:28,  3.76 MiB/s]
Dl Completed...:   0%|          | 0/1 [00:12<?, ? url/s]

Dl Size...:   5%|▍         | 41/827 [00:12<03:28,  3.76 MiB/s]


Extraction completed...: 0 file [00:12, ? file/s]

Dl Size...:   5%|▌         | 42/827 [00:13<03:18,  3.95 MiB/s]
Dl Completed...:   0%|          | 0/1 [00:13<?, ? url/s]

Dl Size...:   5%|▌         | 42/827 [00:13<03:18,  3.95 MiB/s]


Extraction completed...: 0 file [00:13, ? file/s]

Dl Size...:   5%|▌         | 43/827 [00:13<03:10,  4.11 MiB/s]
Dl Completed...:   0%|          | 0/1 [00:13<?, ? url/s]

Dl Size...:   5%|▌         | 43/827 [00:13<03:10,  4.11 MiB/s]


Extraction completed...: 0 file [00:13, ? file/s]

Dl Size...:   5%|▌         | 44/827 [00:13<03:02,  4.29 MiB/s]
Dl Completed...:   0%|          | 0/1 [00:13<?, ? url/s]

Dl Size...:   5%|▌         | 44/827 [00:13<03:02,  4.29 MiB/s]


Extraction completed...: 0 file [00:13, ? file/s]

Dl Size...:   5%|▌         | 45/827 [00:13<02:56,  4.44 MiB/s]
Dl Completed...:   0%|          | 0/1 [00:13<?, ? url/s]

Dl Size...:   5%|▌         | 45/827 [00:13<02:56,  4.44 MiB/s]


Extraction completed...: 0 file [00:13, ? file/s]

Dl Size...:   6%|▌         | 46/827 [00:13<02:49,  4.61 MiB/s]
Dl Completed...:   0%|          | 0/1 [00:13<?, ? url/s]

Dl Size...:   6%|▌         | 46/827 [00:13<02:49,  4.61 MiB/s]


Extraction completed...: 0 file [00:13, ? file/s]

Dl Size...:   6%|▌         | 47/827 [00:14<02:43,  4.77 MiB/s]
Dl Completed...:   0%|          | 0/1 [00:14<?, ? url/s]

Dl Size...:   6%|▌         | 47/827 [00:14<02:43,  4.77 MiB/s]


Extraction completed...: 0 file [00:14, ? file/s]

Dl Size...:   6%|▌         | 48/827 [00:14<02:38,  4.93 MiB/s]
Dl Completed...:   0%|          | 0/1 [00:14<?, ? url/s]

Dl Size...:   6%|▌         | 48/827 [00:14<02:38,  4.93 MiB/s]


Extraction completed...: 0 file [00:14, ? file/s]

Dl Size...:   6%|▌         | 49/827 [00:14<02:33,  5.06 MiB/s]
Dl Completed...:   0%|          | 0/1 [00:14<?, ? url/s]

Dl Size...:   6%|▌         | 49/827 [00:14<02:33,  5.06 MiB/s]


Extraction completed...: 0 file [00:14, ? file/s]

Dl Size...:   6%|▌         | 50/827 [00:14<02:28,  5.24 MiB/s]
Dl Completed...:   0%|          | 0/1 [00:14<?, ? url/s]

Dl Size...:   6%|▌         | 50/827 [00:14<02:28,  5.24 MiB/s]


Extraction completed...: 0 file [00:14, ? file/s]

Dl Size...:   6%|▌         | 51/827 [00:14<02:24,  5.38 MiB/s]
Dl Completed...:   0%|          | 0/1 [00:14<?, ? url/s]

Dl Size...:   6%|▌         | 51/827 [00:14<02:24,  5.38 MiB/s]


Extraction completed...: 0 file [00:14, ? file/s]

Dl Size...:   6%|▋         | 52/827 [00:14<02:20,  5.53 MiB/s]
Dl Completed...:   0%|          | 0/1 [00:14<?, ? url/s]

Dl Size...:   6%|▋         | 52/827 [00:14<02:20,  5.53 MiB/s]


Extraction completed...: 0 file [00:14, ? file/s]

Dl Size...:   6%|▋         | 53/827 [00:15<02:17,  5.64 MiB/s]
Dl Completed...:   0%|          | 0/1 [00:15<?, ? url/s]

Dl Size...:   6%|▋         | 53/827 [00:15<02:17,  5.64 MiB/s]


Extraction completed...: 0 file [00:15, ? file/s]

Dl Size...:   7%|▋         | 54/827 [00:15<02:14,  5.74 MiB/s]
Dl Completed...:   0%|          | 0/1 [00:15<?, ? url/s]

Dl Size...:   7%|▋         | 54/827 [00:15<02:14,  5.74 MiB/s]


Extraction completed...: 0 file [00:15, ? file/s]

Dl Size...:   7%|▋         | 55/827 [00:15<02:11,  5.87 MiB/s]
Dl Completed...:   0%|          | 0/1 [00:15<?, ? url/s]

Dl Size...:   7%|▋         | 55/827 [00:15<02:11,  5.87 MiB/s]


Extraction completed...: 0 file [00:15, ? file/s]

Dl Size...:   7%|▋         | 56/827 [00:15<02:08,  5.98 MiB/s]
Dl Completed...:   0%|          | 0/1 [00:15<?, ? url/s]

Dl Size...:   7%|▋         | 56/827 [00:15<02:08,  5.98 MiB/s]


Extraction completed...: 0 file [00:15, ? file/s]

Dl Size...:   7%|▋         | 57/827 [00:15<02:05,  6.14 MiB/s]
Dl Completed...:   0%|          | 0/1 [00:15<?, ? url/s]

Dl Size...:   7%|▋         | 57/827 [00:15<02:05,  6.14 MiB/s]


Extraction completed...: 0 file [00:15, ? file/s]

Dl Size...:   7%|▋         | 58/827 [00:15<02:03,  6.21 MiB/s]
Dl Completed...:   0%|          | 0/1 [00:15<?, ? url/s]

Dl Size...:   7%|▋         | 58/827 [00:15<02:03,  6.21 MiB/s]


Extraction completed...: 0 file [00:15, ? file/s]

Dl Size...:   7%|▋         | 59/827 [00:16<02:00,  6.36 MiB/s]
Dl Completed...:   0%|          | 0/1 [00:16<?, ? url/s]

Dl Size...:   7%|▋         | 59/827 [00:16<02:00,  6.36 MiB/s]


Extraction completed...: 0 file [00:16, ? file/s]

Dl Size...:   7%|▋         | 60/827 [00:16<01:57,  6.50 MiB/s]
Dl Completed...:   0%|          | 0/1 [00:16<?, ? url/s]

Dl Size...:   7%|▋         | 60/827 [00:16<01:57,  6.50 MiB/s]


Extraction completed...: 0 file [00:16, ? file/s]

Dl Size...:   7%|▋         | 61/827 [00:16<01:55,  6.64 MiB/s]
Dl Completed...:   0%|          | 0/1 [00:16<?, ? url/s]

Dl Size...:   7%|▋         | 61/827 [00:16<01:55,  6.64 MiB/s]


Extraction completed...: 0 file [00:16, ? file/s]

Dl Size...:   7%|▋         | 62/827 [00:16<01:54,  6.68 MiB/s]
Dl Completed...:   0%|          | 0/1 [00:16<?, ? url/s]

Dl Size...:   7%|▋         | 62/827 [00:16<01:54,  6.68 MiB/s]


Extraction completed...: 0 file [00:16, ? file/s]

Dl Size...:   8%|▊         | 63/827 [00:16<01:51,  6.84 MiB/s]
Dl Completed...:   0%|          | 0/1 [00:16<?, ? url/s]

Dl Size...:   8%|▊         | 63/827 [00:16<01:51,  6.84 MiB/s]


Extraction completed...: 0 file [00:16, ? file/s]

Dl Size...:   8%|▊         | 64/827 [00:16<01:50,  6.93 MiB/s]
Dl Completed...:   0%|          | 0/1 [00:16<?, ? url/s]

Dl Size...:   8%|▊         | 64/827 [00:16<01:50,  6.93 MiB/s]


Extraction completed...: 0 file [00:16, ? file/s]

Dl Size...:   8%|▊         | 65/827 [00:16<01:47,  7.08 MiB/s]
Dl Completed...:   0%|          | 0/1 [00:16<?, ? url/s]

Dl Size...:   8%|▊         | 65/827 [00:16<01:47,  7.08 MiB/s]


Extraction completed...: 0 file [00:16, ? file/s]

Dl Size...:   8%|▊         | 66/827 [00:17<01:45,  7.20 MiB/s]
Dl Completed...:   0%|          | 0/1 [00:17<?, ? url/s]

Dl Size...:   8%|▊         | 66/827 [00:17<01:45,  7.20 MiB/s]


Extraction completed...: 0 file [00:17, ? file/s]

Dl Size...:   8%|▊         | 67/827 [00:17<01:44,  7.26 MiB/s]
Dl Completed...:   0%|          | 0/1 [00:17<?, ? url/s]

Dl Size...:   8%|▊         | 67/827 [00:17<01:44,  7.26 MiB/s]


Extraction completed...: 0 file [00:17, ? file/s]

Dl Size...:   8%|▊         | 68/827 [00:17<01:42,  7.38 MiB/s]
Dl Completed...:   0%|          | 0/1 [00:17<?, ? url/s]

Dl Size...:   8%|▊         | 68/827 [00:17<01:42,  7.38 MiB/s]


Extraction completed...: 0 file [00:17, ? file/s]

Dl Size...:   8%|▊         | 69/827 [00:17<01:41,  7.48 MiB/s]
Dl Completed...:   0%|          | 0/1 [00:17<?, ? url/s]

Dl Size...:   8%|▊         | 69/827 [00:17<01:41,  7.48 MiB/s]


Extraction completed...: 0 file [00:17, ? file/s]

Dl Size...:   8%|▊         | 70/827 [00:17<01:39,  7.60 MiB/s]
Dl Completed...:   0%|          | 0/1 [00:17<?, ? url/s]

Dl Size...:   8%|▊         | 70/827 [00:17<01:39,  7.60 MiB/s]


Extraction completed...: 0 file [00:17, ? file/s]

Dl Size...:   9%|▊         | 71/827 [00:17<01:38,  7.68 MiB/s]
Dl Completed...:   0%|          | 0/1 [00:17<?, ? url/s]

Dl Size...:   9%|▊         | 71/827 [00:17<01:38,  7.68 MiB/s]


Extraction completed...: 0 file [00:17, ? file/s]

Dl Size...:   9%|▊         | 72/827 [00:17<01:36,  7.80 MiB/s]
Dl Completed...:   0%|          | 0/1 [00:17<?, ? url/s]

Dl Size...:   9%|▊         | 72/827 [00:17<01:36,  7.80 MiB/s]


Extraction completed...: 0 file [00:17, ? file/s]

Dl Size...:   9%|▉         | 73/827 [00:17<01:35,  7.89 MiB/s]
Dl Completed...:   0%|          | 0/1 [00:17<?, ? url/s]

Dl Size...:   9%|▉         | 73/827 [00:17<01:35,  7.89 MiB/s]


Extraction completed...: 0 file [00:17, ? file/s]

Dl Size...:   9%|▉         | 74/827 [00:18<01:34,  7.98 MiB/s]
Dl Completed...:   0%|          | 0/1 [00:18<?, ? url/s]

Dl Size...:   9%|▉         | 74/827 [00:18<01:34,  7.98 MiB/s]


Extraction completed...: 0 file [00:18, ? file/s]

Dl Size...:   9%|▉         | 75/827 [00:18<01:33,  8.04 MiB/s]
Dl Completed...:   0%|          | 0/1 [00:18<?, ? url/s]

Dl Size...:   9%|▉         | 75/827 [00:18<01:33,  8.04 MiB/s]


Extraction completed...: 0 file [00:18, ? file/s]

Dl Size...:   9%|▉         | 76/827 [00:18<01:35,  7.83 MiB/s]
Dl Completed...:   0%|          | 0/1 [00:18<?, ? url/s]

Dl Size...:   9%|▉         | 76/827 [00:18<01:35,  7.83 MiB/s]


Extraction completed...: 0 file [00:18, ? file/s]

Dl Size...:   9%|▉         | 77/827 [00:18<01:45,  7.14 MiB/s]
Dl Completed...:   0%|          | 0/1 [00:18<?, ? url/s]

Dl Size...:   9%|▉         | 77/827 [00:18<01:45,  7.14 MiB/s]


Extraction completed...: 0 file [00:18, ? file/s]

Dl Size...:   9%|▉         | 78/827 [00:18<01:49,  6.86 MiB/s]
Dl Completed...:   0%|          | 0/1 [00:18<?, ? url/s]

Dl Size...:   9%|▉         | 78/827 [00:18<01:49,  6.86 MiB/s]


Extraction completed...: 0 file [00:18, ? file/s]

Dl Size...:  10%|▉         | 79/827 [00:18<01:51,  6.73 MiB/s]
Dl Completed...:   0%|          | 0/1 [00:18<?, ? url/s]

Dl Size...:  10%|▉         | 79/827 [00:18<01:51,  6.73 MiB/s]


Extraction completed...: 0 file [00:18, ? file/s]

Dl Size...:  10%|▉         | 80/827 [00:18<01:51,  6.71 MiB/s]
Dl Completed...:   0%|          | 0/1 [00:18<?, ? url/s]

Dl Size...:  10%|▉         | 80/827 [00:18<01:51,  6.71 MiB/s]


Extraction completed...: 0 file [00:18, ? file/s]

Dl Size...:  10%|▉         | 81/827 [00:19<01:50,  6.74 MiB/s]
Dl Completed...:   0%|          | 0/1 [00:19<?, ? url/s]

Dl Size...:  10%|▉         | 81/827 [00:19<01:50,  6.74 MiB/s]


Extraction completed...: 0 file [00:19, ? file/s]

Dl Size...:  10%|▉         | 82/827 [00:19<01:48,  6.85 MiB/s]
Dl Completed...:   0%|          | 0/1 [00:19<?, ? url/s]

Dl Size...:  10%|▉         | 82/827 [00:19<01:48,  6.85 MiB/s]


Extraction completed...: 0 file [00:19, ? file/s]

Dl Size...:  10%|█         | 83/827 [00:19<01:48,  6.88 MiB/s]
Dl Completed...:   0%|          | 0/1 [00:19<?, ? url/s]

Dl Size...:  10%|█         | 83/827 [00:19<01:48,  6.88 MiB/s]


Extraction completed...: 0 file [00:19, ? file/s]

Dl Size...:  10%|█         | 84/827 [00:19<01:45,  7.01 MiB/s]
Dl Completed...:   0%|          | 0/1 [00:19<?, ? url/s]

Dl Size...:  10%|█         | 84/827 [00:19<01:45,  7.01 MiB/s]


Extraction completed...: 0 file [00:19, ? file/s]

Dl Size...:  10%|█         | 85/827 [00:19<01:44,  7.09 MiB/s]
Dl Completed...:   0%|          | 0/1 [00:19<?, ? url/s]

Dl Size...:  10%|█         | 85/827 [00:19<01:44,  7.09 MiB/s]


Extraction completed...: 0 file [00:19, ? file/s]

Dl Size...:  10%|█         | 86/827 [00:19<01:42,  7.20 MiB/s]
Dl Completed...:   0%|          | 0/1 [00:19<?, ? url/s]

Dl Size...:  10%|█         | 86/827 [00:19<01:42,  7.20 MiB/s]


Extraction completed...: 0 file [00:19, ? file/s]

Dl Size...:  11%|█         | 87/827 [00:19<01:40,  7.33 MiB/s]
Dl Completed...:   0%|          | 0/1 [00:19<?, ? url/s]

Dl Size...:  11%|█         | 87/827 [00:19<01:40,  7.33 MiB/s]


Extraction completed...: 0 file [00:19, ? file/s]

Dl Size...:  11%|█         | 88/827 [00:20<01:39,  7.41 MiB/s]
Dl Completed...:   0%|          | 0/1 [00:20<?, ? url/s]

Dl Size...:  11%|█         | 88/827 [00:20<01:39,  7.41 MiB/s]


Extraction completed...: 0 file [00:20, ? file/s]

Dl Size...:  11%|█         | 89/827 [00:20<01:38,  7.49 MiB/s]
Dl Completed...:   0%|          | 0/1 [00:20<?, ? url/s]

Dl Size...:  11%|█         | 89/827 [00:20<01:38,  7.49 MiB/s]


Extraction completed...: 0 file [00:20, ? file/s]

Dl Size...:  11%|█         | 90/827 [00:20<01:37,  7.59 MiB/s]
Dl Completed...:   0%|          | 0/1 [00:20<?, ? url/s]

Dl Size...:  11%|█         | 90/827 [00:20<01:37,  7.59 MiB/s]


Extraction completed...: 0 file [00:20, ? file/s]

Dl Size...:  11%|█         | 91/827 [00:20<01:35,  7.70 MiB/s]
Dl Completed...:   0%|          | 0/1 [00:20<?, ? url/s]

Dl Size...:  11%|█         | 91/827 [00:20<01:35,  7.70 MiB/s]


Extraction completed...: 0 file [00:20, ? file/s]

Dl Size...:  11%|█         | 92/827 [00:20<01:34,  7.74 MiB/s]
Dl Completed...:   0%|          | 0/1 [00:20<?, ? url/s]

Dl Size...:  11%|█         | 92/827 [00:20<01:34,  7.74 MiB/s]


Extraction completed...: 0 file [00:20, ? file/s]

Dl Size...:  11%|█         | 93/827 [00:20<01:33,  7.83 MiB/s]
Dl Completed...:   0%|          | 0/1 [00:20<?, ? url/s]

Dl Size...:  11%|█         | 93/827 [00:20<01:33,  7.83 MiB/s]


Extraction completed...: 0 file [00:20, ? file/s]

Dl Size...:  11%|█▏        | 94/827 [00:20<01:32,  7.90 MiB/s]
Dl Completed...:   0%|          | 0/1 [00:20<?, ? url/s]

Dl Size...:  11%|█▏        | 94/827 [00:20<01:32,  7.90 MiB/s]


Extraction completed...: 0 file [00:20, ? file/s]

Dl Size...:  11%|█▏        | 95/827 [00:20<01:31,  7.96 MiB/s]
Dl Completed...:   0%|          | 0/1 [00:20<?, ? url/s]

Dl Size...:  11%|█▏        | 95/827 [00:20<01:31,  7.96 MiB/s]


Extraction completed...: 0 file [00:20, ? file/s]

Dl Size...:  12%|█▏        | 96/827 [00:21<01:31,  7.97 MiB/s]
Dl Completed...:   0%|          | 0/1 [00:21<?, ? url/s]

Dl Size...:  12%|█▏        | 96/827 [00:21<01:31,  7.97 MiB/s]


Extraction completed...: 0 file [00:21, ? file/s]

Dl Size...:  12%|█▏        | 97/827 [00:21<01:30,  8.03 MiB/s]
Dl Completed...:   0%|          | 0/1 [00:21<?, ? url/s]

Dl Size...:  12%|█▏        | 97/827 [00:21<01:30,  8.03 MiB/s]


Extraction completed...: 0 file [00:21, ? file/s]

Dl Size...:  12%|█▏        | 98/827 [00:21<01:30,  8.06 MiB/s]
Dl Completed...:   0%|          | 0/1 [00:21<?, ? url/s]

Dl Size...:  12%|█▏        | 98/827 [00:21<01:30,  8.06 MiB/s]


Extraction completed...: 0 file [00:21, ? file/s]

Dl Size...:  12%|█▏        | 99/827 [00:21<01:29,  8.12 MiB/s]
Dl Completed...:   0%|          | 0/1 [00:21<?, ? url/s]

Dl Size...:  12%|█▏        | 99/827 [00:21<01:29,  8.12 MiB/s]


Extraction completed...: 0 file [00:21, ? file/s]

Dl Size...:  12%|█▏        | 100/827 [00:21<01:29,  8.13 MiB/s]
Dl Completed...:   0%|          | 0/1 [00:21<?, ? url/s]

Dl Size...:  12%|█▏        | 100/827 [00:21<01:29,  8.13 MiB/s]


Extraction completed...: 0 file [00:21, ? file/s]

Dl Size...:  12%|█▏        | 101/827 [00:21<01:29,  8.15 MiB/s]
Dl Completed...:   0%|          | 0/1 [00:21<?, ? url/s]

Dl Size...:  12%|█▏        | 101/827 [00:21<01:29,  8.15 MiB/s]


Extraction completed...: 0 file [00:21, ? file/s]

Dl Size...:  12%|█▏        | 102/827 [00:21<01:27,  8.24 MiB/s]
Dl Completed...:   0%|          | 0/1 [00:21<?, ? url/s]

Dl Size...:  12%|█▏        | 102/827 [00:21<01:27,  8.24 MiB/s]


Extraction completed...: 0 file [00:21, ? file/s]

Dl Size...:  12%|█▏        | 103/827 [00:21<01:27,  8.29 MiB/s]
Dl Completed...:   0%|          | 0/1 [00:21<?, ? url/s]

Dl Size...:  12%|█▏        | 103/827 [00:21<01:27,  8.29 MiB/s]


Extraction completed...: 0 file [00:21, ? file/s]

Dl Size...:  13%|█▎        | 104/827 [00:22<01:26,  8.39 MiB/s]
Dl Completed...:   0%|          | 0/1 [00:22<?, ? url/s]

Dl Size...:  13%|█▎        | 104/827 [00:22<01:26,  8.39 MiB/s]


Extraction completed...: 0 file [00:22, ? file/s]

Dl Size...:  13%|█▎        | 105/827 [00:22<01:26,  8.39 MiB/s]
Dl Completed...:   0%|          | 0/1 [00:22<?, ? url/s]

Dl Size...:  13%|█▎        | 105/827 [00:22<01:26,  8.39 MiB/s]


Extraction completed...: 0 file [00:22, ? file/s]

Dl Size...:  13%|█▎        | 106/827 [00:22<01:24,  8.53 MiB/s]
Dl Completed...:   0%|          | 0/1 [00:22<?, ? url/s]

Dl Size...:  13%|█▎        | 106/827 [00:22<01:24,  8.53 MiB/s]


Extraction completed...: 0 file [00:22, ? file/s]

Dl Size...:  13%|█▎        | 107/827 [00:22<01:23,  8.58 MiB/s]
Dl Completed...:   0%|          | 0/1 [00:22<?, ? url/s]

Dl Size...:  13%|█▎        | 107/827 [00:22<01:23,  8.58 MiB/s]


Extraction completed...: 0 file [00:22, ? file/s]

Dl Size...:  13%|█▎        | 108/827 [00:22<01:23,  8.63 MiB/s]
Dl Completed...:   0%|          | 0/1 [00:22<?, ? url/s]

Dl Size...:  13%|█▎        | 108/827 [00:22<01:23,  8.63 MiB/s]


Extraction completed...: 0 file [00:22, ? file/s]

Dl Size...:  13%|█▎        | 109/827 [00:22<01:22,  8.68 MiB/s]
Dl Completed...:   0%|          | 0/1 [00:22<?, ? url/s]

Dl Size...:  13%|█▎        | 109/827 [00:22<01:22,  8.68 MiB/s]


Extraction completed...: 0 file [00:22, ? file/s]

Dl Size...:  13%|█▎        | 110/827 [00:22<01:21,  8.77 MiB/s]
Dl Completed...:   0%|          | 0/1 [00:22<?, ? url/s]

Dl Size...:  13%|█▎        | 110/827 [00:22<01:21,  8.77 MiB/s]


Extraction completed...: 0 file [00:22, ? file/s]

Dl Size...:  13%|█▎        | 111/827 [00:22<01:21,  8.77 MiB/s]
Dl Completed...:   0%|          | 0/1 [00:22<?, ? url/s]

Dl Size...:  13%|█▎        | 111/827 [00:22<01:21,  8.77 MiB/s]


Extraction completed...: 0 file [00:22, ? file/s]

Dl Size...:  14%|█▎        | 112/827 [00:22<01:20,  8.88 MiB/s]
Dl Completed...:   0%|          | 0/1 [00:22<?, ? url/s]

Dl Size...:  14%|█▎        | 112/827 [00:22<01:20,  8.88 MiB/s]


Extraction completed...: 0 file [00:22, ? file/s]

Dl Size...:  14%|█▎        | 113/827 [00:23<01:19,  8.93 MiB/s]
Dl Completed...:   0%|          | 0/1 [00:23<?, ? url/s]

Dl Size...:  14%|█▎        | 113/827 [00:23<01:19,  8.93 MiB/s]


Extraction completed...: 0 file [00:23, ? file/s]

Dl Size...:  14%|█▍        | 114/827 [00:23<01:19,  9.02 MiB/s]
Dl Completed...:   0%|          | 0/1 [00:23<?, ? url/s]

Dl Size...:  14%|█▍        | 114/827 [00:23<01:19,  9.02 MiB/s]


Extraction completed...: 0 file [00:23, ? file/s]

Dl Size...:  14%|█▍        | 115/827 [00:23<01:19,  9.01 MiB/s]
Dl Completed...:   0%|          | 0/1 [00:23<?, ? url/s]

Dl Size...:  14%|█▍        | 115/827 [00:23<01:19,  9.01 MiB/s]


Extraction completed...: 0 file [00:23, ? file/s]

Dl Size...:  14%|█▍        | 116/827 [00:23<01:17,  9.16 MiB/s]
Dl Completed...:   0%|          | 0/1 [00:23<?, ? url/s]

Dl Size...:  14%|█▍        | 116/827 [00:23<01:17,  9.16 MiB/s]


Extraction completed...: 0 file [00:23, ? file/s]

Dl Size...:  14%|█▍        | 117/827 [00:23<01:16,  9.25 MiB/s]
Dl Completed...:   0%|          | 0/1 [00:23<?, ? url/s]

Dl Size...:  14%|█▍        | 117/827 [00:23<01:16,  9.25 MiB/s]


Extraction completed...: 0 file [00:23, ? file/s]

Dl Size...:  14%|█▍        | 118/827 [00:23<01:15,  9.38 MiB/s]
Dl Completed...:   0%|          | 0/1 [00:23<?, ? url/s]

Dl Size...:  14%|█▍        | 118/827 [00:23<01:15,  9.38 MiB/s]


Extraction completed...: 0 file [00:23, ? file/s]

Dl Size...:  14%|█▍        | 119/827 [00:23<01:14,  9.50 MiB/s]
Dl Completed...:   0%|          | 0/1 [00:23<?, ? url/s]

Dl Size...:  14%|█▍        | 119/827 [00:23<01:14,  9.50 MiB/s]


Extraction completed...: 0 file [00:23, ? file/s]

Dl Size...:  15%|█▍        | 120/827 [00:23<01:13,  9.60 MiB/s]
Dl Completed...:   0%|          | 0/1 [00:23<?, ? url/s]

Dl Size...:  15%|█▍        | 120/827 [00:23<01:13,  9.60 MiB/s]


Extraction completed...: 0 file [00:23, ? file/s]

Dl Size...:  15%|█▍        | 121/827 [00:23<01:12,  9.69 MiB/s]
Dl Completed...:   0%|          | 0/1 [00:23<?, ? url/s]

Dl Size...:  15%|█▍        | 121/827 [00:23<01:12,  9.69 MiB/s]


Extraction completed...: 0 file [00:23, ? file/s]

Dl Size...:  15%|█▍        | 122/827 [00:24<01:12,  9.74 MiB/s]
Dl Completed...:   0%|          | 0/1 [00:24<?, ? url/s]

Dl Size...:  15%|█▍        | 122/827 [00:24<01:12,  9.74 MiB/s]


Extraction completed...: 0 file [00:24, ? file/s]

Dl Size...:  15%|█▍        | 123/827 [00:24<01:11,  9.81 MiB/s]
Dl Completed...:   0%|          | 0/1 [00:24<?, ? url/s]

Dl Size...:  15%|█▍        | 123/827 [00:24<01:11,  9.81 MiB/s]


Extraction completed...: 0 file [00:24, ? file/s]

Dl Size...:  15%|█▍        | 124/827 [00:24<01:11,  9.81 MiB/s]
Dl Completed...:   0%|          | 0/1 [00:24<?, ? url/s]

Dl Size...:  15%|█▍        | 124/827 [00:24<01:11,  9.81 MiB/s]


Extraction completed...: 0 file [00:24, ? file/s]

Dl Size...:  15%|█▌        | 125/827 [00:24<01:25,  8.26 MiB/s]
Dl Completed...:   0%|          | 0/1 [00:24<?, ? url/s]

Dl Size...:  15%|█▌        | 125/827 [00:24<01:25,  8.26 MiB/s]


Extraction completed...: 0 file [00:24, ? file/s]

Dl Size...:  15%|█▌        | 126/827 [00:24<01:40,  6.97 MiB/s]
Dl Completed...:   0%|          | 0/1 [00:24<?, ? url/s]

Dl Size...:  15%|█▌        | 126/827 [00:24<01:40,  6.97 MiB/s]


Extraction completed...: 0 file [00:24, ? file/s]

Dl Size...:  15%|█▌        | 127/827 [00:24<01:49,  6.41 MiB/s]
Dl Completed...:   0%|          | 0/1 [00:24<?, ? url/s]

Dl Size...:  15%|█▌        | 127/827 [00:24<01:49,  6.41 MiB/s]


Extraction completed...: 0 file [00:24, ? file/s]

Dl Size...:  15%|█▌        | 128/827 [00:24<01:53,  6.17 MiB/s]
Dl Completed...:   0%|          | 0/1 [00:24<?, ? url/s]

Dl Size...:  15%|█▌        | 128/827 [00:24<01:53,  6.17 MiB/s]


Extraction completed...: 0 file [00:24, ? file/s]

Dl Size...:  16%|█▌        | 129/827 [00:25<01:56,  5.99 MiB/s]
Dl Completed...:   0%|          | 0/1 [00:25<?, ? url/s]

Dl Size...:  16%|█▌        | 129/827 [00:25<01:56,  5.99 MiB/s]


Extraction completed...: 0 file [00:25, ? file/s]

Dl Size...:  16%|█▌        | 130/827 [00:25<02:05,  5.56 MiB/s]
Dl Completed...:   0%|          | 0/1 [00:25<?, ? url/s]

Dl Size...:  16%|█▌        | 130/827 [00:25<02:05,  5.56 MiB/s]


Extraction completed...: 0 file [00:25, ? file/s]

Dl Size...:  16%|█▌        | 131/827 [00:25<02:11,  5.31 MiB/s]
Dl Completed...:   0%|          | 0/1 [00:25<?, ? url/s]

Dl Size...:  16%|█▌        | 131/827 [00:25<02:11,  5.31 MiB/s]


Extraction completed...: 0 file [00:25, ? file/s]

Dl Size...:  16%|█▌        | 132/827 [00:25<02:15,  5.14 MiB/s]
Dl Completed...:   0%|          | 0/1 [00:25<?, ? url/s]

Dl Size...:  16%|█▌        | 132/827 [00:25<02:15,  5.14 MiB/s]


Extraction completed...: 0 file [00:25, ? file/s]

Dl Size...:  16%|█▌        | 133/827 [00:25<02:16,  5.07 MiB/s]
Dl Completed...:   0%|          | 0/1 [00:25<?, ? url/s]

Dl Size...:  16%|█▌        | 133/827 [00:25<02:16,  5.07 MiB/s]


Extraction completed...: 0 file [00:25, ? file/s]

Dl Size...:  16%|█▌        | 134/827 [00:26<02:17,  5.04 MiB/s]
Dl Completed...:   0%|          | 0/1 [00:26<?, ? url/s]

Dl Size...:  16%|█▌        | 134/827 [00:26<02:17,  5.04 MiB/s]


Extraction completed...: 0 file [00:26, ? file/s]

Dl Size...:  16%|█▋        | 135/827 [00:26<02:15,  5.10 MiB/s]
Dl Completed...:   0%|          | 0/1 [00:26<?, ? url/s]

Dl Size...:  16%|█▋        | 135/827 [00:26<02:15,  5.10 MiB/s]


Extraction completed...: 0 file [00:26, ? file/s]

Dl Size...:  16%|█▋        | 136/827 [00:26<02:13,  5.17 MiB/s]
Dl Completed...:   0%|          | 0/1 [00:26<?, ? url/s]

Dl Size...:  16%|█▋        | 136/827 [00:26<02:13,  5.17 MiB/s]


Extraction completed...: 0 file [00:26, ? file/s]

Dl Size...:  17%|█▋        | 137/827 [00:26<02:11,  5.26 MiB/s]
Dl Completed...:   0%|          | 0/1 [00:26<?, ? url/s]

Dl Size...:  17%|█▋        | 137/827 [00:26<02:11,  5.26 MiB/s]


Extraction completed...: 0 file [00:26, ? file/s]

Dl Size...:  17%|█▋        | 138/827 [00:26<02:08,  5.37 MiB/s]
Dl Completed...:   0%|          | 0/1 [00:26<?, ? url/s]

Dl Size...:  17%|█▋        | 138/827 [00:26<02:08,  5.37 MiB/s]


Extraction completed...: 0 file [00:26, ? file/s]

Dl Size...:  17%|█▋        | 139/827 [00:27<02:05,  5.49 MiB/s]
Dl Completed...:   0%|          | 0/1 [00:27<?, ? url/s]

Dl Size...:  17%|█▋        | 139/827 [00:27<02:05,  5.49 MiB/s]


Extraction completed...: 0 file [00:27, ? file/s]

Dl Size...:  17%|█▋        | 140/827 [00:27<02:03,  5.57 MiB/s]
Dl Completed...:   0%|          | 0/1 [00:27<?, ? url/s]

Dl Size...:  17%|█▋        | 140/827 [00:27<02:03,  5.57 MiB/s]


Extraction completed...: 0 file [00:27, ? file/s]

Dl Size...:  17%|█▋        | 141/827 [00:27<02:01,  5.66 MiB/s]
Dl Completed...:   0%|          | 0/1 [00:27<?, ? url/s]

Dl Size...:  17%|█▋        | 141/827 [00:27<02:01,  5.66 MiB/s]


Extraction completed...: 0 file [00:27, ? file/s]

Dl Size...:  17%|█▋        | 142/827 [00:27<01:57,  5.81 MiB/s]
Dl Completed...:   0%|          | 0/1 [00:27<?, ? url/s]

Dl Size...:  17%|█▋        | 142/827 [00:27<01:57,  5.81 MiB/s]


Extraction completed...: 0 file [00:27, ? file/s]

Dl Size...:  17%|█▋        | 143/827 [00:27<01:55,  5.93 MiB/s]
Dl Completed...:   0%|          | 0/1 [00:27<?, ? url/s]

Dl Size...:  17%|█▋        | 143/827 [00:27<01:55,  5.93 MiB/s]


Extraction completed...: 0 file [00:27, ? file/s]

Dl Size...:  17%|█▋        | 144/827 [00:27<01:52,  6.05 MiB/s]
Dl Completed...:   0%|          | 0/1 [00:27<?, ? url/s]

Dl Size...:  17%|█▋        | 144/827 [00:27<01:52,  6.05 MiB/s]


Extraction completed...: 0 file [00:27, ? file/s]

Dl Size...:  18%|█▊        | 145/827 [00:28<01:50,  6.18 MiB/s]
Dl Completed...:   0%|          | 0/1 [00:28<?, ? url/s]

Dl Size...:  18%|█▊        | 145/827 [00:28<01:50,  6.18 MiB/s]


Extraction completed...: 0 file [00:28, ? file/s]

Dl Size...:  18%|█▊        | 146/827 [00:28<01:47,  6.32 MiB/s]
Dl Completed...:   0%|          | 0/1 [00:28<?, ? url/s]

Dl Size...:  18%|█▊        | 146/827 [00:28<01:47,  6.32 MiB/s]


Extraction completed...: 0 file [00:28, ? file/s]

Dl Size...:  18%|█▊        | 147/827 [00:28<01:46,  6.39 MiB/s]
Dl Completed...:   0%|          | 0/1 [00:28<?, ? url/s]

Dl Size...:  18%|█▊        | 147/827 [00:28<01:46,  6.39 MiB/s]


Extraction completed...: 0 file [00:28, ? file/s]

Dl Size...:  18%|█▊        | 148/827 [00:28<01:44,  6.51 MiB/s]
Dl Completed...:   0%|          | 0/1 [00:28<?, ? url/s]

Dl Size...:  18%|█▊        | 148/827 [00:28<01:44,  6.51 MiB/s]


Extraction completed...: 0 file [00:28, ? file/s]

Dl Size...:  18%|█▊        | 149/827 [00:28<01:42,  6.59 MiB/s]
Dl Completed...:   0%|          | 0/1 [00:28<?, ? url/s]

Dl Size...:  18%|█▊        | 149/827 [00:28<01:42,  6.59 MiB/s]


Extraction completed...: 0 file [00:28, ? file/s]

Dl Size...:  18%|█▊        | 150/827 [00:28<01:39,  6.78 MiB/s]
Dl Completed...:   0%|          | 0/1 [00:28<?, ? url/s]

Dl Size...:  18%|█▊        | 150/827 [00:28<01:39,  6.78 MiB/s]


Extraction completed...: 0 file [00:28, ? file/s]

Dl Size...:  18%|█▊        | 151/827 [00:28<01:39,  6.82 MiB/s]
Dl Completed...:   0%|          | 0/1 [00:28<?, ? url/s]

Dl Size...:  18%|█▊        | 151/827 [00:28<01:39,  6.82 MiB/s]


Extraction completed...: 0 file [00:28, ? file/s]

Dl Size...:  18%|█▊        | 152/827 [00:29<01:37,  6.92 MiB/s]
Dl Completed...:   0%|          | 0/1 [00:29<?, ? url/s]

Dl Size...:  18%|█▊        | 152/827 [00:29<01:37,  6.92 MiB/s]


Extraction completed...: 0 file [00:29, ? file/s]

Dl Size...:  19%|█▊        | 153/827 [00:29<01:35,  7.08 MiB/s]
Dl Completed...:   0%|          | 0/1 [00:29<?, ? url/s]

Dl Size...:  19%|█▊        | 153/827 [00:29<01:35,  7.08 MiB/s]


Extraction completed...: 0 file [00:29, ? file/s]

Dl Size...:  19%|█▊        | 154/827 [00:29<01:34,  7.11 MiB/s]
Dl Completed...:   0%|          | 0/1 [00:29<?, ? url/s]

Dl Size...:  19%|█▊        | 154/827 [00:29<01:34,  7.11 MiB/s]


Extraction completed...: 0 file [00:29, ? file/s]

Dl Size...:  19%|█▊        | 155/827 [00:29<01:32,  7.26 MiB/s]
Dl Completed...:   0%|          | 0/1 [00:29<?, ? url/s]

Dl Size...:  19%|█▊        | 155/827 [00:29<01:32,  7.26 MiB/s]


Extraction completed...: 0 file [00:29, ? file/s]

Dl Size...:  19%|█▉        | 156/827 [00:29<01:31,  7.33 MiB/s]
Dl Completed...:   0%|          | 0/1 [00:29<?, ? url/s]

Dl Size...:  19%|█▉        | 156/827 [00:29<01:31,  7.33 MiB/s]


Extraction completed...: 0 file [00:29, ? file/s]

Dl Size...:  19%|█▉        | 157/827 [00:29<01:29,  7.47 MiB/s]
Dl Completed...:   0%|          | 0/1 [00:29<?, ? url/s]

Dl Size...:  19%|█▉        | 157/827 [00:29<01:29,  7.47 MiB/s]


Extraction completed...: 0 file [00:29, ? file/s]

Dl Size...:  19%|█▉        | 158/827 [00:29<01:28,  7.52 MiB/s]
Dl Completed...:   0%|          | 0/1 [00:29<?, ? url/s]

Dl Size...:  19%|█▉        | 158/827 [00:29<01:28,  7.52 MiB/s]


Extraction completed...: 0 file [00:29, ? file/s]

Dl Size...:  19%|█▉        | 159/827 [00:29<01:27,  7.63 MiB/s]
Dl Completed...:   0%|          | 0/1 [00:29<?, ? url/s]

Dl Size...:  19%|█▉        | 159/827 [00:29<01:27,  7.63 MiB/s]


Extraction completed...: 0 file [00:29, ? file/s]

Dl Size...:  19%|█▉        | 160/827 [00:30<01:26,  7.70 MiB/s]
Dl Completed...:   0%|          | 0/1 [00:30<?, ? url/s]

Dl Size...:  19%|█▉        | 160/827 [00:30<01:26,  7.70 MiB/s]


Extraction completed...: 0 file [00:30, ? file/s]

Dl Size...:  19%|█▉        | 161/827 [00:30<01:25,  7.83 MiB/s]
Dl Completed...:   0%|          | 0/1 [00:30<?, ? url/s]

Dl Size...:  19%|█▉        | 161/827 [00:30<01:25,  7.83 MiB/s]


Extraction completed...: 0 file [00:30, ? file/s]

Dl Size...:  20%|█▉        | 162/827 [00:30<01:23,  7.96 MiB/s]
Dl Completed...:   0%|          | 0/1 [00:30<?, ? url/s]

Dl Size...:  20%|█▉        | 162/827 [00:30<01:23,  7.96 MiB/s]


Extraction completed...: 0 file [00:30, ? file/s]

Dl Size...:  20%|█▉        | 163/827 [00:30<01:22,  8.05 MiB/s]
Dl Completed...:   0%|          | 0/1 [00:30<?, ? url/s]

Dl Size...:  20%|█▉        | 163/827 [00:30<01:22,  8.05 MiB/s]


Extraction completed...: 0 file [00:30, ? file/s]

Dl Size...:  20%|█▉        | 164/827 [00:30<01:21,  8.12 MiB/s]
Dl Completed...:   0%|          | 0/1 [00:30<?, ? url/s]

Dl Size...:  20%|█▉        | 164/827 [00:30<01:21,  8.12 MiB/s]


Extraction completed...: 0 file [00:30, ? file/s]

Dl Size...:  20%|█▉        | 165/827 [00:30<01:20,  8.22 MiB/s]
Dl Completed...:   0%|          | 0/1 [00:30<?, ? url/s]

Dl Size...:  20%|█▉        | 165/827 [00:30<01:20,  8.22 MiB/s]


Extraction completed...: 0 file [00:30, ? file/s]

Dl Size...:  20%|██        | 166/827 [00:30<01:19,  8.30 MiB/s]
Dl Completed...:   0%|          | 0/1 [00:30<?, ? url/s]

Dl Size...:  20%|██        | 166/827 [00:30<01:19,  8.30 MiB/s]


Extraction completed...: 0 file [00:30, ? file/s]

Dl Size...:  20%|██        | 167/827 [00:30<01:18,  8.41 MiB/s]
Dl Completed...:   0%|          | 0/1 [00:30<?, ? url/s]

Dl Size...:  20%|██        | 167/827 [00:30<01:18,  8.41 MiB/s]


Extraction completed...: 0 file [00:30, ? file/s]

Dl Size...:  20%|██        | 168/827 [00:31<01:18,  8.43 MiB/s]
Dl Completed...:   0%|          | 0/1 [00:31<?, ? url/s]

Dl Size...:  20%|██        | 168/827 [00:31<01:18,  8.43 MiB/s]


Extraction completed...: 0 file [00:31, ? file/s]

Dl Size...:  20%|██        | 169/827 [00:31<01:17,  8.49 MiB/s]
Dl Completed...:   0%|          | 0/1 [00:31<?, ? url/s]

Dl Size...:  20%|██        | 169/827 [00:31<01:17,  8.49 MiB/s]


Extraction completed...: 0 file [00:31, ? file/s]

Dl Size...:  21%|██        | 170/827 [00:31<01:18,  8.34 MiB/s]
Dl Completed...:   0%|          | 0/1 [00:31<?, ? url/s]

Dl Size...:  21%|██        | 170/827 [00:31<01:18,  8.34 MiB/s]


Extraction completed...: 0 file [00:31, ? file/s]

Dl Size...:  21%|██        | 171/827 [00:31<01:26,  7.56 MiB/s]
Dl Completed...:   0%|          | 0/1 [00:31<?, ? url/s]

Dl Size...:  21%|██        | 171/827 [00:31<01:26,  7.56 MiB/s]


Extraction completed...: 0 file [00:31, ? file/s]

Dl Size...:  21%|██        | 172/827 [00:31<01:30,  7.27 MiB/s]
Dl Completed...:   0%|          | 0/1 [00:31<?, ? url/s]

Dl Size...:  21%|██        | 172/827 [00:31<01:30,  7.27 MiB/s]


Extraction completed...: 0 file [00:31, ? file/s]

Dl Size...:  21%|██        | 173/827 [00:31<01:31,  7.12 MiB/s]
Dl Completed...:   0%|          | 0/1 [00:31<?, ? url/s]

Dl Size...:  21%|██        | 173/827 [00:31<01:31,  7.12 MiB/s]


Extraction completed...: 0 file [00:31, ? file/s]

Dl Size...:  21%|██        | 174/827 [00:31<01:33,  7.02 MiB/s]
Dl Completed...:   0%|          | 0/1 [00:31<?, ? url/s]

Dl Size...:  21%|██        | 174/827 [00:31<01:33,  7.02 MiB/s]


Extraction completed...: 0 file [00:31, ? file/s]

Dl Size...:  21%|██        | 175/827 [00:32<01:32,  7.04 MiB/s]
Dl Completed...:   0%|          | 0/1 [00:32<?, ? url/s]

Dl Size...:  21%|██        | 175/827 [00:32<01:32,  7.04 MiB/s]


Extraction completed...: 0 file [00:32, ? file/s]

Dl Size...:  21%|██▏       | 176/827 [00:32<01:32,  7.08 MiB/s]
Dl Completed...:   0%|          | 0/1 [00:32<?, ? url/s]

Dl Size...:  21%|██▏       | 176/827 [00:32<01:32,  7.08 MiB/s]


Extraction completed...: 0 file [00:32, ? file/s]

Dl Size...:  21%|██▏       | 177/827 [00:32<01:30,  7.15 MiB/s]
Dl Completed...:   0%|          | 0/1 [00:32<?, ? url/s]

Dl Size...:  21%|██▏       | 177/827 [00:32<01:30,  7.15 MiB/s]


Extraction completed...: 0 file [00:32, ? file/s]

Dl Size...:  22%|██▏       | 178/827 [00:32<01:35,  6.82 MiB/s]
Dl Completed...:   0%|          | 0/1 [00:32<?, ? url/s]

Dl Size...:  22%|██▏       | 178/827 [00:32<01:35,  6.82 MiB/s]


Extraction completed...: 0 file [00:32, ? file/s]

Dl Size...:  22%|██▏       | 179/827 [00:32<01:50,  5.89 MiB/s]
Dl Completed...:   0%|          | 0/1 [00:32<?, ? url/s]

Dl Size...:  22%|██▏       | 179/827 [00:32<01:50,  5.89 MiB/s]


Extraction completed...: 0 file [00:32, ? file/s]

Dl Size...:  22%|██▏       | 180/827 [00:32<02:11,  4.93 MiB/s]
Dl Completed...:   0%|          | 0/1 [00:33<?, ? url/s]

Dl Size...:  22%|██▏       | 180/827 [00:33<02:11,  4.93 MiB/s]


Extraction completed...: 0 file [00:32, ? file/s]

Dl Size...:  22%|██▏       | 181/827 [00:33<02:33,  4.21 MiB/s]
Dl Completed...:   0%|          | 0/1 [00:33<?, ? url/s]

Dl Size...:  22%|██▏       | 181/827 [00:33<02:33,  4.21 MiB/s]


Extraction completed...: 0 file [00:33, ? file/s]

Dl Size...:  22%|██▏       | 182/827 [00:33<02:48,  3.82 MiB/s]
Dl Completed...:   0%|          | 0/1 [00:33<?, ? url/s]

Dl Size...:  22%|██▏       | 182/827 [00:33<02:48,  3.82 MiB/s]


Extraction completed...: 0 file [00:33, ? file/s]

Dl Size...:  22%|██▏       | 183/827 [00:33<02:55,  3.67 MiB/s]
Dl Completed...:   0%|          | 0/1 [00:33<?, ? url/s]

Dl Size...:  22%|██▏       | 183/827 [00:33<02:55,  3.67 MiB/s]


Extraction completed...: 0 file [00:33, ? file/s]

Dl Size...:  22%|██▏       | 184/827 [00:34<02:56,  3.64 MiB/s]
Dl Completed...:   0%|          | 0/1 [00:34<?, ? url/s]

Dl Size...:  22%|██▏       | 184/827 [00:34<02:56,  3.64 MiB/s]


Extraction completed...: 0 file [00:34, ? file/s]

Dl Size...:  22%|██▏       | 185/827 [00:34<02:54,  3.67 MiB/s]
Dl Completed...:   0%|          | 0/1 [00:34<?, ? url/s]

Dl Size...:  22%|██▏       | 185/827 [00:34<02:54,  3.67 MiB/s]


Extraction completed...: 0 file [00:34, ? file/s]

Dl Size...:  22%|██▏       | 186/827 [00:34<02:50,  3.76 MiB/s]
Dl Completed...:   0%|          | 0/1 [00:34<?, ? url/s]

Dl Size...:  22%|██▏       | 186/827 [00:34<02:50,  3.76 MiB/s]


Extraction completed...: 0 file [00:34, ? file/s]

Dl Size...:  23%|██▎       | 187/827 [00:34<02:45,  3.86 MiB/s]
Dl Completed...:   0%|          | 0/1 [00:34<?, ? url/s]

Dl Size...:  23%|██▎       | 187/827 [00:34<02:45,  3.86 MiB/s]


Extraction completed...: 0 file [00:34, ? file/s]

Dl Size...:  23%|██▎       | 188/827 [00:35<02:40,  3.99 MiB/s]
Dl Completed...:   0%|          | 0/1 [00:35<?, ? url/s]

Dl Size...:  23%|██▎       | 188/827 [00:35<02:40,  3.99 MiB/s]


Extraction completed...: 0 file [00:35, ? file/s]

Dl Size...:  23%|██▎       | 189/827 [00:35<02:34,  4.14 MiB/s]
Dl Completed...:   0%|          | 0/1 [00:35<?, ? url/s]

Dl Size...:  23%|██▎       | 189/827 [00:35<02:34,  4.14 MiB/s]


Extraction completed...: 0 file [00:35, ? file/s]

Dl Size...:  23%|██▎       | 190/827 [00:35<02:30,  4.24 MiB/s]
Dl Completed...:   0%|          | 0/1 [00:35<?, ? url/s]

Dl Size...:  23%|██▎       | 190/827 [00:35<02:30,  4.24 MiB/s]


Extraction completed...: 0 file [00:35, ? file/s]

Dl Size...:  23%|██▎       | 191/827 [00:35<02:23,  4.44 MiB/s]
Dl Completed...:   0%|          | 0/1 [00:35<?, ? url/s]

Dl Size...:  23%|██▎       | 191/827 [00:35<02:23,  4.44 MiB/s]


Extraction completed...: 0 file [00:35, ? file/s]

Dl Size...:  23%|██▎       | 192/827 [00:36<02:20,  4.52 MiB/s]
Dl Completed...:   0%|          | 0/1 [00:36<?, ? url/s]

Dl Size...:  23%|██▎       | 192/827 [00:36<02:20,  4.52 MiB/s]


Extraction completed...: 0 file [00:36, ? file/s]

Dl Size...:  23%|██▎       | 193/827 [00:36<02:14,  4.71 MiB/s]
Dl Completed...:   0%|          | 0/1 [00:36<?, ? url/s]

Dl Size...:  23%|██▎       | 193/827 [00:36<02:14,  4.71 MiB/s]


Extraction completed...: 0 file [00:36, ? file/s]

Dl Size...:  23%|██▎       | 194/827 [00:36<02:10,  4.84 MiB/s]
Dl Completed...:   0%|          | 0/1 [00:36<?, ? url/s]

Dl Size...:  23%|██▎       | 194/827 [00:36<02:10,  4.84 MiB/s]


Extraction completed...: 0 file [00:36, ? file/s]

Dl Size...:  24%|██▎       | 195/827 [00:36<02:06,  4.99 MiB/s]
Dl Completed...:   0%|          | 0/1 [00:36<?, ? url/s]

Dl Size...:  24%|██▎       | 195/827 [00:36<02:06,  4.99 MiB/s]


Extraction completed...: 0 file [00:36, ? file/s]

Dl Size...:  24%|██▎       | 196/827 [00:36<02:02,  5.15 MiB/s]
Dl Completed...:   0%|          | 0/1 [00:36<?, ? url/s]

Dl Size...:  24%|██▎       | 196/827 [00:36<02:02,  5.15 MiB/s]


Extraction completed...: 0 file [00:36, ? file/s]

Dl Size...:  24%|██▍       | 197/827 [00:36<01:58,  5.31 MiB/s]
Dl Completed...:   0%|          | 0/1 [00:36<?, ? url/s]

Dl Size...:  24%|██▍       | 197/827 [00:36<01:58,  5.31 MiB/s]


Extraction completed...: 0 file [00:36, ? file/s]

Dl Size...:  24%|██▍       | 198/827 [00:37<01:55,  5.43 MiB/s]
Dl Completed...:   0%|          | 0/1 [00:37<?, ? url/s]

Dl Size...:  24%|██▍       | 198/827 [00:37<01:55,  5.43 MiB/s]


Extraction completed...: 0 file [00:37, ? file/s]

Dl Size...:  24%|██▍       | 199/827 [00:37<01:52,  5.58 MiB/s]
Dl Completed...:   0%|          | 0/1 [00:37<?, ? url/s]

Dl Size...:  24%|██▍       | 199/827 [00:37<01:52,  5.58 MiB/s]


Extraction completed...: 0 file [00:37, ? file/s]

Dl Size...:  24%|██▍       | 200/827 [00:37<01:49,  5.72 MiB/s]
Dl Completed...:   0%|          | 0/1 [00:37<?, ? url/s]

Dl Size...:  24%|██▍       | 200/827 [00:37<01:49,  5.72 MiB/s]


Extraction completed...: 0 file [00:37, ? file/s]

Dl Size...:  24%|██▍       | 201/827 [00:37<01:47,  5.80 MiB/s]
Dl Completed...:   0%|          | 0/1 [00:37<?, ? url/s]

Dl Size...:  24%|██▍       | 201/827 [00:37<01:47,  5.80 MiB/s]


Extraction completed...: 0 file [00:37, ? file/s]

Dl Size...:  24%|██▍       | 202/827 [00:37<01:45,  5.91 MiB/s]
Dl Completed...:   0%|          | 0/1 [00:37<?, ? url/s]

Dl Size...:  24%|██▍       | 202/827 [00:37<01:45,  5.91 MiB/s]


Extraction completed...: 0 file [00:37, ? file/s]

Dl Size...:  25%|██▍       | 203/827 [00:37<01:42,  6.07 MiB/s]
Dl Completed...:   0%|          | 0/1 [00:37<?, ? url/s]

Dl Size...:  25%|██▍       | 203/827 [00:37<01:42,  6.07 MiB/s]


Extraction completed...: 0 file [00:37, ? file/s]

Dl Size...:  25%|██▍       | 204/827 [00:38<01:40,  6.21 MiB/s]
Dl Completed...:   0%|          | 0/1 [00:38<?, ? url/s]

Dl Size...:  25%|██▍       | 204/827 [00:38<01:40,  6.21 MiB/s]


Extraction completed...: 0 file [00:38, ? file/s]

Dl Size...:  25%|██▍       | 205/827 [00:38<01:38,  6.34 MiB/s]
Dl Completed...:   0%|          | 0/1 [00:38<?, ? url/s]

Dl Size...:  25%|██▍       | 205/827 [00:38<01:38,  6.34 MiB/s]


Extraction completed...: 0 file [00:38, ? file/s]

Dl Size...:  25%|██▍       | 206/827 [00:38<01:35,  6.47 MiB/s]
Dl Completed...:   0%|          | 0/1 [00:38<?, ? url/s]

Dl Size...:  25%|██▍       | 206/827 [00:38<01:35,  6.47 MiB/s]


Extraction completed...: 0 file [00:38, ? file/s]

Dl Size...:  25%|██▌       | 207/827 [00:38<01:34,  6.56 MiB/s]
Dl Completed...:   0%|          | 0/1 [00:38<?, ? url/s]

Dl Size...:  25%|██▌       | 207/827 [00:38<01:34,  6.56 MiB/s]


Extraction completed...: 0 file [00:38, ? file/s]

Dl Size...:  25%|██▌       | 208/827 [00:38<01:33,  6.64 MiB/s]
Dl Completed...:   0%|          | 0/1 [00:38<?, ? url/s]

Dl Size...:  25%|██▌       | 208/827 [00:38<01:33,  6.64 MiB/s]


Extraction completed...: 0 file [00:38, ? file/s]

Dl Size...:  25%|██▌       | 209/827 [00:38<01:31,  6.78 MiB/s]
Dl Completed...:   0%|          | 0/1 [00:38<?, ? url/s]

Dl Size...:  25%|██▌       | 209/827 [00:38<01:31,  6.78 MiB/s]


Extraction completed...: 0 file [00:38, ? file/s]

Dl Size...:  25%|██▌       | 210/827 [00:39<01:31,  6.77 MiB/s]
Dl Completed...:   0%|          | 0/1 [00:39<?, ? url/s]

Dl Size...:  25%|██▌       | 210/827 [00:39<01:31,  6.77 MiB/s]


Extraction completed...: 0 file [00:39, ? file/s]

Dl Size...:  26%|██▌       | 211/827 [00:39<01:28,  6.94 MiB/s]
Dl Completed...:   0%|          | 0/1 [00:39<?, ? url/s]

Dl Size...:  26%|██▌       | 211/827 [00:39<01:28,  6.94 MiB/s]


Extraction completed...: 0 file [00:39, ? file/s]

Dl Size...:  26%|██▌       | 212/827 [00:39<01:27,  7.01 MiB/s]
Dl Completed...:   0%|          | 0/1 [00:39<?, ? url/s]

Dl Size...:  26%|██▌       | 212/827 [00:39<01:27,  7.01 MiB/s]


Extraction completed...: 0 file [00:39, ? file/s]

Dl Size...:  26%|██▌       | 213/827 [00:39<01:25,  7.15 MiB/s]
Dl Completed...:   0%|          | 0/1 [00:39<?, ? url/s]

Dl Size...:  26%|██▌       | 213/827 [00:39<01:25,  7.15 MiB/s]


Extraction completed...: 0 file [00:39, ? file/s]

Dl Size...:  26%|██▌       | 214/827 [00:39<01:24,  7.27 MiB/s]
Dl Completed...:   0%|          | 0/1 [00:39<?, ? url/s]

Dl Size...:  26%|██▌       | 214/827 [00:39<01:24,  7.27 MiB/s]


Extraction completed...: 0 file [00:39, ? file/s]

Dl Size...:  26%|██▌       | 215/827 [00:39<01:22,  7.39 MiB/s]
Dl Completed...:   0%|          | 0/1 [00:39<?, ? url/s]

Dl Size...:  26%|██▌       | 215/827 [00:39<01:22,  7.39 MiB/s]


Extraction completed...: 0 file [00:39, ? file/s]

Dl Size...:  26%|██▌       | 216/827 [00:39<01:22,  7.42 MiB/s]
Dl Completed...:   0%|          | 0/1 [00:39<?, ? url/s]

Dl Size...:  26%|██▌       | 216/827 [00:39<01:22,  7.42 MiB/s]


Extraction completed...: 0 file [00:39, ? file/s]

Dl Size...:  26%|██▌       | 217/827 [00:39<01:20,  7.54 MiB/s]
Dl Completed...:   0%|          | 0/1 [00:39<?, ? url/s]

Dl Size...:  26%|██▌       | 217/827 [00:39<01:20,  7.54 MiB/s]


Extraction completed...: 0 file [00:39, ? file/s]

Dl Size...:  26%|██▋       | 218/827 [00:40<01:19,  7.68 MiB/s]
Dl Completed...:   0%|          | 0/1 [00:40<?, ? url/s]

Dl Size...:  26%|██▋       | 218/827 [00:40<01:19,  7.68 MiB/s]


Extraction completed...: 0 file [00:40, ? file/s]

Dl Size...:  26%|██▋       | 219/827 [00:40<01:18,  7.77 MiB/s]
Dl Completed...:   0%|          | 0/1 [00:40<?, ? url/s]

Dl Size...:  26%|██▋       | 219/827 [00:40<01:18,  7.77 MiB/s]


Extraction completed...: 0 file [00:40, ? file/s]

Dl Size...:  27%|██▋       | 220/827 [00:40<01:17,  7.88 MiB/s]
Dl Completed...:   0%|          | 0/1 [00:40<?, ? url/s]

Dl Size...:  27%|██▋       | 220/827 [00:40<01:17,  7.88 MiB/s]


Extraction completed...: 0 file [00:40, ? file/s]

Dl Size...:  27%|██▋       | 221/827 [00:40<01:15,  7.98 MiB/s]
Dl Completed...:   0%|          | 0/1 [00:40<?, ? url/s]

Dl Size...:  27%|██▋       | 221/827 [00:40<01:15,  7.98 MiB/s]


Extraction completed...: 0 file [00:40, ? file/s]

Dl Size...:  27%|██▋       | 222/827 [00:40<01:14,  8.08 MiB/s]
Dl Completed...:   0%|          | 0/1 [00:40<?, ? url/s]

Dl Size...:  27%|██▋       | 222/827 [00:40<01:14,  8.08 MiB/s]


Extraction completed...: 0 file [00:40, ? file/s]

Dl Size...:  27%|██▋       | 223/827 [00:40<01:14,  8.13 MiB/s]
Dl Completed...:   0%|          | 0/1 [00:40<?, ? url/s]

Dl Size...:  27%|██▋       | 223/827 [00:40<01:14,  8.13 MiB/s]


Extraction completed...: 0 file [00:40, ? file/s]

Dl Size...:  27%|██▋       | 224/827 [00:40<01:13,  8.20 MiB/s]
Dl Completed...:   0%|          | 0/1 [00:40<?, ? url/s]

Dl Size...:  27%|██▋       | 224/827 [00:40<01:13,  8.20 MiB/s]


Extraction completed...: 0 file [00:40, ? file/s]

Dl Size...:  27%|██▋       | 225/827 [00:40<01:17,  7.77 MiB/s]
Dl Completed...:   0%|          | 0/1 [00:40<?, ? url/s]

Dl Size...:  27%|██▋       | 225/827 [00:40<01:17,  7.77 MiB/s]


Extraction completed...: 0 file [00:40, ? file/s]

Dl Size...:  27%|██▋       | 226/827 [00:41<01:17,  7.71 MiB/s]
Dl Completed...:   0%|          | 0/1 [00:41<?, ? url/s]

Dl Size...:  27%|██▋       | 226/827 [00:41<01:17,  7.71 MiB/s]


Extraction completed...: 0 file [00:41, ? file/s]

Dl Size...:  27%|██▋       | 227/827 [00:41<01:23,  7.22 MiB/s]
Dl Completed...:   0%|          | 0/1 [00:41<?, ? url/s]

Dl Size...:  27%|██▋       | 227/827 [00:41<01:23,  7.22 MiB/s]


Extraction completed...: 0 file [00:41, ? file/s]

Dl Size...:  28%|██▊       | 228/827 [00:41<01:25,  6.97 MiB/s]
Dl Completed...:   0%|          | 0/1 [00:41<?, ? url/s]

Dl Size...:  28%|██▊       | 228/827 [00:41<01:25,  6.97 MiB/s]


Extraction completed...: 0 file [00:41, ? file/s]

Dl Size...:  28%|██▊       | 229/827 [00:41<01:26,  6.93 MiB/s]
Dl Completed...:   0%|          | 0/1 [00:41<?, ? url/s]

Dl Size...:  28%|██▊       | 229/827 [00:41<01:26,  6.93 MiB/s]


Extraction completed...: 0 file [00:41, ? file/s]

Dl Size...:  28%|██▊       | 230/827 [00:41<01:26,  6.93 MiB/s]
Dl Completed...:   0%|          | 0/1 [00:41<?, ? url/s]

Dl Size...:  28%|██▊       | 230/827 [00:41<01:26,  6.93 MiB/s]


Extraction completed...: 0 file [00:41, ? file/s]

Dl Size...:  28%|██▊       | 231/827 [00:41<01:25,  6.97 MiB/s]
Dl Completed...:   0%|          | 0/1 [00:41<?, ? url/s]

Dl Size...:  28%|██▊       | 231/827 [00:41<01:25,  6.97 MiB/s]


Extraction completed...: 0 file [00:41, ? file/s]

Dl Size...:  28%|██▊       | 232/827 [00:41<01:24,  7.01 MiB/s]
Dl Completed...:   0%|          | 0/1 [00:41<?, ? url/s]

Dl Size...:  28%|██▊       | 232/827 [00:41<01:24,  7.01 MiB/s]


Extraction completed...: 0 file [00:41, ? file/s]

Dl Size...:  28%|██▊       | 233/827 [00:42<01:22,  7.17 MiB/s]
Dl Completed...:   0%|          | 0/1 [00:42<?, ? url/s]

Dl Size...:  28%|██▊       | 233/827 [00:42<01:22,  7.17 MiB/s]


Extraction completed...: 0 file [00:42, ? file/s]

Dl Size...:  28%|██▊       | 234/827 [00:42<01:22,  7.22 MiB/s]
Dl Completed...:   0%|          | 0/1 [00:42<?, ? url/s]

Dl Size...:  28%|██▊       | 234/827 [00:42<01:22,  7.22 MiB/s]


Extraction completed...: 0 file [00:42, ? file/s]

Dl Size...:  28%|██▊       | 235/827 [00:42<01:21,  7.30 MiB/s]
Dl Completed...:   0%|          | 0/1 [00:42<?, ? url/s]

Dl Size...:  28%|██▊       | 235/827 [00:42<01:21,  7.30 MiB/s]


Extraction completed...: 0 file [00:42, ? file/s]

Dl Size...:  29%|██▊       | 236/827 [00:42<01:19,  7.40 MiB/s]
Dl Completed...:   0%|          | 0/1 [00:42<?, ? url/s]

Dl Size...:  29%|██▊       | 236/827 [00:42<01:19,  7.40 MiB/s]


Extraction completed...: 0 file [00:42, ? file/s]

Dl Size...:  29%|██▊       | 237/827 [00:42<01:18,  7.52 MiB/s]
Dl Completed...:   0%|          | 0/1 [00:42<?, ? url/s]

Dl Size...:  29%|██▊       | 237/827 [00:42<01:18,  7.52 MiB/s]


Extraction completed...: 0 file [00:42, ? file/s]

Dl Size...:  29%|██▉       | 238/827 [00:42<01:17,  7.61 MiB/s]
Dl Completed...:   0%|          | 0/1 [00:42<?, ? url/s]

Dl Size...:  29%|██▉       | 238/827 [00:42<01:17,  7.61 MiB/s]


Extraction completed...: 0 file [00:42, ? file/s]

Dl Size...:  29%|██▉       | 239/827 [00:42<01:16,  7.69 MiB/s]
Dl Completed...:   0%|          | 0/1 [00:42<?, ? url/s]

Dl Size...:  29%|██▉       | 239/827 [00:42<01:16,  7.69 MiB/s]


Extraction completed...: 0 file [00:42, ? file/s]

Dl Size...:  29%|██▉       | 240/827 [00:42<01:15,  7.78 MiB/s]
Dl Completed...:   0%|          | 0/1 [00:42<?, ? url/s]

Dl Size...:  29%|██▉       | 240/827 [00:42<01:15,  7.78 MiB/s]


Extraction completed...: 0 file [00:42, ? file/s]

Dl Size...:  29%|██▉       | 241/827 [00:43<01:15,  7.78 MiB/s]
Dl Completed...:   0%|          | 0/1 [00:43<?, ? url/s]

Dl Size...:  29%|██▉       | 241/827 [00:43<01:15,  7.78 MiB/s]


Extraction completed...: 0 file [00:43, ? file/s]

Dl Size...:  29%|██▉       | 242/827 [00:43<01:14,  7.89 MiB/s]
Dl Completed...:   0%|          | 0/1 [00:43<?, ? url/s]

Dl Size...:  29%|██▉       | 242/827 [00:43<01:14,  7.89 MiB/s]


Extraction completed...: 0 file [00:43, ? file/s]

Dl Size...:  29%|██▉       | 243/827 [00:43<01:13,  8.00 MiB/s]
Dl Completed...:   0%|          | 0/1 [00:43<?, ? url/s]

Dl Size...:  29%|██▉       | 243/827 [00:43<01:13,  8.00 MiB/s]


Extraction completed...: 0 file [00:43, ? file/s]

Dl Size...:  30%|██▉       | 244/827 [00:43<01:12,  8.05 MiB/s]
Dl Completed...:   0%|          | 0/1 [00:43<?, ? url/s]

Dl Size...:  30%|██▉       | 244/827 [00:43<01:12,  8.05 MiB/s]


Extraction completed...: 0 file [00:43, ? file/s]

Dl Size...:  30%|██▉       | 245/827 [00:43<01:11,  8.12 MiB/s]
Dl Completed...:   0%|          | 0/1 [00:43<?, ? url/s]

Dl Size...:  30%|██▉       | 245/827 [00:43<01:11,  8.12 MiB/s]


Extraction completed...: 0 file [00:43, ? file/s]

Dl Size...:  30%|██▉       | 246/827 [00:43<01:14,  7.80 MiB/s]
Dl Completed...:   0%|          | 0/1 [00:43<?, ? url/s]

Dl Size...:  30%|██▉       | 246/827 [00:43<01:14,  7.80 MiB/s]


Extraction completed...: 0 file [00:43, ? file/s]

Dl Size...:  30%|██▉       | 247/827 [00:43<01:21,  7.09 MiB/s]
Dl Completed...:   0%|          | 0/1 [00:43<?, ? url/s]

Dl Size...:  30%|██▉       | 247/827 [00:43<01:21,  7.09 MiB/s]


Extraction completed...: 0 file [00:43, ? file/s]

Dl Size...:  30%|██▉       | 248/827 [00:44<01:25,  6.73 MiB/s]
Dl Completed...:   0%|          | 0/1 [00:44<?, ? url/s]

Dl Size...:  30%|██▉       | 248/827 [00:44<01:25,  6.73 MiB/s]


Extraction completed...: 0 file [00:44, ? file/s]

Dl Size...:  30%|███       | 249/827 [00:44<01:28,  6.54 MiB/s]
Dl Completed...:   0%|          | 0/1 [00:44<?, ? url/s]

Dl Size...:  30%|███       | 249/827 [00:44<01:28,  6.54 MiB/s]


Extraction completed...: 0 file [00:44, ? file/s]

Dl Size...:  30%|███       | 250/827 [00:44<01:34,  6.11 MiB/s]
Dl Completed...:   0%|          | 0/1 [00:44<?, ? url/s]

Dl Size...:  30%|███       | 250/827 [00:44<01:34,  6.11 MiB/s]


Extraction completed...: 0 file [00:44, ? file/s]

Dl Size...:  30%|███       | 251/827 [00:44<01:50,  5.23 MiB/s]
Dl Completed...:   0%|          | 0/1 [00:44<?, ? url/s]

Dl Size...:  30%|███       | 251/827 [00:44<01:50,  5.23 MiB/s]


Extraction completed...: 0 file [00:44, ? file/s]

Dl Size...:  30%|███       | 252/827 [00:44<02:06,  4.54 MiB/s]
Dl Completed...:   0%|          | 0/1 [00:44<?, ? url/s]

Dl Size...:  30%|███       | 252/827 [00:44<02:06,  4.54 MiB/s]


Extraction completed...: 0 file [00:44, ? file/s]

Dl Size...:  31%|███       | 253/827 [00:45<02:17,  4.16 MiB/s]
Dl Completed...:   0%|          | 0/1 [00:45<?, ? url/s]

Dl Size...:  31%|███       | 253/827 [00:45<02:17,  4.16 MiB/s]


Extraction completed...: 0 file [00:45, ? file/s]

Dl Size...:  31%|███       | 254/827 [00:45<02:22,  4.02 MiB/s]
Dl Completed...:   0%|          | 0/1 [00:45<?, ? url/s]

Dl Size...:  31%|███       | 254/827 [00:45<02:22,  4.02 MiB/s]


Extraction completed...: 0 file [00:45, ? file/s]

Dl Size...:  31%|███       | 255/827 [00:45<02:22,  4.02 MiB/s]
Dl Completed...:   0%|          | 0/1 [00:45<?, ? url/s]

Dl Size...:  31%|███       | 255/827 [00:45<02:22,  4.02 MiB/s]


Extraction completed...: 0 file [00:45, ? file/s]

Dl Size...:  31%|███       | 256/827 [00:46<02:31,  3.76 MiB/s]
Dl Completed...:   0%|          | 0/1 [00:46<?, ? url/s]

Dl Size...:  31%|███       | 256/827 [00:46<02:31,  3.76 MiB/s]


Extraction completed...: 0 file [00:46, ? file/s]

Dl Size...:  31%|███       | 257/827 [00:46<02:41,  3.54 MiB/s]
Dl Completed...:   0%|          | 0/1 [00:46<?, ? url/s]

Dl Size...:  31%|███       | 257/827 [00:46<02:41,  3.54 MiB/s]


Extraction completed...: 0 file [00:46, ? file/s]

Dl Size...:  31%|███       | 258/827 [00:46<02:43,  3.48 MiB/s]
Dl Completed...:   0%|          | 0/1 [00:46<?, ? url/s]

Dl Size...:  31%|███       | 258/827 [00:46<02:43,  3.48 MiB/s]


Extraction completed...: 0 file [00:46, ? file/s]

Dl Size...:  31%|███▏      | 259/827 [00:46<02:42,  3.49 MiB/s]
Dl Completed...:   0%|          | 0/1 [00:46<?, ? url/s]

Dl Size...:  31%|███▏      | 259/827 [00:46<02:42,  3.49 MiB/s]


Extraction completed...: 0 file [00:46, ? file/s]

Dl Size...:  31%|███▏      | 260/827 [00:47<02:39,  3.54 MiB/s]
Dl Completed...:   0%|          | 0/1 [00:47<?, ? url/s]

Dl Size...:  31%|███▏      | 260/827 [00:47<02:39,  3.54 MiB/s]


Extraction completed...: 0 file [00:47, ? file/s]

Dl Size...:  32%|███▏      | 261/827 [00:47<02:34,  3.66 MiB/s]
Dl Completed...:   0%|          | 0/1 [00:47<?, ? url/s]

Dl Size...:  32%|███▏      | 261/827 [00:47<02:34,  3.66 MiB/s]


Extraction completed...: 0 file [00:47, ? file/s]

Dl Size...:  32%|███▏      | 262/827 [00:47<02:29,  3.77 MiB/s]
Dl Completed...:   0%|          | 0/1 [00:47<?, ? url/s]

Dl Size...:  32%|███▏      | 262/827 [00:47<02:29,  3.77 MiB/s]


Extraction completed...: 0 file [00:47, ? file/s]

Dl Size...:  32%|███▏      | 263/827 [00:48<02:24,  3.89 MiB/s]
Dl Completed...:   0%|          | 0/1 [00:48<?, ? url/s]

Dl Size...:  32%|███▏      | 263/827 [00:48<02:24,  3.89 MiB/s]


Extraction completed...: 0 file [00:48, ? file/s]

Dl Size...:  32%|███▏      | 264/827 [00:48<02:18,  4.06 MiB/s]
Dl Completed...:   0%|          | 0/1 [00:48<?, ? url/s]

Dl Size...:  32%|███▏      | 264/827 [00:48<02:18,  4.06 MiB/s]


Extraction completed...: 0 file [00:48, ? file/s]

Dl Size...:  32%|███▏      | 265/827 [00:48<02:13,  4.20 MiB/s]
Dl Completed...:   0%|          | 0/1 [00:48<?, ? url/s]

Dl Size...:  32%|███▏      | 265/827 [00:48<02:13,  4.20 MiB/s]


Extraction completed...: 0 file [00:48, ? file/s]

Dl Size...:  32%|███▏      | 266/827 [00:48<02:09,  4.34 MiB/s]
Dl Completed...:   0%|          | 0/1 [00:48<?, ? url/s]

Dl Size...:  32%|███▏      | 266/827 [00:48<02:09,  4.34 MiB/s]


Extraction completed...: 0 file [00:48, ? file/s]

Dl Size...:  32%|███▏      | 267/827 [00:48<02:04,  4.50 MiB/s]
Dl Completed...:   0%|          | 0/1 [00:48<?, ? url/s]

Dl Size...:  32%|███▏      | 267/827 [00:48<02:04,  4.50 MiB/s]


Extraction completed...: 0 file [00:48, ? file/s]

Dl Size...:  32%|███▏      | 268/827 [00:49<02:00,  4.65 MiB/s]
Dl Completed...:   0%|          | 0/1 [00:49<?, ? url/s]

Dl Size...:  32%|███▏      | 268/827 [00:49<02:00,  4.65 MiB/s]


Extraction completed...: 0 file [00:49, ? file/s]

Dl Size...:  33%|███▎      | 269/827 [00:49<01:56,  4.80 MiB/s]
Dl Completed...:   0%|          | 0/1 [00:49<?, ? url/s]

Dl Size...:  33%|███▎      | 269/827 [00:49<01:56,  4.80 MiB/s]


Extraction completed...: 0 file [00:49, ? file/s]

Dl Size...:  33%|███▎      | 270/827 [00:49<01:52,  4.94 MiB/s]
Dl Completed...:   0%|          | 0/1 [00:49<?, ? url/s]

Dl Size...:  33%|███▎      | 270/827 [00:49<01:52,  4.94 MiB/s]


Extraction completed...: 0 file [00:49, ? file/s]

Dl Size...:  33%|███▎      | 271/827 [00:49<01:48,  5.10 MiB/s]
Dl Completed...:   0%|          | 0/1 [00:49<?, ? url/s]

Dl Size...:  33%|███▎      | 271/827 [00:49<01:48,  5.10 MiB/s]


Extraction completed...: 0 file [00:49, ? file/s]

Dl Size...:  33%|███▎      | 272/827 [00:49<01:45,  5.26 MiB/s]
Dl Completed...:   0%|          | 0/1 [00:49<?, ? url/s]

Dl Size...:  33%|███▎      | 272/827 [00:49<01:45,  5.26 MiB/s]


Extraction completed...: 0 file [00:49, ? file/s]

Dl Size...:  33%|███▎      | 273/827 [00:49<01:41,  5.43 MiB/s]
Dl Completed...:   0%|          | 0/1 [00:49<?, ? url/s]

Dl Size...:  33%|███▎      | 273/827 [00:49<01:41,  5.43 MiB/s]


Extraction completed...: 0 file [00:49, ? file/s]

Dl Size...:  33%|███▎      | 274/827 [00:50<01:39,  5.53 MiB/s]
Dl Completed...:   0%|          | 0/1 [00:50<?, ? url/s]

Dl Size...:  33%|███▎      | 274/827 [00:50<01:39,  5.53 MiB/s]


Extraction completed...: 0 file [00:50, ? file/s]

Dl Size...:  33%|███▎      | 275/827 [00:50<01:37,  5.66 MiB/s]
Dl Completed...:   0%|          | 0/1 [00:50<?, ? url/s]

Dl Size...:  33%|███▎      | 275/827 [00:50<01:37,  5.66 MiB/s]


Extraction completed...: 0 file [00:50, ? file/s]

Dl Size...:  33%|███▎      | 276/827 [00:50<01:35,  5.77 MiB/s]
Dl Completed...:   0%|          | 0/1 [00:50<?, ? url/s]

Dl Size...:  33%|███▎      | 276/827 [00:50<01:35,  5.77 MiB/s]


Extraction completed...: 0 file [00:50, ? file/s]

Dl Size...:  33%|███▎      | 277/827 [00:50<01:33,  5.90 MiB/s]
Dl Completed...:   0%|          | 0/1 [00:50<?, ? url/s]

Dl Size...:  33%|███▎      | 277/827 [00:50<01:33,  5.90 MiB/s]


Extraction completed...: 0 file [00:50, ? file/s]

Dl Size...:  34%|███▎      | 278/827 [00:50<01:30,  6.05 MiB/s]
Dl Completed...:   0%|          | 0/1 [00:50<?, ? url/s]

Dl Size...:  34%|███▎      | 278/827 [00:50<01:30,  6.05 MiB/s]


Extraction completed...: 0 file [00:50, ? file/s]

Dl Size...:  34%|███▎      | 279/827 [00:50<01:28,  6.16 MiB/s]
Dl Completed...:   0%|          | 0/1 [00:50<?, ? url/s]

Dl Size...:  34%|███▎      | 279/827 [00:50<01:28,  6.16 MiB/s]


Extraction completed...: 0 file [00:50, ? file/s]

Dl Size...:  34%|███▍      | 280/827 [00:51<01:27,  6.26 MiB/s]
Dl Completed...:   0%|          | 0/1 [00:51<?, ? url/s]

Dl Size...:  34%|███▍      | 280/827 [00:51<01:27,  6.26 MiB/s]


Extraction completed...: 0 file [00:51, ? file/s]

Dl Size...:  34%|███▍      | 281/827 [00:51<01:25,  6.40 MiB/s]
Dl Completed...:   0%|          | 0/1 [00:51<?, ? url/s]

Dl Size...:  34%|███▍      | 281/827 [00:51<01:25,  6.40 MiB/s]


Extraction completed...: 0 file [00:51, ? file/s]

Dl Size...:  34%|███▍      | 282/827 [00:51<01:23,  6.54 MiB/s]
Dl Completed...:   0%|          | 0/1 [00:51<?, ? url/s]

Dl Size...:  34%|███▍      | 282/827 [00:51<01:23,  6.54 MiB/s]


Extraction completed...: 0 file [00:51, ? file/s]

Dl Size...:  34%|███▍      | 283/827 [00:51<01:22,  6.62 MiB/s]
Dl Completed...:   0%|          | 0/1 [00:51<?, ? url/s]

Dl Size...:  34%|███▍      | 283/827 [00:51<01:22,  6.62 MiB/s]


Extraction completed...: 0 file [00:51, ? file/s]

Dl Size...:  34%|███▍      | 284/827 [00:51<01:20,  6.72 MiB/s]
Dl Completed...:   0%|          | 0/1 [00:51<?, ? url/s]

Dl Size...:  34%|███▍      | 284/827 [00:51<01:20,  6.72 MiB/s]


Extraction completed...: 0 file [00:51, ? file/s]

Dl Size...:  34%|███▍      | 285/827 [00:51<01:19,  6.81 MiB/s]
Dl Completed...:   0%|          | 0/1 [00:51<?, ? url/s]

Dl Size...:  34%|███▍      | 285/827 [00:51<01:19,  6.81 MiB/s]


Extraction completed...: 0 file [00:51, ? file/s]

Dl Size...:  35%|███▍      | 286/827 [00:51<01:17,  6.97 MiB/s]
Dl Completed...:   0%|          | 0/1 [00:51<?, ? url/s]

Dl Size...:  35%|███▍      | 286/827 [00:51<01:17,  6.97 MiB/s]


Extraction completed...: 0 file [00:51, ? file/s]

Dl Size...:  35%|███▍      | 287/827 [00:52<01:16,  7.02 MiB/s]
Dl Completed...:   0%|          | 0/1 [00:52<?, ? url/s]

Dl Size...:  35%|███▍      | 287/827 [00:52<01:16,  7.02 MiB/s]


Extraction completed...: 0 file [00:52, ? file/s]

Dl Size...:  35%|███▍      | 288/827 [00:52<01:15,  7.17 MiB/s]
Dl Completed...:   0%|          | 0/1 [00:52<?, ? url/s]

Dl Size...:  35%|███▍      | 288/827 [00:52<01:15,  7.17 MiB/s]


Extraction completed...: 0 file [00:52, ? file/s]

Dl Size...:  35%|███▍      | 289/827 [00:52<01:13,  7.29 MiB/s]
Dl Completed...:   0%|          | 0/1 [00:52<?, ? url/s]

Dl Size...:  35%|███▍      | 289/827 [00:52<01:13,  7.29 MiB/s]


Extraction completed...: 0 file [00:52, ? file/s]

Dl Size...:  35%|███▌      | 290/827 [00:52<01:12,  7.37 MiB/s]
Dl Completed...:   0%|          | 0/1 [00:52<?, ? url/s]

Dl Size...:  35%|███▌      | 290/827 [00:52<01:12,  7.37 MiB/s]


Extraction completed...: 0 file [00:52, ? file/s]

Dl Size...:  35%|███▌      | 291/827 [00:52<01:11,  7.49 MiB/s]
Dl Completed...:   0%|          | 0/1 [00:52<?, ? url/s]

Dl Size...:  35%|███▌      | 291/827 [00:52<01:11,  7.49 MiB/s]


Extraction completed...: 0 file [00:52, ? file/s]

Dl Size...:  35%|███▌      | 292/827 [00:52<01:10,  7.58 MiB/s]
Dl Completed...:   0%|          | 0/1 [00:52<?, ? url/s]

Dl Size...:  35%|███▌      | 292/827 [00:52<01:10,  7.58 MiB/s]


Extraction completed...: 0 file [00:52, ? file/s]

Dl Size...:  35%|███▌      | 293/827 [00:52<01:09,  7.68 MiB/s]
Dl Completed...:   0%|          | 0/1 [00:52<?, ? url/s]

Dl Size...:  35%|███▌      | 293/827 [00:52<01:09,  7.68 MiB/s]


Extraction completed...: 0 file [00:52, ? file/s]

Dl Size...:  36%|███▌      | 294/827 [00:53<01:14,  7.19 MiB/s]
Dl Completed...:   0%|          | 0/1 [00:53<?, ? url/s]

Dl Size...:  36%|███▌      | 294/827 [00:53<01:14,  7.19 MiB/s]


Extraction completed...: 0 file [00:53, ? file/s]

Dl Size...:  36%|███▌      | 295/827 [00:53<01:19,  6.69 MiB/s]
Dl Completed...:   0%|          | 0/1 [00:53<?, ? url/s]

Dl Size...:  36%|███▌      | 295/827 [00:53<01:19,  6.69 MiB/s]


Extraction completed...: 0 file [00:53, ? file/s]

Dl Size...:  36%|███▌      | 296/827 [00:53<01:21,  6.49 MiB/s]
Dl Completed...:   0%|          | 0/1 [00:53<?, ? url/s]

Dl Size...:  36%|███▌      | 296/827 [00:53<01:21,  6.49 MiB/s]


Extraction completed...: 0 file [00:53, ? file/s]

Dl Size...:  36%|███▌      | 297/827 [00:53<01:22,  6.42 MiB/s]
Dl Completed...:   0%|          | 0/1 [00:53<?, ? url/s]

Dl Size...:  36%|███▌      | 297/827 [00:53<01:22,  6.42 MiB/s]


Extraction completed...: 0 file [00:53, ? file/s]

Dl Size...:  36%|███▌      | 298/827 [00:53<01:22,  6.40 MiB/s]
Dl Completed...:   0%|          | 0/1 [00:53<?, ? url/s]

Dl Size...:  36%|███▌      | 298/827 [00:53<01:22,  6.40 MiB/s]


Extraction completed...: 0 file [00:53, ? file/s]

Dl Size...:  36%|███▌      | 299/827 [00:53<01:21,  6.47 MiB/s]
Dl Completed...:   0%|          | 0/1 [00:53<?, ? url/s]

Dl Size...:  36%|███▌      | 299/827 [00:53<01:21,  6.47 MiB/s]


Extraction completed...: 0 file [00:53, ? file/s]

Dl Size...:  36%|███▋      | 300/827 [00:54<01:30,  5.84 MiB/s]
Dl Completed...:   0%|          | 0/1 [00:54<?, ? url/s]

Dl Size...:  36%|███▋      | 300/827 [00:54<01:30,  5.84 MiB/s]


Extraction completed...: 0 file [00:54, ? file/s]

Dl Size...:  36%|███▋      | 301/827 [00:54<01:44,  5.03 MiB/s]
Dl Completed...:   0%|          | 0/1 [00:54<?, ? url/s]

Dl Size...:  36%|███▋      | 301/827 [00:54<01:44,  5.03 MiB/s]


Extraction completed...: 0 file [00:54, ? file/s]

Dl Size...:  37%|███▋      | 302/827 [00:54<01:57,  4.45 MiB/s]
Dl Completed...:   0%|          | 0/1 [00:54<?, ? url/s]

Dl Size...:  37%|███▋      | 302/827 [00:54<01:57,  4.45 MiB/s]


Extraction completed...: 0 file [00:54, ? file/s]

Dl Size...:  37%|███▋      | 303/827 [00:54<02:05,  4.18 MiB/s]
Dl Completed...:   0%|          | 0/1 [00:54<?, ? url/s]

Dl Size...:  37%|███▋      | 303/827 [00:54<02:05,  4.18 MiB/s]


Extraction completed...: 0 file [00:54, ? file/s]

Dl Size...:  37%|███▋      | 304/827 [00:55<02:07,  4.10 MiB/s]
Dl Completed...:   0%|          | 0/1 [00:55<?, ? url/s]

Dl Size...:  37%|███▋      | 304/827 [00:55<02:07,  4.10 MiB/s]


Extraction completed...: 0 file [00:55, ? file/s]

Dl Size...:  37%|███▋      | 305/827 [00:55<02:07,  4.10 MiB/s]
Dl Completed...:   0%|          | 0/1 [00:55<?, ? url/s]

Dl Size...:  37%|███▋      | 305/827 [00:55<02:07,  4.10 MiB/s]


Extraction completed...: 0 file [00:55, ? file/s]

Dl Size...:  37%|███▋      | 306/827 [00:55<02:05,  4.15 MiB/s]
Dl Completed...:   0%|          | 0/1 [00:55<?, ? url/s]

Dl Size...:  37%|███▋      | 306/827 [00:55<02:05,  4.15 MiB/s]


Extraction completed...: 0 file [00:55, ? file/s]

Dl Size...:  37%|███▋      | 307/827 [00:55<02:02,  4.23 MiB/s]
Dl Completed...:   0%|          | 0/1 [00:55<?, ? url/s]

Dl Size...:  37%|███▋      | 307/827 [00:55<02:02,  4.23 MiB/s]


Extraction completed...: 0 file [00:55, ? file/s]

Dl Size...:  37%|███▋      | 308/827 [00:56<01:59,  4.34 MiB/s]
Dl Completed...:   0%|          | 0/1 [00:56<?, ? url/s]

Dl Size...:  37%|███▋      | 308/827 [00:56<01:59,  4.34 MiB/s]


Extraction completed...: 0 file [00:56, ? file/s]

Dl Size...:  37%|███▋      | 309/827 [00:56<01:56,  4.44 MiB/s]
Dl Completed...:   0%|          | 0/1 [00:56<?, ? url/s]

Dl Size...:  37%|███▋      | 309/827 [00:56<01:56,  4.44 MiB/s]


Extraction completed...: 0 file [00:56, ? file/s]

Dl Size...:  37%|███▋      | 310/827 [00:56<01:52,  4.58 MiB/s]
Dl Completed...:   0%|          | 0/1 [00:56<?, ? url/s]

Dl Size...:  37%|███▋      | 310/827 [00:56<01:52,  4.58 MiB/s]


Extraction completed...: 0 file [00:56, ? file/s]

Dl Size...:  38%|███▊      | 311/827 [00:56<01:49,  4.70 MiB/s]
Dl Completed...:   0%|          | 0/1 [00:56<?, ? url/s]

Dl Size...:  38%|███▊      | 311/827 [00:56<01:49,  4.70 MiB/s]


Extraction completed...: 0 file [00:56, ? file/s]

Dl Size...:  38%|███▊      | 312/827 [00:56<01:46,  4.85 MiB/s]
Dl Completed...:   0%|          | 0/1 [00:56<?, ? url/s]

Dl Size...:  38%|███▊      | 312/827 [00:56<01:46,  4.85 MiB/s]


Extraction completed...: 0 file [00:56, ? file/s]

Dl Size...:  38%|███▊      | 313/827 [00:57<01:43,  4.98 MiB/s]
Dl Completed...:   0%|          | 0/1 [00:57<?, ? url/s]

Dl Size...:  38%|███▊      | 313/827 [00:57<01:43,  4.98 MiB/s]


Extraction completed...: 0 file [00:57, ? file/s]

Dl Size...:  38%|███▊      | 314/827 [00:57<01:39,  5.13 MiB/s]
Dl Completed...:   0%|          | 0/1 [00:57<?, ? url/s]

Dl Size...:  38%|███▊      | 314/827 [00:57<01:39,  5.13 MiB/s]


Extraction completed...: 0 file [00:57, ? file/s]

Dl Size...:  38%|███▊      | 315/827 [00:57<01:37,  5.26 MiB/s]
Dl Completed...:   0%|          | 0/1 [00:57<?, ? url/s]

Dl Size...:  38%|███▊      | 315/827 [00:57<01:37,  5.26 MiB/s]


Extraction completed...: 0 file [00:57, ? file/s]

Dl Size...:  38%|███▊      | 316/827 [00:57<01:34,  5.38 MiB/s]
Dl Completed...:   0%|          | 0/1 [00:57<?, ? url/s]

Dl Size...:  38%|███▊      | 316/827 [00:57<01:34,  5.38 MiB/s]


Extraction completed...: 0 file [00:57, ? file/s]

Dl Size...:  38%|███▊      | 317/827 [00:57<01:31,  5.55 MiB/s]
Dl Completed...:   0%|          | 0/1 [00:57<?, ? url/s]

Dl Size...:  38%|███▊      | 317/827 [00:57<01:31,  5.55 MiB/s]


Extraction completed...: 0 file [00:57, ? file/s]

Dl Size...:  38%|███▊      | 318/827 [00:57<01:30,  5.62 MiB/s]
Dl Completed...:   0%|          | 0/1 [00:57<?, ? url/s]

Dl Size...:  38%|███▊      | 318/827 [00:57<01:30,  5.62 MiB/s]


Extraction completed...: 0 file [00:57, ? file/s]

Dl Size...:  39%|███▊      | 319/827 [00:58<01:27,  5.80 MiB/s]
Dl Completed...:   0%|          | 0/1 [00:58<?, ? url/s]

Dl Size...:  39%|███▊      | 319/827 [00:58<01:27,  5.80 MiB/s]


Extraction completed...: 0 file [00:58, ? file/s]

Dl Size...:  39%|███▊      | 320/827 [00:58<01:25,  5.95 MiB/s]
Dl Completed...:   0%|          | 0/1 [00:58<?, ? url/s]

Dl Size...:  39%|███▊      | 320/827 [00:58<01:25,  5.95 MiB/s]


Extraction completed...: 0 file [00:58, ? file/s]

Dl Size...:  39%|███▉      | 321/827 [00:58<01:23,  6.04 MiB/s]
Dl Completed...:   0%|          | 0/1 [00:58<?, ? url/s]

Dl Size...:  39%|███▉      | 321/827 [00:58<01:23,  6.04 MiB/s]


Extraction completed...: 0 file [00:58, ? file/s]

Dl Size...:  39%|███▉      | 322/827 [00:58<01:22,  6.15 MiB/s]
Dl Completed...:   0%|          | 0/1 [00:58<?, ? url/s]

Dl Size...:  39%|███▉      | 322/827 [00:58<01:22,  6.15 MiB/s]


Extraction completed...: 0 file [00:58, ? file/s]

Dl Size...:  39%|███▉      | 323/827 [00:58<01:20,  6.25 MiB/s]
Dl Completed...:   0%|          | 0/1 [00:58<?, ? url/s]

Dl Size...:  39%|███▉      | 323/827 [00:58<01:20,  6.25 MiB/s]


Extraction completed...: 0 file [00:58, ? file/s]

Dl Size...:  39%|███▉      | 324/827 [00:58<01:19,  6.36 MiB/s]
Dl Completed...:   0%|          | 0/1 [00:58<?, ? url/s]

Dl Size...:  39%|███▉      | 324/827 [00:58<01:19,  6.36 MiB/s]


Extraction completed...: 0 file [00:58, ? file/s]

Dl Size...:  39%|███▉      | 325/827 [00:59<01:16,  6.53 MiB/s]
Dl Completed...:   0%|          | 0/1 [00:59<?, ? url/s]

Dl Size...:  39%|███▉      | 325/827 [00:59<01:16,  6.53 MiB/s]


Extraction completed...: 0 file [00:59, ? file/s]

Dl Size...:  39%|███▉      | 326/827 [00:59<01:15,  6.61 MiB/s]
Dl Completed...:   0%|          | 0/1 [00:59<?, ? url/s]

Dl Size...:  39%|███▉      | 326/827 [00:59<01:15,  6.61 MiB/s]


Extraction completed...: 0 file [00:59, ? file/s]

Dl Size...:  40%|███▉      | 327/827 [00:59<01:14,  6.70 MiB/s]
Dl Completed...:   0%|          | 0/1 [00:59<?, ? url/s]

Dl Size...:  40%|███▉      | 327/827 [00:59<01:14,  6.70 MiB/s]


Extraction completed...: 0 file [00:59, ? file/s]

Dl Size...:  40%|███▉      | 328/827 [00:59<01:12,  6.87 MiB/s]
Dl Completed...:   0%|          | 0/1 [00:59<?, ? url/s]

Dl Size...:  40%|███▉      | 328/827 [00:59<01:12,  6.87 MiB/s]


Extraction completed...: 0 file [00:59, ? file/s]

Dl Size...:  40%|███▉      | 329/827 [00:59<01:11,  6.95 MiB/s]
Dl Completed...:   0%|          | 0/1 [00:59<?, ? url/s]

Dl Size...:  40%|███▉      | 329/827 [00:59<01:11,  6.95 MiB/s]


Extraction completed...: 0 file [00:59, ? file/s]

Dl Size...:  40%|███▉      | 330/827 [00:59<01:10,  7.02 MiB/s]
Dl Completed...:   0%|          | 0/1 [00:59<?, ? url/s]

Dl Size...:  40%|███▉      | 330/827 [00:59<01:10,  7.02 MiB/s]


Extraction completed...: 0 file [00:59, ? file/s]

Dl Size...:  40%|████      | 331/827 [00:59<01:09,  7.18 MiB/s]
Dl Completed...:   0%|          | 0/1 [00:59<?, ? url/s]

Dl Size...:  40%|████      | 331/827 [00:59<01:09,  7.18 MiB/s]


Extraction completed...: 0 file [00:59, ? file/s]

Dl Size...:  40%|████      | 332/827 [00:59<01:08,  7.22 MiB/s]
Dl Completed...:   0%|          | 0/1 [00:59<?, ? url/s]

Dl Size...:  40%|████      | 332/827 [00:59<01:08,  7.22 MiB/s]


Extraction completed...: 0 file [00:59, ? file/s]

Dl Size...:  40%|████      | 333/827 [01:00<01:07,  7.35 MiB/s]
Dl Completed...:   0%|          | 0/1 [01:00<?, ? url/s]

Dl Size...:  40%|████      | 333/827 [01:00<01:07,  7.35 MiB/s]


Extraction completed...: 0 file [01:00, ? file/s]

Dl Size...:  40%|████      | 334/827 [01:00<01:06,  7.44 MiB/s]
Dl Completed...:   0%|          | 0/1 [01:00<?, ? url/s]

Dl Size...:  40%|████      | 334/827 [01:00<01:06,  7.44 MiB/s]


Extraction completed...: 0 file [01:00, ? file/s]

Dl Size...:  41%|████      | 335/827 [01:00<01:05,  7.56 MiB/s]
Dl Completed...:   0%|          | 0/1 [01:00<?, ? url/s]

Dl Size...:  41%|████      | 335/827 [01:00<01:05,  7.56 MiB/s]


Extraction completed...: 0 file [01:00, ? file/s]

Dl Size...:  41%|████      | 336/827 [01:00<01:03,  7.67 MiB/s]
Dl Completed...:   0%|          | 0/1 [01:00<?, ? url/s]

Dl Size...:  41%|████      | 336/827 [01:00<01:03,  7.67 MiB/s]


Extraction completed...: 0 file [01:00, ? file/s]

Dl Size...:  41%|████      | 337/827 [01:00<01:02,  7.78 MiB/s]
Dl Completed...:   0%|          | 0/1 [01:00<?, ? url/s]

Dl Size...:  41%|████      | 337/827 [01:00<01:02,  7.78 MiB/s]


Extraction completed...: 0 file [01:00, ? file/s]

Dl Size...:  41%|████      | 338/827 [01:00<01:02,  7.85 MiB/s]
Dl Completed...:   0%|          | 0/1 [01:00<?, ? url/s]

Dl Size...:  41%|████      | 338/827 [01:00<01:02,  7.85 MiB/s]


Extraction completed...: 0 file [01:00, ? file/s]

Dl Size...:  41%|████      | 339/827 [01:00<01:01,  7.97 MiB/s]
Dl Completed...:   0%|          | 0/1 [01:00<?, ? url/s]

Dl Size...:  41%|████      | 339/827 [01:00<01:01,  7.97 MiB/s]


Extraction completed...: 0 file [01:00, ? file/s]

Dl Size...:  41%|████      | 340/827 [01:00<01:00,  8.07 MiB/s]
Dl Completed...:   0%|          | 0/1 [01:00<?, ? url/s]

Dl Size...:  41%|████      | 340/827 [01:00<01:00,  8.07 MiB/s]


Extraction completed...: 0 file [01:00, ? file/s]

Dl Size...:  41%|████      | 341/827 [01:01<00:59,  8.17 MiB/s]
Dl Completed...:   0%|          | 0/1 [01:01<?, ? url/s]

Dl Size...:  41%|████      | 341/827 [01:01<00:59,  8.17 MiB/s]


Extraction completed...: 0 file [01:01, ? file/s]

Dl Size...:  41%|████▏     | 342/827 [01:01<00:59,  8.21 MiB/s]
Dl Completed...:   0%|          | 0/1 [01:01<?, ? url/s]

Dl Size...:  41%|████▏     | 342/827 [01:01<00:59,  8.21 MiB/s]


Extraction completed...: 0 file [01:01, ? file/s]

Dl Size...:  41%|████▏     | 343/827 [01:01<00:58,  8.27 MiB/s]
Dl Completed...:   0%|          | 0/1 [01:01<?, ? url/s]

Dl Size...:  41%|████▏     | 343/827 [01:01<00:58,  8.27 MiB/s]


Extraction completed...: 0 file [01:01, ? file/s]

Dl Size...:  42%|████▏     | 344/827 [01:01<00:57,  8.36 MiB/s]
Dl Completed...:   0%|          | 0/1 [01:01<?, ? url/s]

Dl Size...:  42%|████▏     | 344/827 [01:01<00:57,  8.36 MiB/s]


Extraction completed...: 0 file [01:01, ? file/s]

Dl Size...:  42%|████▏     | 345/827 [01:01<00:57,  8.44 MiB/s]
Dl Completed...:   0%|          | 0/1 [01:01<?, ? url/s]

Dl Size...:  42%|████▏     | 345/827 [01:01<00:57,  8.44 MiB/s]


Extraction completed...: 0 file [01:01, ? file/s]

Dl Size...:  42%|████▏     | 346/827 [01:01<00:56,  8.53 MiB/s]
Dl Completed...:   0%|          | 0/1 [01:01<?, ? url/s]

Dl Size...:  42%|████▏     | 346/827 [01:01<00:56,  8.53 MiB/s]


Extraction completed...: 0 file [01:01, ? file/s]

Dl Size...:  42%|████▏     | 347/827 [01:01<00:55,  8.57 MiB/s]
Dl Completed...:   0%|          | 0/1 [01:01<?, ? url/s]

Dl Size...:  42%|████▏     | 347/827 [01:01<00:55,  8.57 MiB/s]


Extraction completed...: 0 file [01:01, ? file/s]

Dl Size...:  42%|████▏     | 348/827 [01:01<00:54,  8.73 MiB/s]
Dl Completed...:   0%|          | 0/1 [01:01<?, ? url/s]

Dl Size...:  42%|████▏     | 348/827 [01:01<00:54,  8.73 MiB/s]


Extraction completed...: 0 file [01:01, ? file/s]

Dl Size...:  42%|████▏     | 349/827 [01:02<00:54,  8.75 MiB/s]
Dl Completed...:   0%|          | 0/1 [01:02<?, ? url/s]

Dl Size...:  42%|████▏     | 349/827 [01:02<00:54,  8.75 MiB/s]


Extraction completed...: 0 file [01:02, ? file/s]

Dl Size...:  42%|████▏     | 350/827 [01:02<00:53,  8.84 MiB/s]
Dl Completed...:   0%|          | 0/1 [01:02<?, ? url/s]

Dl Size...:  42%|████▏     | 350/827 [01:02<00:53,  8.84 MiB/s]


Extraction completed...: 0 file [01:02, ? file/s]

Dl Size...:  42%|████▏     | 351/827 [01:02<00:53,  8.89 MiB/s]
Dl Completed...:   0%|          | 0/1 [01:02<?, ? url/s]

Dl Size...:  42%|████▏     | 351/827 [01:02<00:53,  8.89 MiB/s]


Extraction completed...: 0 file [01:02, ? file/s]

Dl Size...:  43%|████▎     | 352/827 [01:02<00:53,  8.90 MiB/s]
Dl Completed...:   0%|          | 0/1 [01:02<?, ? url/s]

Dl Size...:  43%|████▎     | 352/827 [01:02<00:53,  8.90 MiB/s]


Extraction completed...: 0 file [01:02, ? file/s]

Dl Size...:  43%|████▎     | 353/827 [01:02<00:52,  9.02 MiB/s]
Dl Completed...:   0%|          | 0/1 [01:02<?, ? url/s]

Dl Size...:  43%|████▎     | 353/827 [01:02<00:52,  9.02 MiB/s]


Extraction completed...: 0 file [01:02, ? file/s]

Dl Size...:  43%|████▎     | 354/827 [01:02<00:51,  9.15 MiB/s]
Dl Completed...:   0%|          | 0/1 [01:02<?, ? url/s]

Dl Size...:  43%|████▎     | 354/827 [01:02<00:51,  9.15 MiB/s]


Extraction completed...: 0 file [01:02, ? file/s]

Dl Size...:  43%|████▎     | 355/827 [01:02<00:51,  9.20 MiB/s]
Dl Completed...:   0%|          | 0/1 [01:02<?, ? url/s]

Dl Size...:  43%|████▎     | 355/827 [01:02<00:51,  9.20 MiB/s]


Extraction completed...: 0 file [01:02, ? file/s]

Dl Size...:  43%|████▎     | 356/827 [01:02<00:50,  9.29 MiB/s]
Dl Completed...:   0%|          | 0/1 [01:02<?, ? url/s]

Dl Size...:  43%|████▎     | 356/827 [01:02<00:50,  9.29 MiB/s]


Extraction completed...: 0 file [01:02, ? file/s]

Dl Size...:  43%|████▎     | 357/827 [01:02<00:50,  9.33 MiB/s]
Dl Completed...:   0%|          | 0/1 [01:02<?, ? url/s]

Dl Size...:  43%|████▎     | 357/827 [01:02<00:50,  9.33 MiB/s]


Extraction completed...: 0 file [01:02, ? file/s]

Dl Size...:  43%|████▎     | 358/827 [01:02<00:49,  9.44 MiB/s]
Dl Completed...:   0%|          | 0/1 [01:02<?, ? url/s]

Dl Size...:  43%|████▎     | 358/827 [01:02<00:49,  9.44 MiB/s]


Extraction completed...: 0 file [01:02, ? file/s]

Dl Size...:  43%|████▎     | 359/827 [01:03<00:55,  8.49 MiB/s]
Dl Completed...:   0%|          | 0/1 [01:03<?, ? url/s]

Dl Size...:  43%|████▎     | 359/827 [01:03<00:55,  8.49 MiB/s]


Extraction completed...: 0 file [01:03, ? file/s]

Dl Size...:  44%|████▎     | 360/827 [01:03<01:03,  7.35 MiB/s]
Dl Completed...:   0%|          | 0/1 [01:03<?, ? url/s]

Dl Size...:  44%|████▎     | 360/827 [01:03<01:03,  7.35 MiB/s]


Extraction completed...: 0 file [01:03, ? file/s]

Dl Size...:  44%|████▎     | 361/827 [01:03<01:12,  6.44 MiB/s]
Dl Completed...:   0%|          | 0/1 [01:03<?, ? url/s]

Dl Size...:  44%|████▎     | 361/827 [01:03<01:12,  6.44 MiB/s]


Extraction completed...: 0 file [01:03, ? file/s]

Dl Size...:  44%|████▍     | 362/827 [01:03<01:17,  6.02 MiB/s]
Dl Completed...:   0%|          | 0/1 [01:03<?, ? url/s]

Dl Size...:  44%|████▍     | 362/827 [01:03<01:17,  6.02 MiB/s]


Extraction completed...: 0 file [01:03, ? file/s]

Dl Size...:  44%|████▍     | 363/827 [01:03<01:20,  5.79 MiB/s]
Dl Completed...:   0%|          | 0/1 [01:03<?, ? url/s]

Dl Size...:  44%|████▍     | 363/827 [01:03<01:20,  5.79 MiB/s]


Extraction completed...: 0 file [01:03, ? file/s]

Dl Size...:  44%|████▍     | 364/827 [01:04<01:21,  5.65 MiB/s]
Dl Completed...:   0%|          | 0/1 [01:04<?, ? url/s]

Dl Size...:  44%|████▍     | 364/827 [01:04<01:21,  5.65 MiB/s]


Extraction completed...: 0 file [01:04, ? file/s]

Dl Size...:  44%|████▍     | 365/827 [01:04<01:29,  5.16 MiB/s]
Dl Completed...:   0%|          | 0/1 [01:04<?, ? url/s]

Dl Size...:  44%|████▍     | 365/827 [01:04<01:29,  5.16 MiB/s]


Extraction completed...: 0 file [01:04, ? file/s]

Dl Size...:  44%|████▍     | 366/827 [01:04<01:51,  4.13 MiB/s]
Dl Completed...:   0%|          | 0/1 [01:04<?, ? url/s]

Dl Size...:  44%|████▍     | 366/827 [01:04<01:51,  4.13 MiB/s]


Extraction completed...: 0 file [01:04, ? file/s]

Dl Size...:  44%|████▍     | 367/827 [01:05<02:03,  3.72 MiB/s]
Dl Completed...:   0%|          | 0/1 [01:05<?, ? url/s]

Dl Size...:  44%|████▍     | 367/827 [01:05<02:03,  3.72 MiB/s]


Extraction completed...: 0 file [01:05, ? file/s]

Dl Size...:  44%|████▍     | 368/827 [01:05<02:08,  3.57 MiB/s]
Dl Completed...:   0%|          | 0/1 [01:05<?, ? url/s]

Dl Size...:  44%|████▍     | 368/827 [01:05<02:08,  3.57 MiB/s]


Extraction completed...: 0 file [01:05, ? file/s]

Dl Size...:  45%|████▍     | 369/827 [01:05<02:08,  3.56 MiB/s]
Dl Completed...:   0%|          | 0/1 [01:05<?, ? url/s]

Dl Size...:  45%|████▍     | 369/827 [01:05<02:08,  3.56 MiB/s]


Extraction completed...: 0 file [01:05, ? file/s]

Dl Size...:  45%|████▍     | 370/827 [01:05<02:06,  3.60 MiB/s]
Dl Completed...:   0%|          | 0/1 [01:05<?, ? url/s]

Dl Size...:  45%|████▍     | 370/827 [01:05<02:06,  3.60 MiB/s]


Extraction completed...: 0 file [01:05, ? file/s]

Dl Size...:  45%|████▍     | 371/827 [01:06<02:03,  3.71 MiB/s]
Dl Completed...:   0%|          | 0/1 [01:06<?, ? url/s]

Dl Size...:  45%|████▍     | 371/827 [01:06<02:03,  3.71 MiB/s]


Extraction completed...: 0 file [01:06, ? file/s]

Dl Size...:  45%|████▍     | 372/827 [01:06<01:59,  3.80 MiB/s]
Dl Completed...:   0%|          | 0/1 [01:06<?, ? url/s]

Dl Size...:  45%|████▍     | 372/827 [01:06<01:59,  3.80 MiB/s]


Extraction completed...: 0 file [01:06, ? file/s]

Dl Size...:  45%|████▌     | 373/827 [01:06<01:55,  3.93 MiB/s]
Dl Completed...:   0%|          | 0/1 [01:06<?, ? url/s]

Dl Size...:  45%|████▌     | 373/827 [01:06<01:55,  3.93 MiB/s]


Extraction completed...: 0 file [01:06, ? file/s]

Dl Size...:  45%|████▌     | 374/827 [01:06<01:51,  4.08 MiB/s]
Dl Completed...:   0%|          | 0/1 [01:06<?, ? url/s]

Dl Size...:  45%|████▌     | 374/827 [01:06<01:51,  4.08 MiB/s]


Extraction completed...: 0 file [01:06, ? file/s]

Dl Size...:  45%|████▌     | 375/827 [01:07<01:46,  4.23 MiB/s]
Dl Completed...:   0%|          | 0/1 [01:07<?, ? url/s]

Dl Size...:  45%|████▌     | 375/827 [01:07<01:46,  4.23 MiB/s]


Extraction completed...: 0 file [01:07, ? file/s]

Dl Size...:  45%|████▌     | 376/827 [01:07<01:43,  4.38 MiB/s]
Dl Completed...:   0%|          | 0/1 [01:07<?, ? url/s]

Dl Size...:  45%|████▌     | 376/827 [01:07<01:43,  4.38 MiB/s]


Extraction completed...: 0 file [01:07, ? file/s]

Dl Size...:  46%|████▌     | 377/827 [01:07<01:39,  4.52 MiB/s]
Dl Completed...:   0%|          | 0/1 [01:07<?, ? url/s]

Dl Size...:  46%|████▌     | 377/827 [01:07<01:39,  4.52 MiB/s]


Extraction completed...: 0 file [01:07, ? file/s]

Dl Size...:  46%|████▌     | 378/827 [01:07<01:35,  4.69 MiB/s]
Dl Completed...:   0%|          | 0/1 [01:07<?, ? url/s]

Dl Size...:  46%|████▌     | 378/827 [01:07<01:35,  4.69 MiB/s]


Extraction completed...: 0 file [01:07, ? file/s]

Dl Size...:  46%|████▌     | 379/827 [01:07<01:32,  4.83 MiB/s]
Dl Completed...:   0%|          | 0/1 [01:07<?, ? url/s]

Dl Size...:  46%|████▌     | 379/827 [01:07<01:32,  4.83 MiB/s]


Extraction completed...: 0 file [01:07, ? file/s]

Dl Size...:  46%|████▌     | 380/827 [01:08<01:29,  5.00 MiB/s]
Dl Completed...:   0%|          | 0/1 [01:08<?, ? url/s]

Dl Size...:  46%|████▌     | 380/827 [01:08<01:29,  5.00 MiB/s]


Extraction completed...: 0 file [01:08, ? file/s]

Dl Size...:  46%|████▌     | 381/827 [01:08<01:27,  5.11 MiB/s]
Dl Completed...:   0%|          | 0/1 [01:08<?, ? url/s]

Dl Size...:  46%|████▌     | 381/827 [01:08<01:27,  5.11 MiB/s]


Extraction completed...: 0 file [01:08, ? file/s]

Dl Size...:  46%|████▌     | 382/827 [01:08<01:24,  5.29 MiB/s]
Dl Completed...:   0%|          | 0/1 [01:08<?, ? url/s]

Dl Size...:  46%|████▌     | 382/827 [01:08<01:24,  5.29 MiB/s]


Extraction completed...: 0 file [01:08, ? file/s]

Dl Size...:  46%|████▋     | 383/827 [01:08<01:22,  5.41 MiB/s]
Dl Completed...:   0%|          | 0/1 [01:08<?, ? url/s]

Dl Size...:  46%|████▋     | 383/827 [01:08<01:22,  5.41 MiB/s]


Extraction completed...: 0 file [01:08, ? file/s]

Dl Size...:  46%|████▋     | 384/827 [01:08<01:20,  5.49 MiB/s]
Dl Completed...:   0%|          | 0/1 [01:08<?, ? url/s]

Dl Size...:  46%|████▋     | 384/827 [01:08<01:20,  5.49 MiB/s]


Extraction completed...: 0 file [01:08, ? file/s]

Dl Size...:  47%|████▋     | 385/827 [01:08<01:18,  5.65 MiB/s]
Dl Completed...:   0%|          | 0/1 [01:08<?, ? url/s]

Dl Size...:  47%|████▋     | 385/827 [01:08<01:18,  5.65 MiB/s]


Extraction completed...: 0 file [01:08, ? file/s]

Dl Size...:  47%|████▋     | 386/827 [01:09<01:15,  5.82 MiB/s]
Dl Completed...:   0%|          | 0/1 [01:09<?, ? url/s]

Dl Size...:  47%|████▋     | 386/827 [01:09<01:15,  5.82 MiB/s]


Extraction completed...: 0 file [01:09, ? file/s]

Dl Size...:  47%|████▋     | 387/827 [01:09<01:14,  5.92 MiB/s]
Dl Completed...:   0%|          | 0/1 [01:09<?, ? url/s]

Dl Size...:  47%|████▋     | 387/827 [01:09<01:14,  5.92 MiB/s]


Extraction completed...: 0 file [01:09, ? file/s]

Dl Size...:  47%|████▋     | 388/827 [01:09<01:13,  6.01 MiB/s]
Dl Completed...:   0%|          | 0/1 [01:09<?, ? url/s]

Dl Size...:  47%|████▋     | 388/827 [01:09<01:13,  6.01 MiB/s]


Extraction completed...: 0 file [01:09, ? file/s]

Dl Size...:  47%|████▋     | 389/827 [01:09<01:11,  6.13 MiB/s]
Dl Completed...:   0%|          | 0/1 [01:09<?, ? url/s]

Dl Size...:  47%|████▋     | 389/827 [01:09<01:11,  6.13 MiB/s]


Extraction completed...: 0 file [01:09, ? file/s]

Dl Size...:  47%|████▋     | 390/827 [01:09<01:09,  6.32 MiB/s]
Dl Completed...:   0%|          | 0/1 [01:09<?, ? url/s]

Dl Size...:  47%|████▋     | 390/827 [01:09<01:09,  6.32 MiB/s]


Extraction completed...: 0 file [01:09, ? file/s]

Dl Size...:  47%|████▋     | 391/827 [01:09<01:07,  6.45 MiB/s]
Dl Completed...:   0%|          | 0/1 [01:09<?, ? url/s]

Dl Size...:  47%|████▋     | 391/827 [01:09<01:07,  6.45 MiB/s]


Extraction completed...: 0 file [01:09, ? file/s]

Dl Size...:  47%|████▋     | 392/827 [01:09<01:06,  6.54 MiB/s]
Dl Completed...:   0%|          | 0/1 [01:09<?, ? url/s]

Dl Size...:  47%|████▋     | 392/827 [01:09<01:06,  6.54 MiB/s]


Extraction completed...: 0 file [01:09, ? file/s]

Dl Size...:  48%|████▊     | 393/827 [01:10<01:05,  6.63 MiB/s]
Dl Completed...:   0%|          | 0/1 [01:10<?, ? url/s]

Dl Size...:  48%|████▊     | 393/827 [01:10<01:05,  6.63 MiB/s]


Extraction completed...: 0 file [01:10, ? file/s]

Dl Size...:  48%|████▊     | 394/827 [01:10<01:03,  6.78 MiB/s]
Dl Completed...:   0%|          | 0/1 [01:10<?, ? url/s]

Dl Size...:  48%|████▊     | 394/827 [01:10<01:03,  6.78 MiB/s]


Extraction completed...: 0 file [01:10, ? file/s]

Dl Size...:  48%|████▊     | 395/827 [01:10<01:03,  6.84 MiB/s]
Dl Completed...:   0%|          | 0/1 [01:10<?, ? url/s]

Dl Size...:  48%|████▊     | 395/827 [01:10<01:03,  6.84 MiB/s]


Extraction completed...: 0 file [01:10, ? file/s]

Dl Size...:  48%|████▊     | 396/827 [01:10<01:01,  7.03 MiB/s]
Dl Completed...:   0%|          | 0/1 [01:10<?, ? url/s]

Dl Size...:  48%|████▊     | 396/827 [01:10<01:01,  7.03 MiB/s]


Extraction completed...: 0 file [01:10, ? file/s]

Dl Size...:  48%|████▊     | 397/827 [01:10<01:00,  7.07 MiB/s]
Dl Completed...:   0%|          | 0/1 [01:10<?, ? url/s]

Dl Size...:  48%|████▊     | 397/827 [01:10<01:00,  7.07 MiB/s]


Extraction completed...: 0 file [01:10, ? file/s]

Dl Size...:  48%|████▊     | 398/827 [01:10<00:59,  7.19 MiB/s]
Dl Completed...:   0%|          | 0/1 [01:10<?, ? url/s]

Dl Size...:  48%|████▊     | 398/827 [01:10<00:59,  7.19 MiB/s]


Extraction completed...: 0 file [01:10, ? file/s]

Dl Size...:  48%|████▊     | 399/827 [01:10<00:58,  7.33 MiB/s]
Dl Completed...:   0%|          | 0/1 [01:10<?, ? url/s]

Dl Size...:  48%|████▊     | 399/827 [01:10<00:58,  7.33 MiB/s]


Extraction completed...: 0 file [01:10, ? file/s]

Dl Size...:  48%|████▊     | 400/827 [01:11<00:58,  7.32 MiB/s]
Dl Completed...:   0%|          | 0/1 [01:11<?, ? url/s]

Dl Size...:  48%|████▊     | 400/827 [01:11<00:58,  7.32 MiB/s]


Extraction completed...: 0 file [01:11, ? file/s]

Dl Size...:  48%|████▊     | 401/827 [01:11<00:57,  7.46 MiB/s]
Dl Completed...:   0%|          | 0/1 [01:11<?, ? url/s]

Dl Size...:  48%|████▊     | 401/827 [01:11<00:57,  7.46 MiB/s]


Extraction completed...: 0 file [01:11, ? file/s]

Dl Size...:  49%|████▊     | 402/827 [01:11<00:56,  7.57 MiB/s]
Dl Completed...:   0%|          | 0/1 [01:11<?, ? url/s]

Dl Size...:  49%|████▊     | 402/827 [01:11<00:56,  7.57 MiB/s]


Extraction completed...: 0 file [01:11, ? file/s]

Dl Size...:  49%|████▊     | 403/827 [01:11<00:55,  7.69 MiB/s]
Dl Completed...:   0%|          | 0/1 [01:11<?, ? url/s]

Dl Size...:  49%|████▊     | 403/827 [01:11<00:55,  7.69 MiB/s]


Extraction completed...: 0 file [01:11, ? file/s]

Dl Size...:  49%|████▉     | 404/827 [01:11<00:54,  7.75 MiB/s]
Dl Completed...:   0%|          | 0/1 [01:11<?, ? url/s]

Dl Size...:  49%|████▉     | 404/827 [01:11<00:54,  7.75 MiB/s]


Extraction completed...: 0 file [01:11, ? file/s]

Dl Size...:  49%|████▉     | 405/827 [01:11<00:53,  7.84 MiB/s]
Dl Completed...:   0%|          | 0/1 [01:11<?, ? url/s]

Dl Size...:  49%|████▉     | 405/827 [01:11<00:53,  7.84 MiB/s]


Extraction completed...: 0 file [01:11, ? file/s]

Dl Size...:  49%|████▉     | 406/827 [01:11<00:53,  7.90 MiB/s]
Dl Completed...:   0%|          | 0/1 [01:11<?, ? url/s]

Dl Size...:  49%|████▉     | 406/827 [01:11<00:53,  7.90 MiB/s]


Extraction completed...: 0 file [01:11, ? file/s]

Dl Size...:  49%|████▉     | 407/827 [01:11<00:52,  8.08 MiB/s]
Dl Completed...:   0%|          | 0/1 [01:11<?, ? url/s]

Dl Size...:  49%|████▉     | 407/827 [01:11<00:52,  8.08 MiB/s]


Extraction completed...: 0 file [01:11, ? file/s]

Dl Size...:  49%|████▉     | 408/827 [01:12<00:51,  8.18 MiB/s]
Dl Completed...:   0%|          | 0/1 [01:12<?, ? url/s]

Dl Size...:  49%|████▉     | 408/827 [01:12<00:51,  8.18 MiB/s]


Extraction completed...: 0 file [01:12, ? file/s]

Dl Size...:  49%|████▉     | 409/827 [01:12<00:50,  8.23 MiB/s]
Dl Completed...:   0%|          | 0/1 [01:12<?, ? url/s]

Dl Size...:  49%|████▉     | 409/827 [01:12<00:50,  8.23 MiB/s]


Extraction completed...: 0 file [01:12, ? file/s]

Dl Size...:  50%|████▉     | 410/827 [01:12<00:50,  8.34 MiB/s]
Dl Completed...:   0%|          | 0/1 [01:12<?, ? url/s]

Dl Size...:  50%|████▉     | 410/827 [01:12<00:50,  8.34 MiB/s]


Extraction completed...: 0 file [01:12, ? file/s]

Dl Size...:  50%|████▉     | 411/827 [01:12<00:49,  8.38 MiB/s]
Dl Completed...:   0%|          | 0/1 [01:12<?, ? url/s]

Dl Size...:  50%|████▉     | 411/827 [01:12<00:49,  8.38 MiB/s]


Extraction completed...: 0 file [01:12, ? file/s]

Dl Size...:  50%|████▉     | 412/827 [01:12<00:48,  8.51 MiB/s]
Dl Completed...:   0%|          | 0/1 [01:12<?, ? url/s]

Dl Size...:  50%|████▉     | 412/827 [01:12<00:48,  8.51 MiB/s]


Extraction completed...: 0 file [01:12, ? file/s]

Dl Size...:  50%|████▉     | 413/827 [01:12<00:48,  8.55 MiB/s]
Dl Completed...:   0%|          | 0/1 [01:12<?, ? url/s]

Dl Size...:  50%|████▉     | 413/827 [01:12<00:48,  8.55 MiB/s]


Extraction completed...: 0 file [01:12, ? file/s]

Dl Size...:  50%|█████     | 414/827 [01:12<00:47,  8.68 MiB/s]
Dl Completed...:   0%|          | 0/1 [01:12<?, ? url/s]

Dl Size...:  50%|█████     | 414/827 [01:12<00:47,  8.68 MiB/s]


Extraction completed...: 0 file [01:12, ? file/s]

Dl Size...:  50%|█████     | 415/827 [01:12<00:47,  8.70 MiB/s]
Dl Completed...:   0%|          | 0/1 [01:12<?, ? url/s]

Dl Size...:  50%|█████     | 415/827 [01:12<00:47,  8.70 MiB/s]


Extraction completed...: 0 file [01:12, ? file/s]

Dl Size...:  50%|█████     | 416/827 [01:12<00:46,  8.79 MiB/s]
Dl Completed...:   0%|          | 0/1 [01:12<?, ? url/s]

Dl Size...:  50%|█████     | 416/827 [01:12<00:46,  8.79 MiB/s]


Extraction completed...: 0 file [01:12, ? file/s]

Dl Size...:  50%|█████     | 417/827 [01:13<00:46,  8.88 MiB/s]
Dl Completed...:   0%|          | 0/1 [01:13<?, ? url/s]

Dl Size...:  50%|█████     | 417/827 [01:13<00:46,  8.88 MiB/s]


Extraction completed...: 0 file [01:13, ? file/s]

Dl Size...:  51%|█████     | 418/827 [01:13<00:45,  8.98 MiB/s]
Dl Completed...:   0%|          | 0/1 [01:13<?, ? url/s]

Dl Size...:  51%|█████     | 418/827 [01:13<00:45,  8.98 MiB/s]


Extraction completed...: 0 file [01:13, ? file/s]

Dl Size...:  51%|█████     | 419/827 [01:13<00:45,  9.04 MiB/s]
Dl Completed...:   0%|          | 0/1 [01:13<?, ? url/s]

Dl Size...:  51%|█████     | 419/827 [01:13<00:45,  9.04 MiB/s]


Extraction completed...: 0 file [01:13, ? file/s]

Dl Size...:  51%|█████     | 420/827 [01:13<00:44,  9.10 MiB/s]
Dl Completed...:   0%|          | 0/1 [01:13<?, ? url/s]

Dl Size...:  51%|█████     | 420/827 [01:13<00:44,  9.10 MiB/s]


Extraction completed...: 0 file [01:13, ? file/s]

Dl Size...:  51%|█████     | 421/827 [01:13<00:44,  9.21 MiB/s]
Dl Completed...:   0%|          | 0/1 [01:13<?, ? url/s]

Dl Size...:  51%|█████     | 421/827 [01:13<00:44,  9.21 MiB/s]


Extraction completed...: 0 file [01:13, ? file/s]

Dl Size...:  51%|█████     | 422/827 [01:13<00:43,  9.27 MiB/s]
Dl Completed...:   0%|          | 0/1 [01:13<?, ? url/s]

Dl Size...:  51%|█████     | 422/827 [01:13<00:43,  9.27 MiB/s]


Extraction completed...: 0 file [01:13, ? file/s]

Dl Size...:  51%|█████     | 423/827 [01:13<00:43,  9.33 MiB/s]
Dl Completed...:   0%|          | 0/1 [01:13<?, ? url/s]

Dl Size...:  51%|█████     | 423/827 [01:13<00:43,  9.33 MiB/s]


Extraction completed...: 0 file [01:13, ? file/s]

Dl Size...:  51%|█████▏    | 424/827 [01:13<00:42,  9.44 MiB/s]
Dl Completed...:   0%|          | 0/1 [01:13<?, ? url/s]

Dl Size...:  51%|█████▏    | 424/827 [01:13<00:42,  9.44 MiB/s]


Extraction completed...: 0 file [01:13, ? file/s]

Dl Size...:  51%|█████▏    | 425/827 [01:13<00:42,  9.53 MiB/s]
Dl Completed...:   0%|          | 0/1 [01:13<?, ? url/s]

Dl Size...:  51%|█████▏    | 425/827 [01:13<00:42,  9.53 MiB/s]


Extraction completed...: 0 file [01:13, ? file/s]

Dl Size...:  52%|█████▏    | 426/827 [01:14<00:41,  9.63 MiB/s]
Dl Completed...:   0%|          | 0/1 [01:14<?, ? url/s]

Dl Size...:  52%|█████▏    | 426/827 [01:14<00:41,  9.63 MiB/s]


Extraction completed...: 0 file [01:14, ? file/s]

Dl Size...:  52%|█████▏    | 427/827 [01:14<00:41,  9.71 MiB/s]
Dl Completed...:   0%|          | 0/1 [01:14<?, ? url/s]

Dl Size...:  52%|█████▏    | 427/827 [01:14<00:41,  9.71 MiB/s]


Extraction completed...: 0 file [01:14, ? file/s]

Dl Size...:  52%|█████▏    | 428/827 [01:14<00:40,  9.76 MiB/s]
Dl Completed...:   0%|          | 0/1 [01:14<?, ? url/s]

Dl Size...:  52%|█████▏    | 428/827 [01:14<00:40,  9.76 MiB/s]


Extraction completed...: 0 file [01:14, ? file/s]

Dl Size...:  52%|█████▏    | 429/827 [01:14<00:40,  9.82 MiB/s]
Dl Completed...:   0%|          | 0/1 [01:14<?, ? url/s]

Dl Size...:  52%|█████▏    | 429/827 [01:14<00:40,  9.82 MiB/s]


Extraction completed...: 0 file [01:14, ? file/s]
Dl Completed...:   0%|          | 0/1 [01:14<?, ? url/s]

Dl Size...:  52%|█████▏    | 430/827 [01:14<00:40,  9.82 MiB/s]


Extraction completed...: 0 file [01:14, ? file/s]

Dl Size...:  52%|█████▏    | 431/827 [01:14<00:39,  9.91 MiB/s]
Dl Completed...:   0%|          | 0/1 [01:14<?, ? url/s]

Dl Size...:  52%|█████▏    | 431/827 [01:14<00:39,  9.91 MiB/s]


Extraction completed...: 0 file [01:14, ? file/s]
Dl Completed...:   0%|          | 0/1 [01:14<?, ? url/s]

Dl Size...:  52%|█████▏    | 432/827 [01:14<00:39,  9.91 MiB/s]


Extraction completed...: 0 file [01:14, ? file/s]

Dl Size...:  52%|█████▏    | 433/827 [01:14<00:39, 10.03 MiB/s]
Dl Completed...:   0%|          | 0/1 [01:14<?, ? url/s]

Dl Size...:  52%|█████▏    | 433/827 [01:14<00:39, 10.03 MiB/s]


Extraction completed...: 0 file [01:14, ? file/s]
Dl Completed...:   0%|          | 0/1 [01:14<?, ? url/s]

Dl Size...:  52%|█████▏    | 434/827 [01:14<00:39, 10.03 MiB/s]


Extraction completed...: 0 file [01:14, ? file/s]

Dl Size...:  53%|█████▎    | 435/827 [01:14<00:38, 10.14 MiB/s]
Dl Completed...:   0%|          | 0/1 [01:14<?, ? url/s]

Dl Size...:  53%|█████▎    | 435/827 [01:14<00:38, 10.14 MiB/s]


Extraction completed...: 0 file [01:14, ? file/s]
Dl Completed...:   0%|          | 0/1 [01:15<?, ? url/s]

Dl Size...:  53%|█████▎    | 436/827 [01:15<00:38, 10.14 MiB/s]


Extraction completed...: 0 file [01:15, ? file/s]

Dl Size...:  53%|█████▎    | 437/827 [01:15<00:38, 10.17 MiB/s]
Dl Completed...:   0%|          | 0/1 [01:15<?, ? url/s]

Dl Size...:  53%|█████▎    | 437/827 [01:15<00:38, 10.17 MiB/s]


Extraction completed...: 0 file [01:15, ? file/s]
Dl Completed...:   0%|          | 0/1 [01:15<?, ? url/s]

Dl Size...:  53%|█████▎    | 438/827 [01:15<00:38, 10.17 MiB/s]


Extraction completed...: 0 file [01:15, ? file/s]

Dl Size...:  53%|█████▎    | 439/827 [01:15<00:39,  9.90 MiB/s]
Dl Completed...:   0%|          | 0/1 [01:15<?, ? url/s]

Dl Size...:  53%|█████▎    | 439/827 [01:15<00:39,  9.90 MiB/s]


Extraction completed...: 0 file [01:15, ? file/s]

Dl Size...:  53%|█████▎    | 440/827 [01:15<00:41,  9.43 MiB/s]
Dl Completed...:   0%|          | 0/1 [01:15<?, ? url/s]

Dl Size...:  53%|█████▎    | 440/827 [01:15<00:41,  9.43 MiB/s]


Extraction completed...: 0 file [01:15, ? file/s]

Dl Size...:  53%|█████▎    | 441/827 [01:15<00:42,  9.17 MiB/s]
Dl Completed...:   0%|          | 0/1 [01:15<?, ? url/s]

Dl Size...:  53%|█████▎    | 441/827 [01:15<00:42,  9.17 MiB/s]


Extraction completed...: 0 file [01:15, ? file/s]

Dl Size...:  53%|█████▎    | 442/827 [01:15<00:42,  8.97 MiB/s]
Dl Completed...:   0%|          | 0/1 [01:15<?, ? url/s]

Dl Size...:  53%|█████▎    | 442/827 [01:15<00:42,  8.97 MiB/s]


Extraction completed...: 0 file [01:15, ? file/s]

Dl Size...:  54%|█████▎    | 443/827 [01:15<00:43,  8.87 MiB/s]
Dl Completed...:   0%|          | 0/1 [01:15<?, ? url/s]

Dl Size...:  54%|█████▎    | 443/827 [01:15<00:43,  8.87 MiB/s]


Extraction completed...: 0 file [01:15, ? file/s]

Dl Size...:  54%|█████▎    | 444/827 [01:15<00:43,  8.88 MiB/s]
Dl Completed...:   0%|          | 0/1 [01:15<?, ? url/s]

Dl Size...:  54%|█████▎    | 444/827 [01:15<00:43,  8.88 MiB/s]


Extraction completed...: 0 file [01:15, ? file/s]

Dl Size...:  54%|█████▍    | 445/827 [01:16<00:43,  8.88 MiB/s]
Dl Completed...:   0%|          | 0/1 [01:16<?, ? url/s]

Dl Size...:  54%|█████▍    | 445/827 [01:16<00:43,  8.88 MiB/s]


Extraction completed...: 0 file [01:16, ? file/s]

Dl Size...:  54%|█████▍    | 446/827 [01:16<00:42,  8.95 MiB/s]
Dl Completed...:   0%|          | 0/1 [01:16<?, ? url/s]

Dl Size...:  54%|█████▍    | 446/827 [01:16<00:42,  8.95 MiB/s]


Extraction completed...: 0 file [01:16, ? file/s]

Dl Size...:  54%|█████▍    | 447/827 [01:16<00:42,  9.04 MiB/s]
Dl Completed...:   0%|          | 0/1 [01:16<?, ? url/s]

Dl Size...:  54%|█████▍    | 447/827 [01:16<00:42,  9.04 MiB/s]


Extraction completed...: 0 file [01:16, ? file/s]

Dl Size...:  54%|█████▍    | 448/827 [01:16<00:41,  9.15 MiB/s]
Dl Completed...:   0%|          | 0/1 [01:16<?, ? url/s]

Dl Size...:  54%|█████▍    | 448/827 [01:16<00:41,  9.15 MiB/s]


Extraction completed...: 0 file [01:16, ? file/s]

Dl Size...:  54%|█████▍    | 449/827 [01:16<00:41,  9.18 MiB/s]
Dl Completed...:   0%|          | 0/1 [01:16<?, ? url/s]

Dl Size...:  54%|█████▍    | 449/827 [01:16<00:41,  9.18 MiB/s]


Extraction completed...: 0 file [01:16, ? file/s]

Dl Size...:  54%|█████▍    | 450/827 [01:16<00:40,  9.32 MiB/s]
Dl Completed...:   0%|          | 0/1 [01:16<?, ? url/s]

Dl Size...:  54%|█████▍    | 450/827 [01:16<00:40,  9.32 MiB/s]


Extraction completed...: 0 file [01:16, ? file/s]

Dl Size...:  55%|█████▍    | 451/827 [01:16<00:39,  9.43 MiB/s]
Dl Completed...:   0%|          | 0/1 [01:16<?, ? url/s]

Dl Size...:  55%|█████▍    | 451/827 [01:16<00:39,  9.43 MiB/s]


Extraction completed...: 0 file [01:16, ? file/s]

Dl Size...:  55%|█████▍    | 452/827 [01:16<00:39,  9.42 MiB/s]
Dl Completed...:   0%|          | 0/1 [01:16<?, ? url/s]

Dl Size...:  55%|█████▍    | 452/827 [01:16<00:39,  9.42 MiB/s]


Extraction completed...: 0 file [01:16, ? file/s]

Dl Size...:  55%|█████▍    | 453/827 [01:16<00:39,  9.55 MiB/s]
Dl Completed...:   0%|          | 0/1 [01:16<?, ? url/s]

Dl Size...:  55%|█████▍    | 453/827 [01:16<00:39,  9.55 MiB/s]


Extraction completed...: 0 file [01:16, ? file/s]

Dl Size...:  55%|█████▍    | 454/827 [01:17<00:38,  9.66 MiB/s]
Dl Completed...:   0%|          | 0/1 [01:17<?, ? url/s]

Dl Size...:  55%|█████▍    | 454/827 [01:17<00:38,  9.66 MiB/s]


Extraction completed...: 0 file [01:17, ? file/s]
Dl Completed...:   0%|          | 0/1 [01:17<?, ? url/s]

Dl Size...:  55%|█████▌    | 455/827 [01:17<00:38,  9.66 MiB/s]


Extraction completed...: 0 file [01:17, ? file/s]

Dl Size...:  55%|█████▌    | 456/827 [01:17<00:37,  9.88 MiB/s]
Dl Completed...:   0%|          | 0/1 [01:17<?, ? url/s]

Dl Size...:  55%|█████▌    | 456/827 [01:17<00:37,  9.88 MiB/s]


Extraction completed...: 0 file [01:17, ? file/s]
Dl Completed...:   0%|          | 0/1 [01:17<?, ? url/s]

Dl Size...:  55%|█████▌    | 457/827 [01:17<00:37,  9.88 MiB/s]


Extraction completed...: 0 file [01:17, ? file/s]

Dl Size...:  55%|█████▌    | 458/827 [01:17<00:36, 10.00 MiB/s]
Dl Completed...:   0%|          | 0/1 [01:17<?, ? url/s]

Dl Size...:  55%|█████▌    | 458/827 [01:17<00:36, 10.00 MiB/s]


Extraction completed...: 0 file [01:17, ? file/s]
Dl Completed...:   0%|          | 0/1 [01:17<?, ? url/s]

Dl Size...:  56%|█████▌    | 459/827 [01:17<00:36, 10.00 MiB/s]


Extraction completed...: 0 file [01:17, ? file/s]

Dl Size...:  56%|█████▌    | 460/827 [01:17<00:36, 10.12 MiB/s]
Dl Completed...:   0%|          | 0/1 [01:17<?, ? url/s]

Dl Size...:  56%|█████▌    | 460/827 [01:17<00:36, 10.12 MiB/s]


Extraction completed...: 0 file [01:17, ? file/s]
Dl Completed...:   0%|          | 0/1 [01:17<?, ? url/s]

Dl Size...:  56%|█████▌    | 461/827 [01:17<00:36, 10.12 MiB/s]


Extraction completed...: 0 file [01:17, ? file/s]

Dl Size...:  56%|█████▌    | 462/827 [01:17<00:43,  8.48 MiB/s]
Dl Completed...:   0%|          | 0/1 [01:17<?, ? url/s]

Dl Size...:  56%|█████▌    | 462/827 [01:17<00:43,  8.48 MiB/s]


Extraction completed...: 0 file [01:17, ? file/s]

Dl Size...:  56%|█████▌    | 463/827 [01:18<00:47,  7.65 MiB/s]
Dl Completed...:   0%|          | 0/1 [01:18<?, ? url/s]

Dl Size...:  56%|█████▌    | 463/827 [01:18<00:47,  7.65 MiB/s]


Extraction completed...: 0 file [01:18, ? file/s]

Dl Size...:  56%|█████▌    | 464/827 [01:18<00:51,  7.02 MiB/s]
Dl Completed...:   0%|          | 0/1 [01:18<?, ? url/s]

Dl Size...:  56%|█████▌    | 464/827 [01:18<00:51,  7.02 MiB/s]


Extraction completed...: 0 file [01:18, ? file/s]

Dl Size...:  56%|█████▌    | 465/827 [01:18<00:54,  6.65 MiB/s]
Dl Completed...:   0%|          | 0/1 [01:18<?, ? url/s]

Dl Size...:  56%|█████▌    | 465/827 [01:18<00:54,  6.65 MiB/s]


Extraction completed...: 0 file [01:18, ? file/s]

Dl Size...:  56%|█████▋    | 466/827 [01:18<00:56,  6.36 MiB/s]
Dl Completed...:   0%|          | 0/1 [01:18<?, ? url/s]

Dl Size...:  56%|█████▋    | 466/827 [01:18<00:56,  6.36 MiB/s]


Extraction completed...: 0 file [01:18, ? file/s]

Dl Size...:  56%|█████▋    | 467/827 [01:18<00:58,  6.18 MiB/s]
Dl Completed...:   0%|          | 0/1 [01:18<?, ? url/s]

Dl Size...:  56%|█████▋    | 467/827 [01:18<00:58,  6.18 MiB/s]


Extraction completed...: 0 file [01:18, ? file/s]

Dl Size...:  57%|█████▋    | 468/827 [01:18<00:58,  6.17 MiB/s]
Dl Completed...:   0%|          | 0/1 [01:18<?, ? url/s]

Dl Size...:  57%|█████▋    | 468/827 [01:18<00:58,  6.17 MiB/s]


Extraction completed...: 0 file [01:18, ? file/s]

Dl Size...:  57%|█████▋    | 469/827 [01:19<00:58,  6.11 MiB/s]
Dl Completed...:   0%|          | 0/1 [01:19<?, ? url/s]

Dl Size...:  57%|█████▋    | 469/827 [01:19<00:58,  6.11 MiB/s]


Extraction completed...: 0 file [01:19, ? file/s]

Dl Size...:  57%|█████▋    | 470/827 [01:19<00:58,  6.10 MiB/s]
Dl Completed...:   0%|          | 0/1 [01:19<?, ? url/s]

Dl Size...:  57%|█████▋    | 470/827 [01:19<00:58,  6.10 MiB/s]


Extraction completed...: 0 file [01:19, ? file/s]

Dl Size...:  57%|█████▋    | 471/827 [01:19<00:57,  6.17 MiB/s]
Dl Completed...:   0%|          | 0/1 [01:19<?, ? url/s]

Dl Size...:  57%|█████▋    | 471/827 [01:19<00:57,  6.17 MiB/s]


Extraction completed...: 0 file [01:19, ? file/s]

Dl Size...:  57%|█████▋    | 472/827 [01:19<00:56,  6.26 MiB/s]
Dl Completed...:   0%|          | 0/1 [01:19<?, ? url/s]

Dl Size...:  57%|█████▋    | 472/827 [01:19<00:56,  6.26 MiB/s]


Extraction completed...: 0 file [01:19, ? file/s]

Dl Size...:  57%|█████▋    | 473/827 [01:19<00:55,  6.36 MiB/s]
Dl Completed...:   0%|          | 0/1 [01:19<?, ? url/s]

Dl Size...:  57%|█████▋    | 473/827 [01:19<00:55,  6.36 MiB/s]


Extraction completed...: 0 file [01:19, ? file/s]

Dl Size...:  57%|█████▋    | 474/827 [01:19<00:54,  6.44 MiB/s]
Dl Completed...:   0%|          | 0/1 [01:19<?, ? url/s]

Dl Size...:  57%|█████▋    | 474/827 [01:19<00:54,  6.44 MiB/s]


Extraction completed...: 0 file [01:19, ? file/s]

Dl Size...:  57%|█████▋    | 475/827 [01:20<00:53,  6.57 MiB/s]
Dl Completed...:   0%|          | 0/1 [01:20<?, ? url/s]

Dl Size...:  57%|█████▋    | 475/827 [01:20<00:53,  6.57 MiB/s]


Extraction completed...: 0 file [01:20, ? file/s]

Dl Size...:  58%|█████▊    | 476/827 [01:20<00:52,  6.70 MiB/s]
Dl Completed...:   0%|          | 0/1 [01:20<?, ? url/s]

Dl Size...:  58%|█████▊    | 476/827 [01:20<00:52,  6.70 MiB/s]


Extraction completed...: 0 file [01:20, ? file/s]

Dl Size...:  58%|█████▊    | 477/827 [01:20<00:51,  6.76 MiB/s]
Dl Completed...:   0%|          | 0/1 [01:20<?, ? url/s]

Dl Size...:  58%|█████▊    | 477/827 [01:20<00:51,  6.76 MiB/s]


Extraction completed...: 0 file [01:20, ? file/s]

Dl Size...:  58%|█████▊    | 478/827 [01:20<00:50,  6.88 MiB/s]
Dl Completed...:   0%|          | 0/1 [01:20<?, ? url/s]

Dl Size...:  58%|█████▊    | 478/827 [01:20<00:50,  6.88 MiB/s]


Extraction completed...: 0 file [01:20, ? file/s]

Dl Size...:  58%|█████▊    | 479/827 [01:20<00:50,  6.91 MiB/s]
Dl Completed...:   0%|          | 0/1 [01:20<?, ? url/s]

Dl Size...:  58%|█████▊    | 479/827 [01:20<00:50,  6.91 MiB/s]


Extraction completed...: 0 file [01:20, ? file/s]

Dl Size...:  58%|█████▊    | 480/827 [01:20<00:50,  6.85 MiB/s]
Dl Completed...:   0%|          | 0/1 [01:20<?, ? url/s]

Dl Size...:  58%|█████▊    | 480/827 [01:20<00:50,  6.85 MiB/s]


Extraction completed...: 0 file [01:20, ? file/s]

Dl Size...:  58%|█████▊    | 481/827 [01:20<00:55,  6.26 MiB/s]
Dl Completed...:   0%|          | 0/1 [01:20<?, ? url/s]

Dl Size...:  58%|█████▊    | 481/827 [01:20<00:55,  6.26 MiB/s]


Extraction completed...: 0 file [01:20, ? file/s]

Dl Size...:  58%|█████▊    | 482/827 [01:21<01:06,  5.17 MiB/s]
Dl Completed...:   0%|          | 0/1 [01:21<?, ? url/s]

Dl Size...:  58%|█████▊    | 482/827 [01:21<01:06,  5.17 MiB/s]


Extraction completed...: 0 file [01:21, ? file/s]

Dl Size...:  58%|█████▊    | 483/827 [01:21<01:23,  4.10 MiB/s]
Dl Completed...:   0%|          | 0/1 [01:21<?, ? url/s]

Dl Size...:  58%|█████▊    | 483/827 [01:21<01:23,  4.10 MiB/s]


Extraction completed...: 0 file [01:21, ? file/s]

Dl Size...:  59%|█████▊    | 484/827 [01:21<01:31,  3.76 MiB/s]
Dl Completed...:   0%|          | 0/1 [01:21<?, ? url/s]

Dl Size...:  59%|█████▊    | 484/827 [01:21<01:31,  3.76 MiB/s]


Extraction completed...: 0 file [01:21, ? file/s]

Dl Size...:  59%|█████▊    | 485/827 [01:22<01:34,  3.62 MiB/s]
Dl Completed...:   0%|          | 0/1 [01:22<?, ? url/s]

Dl Size...:  59%|█████▊    | 485/827 [01:22<01:34,  3.62 MiB/s]


Extraction completed...: 0 file [01:22, ? file/s]

Dl Size...:  59%|█████▉    | 486/827 [01:22<01:34,  3.60 MiB/s]
Dl Completed...:   0%|          | 0/1 [01:22<?, ? url/s]

Dl Size...:  59%|█████▉    | 486/827 [01:22<01:34,  3.60 MiB/s]


Extraction completed...: 0 file [01:22, ? file/s]

Dl Size...:  59%|█████▉    | 487/827 [01:22<01:33,  3.62 MiB/s]
Dl Completed...:   0%|          | 0/1 [01:22<?, ? url/s]

Dl Size...:  59%|█████▉    | 487/827 [01:22<01:33,  3.62 MiB/s]


Extraction completed...: 0 file [01:22, ? file/s]

Dl Size...:  59%|█████▉    | 488/827 [01:23<01:30,  3.73 MiB/s]
Dl Completed...:   0%|          | 0/1 [01:23<?, ? url/s]

Dl Size...:  59%|█████▉    | 488/827 [01:23<01:30,  3.73 MiB/s]


Extraction completed...: 0 file [01:23, ? file/s]

Dl Size...:  59%|█████▉    | 489/827 [01:23<01:28,  3.83 MiB/s]
Dl Completed...:   0%|          | 0/1 [01:23<?, ? url/s]

Dl Size...:  59%|█████▉    | 489/827 [01:23<01:28,  3.83 MiB/s]


Extraction completed...: 0 file [01:23, ? file/s]

Dl Size...:  59%|█████▉    | 490/827 [01:23<01:24,  3.97 MiB/s]
Dl Completed...:   0%|          | 0/1 [01:23<?, ? url/s]

Dl Size...:  59%|█████▉    | 490/827 [01:23<01:24,  3.97 MiB/s]


Extraction completed...: 0 file [01:23, ? file/s]

Dl Size...:  59%|█████▉    | 491/827 [01:23<01:22,  4.09 MiB/s]
Dl Completed...:   0%|          | 0/1 [01:23<?, ? url/s]

Dl Size...:  59%|█████▉    | 491/827 [01:23<01:22,  4.09 MiB/s]


Extraction completed...: 0 file [01:23, ? file/s]

Dl Size...:  59%|█████▉    | 492/827 [01:23<01:18,  4.24 MiB/s]
Dl Completed...:   0%|          | 0/1 [01:23<?, ? url/s]

Dl Size...:  59%|█████▉    | 492/827 [01:23<01:18,  4.24 MiB/s]


Extraction completed...: 0 file [01:23, ? file/s]

Dl Size...:  60%|█████▉    | 493/827 [01:24<01:15,  4.40 MiB/s]
Dl Completed...:   0%|          | 0/1 [01:24<?, ? url/s]

Dl Size...:  60%|█████▉    | 493/827 [01:24<01:15,  4.40 MiB/s]


Extraction completed...: 0 file [01:24, ? file/s]

Dl Size...:  60%|█████▉    | 494/827 [01:24<01:13,  4.55 MiB/s]
Dl Completed...:   0%|          | 0/1 [01:24<?, ? url/s]

Dl Size...:  60%|█████▉    | 494/827 [01:24<01:13,  4.55 MiB/s]


Extraction completed...: 0 file [01:24, ? file/s]

Dl Size...:  60%|█████▉    | 495/827 [01:24<01:10,  4.71 MiB/s]
Dl Completed...:   0%|          | 0/1 [01:24<?, ? url/s]

Dl Size...:  60%|█████▉    | 495/827 [01:24<01:10,  4.71 MiB/s]


Extraction completed...: 0 file [01:24, ? file/s]

Dl Size...:  60%|█████▉    | 496/827 [01:24<01:08,  4.84 MiB/s]
Dl Completed...:   0%|          | 0/1 [01:24<?, ? url/s]

Dl Size...:  60%|█████▉    | 496/827 [01:24<01:08,  4.84 MiB/s]


Extraction completed...: 0 file [01:24, ? file/s]

Dl Size...:  60%|██████    | 497/827 [01:24<01:05,  5.02 MiB/s]
Dl Completed...:   0%|          | 0/1 [01:24<?, ? url/s]

Dl Size...:  60%|██████    | 497/827 [01:24<01:05,  5.02 MiB/s]


Extraction completed...: 0 file [01:24, ? file/s]

Dl Size...:  60%|██████    | 498/827 [01:25<01:04,  5.11 MiB/s]
Dl Completed...:   0%|          | 0/1 [01:25<?, ? url/s]

Dl Size...:  60%|██████    | 498/827 [01:25<01:04,  5.11 MiB/s]


Extraction completed...: 0 file [01:25, ? file/s]

Dl Size...:  60%|██████    | 499/827 [01:25<01:02,  5.26 MiB/s]
Dl Completed...:   0%|          | 0/1 [01:25<?, ? url/s]

Dl Size...:  60%|██████    | 499/827 [01:25<01:02,  5.26 MiB/s]


Extraction completed...: 0 file [01:25, ? file/s]

Dl Size...:  60%|██████    | 500/827 [01:25<01:00,  5.38 MiB/s]
Dl Completed...:   0%|          | 0/1 [01:25<?, ? url/s]

Dl Size...:  60%|██████    | 500/827 [01:25<01:00,  5.38 MiB/s]


Extraction completed...: 0 file [01:25, ? file/s]

Dl Size...:  61%|██████    | 501/827 [01:25<00:58,  5.54 MiB/s]
Dl Completed...:   0%|          | 0/1 [01:25<?, ? url/s]

Dl Size...:  61%|██████    | 501/827 [01:25<00:58,  5.54 MiB/s]


Extraction completed...: 0 file [01:25, ? file/s]

Dl Size...:  61%|██████    | 502/827 [01:25<00:57,  5.67 MiB/s]
Dl Completed...:   0%|          | 0/1 [01:25<?, ? url/s]

Dl Size...:  61%|██████    | 502/827 [01:25<00:57,  5.67 MiB/s]


Extraction completed...: 0 file [01:25, ? file/s]

Dl Size...:  61%|██████    | 503/827 [01:25<00:55,  5.82 MiB/s]
Dl Completed...:   0%|          | 0/1 [01:25<?, ? url/s]

Dl Size...:  61%|██████    | 503/827 [01:25<00:55,  5.82 MiB/s]


Extraction completed...: 0 file [01:25, ? file/s]

Dl Size...:  61%|██████    | 504/827 [01:26<00:54,  5.91 MiB/s]
Dl Completed...:   0%|          | 0/1 [01:26<?, ? url/s]

Dl Size...:  61%|██████    | 504/827 [01:26<00:54,  5.91 MiB/s]


Extraction completed...: 0 file [01:26, ? file/s]

Dl Size...:  61%|██████    | 505/827 [01:26<00:53,  6.07 MiB/s]
Dl Completed...:   0%|          | 0/1 [01:26<?, ? url/s]

Dl Size...:  61%|██████    | 505/827 [01:26<00:53,  6.07 MiB/s]


Extraction completed...: 0 file [01:26, ? file/s]

Dl Size...:  61%|██████    | 506/827 [01:26<00:51,  6.20 MiB/s]
Dl Completed...:   0%|          | 0/1 [01:26<?, ? url/s]

Dl Size...:  61%|██████    | 506/827 [01:26<00:51,  6.20 MiB/s]


Extraction completed...: 0 file [01:26, ? file/s]

Dl Size...:  61%|██████▏   | 507/827 [01:26<00:50,  6.33 MiB/s]
Dl Completed...:   0%|          | 0/1 [01:26<?, ? url/s]

Dl Size...:  61%|██████▏   | 507/827 [01:26<00:50,  6.33 MiB/s]


Extraction completed...: 0 file [01:26, ? file/s]

Dl Size...:  61%|██████▏   | 508/827 [01:26<00:49,  6.42 MiB/s]
Dl Completed...:   0%|          | 0/1 [01:26<?, ? url/s]

Dl Size...:  61%|██████▏   | 508/827 [01:26<00:49,  6.42 MiB/s]


Extraction completed...: 0 file [01:26, ? file/s]

Dl Size...:  62%|██████▏   | 509/827 [01:26<00:51,  6.16 MiB/s]
Dl Completed...:   0%|          | 0/1 [01:26<?, ? url/s]

Dl Size...:  62%|██████▏   | 509/827 [01:26<00:51,  6.16 MiB/s]


Extraction completed...: 0 file [01:26, ? file/s]

Dl Size...:  62%|██████▏   | 510/827 [01:27<00:53,  5.90 MiB/s]
Dl Completed...:   0%|          | 0/1 [01:27<?, ? url/s]

Dl Size...:  62%|██████▏   | 510/827 [01:27<00:53,  5.90 MiB/s]


Extraction completed...: 0 file [01:27, ? file/s]

Dl Size...:  62%|██████▏   | 511/827 [01:27<00:56,  5.60 MiB/s]
Dl Completed...:   0%|          | 0/1 [01:27<?, ? url/s]

Dl Size...:  62%|██████▏   | 511/827 [01:27<00:56,  5.60 MiB/s]


Extraction completed...: 0 file [01:27, ? file/s]

Dl Size...:  62%|██████▏   | 512/827 [01:27<00:56,  5.56 MiB/s]
Dl Completed...:   0%|          | 0/1 [01:27<?, ? url/s]

Dl Size...:  62%|██████▏   | 512/827 [01:27<00:56,  5.56 MiB/s]


Extraction completed...: 0 file [01:27, ? file/s]

Dl Size...:  62%|██████▏   | 513/827 [01:27<00:56,  5.54 MiB/s]
Dl Completed...:   0%|          | 0/1 [01:27<?, ? url/s]

Dl Size...:  62%|██████▏   | 513/827 [01:27<00:56,  5.54 MiB/s]


Extraction completed...: 0 file [01:27, ? file/s]

Dl Size...:  62%|██████▏   | 514/827 [01:27<00:56,  5.59 MiB/s]
Dl Completed...:   0%|          | 0/1 [01:27<?, ? url/s]

Dl Size...:  62%|██████▏   | 514/827 [01:27<00:56,  5.59 MiB/s]


Extraction completed...: 0 file [01:27, ? file/s]

Dl Size...:  62%|██████▏   | 515/827 [01:27<00:54,  5.70 MiB/s]
Dl Completed...:   0%|          | 0/1 [01:27<?, ? url/s]

Dl Size...:  62%|██████▏   | 515/827 [01:27<00:54,  5.70 MiB/s]


Extraction completed...: 0 file [01:27, ? file/s]

Dl Size...:  62%|██████▏   | 516/827 [01:28<00:53,  5.77 MiB/s]
Dl Completed...:   0%|          | 0/1 [01:28<?, ? url/s]

Dl Size...:  62%|██████▏   | 516/827 [01:28<00:53,  5.77 MiB/s]


Extraction completed...: 0 file [01:28, ? file/s]

Dl Size...:  63%|██████▎   | 517/827 [01:28<00:52,  5.85 MiB/s]
Dl Completed...:   0%|          | 0/1 [01:28<?, ? url/s]

Dl Size...:  63%|██████▎   | 517/827 [01:28<00:52,  5.85 MiB/s]


Extraction completed...: 0 file [01:28, ? file/s]

Dl Size...:  63%|██████▎   | 518/827 [01:28<00:51,  5.98 MiB/s]
Dl Completed...:   0%|          | 0/1 [01:28<?, ? url/s]

Dl Size...:  63%|██████▎   | 518/827 [01:28<00:51,  5.98 MiB/s]


Extraction completed...: 0 file [01:28, ? file/s]

Dl Size...:  63%|██████▎   | 519/827 [01:28<00:50,  6.08 MiB/s]
Dl Completed...:   0%|          | 0/1 [01:28<?, ? url/s]

Dl Size...:  63%|██████▎   | 519/827 [01:28<00:50,  6.08 MiB/s]


Extraction completed...: 0 file [01:28, ? file/s]

Dl Size...:  63%|██████▎   | 520/827 [01:28<00:49,  6.19 MiB/s]
Dl Completed...:   0%|          | 0/1 [01:28<?, ? url/s]

Dl Size...:  63%|██████▎   | 520/827 [01:28<00:49,  6.19 MiB/s]


Extraction completed...: 0 file [01:28, ? file/s]

Dl Size...:  63%|██████▎   | 521/827 [01:28<00:48,  6.26 MiB/s]
Dl Completed...:   0%|          | 0/1 [01:28<?, ? url/s]

Dl Size...:  63%|██████▎   | 521/827 [01:28<00:48,  6.26 MiB/s]


Extraction completed...: 0 file [01:28, ? file/s]

Dl Size...:  63%|██████▎   | 522/827 [01:29<00:47,  6.36 MiB/s]
Dl Completed...:   0%|          | 0/1 [01:29<?, ? url/s]

Dl Size...:  63%|██████▎   | 522/827 [01:29<00:47,  6.36 MiB/s]


Extraction completed...: 0 file [01:29, ? file/s]

Dl Size...:  63%|██████▎   | 523/827 [01:29<00:47,  6.43 MiB/s]
Dl Completed...:   0%|          | 0/1 [01:29<?, ? url/s]

Dl Size...:  63%|██████▎   | 523/827 [01:29<00:47,  6.43 MiB/s]


Extraction completed...: 0 file [01:29, ? file/s]

Dl Size...:  63%|██████▎   | 524/827 [01:29<00:46,  6.48 MiB/s]
Dl Completed...:   0%|          | 0/1 [01:29<?, ? url/s]

Dl Size...:  63%|██████▎   | 524/827 [01:29<00:46,  6.48 MiB/s]


Extraction completed...: 0 file [01:29, ? file/s]

Dl Size...:  63%|██████▎   | 525/827 [01:29<00:46,  6.52 MiB/s]
Dl Completed...:   0%|          | 0/1 [01:29<?, ? url/s]

Dl Size...:  63%|██████▎   | 525/827 [01:29<00:46,  6.52 MiB/s]


Extraction completed...: 0 file [01:29, ? file/s]

Dl Size...:  64%|██████▎   | 526/827 [01:29<00:45,  6.59 MiB/s]
Dl Completed...:   0%|          | 0/1 [01:29<?, ? url/s]

Dl Size...:  64%|██████▎   | 526/827 [01:29<00:45,  6.59 MiB/s]


Extraction completed...: 0 file [01:29, ? file/s]

Dl Size...:  64%|██████▎   | 527/827 [01:29<00:44,  6.68 MiB/s]
Dl Completed...:   0%|          | 0/1 [01:29<?, ? url/s]

Dl Size...:  64%|██████▎   | 527/827 [01:29<00:44,  6.68 MiB/s]


Extraction completed...: 0 file [01:29, ? file/s]

Dl Size...:  64%|██████▍   | 528/827 [01:29<00:43,  6.81 MiB/s]
Dl Completed...:   0%|          | 0/1 [01:29<?, ? url/s]

Dl Size...:  64%|██████▍   | 528/827 [01:29<00:43,  6.81 MiB/s]


Extraction completed...: 0 file [01:29, ? file/s]

Dl Size...:  64%|██████▍   | 529/827 [01:30<00:43,  6.90 MiB/s]
Dl Completed...:   0%|          | 0/1 [01:30<?, ? url/s]

Dl Size...:  64%|██████▍   | 529/827 [01:30<00:43,  6.90 MiB/s]


Extraction completed...: 0 file [01:30, ? file/s]

Dl Size...:  64%|██████▍   | 530/827 [01:30<00:42,  6.99 MiB/s]
Dl Completed...:   0%|          | 0/1 [01:30<?, ? url/s]

Dl Size...:  64%|██████▍   | 530/827 [01:30<00:42,  6.99 MiB/s]


Extraction completed...: 0 file [01:30, ? file/s]

Dl Size...:  64%|██████▍   | 531/827 [01:30<00:41,  7.08 MiB/s]
Dl Completed...:   0%|          | 0/1 [01:30<?, ? url/s]

Dl Size...:  64%|██████▍   | 531/827 [01:30<00:41,  7.08 MiB/s]


Extraction completed...: 0 file [01:30, ? file/s]

Dl Size...:  64%|██████▍   | 532/827 [01:30<00:40,  7.22 MiB/s]
Dl Completed...:   0%|          | 0/1 [01:30<?, ? url/s]

Dl Size...:  64%|██████▍   | 532/827 [01:30<00:40,  7.22 MiB/s]


Extraction completed...: 0 file [01:30, ? file/s]

Dl Size...:  64%|██████▍   | 533/827 [01:30<00:40,  7.32 MiB/s]
Dl Completed...:   0%|          | 0/1 [01:30<?, ? url/s]

Dl Size...:  64%|██████▍   | 533/827 [01:30<00:40,  7.32 MiB/s]


Extraction completed...: 0 file [01:30, ? file/s]

Dl Size...:  65%|██████▍   | 534/827 [01:30<00:39,  7.36 MiB/s]
Dl Completed...:   0%|          | 0/1 [01:30<?, ? url/s]

Dl Size...:  65%|██████▍   | 534/827 [01:30<00:39,  7.36 MiB/s]


Extraction completed...: 0 file [01:30, ? file/s]

Dl Size...:  65%|██████▍   | 535/827 [01:30<00:38,  7.49 MiB/s]
Dl Completed...:   0%|          | 0/1 [01:30<?, ? url/s]

Dl Size...:  65%|██████▍   | 535/827 [01:30<00:38,  7.49 MiB/s]


Extraction completed...: 0 file [01:30, ? file/s]

Dl Size...:  65%|██████▍   | 536/827 [01:31<00:38,  7.61 MiB/s]
Dl Completed...:   0%|          | 0/1 [01:31<?, ? url/s]

Dl Size...:  65%|██████▍   | 536/827 [01:31<00:38,  7.61 MiB/s]


Extraction completed...: 0 file [01:31, ? file/s]

Dl Size...:  65%|██████▍   | 537/827 [01:31<00:37,  7.71 MiB/s]
Dl Completed...:   0%|          | 0/1 [01:31<?, ? url/s]

Dl Size...:  65%|██████▍   | 537/827 [01:31<00:37,  7.71 MiB/s]


Extraction completed...: 0 file [01:31, ? file/s]

Dl Size...:  65%|██████▌   | 538/827 [01:31<00:37,  7.78 MiB/s]
Dl Completed...:   0%|          | 0/1 [01:31<?, ? url/s]

Dl Size...:  65%|██████▌   | 538/827 [01:31<00:37,  7.78 MiB/s]


Extraction completed...: 0 file [01:31, ? file/s]

Dl Size...:  65%|██████▌   | 539/827 [01:31<00:36,  7.87 MiB/s]
Dl Completed...:   0%|          | 0/1 [01:31<?, ? url/s]

Dl Size...:  65%|██████▌   | 539/827 [01:31<00:36,  7.87 MiB/s]


Extraction completed...: 0 file [01:31, ? file/s]

Dl Size...:  65%|██████▌   | 540/827 [01:31<00:36,  7.97 MiB/s]
Dl Completed...:   0%|          | 0/1 [01:31<?, ? url/s]

Dl Size...:  65%|██████▌   | 540/827 [01:31<00:36,  7.97 MiB/s]


Extraction completed...: 0 file [01:31, ? file/s]

Dl Size...:  65%|██████▌   | 541/827 [01:31<00:35,  8.06 MiB/s]
Dl Completed...:   0%|          | 0/1 [01:31<?, ? url/s]

Dl Size...:  65%|██████▌   | 541/827 [01:31<00:35,  8.06 MiB/s]


Extraction completed...: 0 file [01:31, ? file/s]

Dl Size...:  66%|██████▌   | 542/827 [01:31<00:35,  8.06 MiB/s]
Dl Completed...:   0%|          | 0/1 [01:31<?, ? url/s]

Dl Size...:  66%|██████▌   | 542/827 [01:31<00:35,  8.06 MiB/s]


Extraction completed...: 0 file [01:31, ? file/s]

Dl Size...:  66%|██████▌   | 543/827 [01:31<00:34,  8.23 MiB/s]
Dl Completed...:   0%|          | 0/1 [01:31<?, ? url/s]

Dl Size...:  66%|██████▌   | 543/827 [01:31<00:34,  8.23 MiB/s]


Extraction completed...: 0 file [01:31, ? file/s]

Dl Size...:  66%|██████▌   | 544/827 [01:32<00:34,  8.32 MiB/s]
Dl Completed...:   0%|          | 0/1 [01:32<?, ? url/s]

Dl Size...:  66%|██████▌   | 544/827 [01:32<00:34,  8.32 MiB/s]


Extraction completed...: 0 file [01:32, ? file/s]

Dl Size...:  66%|██████▌   | 545/827 [01:32<00:33,  8.39 MiB/s]
Dl Completed...:   0%|          | 0/1 [01:32<?, ? url/s]

Dl Size...:  66%|██████▌   | 545/827 [01:32<00:33,  8.39 MiB/s]


Extraction completed...: 0 file [01:32, ? file/s]

Dl Size...:  66%|██████▌   | 546/827 [01:32<00:33,  8.38 MiB/s]
Dl Completed...:   0%|          | 0/1 [01:32<?, ? url/s]

Dl Size...:  66%|██████▌   | 546/827 [01:32<00:33,  8.38 MiB/s]


Extraction completed...: 0 file [01:32, ? file/s]

Dl Size...:  66%|██████▌   | 547/827 [01:32<00:40,  6.99 MiB/s]
Dl Completed...:   0%|          | 0/1 [01:32<?, ? url/s]

Dl Size...:  66%|██████▌   | 547/827 [01:32<00:40,  6.99 MiB/s]


Extraction completed...: 0 file [01:32, ? file/s]

Dl Size...:  66%|██████▋   | 548/827 [01:32<00:46,  5.99 MiB/s]
Dl Completed...:   0%|          | 0/1 [01:32<?, ? url/s]

Dl Size...:  66%|██████▋   | 548/827 [01:32<00:46,  5.99 MiB/s]


Extraction completed...: 0 file [01:32, ? file/s]

Dl Size...:  66%|██████▋   | 549/827 [01:32<00:50,  5.50 MiB/s]
Dl Completed...:   0%|          | 0/1 [01:32<?, ? url/s]

Dl Size...:  66%|██████▋   | 549/827 [01:32<00:50,  5.50 MiB/s]


Extraction completed...: 0 file [01:32, ? file/s]

Dl Size...:  67%|██████▋   | 550/827 [01:33<00:52,  5.23 MiB/s]
Dl Completed...:   0%|          | 0/1 [01:33<?, ? url/s]

Dl Size...:  67%|██████▋   | 550/827 [01:33<00:52,  5.23 MiB/s]


Extraction completed...: 0 file [01:33, ? file/s]

Dl Size...:  67%|██████▋   | 551/827 [01:33<00:54,  5.07 MiB/s]
Dl Completed...:   0%|          | 0/1 [01:33<?, ? url/s]

Dl Size...:  67%|██████▋   | 551/827 [01:33<00:54,  5.07 MiB/s]


Extraction completed...: 0 file [01:33, ? file/s]

Dl Size...:  67%|██████▋   | 552/827 [01:33<00:53,  5.12 MiB/s]
Dl Completed...:   0%|          | 0/1 [01:33<?, ? url/s]

Dl Size...:  67%|██████▋   | 552/827 [01:33<00:53,  5.12 MiB/s]


Extraction completed...: 0 file [01:33, ? file/s]

Dl Size...:  67%|██████▋   | 553/827 [01:33<00:53,  5.17 MiB/s]
Dl Completed...:   0%|          | 0/1 [01:33<?, ? url/s]

Dl Size...:  67%|██████▋   | 553/827 [01:33<00:53,  5.17 MiB/s]


Extraction completed...: 0 file [01:33, ? file/s]

Dl Size...:  67%|██████▋   | 554/827 [01:33<00:52,  5.23 MiB/s]
Dl Completed...:   0%|          | 0/1 [01:33<?, ? url/s]

Dl Size...:  67%|██████▋   | 554/827 [01:33<00:52,  5.23 MiB/s]


Extraction completed...: 0 file [01:33, ? file/s]

Dl Size...:  67%|██████▋   | 555/827 [01:34<00:52,  5.22 MiB/s]
Dl Completed...:   0%|          | 0/1 [01:34<?, ? url/s]

Dl Size...:  67%|██████▋   | 555/827 [01:34<00:52,  5.22 MiB/s]


Extraction completed...: 0 file [01:34, ? file/s]

Dl Size...:  67%|██████▋   | 556/827 [01:34<00:50,  5.35 MiB/s]
Dl Completed...:   0%|          | 0/1 [01:34<?, ? url/s]

Dl Size...:  67%|██████▋   | 556/827 [01:34<00:50,  5.35 MiB/s]


Extraction completed...: 0 file [01:34, ? file/s]

Dl Size...:  67%|██████▋   | 557/827 [01:34<00:49,  5.42 MiB/s]
Dl Completed...:   0%|          | 0/1 [01:34<?, ? url/s]

Dl Size...:  67%|██████▋   | 557/827 [01:34<00:49,  5.42 MiB/s]


Extraction completed...: 0 file [01:34, ? file/s]

Dl Size...:  67%|██████▋   | 558/827 [01:34<00:48,  5.58 MiB/s]
Dl Completed...:   0%|          | 0/1 [01:34<?, ? url/s]

Dl Size...:  67%|██████▋   | 558/827 [01:34<00:48,  5.58 MiB/s]


Extraction completed...: 0 file [01:34, ? file/s]

Dl Size...:  68%|██████▊   | 559/827 [01:34<00:47,  5.61 MiB/s]
Dl Completed...:   0%|          | 0/1 [01:34<?, ? url/s]

Dl Size...:  68%|██████▊   | 559/827 [01:34<00:47,  5.61 MiB/s]


Extraction completed...: 0 file [01:34, ? file/s]

Dl Size...:  68%|██████▊   | 560/827 [01:34<00:46,  5.76 MiB/s]
Dl Completed...:   0%|          | 0/1 [01:34<?, ? url/s]

Dl Size...:  68%|██████▊   | 560/827 [01:34<00:46,  5.76 MiB/s]


Extraction completed...: 0 file [01:34, ? file/s]

Dl Size...:  68%|██████▊   | 561/827 [01:35<00:44,  5.92 MiB/s]
Dl Completed...:   0%|          | 0/1 [01:35<?, ? url/s]

Dl Size...:  68%|██████▊   | 561/827 [01:35<00:44,  5.92 MiB/s]


Extraction completed...: 0 file [01:35, ? file/s]

Dl Size...:  68%|██████▊   | 562/827 [01:35<00:43,  6.04 MiB/s]
Dl Completed...:   0%|          | 0/1 [01:35<?, ? url/s]

Dl Size...:  68%|██████▊   | 562/827 [01:35<00:43,  6.04 MiB/s]


Extraction completed...: 0 file [01:35, ? file/s]

Dl Size...:  68%|██████▊   | 563/827 [01:35<00:42,  6.16 MiB/s]
Dl Completed...:   0%|          | 0/1 [01:35<?, ? url/s]

Dl Size...:  68%|██████▊   | 563/827 [01:35<00:42,  6.16 MiB/s]


Extraction completed...: 0 file [01:35, ? file/s]

Dl Size...:  68%|██████▊   | 564/827 [01:35<00:42,  6.22 MiB/s]
Dl Completed...:   0%|          | 0/1 [01:35<?, ? url/s]

Dl Size...:  68%|██████▊   | 564/827 [01:35<00:42,  6.22 MiB/s]


Extraction completed...: 0 file [01:35, ? file/s]

Dl Size...:  68%|██████▊   | 565/827 [01:35<00:41,  6.38 MiB/s]
Dl Completed...:   0%|          | 0/1 [01:35<?, ? url/s]

Dl Size...:  68%|██████▊   | 565/827 [01:35<00:41,  6.38 MiB/s]


Extraction completed...: 0 file [01:35, ? file/s]

Dl Size...:  68%|██████▊   | 566/827 [01:35<00:40,  6.46 MiB/s]
Dl Completed...:   0%|          | 0/1 [01:35<?, ? url/s]

Dl Size...:  68%|██████▊   | 566/827 [01:35<00:40,  6.46 MiB/s]


Extraction completed...: 0 file [01:35, ? file/s]

Dl Size...:  69%|██████▊   | 567/827 [01:36<00:39,  6.62 MiB/s]
Dl Completed...:   0%|          | 0/1 [01:36<?, ? url/s]

Dl Size...:  69%|██████▊   | 567/827 [01:36<00:39,  6.62 MiB/s]


Extraction completed...: 0 file [01:36, ? file/s]

Dl Size...:  69%|██████▊   | 568/827 [01:36<00:38,  6.70 MiB/s]
Dl Completed...:   0%|          | 0/1 [01:36<?, ? url/s]

Dl Size...:  69%|██████▊   | 568/827 [01:36<00:38,  6.70 MiB/s]


Extraction completed...: 0 file [01:36, ? file/s]

Dl Size...:  69%|██████▉   | 569/827 [01:36<00:37,  6.81 MiB/s]
Dl Completed...:   0%|          | 0/1 [01:36<?, ? url/s]

Dl Size...:  69%|██████▉   | 569/827 [01:36<00:37,  6.81 MiB/s]


Extraction completed...: 0 file [01:36, ? file/s]

Dl Size...:  69%|██████▉   | 570/827 [01:36<00:36,  6.95 MiB/s]
Dl Completed...:   0%|          | 0/1 [01:36<?, ? url/s]

Dl Size...:  69%|██████▉   | 570/827 [01:36<00:36,  6.95 MiB/s]


Extraction completed...: 0 file [01:36, ? file/s]

Dl Size...:  69%|██████▉   | 571/827 [01:36<00:36,  7.05 MiB/s]
Dl Completed...:   0%|          | 0/1 [01:36<?, ? url/s]

Dl Size...:  69%|██████▉   | 571/827 [01:36<00:36,  7.05 MiB/s]


Extraction completed...: 0 file [01:36, ? file/s]

Dl Size...:  69%|██████▉   | 572/827 [01:36<00:35,  7.16 MiB/s]
Dl Completed...:   0%|          | 0/1 [01:36<?, ? url/s]

Dl Size...:  69%|██████▉   | 572/827 [01:36<00:35,  7.16 MiB/s]


Extraction completed...: 0 file [01:36, ? file/s]

Dl Size...:  69%|██████▉   | 573/827 [01:36<00:39,  6.45 MiB/s]
Dl Completed...:   0%|          | 0/1 [01:36<?, ? url/s]

Dl Size...:  69%|██████▉   | 573/827 [01:36<00:39,  6.45 MiB/s]


Extraction completed...: 0 file [01:36, ? file/s]

Dl Size...:  69%|██████▉   | 574/827 [01:37<00:47,  5.32 MiB/s]
Dl Completed...:   0%|          | 0/1 [01:37<?, ? url/s]

Dl Size...:  69%|██████▉   | 574/827 [01:37<00:47,  5.32 MiB/s]


Extraction completed...: 0 file [01:37, ? file/s]

Dl Size...:  70%|██████▉   | 575/827 [01:37<00:52,  4.83 MiB/s]
Dl Completed...:   0%|          | 0/1 [01:37<?, ? url/s]

Dl Size...:  70%|██████▉   | 575/827 [01:37<00:52,  4.83 MiB/s]


Extraction completed...: 0 file [01:37, ? file/s]

Dl Size...:  70%|██████▉   | 576/827 [01:37<00:54,  4.58 MiB/s]
Dl Completed...:   0%|          | 0/1 [01:37<?, ? url/s]

Dl Size...:  70%|██████▉   | 576/827 [01:37<00:54,  4.58 MiB/s]


Extraction completed...: 0 file [01:37, ? file/s]

Dl Size...:  70%|██████▉   | 577/827 [01:37<00:56,  4.46 MiB/s]
Dl Completed...:   0%|          | 0/1 [01:37<?, ? url/s]

Dl Size...:  70%|██████▉   | 577/827 [01:37<00:56,  4.46 MiB/s]


Extraction completed...: 0 file [01:37, ? file/s]

Dl Size...:  70%|██████▉   | 578/827 [01:38<00:55,  4.48 MiB/s]
Dl Completed...:   0%|          | 0/1 [01:38<?, ? url/s]

Dl Size...:  70%|██████▉   | 578/827 [01:38<00:55,  4.48 MiB/s]


Extraction completed...: 0 file [01:38, ? file/s]

Dl Size...:  70%|███████   | 579/827 [01:38<00:54,  4.53 MiB/s]
Dl Completed...:   0%|          | 0/1 [01:38<?, ? url/s]

Dl Size...:  70%|███████   | 579/827 [01:38<00:54,  4.53 MiB/s]


Extraction completed...: 0 file [01:38, ? file/s]

Dl Size...:  70%|███████   | 580/827 [01:38<00:53,  4.62 MiB/s]
Dl Completed...:   0%|          | 0/1 [01:38<?, ? url/s]

Dl Size...:  70%|███████   | 580/827 [01:38<00:53,  4.62 MiB/s]


Extraction completed...: 0 file [01:38, ? file/s]

Dl Size...:  70%|███████   | 581/827 [01:38<00:52,  4.70 MiB/s]
Dl Completed...:   0%|          | 0/1 [01:38<?, ? url/s]

Dl Size...:  70%|███████   | 581/827 [01:38<00:52,  4.70 MiB/s]


Extraction completed...: 0 file [01:38, ? file/s]

Dl Size...:  70%|███████   | 582/827 [01:38<00:50,  4.81 MiB/s]
Dl Completed...:   0%|          | 0/1 [01:38<?, ? url/s]

Dl Size...:  70%|███████   | 582/827 [01:38<00:50,  4.81 MiB/s]


Extraction completed...: 0 file [01:38, ? file/s]

Dl Size...:  70%|███████   | 583/827 [01:39<00:49,  4.94 MiB/s]
Dl Completed...:   0%|          | 0/1 [01:39<?, ? url/s]

Dl Size...:  70%|███████   | 583/827 [01:39<00:49,  4.94 MiB/s]


Extraction completed...: 0 file [01:39, ? file/s]

Dl Size...:  71%|███████   | 584/827 [01:39<00:47,  5.08 MiB/s]
Dl Completed...:   0%|          | 0/1 [01:39<?, ? url/s]

Dl Size...:  71%|███████   | 584/827 [01:39<00:47,  5.08 MiB/s]


Extraction completed...: 0 file [01:39, ? file/s]

Dl Size...:  71%|███████   | 585/827 [01:39<00:46,  5.18 MiB/s]
Dl Completed...:   0%|          | 0/1 [01:39<?, ? url/s]

Dl Size...:  71%|███████   | 585/827 [01:39<00:46,  5.18 MiB/s]


Extraction completed...: 0 file [01:39, ? file/s]

Dl Size...:  71%|███████   | 586/827 [01:39<00:45,  5.34 MiB/s]
Dl Completed...:   0%|          | 0/1 [01:39<?, ? url/s]

Dl Size...:  71%|███████   | 586/827 [01:39<00:45,  5.34 MiB/s]


Extraction completed...: 0 file [01:39, ? file/s]

Dl Size...:  71%|███████   | 587/827 [01:39<00:43,  5.46 MiB/s]
Dl Completed...:   0%|          | 0/1 [01:39<?, ? url/s]

Dl Size...:  71%|███████   | 587/827 [01:39<00:43,  5.46 MiB/s]


Extraction completed...: 0 file [01:39, ? file/s]

Dl Size...:  71%|███████   | 588/827 [01:40<00:42,  5.62 MiB/s]
Dl Completed...:   0%|          | 0/1 [01:40<?, ? url/s]

Dl Size...:  71%|███████   | 588/827 [01:40<00:42,  5.62 MiB/s]


Extraction completed...: 0 file [01:40, ? file/s]

Dl Size...:  71%|███████   | 589/827 [01:40<00:41,  5.69 MiB/s]
Dl Completed...:   0%|          | 0/1 [01:40<?, ? url/s]

Dl Size...:  71%|███████   | 589/827 [01:40<00:41,  5.69 MiB/s]


Extraction completed...: 0 file [01:40, ? file/s]

Dl Size...:  71%|███████▏  | 590/827 [01:40<00:40,  5.84 MiB/s]
Dl Completed...:   0%|          | 0/1 [01:40<?, ? url/s]

Dl Size...:  71%|███████▏  | 590/827 [01:40<00:40,  5.84 MiB/s]


Extraction completed...: 0 file [01:40, ? file/s]

Dl Size...:  71%|███████▏  | 591/827 [01:40<00:39,  5.99 MiB/s]
Dl Completed...:   0%|          | 0/1 [01:40<?, ? url/s]

Dl Size...:  71%|███████▏  | 591/827 [01:40<00:39,  5.99 MiB/s]


Extraction completed...: 0 file [01:40, ? file/s]

Dl Size...:  72%|███████▏  | 592/827 [01:40<00:38,  6.05 MiB/s]
Dl Completed...:   0%|          | 0/1 [01:40<?, ? url/s]

Dl Size...:  72%|███████▏  | 592/827 [01:40<00:38,  6.05 MiB/s]


Extraction completed...: 0 file [01:40, ? file/s]

Dl Size...:  72%|███████▏  | 593/827 [01:40<00:38,  6.14 MiB/s]
Dl Completed...:   0%|          | 0/1 [01:40<?, ? url/s]

Dl Size...:  72%|███████▏  | 593/827 [01:40<00:38,  6.14 MiB/s]


Extraction completed...: 0 file [01:40, ? file/s]

Dl Size...:  72%|███████▏  | 594/827 [01:40<00:37,  6.28 MiB/s]
Dl Completed...:   0%|          | 0/1 [01:40<?, ? url/s]

Dl Size...:  72%|███████▏  | 594/827 [01:40<00:37,  6.28 MiB/s]


Extraction completed...: 0 file [01:40, ? file/s]

Dl Size...:  72%|███████▏  | 595/827 [01:41<00:36,  6.40 MiB/s]
Dl Completed...:   0%|          | 0/1 [01:41<?, ? url/s]

Dl Size...:  72%|███████▏  | 595/827 [01:41<00:36,  6.40 MiB/s]


Extraction completed...: 0 file [01:41, ? file/s]

Dl Size...:  72%|███████▏  | 596/827 [01:41<00:34,  6.61 MiB/s]
Dl Completed...:   0%|          | 0/1 [01:41<?, ? url/s]

Dl Size...:  72%|███████▏  | 596/827 [01:41<00:34,  6.61 MiB/s]


Extraction completed...: 0 file [01:41, ? file/s]

Dl Size...:  72%|███████▏  | 597/827 [01:41<00:34,  6.64 MiB/s]
Dl Completed...:   0%|          | 0/1 [01:41<?, ? url/s]

Dl Size...:  72%|███████▏  | 597/827 [01:41<00:34,  6.64 MiB/s]


Extraction completed...: 0 file [01:41, ? file/s]

Dl Size...:  72%|███████▏  | 598/827 [01:41<00:34,  6.72 MiB/s]
Dl Completed...:   0%|          | 0/1 [01:41<?, ? url/s]

Dl Size...:  72%|███████▏  | 598/827 [01:41<00:34,  6.72 MiB/s]


Extraction completed...: 0 file [01:41, ? file/s]

Dl Size...:  72%|███████▏  | 599/827 [01:41<00:33,  6.90 MiB/s]
Dl Completed...:   0%|          | 0/1 [01:41<?, ? url/s]

Dl Size...:  72%|███████▏  | 599/827 [01:41<00:33,  6.90 MiB/s]


Extraction completed...: 0 file [01:41, ? file/s]

Dl Size...:  73%|███████▎  | 600/827 [01:41<00:32,  6.97 MiB/s]
Dl Completed...:   0%|          | 0/1 [01:41<?, ? url/s]

Dl Size...:  73%|███████▎  | 600/827 [01:41<00:32,  6.97 MiB/s]


Extraction completed...: 0 file [01:41, ? file/s]

Dl Size...:  73%|███████▎  | 601/827 [01:41<00:31,  7.12 MiB/s]
Dl Completed...:   0%|          | 0/1 [01:41<?, ? url/s]

Dl Size...:  73%|███████▎  | 601/827 [01:41<00:31,  7.12 MiB/s]


Extraction completed...: 0 file [01:41, ? file/s]

Dl Size...:  73%|███████▎  | 602/827 [01:42<00:31,  7.21 MiB/s]
Dl Completed...:   0%|          | 0/1 [01:42<?, ? url/s]

Dl Size...:  73%|███████▎  | 602/827 [01:42<00:31,  7.21 MiB/s]


Extraction completed...: 0 file [01:42, ? file/s]

Dl Size...:  73%|███████▎  | 603/827 [01:42<00:30,  7.28 MiB/s]
Dl Completed...:   0%|          | 0/1 [01:42<?, ? url/s]

Dl Size...:  73%|███████▎  | 603/827 [01:42<00:30,  7.28 MiB/s]


Extraction completed...: 0 file [01:42, ? file/s]

Dl Size...:  73%|███████▎  | 604/827 [01:42<00:30,  7.35 MiB/s]
Dl Completed...:   0%|          | 0/1 [01:42<?, ? url/s]

Dl Size...:  73%|███████▎  | 604/827 [01:42<00:30,  7.35 MiB/s]


Extraction completed...: 0 file [01:42, ? file/s]

Dl Size...:  73%|███████▎  | 605/827 [01:42<00:29,  7.48 MiB/s]
Dl Completed...:   0%|          | 0/1 [01:42<?, ? url/s]

Dl Size...:  73%|███████▎  | 605/827 [01:42<00:29,  7.48 MiB/s]


Extraction completed...: 0 file [01:42, ? file/s]

Dl Size...:  73%|███████▎  | 606/827 [01:42<00:29,  7.55 MiB/s]
Dl Completed...:   0%|          | 0/1 [01:42<?, ? url/s]

Dl Size...:  73%|███████▎  | 606/827 [01:42<00:29,  7.55 MiB/s]


Extraction completed...: 0 file [01:42, ? file/s]

Dl Size...:  73%|███████▎  | 607/827 [01:42<00:28,  7.67 MiB/s]
Dl Completed...:   0%|          | 0/1 [01:42<?, ? url/s]

Dl Size...:  73%|███████▎  | 607/827 [01:42<00:28,  7.67 MiB/s]


Extraction completed...: 0 file [01:42, ? file/s]

Dl Size...:  74%|███████▎  | 608/827 [01:42<00:28,  7.80 MiB/s]
Dl Completed...:   0%|          | 0/1 [01:42<?, ? url/s]

Dl Size...:  74%|███████▎  | 608/827 [01:42<00:28,  7.80 MiB/s]


Extraction completed...: 0 file [01:42, ? file/s]

Dl Size...:  74%|███████▎  | 609/827 [01:43<00:27,  7.87 MiB/s]
Dl Completed...:   0%|          | 0/1 [01:43<?, ? url/s]

Dl Size...:  74%|███████▎  | 609/827 [01:43<00:27,  7.87 MiB/s]


Extraction completed...: 0 file [01:43, ? file/s]

Dl Size...:  74%|███████▍  | 610/827 [01:43<00:27,  7.94 MiB/s]
Dl Completed...:   0%|          | 0/1 [01:43<?, ? url/s]

Dl Size...:  74%|███████▍  | 610/827 [01:43<00:27,  7.94 MiB/s]


Extraction completed...: 0 file [01:43, ? file/s]

Dl Size...:  74%|███████▍  | 611/827 [01:43<00:26,  8.04 MiB/s]
Dl Completed...:   0%|          | 0/1 [01:43<?, ? url/s]

Dl Size...:  74%|███████▍  | 611/827 [01:43<00:26,  8.04 MiB/s]


Extraction completed...: 0 file [01:43, ? file/s]

Dl Size...:  74%|███████▍  | 612/827 [01:43<00:26,  8.12 MiB/s]
Dl Completed...:   0%|          | 0/1 [01:43<?, ? url/s]

Dl Size...:  74%|███████▍  | 612/827 [01:43<00:26,  8.12 MiB/s]


Extraction completed...: 0 file [01:43, ? file/s]

Dl Size...:  74%|███████▍  | 613/827 [01:43<00:26,  8.21 MiB/s]
Dl Completed...:   0%|          | 0/1 [01:43<?, ? url/s]

Dl Size...:  74%|███████▍  | 613/827 [01:43<00:26,  8.21 MiB/s]


Extraction completed...: 0 file [01:43, ? file/s]

Dl Size...:  74%|███████▍  | 614/827 [01:43<00:25,  8.32 MiB/s]
Dl Completed...:   0%|          | 0/1 [01:43<?, ? url/s]

Dl Size...:  74%|███████▍  | 614/827 [01:43<00:25,  8.32 MiB/s]


Extraction completed...: 0 file [01:43, ? file/s]

Dl Size...:  74%|███████▍  | 615/827 [01:43<00:25,  8.39 MiB/s]
Dl Completed...:   0%|          | 0/1 [01:43<?, ? url/s]

Dl Size...:  74%|███████▍  | 615/827 [01:43<00:25,  8.39 MiB/s]


Extraction completed...: 0 file [01:43, ? file/s]

Dl Size...:  74%|███████▍  | 616/827 [01:43<00:25,  8.38 MiB/s]
Dl Completed...:   0%|          | 0/1 [01:43<?, ? url/s]

Dl Size...:  74%|███████▍  | 616/827 [01:43<00:25,  8.38 MiB/s]


Extraction completed...: 0 file [01:43, ? file/s]

Dl Size...:  75%|███████▍  | 617/827 [01:43<00:24,  8.55 MiB/s]
Dl Completed...:   0%|          | 0/1 [01:43<?, ? url/s]

Dl Size...:  75%|███████▍  | 617/827 [01:43<00:24,  8.55 MiB/s]


Extraction completed...: 0 file [01:43, ? file/s]

Dl Size...:  75%|███████▍  | 618/827 [01:44<00:24,  8.61 MiB/s]
Dl Completed...:   0%|          | 0/1 [01:44<?, ? url/s]

Dl Size...:  75%|███████▍  | 618/827 [01:44<00:24,  8.61 MiB/s]


Extraction completed...: 0 file [01:44, ? file/s]

Dl Size...:  75%|███████▍  | 619/827 [01:44<00:23,  8.74 MiB/s]
Dl Completed...:   0%|          | 0/1 [01:44<?, ? url/s]

Dl Size...:  75%|███████▍  | 619/827 [01:44<00:23,  8.74 MiB/s]


Extraction completed...: 0 file [01:44, ? file/s]

Dl Size...:  75%|███████▍  | 620/827 [01:44<00:23,  8.81 MiB/s]
Dl Completed...:   0%|          | 0/1 [01:44<?, ? url/s]

Dl Size...:  75%|███████▍  | 620/827 [01:44<00:23,  8.81 MiB/s]


Extraction completed...: 0 file [01:44, ? file/s]

Dl Size...:  75%|███████▌  | 621/827 [01:44<00:23,  8.93 MiB/s]
Dl Completed...:   0%|          | 0/1 [01:44<?, ? url/s]

Dl Size...:  75%|███████▌  | 621/827 [01:44<00:23,  8.93 MiB/s]


Extraction completed...: 0 file [01:44, ? file/s]

Dl Size...:  75%|███████▌  | 622/827 [01:44<00:22,  9.01 MiB/s]
Dl Completed...:   0%|          | 0/1 [01:44<?, ? url/s]

Dl Size...:  75%|███████▌  | 622/827 [01:44<00:22,  9.01 MiB/s]


Extraction completed...: 0 file [01:44, ? file/s]

Dl Size...:  75%|███████▌  | 623/827 [01:44<00:22,  9.09 MiB/s]
Dl Completed...:   0%|          | 0/1 [01:44<?, ? url/s]

Dl Size...:  75%|███████▌  | 623/827 [01:44<00:22,  9.09 MiB/s]


Extraction completed...: 0 file [01:44, ? file/s]

Dl Size...:  75%|███████▌  | 624/827 [01:44<00:22,  9.15 MiB/s]
Dl Completed...:   0%|          | 0/1 [01:44<?, ? url/s]

Dl Size...:  75%|███████▌  | 624/827 [01:44<00:22,  9.15 MiB/s]


Extraction completed...: 0 file [01:44, ? file/s]

Dl Size...:  76%|███████▌  | 625/827 [01:44<00:21,  9.25 MiB/s]
Dl Completed...:   0%|          | 0/1 [01:44<?, ? url/s]

Dl Size...:  76%|███████▌  | 625/827 [01:44<00:21,  9.25 MiB/s]


Extraction completed...: 0 file [01:44, ? file/s]

Dl Size...:  76%|███████▌  | 626/827 [01:44<00:21,  9.34 MiB/s]
Dl Completed...:   0%|          | 0/1 [01:44<?, ? url/s]

Dl Size...:  76%|███████▌  | 626/827 [01:44<00:21,  9.34 MiB/s]


Extraction completed...: 0 file [01:44, ? file/s]

Dl Size...:  76%|███████▌  | 627/827 [01:45<00:21,  9.36 MiB/s]
Dl Completed...:   0%|          | 0/1 [01:45<?, ? url/s]

Dl Size...:  76%|███████▌  | 627/827 [01:45<00:21,  9.36 MiB/s]


Extraction completed...: 0 file [01:45, ? file/s]

Dl Size...:  76%|███████▌  | 628/827 [01:45<00:21,  9.47 MiB/s]
Dl Completed...:   0%|          | 0/1 [01:45<?, ? url/s]

Dl Size...:  76%|███████▌  | 628/827 [01:45<00:21,  9.47 MiB/s]


Extraction completed...: 0 file [01:45, ? file/s]

Dl Size...:  76%|███████▌  | 629/827 [01:45<00:20,  9.56 MiB/s]
Dl Completed...:   0%|          | 0/1 [01:45<?, ? url/s]

Dl Size...:  76%|███████▌  | 629/827 [01:45<00:20,  9.56 MiB/s]


Extraction completed...: 0 file [01:45, ? file/s]

Dl Size...:  76%|███████▌  | 630/827 [01:45<00:20,  9.57 MiB/s]
Dl Completed...:   0%|          | 0/1 [01:45<?, ? url/s]

Dl Size...:  76%|███████▌  | 630/827 [01:45<00:20,  9.57 MiB/s]


Extraction completed...: 0 file [01:45, ? file/s]

Dl Size...:  76%|███████▋  | 631/827 [01:45<00:20,  9.65 MiB/s]
Dl Completed...:   0%|          | 0/1 [01:45<?, ? url/s]

Dl Size...:  76%|███████▋  | 631/827 [01:45<00:20,  9.65 MiB/s]


Extraction completed...: 0 file [01:45, ? file/s]

Dl Size...:  76%|███████▋  | 632/827 [01:45<00:20,  9.68 MiB/s]
Dl Completed...:   0%|          | 0/1 [01:45<?, ? url/s]

Dl Size...:  76%|███████▋  | 632/827 [01:45<00:20,  9.68 MiB/s]


Extraction completed...: 0 file [01:45, ? file/s]

Dl Size...:  77%|███████▋  | 633/827 [01:45<00:19,  9.76 MiB/s]
Dl Completed...:   0%|          | 0/1 [01:45<?, ? url/s]

Dl Size...:  77%|███████▋  | 633/827 [01:45<00:19,  9.76 MiB/s]


Extraction completed...: 0 file [01:45, ? file/s]
Dl Completed...:   0%|          | 0/1 [01:45<?, ? url/s]

Dl Size...:  77%|███████▋  | 634/827 [01:45<00:19,  9.76 MiB/s]


Extraction completed...: 0 file [01:45, ? file/s]

Dl Size...:  77%|███████▋  | 635/827 [01:45<00:19,  9.93 MiB/s]
Dl Completed...:   0%|          | 0/1 [01:45<?, ? url/s]

Dl Size...:  77%|███████▋  | 635/827 [01:45<00:19,  9.93 MiB/s]


Extraction completed...: 0 file [01:45, ? file/s]
Dl Completed...:   0%|          | 0/1 [01:45<?, ? url/s]

Dl Size...:  77%|███████▋  | 636/827 [01:45<00:19,  9.93 MiB/s]


Extraction completed...: 0 file [01:45, ? file/s]

Dl Size...:  77%|███████▋  | 637/827 [01:46<00:18, 10.03 MiB/s]
Dl Completed...:   0%|          | 0/1 [01:46<?, ? url/s]

Dl Size...:  77%|███████▋  | 637/827 [01:46<00:18, 10.03 MiB/s]


Extraction completed...: 0 file [01:46, ? file/s]
Dl Completed...:   0%|          | 0/1 [01:46<?, ? url/s]

Dl Size...:  77%|███████▋  | 638/827 [01:46<00:18, 10.03 MiB/s]


Extraction completed...: 0 file [01:46, ? file/s]

Dl Size...:  77%|███████▋  | 639/827 [01:46<00:18, 10.13 MiB/s]
Dl Completed...:   0%|          | 0/1 [01:46<?, ? url/s]

Dl Size...:  77%|███████▋  | 639/827 [01:46<00:18, 10.13 MiB/s]


Extraction completed...: 0 file [01:46, ? file/s]
Dl Completed...:   0%|          | 0/1 [01:46<?, ? url/s]

Dl Size...:  77%|███████▋  | 640/827 [01:46<00:18, 10.13 MiB/s]


Extraction completed...: 0 file [01:46, ? file/s]

Dl Size...:  78%|███████▊  | 641/827 [01:46<00:18, 10.23 MiB/s]
Dl Completed...:   0%|          | 0/1 [01:46<?, ? url/s]

Dl Size...:  78%|███████▊  | 641/827 [01:46<00:18, 10.23 MiB/s]


Extraction completed...: 0 file [01:46, ? file/s]
Dl Completed...:   0%|          | 0/1 [01:46<?, ? url/s]

Dl Size...:  78%|███████▊  | 642/827 [01:46<00:18, 10.23 MiB/s]


Extraction completed...: 0 file [01:46, ? file/s]

Dl Size...:  78%|███████▊  | 643/827 [01:46<00:17, 10.32 MiB/s]
Dl Completed...:   0%|          | 0/1 [01:46<?, ? url/s]

Dl Size...:  78%|███████▊  | 643/827 [01:46<00:17, 10.32 MiB/s]


Extraction completed...: 0 file [01:46, ? file/s]
Dl Completed...:   0%|          | 0/1 [01:46<?, ? url/s]

Dl Size...:  78%|███████▊  | 644/827 [01:46<00:17, 10.32 MiB/s]


Extraction completed...: 0 file [01:46, ? file/s]

Dl Size...:  78%|███████▊  | 645/827 [01:46<00:17, 10.37 MiB/s]
Dl Completed...:   0%|          | 0/1 [01:46<?, ? url/s]

Dl Size...:  78%|███████▊  | 645/827 [01:46<00:17, 10.37 MiB/s]


Extraction completed...: 0 file [01:46, ? file/s]
Dl Completed...:   0%|          | 0/1 [01:46<?, ? url/s]

Dl Size...:  78%|███████▊  | 646/827 [01:46<00:17, 10.37 MiB/s]


Extraction completed...: 0 file [01:46, ? file/s]

Dl Size...:  78%|███████▊  | 647/827 [01:46<00:17, 10.47 MiB/s]
Dl Completed...:   0%|          | 0/1 [01:46<?, ? url/s]

Dl Size...:  78%|███████▊  | 647/827 [01:46<00:17, 10.47 MiB/s]


Extraction completed...: 0 file [01:46, ? file/s]
Dl Completed...:   0%|          | 0/1 [01:47<?, ? url/s]

Dl Size...:  78%|███████▊  | 648/827 [01:47<00:17, 10.47 MiB/s]


Extraction completed...: 0 file [01:47, ? file/s]

Dl Size...:  78%|███████▊  | 649/827 [01:47<00:16, 10.49 MiB/s]
Dl Completed...:   0%|          | 0/1 [01:47<?, ? url/s]

Dl Size...:  78%|███████▊  | 649/827 [01:47<00:16, 10.49 MiB/s]


Extraction completed...: 0 file [01:47, ? file/s]
Dl Completed...:   0%|          | 0/1 [01:47<?, ? url/s]

Dl Size...:  79%|███████▊  | 650/827 [01:47<00:16, 10.49 MiB/s]


Extraction completed...: 0 file [01:47, ? file/s]

Dl Size...:  79%|███████▊  | 651/827 [01:47<00:17, 10.03 MiB/s]
Dl Completed...:   0%|          | 0/1 [01:47<?, ? url/s]

Dl Size...:  79%|███████▊  | 651/827 [01:47<00:17, 10.03 MiB/s]


Extraction completed...: 0 file [01:47, ? file/s]
Dl Completed...:   0%|          | 0/1 [01:47<?, ? url/s]

Dl Size...:  79%|███████▉  | 652/827 [01:47<00:17, 10.03 MiB/s]


Extraction completed...: 0 file [01:47, ? file/s]

Dl Size...:  79%|███████▉  | 653/827 [01:47<00:17,  9.82 MiB/s]
Dl Completed...:   0%|          | 0/1 [01:47<?, ? url/s]

Dl Size...:  79%|███████▉  | 653/827 [01:47<00:17,  9.82 MiB/s]


Extraction completed...: 0 file [01:47, ? file/s]

Dl Size...:  79%|███████▉  | 654/827 [01:47<00:18,  9.50 MiB/s]
Dl Completed...:   0%|          | 0/1 [01:47<?, ? url/s]

Dl Size...:  79%|███████▉  | 654/827 [01:47<00:18,  9.50 MiB/s]


Extraction completed...: 0 file [01:47, ? file/s]

Dl Size...:  79%|███████▉  | 655/827 [01:47<00:18,  9.24 MiB/s]
Dl Completed...:   0%|          | 0/1 [01:47<?, ? url/s]

Dl Size...:  79%|███████▉  | 655/827 [01:47<00:18,  9.24 MiB/s]


Extraction completed...: 0 file [01:47, ? file/s]

Dl Size...:  79%|███████▉  | 656/827 [01:47<00:18,  9.12 MiB/s]
Dl Completed...:   0%|          | 0/1 [01:47<?, ? url/s]

Dl Size...:  79%|███████▉  | 656/827 [01:47<00:18,  9.12 MiB/s]


Extraction completed...: 0 file [01:47, ? file/s]

Dl Size...:  79%|███████▉  | 657/827 [01:48<00:21,  8.07 MiB/s]
Dl Completed...:   0%|          | 0/1 [01:48<?, ? url/s]

Dl Size...:  79%|███████▉  | 657/827 [01:48<00:21,  8.07 MiB/s]


Extraction completed...: 0 file [01:48, ? file/s]

Dl Size...:  80%|███████▉  | 658/827 [01:48<00:24,  6.81 MiB/s]
Dl Completed...:   0%|          | 0/1 [01:48<?, ? url/s]

Dl Size...:  80%|███████▉  | 658/827 [01:48<00:24,  6.81 MiB/s]


Extraction completed...: 0 file [01:48, ? file/s]

Dl Size...:  80%|███████▉  | 659/827 [01:48<00:27,  6.08 MiB/s]
Dl Completed...:   0%|          | 0/1 [01:48<?, ? url/s]

Dl Size...:  80%|███████▉  | 659/827 [01:48<00:27,  6.08 MiB/s]


Extraction completed...: 0 file [01:48, ? file/s]

Dl Size...:  80%|███████▉  | 660/827 [01:48<00:29,  5.66 MiB/s]
Dl Completed...:   0%|          | 0/1 [01:48<?, ? url/s]

Dl Size...:  80%|███████▉  | 660/827 [01:48<00:29,  5.66 MiB/s]


Extraction completed...: 0 file [01:48, ? file/s]

Dl Size...:  80%|███████▉  | 661/827 [01:48<00:30,  5.38 MiB/s]
Dl Completed...:   0%|          | 0/1 [01:48<?, ? url/s]

Dl Size...:  80%|███████▉  | 661/827 [01:48<00:30,  5.38 MiB/s]


Extraction completed...: 0 file [01:48, ? file/s]

Dl Size...:  80%|████████  | 662/827 [01:49<00:31,  5.28 MiB/s]
Dl Completed...:   0%|          | 0/1 [01:49<?, ? url/s]

Dl Size...:  80%|████████  | 662/827 [01:49<00:31,  5.28 MiB/s]


Extraction completed...: 0 file [01:49, ? file/s]

Dl Size...:  80%|████████  | 663/827 [01:49<00:31,  5.22 MiB/s]
Dl Completed...:   0%|          | 0/1 [01:49<?, ? url/s]

Dl Size...:  80%|████████  | 663/827 [01:49<00:31,  5.22 MiB/s]


Extraction completed...: 0 file [01:49, ? file/s]

Dl Size...:  80%|████████  | 664/827 [01:49<00:31,  5.26 MiB/s]
Dl Completed...:   0%|          | 0/1 [01:49<?, ? url/s]

Dl Size...:  80%|████████  | 664/827 [01:49<00:31,  5.26 MiB/s]


Extraction completed...: 0 file [01:49, ? file/s]

Dl Size...:  80%|████████  | 665/827 [01:49<00:30,  5.34 MiB/s]
Dl Completed...:   0%|          | 0/1 [01:49<?, ? url/s]

Dl Size...:  80%|████████  | 665/827 [01:49<00:30,  5.34 MiB/s]


Extraction completed...: 0 file [01:49, ? file/s]

Dl Size...:  81%|████████  | 666/827 [01:49<00:29,  5.42 MiB/s]
Dl Completed...:   0%|          | 0/1 [01:49<?, ? url/s]

Dl Size...:  81%|████████  | 666/827 [01:49<00:29,  5.42 MiB/s]


Extraction completed...: 0 file [01:49, ? file/s]

Dl Size...:  81%|████████  | 667/827 [01:50<00:29,  5.51 MiB/s]
Dl Completed...:   0%|          | 0/1 [01:50<?, ? url/s]

Dl Size...:  81%|████████  | 667/827 [01:50<00:29,  5.51 MiB/s]


Extraction completed...: 0 file [01:50, ? file/s]

Dl Size...:  81%|████████  | 668/827 [01:50<00:28,  5.55 MiB/s]
Dl Completed...:   0%|          | 0/1 [01:50<?, ? url/s]

Dl Size...:  81%|████████  | 668/827 [01:50<00:28,  5.55 MiB/s]


Extraction completed...: 0 file [01:50, ? file/s]

Dl Size...:  81%|████████  | 669/827 [01:50<00:33,  4.74 MiB/s]
Dl Completed...:   0%|          | 0/1 [01:50<?, ? url/s]

Dl Size...:  81%|████████  | 669/827 [01:50<00:33,  4.74 MiB/s]


Extraction completed...: 0 file [01:50, ? file/s]

Dl Size...:  81%|████████  | 670/827 [01:50<00:38,  4.06 MiB/s]
Dl Completed...:   0%|          | 0/1 [01:50<?, ? url/s]

Dl Size...:  81%|████████  | 670/827 [01:50<00:38,  4.06 MiB/s]


Extraction completed...: 0 file [01:50, ? file/s]

Dl Size...:  81%|████████  | 671/827 [01:51<00:40,  3.82 MiB/s]
Dl Completed...:   0%|          | 0/1 [01:51<?, ? url/s]

Dl Size...:  81%|████████  | 671/827 [01:51<00:40,  3.82 MiB/s]


Extraction completed...: 0 file [01:51, ? file/s]

Dl Size...:  81%|████████▏ | 672/827 [01:51<00:41,  3.72 MiB/s]
Dl Completed...:   0%|          | 0/1 [01:51<?, ? url/s]

Dl Size...:  81%|████████▏ | 672/827 [01:51<00:41,  3.72 MiB/s]


Extraction completed...: 0 file [01:51, ? file/s]

Dl Size...:  81%|████████▏ | 673/827 [01:51<00:41,  3.74 MiB/s]
Dl Completed...:   0%|          | 0/1 [01:51<?, ? url/s]

Dl Size...:  81%|████████▏ | 673/827 [01:51<00:41,  3.74 MiB/s]


Extraction completed...: 0 file [01:51, ? file/s]

Dl Size...:  81%|████████▏ | 674/827 [01:51<00:40,  3.78 MiB/s]
Dl Completed...:   0%|          | 0/1 [01:51<?, ? url/s]

Dl Size...:  81%|████████▏ | 674/827 [01:51<00:40,  3.78 MiB/s]


Extraction completed...: 0 file [01:51, ? file/s]

Dl Size...:  82%|████████▏ | 675/827 [01:52<00:39,  3.88 MiB/s]
Dl Completed...:   0%|          | 0/1 [01:52<?, ? url/s]

Dl Size...:  82%|████████▏ | 675/827 [01:52<00:39,  3.88 MiB/s]


Extraction completed...: 0 file [01:52, ? file/s]

Dl Size...:  82%|████████▏ | 676/827 [01:52<00:37,  4.01 MiB/s]
Dl Completed...:   0%|          | 0/1 [01:52<?, ? url/s]

Dl Size...:  82%|████████▏ | 676/827 [01:52<00:37,  4.01 MiB/s]


Extraction completed...: 0 file [01:52, ? file/s]

Dl Size...:  82%|████████▏ | 677/827 [01:52<00:36,  4.15 MiB/s]
Dl Completed...:   0%|          | 0/1 [01:52<?, ? url/s]

Dl Size...:  82%|████████▏ | 677/827 [01:52<00:36,  4.15 MiB/s]


Extraction completed...: 0 file [01:52, ? file/s]

Dl Size...:  82%|████████▏ | 678/827 [01:52<00:34,  4.27 MiB/s]
Dl Completed...:   0%|          | 0/1 [01:52<?, ? url/s]

Dl Size...:  82%|████████▏ | 678/827 [01:52<00:34,  4.27 MiB/s]


Extraction completed...: 0 file [01:52, ? file/s]

Dl Size...:  82%|████████▏ | 679/827 [01:53<00:33,  4.42 MiB/s]
Dl Completed...:   0%|          | 0/1 [01:53<?, ? url/s]

Dl Size...:  82%|████████▏ | 679/827 [01:53<00:33,  4.42 MiB/s]


Extraction completed...: 0 file [01:53, ? file/s]

Dl Size...:  82%|████████▏ | 680/827 [01:53<00:32,  4.56 MiB/s]
Dl Completed...:   0%|          | 0/1 [01:53<?, ? url/s]

Dl Size...:  82%|████████▏ | 680/827 [01:53<00:32,  4.56 MiB/s]


Extraction completed...: 0 file [01:53, ? file/s]

Dl Size...:  82%|████████▏ | 681/827 [01:53<00:30,  4.71 MiB/s]
Dl Completed...:   0%|          | 0/1 [01:53<?, ? url/s]

Dl Size...:  82%|████████▏ | 681/827 [01:53<00:30,  4.71 MiB/s]


Extraction completed...: 0 file [01:53, ? file/s]

Dl Size...:  82%|████████▏ | 682/827 [01:53<00:29,  4.88 MiB/s]
Dl Completed...:   0%|          | 0/1 [01:53<?, ? url/s]

Dl Size...:  82%|████████▏ | 682/827 [01:53<00:29,  4.88 MiB/s]


Extraction completed...: 0 file [01:53, ? file/s]

Dl Size...:  83%|████████▎ | 683/827 [01:53<00:28,  5.02 MiB/s]
Dl Completed...:   0%|          | 0/1 [01:53<?, ? url/s]

Dl Size...:  83%|████████▎ | 683/827 [01:53<00:28,  5.02 MiB/s]


Extraction completed...: 0 file [01:53, ? file/s]

Dl Size...:  83%|████████▎ | 684/827 [01:54<00:27,  5.15 MiB/s]
Dl Completed...:   0%|          | 0/1 [01:54<?, ? url/s]

Dl Size...:  83%|████████▎ | 684/827 [01:54<00:27,  5.15 MiB/s]


Extraction completed...: 0 file [01:54, ? file/s]

Dl Size...:  83%|████████▎ | 685/827 [01:54<00:27,  5.25 MiB/s]
Dl Completed...:   0%|          | 0/1 [01:54<?, ? url/s]

Dl Size...:  83%|████████▎ | 685/827 [01:54<00:27,  5.25 MiB/s]


Extraction completed...: 0 file [01:54, ? file/s]

Dl Size...:  83%|████████▎ | 686/827 [01:54<00:25,  5.47 MiB/s]
Dl Completed...:   0%|          | 0/1 [01:54<?, ? url/s]

Dl Size...:  83%|████████▎ | 686/827 [01:54<00:25,  5.47 MiB/s]


Extraction completed...: 0 file [01:54, ? file/s]

Dl Size...:  83%|████████▎ | 687/827 [01:54<00:25,  5.53 MiB/s]
Dl Completed...:   0%|          | 0/1 [01:54<?, ? url/s]

Dl Size...:  83%|████████▎ | 687/827 [01:54<00:25,  5.53 MiB/s]


Extraction completed...: 0 file [01:54, ? file/s]

Dl Size...:  83%|████████▎ | 688/827 [01:54<00:24,  5.70 MiB/s]
Dl Completed...:   0%|          | 0/1 [01:54<?, ? url/s]

Dl Size...:  83%|████████▎ | 688/827 [01:54<00:24,  5.70 MiB/s]


Extraction completed...: 0 file [01:54, ? file/s]

Dl Size...:  83%|████████▎ | 689/827 [01:54<00:23,  5.83 MiB/s]
Dl Completed...:   0%|          | 0/1 [01:54<?, ? url/s]

Dl Size...:  83%|████████▎ | 689/827 [01:54<00:23,  5.83 MiB/s]


Extraction completed...: 0 file [01:54, ? file/s]

Dl Size...:  83%|████████▎ | 690/827 [01:55<00:23,  5.94 MiB/s]
Dl Completed...:   0%|          | 0/1 [01:55<?, ? url/s]

Dl Size...:  83%|████████▎ | 690/827 [01:55<00:23,  5.94 MiB/s]


Extraction completed...: 0 file [01:55, ? file/s]

Dl Size...:  84%|████████▎ | 691/827 [01:55<00:22,  6.03 MiB/s]
Dl Completed...:   0%|          | 0/1 [01:55<?, ? url/s]

Dl Size...:  84%|████████▎ | 691/827 [01:55<00:22,  6.03 MiB/s]


Extraction completed...: 0 file [01:55, ? file/s]

Dl Size...:  84%|████████▎ | 692/827 [01:55<00:21,  6.18 MiB/s]
Dl Completed...:   0%|          | 0/1 [01:55<?, ? url/s]

Dl Size...:  84%|████████▎ | 692/827 [01:55<00:21,  6.18 MiB/s]


Extraction completed...: 0 file [01:55, ? file/s]

Dl Size...:  84%|████████▍ | 693/827 [01:55<00:21,  6.30 MiB/s]
Dl Completed...:   0%|          | 0/1 [01:55<?, ? url/s]

Dl Size...:  84%|████████▍ | 693/827 [01:55<00:21,  6.30 MiB/s]


Extraction completed...: 0 file [01:55, ? file/s]

Dl Size...:  84%|████████▍ | 694/827 [01:55<00:20,  6.47 MiB/s]
Dl Completed...:   0%|          | 0/1 [01:55<?, ? url/s]

Dl Size...:  84%|████████▍ | 694/827 [01:55<00:20,  6.47 MiB/s]


Extraction completed...: 0 file [01:55, ? file/s]

Dl Size...:  84%|████████▍ | 695/827 [01:55<00:20,  6.54 MiB/s]
Dl Completed...:   0%|          | 0/1 [01:55<?, ? url/s]

Dl Size...:  84%|████████▍ | 695/827 [01:55<00:20,  6.54 MiB/s]


Extraction completed...: 0 file [01:55, ? file/s]

Dl Size...:  84%|████████▍ | 696/827 [01:55<00:19,  6.63 MiB/s]
Dl Completed...:   0%|          | 0/1 [01:55<?, ? url/s]

Dl Size...:  84%|████████▍ | 696/827 [01:55<00:19,  6.63 MiB/s]


Extraction completed...: 0 file [01:55, ? file/s]

Dl Size...:  84%|████████▍ | 697/827 [01:56<00:19,  6.80 MiB/s]
Dl Completed...:   0%|          | 0/1 [01:56<?, ? url/s]

Dl Size...:  84%|████████▍ | 697/827 [01:56<00:19,  6.80 MiB/s]


Extraction completed...: 0 file [01:56, ? file/s]

Dl Size...:  84%|████████▍ | 698/827 [01:56<00:18,  6.89 MiB/s]
Dl Completed...:   0%|          | 0/1 [01:56<?, ? url/s]

Dl Size...:  84%|████████▍ | 698/827 [01:56<00:18,  6.89 MiB/s]


Extraction completed...: 0 file [01:56, ? file/s]

Dl Size...:  85%|████████▍ | 699/827 [01:56<00:18,  7.02 MiB/s]
Dl Completed...:   0%|          | 0/1 [01:56<?, ? url/s]

Dl Size...:  85%|████████▍ | 699/827 [01:56<00:18,  7.02 MiB/s]


Extraction completed...: 0 file [01:56, ? file/s]

Dl Size...:  85%|████████▍ | 700/827 [01:56<00:17,  7.06 MiB/s]
Dl Completed...:   0%|          | 0/1 [01:56<?, ? url/s]

Dl Size...:  85%|████████▍ | 700/827 [01:56<00:17,  7.06 MiB/s]


Extraction completed...: 0 file [01:56, ? file/s]

Dl Size...:  85%|████████▍ | 701/827 [01:56<00:17,  7.23 MiB/s]
Dl Completed...:   0%|          | 0/1 [01:56<?, ? url/s]

Dl Size...:  85%|████████▍ | 701/827 [01:56<00:17,  7.23 MiB/s]


Extraction completed...: 0 file [01:56, ? file/s]

Dl Size...:  85%|████████▍ | 702/827 [01:56<00:17,  7.33 MiB/s]
Dl Completed...:   0%|          | 0/1 [01:56<?, ? url/s]

Dl Size...:  85%|████████▍ | 702/827 [01:56<00:17,  7.33 MiB/s]


Extraction completed...: 0 file [01:56, ? file/s]

Dl Size...:  85%|████████▌ | 703/827 [01:56<00:16,  7.42 MiB/s]
Dl Completed...:   0%|          | 0/1 [01:56<?, ? url/s]

Dl Size...:  85%|████████▌ | 703/827 [01:56<00:16,  7.42 MiB/s]


Extraction completed...: 0 file [01:56, ? file/s]

Dl Size...:  85%|████████▌ | 704/827 [01:57<00:16,  7.50 MiB/s]
Dl Completed...:   0%|          | 0/1 [01:57<?, ? url/s]

Dl Size...:  85%|████████▌ | 704/827 [01:57<00:16,  7.50 MiB/s]


Extraction completed...: 0 file [01:57, ? file/s]

Dl Size...:  85%|████████▌ | 705/827 [01:57<00:15,  7.63 MiB/s]
Dl Completed...:   0%|          | 0/1 [01:57<?, ? url/s]

Dl Size...:  85%|████████▌ | 705/827 [01:57<00:15,  7.63 MiB/s]


Extraction completed...: 0 file [01:57, ? file/s]

Dl Size...:  85%|████████▌ | 706/827 [01:57<00:15,  7.72 MiB/s]
Dl Completed...:   0%|          | 0/1 [01:57<?, ? url/s]

Dl Size...:  85%|████████▌ | 706/827 [01:57<00:15,  7.72 MiB/s]


Extraction completed...: 0 file [01:57, ? file/s]

Dl Size...:  85%|████████▌ | 707/827 [01:57<00:15,  7.81 MiB/s]
Dl Completed...:   0%|          | 0/1 [01:57<?, ? url/s]

Dl Size...:  85%|████████▌ | 707/827 [01:57<00:15,  7.81 MiB/s]


Extraction completed...: 0 file [01:57, ? file/s]

Dl Size...:  86%|████████▌ | 708/827 [01:57<00:15,  7.87 MiB/s]
Dl Completed...:   0%|          | 0/1 [01:57<?, ? url/s]

Dl Size...:  86%|████████▌ | 708/827 [01:57<00:15,  7.87 MiB/s]


Extraction completed...: 0 file [01:57, ? file/s]

Dl Size...:  86%|████████▌ | 709/827 [01:57<00:14,  7.96 MiB/s]
Dl Completed...:   0%|          | 0/1 [01:57<?, ? url/s]

Dl Size...:  86%|████████▌ | 709/827 [01:57<00:14,  7.96 MiB/s]


Extraction completed...: 0 file [01:57, ? file/s]

Dl Size...:  86%|████████▌ | 710/827 [01:57<00:14,  8.04 MiB/s]
Dl Completed...:   0%|          | 0/1 [01:57<?, ? url/s]

Dl Size...:  86%|████████▌ | 710/827 [01:57<00:14,  8.04 MiB/s]


Extraction completed...: 0 file [01:57, ? file/s]

Dl Size...:  86%|████████▌ | 711/827 [01:57<00:14,  8.13 MiB/s]
Dl Completed...:   0%|          | 0/1 [01:57<?, ? url/s]

Dl Size...:  86%|████████▌ | 711/827 [01:57<00:14,  8.13 MiB/s]


Extraction completed...: 0 file [01:57, ? file/s]

Dl Size...:  86%|████████▌ | 712/827 [01:58<00:14,  8.19 MiB/s]
Dl Completed...:   0%|          | 0/1 [01:58<?, ? url/s]

Dl Size...:  86%|████████▌ | 712/827 [01:58<00:14,  8.19 MiB/s]


Extraction completed...: 0 file [01:58, ? file/s]

Dl Size...:  86%|████████▌ | 713/827 [01:58<00:13,  8.29 MiB/s]
Dl Completed...:   0%|          | 0/1 [01:58<?, ? url/s]

Dl Size...:  86%|████████▌ | 713/827 [01:58<00:13,  8.29 MiB/s]


Extraction completed...: 0 file [01:58, ? file/s]

Dl Size...:  86%|████████▋ | 714/827 [01:58<00:13,  8.34 MiB/s]
Dl Completed...:   0%|          | 0/1 [01:58<?, ? url/s]

Dl Size...:  86%|████████▋ | 714/827 [01:58<00:13,  8.34 MiB/s]


Extraction completed...: 0 file [01:58, ? file/s]

Dl Size...:  86%|████████▋ | 715/827 [01:58<00:13,  8.47 MiB/s]
Dl Completed...:   0%|          | 0/1 [01:58<?, ? url/s]

Dl Size...:  86%|████████▋ | 715/827 [01:58<00:13,  8.47 MiB/s]


Extraction completed...: 0 file [01:58, ? file/s]

Dl Size...:  87%|████████▋ | 716/827 [01:58<00:12,  8.57 MiB/s]
Dl Completed...:   0%|          | 0/1 [01:58<?, ? url/s]

Dl Size...:  87%|████████▋ | 716/827 [01:58<00:12,  8.57 MiB/s]


Extraction completed...: 0 file [01:58, ? file/s]

Dl Size...:  87%|████████▋ | 717/827 [01:58<00:12,  8.66 MiB/s]
Dl Completed...:   0%|          | 0/1 [01:58<?, ? url/s]

Dl Size...:  87%|████████▋ | 717/827 [01:58<00:12,  8.66 MiB/s]


Extraction completed...: 0 file [01:58, ? file/s]

Dl Size...:  87%|████████▋ | 718/827 [01:58<00:12,  8.72 MiB/s]
Dl Completed...:   0%|          | 0/1 [01:58<?, ? url/s]

Dl Size...:  87%|████████▋ | 718/827 [01:58<00:12,  8.72 MiB/s]


Extraction completed...: 0 file [01:58, ? file/s]

Dl Size...:  87%|████████▋ | 719/827 [01:58<00:12,  8.86 MiB/s]
Dl Completed...:   0%|          | 0/1 [01:58<?, ? url/s]

Dl Size...:  87%|████████▋ | 719/827 [01:58<00:12,  8.86 MiB/s]


Extraction completed...: 0 file [01:58, ? file/s]

Dl Size...:  87%|████████▋ | 720/827 [01:58<00:12,  8.91 MiB/s]
Dl Completed...:   0%|          | 0/1 [01:58<?, ? url/s]

Dl Size...:  87%|████████▋ | 720/827 [01:58<00:12,  8.91 MiB/s]


Extraction completed...: 0 file [01:58, ? file/s]

Dl Size...:  87%|████████▋ | 721/827 [01:59<00:11,  8.98 MiB/s]
Dl Completed...:   0%|          | 0/1 [01:59<?, ? url/s]

Dl Size...:  87%|████████▋ | 721/827 [01:59<00:11,  8.98 MiB/s]


Extraction completed...: 0 file [01:59, ? file/s]

Dl Size...:  87%|████████▋ | 722/827 [01:59<00:11,  9.06 MiB/s]
Dl Completed...:   0%|          | 0/1 [01:59<?, ? url/s]

Dl Size...:  87%|████████▋ | 722/827 [01:59<00:11,  9.06 MiB/s]


Extraction completed...: 0 file [01:59, ? file/s]

Dl Size...:  87%|████████▋ | 723/827 [01:59<00:11,  9.18 MiB/s]
Dl Completed...:   0%|          | 0/1 [01:59<?, ? url/s]

Dl Size...:  87%|████████▋ | 723/827 [01:59<00:11,  9.18 MiB/s]


Extraction completed...: 0 file [01:59, ? file/s]

Dl Size...:  88%|████████▊ | 724/827 [01:59<00:11,  9.26 MiB/s]
Dl Completed...:   0%|          | 0/1 [01:59<?, ? url/s]

Dl Size...:  88%|████████▊ | 724/827 [01:59<00:11,  9.26 MiB/s]


Extraction completed...: 0 file [01:59, ? file/s]

Dl Size...:  88%|████████▊ | 725/827 [01:59<00:11,  9.24 MiB/s]
Dl Completed...:   0%|          | 0/1 [01:59<?, ? url/s]

Dl Size...:  88%|████████▊ | 725/827 [01:59<00:11,  9.24 MiB/s]


Extraction completed...: 0 file [01:59, ? file/s]

Dl Size...:  88%|████████▊ | 726/827 [01:59<00:10,  9.36 MiB/s]
Dl Completed...:   0%|          | 0/1 [01:59<?, ? url/s]

Dl Size...:  88%|████████▊ | 726/827 [01:59<00:10,  9.36 MiB/s]


Extraction completed...: 0 file [01:59, ? file/s]

Dl Size...:  88%|████████▊ | 727/827 [01:59<00:10,  9.45 MiB/s]
Dl Completed...:   0%|          | 0/1 [01:59<?, ? url/s]

Dl Size...:  88%|████████▊ | 727/827 [01:59<00:10,  9.45 MiB/s]


Extraction completed...: 0 file [01:59, ? file/s]

Dl Size...:  88%|████████▊ | 728/827 [01:59<00:10,  9.50 MiB/s]
Dl Completed...:   0%|          | 0/1 [01:59<?, ? url/s]

Dl Size...:  88%|████████▊ | 728/827 [01:59<00:10,  9.50 MiB/s]


Extraction completed...: 0 file [01:59, ? file/s]

Dl Size...:  88%|████████▊ | 729/827 [01:59<00:10,  9.54 MiB/s]
Dl Completed...:   0%|          | 0/1 [01:59<?, ? url/s]

Dl Size...:  88%|████████▊ | 729/827 [01:59<00:10,  9.54 MiB/s]


Extraction completed...: 0 file [01:59, ? file/s]

Dl Size...:  88%|████████▊ | 730/827 [02:00<00:10,  9.63 MiB/s]
Dl Completed...:   0%|          | 0/1 [02:00<?, ? url/s]

Dl Size...:  88%|████████▊ | 730/827 [02:00<00:10,  9.63 MiB/s]


Extraction completed...: 0 file [02:00, ? file/s]

Dl Size...:  88%|████████▊ | 731/827 [02:00<00:09,  9.71 MiB/s]
Dl Completed...:   0%|          | 0/1 [02:00<?, ? url/s]

Dl Size...:  88%|████████▊ | 731/827 [02:00<00:09,  9.71 MiB/s]


Extraction completed...: 0 file [02:00, ? file/s]

Dl Size...:  89%|████████▊ | 732/827 [02:00<00:09,  9.79 MiB/s]
Dl Completed...:   0%|          | 0/1 [02:00<?, ? url/s]

Dl Size...:  89%|████████▊ | 732/827 [02:00<00:09,  9.79 MiB/s]


Extraction completed...: 0 file [02:00, ? file/s]
Dl Completed...:   0%|          | 0/1 [02:00<?, ? url/s]

Dl Size...:  89%|████████▊ | 733/827 [02:00<00:09,  9.79 MiB/s]


Extraction completed...: 0 file [02:00, ? file/s]

Dl Size...:  89%|████████▉ | 734/827 [02:00<00:09,  9.90 MiB/s]
Dl Completed...:   0%|          | 0/1 [02:00<?, ? url/s]

Dl Size...:  89%|████████▉ | 734/827 [02:00<00:09,  9.90 MiB/s]


Extraction completed...: 0 file [02:00, ? file/s]

Dl Size...:  89%|████████▉ | 735/827 [02:00<00:09,  9.91 MiB/s]
Dl Completed...:   0%|          | 0/1 [02:00<?, ? url/s]

Dl Size...:  89%|████████▉ | 735/827 [02:00<00:09,  9.91 MiB/s]


Extraction completed...: 0 file [02:00, ? file/s]
Dl Completed...:   0%|          | 0/1 [02:00<?, ? url/s]

Dl Size...:  89%|████████▉ | 736/827 [02:00<00:09,  9.91 MiB/s]


Extraction completed...: 0 file [02:00, ? file/s]

Dl Size...:  89%|████████▉ | 737/827 [02:00<00:08, 10.06 MiB/s]
Dl Completed...:   0%|          | 0/1 [02:00<?, ? url/s]

Dl Size...:  89%|████████▉ | 737/827 [02:00<00:08, 10.06 MiB/s]


Extraction completed...: 0 file [02:00, ? file/s]
Dl Completed...:   0%|          | 0/1 [02:00<?, ? url/s]

Dl Size...:  89%|████████▉ | 738/827 [02:00<00:08, 10.06 MiB/s]


Extraction completed...: 0 file [02:00, ? file/s]

Dl Size...:  89%|████████▉ | 739/827 [02:00<00:08, 10.16 MiB/s]
Dl Completed...:   0%|          | 0/1 [02:00<?, ? url/s]

Dl Size...:  89%|████████▉ | 739/827 [02:00<00:08, 10.16 MiB/s]


Extraction completed...: 0 file [02:00, ? file/s]
Dl Completed...:   0%|          | 0/1 [02:00<?, ? url/s]

Dl Size...:  89%|████████▉ | 740/827 [02:00<00:08, 10.16 MiB/s]


Extraction completed...: 0 file [02:00, ? file/s]

Dl Size...:  90%|████████▉ | 741/827 [02:01<00:08, 10.26 MiB/s]
Dl Completed...:   0%|          | 0/1 [02:01<?, ? url/s]

Dl Size...:  90%|████████▉ | 741/827 [02:01<00:08, 10.26 MiB/s]


Extraction completed...: 0 file [02:01, ? file/s]
Dl Completed...:   0%|          | 0/1 [02:01<?, ? url/s]

Dl Size...:  90%|████████▉ | 742/827 [02:01<00:08, 10.26 MiB/s]


Extraction completed...: 0 file [02:01, ? file/s]

Dl Size...:  90%|████████▉ | 743/827 [02:01<00:08, 10.33 MiB/s]
Dl Completed...:   0%|          | 0/1 [02:01<?, ? url/s]

Dl Size...:  90%|████████▉ | 743/827 [02:01<00:08, 10.33 MiB/s]


Extraction completed...: 0 file [02:01, ? file/s]
Dl Completed...:   0%|          | 0/1 [02:01<?, ? url/s]

Dl Size...:  90%|████████▉ | 744/827 [02:01<00:08, 10.33 MiB/s]


Extraction completed...: 0 file [02:01, ? file/s]

Dl Size...:  90%|█████████ | 745/827 [02:01<00:07, 10.48 MiB/s]
Dl Completed...:   0%|          | 0/1 [02:01<?, ? url/s]

Dl Size...:  90%|█████████ | 745/827 [02:01<00:07, 10.48 MiB/s]


Extraction completed...: 0 file [02:01, ? file/s]
Dl Completed...:   0%|          | 0/1 [02:01<?, ? url/s]

Dl Size...:  90%|█████████ | 746/827 [02:01<00:07, 10.48 MiB/s]


Extraction completed...: 0 file [02:01, ? file/s]

Dl Size...:  90%|█████████ | 747/827 [02:01<00:07, 10.41 MiB/s]
Dl Completed...:   0%|          | 0/1 [02:01<?, ? url/s]

Dl Size...:  90%|█████████ | 747/827 [02:01<00:07, 10.41 MiB/s]


Extraction completed...: 0 file [02:01, ? file/s]
Dl Completed...:   0%|          | 0/1 [02:01<?, ? url/s]

Dl Size...:  90%|█████████ | 748/827 [02:01<00:07, 10.41 MiB/s]


Extraction completed...: 0 file [02:01, ? file/s]

Dl Size...:  91%|█████████ | 749/827 [02:01<00:07,  9.82 MiB/s]
Dl Completed...:   0%|          | 0/1 [02:01<?, ? url/s]

Dl Size...:  91%|█████████ | 749/827 [02:01<00:07,  9.82 MiB/s]


Extraction completed...: 0 file [02:01, ? file/s]

Dl Size...:  91%|█████████ | 750/827 [02:01<00:07,  9.64 MiB/s]
Dl Completed...:   0%|          | 0/1 [02:02<?, ? url/s]

Dl Size...:  91%|█████████ | 750/827 [02:02<00:07,  9.64 MiB/s]


Extraction completed...: 0 file [02:01, ? file/s]

Dl Size...:  91%|█████████ | 751/827 [02:02<00:07,  9.51 MiB/s]
Dl Completed...:   0%|          | 0/1 [02:02<?, ? url/s]

Dl Size...:  91%|█████████ | 751/827 [02:02<00:07,  9.51 MiB/s]


Extraction completed...: 0 file [02:02, ? file/s]

Dl Size...:  91%|█████████ | 752/827 [02:02<00:07,  9.46 MiB/s]
Dl Completed...:   0%|          | 0/1 [02:02<?, ? url/s]

Dl Size...:  91%|█████████ | 752/827 [02:02<00:07,  9.46 MiB/s]


Extraction completed...: 0 file [02:02, ? file/s]

Dl Size...:  91%|█████████ | 753/827 [02:02<00:07,  9.46 MiB/s]
Dl Completed...:   0%|          | 0/1 [02:02<?, ? url/s]

Dl Size...:  91%|█████████ | 753/827 [02:02<00:07,  9.46 MiB/s]


Extraction completed...: 0 file [02:02, ? file/s]

Dl Size...:  91%|█████████ | 754/827 [02:02<00:07,  9.46 MiB/s]
Dl Completed...:   0%|          | 0/1 [02:02<?, ? url/s]

Dl Size...:  91%|█████████ | 754/827 [02:02<00:07,  9.46 MiB/s]


Extraction completed...: 0 file [02:02, ? file/s]

Dl Size...:  91%|█████████▏| 755/827 [02:02<00:07,  9.48 MiB/s]
Dl Completed...:   0%|          | 0/1 [02:02<?, ? url/s]

Dl Size...:  91%|█████████▏| 755/827 [02:02<00:07,  9.48 MiB/s]


Extraction completed...: 0 file [02:02, ? file/s]

Dl Size...:  91%|█████████▏| 756/827 [02:02<00:08,  8.56 MiB/s]
Dl Completed...:   0%|          | 0/1 [02:02<?, ? url/s]

Dl Size...:  91%|█████████▏| 756/827 [02:02<00:08,  8.56 MiB/s]


Extraction completed...: 0 file [02:02, ? file/s]

Dl Size...:  92%|█████████▏| 757/827 [02:02<00:09,  7.07 MiB/s]
Dl Completed...:   0%|          | 0/1 [02:02<?, ? url/s]

Dl Size...:  92%|█████████▏| 757/827 [02:02<00:09,  7.07 MiB/s]


Extraction completed...: 0 file [02:02, ? file/s]

Dl Size...:  92%|█████████▏| 758/827 [02:03<00:12,  5.69 MiB/s]
Dl Completed...:   0%|          | 0/1 [02:03<?, ? url/s]

Dl Size...:  92%|█████████▏| 758/827 [02:03<00:12,  5.69 MiB/s]


Extraction completed...: 0 file [02:03, ? file/s]

Dl Size...:  92%|█████████▏| 759/827 [02:03<00:13,  4.89 MiB/s]
Dl Completed...:   0%|          | 0/1 [02:03<?, ? url/s]

Dl Size...:  92%|█████████▏| 759/827 [02:03<00:13,  4.89 MiB/s]


Extraction completed...: 0 file [02:03, ? file/s]

Dl Size...:  92%|█████████▏| 760/827 [02:03<00:14,  4.57 MiB/s]
Dl Completed...:   0%|          | 0/1 [02:03<?, ? url/s]

Dl Size...:  92%|█████████▏| 760/827 [02:03<00:14,  4.57 MiB/s]


Extraction completed...: 0 file [02:03, ? file/s]

Dl Size...:  92%|█████████▏| 761/827 [02:03<00:14,  4.44 MiB/s]
Dl Completed...:   0%|          | 0/1 [02:03<?, ? url/s]

Dl Size...:  92%|█████████▏| 761/827 [02:03<00:14,  4.44 MiB/s]


Extraction completed...: 0 file [02:03, ? file/s]

Dl Size...:  92%|█████████▏| 762/827 [02:04<00:14,  4.37 MiB/s]
Dl Completed...:   0%|          | 0/1 [02:04<?, ? url/s]

Dl Size...:  92%|█████████▏| 762/827 [02:04<00:14,  4.37 MiB/s]


Extraction completed...: 0 file [02:04, ? file/s]

Dl Size...:  92%|█████████▏| 763/827 [02:04<00:14,  4.40 MiB/s]
Dl Completed...:   0%|          | 0/1 [02:04<?, ? url/s]

Dl Size...:  92%|█████████▏| 763/827 [02:04<00:14,  4.40 MiB/s]


Extraction completed...: 0 file [02:04, ? file/s]

Dl Size...:  92%|█████████▏| 764/827 [02:04<00:14,  4.47 MiB/s]
Dl Completed...:   0%|          | 0/1 [02:04<?, ? url/s]

Dl Size...:  92%|█████████▏| 764/827 [02:04<00:14,  4.47 MiB/s]


Extraction completed...: 0 file [02:04, ? file/s]

Dl Size...:  93%|█████████▎| 765/827 [02:04<00:13,  4.54 MiB/s]
Dl Completed...:   0%|          | 0/1 [02:04<?, ? url/s]

Dl Size...:  93%|█████████▎| 765/827 [02:04<00:13,  4.54 MiB/s]


Extraction completed...: 0 file [02:04, ? file/s]

Dl Size...:  93%|█████████▎| 766/827 [02:05<00:13,  4.65 MiB/s]
Dl Completed...:   0%|          | 0/1 [02:05<?, ? url/s]

Dl Size...:  93%|█████████▎| 766/827 [02:05<00:13,  4.65 MiB/s]


Extraction completed...: 0 file [02:05, ? file/s]

Dl Size...:  93%|█████████▎| 767/827 [02:05<00:12,  4.76 MiB/s]
Dl Completed...:   0%|          | 0/1 [02:05<?, ? url/s]

Dl Size...:  93%|█████████▎| 767/827 [02:05<00:12,  4.76 MiB/s]


Extraction completed...: 0 file [02:05, ? file/s]

Dl Size...:  93%|█████████▎| 768/827 [02:05<00:12,  4.88 MiB/s]
Dl Completed...:   0%|          | 0/1 [02:05<?, ? url/s]

Dl Size...:  93%|█████████▎| 768/827 [02:05<00:12,  4.88 MiB/s]


Extraction completed...: 0 file [02:05, ? file/s]

Dl Size...:  93%|█████████▎| 769/827 [02:05<00:11,  5.04 MiB/s]
Dl Completed...:   0%|          | 0/1 [02:05<?, ? url/s]

Dl Size...:  93%|█████████▎| 769/827 [02:05<00:11,  5.04 MiB/s]


Extraction completed...: 0 file [02:05, ? file/s]

Dl Size...:  93%|█████████▎| 770/827 [02:05<00:11,  5.14 MiB/s]
Dl Completed...:   0%|          | 0/1 [02:05<?, ? url/s]

Dl Size...:  93%|█████████▎| 770/827 [02:05<00:11,  5.14 MiB/s]


Extraction completed...: 0 file [02:05, ? file/s]

Dl Size...:  93%|█████████▎| 771/827 [02:05<00:10,  5.27 MiB/s]
Dl Completed...:   0%|          | 0/1 [02:05<?, ? url/s]

Dl Size...:  93%|█████████▎| 771/827 [02:05<00:10,  5.27 MiB/s]


Extraction completed...: 0 file [02:05, ? file/s]

Dl Size...:  93%|█████████▎| 772/827 [02:06<00:10,  5.40 MiB/s]
Dl Completed...:   0%|          | 0/1 [02:06<?, ? url/s]

Dl Size...:  93%|█████████▎| 772/827 [02:06<00:10,  5.40 MiB/s]


Extraction completed...: 0 file [02:06, ? file/s]

Dl Size...:  93%|█████████▎| 773/827 [02:06<00:09,  5.54 MiB/s]
Dl Completed...:   0%|          | 0/1 [02:06<?, ? url/s]

Dl Size...:  93%|█████████▎| 773/827 [02:06<00:09,  5.54 MiB/s]


Extraction completed...: 0 file [02:06, ? file/s]

Dl Size...:  94%|█████████▎| 774/827 [02:06<00:09,  5.68 MiB/s]
Dl Completed...:   0%|          | 0/1 [02:06<?, ? url/s]

Dl Size...:  94%|█████████▎| 774/827 [02:06<00:09,  5.68 MiB/s]


Extraction completed...: 0 file [02:06, ? file/s]

Dl Size...:  94%|█████████▎| 775/827 [02:06<00:09,  5.77 MiB/s]
Dl Completed...:   0%|          | 0/1 [02:06<?, ? url/s]

Dl Size...:  94%|█████████▎| 775/827 [02:06<00:09,  5.77 MiB/s]


Extraction completed...: 0 file [02:06, ? file/s]

Dl Size...:  94%|█████████▍| 776/827 [02:06<00:08,  5.90 MiB/s]
Dl Completed...:   0%|          | 0/1 [02:06<?, ? url/s]

Dl Size...:  94%|█████████▍| 776/827 [02:06<00:08,  5.90 MiB/s]


Extraction completed...: 0 file [02:06, ? file/s]

Dl Size...:  94%|█████████▍| 777/827 [02:06<00:08,  6.05 MiB/s]
Dl Completed...:   0%|          | 0/1 [02:06<?, ? url/s]

Dl Size...:  94%|█████████▍| 777/827 [02:06<00:08,  6.05 MiB/s]


Extraction completed...: 0 file [02:06, ? file/s]

Dl Size...:  94%|█████████▍| 778/827 [02:07<00:07,  6.18 MiB/s]
Dl Completed...:   0%|          | 0/1 [02:07<?, ? url/s]

Dl Size...:  94%|█████████▍| 778/827 [02:07<00:07,  6.18 MiB/s]


Extraction completed...: 0 file [02:07, ? file/s]

Dl Size...:  94%|█████████▍| 779/827 [02:07<00:07,  6.25 MiB/s]
Dl Completed...:   0%|          | 0/1 [02:07<?, ? url/s]

Dl Size...:  94%|█████████▍| 779/827 [02:07<00:07,  6.25 MiB/s]


Extraction completed...: 0 file [02:07, ? file/s]

Dl Size...:  94%|█████████▍| 780/827 [02:07<00:07,  6.39 MiB/s]
Dl Completed...:   0%|          | 0/1 [02:07<?, ? url/s]

Dl Size...:  94%|█████████▍| 780/827 [02:07<00:07,  6.39 MiB/s]


Extraction completed...: 0 file [02:07, ? file/s]

Dl Size...:  94%|█████████▍| 781/827 [02:07<00:07,  6.53 MiB/s]
Dl Completed...:   0%|          | 0/1 [02:07<?, ? url/s]

Dl Size...:  94%|█████████▍| 781/827 [02:07<00:07,  6.53 MiB/s]


Extraction completed...: 0 file [02:07, ? file/s]

Dl Size...:  95%|█████████▍| 782/827 [02:07<00:06,  6.63 MiB/s]
Dl Completed...:   0%|          | 0/1 [02:07<?, ? url/s]

Dl Size...:  95%|█████████▍| 782/827 [02:07<00:06,  6.63 MiB/s]


Extraction completed...: 0 file [02:07, ? file/s]

Dl Size...:  95%|█████████▍| 783/827 [02:07<00:06,  6.80 MiB/s]
Dl Completed...:   0%|          | 0/1 [02:07<?, ? url/s]

Dl Size...:  95%|█████████▍| 783/827 [02:07<00:06,  6.80 MiB/s]


Extraction completed...: 0 file [02:07, ? file/s]

Dl Size...:  95%|█████████▍| 784/827 [02:07<00:06,  6.89 MiB/s]
Dl Completed...:   0%|          | 0/1 [02:07<?, ? url/s]

Dl Size...:  95%|█████████▍| 784/827 [02:07<00:06,  6.89 MiB/s]


Extraction completed...: 0 file [02:07, ? file/s]

Dl Size...:  95%|█████████▍| 785/827 [02:08<00:06,  6.94 MiB/s]
Dl Completed...:   0%|          | 0/1 [02:08<?, ? url/s]

Dl Size...:  95%|█████████▍| 785/827 [02:08<00:06,  6.94 MiB/s]


Extraction completed...: 0 file [02:08, ? file/s]

Dl Size...:  95%|█████████▌| 786/827 [02:08<00:05,  7.09 MiB/s]
Dl Completed...:   0%|          | 0/1 [02:08<?, ? url/s]

Dl Size...:  95%|█████████▌| 786/827 [02:08<00:05,  7.09 MiB/s]


Extraction completed...: 0 file [02:08, ? file/s]

Dl Size...:  95%|█████████▌| 787/827 [02:08<00:05,  7.24 MiB/s]
Dl Completed...:   0%|          | 0/1 [02:08<?, ? url/s]

Dl Size...:  95%|█████████▌| 787/827 [02:08<00:05,  7.24 MiB/s]


Extraction completed...: 0 file [02:08, ? file/s]

Dl Size...:  95%|█████████▌| 788/827 [02:08<00:05,  7.28 MiB/s]
Dl Completed...:   0%|          | 0/1 [02:08<?, ? url/s]

Dl Size...:  95%|█████████▌| 788/827 [02:08<00:05,  7.28 MiB/s]


Extraction completed...: 0 file [02:08, ? file/s]

Dl Size...:  95%|█████████▌| 789/827 [02:08<00:05,  7.37 MiB/s]
Dl Completed...:   0%|          | 0/1 [02:08<?, ? url/s]

Dl Size...:  95%|█████████▌| 789/827 [02:08<00:05,  7.37 MiB/s]


Extraction completed...: 0 file [02:08, ? file/s]

Dl Size...:  96%|█████████▌| 790/827 [02:08<00:04,  7.49 MiB/s]
Dl Completed...:   0%|          | 0/1 [02:08<?, ? url/s]

Dl Size...:  96%|█████████▌| 790/827 [02:08<00:04,  7.49 MiB/s]


Extraction completed...: 0 file [02:08, ? file/s]

Dl Size...:  96%|█████████▌| 791/827 [02:08<00:04,  7.61 MiB/s]
Dl Completed...:   0%|          | 0/1 [02:08<?, ? url/s]

Dl Size...:  96%|█████████▌| 791/827 [02:08<00:04,  7.61 MiB/s]


Extraction completed...: 0 file [02:08, ? file/s]

Dl Size...:  96%|█████████▌| 792/827 [02:09<00:04,  7.74 MiB/s]
Dl Completed...:   0%|          | 0/1 [02:09<?, ? url/s]

Dl Size...:  96%|█████████▌| 792/827 [02:09<00:04,  7.74 MiB/s]


Extraction completed...: 0 file [02:09, ? file/s]

Dl Size...:  96%|█████████▌| 793/827 [02:09<00:04,  7.78 MiB/s]
Dl Completed...:   0%|          | 0/1 [02:09<?, ? url/s]

Dl Size...:  96%|█████████▌| 793/827 [02:09<00:04,  7.78 MiB/s]


Extraction completed...: 0 file [02:09, ? file/s]

Dl Size...:  96%|█████████▌| 794/827 [02:09<00:04,  7.88 MiB/s]
Dl Completed...:   0%|          | 0/1 [02:09<?, ? url/s]

Dl Size...:  96%|█████████▌| 794/827 [02:09<00:04,  7.88 MiB/s]


Extraction completed...: 0 file [02:09, ? file/s]

Dl Size...:  96%|█████████▌| 795/827 [02:09<00:04,  7.58 MiB/s]
Dl Completed...:   0%|          | 0/1 [02:09<?, ? url/s]

Dl Size...:  96%|█████████▌| 795/827 [02:09<00:04,  7.58 MiB/s]


Extraction completed...: 0 file [02:09, ? file/s]

Dl Size...:  96%|█████████▋| 796/827 [02:09<00:04,  7.30 MiB/s]
Dl Completed...:   0%|          | 0/1 [02:09<?, ? url/s]

Dl Size...:  96%|█████████▋| 796/827 [02:09<00:04,  7.30 MiB/s]


Extraction completed...: 0 file [02:09, ? file/s]

Dl Size...:  96%|█████████▋| 797/827 [02:09<00:04,  6.41 MiB/s]
Dl Completed...:   0%|          | 0/1 [02:09<?, ? url/s]

Dl Size...:  96%|█████████▋| 797/827 [02:09<00:04,  6.41 MiB/s]


Extraction completed...: 0 file [02:09, ? file/s]

Dl Size...:  96%|█████████▋| 798/827 [02:09<00:05,  5.72 MiB/s]
Dl Completed...:   0%|          | 0/1 [02:09<?, ? url/s]

Dl Size...:  96%|█████████▋| 798/827 [02:09<00:05,  5.72 MiB/s]


Extraction completed...: 0 file [02:09, ? file/s]

Dl Size...:  97%|█████████▋| 799/827 [02:10<00:05,  5.31 MiB/s]
Dl Completed...:   0%|          | 0/1 [02:10<?, ? url/s]

Dl Size...:  97%|█████████▋| 799/827 [02:10<00:05,  5.31 MiB/s]


Extraction completed...: 0 file [02:10, ? file/s]

Dl Size...:  97%|█████████▋| 800/827 [02:10<00:05,  5.12 MiB/s]
Dl Completed...:   0%|          | 0/1 [02:10<?, ? url/s]

Dl Size...:  97%|█████████▋| 800/827 [02:10<00:05,  5.12 MiB/s]


Extraction completed...: 0 file [02:10, ? file/s]

Dl Size...:  97%|█████████▋| 801/827 [02:10<00:05,  5.02 MiB/s]
Dl Completed...:   0%|          | 0/1 [02:10<?, ? url/s]

Dl Size...:  97%|█████████▋| 801/827 [02:10<00:05,  5.02 MiB/s]


Extraction completed...: 0 file [02:10, ? file/s]

Dl Size...:  97%|█████████▋| 802/827 [02:10<00:05,  4.96 MiB/s]
Dl Completed...:   0%|          | 0/1 [02:10<?, ? url/s]

Dl Size...:  97%|█████████▋| 802/827 [02:10<00:05,  4.96 MiB/s]


Extraction completed...: 0 file [02:10, ? file/s]

Dl Size...:  97%|█████████▋| 803/827 [02:11<00:04,  5.05 MiB/s]
Dl Completed...:   0%|          | 0/1 [02:11<?, ? url/s]

Dl Size...:  97%|█████████▋| 803/827 [02:11<00:04,  5.05 MiB/s]


Extraction completed...: 0 file [02:11, ? file/s]

Dl Size...:  97%|█████████▋| 804/827 [02:11<00:04,  5.11 MiB/s]
Dl Completed...:   0%|          | 0/1 [02:11<?, ? url/s]

Dl Size...:  97%|█████████▋| 804/827 [02:11<00:04,  5.11 MiB/s]


Extraction completed...: 0 file [02:11, ? file/s]

Dl Size...:  97%|█████████▋| 805/827 [02:11<00:04,  5.19 MiB/s]
Dl Completed...:   0%|          | 0/1 [02:11<?, ? url/s]

Dl Size...:  97%|█████████▋| 805/827 [02:11<00:04,  5.19 MiB/s]


Extraction completed...: 0 file [02:11, ? file/s]

Dl Size...:  97%|█████████▋| 806/827 [02:11<00:03,  5.29 MiB/s]
Dl Completed...:   0%|          | 0/1 [02:11<?, ? url/s]

Dl Size...:  97%|█████████▋| 806/827 [02:11<00:03,  5.29 MiB/s]


Extraction completed...: 0 file [02:11, ? file/s]

Dl Size...:  98%|█████████▊| 807/827 [02:11<00:03,  5.40 MiB/s]
Dl Completed...:   0%|          | 0/1 [02:11<?, ? url/s]

Dl Size...:  98%|█████████▊| 807/827 [02:11<00:03,  5.40 MiB/s]


Extraction completed...: 0 file [02:11, ? file/s]

Dl Size...:  98%|█████████▊| 808/827 [02:11<00:03,  5.54 MiB/s]
Dl Completed...:   0%|          | 0/1 [02:11<?, ? url/s]

Dl Size...:  98%|█████████▊| 808/827 [02:11<00:03,  5.54 MiB/s]


Extraction completed...: 0 file [02:11, ? file/s]

Dl Size...:  98%|█████████▊| 809/827 [02:12<00:03,  5.65 MiB/s]
Dl Completed...:   0%|          | 0/1 [02:12<?, ? url/s]

Dl Size...:  98%|█████████▊| 809/827 [02:12<00:03,  5.65 MiB/s]


Extraction completed...: 0 file [02:12, ? file/s]

Dl Size...:  98%|█████████▊| 810/827 [02:12<00:02,  5.76 MiB/s]
Dl Completed...:   0%|          | 0/1 [02:12<?, ? url/s]

Dl Size...:  98%|█████████▊| 810/827 [02:12<00:02,  5.76 MiB/s]


Extraction completed...: 0 file [02:12, ? file/s]

Dl Size...:  98%|█████████▊| 811/827 [02:12<00:02,  5.85 MiB/s]
Dl Completed...:   0%|          | 0/1 [02:12<?, ? url/s]

Dl Size...:  98%|█████████▊| 811/827 [02:12<00:02,  5.85 MiB/s]


Extraction completed...: 0 file [02:12, ? file/s]

Dl Size...:  98%|█████████▊| 812/827 [02:12<00:02,  5.98 MiB/s]
Dl Completed...:   0%|          | 0/1 [02:12<?, ? url/s]

Dl Size...:  98%|█████████▊| 812/827 [02:12<00:02,  5.98 MiB/s]


Extraction completed...: 0 file [02:12, ? file/s]

Dl Size...:  98%|█████████▊| 813/827 [02:12<00:02,  6.10 MiB/s]
Dl Completed...:   0%|          | 0/1 [02:12<?, ? url/s]

Dl Size...:  98%|█████████▊| 813/827 [02:12<00:02,  6.10 MiB/s]


Extraction completed...: 0 file [02:12, ? file/s]

Dl Size...:  98%|█████████▊| 814/827 [02:12<00:02,  6.18 MiB/s]
Dl Completed...:   0%|          | 0/1 [02:12<?, ? url/s]

Dl Size...:  98%|█████████▊| 814/827 [02:12<00:02,  6.18 MiB/s]


Extraction completed...: 0 file [02:12, ? file/s]

Dl Size...:  99%|█████████▊| 815/827 [02:13<00:01,  6.40 MiB/s]
Dl Completed...:   0%|          | 0/1 [02:13<?, ? url/s]

Dl Size...:  99%|█████████▊| 815/827 [02:13<00:01,  6.40 MiB/s]


Extraction completed...: 0 file [02:13, ? file/s]

Dl Size...:  99%|█████████▊| 816/827 [02:13<00:01,  6.44 MiB/s]
Dl Completed...:   0%|          | 0/1 [02:13<?, ? url/s]

Dl Size...:  99%|█████████▊| 816/827 [02:13<00:01,  6.44 MiB/s]


Extraction completed...: 0 file [02:13, ? file/s]

Dl Size...:  99%|█████████▉| 817/827 [02:13<00:01,  6.61 MiB/s]
Dl Completed...:   0%|          | 0/1 [02:13<?, ? url/s]

Dl Size...:  99%|█████████▉| 817/827 [02:13<00:01,  6.61 MiB/s]


Extraction completed...: 0 file [02:13, ? file/s]

Dl Size...:  99%|█████████▉| 818/827 [02:13<00:01,  6.71 MiB/s]
Dl Completed...:   0%|          | 0/1 [02:13<?, ? url/s]

Dl Size...:  99%|█████████▉| 818/827 [02:13<00:01,  6.71 MiB/s]


Extraction completed...: 0 file [02:13, ? file/s]

Dl Size...:  99%|█████████▉| 819/827 [02:13<00:01,  6.77 MiB/s]
Dl Completed...:   0%|          | 0/1 [02:13<?, ? url/s]

Dl Size...:  99%|█████████▉| 819/827 [02:13<00:01,  6.77 MiB/s]


Extraction completed...: 0 file [02:13, ? file/s]

Dl Size...:  99%|█████████▉| 820/827 [02:13<00:01,  6.95 MiB/s]
Dl Completed...:   0%|          | 0/1 [02:13<?, ? url/s]

Dl Size...:  99%|█████████▉| 820/827 [02:13<00:01,  6.95 MiB/s]


Extraction completed...: 0 file [02:13, ? file/s]

Dl Size...:  99%|█████████▉| 821/827 [02:13<00:00,  7.06 MiB/s]
Dl Completed...:   0%|          | 0/1 [02:13<?, ? url/s]

Dl Size...:  99%|█████████▉| 821/827 [02:13<00:00,  7.06 MiB/s]


Extraction completed...: 0 file [02:13, ? file/s]

Dl Size...:  99%|█████████▉| 822/827 [02:14<00:00,  7.12 MiB/s]
Dl Completed...:   0%|          | 0/1 [02:14<?, ? url/s]

Dl Size...:  99%|█████████▉| 822/827 [02:14<00:00,  7.12 MiB/s]


Extraction completed...: 0 file [02:14, ? file/s]

Dl Size...: 100%|█████████▉| 823/827 [02:14<00:00,  7.26 MiB/s]
Dl Completed...:   0%|          | 0/1 [02:14<?, ? url/s]

Dl Size...: 100%|█████████▉| 823/827 [02:14<00:00,  7.26 MiB/s]


Extraction completed...: 0 file [02:14, ? file/s]

Dl Size...: 100%|█████████▉| 824/827 [02:14<00:00,  7.33 MiB/s]
Dl Completed...:   0%|          | 0/1 [02:14<?, ? url/s]

Dl Size...: 100%|█████████▉| 824/827 [02:14<00:00,  7.33 MiB/s]


Extraction completed...: 0 file [02:14, ? file/s]

Dl Size...: 100%|█████████▉| 825/827 [02:14<00:00,  7.44 MiB/s]
Dl Completed...:   0%|          | 0/1 [02:14<?, ? url/s]

Dl Size...: 100%|█████████▉| 825/827 [02:14<00:00,  7.44 MiB/s]


Extraction completed...: 0 file [02:14, ? file/s]

Dl Size...: 100%|█████████▉| 826/827 [02:14<00:00,  7.56 MiB/s]
Dl Completed...:   0%|          | 0/1 [02:14<?, ? url/s]

Dl Size...: 100%|█████████▉| 826/827 [02:14<00:00,  7.56 MiB/s]


Extraction completed...: 0 file [02:14, ? file/s]

Dl Size...: 100%|██████████| 827/827 [02:14<00:00,  7.60 MiB/s]
Dl Completed...:   0%|          | 0/1 [02:14<?, ? url/s]

Dl Size...: 100%|██████████| 827/827 [02:14<00:00,  7.60 MiB/s]


Extraction completed...: 0 file [02:14, ? file/s]
Dl Completed...: 100%|██████████| 1/1 [02:14<00:00, 134.78s/ url]
Dl Completed...: 100%|██████████| 1/1 [02:14<00:00, 134.78s/ url]

Dl Size...: 100%|██████████| 827/827 [02:14<00:00,  7.60 MiB/s]


Extraction completed...: 0 file [02:14, ? file/s]
Dl Completed...: 100%|██████████| 1/1 [02:15<00:00, 134.78s/ url]

Dl Size...: 100%|██████████| 827/827 [02:15<00:00,  7.60 MiB/s]


Extraction completed...:   0%|          | 0/1 [02:15<?, ? file/s]
Dl Completed...: 100%|██████████| 1/1 [02:15<00:00, 134.78s/ url]

Dl Size...: 100%|██████████| 827/827 [02:15<00:00,  7.60 MiB/s]


Extraction completed...:   0%|          | 0/2 [02:15<?, ? file/s]
Dl Completed...: 100%|██████████| 1/1 [02:15<00:00, 134.78s/ url]

Dl Size...: 100%|██████████| 827/827 [02:15<00:00,  7.60 MiB/s]


Extraction completed...:   0%|          | 0/3 [02:15<?, ? file/s]
Dl Completed...: 100%|██████████| 1/1 [02:15<00:00, 134.78s/ url]

Dl Size...: 100%|██████████| 827/827 [02:15<00:00,  7.60 MiB/s]


Extraction completed...:   0%|          | 0/4 [02:15<?, ? file/s]
Dl Completed...: 100%|██████████| 1/1 [02:15<00:00, 134.78s/ url]

Dl Size...: 100%|██████████| 827/827 [02:15<00:00,  7.60 MiB/s]


Extraction completed...:   0%|          | 0/5 [02:15<?, ? file/s]
Dl Completed...: 100%|██████████| 1/1 [02:15<00:00, 134.78s/ url]

Dl Size...: 100%|██████████| 827/827 [02:15<00:00,  7.60 MiB/s]


Extraction completed...:   0%|          | 0/6 [02:15<?, ? file/s]
Dl Completed...: 100%|██████████| 1/1 [02:15<00:00, 134.78s/ url]

Dl Size...: 100%|██████████| 827/827 [02:15<00:00,  7.60 MiB/s]


Extraction completed...:   0%|          | 0/7 [02:15<?, ? file/s]
Dl Completed...: 100%|██████████| 1/1 [02:15<00:00, 134.78s/ url]

Dl Size...: 100%|██████████| 827/827 [02:15<00:00,  7.60 MiB/s]


Extraction completed...:   0%|          | 0/8 [02:15<?, ? file/s]
Dl Completed...: 100%|██████████| 1/1 [02:15<00:00, 134.78s/ url]

Dl Size...: 100%|██████████| 827/827 [02:15<00:00,  7.60 MiB/s]


Extraction completed...:   0%|          | 0/9 [02:15<?, ? file/s]
Dl Completed...: 100%|██████████| 1/1 [02:15<00:00, 134.78s/ url]

Dl Size...: 100%|██████████| 827/827 [02:15<00:00,  7.60 MiB/s]


Extraction completed...:   0%|          | 0/10 [02:15<?, ? file/s]
Dl Completed...: 100%|██████████| 1/1 [02:15<00:00, 134.78s/ url]

Dl Size...: 100%|██████████| 827/827 [02:15<00:00,  7.60 MiB/s]


Extraction completed...:   0%|          | 0/11 [02:15<?, ? file/s]
Dl Completed...: 100%|██████████| 1/1 [02:15<00:00, 134.78s/ url]

Dl Size...: 100%|██████████| 827/827 [02:15<00:00,  7.60 MiB/s]


Extraction completed...:   0%|          | 0/12 [02:15<?, ? file/s]
Dl Completed...: 100%|██████████| 1/1 [02:15<00:00, 134.78s/ url]

Dl Size...: 100%|██████████| 827/827 [02:15<00:00,  7.60 MiB/s]


Extraction completed...:   0%|          | 0/13 [02:15<?, ? file/s]
Dl Completed...: 100%|██████████| 1/1 [02:15<00:00, 134.78s/ url]

Dl Size...: 100%|██████████| 827/827 [02:15<00:00,  7.60 MiB/s]


Extraction completed...:   0%|          | 0/14 [02:15<?, ? file/s]
Dl Completed...: 100%|██████████| 1/1 [02:15<00:00, 134.78s/ url]

Dl Size...: 100%|██████████| 827/827 [02:15<00:00,  7.60 MiB/s]


Extraction completed...:   0%|          | 0/15 [02:15<?, ? file/s]
Dl Completed...: 100%|██████████| 1/1 [02:15<00:00, 134.78s/ url]

Dl Size...: 100%|██████████| 827/827 [02:15<00:00,  7.60 MiB/s]


Extraction completed...:   0%|          | 0/16 [02:15<?, ? file/s]
Dl Completed...: 100%|██████████| 1/1 [02:15<00:00, 134.78s/ url]

Dl Size...: 100%|██████████| 827/827 [02:15<00:00,  7.60 MiB/s]


Extraction completed...:   0%|          | 0/17 [02:15<?, ? file/s]
Dl Completed...: 100%|██████████| 1/1 [02:15<00:00, 134.78s/ url]

Dl Size...: 100%|██████████| 827/827 [02:15<00:00,  7.60 MiB/s]


Extraction completed...:   0%|          | 0/18 [02:15<?, ? file/s]
Dl Completed...: 100%|██████████| 1/1 [02:15<00:00, 134.78s/ url]

Dl Size...: 100%|██████████| 827/827 [02:15<00:00,  7.60 MiB/s]


Extraction completed...:   0%|          | 0/19 [02:15<?, ? file/s]
Dl Completed...: 100%|██████████| 1/1 [02:15<00:00, 134.78s/ url]

Dl Size...: 100%|██████████| 827/827 [02:15<00:00,  7.60 MiB/s]


Extraction completed...:   0%|          | 0/20 [02:15<?, ? file/s]
Dl Completed...: 100%|██████████| 1/1 [02:15<00:00, 134.78s/ url]

Dl Size...: 100%|██████████| 827/827 [02:15<00:00,  7.60 MiB/s]


Extraction completed...:   0%|          | 0/21 [02:15<?, ? file/s]
Dl Completed...: 100%|██████████| 1/1 [02:15<00:00, 134.78s/ url]

Dl Size...: 100%|██████████| 827/827 [02:15<00:00,  7.60 MiB/s]


Extraction completed...:   0%|          | 0/22 [02:15<?, ? file/s]
Dl Completed...: 100%|██████████| 1/1 [02:15<00:00, 134.78s/ url]

Dl Size...: 100%|██████████| 827/827 [02:15<00:00,  7.60 MiB/s]


Extraction completed...:   0%|          | 0/23 [02:15<?, ? file/s]
Dl Completed...: 100%|██████████| 1/1 [02:15<00:00, 134.78s/ url]

Dl Size...: 100%|██████████| 827/827 [02:15<00:00,  7.60 MiB/s]


Extraction completed...:   0%|          | 0/24 [02:15<?, ? file/s]
Dl Completed...: 100%|██████████| 1/1 [02:15<00:00, 134.78s/ url]

Dl Size...: 100%|██████████| 827/827 [02:15<00:00,  7.60 MiB/s]


Extraction completed...:   0%|          | 0/25 [02:15<?, ? file/s]
Dl Completed...: 100%|██████████| 1/1 [02:15<00:00, 134.78s/ url]

Dl Size...: 100%|██████████| 827/827 [02:15<00:00,  7.60 MiB/s]


Extraction completed...:   0%|          | 0/26 [02:15<?, ? file/s]
Dl Completed...: 100%|██████████| 1/1 [02:15<00:00, 134.78s/ url]

Dl Size...: 100%|██████████| 827/827 [02:15<00:00,  7.60 MiB/s]


Extraction completed...:   0%|          | 0/27 [02:15<?, ? file/s]
Dl Completed...: 100%|██████████| 1/1 [02:15<00:00, 134.78s/ url]

Dl Size...: 100%|██████████| 827/827 [02:15<00:00,  7.60 MiB/s]


Extraction completed...:   0%|          | 0/28 [02:15<?, ? file/s]
Dl Completed...: 100%|██████████| 1/1 [02:15<00:00, 134.78s/ url]

Dl Size...: 100%|██████████| 827/827 [02:15<00:00,  7.60 MiB/s]


Extraction completed...:   0%|          | 0/29 [02:15<?, ? file/s]
Dl Completed...: 100%|██████████| 1/1 [02:15<00:00, 134.78s/ url]

Dl Size...: 100%|██████████| 827/827 [02:15<00:00,  7.60 MiB/s]


Extraction completed...:   0%|          | 0/30 [02:15<?, ? file/s]
Dl Completed...: 100%|██████████| 1/1 [02:15<00:00, 134.78s/ url]

Dl Size...: 100%|██████████| 827/827 [02:15<00:00,  7.60 MiB/s]


Extraction completed...:   0%|          | 0/31 [02:15<?, ? file/s]
Dl Completed...: 100%|██████████| 1/1 [02:15<00:00, 134.78s/ url]

Dl Size...: 100%|██████████| 827/827 [02:15<00:00,  7.60 MiB/s]


Extraction completed...:   0%|          | 0/32 [02:15<?, ? file/s]
Dl Completed...: 100%|██████████| 1/1 [02:15<00:00, 134.78s/ url]

Dl Size...: 100%|██████████| 827/827 [02:15<00:00,  7.60 MiB/s]


Extraction completed...:   0%|          | 0/33 [02:15<?, ? file/s]
Dl Completed...: 100%|██████████| 1/1 [02:15<00:00, 134.78s/ url]

Dl Size...: 100%|██████████| 827/827 [02:15<00:00,  7.60 MiB/s]


Extraction completed...:   0%|          | 0/34 [02:15<?, ? file/s]
Dl Completed...: 100%|██████████| 1/1 [02:15<00:00, 134.78s/ url]

Dl Size...: 100%|██████████| 827/827 [02:15<00:00,  7.60 MiB/s]


Extraction completed...:   0%|          | 0/35 [02:15<?, ? file/s]
Dl Completed...: 100%|██████████| 1/1 [02:15<00:00, 134.78s/ url]

Dl Size...: 100%|██████████| 827/827 [02:15<00:00,  7.60 MiB/s]


Extraction completed...:   0%|          | 0/36 [02:15<?, ? file/s]
Dl Completed...: 100%|██████████| 1/1 [02:15<00:00, 134.78s/ url]

Dl Size...: 100%|██████████| 827/827 [02:15<00:00,  7.60 MiB/s]


Extraction completed...:   0%|          | 0/37 [02:15<?, ? file/s]
Dl Completed...: 100%|██████████| 1/1 [02:15<00:00, 134.78s/ url]

Dl Size...: 100%|██████████| 827/827 [02:15<00:00,  7.60 MiB/s]


Extraction completed...:   0%|          | 0/38 [02:15<?, ? file/s]
Dl Completed...: 100%|██████████| 1/1 [02:15<00:00, 134.78s/ url]

Dl Size...: 100%|██████████| 827/827 [02:15<00:00,  7.60 MiB/s]


Extraction completed...:   0%|          | 0/39 [02:15<?, ? file/s]
Dl Completed...: 100%|██████████| 1/1 [02:15<00:00, 134.78s/ url]

Dl Size...: 100%|██████████| 827/827 [02:15<00:00,  7.60 MiB/s]


Extraction completed...:   0%|          | 0/40 [02:15<?, ? file/s]
Dl Completed...: 100%|██████████| 1/1 [02:15<00:00, 134.78s/ url]

Dl Size...: 100%|██████████| 827/827 [02:15<00:00,  7.60 MiB/s]


Extraction completed...:   0%|          | 0/41 [02:15<?, ? file/s]
Dl Completed...: 100%|██████████| 1/1 [02:15<00:00, 134.78s/ url]

Dl Size...: 100%|██████████| 827/827 [02:15<00:00,  7.60 MiB/s]


Extraction completed...:   0%|          | 0/42 [02:15<?, ? file/s]
Dl Completed...: 100%|██████████| 1/1 [02:15<00:00, 134.78s/ url]

Dl Size...: 100%|██████████| 827/827 [02:15<00:00,  7.60 MiB/s]


Extraction completed...:   0%|          | 0/43 [02:15<?, ? file/s]
Dl Completed...: 100%|██████████| 1/1 [02:15<00:00, 134.78s/ url]

Dl Size...: 100%|██████████| 827/827 [02:15<00:00,  7.60 MiB/s]


Extraction completed...:   0%|          | 0/44 [02:15<?, ? file/s]
Dl Completed...: 100%|██████████| 1/1 [02:15<00:00, 134.78s/ url]

Dl Size...: 100%|██████████| 827/827 [02:15<00:00,  7.60 MiB/s]


Extraction completed...:   0%|          | 0/45 [02:15<?, ? file/s]
Dl Completed...: 100%|██████████| 1/1 [02:15<00:00, 134.78s/ url]

Dl Size...: 100%|██████████| 827/827 [02:15<00:00,  7.60 MiB/s]


Extraction completed...:   0%|          | 0/46 [02:15<?, ? file/s]
Dl Completed...: 100%|██████████| 1/1 [02:15<00:00, 134.78s/ url]

Dl Size...: 100%|██████████| 827/827 [02:15<00:00,  7.60 MiB/s]


Extraction completed...:   0%|          | 0/47 [02:15<?, ? file/s]
Dl Completed...: 100%|██████████| 1/1 [02:15<00:00, 134.78s/ url]

Dl Size...: 100%|██████████| 827/827 [02:15<00:00,  7.60 MiB/s]


Extraction completed...:   0%|          | 0/48 [02:15<?, ? file/s]
Dl Completed...: 100%|██████████| 1/1 [02:15<00:00, 134.78s/ url]

Dl Size...: 100%|██████████| 827/827 [02:15<00:00,  7.60 MiB/s]


Extraction completed...:   0%|          | 0/49 [02:15<?, ? file/s]
Dl Completed...: 100%|██████████| 1/1 [02:15<00:00, 134.78s/ url]

Dl Size...: 100%|██████████| 827/827 [02:15<00:00,  7.60 MiB/s]


Extraction completed...:   0%|          | 0/50 [02:15<?, ? file/s]
Dl Completed...: 100%|██████████| 1/1 [02:15<00:00, 134.78s/ url]

Dl Size...: 100%|██████████| 827/827 [02:15<00:00,  7.60 MiB/s]


Extraction completed...:   0%|          | 0/51 [02:15<?, ? file/s]
Dl Completed...: 100%|██████████| 1/1 [02:15<00:00, 134.78s/ url]

Dl Size...: 100%|██████████| 827/827 [02:15<00:00,  7.60 MiB/s]


Extraction completed...:   0%|          | 0/52 [02:15<?, ? file/s]
Dl Completed...: 100%|██████████| 1/1 [02:15<00:00, 134.78s/ url]

Dl Size...: 100%|██████████| 827/827 [02:15<00:00,  7.60 MiB/s]


Extraction completed...:   0%|          | 0/53 [02:15<?, ? file/s]
Dl Completed...: 100%|██████████| 1/1 [02:15<00:00, 134.78s/ url]

Dl Size...: 100%|██████████| 827/827 [02:15<00:00,  7.60 MiB/s]


Extraction completed...:   0%|          | 0/54 [02:15<?, ? file/s]
Dl Completed...: 100%|██████████| 1/1 [02:15<00:00, 134.78s/ url]

Dl Size...: 100%|██████████| 827/827 [02:15<00:00,  7.60 MiB/s]


Extraction completed...:   0%|          | 0/55 [02:15<?, ? file/s]
Dl Completed...: 100%|██████████| 1/1 [02:15<00:00, 134.78s/ url]

Dl Size...: 100%|██████████| 827/827 [02:15<00:00,  7.60 MiB/s]


Extraction completed...:   0%|          | 0/56 [02:15<?, ? file/s]
Dl Completed...: 100%|██████████| 1/1 [02:15<00:00, 134.78s/ url]

Dl Size...: 100%|██████████| 827/827 [02:15<00:00,  7.60 MiB/s]


Extraction completed...:   0%|          | 0/57 [02:15<?, ? file/s]
Dl Completed...: 100%|██████████| 1/1 [02:15<00:00, 134.78s/ url]

Dl Size...: 100%|██████████| 827/827 [02:15<00:00,  7.60 MiB/s]


Extraction completed...:   0%|          | 0/58 [02:15<?, ? file/s]
Dl Completed...: 100%|██████████| 1/1 [02:15<00:00, 134.78s/ url]

Dl Size...: 100%|██████████| 827/827 [02:15<00:00,  7.60 MiB/s]


Extraction completed...:   0%|          | 0/59 [02:15<?, ? file/s]
Dl Completed...: 100%|██████████| 1/1 [02:15<00:00, 134.78s/ url]

Dl Size...: 100%|██████████| 827/827 [02:15<00:00,  7.60 MiB/s]


Extraction completed...:   0%|          | 0/60 [02:15<?, ? file/s]
Dl Completed...: 100%|██████████| 1/1 [02:15<00:00, 134.78s/ url]

Dl Size...: 100%|██████████| 827/827 [02:15<00:00,  7.60 MiB/s]


Extraction completed...:   0%|          | 0/61 [02:15<?, ? file/s]
Dl Completed...: 100%|██████████| 1/1 [02:15<00:00, 134.78s/ url]

Dl Size...: 100%|██████████| 827/827 [02:15<00:00,  7.60 MiB/s]


Extraction completed...:   0%|          | 0/62 [02:15<?, ? file/s]
Dl Completed...: 100%|██████████| 1/1 [02:15<00:00, 134.78s/ url]

Dl Size...: 100%|██████████| 827/827 [02:15<00:00,  7.60 MiB/s]


Extraction completed...:   0%|          | 0/63 [02:15<?, ? file/s]
Dl Completed...: 100%|██████████| 1/1 [02:15<00:00, 134.78s/ url]

Dl Size...: 100%|██████████| 827/827 [02:15<00:00,  7.60 MiB/s]


Extraction completed...:   0%|          | 0/64 [02:15<?, ? file/s]
Dl Completed...: 100%|██████████| 1/1 [02:15<00:00, 134.78s/ url]

Dl Size...: 100%|██████████| 827/827 [02:15<00:00,  7.60 MiB/s]


Extraction completed...:   0%|          | 0/65 [02:15<?, ? file/s]
Dl Completed...: 100%|██████████| 1/1 [02:15<00:00, 134.78s/ url]

Dl Size...: 100%|██████████| 827/827 [02:15<00:00,  7.60 MiB/s]


Extraction completed...:   0%|          | 0/66 [02:15<?, ? file/s]
Dl Completed...: 100%|██████████| 1/1 [02:15<00:00, 134.78s/ url]

Dl Size...: 100%|██████████| 827/827 [02:15<00:00,  7.60 MiB/s]


Extraction completed...:   0%|          | 0/67 [02:15<?, ? file/s]
Dl Completed...: 100%|██████████| 1/1 [02:15<00:00, 134.78s/ url]

Dl Size...: 100%|██████████| 827/827 [02:15<00:00,  7.60 MiB/s]


Extraction completed...:   0%|          | 0/68 [02:15<?, ? file/s]
Dl Completed...: 100%|██████████| 1/1 [02:15<00:00, 134.78s/ url]

Dl Size...: 100%|██████████| 827/827 [02:15<00:00,  7.60 MiB/s]


Extraction completed...:   0%|          | 0/69 [02:15<?, ? file/s]
Dl Completed...: 100%|██████████| 1/1 [02:15<00:00, 134.78s/ url]

Dl Size...: 100%|██████████| 827/827 [02:15<00:00,  7.60 MiB/s]


Extraction completed...:   0%|          | 0/70 [02:15<?, ? file/s]
Dl Completed...: 100%|██████████| 1/1 [02:15<00:00, 134.78s/ url]

Dl Size...: 100%|██████████| 827/827 [02:15<00:00,  7.60 MiB/s]


Extraction completed...:   0%|          | 0/71 [02:15<?, ? file/s]
Dl Completed...: 100%|██████████| 1/1 [02:15<00:00, 134.78s/ url]

Dl Size...: 100%|██████████| 827/827 [02:15<00:00,  7.60 MiB/s]


Extraction completed...:   0%|          | 0/72 [02:15<?, ? file/s]
Dl Completed...: 100%|██████████| 1/1 [02:15<00:00, 134.78s/ url]

Dl Size...: 100%|██████████| 827/827 [02:15<00:00,  7.60 MiB/s]


Extraction completed...:   0%|          | 0/73 [02:15<?, ? file/s]
Dl Completed...: 100%|██████████| 1/1 [02:15<00:00, 134.78s/ url]

Dl Size...: 100%|██████████| 827/827 [02:15<00:00,  7.60 MiB/s]


Extraction completed...:   0%|          | 0/74 [02:15<?, ? file/s]
Dl Completed...: 100%|██████████| 1/1 [02:15<00:00, 134.78s/ url]

Dl Size...: 100%|██████████| 827/827 [02:15<00:00,  7.60 MiB/s]


Extraction completed...:   0%|          | 0/75 [02:15<?, ? file/s]
Dl Completed...: 100%|██████████| 1/1 [02:15<00:00, 134.78s/ url]

Dl Size...: 100%|██████████| 827/827 [02:15<00:00,  7.60 MiB/s]


Extraction completed...:   0%|          | 0/76 [02:15<?, ? file/s]
Dl Completed...: 100%|██████████| 1/1 [02:15<00:00, 134.78s/ url]

Dl Size...: 100%|██████████| 827/827 [02:15<00:00,  7.60 MiB/s]


Extraction completed...:   0%|          | 0/77 [02:15<?, ? file/s]
Dl Completed...: 100%|██████████| 1/1 [02:15<00:00, 134.78s/ url]

Dl Size...: 100%|██████████| 827/827 [02:15<00:00,  7.60 MiB/s]


Extraction completed...:   0%|          | 0/78 [02:15<?, ? file/s]
Dl Completed...: 100%|██████████| 1/1 [02:15<00:00, 134.78s/ url]

Dl Size...: 100%|██████████| 827/827 [02:15<00:00,  7.60 MiB/s]


Extraction completed...:   0%|          | 0/79 [02:15<?, ? file/s]
Dl Completed...: 100%|██████████| 1/1 [02:15<00:00, 134.78s/ url]

Dl Size...: 100%|██████████| 827/827 [02:15<00:00,  7.60 MiB/s]


Extraction completed...:   0%|          | 0/80 [02:15<?, ? file/s]
Dl Completed...: 100%|██████████| 1/1 [02:15<00:00, 134.78s/ url]

Dl Size...: 100%|██████████| 827/827 [02:15<00:00,  7.60 MiB/s]


Extraction completed...:   0%|          | 0/81 [02:15<?, ? file/s]
Dl Completed...: 100%|██████████| 1/1 [02:15<00:00, 134.78s/ url]

Dl Size...: 100%|██████████| 827/827 [02:15<00:00,  7.60 MiB/s]


Extraction completed...:   0%|          | 0/82 [02:15<?, ? file/s]
Dl Completed...: 100%|██████████| 1/1 [02:15<00:00, 134.78s/ url]

Dl Size...: 100%|██████████| 827/827 [02:15<00:00,  7.60 MiB/s]


Extraction completed...:   0%|          | 0/83 [02:15<?, ? file/s]
Dl Completed...: 100%|██████████| 1/1 [02:15<00:00, 134.78s/ url]

Dl Size...: 100%|██████████| 827/827 [02:15<00:00,  7.60 MiB/s]


Extraction completed...:   0%|          | 0/84 [02:15<?, ? file/s]
Dl Completed...: 100%|██████████| 1/1 [02:15<00:00, 134.78s/ url]

Dl Size...: 100%|██████████| 827/827 [02:15<00:00,  7.60 MiB/s]


Extraction completed...:   0%|          | 0/85 [02:15<?, ? file/s]
Dl Completed...: 100%|██████████| 1/1 [02:15<00:00, 134.78s/ url]

Dl Size...: 100%|██████████| 827/827 [02:15<00:00,  7.60 MiB/s]


Extraction completed...:   0%|          | 0/86 [02:15<?, ? file/s]
Dl Completed...: 100%|██████████| 1/1 [02:15<00:00, 134.78s/ url]

Dl Size...: 100%|██████████| 827/827 [02:15<00:00,  7.60 MiB/s]


Extraction completed...:   0%|          | 0/87 [02:15<?, ? file/s]
Dl Completed...: 100%|██████████| 1/1 [02:15<00:00, 134.78s/ url]

Dl Size...: 100%|██████████| 827/827 [02:15<00:00,  7.60 MiB/s]


Extraction completed...:   0%|          | 0/88 [02:15<?, ? file/s]
Dl Completed...: 100%|██████████| 1/1 [02:15<00:00, 134.78s/ url]

Dl Size...: 100%|██████████| 827/827 [02:15<00:00,  7.60 MiB/s]


Extraction completed...:   0%|          | 0/89 [02:15<?, ? file/s]
Dl Completed...: 100%|██████████| 1/1 [02:15<00:00, 134.78s/ url]

Dl Size...: 100%|██████████| 827/827 [02:15<00:00,  7.60 MiB/s]


Extraction completed...:   0%|          | 0/90 [02:15<?, ? file/s]
Dl Completed...: 100%|██████████| 1/1 [02:15<00:00, 134.78s/ url]

Dl Size...: 100%|██████████| 827/827 [02:15<00:00,  7.60 MiB/s]


Extraction completed...:   0%|          | 0/91 [02:15<?, ? file/s]
Dl Completed...: 100%|██████████| 1/1 [02:15<00:00, 134.78s/ url]

Dl Size...: 100%|██████████| 827/827 [02:15<00:00,  7.60 MiB/s]


Extraction completed...:   0%|          | 0/92 [02:15<?, ? file/s]
Dl Completed...: 100%|██████████| 1/1 [02:15<00:00, 134.78s/ url]

Dl Size...: 100%|██████████| 827/827 [02:15<00:00,  7.60 MiB/s]


Extraction completed...:   0%|          | 0/93 [02:15<?, ? file/s]
Dl Completed...: 100%|██████████| 1/1 [02:15<00:00, 134.78s/ url]

Dl Size...: 100%|██████████| 827/827 [02:15<00:00,  7.60 MiB/s]


Extraction completed...:   0%|          | 0/94 [02:15<?, ? file/s]
Dl Completed...: 100%|██████████| 1/1 [02:15<00:00, 134.78s/ url]

Dl Size...: 100%|██████████| 827/827 [02:15<00:00,  7.60 MiB/s]


Extraction completed...:   0%|          | 0/95 [02:15<?, ? file/s]
Dl Completed...: 100%|██████████| 1/1 [02:15<00:00, 134.78s/ url]

Dl Size...: 100%|██████████| 827/827 [02:15<00:00,  7.60 MiB/s]


Extraction completed...:   0%|          | 0/96 [02:15<?, ? file/s]
Dl Completed...: 100%|██████████| 1/1 [02:15<00:00, 134.78s/ url]

Dl Size...: 100%|██████████| 827/827 [02:15<00:00,  7.60 MiB/s]


Extraction completed...:   0%|          | 0/97 [02:15<?, ? file/s]
Dl Completed...: 100%|██████████| 1/1 [02:15<00:00, 134.78s/ url]

Dl Size...: 100%|██████████| 827/827 [02:15<00:00,  7.60 MiB/s]


Extraction completed...:   0%|          | 0/98 [02:15<?, ? file/s]
Dl Completed...: 100%|██████████| 1/1 [02:15<00:00, 134.78s/ url]

Dl Size...: 100%|██████████| 827/827 [02:15<00:00,  7.60 MiB/s]


Extraction completed...:   0%|          | 0/99 [02:15<?, ? file/s]
Dl Completed...: 100%|██████████| 1/1 [02:15<00:00, 134.78s/ url]

Dl Size...: 100%|██████████| 827/827 [02:15<00:00,  7.60 MiB/s]


Extraction completed...:   0%|          | 0/100 [02:15<?, ? file/s]
Dl Completed...: 100%|██████████| 1/1 [02:15<00:00, 134.78s/ url]

Dl Size...: 100%|██████████| 827/827 [02:15<00:00,  7.60 MiB/s]


Extraction completed...:   0%|          | 0/101 [02:15<?, ? file/s]
Dl Completed...: 100%|██████████| 1/1 [02:15<00:00, 134.78s/ url]

Dl Size...: 100%|██████████| 827/827 [02:15<00:00,  7.60 MiB/s]


Extraction completed...:   0%|          | 0/102 [02:15<?, ? file/s]
Dl Completed...: 100%|██████████| 1/1 [02:15<00:00, 134.78s/ url]

Dl Size...: 100%|██████████| 827/827 [02:15<00:00,  7.60 MiB/s]


Extraction completed...:   0%|          | 0/103 [02:15<?, ? file/s]
Dl Completed...: 100%|██████████| 1/1 [02:15<00:00, 134.78s/ url]

Dl Size...: 100%|██████████| 827/827 [02:15<00:00,  7.60 MiB/s]


Extraction completed...:   0%|          | 0/104 [02:15<?, ? file/s]
Dl Completed...: 100%|██████████| 1/1 [02:15<00:00, 134.78s/ url]

Dl Size...: 100%|██████████| 827/827 [02:15<00:00,  7.60 MiB/s]


Extraction completed...:   0%|          | 0/105 [02:15<?, ? file/s]
Dl Completed...: 100%|██████████| 1/1 [02:15<00:00, 134.78s/ url]

Dl Size...: 100%|██████████| 827/827 [02:15<00:00,  7.60 MiB/s]


Extraction completed...:   0%|          | 0/106 [02:15<?, ? file/s]
Dl Completed...: 100%|██████████| 1/1 [02:15<00:00, 134.78s/ url]

Dl Size...: 100%|██████████| 827/827 [02:15<00:00,  7.60 MiB/s]


Extraction completed...:   0%|          | 0/107 [02:15<?, ? file/s]
Dl Completed...: 100%|██████████| 1/1 [02:15<00:00, 134.78s/ url]

Dl Size...: 100%|██████████| 827/827 [02:15<00:00,  7.60 MiB/s]


Extraction completed...:   0%|          | 0/108 [02:15<?, ? file/s]
Dl Completed...: 100%|██████████| 1/1 [02:15<00:00, 134.78s/ url]

Dl Size...: 100%|██████████| 827/827 [02:15<00:00,  7.60 MiB/s]


Extraction completed...:   0%|          | 0/109 [02:15<?, ? file/s]
Dl Completed...: 100%|██████████| 1/1 [02:15<00:00, 134.78s/ url]

Dl Size...: 100%|██████████| 827/827 [02:15<00:00,  7.60 MiB/s]


Extraction completed...:   0%|          | 0/110 [02:15<?, ? file/s]
Dl Completed...: 100%|██████████| 1/1 [02:15<00:00, 134.78s/ url]

Dl Size...: 100%|██████████| 827/827 [02:15<00:00,  7.60 MiB/s]


Extraction completed...:   0%|          | 0/111 [02:15<?, ? file/s]
Dl Completed...: 100%|██████████| 1/1 [02:15<00:00, 134.78s/ url]

Dl Size...: 100%|██████████| 827/827 [02:15<00:00,  7.60 MiB/s]


Extraction completed...:   0%|          | 0/112 [02:15<?, ? file/s]
Dl Completed...: 100%|██████████| 1/1 [02:15<00:00, 134.78s/ url]

Dl Size...: 100%|██████████| 827/827 [02:15<00:00,  7.60 MiB/s]


Extraction completed...:   0%|          | 0/113 [02:15<?, ? file/s]
Dl Completed...: 100%|██████████| 1/1 [02:15<00:00, 134.78s/ url]

Dl Size...: 100%|██████████| 827/827 [02:15<00:00,  7.60 MiB/s]


Extraction completed...:   0%|          | 0/114 [02:15<?, ? file/s]
Dl Completed...: 100%|██████████| 1/1 [02:15<00:00, 134.78s/ url]

Dl Size...: 100%|██████████| 827/827 [02:15<00:00,  7.60 MiB/s]


Extraction completed...:   0%|          | 0/115 [02:15<?, ? file/s]
Dl Completed...: 100%|██████████| 1/1 [02:15<00:00, 134.78s/ url]

Dl Size...: 100%|██████████| 827/827 [02:15<00:00,  7.60 MiB/s]


Extraction completed...:   0%|          | 0/116 [02:15<?, ? file/s]
Dl Completed...: 100%|██████████| 1/1 [02:15<00:00, 134.78s/ url]

Dl Size...: 100%|██████████| 827/827 [02:15<00:00,  7.60 MiB/s]


Extraction completed...:   0%|          | 0/117 [02:15<?, ? file/s]
Dl Completed...: 100%|██████████| 1/1 [02:15<00:00, 134.78s/ url]

Dl Size...: 100%|██████████| 827/827 [02:15<00:00,  7.60 MiB/s]


Extraction completed...:   0%|          | 0/118 [02:15<?, ? file/s]
Dl Completed...: 100%|██████████| 1/1 [02:15<00:00, 134.78s/ url]

Dl Size...: 100%|██████████| 827/827 [02:15<00:00,  7.60 MiB/s]


Extraction completed...:   0%|          | 0/119 [02:15<?, ? file/s]
Dl Completed...: 100%|██████████| 1/1 [02:15<00:00, 134.78s/ url]

Dl Size...: 100%|██████████| 827/827 [02:15<00:00,  7.60 MiB/s]


Extraction completed...:   0%|          | 0/120 [02:15<?, ? file/s]
Dl Completed...: 100%|██████████| 1/1 [02:15<00:00, 134.78s/ url]

Dl Size...: 100%|██████████| 827/827 [02:15<00:00,  7.60 MiB/s]


Extraction completed...:   0%|          | 0/121 [02:15<?, ? file/s]
Dl Completed...: 100%|██████████| 1/1 [02:15<00:00, 134.78s/ url]

Dl Size...: 100%|██████████| 827/827 [02:15<00:00,  7.60 MiB/s]


Extraction completed...:   0%|          | 0/122 [02:15<?, ? file/s]
Dl Completed...: 100%|██████████| 1/1 [02:15<00:00, 134.78s/ url]

Dl Size...: 100%|██████████| 827/827 [02:15<00:00,  7.60 MiB/s]


Extraction completed...:   0%|          | 0/123 [02:15<?, ? file/s]
Dl Completed...: 100%|██████████| 1/1 [02:15<00:00, 134.78s/ url]

Dl Size...: 100%|██████████| 827/827 [02:15<00:00,  7.60 MiB/s]


Extraction completed...:   0%|          | 0/124 [02:15<?, ? file/s]
Dl Completed...: 100%|██████████| 1/1 [02:15<00:00, 134.78s/ url]

Dl Size...: 100%|██████████| 827/827 [02:15<00:00,  7.60 MiB/s]


Extraction completed...:   0%|          | 0/125 [02:15<?, ? file/s]
Dl Completed...: 100%|██████████| 1/1 [02:15<00:00, 134.78s/ url]

Dl Size...: 100%|██████████| 827/827 [02:15<00:00,  7.60 MiB/s]


Extraction completed...:   0%|          | 0/126 [02:15<?, ? file/s]
Dl Completed...: 100%|██████████| 1/1 [02:15<00:00, 134.78s/ url]

Dl Size...: 100%|██████████| 827/827 [02:15<00:00,  7.60 MiB/s]


Extraction completed...:   0%|          | 0/127 [02:15<?, ? file/s]
Dl Completed...: 100%|██████████| 1/1 [02:15<00:00, 134.78s/ url]

Dl Size...: 100%|██████████| 827/827 [02:15<00:00,  7.60 MiB/s]


Extraction completed...:   0%|          | 0/128 [02:15<?, ? file/s]
Dl Completed...: 100%|██████████| 1/1 [02:15<00:00, 134.78s/ url]

Dl Size...: 100%|██████████| 827/827 [02:15<00:00,  7.60 MiB/s]


Extraction completed...:   0%|          | 0/129 [02:15<?, ? file/s]
Dl Completed...: 100%|██████████| 1/1 [02:15<00:00, 134.78s/ url]

Dl Size...: 100%|██████████| 827/827 [02:15<00:00,  7.60 MiB/s]


Extraction completed...:   0%|          | 0/130 [02:15<?, ? file/s]
Dl Completed...: 100%|██████████| 1/1 [02:15<00:00, 134.78s/ url]

Dl Size...: 100%|██████████| 827/827 [02:15<00:00,  7.60 MiB/s]


Extraction completed...:   0%|          | 0/131 [02:15<?, ? file/s]
Dl Completed...: 100%|██████████| 1/1 [02:15<00:00, 134.78s/ url]

Dl Size...: 100%|██████████| 827/827 [02:15<00:00,  7.60 MiB/s]


Extraction completed...:   0%|          | 0/132 [02:15<?, ? file/s]
Dl Completed...: 100%|██████████| 1/1 [02:15<00:00, 134.78s/ url]

Dl Size...: 100%|██████████| 827/827 [02:15<00:00,  7.60 MiB/s]


Extraction completed...:   0%|          | 0/133 [02:15<?, ? file/s]
Dl Completed...: 100%|██████████| 1/1 [02:15<00:00, 134.78s/ url]

Dl Size...: 100%|██████████| 827/827 [02:15<00:00,  7.60 MiB/s]


Extraction completed...:   0%|          | 0/134 [02:15<?, ? file/s]
Dl Completed...: 100%|██████████| 1/1 [02:15<00:00, 134.78s/ url]

Dl Size...: 100%|██████████| 827/827 [02:15<00:00,  7.60 MiB/s]


Extraction completed...:   0%|          | 0/135 [02:15<?, ? file/s]
Dl Completed...: 100%|██████████| 1/1 [02:15<00:00, 134.78s/ url]

Dl Size...: 100%|██████████| 827/827 [02:15<00:00,  7.60 MiB/s]


Extraction completed...:   0%|          | 0/136 [02:15<?, ? file/s]
Dl Completed...: 100%|██████████| 1/1 [02:15<00:00, 134.78s/ url]

Dl Size...: 100%|██████████| 827/827 [02:15<00:00,  7.60 MiB/s]


Extraction completed...:   0%|          | 0/137 [02:15<?, ? file/s]
Dl Completed...: 100%|██████████| 1/1 [02:15<00:00, 134.78s/ url]

Dl Size...: 100%|██████████| 827/827 [02:15<00:00,  7.60 MiB/s]


Extraction completed...:   0%|          | 0/138 [02:15<?, ? file/s]
Dl Completed...: 100%|██████████| 1/1 [02:15<00:00, 134.78s/ url]

Dl Size...: 100%|██████████| 827/827 [02:15<00:00,  7.60 MiB/s]


Extraction completed...:   0%|          | 0/139 [02:15<?, ? file/s]
Dl Completed...: 100%|██████████| 1/1 [02:15<00:00, 134.78s/ url]

Dl Size...: 100%|██████████| 827/827 [02:15<00:00,  7.60 MiB/s]


Extraction completed...:   0%|          | 0/140 [02:15<?, ? file/s]
Dl Completed...: 100%|██████████| 1/1 [02:15<00:00, 134.78s/ url]

Dl Size...: 100%|██████████| 827/827 [02:15<00:00,  7.60 MiB/s]


Extraction completed...:   0%|          | 0/141 [02:15<?, ? file/s]
Dl Completed...: 100%|██████████| 1/1 [02:15<00:00, 134.78s/ url]

Dl Size...: 100%|██████████| 827/827 [02:15<00:00,  7.60 MiB/s]


Extraction completed...:   0%|          | 0/142 [02:15<?, ? file/s]
Dl Completed...: 100%|██████████| 1/1 [02:15<00:00, 134.78s/ url]

Dl Size...: 100%|██████████| 827/827 [02:15<00:00,  7.60 MiB/s]


Extraction completed...:   0%|          | 0/143 [02:15<?, ? file/s]
Dl Completed...: 100%|██████████| 1/1 [02:15<00:00, 134.78s/ url]

Dl Size...: 100%|██████████| 827/827 [02:15<00:00,  7.60 MiB/s]


Extraction completed...:   0%|          | 0/144 [02:15<?, ? file/s]
Dl Completed...: 100%|██████████| 1/1 [02:15<00:00, 134.78s/ url]

Dl Size...: 100%|██████████| 827/827 [02:15<00:00,  7.60 MiB/s]


Extraction completed...:   0%|          | 0/145 [02:15<?, ? file/s]
Dl Completed...: 100%|██████████| 1/1 [02:15<00:00, 134.78s/ url]

Dl Size...: 100%|██████████| 827/827 [02:15<00:00,  7.60 MiB/s]


Extraction completed...:   0%|          | 0/146 [02:15<?, ? file/s]
Dl Completed...: 100%|██████████| 1/1 [02:15<00:00, 134.78s/ url]

Dl Size...: 100%|██████████| 827/827 [02:15<00:00,  7.60 MiB/s]


Extraction completed...:   0%|          | 0/147 [02:15<?, ? file/s]
Dl Completed...: 100%|██████████| 1/1 [02:15<00:00, 134.78s/ url]

Dl Size...: 100%|██████████| 827/827 [02:15<00:00,  7.60 MiB/s]


Extraction completed...:   0%|          | 0/148 [02:15<?, ? file/s]
Dl Completed...: 100%|██████████| 1/1 [02:15<00:00, 134.78s/ url]

Dl Size...: 100%|██████████| 827/827 [02:15<00:00,  7.60 MiB/s]


Extraction completed...:   0%|          | 0/149 [02:15<?, ? file/s]
Dl Completed...: 100%|██████████| 1/1 [02:15<00:00, 134.78s/ url]

Dl Size...: 100%|██████████| 827/827 [02:15<00:00,  7.60 MiB/s]


Extraction completed...:   0%|          | 0/150 [02:15<?, ? file/s]
Dl Completed...: 100%|██████████| 1/1 [02:15<00:00, 134.78s/ url]

Dl Size...: 100%|██████████| 827/827 [02:15<00:00,  7.60 MiB/s]


Extraction completed...:   0%|          | 0/151 [02:15<?, ? file/s]
Dl Completed...: 100%|██████████| 1/1 [02:15<00:00, 134.78s/ url]

Dl Size...: 100%|██████████| 827/827 [02:15<00:00,  7.60 MiB/s]


Extraction completed...:   0%|          | 0/152 [02:15<?, ? file/s]
Dl Completed...: 100%|██████████| 1/1 [02:15<00:00, 134.78s/ url]

Dl Size...: 100%|██████████| 827/827 [02:15<00:00,  7.60 MiB/s]


Extraction completed...:   0%|          | 0/153 [02:15<?, ? file/s]
Dl Completed...: 100%|██████████| 1/1 [02:15<00:00, 134.78s/ url]

Dl Size...: 100%|██████████| 827/827 [02:15<00:00,  7.60 MiB/s]


Extraction completed...:   0%|          | 0/154 [02:15<?, ? file/s]
Dl Completed...: 100%|██████████| 1/1 [02:15<00:00, 134.78s/ url]

Dl Size...: 100%|██████████| 827/827 [02:15<00:00,  7.60 MiB/s]


Extraction completed...:   0%|          | 0/155 [02:15<?, ? file/s]
Dl Completed...: 100%|██████████| 1/1 [02:15<00:00, 134.78s/ url]

Dl Size...: 100%|██████████| 827/827 [02:15<00:00,  7.60 MiB/s]


Extraction completed...:   0%|          | 0/156 [02:15<?, ? file/s]
Dl Completed...: 100%|██████████| 1/1 [02:15<00:00, 134.78s/ url]

Dl Size...: 100%|██████████| 827/827 [02:15<00:00,  7.60 MiB/s]


Extraction completed...:   0%|          | 0/157 [02:15<?, ? file/s]
Dl Completed...: 100%|██████████| 1/1 [02:15<00:00, 134.78s/ url]

Dl Size...: 100%|██████████| 827/827 [02:15<00:00,  7.60 MiB/s]


Extraction completed...:   0%|          | 0/158 [02:15<?, ? file/s]
Dl Completed...: 100%|██████████| 1/1 [02:15<00:00, 134.78s/ url]

Dl Size...: 100%|██████████| 827/827 [02:15<00:00,  7.60 MiB/s]


Extraction completed...:   0%|          | 0/159 [02:15<?, ? file/s]
Dl Completed...: 100%|██████████| 1/1 [02:15<00:00, 134.78s/ url]

Dl Size...: 100%|██████████| 827/827 [02:15<00:00,  7.60 MiB/s]


Extraction completed...:   0%|          | 0/160 [02:15<?, ? file/s]
Dl Completed...: 100%|██████████| 1/1 [02:15<00:00, 134.78s/ url]

Dl Size...: 100%|██████████| 827/827 [02:15<00:00,  7.60 MiB/s]


Extraction completed...:   0%|          | 0/161 [02:15<?, ? file/s]
Dl Completed...: 100%|██████████| 1/1 [02:15<00:00, 134.78s/ url]

Dl Size...: 100%|██████████| 827/827 [02:15<00:00,  7.60 MiB/s]


Extraction completed...:   0%|          | 0/162 [02:15<?, ? file/s]
Dl Completed...: 100%|██████████| 1/1 [02:15<00:00, 134.78s/ url]

Dl Size...: 100%|██████████| 827/827 [02:15<00:00,  7.60 MiB/s]


Extraction completed...:   0%|          | 0/163 [02:15<?, ? file/s]
Dl Completed...: 100%|██████████| 1/1 [02:15<00:00, 134.78s/ url]

Dl Size...: 100%|██████████| 827/827 [02:15<00:00,  7.60 MiB/s]


Extraction completed...:   0%|          | 0/164 [02:15<?, ? file/s]
Dl Completed...: 100%|██████████| 1/1 [02:15<00:00, 134.78s/ url]

Dl Size...: 100%|██████████| 827/827 [02:15<00:00,  7.60 MiB/s]


Extraction completed...:   0%|          | 0/165 [02:15<?, ? file/s]
Dl Completed...: 100%|██████████| 1/1 [02:15<00:00, 134.78s/ url]

Dl Size...: 100%|██████████| 827/827 [02:15<00:00,  7.60 MiB/s]


Extraction completed...:   0%|          | 0/166 [02:15<?, ? file/s]
Dl Completed...: 100%|██████████| 1/1 [02:15<00:00, 134.78s/ url]

Dl Size...: 100%|██████████| 827/827 [02:15<00:00,  7.60 MiB/s]


Extraction completed...:   0%|          | 0/167 [02:15<?, ? file/s]
Dl Completed...: 100%|██████████| 1/1 [02:15<00:00, 134.78s/ url]

Dl Size...: 100%|██████████| 827/827 [02:15<00:00,  7.60 MiB/s]


Extraction completed...:   0%|          | 0/168 [02:15<?, ? file/s]
Dl Completed...: 100%|██████████| 1/1 [02:15<00:00, 134.78s/ url]

Dl Size...: 100%|██████████| 827/827 [02:15<00:00,  7.60 MiB/s]


Extraction completed...:   0%|          | 0/169 [02:15<?, ? file/s]
Dl Completed...: 100%|██████████| 1/1 [02:15<00:00, 134.78s/ url]

Dl Size...: 100%|██████████| 827/827 [02:15<00:00,  7.60 MiB/s]


Extraction completed...:   0%|          | 0/170 [02:15<?, ? file/s]
Dl Completed...: 100%|██████████| 1/1 [02:15<00:00, 134.78s/ url]

Dl Size...: 100%|██████████| 827/827 [02:15<00:00,  7.60 MiB/s]


Extraction completed...:   0%|          | 0/171 [02:15<?, ? file/s]
Dl Completed...: 100%|██████████| 1/1 [02:15<00:00, 134.78s/ url]

Dl Size...: 100%|██████████| 827/827 [02:15<00:00,  7.60 MiB/s]


Extraction completed...:   0%|          | 0/172 [02:15<?, ? file/s]
Dl Completed...: 100%|██████████| 1/1 [02:15<00:00, 134.78s/ url]

Dl Size...: 100%|██████████| 827/827 [02:15<00:00,  7.60 MiB/s]


Extraction completed...:   0%|          | 0/173 [02:15<?, ? file/s]
Dl Completed...: 100%|██████████| 1/1 [02:15<00:00, 134.78s/ url]

Dl Size...: 100%|██████████| 827/827 [02:15<00:00,  7.60 MiB/s]


Extraction completed...:   0%|          | 0/174 [02:15<?, ? file/s]
Dl Completed...: 100%|██████████| 1/1 [02:15<00:00, 134.78s/ url]

Dl Size...: 100%|██████████| 827/827 [02:15<00:00,  7.60 MiB/s]


Extraction completed...:   0%|          | 0/175 [02:15<?, ? file/s]
Dl Completed...: 100%|██████████| 1/1 [02:15<00:00, 134.78s/ url]

Dl Size...: 100%|██████████| 827/827 [02:15<00:00,  7.60 MiB/s]


Extraction completed...:   0%|          | 0/176 [02:15<?, ? file/s]
Dl Completed...: 100%|██████████| 1/1 [02:15<00:00, 134.78s/ url]

Dl Size...: 100%|██████████| 827/827 [02:15<00:00,  7.60 MiB/s]


Extraction completed...:   0%|          | 0/177 [02:15<?, ? file/s]
Dl Completed...: 100%|██████████| 1/1 [02:15<00:00, 134.78s/ url]

Dl Size...: 100%|██████████| 827/827 [02:15<00:00,  7.60 MiB/s]


Extraction completed...:   0%|          | 0/178 [02:15<?, ? file/s]
Dl Completed...: 100%|██████████| 1/1 [02:15<00:00, 134.78s/ url]

Dl Size...: 100%|██████████| 827/827 [02:15<00:00,  7.60 MiB/s]


Extraction completed...:   0%|          | 0/179 [02:15<?, ? file/s]
Dl Completed...: 100%|██████████| 1/1 [02:15<00:00, 134.78s/ url]

Dl Size...: 100%|██████████| 827/827 [02:15<00:00,  7.60 MiB/s]


Extraction completed...:   0%|          | 0/180 [02:15<?, ? file/s]
Dl Completed...: 100%|██████████| 1/1 [02:15<00:00, 134.78s/ url]

Dl Size...: 100%|██████████| 827/827 [02:15<00:00,  7.60 MiB/s]


Extraction completed...:   0%|          | 0/181 [02:15<?, ? file/s]
Dl Completed...: 100%|██████████| 1/1 [02:15<00:00, 134.78s/ url]

Dl Size...: 100%|██████████| 827/827 [02:15<00:00,  7.60 MiB/s]


Extraction completed...:   0%|          | 0/182 [02:15<?, ? file/s]
Dl Completed...: 100%|██████████| 1/1 [02:15<00:00, 134.78s/ url]

Dl Size...: 100%|██████████| 827/827 [02:15<00:00,  7.60 MiB/s]


Extraction completed...:   0%|          | 0/183 [02:15<?, ? file/s]
Dl Completed...: 100%|██████████| 1/1 [02:15<00:00, 134.78s/ url]

Dl Size...: 100%|██████████| 827/827 [02:15<00:00,  7.60 MiB/s]


Extraction completed...:   0%|          | 0/184 [02:15<?, ? file/s]
Dl Completed...: 100%|██████████| 1/1 [02:15<00:00, 134.78s/ url]

Dl Size...: 100%|██████████| 827/827 [02:15<00:00,  7.60 MiB/s]


Extraction completed...:   0%|          | 0/185 [02:15<?, ? file/s]
Dl Completed...: 100%|██████████| 1/1 [02:15<00:00, 134.78s/ url]

Dl Size...: 100%|██████████| 827/827 [02:15<00:00,  7.60 MiB/s]


Extraction completed...:   0%|          | 0/186 [02:15<?, ? file/s]
Dl Completed...: 100%|██████████| 1/1 [02:15<00:00, 134.78s/ url]

Dl Size...: 100%|██████████| 827/827 [02:15<00:00,  7.60 MiB/s]


Extraction completed...:   0%|          | 0/187 [02:15<?, ? file/s]
Dl Completed...: 100%|██████████| 1/1 [02:15<00:00, 134.78s/ url]

Dl Size...: 100%|██████████| 827/827 [02:15<00:00,  7.60 MiB/s]


Extraction completed...:   0%|          | 0/188 [02:15<?, ? file/s]
Dl Completed...: 100%|██████████| 1/1 [02:15<00:00, 134.78s/ url]

Dl Size...: 100%|██████████| 827/827 [02:15<00:00,  7.60 MiB/s]


Extraction completed...:   0%|          | 0/189 [02:15<?, ? file/s]
Dl Completed...: 100%|██████████| 1/1 [02:15<00:00, 134.78s/ url]

Dl Size...: 100%|██████████| 827/827 [02:15<00:00,  7.60 MiB/s]


Extraction completed...:   0%|          | 0/190 [02:15<?, ? file/s]
Dl Completed...: 100%|██████████| 1/1 [02:15<00:00, 134.78s/ url]

Dl Size...: 100%|██████████| 827/827 [02:15<00:00,  7.60 MiB/s]


Extraction completed...:   0%|          | 0/191 [02:15<?, ? file/s]
Dl Completed...: 100%|██████████| 1/1 [02:15<00:00, 134.78s/ url]

Dl Size...: 100%|██████████| 827/827 [02:15<00:00,  7.60 MiB/s]


Extraction completed...:   0%|          | 0/192 [02:15<?, ? file/s]
Dl Completed...: 100%|██████████| 1/1 [02:15<00:00, 134.78s/ url]

Dl Size...: 100%|██████████| 827/827 [02:15<00:00,  7.60 MiB/s]


Extraction completed...:   0%|          | 0/193 [02:15<?, ? file/s]
Dl Completed...: 100%|██████████| 1/1 [02:15<00:00, 134.78s/ url]

Dl Size...: 100%|██████████| 827/827 [02:15<00:00,  7.60 MiB/s]


Extraction completed...:   0%|          | 0/194 [02:15<?, ? file/s]
Dl Completed...: 100%|██████████| 1/1 [02:15<00:00, 134.78s/ url]

Dl Size...: 100%|██████████| 827/827 [02:15<00:00,  7.60 MiB/s]


Extraction completed...:   0%|          | 0/195 [02:15<?, ? file/s]
Dl Completed...: 100%|██████████| 1/1 [02:15<00:00, 134.78s/ url]

Dl Size...: 100%|██████████| 827/827 [02:15<00:00,  7.60 MiB/s]


Extraction completed...:   0%|          | 0/196 [02:15<?, ? file/s]
Dl Completed...: 100%|██████████| 1/1 [02:15<00:00, 134.78s/ url]

Dl Size...: 100%|██████████| 827/827 [02:15<00:00,  7.60 MiB/s]


Extraction completed...:   0%|          | 0/197 [02:15<?, ? file/s]
Dl Completed...: 100%|██████████| 1/1 [02:15<00:00, 134.78s/ url]

Dl Size...: 100%|██████████| 827/827 [02:15<00:00,  7.60 MiB/s]


Extraction completed...:   0%|          | 0/198 [02:15<?, ? file/s]
Dl Completed...: 100%|██████████| 1/1 [02:15<00:00, 134.78s/ url]

Dl Size...: 100%|██████████| 827/827 [02:15<00:00,  7.60 MiB/s]


Extraction completed...:   0%|          | 0/199 [02:15<?, ? file/s]
Dl Completed...: 100%|██████████| 1/1 [02:15<00:00, 134.78s/ url]

Dl Size...: 100%|██████████| 827/827 [02:15<00:00,  7.60 MiB/s]


Extraction completed...:   0%|          | 0/200 [02:15<?, ? file/s]
Dl Completed...: 100%|██████████| 1/1 [02:15<00:00, 134.78s/ url]

Dl Size...: 100%|██████████| 827/827 [02:15<00:00,  7.60 MiB/s]


Extraction completed...:   0%|          | 0/201 [02:15<?, ? file/s]
Dl Completed...: 100%|██████████| 1/1 [02:15<00:00, 134.78s/ url]

Dl Size...: 100%|██████████| 827/827 [02:15<00:00,  7.60 MiB/s]


Extraction completed...:   0%|          | 0/202 [02:15<?, ? file/s]
Dl Completed...: 100%|██████████| 1/1 [02:15<00:00, 134.78s/ url]

Dl Size...: 100%|██████████| 827/827 [02:15<00:00,  7.60 MiB/s]


Extraction completed...:   0%|          | 0/203 [02:15<?, ? file/s]
Dl Completed...: 100%|██████████| 1/1 [02:15<00:00, 134.78s/ url]

Dl Size...: 100%|██████████| 827/827 [02:15<00:00,  7.60 MiB/s]


Extraction completed...:   0%|          | 0/204 [02:15<?, ? file/s]
Dl Completed...: 100%|██████████| 1/1 [02:15<00:00, 134.78s/ url]

Dl Size...: 100%|██████████| 827/827 [02:15<00:00,  7.60 MiB/s]


Extraction completed...:   0%|          | 0/205 [02:15<?, ? file/s]
Dl Completed...: 100%|██████████| 1/1 [02:15<00:00, 134.78s/ url]

Dl Size...: 100%|██████████| 827/827 [02:15<00:00,  7.60 MiB/s]


Extraction completed...:   0%|          | 0/206 [02:15<?, ? file/s]
Dl Completed...: 100%|██████████| 1/1 [02:15<00:00, 134.78s/ url]

Dl Size...: 100%|██████████| 827/827 [02:15<00:00,  7.60 MiB/s]


Extraction completed...:   0%|          | 0/207 [02:15<?, ? file/s]
Dl Completed...: 100%|██████████| 1/1 [02:15<00:00, 134.78s/ url]

Dl Size...: 100%|██████████| 827/827 [02:15<00:00,  7.60 MiB/s]


Extraction completed...:   0%|          | 0/208 [02:15<?, ? file/s]
Dl Completed...: 100%|██████████| 1/1 [02:15<00:00, 134.78s/ url]

Dl Size...: 100%|██████████| 827/827 [02:15<00:00,  7.60 MiB/s]


Extraction completed...:   0%|          | 0/209 [02:15<?, ? file/s]
Dl Completed...: 100%|██████████| 1/1 [02:15<00:00, 134.78s/ url]

Dl Size...: 100%|██████████| 827/827 [02:15<00:00,  7.60 MiB/s]


Extraction completed...:   0%|          | 0/210 [02:15<?, ? file/s]
Dl Completed...: 100%|██████████| 1/1 [02:15<00:00, 134.78s/ url]

Dl Size...: 100%|██████████| 827/827 [02:15<00:00,  7.60 MiB/s]


Extraction completed...:   0%|          | 0/211 [02:15<?, ? file/s]
Dl Completed...: 100%|██████████| 1/1 [02:15<00:00, 134.78s/ url]

Dl Size...: 100%|██████████| 827/827 [02:15<00:00,  7.60 MiB/s]


Extraction completed...:   0%|          | 0/212 [02:15<?, ? file/s]
Dl Completed...: 100%|██████████| 1/1 [02:15<00:00, 134.78s/ url]

Dl Size...: 100%|██████████| 827/827 [02:15<00:00,  7.60 MiB/s]


Extraction completed...:   0%|          | 0/213 [02:15<?, ? file/s]
Dl Completed...: 100%|██████████| 1/1 [02:15<00:00, 134.78s/ url]

Dl Size...: 100%|██████████| 827/827 [02:15<00:00,  7.60 MiB/s]


Extraction completed...:   0%|          | 0/214 [02:15<?, ? file/s]
Dl Completed...: 100%|██████████| 1/1 [02:15<00:00, 134.78s/ url]

Dl Size...: 100%|██████████| 827/827 [02:15<00:00,  7.60 MiB/s]


Extraction completed...:   0%|          | 0/215 [02:15<?, ? file/s]
Dl Completed...: 100%|██████████| 1/1 [02:15<00:00, 134.78s/ url]

Dl Size...: 100%|██████████| 827/827 [02:15<00:00,  7.60 MiB/s]


Extraction completed...:   0%|          | 0/216 [02:15<?, ? file/s]
Dl Completed...: 100%|██████████| 1/1 [02:15<00:00, 134.78s/ url]

Dl Size...: 100%|██████████| 827/827 [02:15<00:00,  7.60 MiB/s]


Extraction completed...:   0%|          | 0/217 [02:15<?, ? file/s]
Dl Completed...: 100%|██████████| 1/1 [02:15<00:00, 134.78s/ url]

Dl Size...: 100%|██████████| 827/827 [02:15<00:00,  7.60 MiB/s]


Extraction completed...:   0%|          | 0/218 [02:15<?, ? file/s]
Dl Completed...: 100%|██████████| 1/1 [02:15<00:00, 134.78s/ url]

Dl Size...: 100%|██████████| 827/827 [02:15<00:00,  7.60 MiB/s]


Extraction completed...:   0%|          | 0/219 [02:15<?, ? file/s]
Dl Completed...: 100%|██████████| 1/1 [02:15<00:00, 134.78s/ url]

Dl Size...: 100%|██████████| 827/827 [02:15<00:00,  7.60 MiB/s]


Extraction completed...:   0%|          | 0/220 [02:15<?, ? file/s]
Dl Completed...: 100%|██████████| 1/1 [02:15<00:00, 134.78s/ url]

Dl Size...: 100%|██████████| 827/827 [02:15<00:00,  7.60 MiB/s]


Extraction completed...:   0%|          | 0/221 [02:15<?, ? file/s]
Dl Completed...: 100%|██████████| 1/1 [02:15<00:00, 134.78s/ url]

Dl Size...: 100%|██████████| 827/827 [02:15<00:00,  7.60 MiB/s]


Extraction completed...:   0%|          | 0/222 [02:15<?, ? file/s]
Dl Completed...: 100%|██████████| 1/1 [02:15<00:00, 134.78s/ url]

Dl Size...: 100%|██████████| 827/827 [02:15<00:00,  7.60 MiB/s]


Extraction completed...:   0%|          | 0/223 [02:15<?, ? file/s]
Dl Completed...: 100%|██████████| 1/1 [02:15<00:00, 134.78s/ url]

Dl Size...: 100%|██████████| 827/827 [02:15<00:00,  7.60 MiB/s]


Extraction completed...:   0%|          | 0/224 [02:15<?, ? file/s]
Dl Completed...: 100%|██████████| 1/1 [02:15<00:00, 134.78s/ url]

Dl Size...: 100%|██████████| 827/827 [02:15<00:00,  7.60 MiB/s]


Extraction completed...:   0%|          | 0/225 [02:15<?, ? file/s]
Dl Completed...: 100%|██████████| 1/1 [02:15<00:00, 134.78s/ url]

Dl Size...: 100%|██████████| 827/827 [02:15<00:00,  7.60 MiB/s]


Extraction completed...:   0%|          | 0/226 [02:15<?, ? file/s]
Dl Completed...: 100%|██████████| 1/1 [02:15<00:00, 134.78s/ url]

Dl Size...: 100%|██████████| 827/827 [02:15<00:00,  7.60 MiB/s]


Extraction completed...:   0%|          | 0/227 [02:15<?, ? file/s]
Dl Completed...: 100%|██████████| 1/1 [02:15<00:00, 134.78s/ url]

Dl Size...: 100%|██████████| 827/827 [02:15<00:00,  7.60 MiB/s]


Extraction completed...:   0%|          | 0/228 [02:15<?, ? file/s]
Dl Completed...: 100%|██████████| 1/1 [02:15<00:00, 134.78s/ url]

Dl Size...: 100%|██████████| 827/827 [02:15<00:00,  7.60 MiB/s]


Extraction completed...:   0%|          | 0/229 [02:15<?, ? file/s]
Dl Completed...: 100%|██████████| 1/1 [02:15<00:00, 134.78s/ url]

Dl Size...: 100%|██████████| 827/827 [02:15<00:00,  7.60 MiB/s]


Extraction completed...:   0%|          | 0/230 [02:15<?, ? file/s]
Dl Completed...: 100%|██████████| 1/1 [02:15<00:00, 134.78s/ url]

Dl Size...: 100%|██████████| 827/827 [02:15<00:00,  7.60 MiB/s]


Extraction completed...:   0%|          | 0/231 [02:15<?, ? file/s]
Dl Completed...: 100%|██████████| 1/1 [02:15<00:00, 134.78s/ url]

Dl Size...: 100%|██████████| 827/827 [02:15<00:00,  7.60 MiB/s]


Extraction completed...:   0%|          | 0/232 [02:15<?, ? file/s]
Dl Completed...: 100%|██████████| 1/1 [02:15<00:00, 134.78s/ url]

Dl Size...: 100%|██████████| 827/827 [02:15<00:00,  7.60 MiB/s]


Extraction completed...:   0%|          | 0/233 [02:15<?, ? file/s]
Dl Completed...: 100%|██████████| 1/1 [02:15<00:00, 134.78s/ url]

Dl Size...: 100%|██████████| 827/827 [02:15<00:00,  7.60 MiB/s]


Extraction completed...:   0%|          | 0/234 [02:15<?, ? file/s]
Dl Completed...: 100%|██████████| 1/1 [02:15<00:00, 134.78s/ url]

Dl Size...: 100%|██████████| 827/827 [02:15<00:00,  7.60 MiB/s]


Extraction completed...:   0%|          | 0/235 [02:15<?, ? file/s]
Dl Completed...: 100%|██████████| 1/1 [02:15<00:00, 134.78s/ url]

Dl Size...: 100%|██████████| 827/827 [02:15<00:00,  7.60 MiB/s]


Extraction completed...:   0%|          | 0/236 [02:15<?, ? file/s]
Dl Completed...: 100%|██████████| 1/1 [02:15<00:00, 134.78s/ url]

Dl Size...: 100%|██████████| 827/827 [02:15<00:00,  7.60 MiB/s]


Extraction completed...:   0%|          | 0/237 [02:15<?, ? file/s]
Dl Completed...: 100%|██████████| 1/1 [02:15<00:00, 134.78s/ url]

Dl Size...: 100%|██████████| 827/827 [02:15<00:00,  7.60 MiB/s]


Extraction completed...:   0%|          | 0/238 [02:15<?, ? file/s]
Dl Completed...: 100%|██████████| 1/1 [02:15<00:00, 134.78s/ url]

Dl Size...: 100%|██████████| 827/827 [02:15<00:00,  7.60 MiB/s]


Extraction completed...:   0%|          | 0/239 [02:15<?, ? file/s]
Dl Completed...: 100%|██████████| 1/1 [02:15<00:00, 134.78s/ url]

Dl Size...: 100%|██████████| 827/827 [02:15<00:00,  7.60 MiB/s]


Extraction completed...:   0%|          | 0/240 [02:15<?, ? file/s]
Dl Completed...: 100%|██████████| 1/1 [02:15<00:00, 134.78s/ url]

Dl Size...: 100%|██████████| 827/827 [02:15<00:00,  7.60 MiB/s]


Extraction completed...:   0%|          | 0/241 [02:15<?, ? file/s]
Dl Completed...: 100%|██████████| 1/1 [02:15<00:00, 134.78s/ url]

Dl Size...: 100%|██████████| 827/827 [02:15<00:00,  7.60 MiB/s]


Extraction completed...:   0%|          | 0/242 [02:15<?, ? file/s]
Dl Completed...: 100%|██████████| 1/1 [02:15<00:00, 134.78s/ url]

Dl Size...: 100%|██████████| 827/827 [02:15<00:00,  7.60 MiB/s]


Extraction completed...:   0%|          | 0/243 [02:15<?, ? file/s]
Dl Completed...: 100%|██████████| 1/1 [02:15<00:00, 134.78s/ url]

Dl Size...: 100%|██████████| 827/827 [02:15<00:00,  7.60 MiB/s]


Extraction completed...:   0%|          | 0/244 [02:15<?, ? file/s]
Dl Completed...: 100%|██████████| 1/1 [02:15<00:00, 134.78s/ url]

Dl Size...: 100%|██████████| 827/827 [02:15<00:00,  7.60 MiB/s]


Extraction completed...:   0%|          | 0/245 [02:15<?, ? file/s]
Dl Completed...: 100%|██████████| 1/1 [02:15<00:00, 134.78s/ url]

Dl Size...: 100%|██████████| 827/827 [02:15<00:00,  7.60 MiB/s]


Extraction completed...:   0%|          | 0/246 [02:15<?, ? file/s]
Dl Completed...: 100%|██████████| 1/1 [02:15<00:00, 134.78s/ url]

Dl Size...: 100%|██████████| 827/827 [02:15<00:00,  7.60 MiB/s]


Extraction completed...:   0%|          | 0/247 [02:15<?, ? file/s]
Dl Completed...: 100%|██████████| 1/1 [02:15<00:00, 134.78s/ url]

Dl Size...: 100%|██████████| 827/827 [02:15<00:00,  7.60 MiB/s]


Extraction completed...:   0%|          | 0/248 [02:15<?, ? file/s]
Dl Completed...: 100%|██████████| 1/1 [02:15<00:00, 134.78s/ url]

Dl Size...: 100%|██████████| 827/827 [02:15<00:00,  7.60 MiB/s]


Extraction completed...:   0%|          | 0/249 [02:15<?, ? file/s]
Dl Completed...: 100%|██████████| 1/1 [02:15<00:00, 134.78s/ url]

Dl Size...: 100%|██████████| 827/827 [02:15<00:00,  7.60 MiB/s]


Extraction completed...:   0%|          | 0/250 [02:15<?, ? file/s]
Dl Completed...: 100%|██████████| 1/1 [02:15<00:00, 134.78s/ url]

Dl Size...: 100%|██████████| 827/827 [02:15<00:00,  7.60 MiB/s]


Extraction completed...:   0%|          | 0/251 [02:15<?, ? file/s]
Dl Completed...: 100%|██████████| 1/1 [02:15<00:00, 134.78s/ url]

Dl Size...: 100%|██████████| 827/827 [02:15<00:00,  7.60 MiB/s]


Extraction completed...:   0%|          | 0/252 [02:15<?, ? file/s]
Dl Completed...: 100%|██████████| 1/1 [02:15<00:00, 134.78s/ url]

Dl Size...: 100%|██████████| 827/827 [02:15<00:00,  7.60 MiB/s]


Extraction completed...:   0%|          | 0/253 [02:15<?, ? file/s]
Dl Completed...: 100%|██████████| 1/1 [02:15<00:00, 134.78s/ url]

Dl Size...: 100%|██████████| 827/827 [02:15<00:00,  7.60 MiB/s]


Extraction completed...:   0%|          | 0/254 [02:15<?, ? file/s]
Dl Completed...: 100%|██████████| 1/1 [02:15<00:00, 134.78s/ url]

Dl Size...: 100%|██████████| 827/827 [02:15<00:00,  7.60 MiB/s]


Extraction completed...:   0%|          | 0/255 [02:15<?, ? file/s]
Dl Completed...: 100%|██████████| 1/1 [02:15<00:00, 134.78s/ url]

Dl Size...: 100%|██████████| 827/827 [02:15<00:00,  7.60 MiB/s]


Extraction completed...:   0%|          | 0/256 [02:15<?, ? file/s]
Dl Completed...: 100%|██████████| 1/1 [02:15<00:00, 134.78s/ url]

Dl Size...: 100%|██████████| 827/827 [02:15<00:00,  7.60 MiB/s]


Extraction completed...:   0%|          | 0/257 [02:15<?, ? file/s]
Dl Completed...: 100%|██████████| 1/1 [02:15<00:00, 134.78s/ url]

Dl Size...: 100%|██████████| 827/827 [02:15<00:00,  7.60 MiB/s]


Extraction completed...:   0%|          | 0/258 [02:15<?, ? file/s]
Dl Completed...: 100%|██████████| 1/1 [02:15<00:00, 134.78s/ url]

Dl Size...: 100%|██████████| 827/827 [02:15<00:00,  7.60 MiB/s]


Extraction completed...:   0%|          | 0/259 [02:15<?, ? file/s]
Dl Completed...: 100%|██████████| 1/1 [02:15<00:00, 134.78s/ url]

Dl Size...: 100%|██████████| 827/827 [02:15<00:00,  7.60 MiB/s]


Extraction completed...:   0%|          | 0/260 [02:15<?, ? file/s]
Dl Completed...: 100%|██████████| 1/1 [02:15<00:00, 134.78s/ url]

Dl Size...: 100%|██████████| 827/827 [02:15<00:00,  7.60 MiB/s]


Extraction completed...:   0%|          | 0/261 [02:15<?, ? file/s]
Dl Completed...: 100%|██████████| 1/1 [02:15<00:00, 134.78s/ url]

Dl Size...: 100%|██████████| 827/827 [02:15<00:00,  7.60 MiB/s]


Extraction completed...:   0%|          | 0/262 [02:15<?, ? file/s]
Dl Completed...: 100%|██████████| 1/1 [02:15<00:00, 134.78s/ url]

Dl Size...: 100%|██████████| 827/827 [02:15<00:00,  7.60 MiB/s]


Extraction completed...:   0%|          | 0/263 [02:15<?, ? file/s]
Dl Completed...: 100%|██████████| 1/1 [02:15<00:00, 134.78s/ url]

Dl Size...: 100%|██████████| 827/827 [02:15<00:00,  7.60 MiB/s]


Extraction completed...:   0%|          | 0/264 [02:15<?, ? file/s]
Dl Completed...: 100%|██████████| 1/1 [02:15<00:00, 134.78s/ url]

Dl Size...: 100%|██████████| 827/827 [02:15<00:00,  7.60 MiB/s]


Extraction completed...:   0%|          | 0/265 [02:15<?, ? file/s]
Dl Completed...: 100%|██████████| 1/1 [02:15<00:00, 134.78s/ url]

Dl Size...: 100%|██████████| 827/827 [02:15<00:00,  7.60 MiB/s]


Extraction completed...:   0%|          | 0/266 [02:15<?, ? file/s]
Dl Completed...: 100%|██████████| 1/1 [02:15<00:00, 134.78s/ url]

Dl Size...: 100%|██████████| 827/827 [02:15<00:00,  7.60 MiB/s]


Extraction completed...:   0%|          | 0/267 [02:15<?, ? file/s]
Dl Completed...: 100%|██████████| 1/1 [02:15<00:00, 134.78s/ url]

Dl Size...: 100%|██████████| 827/827 [02:15<00:00,  7.60 MiB/s]


Extraction completed...:   0%|          | 0/268 [02:15<?, ? file/s]
Dl Completed...: 100%|██████████| 1/1 [02:15<00:00, 134.78s/ url]

Dl Size...: 100%|██████████| 827/827 [02:15<00:00,  7.60 MiB/s]


Extraction completed...:   0%|          | 0/269 [02:15<?, ? file/s]
Dl Completed...: 100%|██████████| 1/1 [02:15<00:00, 134.78s/ url]

Dl Size...: 100%|██████████| 827/827 [02:15<00:00,  7.60 MiB/s]


Extraction completed...:   0%|          | 0/270 [02:15<?, ? file/s]
Dl Completed...: 100%|██████████| 1/1 [02:15<00:00, 134.78s/ url]

Dl Size...: 100%|██████████| 827/827 [02:15<00:00,  7.60 MiB/s]


Extraction completed...:   0%|          | 0/271 [02:15<?, ? file/s]
Dl Completed...: 100%|██████████| 1/1 [02:15<00:00, 134.78s/ url]

Dl Size...: 100%|██████████| 827/827 [02:15<00:00,  7.60 MiB/s]


Extraction completed...:   0%|          | 0/272 [02:15<?, ? file/s]
Dl Completed...: 100%|██████████| 1/1 [02:15<00:00, 134.78s/ url]

Dl Size...: 100%|██████████| 827/827 [02:15<00:00,  7.60 MiB/s]


Extraction completed...:   0%|          | 0/273 [02:15<?, ? file/s]
Dl Completed...: 100%|██████████| 1/1 [02:15<00:00, 134.78s/ url]

Dl Size...: 100%|██████████| 827/827 [02:15<00:00,  7.60 MiB/s]


Extraction completed...:   0%|          | 0/274 [02:15<?, ? file/s]
Dl Completed...: 100%|██████████| 1/1 [02:15<00:00, 134.78s/ url]

Dl Size...: 100%|██████████| 827/827 [02:15<00:00,  7.60 MiB/s]


Extraction completed...:   0%|          | 0/275 [02:15<?, ? file/s]
Dl Completed...: 100%|██████████| 1/1 [02:15<00:00, 134.78s/ url]

Dl Size...: 100%|██████████| 827/827 [02:15<00:00,  7.60 MiB/s]


Extraction completed...:   0%|          | 0/276 [02:15<?, ? file/s]
Dl Completed...: 100%|██████████| 1/1 [02:15<00:00, 134.78s/ url]

Dl Size...: 100%|██████████| 827/827 [02:15<00:00,  7.60 MiB/s]


Extraction completed...:   0%|          | 0/277 [02:15<?, ? file/s]
Dl Completed...: 100%|██████████| 1/1 [02:15<00:00, 134.78s/ url]

Dl Size...: 100%|██████████| 827/827 [02:15<00:00,  7.60 MiB/s]


Extraction completed...:   0%|          | 0/278 [02:15<?, ? file/s]
Dl Completed...: 100%|██████████| 1/1 [02:15<00:00, 134.78s/ url]

Dl Size...: 100%|██████████| 827/827 [02:15<00:00,  7.60 MiB/s]


Extraction completed...:   0%|          | 0/279 [02:15<?, ? file/s]
Dl Completed...: 100%|██████████| 1/1 [02:15<00:00, 134.78s/ url]

Dl Size...: 100%|██████████| 827/827 [02:15<00:00,  7.60 MiB/s]


Extraction completed...:   0%|          | 0/280 [02:15<?, ? file/s]
Dl Completed...: 100%|██████████| 1/1 [02:15<00:00, 134.78s/ url]

Dl Size...: 100%|██████████| 827/827 [02:15<00:00,  7.60 MiB/s]


Extraction completed...:   0%|          | 0/281 [02:15<?, ? file/s]
Dl Completed...: 100%|██████████| 1/1 [02:15<00:00, 134.78s/ url]

Dl Size...: 100%|██████████| 827/827 [02:15<00:00,  7.60 MiB/s]


Extraction completed...:   0%|          | 0/282 [02:15<?, ? file/s]
Dl Completed...: 100%|██████████| 1/1 [02:15<00:00, 134.78s/ url]

Dl Size...: 100%|██████████| 827/827 [02:15<00:00,  7.60 MiB/s]


Extraction completed...:   0%|          | 0/283 [02:15<?, ? file/s]
Dl Completed...: 100%|██████████| 1/1 [02:15<00:00, 134.78s/ url]

Dl Size...: 100%|██████████| 827/827 [02:15<00:00,  7.60 MiB/s]


Extraction completed...:   0%|          | 0/284 [02:15<?, ? file/s]
Dl Completed...: 100%|██████████| 1/1 [02:15<00:00, 134.78s/ url]

Dl Size...: 100%|██████████| 827/827 [02:15<00:00,  7.60 MiB/s]


Extraction completed...:   0%|          | 0/285 [02:15<?, ? file/s]
Dl Completed...: 100%|██████████| 1/1 [02:15<00:00, 134.78s/ url]

Dl Size...: 100%|██████████| 827/827 [02:15<00:00,  7.60 MiB/s]


Extraction completed...:   0%|          | 0/286 [02:15<?, ? file/s]
Dl Completed...: 100%|██████████| 1/1 [02:15<00:00, 134.78s/ url]

Dl Size...: 100%|██████████| 827/827 [02:15<00:00,  7.60 MiB/s]


Extraction completed...:   0%|          | 0/287 [02:15<?, ? file/s]
Dl Completed...: 100%|██████████| 1/1 [02:15<00:00, 134.78s/ url]

Dl Size...: 100%|██████████| 827/827 [02:15<00:00,  7.60 MiB/s]


Extraction completed...:   0%|          | 0/288 [02:15<?, ? file/s]
Dl Completed...: 100%|██████████| 1/1 [02:15<00:00, 134.78s/ url]

Dl Size...: 100%|██████████| 827/827 [02:15<00:00,  7.60 MiB/s]


Extraction completed...:   0%|          | 0/289 [02:15<?, ? file/s]
Dl Completed...: 100%|██████████| 1/1 [02:15<00:00, 134.78s/ url]

Dl Size...: 100%|██████████| 827/827 [02:15<00:00,  7.60 MiB/s]


Extraction completed...:   0%|          | 0/290 [02:15<?, ? file/s]
Dl Completed...: 100%|██████████| 1/1 [02:15<00:00, 134.78s/ url]

Dl Size...: 100%|██████████| 827/827 [02:15<00:00,  7.60 MiB/s]


Extraction completed...:   0%|          | 0/291 [02:15<?, ? file/s]
Dl Completed...: 100%|██████████| 1/1 [02:15<00:00, 134.78s/ url]

Dl Size...: 100%|██████████| 827/827 [02:15<00:00,  7.60 MiB/s]


Extraction completed...:   0%|          | 0/292 [02:15<?, ? file/s]
Dl Completed...: 100%|██████████| 1/1 [02:15<00:00, 134.78s/ url]

Dl Size...: 100%|██████████| 827/827 [02:15<00:00,  7.60 MiB/s]


Extraction completed...:   0%|          | 0/293 [02:15<?, ? file/s]
Dl Completed...: 100%|██████████| 1/1 [02:15<00:00, 134.78s/ url]

Dl Size...: 100%|██████████| 827/827 [02:15<00:00,  7.60 MiB/s]


Extraction completed...:   0%|          | 0/294 [02:15<?, ? file/s]
Dl Completed...: 100%|██████████| 1/1 [02:15<00:00, 134.78s/ url]

Dl Size...: 100%|██████████| 827/827 [02:15<00:00,  7.60 MiB/s]


Extraction completed...:   0%|          | 0/295 [02:15<?, ? file/s]
Dl Completed...: 100%|██████████| 1/1 [02:15<00:00, 134.78s/ url]

Dl Size...: 100%|██████████| 827/827 [02:15<00:00,  7.60 MiB/s]


Extraction completed...:   0%|          | 0/296 [02:15<?, ? file/s]
Dl Completed...: 100%|██████████| 1/1 [02:15<00:00, 134.78s/ url]

Dl Size...: 100%|██████████| 827/827 [02:15<00:00,  7.60 MiB/s]


Extraction completed...:   0%|          | 0/297 [02:15<?, ? file/s]
Dl Completed...: 100%|██████████| 1/1 [02:15<00:00, 134.78s/ url]

Dl Size...: 100%|██████████| 827/827 [02:15<00:00,  7.60 MiB/s]


Extraction completed...:   0%|          | 0/298 [02:15<?, ? file/s]
Dl Completed...: 100%|██████████| 1/1 [02:15<00:00, 134.78s/ url]

Dl Size...: 100%|██████████| 827/827 [02:15<00:00,  7.60 MiB/s]


Extraction completed...:   0%|          | 0/299 [02:15<?, ? file/s]
Dl Completed...: 100%|██████████| 1/1 [02:15<00:00, 134.78s/ url]

Dl Size...: 100%|██████████| 827/827 [02:15<00:00,  7.60 MiB/s]


Extraction completed...:   0%|          | 0/300 [02:15<?, ? file/s]
Dl Completed...: 100%|██████████| 1/1 [02:15<00:00, 134.78s/ url]

Dl Size...: 100%|██████████| 827/827 [02:15<00:00,  7.60 MiB/s]


Extraction completed...:   0%|          | 0/301 [02:15<?, ? file/s]
Dl Completed...: 100%|██████████| 1/1 [02:15<00:00, 134.78s/ url]

Dl Size...: 100%|██████████| 827/827 [02:15<00:00,  7.60 MiB/s]


Extraction completed...:   0%|          | 0/302 [02:15<?, ? file/s]
Dl Completed...: 100%|██████████| 1/1 [02:15<00:00, 134.78s/ url]

Dl Size...: 100%|██████████| 827/827 [02:15<00:00,  7.60 MiB/s]


Extraction completed...:   0%|          | 0/303 [02:15<?, ? file/s]
Dl Completed...: 100%|██████████| 1/1 [02:15<00:00, 134.78s/ url]

Dl Size...: 100%|██████████| 827/827 [02:15<00:00,  7.60 MiB/s]


Extraction completed...:   0%|          | 0/304 [02:15<?, ? file/s]
Dl Completed...: 100%|██████████| 1/1 [02:15<00:00, 134.78s/ url]

Dl Size...: 100%|██████████| 827/827 [02:15<00:00,  7.60 MiB/s]


Extraction completed...:   0%|          | 0/305 [02:15<?, ? file/s]
Dl Completed...: 100%|██████████| 1/1 [02:15<00:00, 134.78s/ url]

Dl Size...: 100%|██████████| 827/827 [02:15<00:00,  7.60 MiB/s]


Extraction completed...:   0%|          | 0/306 [02:15<?, ? file/s]
Dl Completed...: 100%|██████████| 1/1 [02:15<00:00, 134.78s/ url]

Dl Size...: 100%|██████████| 827/827 [02:15<00:00,  7.60 MiB/s]


Extraction completed...:   0%|          | 0/307 [02:15<?, ? file/s]
Dl Completed...: 100%|██████████| 1/1 [02:15<00:00, 134.78s/ url]

Dl Size...: 100%|██████████| 827/827 [02:15<00:00,  7.60 MiB/s]


Extraction completed...:   0%|          | 0/308 [02:15<?, ? file/s]
Dl Completed...: 100%|██████████| 1/1 [02:15<00:00, 134.78s/ url]

Dl Size...: 100%|██████████| 827/827 [02:15<00:00,  7.60 MiB/s]


Extraction completed...:   0%|          | 0/309 [02:15<?, ? file/s]
Dl Completed...: 100%|██████████| 1/1 [02:15<00:00, 134.78s/ url]

Dl Size...: 100%|██████████| 827/827 [02:15<00:00,  7.60 MiB/s]


Extraction completed...:   0%|          | 0/310 [02:15<?, ? file/s]
Dl Completed...: 100%|██████████| 1/1 [02:15<00:00, 134.78s/ url]

Dl Size...: 100%|██████████| 827/827 [02:15<00:00,  7.60 MiB/s]


Extraction completed...:   0%|          | 0/311 [02:15<?, ? file/s]
Dl Completed...: 100%|██████████| 1/1 [02:15<00:00, 134.78s/ url]

Dl Size...: 100%|██████████| 827/827 [02:15<00:00,  7.60 MiB/s]


Extraction completed...:   0%|          | 0/312 [02:15<?, ? file/s]
Dl Completed...: 100%|██████████| 1/1 [02:15<00:00, 134.78s/ url]

Dl Size...: 100%|██████████| 827/827 [02:15<00:00,  7.60 MiB/s]


Extraction completed...:   0%|          | 0/313 [02:15<?, ? file/s]
Dl Completed...: 100%|██████████| 1/1 [02:15<00:00, 134.78s/ url]

Dl Size...: 100%|██████████| 827/827 [02:15<00:00,  7.60 MiB/s]


Extraction completed...:   0%|          | 0/314 [02:15<?, ? file/s]
Dl Completed...: 100%|██████████| 1/1 [02:15<00:00, 134.78s/ url]

Dl Size...: 100%|██████████| 827/827 [02:15<00:00,  7.60 MiB/s]


Extraction completed...:   0%|          | 0/315 [02:15<?, ? file/s]
Dl Completed...: 100%|██████████| 1/1 [02:15<00:00, 134.78s/ url]

Dl Size...: 100%|██████████| 827/827 [02:15<00:00,  7.60 MiB/s]


Extraction completed...:   0%|          | 0/316 [02:15<?, ? file/s]
Dl Completed...: 100%|██████████| 1/1 [02:15<00:00, 134.78s/ url]

Dl Size...: 100%|██████████| 827/827 [02:15<00:00,  7.60 MiB/s]


Extraction completed...:   0%|          | 0/317 [02:15<?, ? file/s]
Dl Completed...: 100%|██████████| 1/1 [02:15<00:00, 134.78s/ url]

Dl Size...: 100%|██████████| 827/827 [02:15<00:00,  7.60 MiB/s]


Extraction completed...:   0%|          | 0/318 [02:15<?, ? file/s]
Dl Completed...: 100%|██████████| 1/1 [02:15<00:00, 134.78s/ url]

Dl Size...: 100%|██████████| 827/827 [02:15<00:00,  7.60 MiB/s]


Extraction completed...:   0%|          | 0/319 [02:15<?, ? file/s]
Dl Completed...: 100%|██████████| 1/1 [02:15<00:00, 134.78s/ url]

Dl Size...: 100%|██████████| 827/827 [02:15<00:00,  7.60 MiB/s]


Extraction completed...:   0%|          | 0/320 [02:15<?, ? file/s]
Dl Completed...: 100%|██████████| 1/1 [02:15<00:00, 134.78s/ url]

Dl Size...: 100%|██████████| 827/827 [02:15<00:00,  7.60 MiB/s]


Extraction completed...:   0%|          | 0/321 [02:15<?, ? file/s]
Dl Completed...: 100%|██████████| 1/1 [02:15<00:00, 134.78s/ url]

Dl Size...: 100%|██████████| 827/827 [02:15<00:00,  7.60 MiB/s]


Extraction completed...:   0%|          | 0/322 [02:15<?, ? file/s]
Dl Completed...: 100%|██████████| 1/1 [02:15<00:00, 134.78s/ url]

Dl Size...: 100%|██████████| 827/827 [02:15<00:00,  7.60 MiB/s]


Extraction completed...:   0%|          | 0/323 [02:15<?, ? file/s]
Dl Completed...: 100%|██████████| 1/1 [02:15<00:00, 134.78s/ url]

Dl Size...: 100%|██████████| 827/827 [02:15<00:00,  7.60 MiB/s]


Extraction completed...:   0%|          | 0/324 [02:15<?, ? file/s]
Dl Completed...: 100%|██████████| 1/1 [02:15<00:00, 134.78s/ url]

Dl Size...: 100%|██████████| 827/827 [02:15<00:00,  7.60 MiB/s]


Extraction completed...:   0%|          | 0/325 [02:15<?, ? file/s]
Dl Completed...: 100%|██████████| 1/1 [02:15<00:00, 134.78s/ url]

Dl Size...: 100%|██████████| 827/827 [02:15<00:00,  7.60 MiB/s]


Extraction completed...:   0%|          | 0/326 [02:15<?, ? file/s]
Dl Completed...: 100%|██████████| 1/1 [02:15<00:00, 134.78s/ url]

Dl Size...: 100%|██████████| 827/827 [02:15<00:00,  7.60 MiB/s]


Extraction completed...:   0%|          | 0/327 [02:15<?, ? file/s]
Dl Completed...: 100%|██████████| 1/1 [02:15<00:00, 134.78s/ url]

Dl Size...: 100%|██████████| 827/827 [02:15<00:00,  7.60 MiB/s]


Extraction completed...:   0%|          | 0/328 [02:15<?, ? file/s]
Dl Completed...: 100%|██████████| 1/1 [02:15<00:00, 134.78s/ url]

Dl Size...: 100%|██████████| 827/827 [02:15<00:00,  7.60 MiB/s]


Extraction completed...:   0%|          | 0/329 [02:15<?, ? file/s]
Dl Completed...: 100%|██████████| 1/1 [02:15<00:00, 134.78s/ url]

Dl Size...: 100%|██████████| 827/827 [02:15<00:00,  7.60 MiB/s]


Extraction completed...:   0%|          | 0/330 [02:15<?, ? file/s]
Dl Completed...: 100%|██████████| 1/1 [02:15<00:00, 134.78s/ url]

Dl Size...: 100%|██████████| 827/827 [02:15<00:00,  7.60 MiB/s]


Extraction completed...:   0%|          | 0/331 [02:15<?, ? file/s]
Dl Completed...: 100%|██████████| 1/1 [02:15<00:00, 134.78s/ url]

Dl Size...: 100%|██████████| 827/827 [02:15<00:00,  7.60 MiB/s]


Extraction completed...:   0%|          | 0/332 [02:15<?, ? file/s]
Dl Completed...: 100%|██████████| 1/1 [02:15<00:00, 134.78s/ url]

Dl Size...: 100%|██████████| 827/827 [02:15<00:00,  7.60 MiB/s]


Extraction completed...:   0%|          | 0/333 [02:15<?, ? file/s]
Dl Completed...: 100%|██████████| 1/1 [02:15<00:00, 134.78s/ url]

Dl Size...: 100%|██████████| 827/827 [02:15<00:00,  7.60 MiB/s]


Extraction completed...:   0%|          | 0/334 [02:15<?, ? file/s]
Dl Completed...: 100%|██████████| 1/1 [02:15<00:00, 134.78s/ url]

Dl Size...: 100%|██████████| 827/827 [02:15<00:00,  7.60 MiB/s]


Extraction completed...:   0%|          | 0/335 [02:15<?, ? file/s]
Dl Completed...: 100%|██████████| 1/1 [02:15<00:00, 134.78s/ url]

Dl Size...: 100%|██████████| 827/827 [02:15<00:00,  7.60 MiB/s]


Extraction completed...:   0%|          | 0/336 [02:15<?, ? file/s]
Dl Completed...: 100%|██████████| 1/1 [02:15<00:00, 134.78s/ url]

Dl Size...: 100%|██████████| 827/827 [02:15<00:00,  7.60 MiB/s]


Extraction completed...:   0%|          | 0/337 [02:15<?, ? file/s]
Dl Completed...: 100%|██████████| 1/1 [02:15<00:00, 134.78s/ url]

Dl Size...: 100%|██████████| 827/827 [02:15<00:00,  7.60 MiB/s]


Extraction completed...:   0%|          | 0/338 [02:15<?, ? file/s]
Dl Completed...: 100%|██████████| 1/1 [02:15<00:00, 134.78s/ url]

Dl Size...: 100%|██████████| 827/827 [02:15<00:00,  7.60 MiB/s]


Extraction completed...:   0%|          | 0/339 [02:15<?, ? file/s]
Dl Completed...: 100%|██████████| 1/1 [02:15<00:00, 134.78s/ url]

Dl Size...: 100%|██████████| 827/827 [02:15<00:00,  7.60 MiB/s]


Extraction completed...:   0%|          | 0/340 [02:15<?, ? file/s]
Dl Completed...: 100%|██████████| 1/1 [02:15<00:00, 134.78s/ url]

Dl Size...: 100%|██████████| 827/827 [02:15<00:00,  7.60 MiB/s]


Extraction completed...:   0%|          | 0/341 [02:15<?, ? file/s]
Dl Completed...: 100%|██████████| 1/1 [02:15<00:00, 134.78s/ url]

Dl Size...: 100%|██████████| 827/827 [02:15<00:00,  7.60 MiB/s]


Extraction completed...:   0%|          | 0/342 [02:15<?, ? file/s]
Dl Completed...: 100%|██████████| 1/1 [02:15<00:00, 134.78s/ url]

Dl Size...: 100%|██████████| 827/827 [02:15<00:00,  7.60 MiB/s]


Extraction completed...:   0%|          | 0/343 [02:15<?, ? file/s]
Dl Completed...: 100%|██████████| 1/1 [02:15<00:00, 134.78s/ url]

Dl Size...: 100%|██████████| 827/827 [02:15<00:00,  7.60 MiB/s]


Extraction completed...:   0%|          | 0/344 [02:15<?, ? file/s]
Dl Completed...: 100%|██████████| 1/1 [02:15<00:00, 134.78s/ url]

Dl Size...: 100%|██████████| 827/827 [02:15<00:00,  7.60 MiB/s]


Extraction completed...:   0%|          | 0/345 [02:15<?, ? file/s]
Dl Completed...: 100%|██████████| 1/1 [02:15<00:00, 134.78s/ url]

Dl Size...: 100%|██████████| 827/827 [02:15<00:00,  7.60 MiB/s]


Extraction completed...:   0%|          | 0/346 [02:15<?, ? file/s]
Dl Completed...: 100%|██████████| 1/1 [02:15<00:00, 134.78s/ url]

Dl Size...: 100%|██████████| 827/827 [02:15<00:00,  7.60 MiB/s]


Extraction completed...:   0%|          | 0/347 [02:15<?, ? file/s]
Dl Completed...: 100%|██████████| 1/1 [02:15<00:00, 134.78s/ url]

Dl Size...: 100%|██████████| 827/827 [02:15<00:00,  7.60 MiB/s]


Extraction completed...:   0%|          | 0/348 [02:15<?, ? file/s]
Dl Completed...: 100%|██████████| 1/1 [02:15<00:00, 134.78s/ url]

Dl Size...: 100%|██████████| 827/827 [02:15<00:00,  7.60 MiB/s]


Extraction completed...:   0%|          | 0/349 [02:15<?, ? file/s]
Dl Completed...: 100%|██████████| 1/1 [02:15<00:00, 134.78s/ url]

Dl Size...: 100%|██████████| 827/827 [02:15<00:00,  7.60 MiB/s]


Extraction completed...:   0%|          | 0/350 [02:15<?, ? file/s]
Dl Completed...: 100%|██████████| 1/1 [02:15<00:00, 134.78s/ url]

Dl Size...: 100%|██████████| 827/827 [02:15<00:00,  7.60 MiB/s]


Extraction completed...:   0%|          | 0/351 [02:15<?, ? file/s]
Dl Completed...: 100%|██████████| 1/1 [02:15<00:00, 134.78s/ url]

Dl Size...: 100%|██████████| 827/827 [02:15<00:00,  7.60 MiB/s]


Extraction completed...:   0%|          | 0/352 [02:15<?, ? file/s]
Dl Completed...: 100%|██████████| 1/1 [02:15<00:00, 134.78s/ url]

Dl Size...: 100%|██████████| 827/827 [02:15<00:00,  7.60 MiB/s]


Extraction completed...:   0%|          | 0/353 [02:15<?, ? file/s]
Dl Completed...: 100%|██████████| 1/1 [02:15<00:00, 134.78s/ url]

Dl Size...: 100%|██████████| 827/827 [02:15<00:00,  7.60 MiB/s]


Extraction completed...:   0%|          | 0/354 [02:15<?, ? file/s]
Dl Completed...: 100%|██████████| 1/1 [02:15<00:00, 134.78s/ url]

Dl Size...: 100%|██████████| 827/827 [02:15<00:00,  7.60 MiB/s]


Extraction completed...:   0%|          | 0/355 [02:15<?, ? file/s]
Dl Completed...: 100%|██████████| 1/1 [02:15<00:00, 134.78s/ url]

Dl Size...: 100%|██████████| 827/827 [02:15<00:00,  7.60 MiB/s]


Extraction completed...:   0%|          | 0/356 [02:15<?, ? file/s]
Dl Completed...: 100%|██████████| 1/1 [02:15<00:00, 134.78s/ url]

Dl Size...: 100%|██████████| 827/827 [02:15<00:00,  7.60 MiB/s]


Extraction completed...:   0%|          | 0/357 [02:15<?, ? file/s]
Dl Completed...: 100%|██████████| 1/1 [02:15<00:00, 134.78s/ url]

Dl Size...: 100%|██████████| 827/827 [02:15<00:00,  7.60 MiB/s]


Extraction completed...:   0%|          | 0/358 [02:15<?, ? file/s]
Dl Completed...: 100%|██████████| 1/1 [02:15<00:00, 134.78s/ url]

Dl Size...: 100%|██████████| 827/827 [02:15<00:00,  7.60 MiB/s]


Extraction completed...:   0%|          | 0/359 [02:15<?, ? file/s]
Dl Completed...: 100%|██████████| 1/1 [02:15<00:00, 134.78s/ url]

Dl Size...: 100%|██████████| 827/827 [02:15<00:00,  7.60 MiB/s]


Extraction completed...:   0%|          | 0/360 [02:15<?, ? file/s]
Dl Completed...: 100%|██████████| 1/1 [02:15<00:00, 134.78s/ url]

Dl Size...: 100%|██████████| 827/827 [02:15<00:00,  7.60 MiB/s]


Extraction completed...:   0%|          | 0/361 [02:15<?, ? file/s]
Dl Completed...: 100%|██████████| 1/1 [02:15<00:00, 134.78s/ url]

Dl Size...: 100%|██████████| 827/827 [02:15<00:00,  7.60 MiB/s]


Extraction completed...:   0%|          | 0/362 [02:15<?, ? file/s]
Dl Completed...: 100%|██████████| 1/1 [02:15<00:00, 134.78s/ url]

Dl Size...: 100%|██████████| 827/827 [02:15<00:00,  7.60 MiB/s]


Extraction completed...:   0%|          | 0/363 [02:15<?, ? file/s]
Dl Completed...: 100%|██████████| 1/1 [02:15<00:00, 134.78s/ url]

Dl Size...: 100%|██████████| 827/827 [02:15<00:00,  7.60 MiB/s]


Extraction completed...:   0%|          | 0/364 [02:15<?, ? file/s]
Dl Completed...: 100%|██████████| 1/1 [02:15<00:00, 134.78s/ url]

Dl Size...: 100%|██████████| 827/827 [02:15<00:00,  7.60 MiB/s]


Extraction completed...:   0%|          | 0/365 [02:15<?, ? file/s]
Dl Completed...: 100%|██████████| 1/1 [02:15<00:00, 134.78s/ url]

Dl Size...: 100%|██████████| 827/827 [02:15<00:00,  7.60 MiB/s]


Extraction completed...:   0%|          | 0/366 [02:15<?, ? file/s]
Dl Completed...: 100%|██████████| 1/1 [02:15<00:00, 134.78s/ url]

Dl Size...: 100%|██████████| 827/827 [02:15<00:00,  7.60 MiB/s]


Extraction completed...:   0%|          | 0/367 [02:15<?, ? file/s]
Dl Completed...: 100%|██████████| 1/1 [02:15<00:00, 134.78s/ url]

Dl Size...: 100%|██████████| 827/827 [02:15<00:00,  7.60 MiB/s]


Extraction completed...:   0%|          | 0/368 [02:15<?, ? file/s]
Dl Completed...: 100%|██████████| 1/1 [02:15<00:00, 134.78s/ url]

Dl Size...: 100%|██████████| 827/827 [02:15<00:00,  7.60 MiB/s]


Extraction completed...:   0%|          | 0/369 [02:15<?, ? file/s]
Dl Completed...: 100%|██████████| 1/1 [02:15<00:00, 134.78s/ url]

Dl Size...: 100%|██████████| 827/827 [02:15<00:00,  7.60 MiB/s]


Extraction completed...:   0%|          | 0/370 [02:15<?, ? file/s]
Dl Completed...: 100%|██████████| 1/1 [02:15<00:00, 134.78s/ url]

Dl Size...: 100%|██████████| 827/827 [02:15<00:00,  7.60 MiB/s]


Extraction completed...:   0%|          | 0/371 [02:15<?, ? file/s]
Dl Completed...: 100%|██████████| 1/1 [02:15<00:00, 134.78s/ url]

Dl Size...: 100%|██████████| 827/827 [02:15<00:00,  7.60 MiB/s]


Extraction completed...:   0%|          | 0/372 [02:15<?, ? file/s]
Dl Completed...: 100%|██████████| 1/1 [02:15<00:00, 134.78s/ url]

Dl Size...: 100%|██████████| 827/827 [02:15<00:00,  7.60 MiB/s]


Extraction completed...:   0%|          | 0/373 [02:15<?, ? file/s]
Dl Completed...: 100%|██████████| 1/1 [02:15<00:00, 134.78s/ url]

Dl Size...: 100%|██████████| 827/827 [02:15<00:00,  7.60 MiB/s]


Extraction completed...:   0%|          | 0/374 [02:15<?, ? file/s]
Dl Completed...: 100%|██████████| 1/1 [02:15<00:00, 134.78s/ url]

Dl Size...: 100%|██████████| 827/827 [02:15<00:00,  7.60 MiB/s]


Extraction completed...:   0%|          | 0/375 [02:15<?, ? file/s]
Dl Completed...: 100%|██████████| 1/1 [02:15<00:00, 134.78s/ url]

Dl Size...: 100%|██████████| 827/827 [02:15<00:00,  7.60 MiB/s]


Extraction completed...:   0%|          | 0/376 [02:15<?, ? file/s]
Dl Completed...: 100%|██████████| 1/1 [02:15<00:00, 134.78s/ url]

Dl Size...: 100%|██████████| 827/827 [02:15<00:00,  7.60 MiB/s]


Extraction completed...:   0%|          | 0/377 [02:15<?, ? file/s]
Dl Completed...: 100%|██████████| 1/1 [02:15<00:00, 134.78s/ url]

Dl Size...: 100%|██████████| 827/827 [02:15<00:00,  7.60 MiB/s]


Extraction completed...:   0%|          | 0/378 [02:15<?, ? file/s]
Dl Completed...: 100%|██████████| 1/1 [02:15<00:00, 134.78s/ url]

Dl Size...: 100%|██████████| 827/827 [02:15<00:00,  7.60 MiB/s]


Extraction completed...:   0%|          | 0/379 [02:15<?, ? file/s]
Dl Completed...: 100%|██████████| 1/1 [02:15<00:00, 134.78s/ url]

Dl Size...: 100%|██████████| 827/827 [02:15<00:00,  7.60 MiB/s]


Extraction completed...:   0%|          | 0/380 [02:15<?, ? file/s]
Dl Completed...: 100%|██████████| 1/1 [02:15<00:00, 134.78s/ url]

Dl Size...: 100%|██████████| 827/827 [02:15<00:00,  7.60 MiB/s]


Extraction completed...:   0%|          | 0/381 [02:15<?, ? file/s]
Dl Completed...: 100%|██████████| 1/1 [02:15<00:00, 134.78s/ url]

Dl Size...: 100%|██████████| 827/827 [02:15<00:00,  7.60 MiB/s]


Extraction completed...:   0%|          | 0/382 [02:15<?, ? file/s]
Dl Completed...: 100%|██████████| 1/1 [02:15<00:00, 134.78s/ url]

Dl Size...: 100%|██████████| 827/827 [02:15<00:00,  7.60 MiB/s]


Extraction completed...:   0%|          | 0/383 [02:15<?, ? file/s]
Dl Completed...: 100%|██████████| 1/1 [02:15<00:00, 134.78s/ url]

Dl Size...: 100%|██████████| 827/827 [02:15<00:00,  7.60 MiB/s]


Extraction completed...:   0%|          | 0/384 [02:15<?, ? file/s]
Dl Completed...: 100%|██████████| 1/1 [02:15<00:00, 134.78s/ url]

Dl Size...: 100%|██████████| 827/827 [02:15<00:00,  7.60 MiB/s]


Extraction completed...:   0%|          | 0/385 [02:15<?, ? file/s]
Dl Completed...: 100%|██████████| 1/1 [02:15<00:00, 134.78s/ url]

Dl Size...: 100%|██████████| 827/827 [02:15<00:00,  7.60 MiB/s]


Extraction completed...:   0%|          | 0/386 [02:15<?, ? file/s]
Dl Completed...: 100%|██████████| 1/1 [02:15<00:00, 134.78s/ url]

Dl Size...: 100%|██████████| 827/827 [02:15<00:00,  7.60 MiB/s]


Extraction completed...:   0%|          | 0/387 [02:15<?, ? file/s]
Dl Completed...: 100%|██████████| 1/1 [02:15<00:00, 134.78s/ url]

Dl Size...: 100%|██████████| 827/827 [02:15<00:00,  7.60 MiB/s]


Extraction completed...:   0%|          | 0/388 [02:15<?, ? file/s]
Dl Completed...: 100%|██████████| 1/1 [02:15<00:00, 134.78s/ url]

Dl Size...: 100%|██████████| 827/827 [02:15<00:00,  7.60 MiB/s]


Extraction completed...:   0%|          | 0/389 [02:15<?, ? file/s]
Dl Completed...: 100%|██████████| 1/1 [02:15<00:00, 134.78s/ url]

Dl Size...: 100%|██████████| 827/827 [02:15<00:00,  7.60 MiB/s]


Extraction completed...:   0%|          | 0/390 [02:15<?, ? file/s]
Dl Completed...: 100%|██████████| 1/1 [02:15<00:00, 134.78s/ url]

Dl Size...: 100%|██████████| 827/827 [02:15<00:00,  7.60 MiB/s]


Extraction completed...:   0%|          | 0/391 [02:15<?, ? file/s]
Dl Completed...: 100%|██████████| 1/1 [02:15<00:00, 134.78s/ url]

Dl Size...: 100%|██████████| 827/827 [02:15<00:00,  7.60 MiB/s]


Extraction completed...:   0%|          | 0/392 [02:15<?, ? file/s]
Dl Completed...: 100%|██████████| 1/1 [02:15<00:00, 134.78s/ url]

Dl Size...: 100%|██████████| 827/827 [02:15<00:00,  7.60 MiB/s]


Extraction completed...:   0%|          | 0/393 [02:15<?, ? file/s]
Dl Completed...: 100%|██████████| 1/1 [02:15<00:00, 134.78s/ url]

Dl Size...: 100%|██████████| 827/827 [02:15<00:00,  7.60 MiB/s]


Extraction completed...:   0%|          | 0/394 [02:15<?, ? file/s]
Dl Completed...: 100%|██████████| 1/1 [02:15<00:00, 134.78s/ url]

Dl Size...: 100%|██████████| 827/827 [02:15<00:00,  7.60 MiB/s]


Extraction completed...:   0%|          | 0/395 [02:15<?, ? file/s]
Dl Completed...: 100%|██████████| 1/1 [02:15<00:00, 134.78s/ url]

Dl Size...: 100%|██████████| 827/827 [02:15<00:00,  7.60 MiB/s]


Extraction completed...:   0%|          | 0/396 [02:15<?, ? file/s]
Dl Completed...: 100%|██████████| 1/1 [02:15<00:00, 134.78s/ url]

Dl Size...: 100%|██████████| 827/827 [02:15<00:00,  7.60 MiB/s]


Extraction completed...:   0%|          | 0/397 [02:15<?, ? file/s]
Dl Completed...: 100%|██████████| 1/1 [02:15<00:00, 134.78s/ url]

Dl Size...: 100%|██████████| 827/827 [02:15<00:00,  7.60 MiB/s]


Extraction completed...:   0%|          | 0/398 [02:15<?, ? file/s]
Dl Completed...: 100%|██████████| 1/1 [02:15<00:00, 134.78s/ url]

Dl Size...: 100%|██████████| 827/827 [02:15<00:00,  7.60 MiB/s]


Extraction completed...:   0%|          | 0/399 [02:15<?, ? file/s]
Dl Completed...: 100%|██████████| 1/1 [02:15<00:00, 134.78s/ url]

Dl Size...: 100%|██████████| 827/827 [02:15<00:00,  7.60 MiB/s]


Extraction completed...:   0%|          | 0/400 [02:15<?, ? file/s]
Dl Completed...: 100%|██████████| 1/1 [02:15<00:00, 134.78s/ url]

Dl Size...: 100%|██████████| 827/827 [02:15<00:00,  7.60 MiB/s]


Extraction completed...:   0%|          | 0/401 [02:15<?, ? file/s]
Dl Completed...: 100%|██████████| 1/1 [02:15<00:00, 134.78s/ url]

Dl Size...: 100%|██████████| 827/827 [02:15<00:00,  7.60 MiB/s]


Extraction completed...:   0%|          | 0/402 [02:15<?, ? file/s]
Dl Completed...: 100%|██████████| 1/1 [02:15<00:00, 134.78s/ url]

Dl Size...: 100%|██████████| 827/827 [02:15<00:00,  7.60 MiB/s]


Extraction completed...:   0%|          | 0/403 [02:15<?, ? file/s]
Dl Completed...: 100%|██████████| 1/1 [02:15<00:00, 134.78s/ url]

Dl Size...: 100%|██████████| 827/827 [02:15<00:00,  7.60 MiB/s]


Extraction completed...:   0%|          | 0/404 [02:15<?, ? file/s]
Dl Completed...: 100%|██████████| 1/1 [02:15<00:00, 134.78s/ url]

Dl Size...: 100%|██████████| 827/827 [02:15<00:00,  7.60 MiB/s]


Extraction completed...:   0%|          | 0/405 [02:15<?, ? file/s]
Dl Completed...: 100%|██████████| 1/1 [02:15<00:00, 134.78s/ url]

Dl Size...: 100%|██████████| 827/827 [02:15<00:00,  7.60 MiB/s]


Extraction completed...:   0%|          | 0/406 [02:15<?, ? file/s]
Dl Completed...: 100%|██████████| 1/1 [02:15<00:00, 134.78s/ url]

Dl Size...: 100%|██████████| 827/827 [02:15<00:00,  7.60 MiB/s]


Extraction completed...:   0%|          | 0/407 [02:15<?, ? file/s]
Dl Completed...: 100%|██████████| 1/1 [02:15<00:00, 134.78s/ url]

Dl Size...: 100%|██████████| 827/827 [02:15<00:00,  7.60 MiB/s]


Extraction completed...:   0%|          | 0/408 [02:15<?, ? file/s]
Dl Completed...: 100%|██████████| 1/1 [02:15<00:00, 134.78s/ url]

Dl Size...: 100%|██████████| 827/827 [02:15<00:00,  7.60 MiB/s]


Extraction completed...:   0%|          | 0/409 [02:15<?, ? file/s]
Dl Completed...: 100%|██████████| 1/1 [02:15<00:00, 134.78s/ url]

Dl Size...: 100%|██████████| 827/827 [02:15<00:00,  7.60 MiB/s]


Extraction completed...:   0%|          | 0/410 [02:15<?, ? file/s]
Dl Completed...: 100%|██████████| 1/1 [02:15<00:00, 134.78s/ url]

Dl Size...: 100%|██████████| 827/827 [02:15<00:00,  7.60 MiB/s]


Extraction completed...:   0%|          | 0/411 [02:15<?, ? file/s]
Dl Completed...: 100%|██████████| 1/1 [02:15<00:00, 134.78s/ url]

Dl Size...: 100%|██████████| 827/827 [02:15<00:00,  7.60 MiB/s]


Extraction completed...:   0%|          | 0/412 [02:15<?, ? file/s]
Dl Completed...: 100%|██████████| 1/1 [02:15<00:00, 134.78s/ url]

Dl Size...: 100%|██████████| 827/827 [02:15<00:00,  7.60 MiB/s]


Extraction completed...:   0%|          | 0/413 [02:15<?, ? file/s]
Dl Completed...: 100%|██████████| 1/1 [02:15<00:00, 134.78s/ url]

Dl Size...: 100%|██████████| 827/827 [02:15<00:00,  7.60 MiB/s]


Extraction completed...:   0%|          | 0/414 [02:15<?, ? file/s]
Dl Completed...: 100%|██████████| 1/1 [02:15<00:00, 134.78s/ url]

Dl Size...: 100%|██████████| 827/827 [02:15<00:00,  7.60 MiB/s]


Extraction completed...:   0%|          | 0/415 [02:15<?, ? file/s]
Dl Completed...: 100%|██████████| 1/1 [02:15<00:00, 134.78s/ url]

Dl Size...: 100%|██████████| 827/827 [02:15<00:00,  7.60 MiB/s]


Extraction completed...:   0%|          | 0/416 [02:15<?, ? file/s]
Dl Completed...: 100%|██████████| 1/1 [02:15<00:00, 134.78s/ url]

Dl Size...: 100%|██████████| 827/827 [02:15<00:00,  7.60 MiB/s]


Extraction completed...:   0%|          | 0/417 [02:15<?, ? file/s]
Dl Completed...: 100%|██████████| 1/1 [02:15<00:00, 134.78s/ url]

Dl Size...: 100%|██████████| 827/827 [02:15<00:00,  7.60 MiB/s]


Extraction completed...:   0%|          | 0/418 [02:15<?, ? file/s]
Dl Completed...: 100%|██████████| 1/1 [02:15<00:00, 134.78s/ url]

Dl Size...: 100%|██████████| 827/827 [02:15<00:00,  7.60 MiB/s]


Extraction completed...:   0%|          | 0/419 [02:15<?, ? file/s]
Dl Completed...: 100%|██████████| 1/1 [02:15<00:00, 134.78s/ url]

Dl Size...: 100%|██████████| 827/827 [02:15<00:00,  7.60 MiB/s]


Extraction completed...:   0%|          | 0/420 [02:15<?, ? file/s]
Dl Completed...: 100%|██████████| 1/1 [02:15<00:00, 134.78s/ url]

Dl Size...: 100%|██████████| 827/827 [02:15<00:00,  7.60 MiB/s]


Extraction completed...:   0%|          | 0/421 [02:15<?, ? file/s]
Dl Completed...: 100%|██████████| 1/1 [02:15<00:00, 134.78s/ url]

Dl Size...: 100%|██████████| 827/827 [02:15<00:00,  7.60 MiB/s]


Extraction completed...:   0%|          | 0/422 [02:15<?, ? file/s]
Dl Completed...: 100%|██████████| 1/1 [02:15<00:00, 134.78s/ url]

Dl Size...: 100%|██████████| 827/827 [02:15<00:00,  7.60 MiB/s]


Extraction completed...:   0%|          | 0/423 [02:15<?, ? file/s]
Dl Completed...: 100%|██████████| 1/1 [02:15<00:00, 134.78s/ url]

Dl Size...: 100%|██████████| 827/827 [02:15<00:00,  7.60 MiB/s]


Extraction completed...:   0%|          | 0/424 [02:15<?, ? file/s]
Dl Completed...: 100%|██████████| 1/1 [02:15<00:00, 134.78s/ url]

Dl Size...: 100%|██████████| 827/827 [02:15<00:00,  7.60 MiB/s]


Extraction completed...:   0%|          | 0/425 [02:15<?, ? file/s]
Dl Completed...: 100%|██████████| 1/1 [02:15<00:00, 134.78s/ url]

Dl Size...: 100%|██████████| 827/827 [02:15<00:00,  7.60 MiB/s]


Extraction completed...:   0%|          | 0/426 [02:15<?, ? file/s]
Dl Completed...: 100%|██████████| 1/1 [02:15<00:00, 134.78s/ url]

Dl Size...: 100%|██████████| 827/827 [02:15<00:00,  7.60 MiB/s]


Extraction completed...:   0%|          | 0/427 [02:15<?, ? file/s]
Dl Completed...: 100%|██████████| 1/1 [02:15<00:00, 134.78s/ url]

Dl Size...: 100%|██████████| 827/827 [02:15<00:00,  7.60 MiB/s]


Extraction completed...:   0%|          | 0/428 [02:15<?, ? file/s]
Dl Completed...: 100%|██████████| 1/1 [02:15<00:00, 134.78s/ url]

Dl Size...: 100%|██████████| 827/827 [02:15<00:00,  7.60 MiB/s]


Extraction completed...:   0%|          | 0/429 [02:15<?, ? file/s]
Dl Completed...: 100%|██████████| 1/1 [02:15<00:00, 134.78s/ url]

Dl Size...: 100%|██████████| 827/827 [02:15<00:00,  7.60 MiB/s]


Extraction completed...:   0%|          | 0/430 [02:15<?, ? file/s]
Dl Completed...: 100%|██████████| 1/1 [02:15<00:00, 134.78s/ url]

Dl Size...: 100%|██████████| 827/827 [02:15<00:00,  7.60 MiB/s]


Extraction completed...:   0%|          | 0/431 [02:15<?, ? file/s]
Dl Completed...: 100%|██████████| 1/1 [02:15<00:00, 134.78s/ url]

Dl Size...: 100%|██████████| 827/827 [02:15<00:00,  7.60 MiB/s]


Extraction completed...:   0%|          | 0/432 [02:15<?, ? file/s]
Dl Completed...: 100%|██████████| 1/1 [02:15<00:00, 134.78s/ url]

Dl Size...: 100%|██████████| 827/827 [02:15<00:00,  7.60 MiB/s]


Extraction completed...:   0%|          | 0/433 [02:15<?, ? file/s]
Dl Completed...: 100%|██████████| 1/1 [02:15<00:00, 134.78s/ url]

Dl Size...: 100%|██████████| 827/827 [02:15<00:00,  7.60 MiB/s]


Extraction completed...:   0%|          | 0/434 [02:15<?, ? file/s]
Dl Completed...: 100%|██████████| 1/1 [02:15<00:00, 134.78s/ url]

Dl Size...: 100%|██████████| 827/827 [02:15<00:00,  7.60 MiB/s]


Extraction completed...:   0%|          | 0/435 [02:15<?, ? file/s]
Dl Completed...: 100%|██████████| 1/1 [02:15<00:00, 134.78s/ url]

Dl Size...: 100%|██████████| 827/827 [02:15<00:00,  7.60 MiB/s]


Extraction completed...:   0%|          | 0/436 [02:15<?, ? file/s]
Dl Completed...: 100%|██████████| 1/1 [02:15<00:00, 134.78s/ url]

Dl Size...: 100%|██████████| 827/827 [02:15<00:00,  7.60 MiB/s]


Extraction completed...:   0%|          | 0/437 [02:15<?, ? file/s]
Dl Completed...: 100%|██████████| 1/1 [02:15<00:00, 134.78s/ url]

Dl Size...: 100%|██████████| 827/827 [02:15<00:00,  7.60 MiB/s]


Extraction completed...:   0%|          | 0/438 [02:15<?, ? file/s]
Dl Completed...: 100%|██████████| 1/1 [02:15<00:00, 134.78s/ url]

Dl Size...: 100%|██████████| 827/827 [02:15<00:00,  7.60 MiB/s]


Extraction completed...:   0%|          | 0/439 [02:15<?, ? file/s]
Dl Completed...: 100%|██████████| 1/1 [02:15<00:00, 134.78s/ url]

Dl Size...: 100%|██████████| 827/827 [02:15<00:00,  7.60 MiB/s]


Extraction completed...:   0%|          | 0/440 [02:15<?, ? file/s]
Dl Completed...: 100%|██████████| 1/1 [02:15<00:00, 134.78s/ url]

Dl Size...: 100%|██████████| 827/827 [02:15<00:00,  7.60 MiB/s]


Extraction completed...:   0%|          | 0/441 [02:15<?, ? file/s]
Dl Completed...: 100%|██████████| 1/1 [02:15<00:00, 134.78s/ url]

Dl Size...: 100%|██████████| 827/827 [02:15<00:00,  7.60 MiB/s]


Extraction completed...:   0%|          | 0/442 [02:15<?, ? file/s]
Dl Completed...: 100%|██████████| 1/1 [02:15<00:00, 134.78s/ url]

Dl Size...: 100%|██████████| 827/827 [02:15<00:00,  7.60 MiB/s]


Extraction completed...:   0%|          | 0/443 [02:15<?, ? file/s]
Dl Completed...: 100%|██████████| 1/1 [02:15<00:00, 134.78s/ url]

Dl Size...: 100%|██████████| 827/827 [02:15<00:00,  7.60 MiB/s]


Extraction completed...:   0%|          | 0/444 [02:15<?, ? file/s]
Dl Completed...: 100%|██████████| 1/1 [02:15<00:00, 134.78s/ url]

Dl Size...: 100%|██████████| 827/827 [02:15<00:00,  7.60 MiB/s]


Extraction completed...:   0%|          | 0/445 [02:15<?, ? file/s]
Dl Completed...: 100%|██████████| 1/1 [02:15<00:00, 134.78s/ url]

Dl Size...: 100%|██████████| 827/827 [02:15<00:00,  7.60 MiB/s]


Extraction completed...:   0%|          | 0/446 [02:15<?, ? file/s]
Dl Completed...: 100%|██████████| 1/1 [02:15<00:00, 134.78s/ url]

Dl Size...: 100%|██████████| 827/827 [02:15<00:00,  7.60 MiB/s]


Extraction completed...:   0%|          | 0/447 [02:15<?, ? file/s]
Dl Completed...: 100%|██████████| 1/1 [02:15<00:00, 134.78s/ url]

Dl Size...: 100%|██████████| 827/827 [02:15<00:00,  7.60 MiB/s]


Extraction completed...:   0%|          | 0/448 [02:15<?, ? file/s]
Dl Completed...: 100%|██████████| 1/1 [02:15<00:00, 134.78s/ url]

Dl Size...: 100%|██████████| 827/827 [02:15<00:00,  7.60 MiB/s]


Extraction completed...:   0%|          | 0/449 [02:15<?, ? file/s]
Dl Completed...: 100%|██████████| 1/1 [02:15<00:00, 134.78s/ url]

Dl Size...: 100%|██████████| 827/827 [02:15<00:00,  7.60 MiB/s]


Extraction completed...:   0%|          | 0/450 [02:15<?, ? file/s]
Dl Completed...: 100%|██████████| 1/1 [02:15<00:00, 134.78s/ url]

Dl Size...: 100%|██████████| 827/827 [02:15<00:00,  7.60 MiB/s]


Extraction completed...:   0%|          | 0/451 [02:15<?, ? file/s]
Dl Completed...: 100%|██████████| 1/1 [02:15<00:00, 134.78s/ url]

Dl Size...: 100%|██████████| 827/827 [02:15<00:00,  7.60 MiB/s]


Extraction completed...:   0%|          | 0/452 [02:15<?, ? file/s]
Dl Completed...: 100%|██████████| 1/1 [02:15<00:00, 134.78s/ url]

Dl Size...: 100%|██████████| 827/827 [02:15<00:00,  7.60 MiB/s]


Extraction completed...:   0%|          | 0/453 [02:15<?, ? file/s]
Dl Completed...: 100%|██████████| 1/1 [02:15<00:00, 134.78s/ url]

Dl Size...: 100%|██████████| 827/827 [02:15<00:00,  7.60 MiB/s]


Extraction completed...:   0%|          | 0/454 [02:15<?, ? file/s]
Dl Completed...: 100%|██████████| 1/1 [02:15<00:00, 134.78s/ url]

Dl Size...: 100%|██████████| 827/827 [02:15<00:00,  7.60 MiB/s]


Extraction completed...:   0%|          | 0/455 [02:15<?, ? file/s]
Dl Completed...: 100%|██████████| 1/1 [02:15<00:00, 134.78s/ url]

Dl Size...: 100%|██████████| 827/827 [02:15<00:00,  7.60 MiB/s]


Extraction completed...:   0%|          | 0/456 [02:15<?, ? file/s]
Dl Completed...: 100%|██████████| 1/1 [02:15<00:00, 134.78s/ url]

Dl Size...: 100%|██████████| 827/827 [02:15<00:00,  7.60 MiB/s]


Extraction completed...:   0%|          | 0/457 [02:15<?, ? file/s]
Dl Completed...: 100%|██████████| 1/1 [02:15<00:00, 134.78s/ url]

Dl Size...: 100%|██████████| 827/827 [02:15<00:00,  7.60 MiB/s]


Extraction completed...:   0%|          | 0/458 [02:15<?, ? file/s]
Dl Completed...: 100%|██████████| 1/1 [02:15<00:00, 134.78s/ url]

Dl Size...: 100%|██████████| 827/827 [02:15<00:00,  7.60 MiB/s]


Extraction completed...:   0%|          | 0/459 [02:15<?, ? file/s]
Dl Completed...: 100%|██████████| 1/1 [02:15<00:00, 134.78s/ url]

Dl Size...: 100%|██████████| 827/827 [02:15<00:00,  7.60 MiB/s]


Extraction completed...:   0%|          | 0/460 [02:15<?, ? file/s]
Dl Completed...: 100%|██████████| 1/1 [02:15<00:00, 134.78s/ url]

Dl Size...: 100%|██████████| 827/827 [02:15<00:00,  7.60 MiB/s]


Extraction completed...:   0%|          | 0/461 [02:15<?, ? file/s]
Dl Completed...: 100%|██████████| 1/1 [02:15<00:00, 134.78s/ url]

Dl Size...: 100%|██████████| 827/827 [02:15<00:00,  7.60 MiB/s]


Extraction completed...:   0%|          | 0/462 [02:15<?, ? file/s]
Dl Completed...: 100%|██████████| 1/1 [02:15<00:00, 134.78s/ url]

Dl Size...: 100%|██████████| 827/827 [02:15<00:00,  7.60 MiB/s]


Extraction completed...:   0%|          | 0/463 [02:15<?, ? file/s]
Dl Completed...: 100%|██████████| 1/1 [02:15<00:00, 134.78s/ url]

Dl Size...: 100%|██████████| 827/827 [02:15<00:00,  7.60 MiB/s]


Extraction completed...:   0%|          | 0/464 [02:15<?, ? file/s]
Dl Completed...: 100%|██████████| 1/1 [02:15<00:00, 134.78s/ url]

Dl Size...: 100%|██████████| 827/827 [02:15<00:00,  7.60 MiB/s]


Extraction completed...:   0%|          | 0/465 [02:15<?, ? file/s]
Dl Completed...: 100%|██████████| 1/1 [02:15<00:00, 134.78s/ url]

Dl Size...: 100%|██████████| 827/827 [02:15<00:00,  7.60 MiB/s]


Extraction completed...:   0%|          | 0/466 [02:15<?, ? file/s]
Dl Completed...: 100%|██████████| 1/1 [02:15<00:00, 134.78s/ url]

Dl Size...: 100%|██████████| 827/827 [02:15<00:00,  7.60 MiB/s]


Extraction completed...:   0%|          | 0/467 [02:15<?, ? file/s]
Dl Completed...: 100%|██████████| 1/1 [02:15<00:00, 134.78s/ url]

Dl Size...: 100%|██████████| 827/827 [02:15<00:00,  7.60 MiB/s]


Extraction completed...:   0%|          | 0/468 [02:15<?, ? file/s]
Dl Completed...: 100%|██████████| 1/1 [02:15<00:00, 134.78s/ url]

Dl Size...: 100%|██████████| 827/827 [02:15<00:00,  7.60 MiB/s]


Extraction completed...:   0%|          | 0/469 [02:15<?, ? file/s]
Dl Completed...: 100%|██████████| 1/1 [02:15<00:00, 134.78s/ url]

Dl Size...: 100%|██████████| 827/827 [02:15<00:00,  7.60 MiB/s]


Extraction completed...:   0%|          | 0/470 [02:15<?, ? file/s]
Dl Completed...: 100%|██████████| 1/1 [02:15<00:00, 134.78s/ url]

Dl Size...: 100%|██████████| 827/827 [02:15<00:00,  7.60 MiB/s]


Extraction completed...:   0%|          | 0/471 [02:15<?, ? file/s]
Dl Completed...: 100%|██████████| 1/1 [02:15<00:00, 134.78s/ url]

Dl Size...: 100%|██████████| 827/827 [02:15<00:00,  7.60 MiB/s]


Extraction completed...:   0%|          | 0/472 [02:15<?, ? file/s]
Dl Completed...: 100%|██████████| 1/1 [02:15<00:00, 134.78s/ url]

Dl Size...: 100%|██████████| 827/827 [02:15<00:00,  7.60 MiB/s]


Extraction completed...:   0%|          | 0/473 [02:15<?, ? file/s]
Dl Completed...: 100%|██████████| 1/1 [02:15<00:00, 134.78s/ url]

Dl Size...: 100%|██████████| 827/827 [02:15<00:00,  7.60 MiB/s]


Extraction completed...:   0%|          | 0/474 [02:15<?, ? file/s]
Dl Completed...: 100%|██████████| 1/1 [02:15<00:00, 134.78s/ url]

Dl Size...: 100%|██████████| 827/827 [02:15<00:00,  7.60 MiB/s]


Extraction completed...:   0%|          | 0/475 [02:15<?, ? file/s]
Dl Completed...: 100%|██████████| 1/1 [02:15<00:00, 134.78s/ url]

Dl Size...: 100%|██████████| 827/827 [02:15<00:00,  7.60 MiB/s]


Extraction completed...:   0%|          | 0/476 [02:15<?, ? file/s]
Dl Completed...: 100%|██████████| 1/1 [02:15<00:00, 134.78s/ url]

Dl Size...: 100%|██████████| 827/827 [02:15<00:00,  7.60 MiB/s]


Extraction completed...:   0%|          | 0/477 [02:15<?, ? file/s]
Dl Completed...: 100%|██████████| 1/1 [02:15<00:00, 134.78s/ url]

Dl Size...: 100%|██████████| 827/827 [02:15<00:00,  7.60 MiB/s]


Extraction completed...:   0%|          | 0/478 [02:15<?, ? file/s]
Dl Completed...: 100%|██████████| 1/1 [02:15<00:00, 134.78s/ url]

Dl Size...: 100%|██████████| 827/827 [02:15<00:00,  7.60 MiB/s]


Extraction completed...:   0%|          | 0/479 [02:15<?, ? file/s]
Dl Completed...: 100%|██████████| 1/1 [02:15<00:00, 134.78s/ url]

Dl Size...: 100%|██████████| 827/827 [02:15<00:00,  7.60 MiB/s]


Extraction completed...:   0%|          | 0/480 [02:15<?, ? file/s]
Dl Completed...: 100%|██████████| 1/1 [02:15<00:00, 134.78s/ url]

Dl Size...: 100%|██████████| 827/827 [02:15<00:00,  7.60 MiB/s]


Extraction completed...:   0%|          | 0/481 [02:15<?, ? file/s]
Dl Completed...: 100%|██████████| 1/1 [02:15<00:00, 134.78s/ url]

Dl Size...: 100%|██████████| 827/827 [02:15<00:00,  7.60 MiB/s]


Extraction completed...:   0%|          | 0/482 [02:15<?, ? file/s]
Dl Completed...: 100%|██████████| 1/1 [02:15<00:00, 134.78s/ url]

Dl Size...: 100%|██████████| 827/827 [02:15<00:00,  7.60 MiB/s]


Extraction completed...:   0%|          | 0/483 [02:15<?, ? file/s]
Dl Completed...: 100%|██████████| 1/1 [02:15<00:00, 134.78s/ url]

Dl Size...: 100%|██████████| 827/827 [02:15<00:00,  7.60 MiB/s]


Extraction completed...:   0%|          | 0/484 [02:15<?, ? file/s]
Dl Completed...: 100%|██████████| 1/1 [02:15<00:00, 134.78s/ url]

Dl Size...: 100%|██████████| 827/827 [02:15<00:00,  7.60 MiB/s]


Extraction completed...:   0%|          | 0/485 [02:15<?, ? file/s]
Dl Completed...: 100%|██████████| 1/1 [02:15<00:00, 134.78s/ url]

Dl Size...: 100%|██████████| 827/827 [02:15<00:00,  7.60 MiB/s]


Extraction completed...:   0%|          | 0/486 [02:15<?, ? file/s]
Dl Completed...: 100%|██████████| 1/1 [02:15<00:00, 134.78s/ url]

Dl Size...: 100%|██████████| 827/827 [02:15<00:00,  7.60 MiB/s]


Extraction completed...:   0%|          | 0/487 [02:15<?, ? file/s]
Dl Completed...: 100%|██████████| 1/1 [02:15<00:00, 134.78s/ url]

Dl Size...: 100%|██████████| 827/827 [02:15<00:00,  7.60 MiB/s]


Extraction completed...:   0%|          | 0/488 [02:15<?, ? file/s]
Dl Completed...: 100%|██████████| 1/1 [02:15<00:00, 134.78s/ url]

Dl Size...: 100%|██████████| 827/827 [02:15<00:00,  7.60 MiB/s]


Extraction completed...:   0%|          | 0/489 [02:15<?, ? file/s]
Dl Completed...: 100%|██████████| 1/1 [02:15<00:00, 134.78s/ url]

Dl Size...: 100%|██████████| 827/827 [02:15<00:00,  7.60 MiB/s]


Extraction completed...:   0%|          | 0/490 [02:15<?, ? file/s]
Dl Completed...: 100%|██████████| 1/1 [02:15<00:00, 134.78s/ url]

Dl Size...: 100%|██████████| 827/827 [02:15<00:00,  7.60 MiB/s]


Extraction completed...:   0%|          | 0/491 [02:15<?, ? file/s]
Dl Completed...: 100%|██████████| 1/1 [02:15<00:00, 134.78s/ url]

Dl Size...: 100%|██████████| 827/827 [02:15<00:00,  7.60 MiB/s]


Extraction completed...:   0%|          | 0/492 [02:15<?, ? file/s]
Dl Completed...: 100%|██████████| 1/1 [02:15<00:00, 134.78s/ url]

Dl Size...: 100%|██████████| 827/827 [02:15<00:00,  7.60 MiB/s]


Extraction completed...:   0%|          | 0/493 [02:15<?, ? file/s]
Dl Completed...: 100%|██████████| 1/1 [02:15<00:00, 134.78s/ url]

Dl Size...: 100%|██████████| 827/827 [02:15<00:00,  7.60 MiB/s]


Extraction completed...:   0%|          | 0/494 [02:15<?, ? file/s]
Dl Completed...: 100%|██████████| 1/1 [02:15<00:00, 134.78s/ url]

Dl Size...: 100%|██████████| 827/827 [02:15<00:00,  7.60 MiB/s]


Extraction completed...:   0%|          | 0/495 [02:15<?, ? file/s]
Dl Completed...: 100%|██████████| 1/1 [02:15<00:00, 134.78s/ url]

Dl Size...: 100%|██████████| 827/827 [02:15<00:00,  7.60 MiB/s]


Extraction completed...:   0%|          | 0/496 [02:15<?, ? file/s]
Dl Completed...: 100%|██████████| 1/1 [02:15<00:00, 134.78s/ url]

Dl Size...: 100%|██████████| 827/827 [02:15<00:00,  7.60 MiB/s]


Extraction completed...:   0%|          | 0/497 [02:15<?, ? file/s]
Dl Completed...: 100%|██████████| 1/1 [02:15<00:00, 134.78s/ url]

Dl Size...: 100%|██████████| 827/827 [02:15<00:00,  7.60 MiB/s]


Extraction completed...:   0%|          | 0/498 [02:15<?, ? file/s]
Dl Completed...: 100%|██████████| 1/1 [02:15<00:00, 134.78s/ url]

Dl Size...: 100%|██████████| 827/827 [02:15<00:00,  7.60 MiB/s]


Extraction completed...:   0%|          | 0/499 [02:15<?, ? file/s]
Dl Completed...: 100%|██████████| 1/1 [02:15<00:00, 134.78s/ url]

Dl Size...: 100%|██████████| 827/827 [02:15<00:00,  7.60 MiB/s]


Extraction completed...:   0%|          | 0/500 [02:15<?, ? file/s]
Dl Completed...: 100%|██████████| 1/1 [02:15<00:00, 134.78s/ url]

Dl Size...: 100%|██████████| 827/827 [02:15<00:00,  7.60 MiB/s]


Extraction completed...:   0%|          | 0/501 [02:15<?, ? file/s]
Dl Completed...: 100%|██████████| 1/1 [02:15<00:00, 134.78s/ url]

Dl Size...: 100%|██████████| 827/827 [02:15<00:00,  7.60 MiB/s]


Extraction completed...:   0%|          | 0/502 [02:15<?, ? file/s]
Dl Completed...: 100%|██████████| 1/1 [02:15<00:00, 134.78s/ url]

Dl Size...: 100%|██████████| 827/827 [02:15<00:00,  7.60 MiB/s]


Extraction completed...:   0%|          | 0/503 [02:15<?, ? file/s]
Dl Completed...: 100%|██████████| 1/1 [02:15<00:00, 134.78s/ url]

Dl Size...: 100%|██████████| 827/827 [02:15<00:00,  7.60 MiB/s]


Extraction completed...:   0%|          | 0/504 [02:15<?, ? file/s]
Dl Completed...: 100%|██████████| 1/1 [02:15<00:00, 134.78s/ url]

Dl Size...: 100%|██████████| 827/827 [02:15<00:00,  7.60 MiB/s]


Extraction completed...:   0%|          | 0/505 [02:15<?, ? file/s]
Dl Completed...: 100%|██████████| 1/1 [02:15<00:00, 134.78s/ url]

Dl Size...: 100%|██████████| 827/827 [02:15<00:00,  7.60 MiB/s]


Extraction completed...:   0%|          | 0/506 [02:15<?, ? file/s]
Dl Completed...: 100%|██████████| 1/1 [02:15<00:00, 134.78s/ url]

Dl Size...: 100%|██████████| 827/827 [02:15<00:00,  7.60 MiB/s]


Extraction completed...:   0%|          | 0/507 [02:15<?, ? file/s]
Dl Completed...: 100%|██████████| 1/1 [02:15<00:00, 134.78s/ url]

Dl Size...: 100%|██████████| 827/827 [02:15<00:00,  7.60 MiB/s]


Extraction completed...:   0%|          | 0/508 [02:15<?, ? file/s]
Dl Completed...: 100%|██████████| 1/1 [02:15<00:00, 134.78s/ url]

Dl Size...: 100%|██████████| 827/827 [02:15<00:00,  7.60 MiB/s]


Extraction completed...:   0%|          | 0/509 [02:15<?, ? file/s]
Dl Completed...: 100%|██████████| 1/1 [02:15<00:00, 134.78s/ url]

Dl Size...: 100%|██████████| 827/827 [02:15<00:00,  7.60 MiB/s]


Extraction completed...:   0%|          | 0/510 [02:15<?, ? file/s]
Dl Completed...: 100%|██████████| 1/1 [02:15<00:00, 134.78s/ url]

Dl Size...: 100%|██████████| 827/827 [02:15<00:00,  7.60 MiB/s]


Extraction completed...:   0%|          | 0/511 [02:15<?, ? file/s]
Dl Completed...: 100%|██████████| 1/1 [02:15<00:00, 134.78s/ url]

Dl Size...: 100%|██████████| 827/827 [02:15<00:00,  7.60 MiB/s]


Extraction completed...:   0%|          | 0/512 [02:15<?, ? file/s]
Dl Completed...: 100%|██████████| 1/1 [02:15<00:00, 134.78s/ url]

Dl Size...: 100%|██████████| 827/827 [02:15<00:00,  7.60 MiB/s]


Extraction completed...:   0%|          | 0/513 [02:15<?, ? file/s]
Dl Completed...: 100%|██████████| 1/1 [02:15<00:00, 134.78s/ url]

Dl Size...: 100%|██████████| 827/827 [02:15<00:00,  7.60 MiB/s]


Extraction completed...:   0%|          | 0/514 [02:15<?, ? file/s]
Dl Completed...: 100%|██████████| 1/1 [02:15<00:00, 134.78s/ url]

Dl Size...: 100%|██████████| 827/827 [02:15<00:00,  7.60 MiB/s]


Extraction completed...:   0%|          | 0/515 [02:15<?, ? file/s]
Dl Completed...: 100%|██████████| 1/1 [02:15<00:00, 134.78s/ url]

Dl Size...: 100%|██████████| 827/827 [02:15<00:00,  7.60 MiB/s]


Extraction completed...:   0%|          | 0/516 [02:15<?, ? file/s]
Dl Completed...: 100%|██████████| 1/1 [02:15<00:00, 134.78s/ url]

Dl Size...: 100%|██████████| 827/827 [02:15<00:00,  7.60 MiB/s]


Extraction completed...:   0%|          | 0/517 [02:15<?, ? file/s]
Dl Completed...: 100%|██████████| 1/1 [02:15<00:00, 134.78s/ url]

Dl Size...: 100%|██████████| 827/827 [02:15<00:00,  7.60 MiB/s]


Extraction completed...:   0%|          | 0/518 [02:15<?, ? file/s]
Dl Completed...: 100%|██████████| 1/1 [02:15<00:00, 134.78s/ url]

Dl Size...: 100%|██████████| 827/827 [02:15<00:00,  7.60 MiB/s]


Extraction completed...:   0%|          | 0/519 [02:15<?, ? file/s]
Dl Completed...: 100%|██████████| 1/1 [02:15<00:00, 134.78s/ url]

Dl Size...: 100%|██████████| 827/827 [02:15<00:00,  7.60 MiB/s]


Extraction completed...:   0%|          | 0/520 [02:15<?, ? file/s]
Dl Completed...: 100%|██████████| 1/1 [02:15<00:00, 134.78s/ url]

Dl Size...: 100%|██████████| 827/827 [02:15<00:00,  7.60 MiB/s]


Extraction completed...:   0%|          | 0/521 [02:15<?, ? file/s]
Dl Completed...: 100%|██████████| 1/1 [02:15<00:00, 134.78s/ url]

Dl Size...: 100%|██████████| 827/827 [02:15<00:00,  7.60 MiB/s]


Extraction completed...:   0%|          | 0/522 [02:15<?, ? file/s]
Dl Completed...: 100%|██████████| 1/1 [02:15<00:00, 134.78s/ url]

Dl Size...: 100%|██████████| 827/827 [02:15<00:00,  7.60 MiB/s]


Extraction completed...:   0%|          | 0/523 [02:15<?, ? file/s]
Dl Completed...: 100%|██████████| 1/1 [02:15<00:00, 134.78s/ url]

Dl Size...: 100%|██████████| 827/827 [02:15<00:00,  7.60 MiB/s]


Extraction completed...:   0%|          | 0/524 [02:15<?, ? file/s]
Dl Completed...: 100%|██████████| 1/1 [02:15<00:00, 134.78s/ url]

Dl Size...: 100%|██████████| 827/827 [02:15<00:00,  7.60 MiB/s]


Extraction completed...:   0%|          | 0/525 [02:15<?, ? file/s]
Dl Completed...: 100%|██████████| 1/1 [02:15<00:00, 134.78s/ url]

Dl Size...: 100%|██████████| 827/827 [02:15<00:00,  7.60 MiB/s]


Extraction completed...:   0%|          | 0/526 [02:15<?, ? file/s]
Dl Completed...: 100%|██████████| 1/1 [02:15<00:00, 134.78s/ url]

Dl Size...: 100%|██████████| 827/827 [02:15<00:00,  7.60 MiB/s]


Extraction completed...:   0%|          | 0/527 [02:15<?, ? file/s]
Dl Completed...: 100%|██████████| 1/1 [02:15<00:00, 134.78s/ url]

Dl Size...: 100%|██████████| 827/827 [02:15<00:00,  7.60 MiB/s]


Extraction completed...:   0%|          | 0/528 [02:15<?, ? file/s]
Dl Completed...: 100%|██████████| 1/1 [02:15<00:00, 134.78s/ url]

Dl Size...: 100%|██████████| 827/827 [02:15<00:00,  7.60 MiB/s]


Extraction completed...:   0%|          | 0/529 [02:15<?, ? file/s]
Dl Completed...: 100%|██████████| 1/1 [02:15<00:00, 134.78s/ url]

Dl Size...: 100%|██████████| 827/827 [02:15<00:00,  7.60 MiB/s]


Extraction completed...:   0%|          | 0/530 [02:15<?, ? file/s]
Dl Completed...: 100%|██████████| 1/1 [02:15<00:00, 134.78s/ url]

Dl Size...: 100%|██████████| 827/827 [02:15<00:00,  7.60 MiB/s]


Extraction completed...:   0%|          | 0/531 [02:15<?, ? file/s]
Dl Completed...: 100%|██████████| 1/1 [02:15<00:00, 134.78s/ url]

Dl Size...: 100%|██████████| 827/827 [02:15<00:00,  7.60 MiB/s]


Extraction completed...:   0%|          | 0/532 [02:15<?, ? file/s]
Dl Completed...: 100%|██████████| 1/1 [02:15<00:00, 134.78s/ url]

Dl Size...: 100%|██████████| 827/827 [02:15<00:00,  7.60 MiB/s]


Extraction completed...:   0%|          | 0/533 [02:15<?, ? file/s]
Dl Completed...: 100%|██████████| 1/1 [02:15<00:00, 134.78s/ url]

Dl Size...: 100%|██████████| 827/827 [02:15<00:00,  7.60 MiB/s]


Extraction completed...:   0%|          | 0/534 [02:15<?, ? file/s]
Dl Completed...: 100%|██████████| 1/1 [02:15<00:00, 134.78s/ url]

Dl Size...: 100%|██████████| 827/827 [02:15<00:00,  7.60 MiB/s]


Extraction completed...:   0%|          | 0/535 [02:15<?, ? file/s]
Dl Completed...: 100%|██████████| 1/1 [02:15<00:00, 134.78s/ url]

Dl Size...: 100%|██████████| 827/827 [02:15<00:00,  7.60 MiB/s]


Extraction completed...:   0%|          | 0/536 [02:15<?, ? file/s]
Dl Completed...: 100%|██████████| 1/1 [02:15<00:00, 134.78s/ url]

Dl Size...: 100%|██████████| 827/827 [02:15<00:00,  7.60 MiB/s]


Extraction completed...:   0%|          | 0/537 [02:15<?, ? file/s]
Dl Completed...: 100%|██████████| 1/1 [02:15<00:00, 134.78s/ url]

Dl Size...: 100%|██████████| 827/827 [02:15<00:00,  7.60 MiB/s]


Extraction completed...:   0%|          | 0/538 [02:15<?, ? file/s]
Dl Completed...: 100%|██████████| 1/1 [02:15<00:00, 134.78s/ url]

Dl Size...: 100%|██████████| 827/827 [02:15<00:00,  7.60 MiB/s]


Extraction completed...:   0%|          | 0/539 [02:15<?, ? file/s]
Dl Completed...: 100%|██████████| 1/1 [02:15<00:00, 134.78s/ url]

Dl Size...: 100%|██████████| 827/827 [02:15<00:00,  7.60 MiB/s]


Extraction completed...:   0%|          | 0/540 [02:15<?, ? file/s]
Dl Completed...: 100%|██████████| 1/1 [02:15<00:00, 134.78s/ url]

Dl Size...: 100%|██████████| 827/827 [02:15<00:00,  7.60 MiB/s]


Extraction completed...:   0%|          | 0/541 [02:15<?, ? file/s]
Dl Completed...: 100%|██████████| 1/1 [02:15<00:00, 134.78s/ url]

Dl Size...: 100%|██████████| 827/827 [02:15<00:00,  7.60 MiB/s]


Extraction completed...:   0%|          | 0/542 [02:15<?, ? file/s]
Dl Completed...: 100%|██████████| 1/1 [02:15<00:00, 134.78s/ url]

Dl Size...: 100%|██████████| 827/827 [02:15<00:00,  7.60 MiB/s]


Extraction completed...:   0%|          | 0/543 [02:15<?, ? file/s]
Dl Completed...: 100%|██████████| 1/1 [02:15<00:00, 134.78s/ url]

Dl Size...: 100%|██████████| 827/827 [02:15<00:00,  7.60 MiB/s]


Extraction completed...:   0%|          | 0/544 [02:15<?, ? file/s]
Dl Completed...: 100%|██████████| 1/1 [02:15<00:00, 134.78s/ url]

Dl Size...: 100%|██████████| 827/827 [02:15<00:00,  7.60 MiB/s]


Extraction completed...:   0%|          | 0/545 [02:15<?, ? file/s]
Dl Completed...: 100%|██████████| 1/1 [02:15<00:00, 134.78s/ url]

Dl Size...: 100%|██████████| 827/827 [02:15<00:00,  7.60 MiB/s]


Extraction completed...:   0%|          | 0/546 [02:15<?, ? file/s]
Dl Completed...: 100%|██████████| 1/1 [02:15<00:00, 134.78s/ url]

Dl Size...: 100%|██████████| 827/827 [02:15<00:00,  7.60 MiB/s]


Extraction completed...:   0%|          | 0/547 [02:15<?, ? file/s]
Dl Completed...: 100%|██████████| 1/1 [02:15<00:00, 134.78s/ url]

Dl Size...: 100%|██████████| 827/827 [02:15<00:00,  7.60 MiB/s]


Extraction completed...:   0%|          | 0/548 [02:15<?, ? file/s]
Dl Completed...: 100%|██████████| 1/1 [02:15<00:00, 134.78s/ url]

Dl Size...: 100%|██████████| 827/827 [02:15<00:00,  7.60 MiB/s]


Extraction completed...:   0%|          | 0/549 [02:15<?, ? file/s]
Dl Completed...: 100%|██████████| 1/1 [02:15<00:00, 134.78s/ url]

Dl Size...: 100%|██████████| 827/827 [02:15<00:00,  7.60 MiB/s]


Extraction completed...:   0%|          | 0/550 [02:15<?, ? file/s]
Dl Completed...: 100%|██████████| 1/1 [02:15<00:00, 134.78s/ url]

Dl Size...: 100%|██████████| 827/827 [02:15<00:00,  7.60 MiB/s]


Extraction completed...:   0%|          | 0/551 [02:15<?, ? file/s]
Dl Completed...: 100%|██████████| 1/1 [02:15<00:00, 134.78s/ url]

Dl Size...: 100%|██████████| 827/827 [02:15<00:00,  7.60 MiB/s]


Extraction completed...:   0%|          | 0/552 [02:15<?, ? file/s]
Dl Completed...: 100%|██████████| 1/1 [02:15<00:00, 134.78s/ url]

Dl Size...: 100%|██████████| 827/827 [02:15<00:00,  7.60 MiB/s]


Extraction completed...:   0%|          | 0/553 [02:15<?, ? file/s]
Dl Completed...: 100%|██████████| 1/1 [02:15<00:00, 134.78s/ url]

Dl Size...: 100%|██████████| 827/827 [02:15<00:00,  7.60 MiB/s]


Extraction completed...:   0%|          | 0/554 [02:15<?, ? file/s]
Dl Completed...: 100%|██████████| 1/1 [02:15<00:00, 134.78s/ url]

Dl Size...: 100%|██████████| 827/827 [02:15<00:00,  7.60 MiB/s]


Extraction completed...:   0%|          | 0/555 [02:15<?, ? file/s]
Dl Completed...: 100%|██████████| 1/1 [02:15<00:00, 134.78s/ url]

Dl Size...: 100%|██████████| 827/827 [02:15<00:00,  7.60 MiB/s]


Extraction completed...:   0%|          | 0/556 [02:15<?, ? file/s]
Dl Completed...: 100%|██████████| 1/1 [02:15<00:00, 134.78s/ url]

Dl Size...: 100%|██████████| 827/827 [02:15<00:00,  7.60 MiB/s]


Extraction completed...:   0%|          | 0/557 [02:15<?, ? file/s]
Dl Completed...: 100%|██████████| 1/1 [02:15<00:00, 134.78s/ url]

Dl Size...: 100%|██████████| 827/827 [02:15<00:00,  7.60 MiB/s]


Extraction completed...:   0%|          | 0/558 [02:15<?, ? file/s]
Dl Completed...: 100%|██████████| 1/1 [02:15<00:00, 134.78s/ url]

Dl Size...: 100%|██████████| 827/827 [02:15<00:00,  7.60 MiB/s]


Extraction completed...:   0%|          | 0/559 [02:15<?, ? file/s]
Dl Completed...: 100%|██████████| 1/1 [02:15<00:00, 134.78s/ url]

Dl Size...: 100%|██████████| 827/827 [02:15<00:00,  7.60 MiB/s]


Extraction completed...:   0%|          | 0/560 [02:15<?, ? file/s]
Dl Completed...: 100%|██████████| 1/1 [02:15<00:00, 134.78s/ url]

Dl Size...: 100%|██████████| 827/827 [02:15<00:00,  7.60 MiB/s]


Extraction completed...:   0%|          | 0/561 [02:15<?, ? file/s]
Dl Completed...: 100%|██████████| 1/1 [02:15<00:00, 134.78s/ url]

Dl Size...: 100%|██████████| 827/827 [02:15<00:00,  7.60 MiB/s]


Extraction completed...:   0%|          | 0/562 [02:15<?, ? file/s]
Dl Completed...: 100%|██████████| 1/1 [02:15<00:00, 134.78s/ url]

Dl Size...: 100%|██████████| 827/827 [02:15<00:00,  7.60 MiB/s]


Extraction completed...:   0%|          | 0/563 [02:15<?, ? file/s]
Dl Completed...: 100%|██████████| 1/1 [02:15<00:00, 134.78s/ url]

Dl Size...: 100%|██████████| 827/827 [02:15<00:00,  7.60 MiB/s]


Extraction completed...:   0%|          | 0/564 [02:15<?, ? file/s]
Dl Completed...: 100%|██████████| 1/1 [02:15<00:00, 134.78s/ url]

Dl Size...: 100%|██████████| 827/827 [02:15<00:00,  7.60 MiB/s]


Extraction completed...:   0%|          | 0/565 [02:15<?, ? file/s]
Dl Completed...: 100%|██████████| 1/1 [02:15<00:00, 134.78s/ url]

Dl Size...: 100%|██████████| 827/827 [02:15<00:00,  7.60 MiB/s]


Extraction completed...:   0%|          | 0/566 [02:15<?, ? file/s]
Dl Completed...: 100%|██████████| 1/1 [02:15<00:00, 134.78s/ url]

Dl Size...: 100%|██████████| 827/827 [02:15<00:00,  7.60 MiB/s]


Extraction completed...:   0%|          | 0/567 [02:15<?, ? file/s]
Dl Completed...: 100%|██████████| 1/1 [02:15<00:00, 134.78s/ url]

Dl Size...: 100%|██████████| 827/827 [02:15<00:00,  7.60 MiB/s]


Extraction completed...:   0%|          | 0/568 [02:15<?, ? file/s]
Dl Completed...: 100%|██████████| 1/1 [02:15<00:00, 134.78s/ url]

Dl Size...: 100%|██████████| 827/827 [02:15<00:00,  7.60 MiB/s]


Extraction completed...:   0%|          | 0/569 [02:15<?, ? file/s]
Dl Completed...: 100%|██████████| 1/1 [02:15<00:00, 134.78s/ url]

Dl Size...: 100%|██████████| 827/827 [02:15<00:00,  7.60 MiB/s]


Extraction completed...:   0%|          | 0/570 [02:15<?, ? file/s]
Dl Completed...: 100%|██████████| 1/1 [02:15<00:00, 134.78s/ url]

Dl Size...: 100%|██████████| 827/827 [02:15<00:00,  7.60 MiB/s]


Extraction completed...:   0%|          | 0/571 [02:15<?, ? file/s]
Dl Completed...: 100%|██████████| 1/1 [02:15<00:00, 134.78s/ url]

Dl Size...: 100%|██████████| 827/827 [02:15<00:00,  7.60 MiB/s]


Extraction completed...:   0%|          | 0/572 [02:15<?, ? file/s]
Dl Completed...: 100%|██████████| 1/1 [02:15<00:00, 134.78s/ url]

Dl Size...: 100%|██████████| 827/827 [02:15<00:00,  7.60 MiB/s]


Extraction completed...:   0%|          | 0/573 [02:15<?, ? file/s]
Dl Completed...: 100%|██████████| 1/1 [02:15<00:00, 134.78s/ url]

Dl Size...: 100%|██████████| 827/827 [02:15<00:00,  7.60 MiB/s]


Extraction completed...:   0%|          | 0/574 [02:15<?, ? file/s]
Dl Completed...: 100%|██████████| 1/1 [02:15<00:00, 134.78s/ url]

Dl Size...: 100%|██████████| 827/827 [02:15<00:00,  7.60 MiB/s]


Extraction completed...:   0%|          | 0/575 [02:15<?, ? file/s]
Dl Completed...: 100%|██████████| 1/1 [02:15<00:00, 134.78s/ url]

Dl Size...: 100%|██████████| 827/827 [02:15<00:00,  7.60 MiB/s]


Extraction completed...:   0%|          | 0/576 [02:15<?, ? file/s]
Dl Completed...: 100%|██████████| 1/1 [02:15<00:00, 134.78s/ url]

Dl Size...: 100%|██████████| 827/827 [02:15<00:00,  7.60 MiB/s]


Extraction completed...:   0%|          | 0/577 [02:15<?, ? file/s]
Dl Completed...: 100%|██████████| 1/1 [02:15<00:00, 134.78s/ url]

Dl Size...: 100%|██████████| 827/827 [02:15<00:00,  7.60 MiB/s]


Extraction completed...:   0%|          | 0/578 [02:15<?, ? file/s]
Dl Completed...: 100%|██████████| 1/1 [02:15<00:00, 134.78s/ url]

Dl Size...: 100%|██████████| 827/827 [02:15<00:00,  7.60 MiB/s]


Extraction completed...:   0%|          | 0/579 [02:15<?, ? file/s]
Dl Completed...: 100%|██████████| 1/1 [02:15<00:00, 134.78s/ url]

Dl Size...: 100%|██████████| 827/827 [02:15<00:00,  7.60 MiB/s]


Extraction completed...:   0%|          | 0/580 [02:15<?, ? file/s]
Dl Completed...: 100%|██████████| 1/1 [02:15<00:00, 134.78s/ url]

Dl Size...: 100%|██████████| 827/827 [02:15<00:00,  7.60 MiB/s]


Extraction completed...:   0%|          | 0/581 [02:15<?, ? file/s]
Dl Completed...: 100%|██████████| 1/1 [02:15<00:00, 134.78s/ url]

Dl Size...: 100%|██████████| 827/827 [02:15<00:00,  7.60 MiB/s]


Extraction completed...:   0%|          | 0/582 [02:15<?, ? file/s]
Dl Completed...: 100%|██████████| 1/1 [02:15<00:00, 134.78s/ url]

Dl Size...: 100%|██████████| 827/827 [02:15<00:00,  7.60 MiB/s]


Extraction completed...:   0%|          | 0/583 [02:15<?, ? file/s]
Dl Completed...: 100%|██████████| 1/1 [02:15<00:00, 134.78s/ url]

Dl Size...: 100%|██████████| 827/827 [02:15<00:00,  7.60 MiB/s]


Extraction completed...:   0%|          | 0/584 [02:15<?, ? file/s]
Dl Completed...: 100%|██████████| 1/1 [02:15<00:00, 134.78s/ url]

Dl Size...: 100%|██████████| 827/827 [02:15<00:00,  7.60 MiB/s]


Extraction completed...:   0%|          | 0/585 [02:15<?, ? file/s]
Dl Completed...: 100%|██████████| 1/1 [02:15<00:00, 134.78s/ url]

Dl Size...: 100%|██████████| 827/827 [02:15<00:00,  7.60 MiB/s]


Extraction completed...:   0%|          | 0/586 [02:15<?, ? file/s]
Dl Completed...: 100%|██████████| 1/1 [02:15<00:00, 134.78s/ url]

Dl Size...: 100%|██████████| 827/827 [02:15<00:00,  7.60 MiB/s]


Extraction completed...:   0%|          | 0/587 [02:15<?, ? file/s]
Dl Completed...: 100%|██████████| 1/1 [02:15<00:00, 134.78s/ url]

Dl Size...: 100%|██████████| 827/827 [02:15<00:00,  7.60 MiB/s]


Extraction completed...:   0%|          | 0/588 [02:15<?, ? file/s]
Dl Completed...: 100%|██████████| 1/1 [02:15<00:00, 134.78s/ url]

Dl Size...: 100%|██████████| 827/827 [02:15<00:00,  7.60 MiB/s]


Extraction completed...:   0%|          | 0/589 [02:15<?, ? file/s]
Dl Completed...: 100%|██████████| 1/1 [02:15<00:00, 134.78s/ url]

Dl Size...: 100%|██████████| 827/827 [02:15<00:00,  7.60 MiB/s]


Extraction completed...:   0%|          | 0/590 [02:15<?, ? file/s]
Dl Completed...: 100%|██████████| 1/1 [02:15<00:00, 134.78s/ url]

Dl Size...: 100%|██████████| 827/827 [02:15<00:00,  7.60 MiB/s]


Extraction completed...:   0%|          | 0/591 [02:15<?, ? file/s]
Dl Completed...: 100%|██████████| 1/1 [02:15<00:00, 134.78s/ url]

Dl Size...: 100%|██████████| 827/827 [02:15<00:00,  7.60 MiB/s]


Extraction completed...:   0%|          | 0/592 [02:15<?, ? file/s]
Dl Completed...: 100%|██████████| 1/1 [02:15<00:00, 134.78s/ url]

Dl Size...: 100%|██████████| 827/827 [02:15<00:00,  7.60 MiB/s]


Extraction completed...:   0%|          | 0/593 [02:15<?, ? file/s]
Dl Completed...: 100%|██████████| 1/1 [02:15<00:00, 134.78s/ url]

Dl Size...: 100%|██████████| 827/827 [02:15<00:00,  7.60 MiB/s]


Extraction completed...:   0%|          | 0/594 [02:15<?, ? file/s]
Dl Completed...: 100%|██████████| 1/1 [02:15<00:00, 134.78s/ url]

Dl Size...: 100%|██████████| 827/827 [02:15<00:00,  7.60 MiB/s]


Extraction completed...:   0%|          | 0/595 [02:15<?, ? file/s]
Dl Completed...: 100%|██████████| 1/1 [02:15<00:00, 134.78s/ url]

Dl Size...: 100%|██████████| 827/827 [02:15<00:00,  7.60 MiB/s]


Extraction completed...:   0%|          | 0/596 [02:15<?, ? file/s]
Dl Completed...: 100%|██████████| 1/1 [02:15<00:00, 134.78s/ url]

Dl Size...: 100%|██████████| 827/827 [02:15<00:00,  7.60 MiB/s]


Extraction completed...:   0%|          | 0/597 [02:15<?, ? file/s]
Dl Completed...: 100%|██████████| 1/1 [02:15<00:00, 134.78s/ url]

Dl Size...: 100%|██████████| 827/827 [02:15<00:00,  7.60 MiB/s]


Extraction completed...:   0%|          | 0/598 [02:15<?, ? file/s]
Dl Completed...: 100%|██████████| 1/1 [02:15<00:00, 134.78s/ url]

Dl Size...: 100%|██████████| 827/827 [02:15<00:00,  7.60 MiB/s]


Extraction completed...:   0%|          | 0/599 [02:15<?, ? file/s]
Dl Completed...: 100%|██████████| 1/1 [02:15<00:00, 134.78s/ url]

Dl Size...: 100%|██████████| 827/827 [02:15<00:00,  7.60 MiB/s]


Extraction completed...:   0%|          | 0/600 [02:15<?, ? file/s]
Dl Completed...: 100%|██████████| 1/1 [02:15<00:00, 134.78s/ url]

Dl Size...: 100%|██████████| 827/827 [02:15<00:00,  7.60 MiB/s]


Extraction completed...:   0%|          | 0/601 [02:15<?, ? file/s]
Dl Completed...: 100%|██████████| 1/1 [02:15<00:00, 134.78s/ url]

Dl Size...: 100%|██████████| 827/827 [02:15<00:00,  7.60 MiB/s]


Extraction completed...:   0%|          | 0/602 [02:15<?, ? file/s]
Dl Completed...: 100%|██████████| 1/1 [02:15<00:00, 134.78s/ url]

Dl Size...: 100%|██████████| 827/827 [02:15<00:00,  7.60 MiB/s]


Extraction completed...:   0%|          | 0/603 [02:15<?, ? file/s]
Dl Completed...: 100%|██████████| 1/1 [02:15<00:00, 134.78s/ url]

Dl Size...: 100%|██████████| 827/827 [02:15<00:00,  7.60 MiB/s]


Extraction completed...:   0%|          | 0/604 [02:15<?, ? file/s]
Dl Completed...: 100%|██████████| 1/1 [02:15<00:00, 134.78s/ url]

Dl Size...: 100%|██████████| 827/827 [02:15<00:00,  7.60 MiB/s]


Extraction completed...:   0%|          | 0/605 [02:15<?, ? file/s]
Dl Completed...: 100%|██████████| 1/1 [02:15<00:00, 134.78s/ url]

Dl Size...: 100%|██████████| 827/827 [02:15<00:00,  7.60 MiB/s]


Extraction completed...:   0%|          | 0/606 [02:15<?, ? file/s]
Dl Completed...: 100%|██████████| 1/1 [02:15<00:00, 134.78s/ url]

Dl Size...: 100%|██████████| 827/827 [02:15<00:00,  7.60 MiB/s]


Extraction completed...:   0%|          | 0/607 [02:15<?, ? file/s]
Dl Completed...: 100%|██████████| 1/1 [02:15<00:00, 134.78s/ url]

Dl Size...: 100%|██████████| 827/827 [02:15<00:00,  7.60 MiB/s]


Extraction completed...:   0%|          | 0/608 [02:15<?, ? file/s]
Dl Completed...: 100%|██████████| 1/1 [02:15<00:00, 134.78s/ url]

Dl Size...: 100%|██████████| 827/827 [02:15<00:00,  7.60 MiB/s]


Extraction completed...:   0%|          | 0/609 [02:15<?, ? file/s]
Dl Completed...: 100%|██████████| 1/1 [02:15<00:00, 134.78s/ url]

Dl Size...: 100%|██████████| 827/827 [02:15<00:00,  7.60 MiB/s]


Extraction completed...:   0%|          | 0/610 [02:15<?, ? file/s]
Dl Completed...: 100%|██████████| 1/1 [02:15<00:00, 134.78s/ url]

Dl Size...: 100%|██████████| 827/827 [02:15<00:00,  7.60 MiB/s]


Extraction completed...:   0%|          | 0/611 [02:15<?, ? file/s]
Dl Completed...: 100%|██████████| 1/1 [02:15<00:00, 134.78s/ url]

Dl Size...: 100%|██████████| 827/827 [02:15<00:00,  7.60 MiB/s]


Extraction completed...:   0%|          | 0/612 [02:15<?, ? file/s]
Dl Completed...: 100%|██████████| 1/1 [02:15<00:00, 134.78s/ url]

Dl Size...: 100%|██████████| 827/827 [02:15<00:00,  7.60 MiB/s]


Extraction completed...:   0%|          | 0/613 [02:15<?, ? file/s]
Dl Completed...: 100%|██████████| 1/1 [02:15<00:00, 134.78s/ url]

Dl Size...: 100%|██████████| 827/827 [02:15<00:00,  7.60 MiB/s]


Extraction completed...:   0%|          | 0/614 [02:15<?, ? file/s]
Dl Completed...: 100%|██████████| 1/1 [02:15<00:00, 134.78s/ url]

Dl Size...: 100%|██████████| 827/827 [02:15<00:00,  7.60 MiB/s]


Extraction completed...:   0%|          | 0/615 [02:15<?, ? file/s]
Dl Completed...: 100%|██████████| 1/1 [02:15<00:00, 134.78s/ url]

Dl Size...: 100%|██████████| 827/827 [02:15<00:00,  7.60 MiB/s]


Extraction completed...:   0%|          | 0/616 [02:15<?, ? file/s]
Dl Completed...: 100%|██████████| 1/1 [02:15<00:00, 134.78s/ url]

Dl Size...: 100%|██████████| 827/827 [02:15<00:00,  7.60 MiB/s]


Extraction completed...:   0%|          | 0/617 [02:15<?, ? file/s]
Dl Completed...: 100%|██████████| 1/1 [02:15<00:00, 134.78s/ url]

Dl Size...: 100%|██████████| 827/827 [02:15<00:00,  7.60 MiB/s]


Extraction completed...:   0%|          | 0/618 [02:15<?, ? file/s]
Dl Completed...: 100%|██████████| 1/1 [02:15<00:00, 134.78s/ url]

Dl Size...: 100%|██████████| 827/827 [02:15<00:00,  7.60 MiB/s]


Extraction completed...:   0%|          | 0/619 [02:15<?, ? file/s]
Dl Completed...: 100%|██████████| 1/1 [02:15<00:00, 134.78s/ url]

Dl Size...: 100%|██████████| 827/827 [02:15<00:00,  7.60 MiB/s]


Extraction completed...:   0%|          | 0/620 [02:15<?, ? file/s]
Dl Completed...: 100%|██████████| 1/1 [02:15<00:00, 134.78s/ url]

Dl Size...: 100%|██████████| 827/827 [02:15<00:00,  7.60 MiB/s]


Extraction completed...:   0%|          | 0/621 [02:15<?, ? file/s]
Dl Completed...: 100%|██████████| 1/1 [02:15<00:00, 134.78s/ url]

Dl Size...: 100%|██████████| 827/827 [02:15<00:00,  7.60 MiB/s]


Extraction completed...:   0%|          | 0/622 [02:15<?, ? file/s]
Dl Completed...: 100%|██████████| 1/1 [02:15<00:00, 134.78s/ url]

Dl Size...: 100%|██████████| 827/827 [02:15<00:00,  7.60 MiB/s]


Extraction completed...:   0%|          | 0/623 [02:15<?, ? file/s]
Dl Completed...: 100%|██████████| 1/1 [02:15<00:00, 134.78s/ url]

Dl Size...: 100%|██████████| 827/827 [02:15<00:00,  7.60 MiB/s]


Extraction completed...:   0%|          | 0/624 [02:15<?, ? file/s]
Dl Completed...: 100%|██████████| 1/1 [02:15<00:00, 134.78s/ url]

Dl Size...: 100%|██████████| 827/827 [02:15<00:00,  7.60 MiB/s]


Extraction completed...:   0%|          | 0/625 [02:15<?, ? file/s]
Dl Completed...: 100%|██████████| 1/1 [02:15<00:00, 134.78s/ url]

Dl Size...: 100%|██████████| 827/827 [02:15<00:00,  7.60 MiB/s]


Extraction completed...:   0%|          | 0/626 [02:15<?, ? file/s]
Dl Completed...: 100%|██████████| 1/1 [02:15<00:00, 134.78s/ url]

Dl Size...: 100%|██████████| 827/827 [02:15<00:00,  7.60 MiB/s]


Extraction completed...:   0%|          | 0/627 [02:15<?, ? file/s]
Dl Completed...: 100%|██████████| 1/1 [02:15<00:00, 134.78s/ url]

Dl Size...: 100%|██████████| 827/827 [02:15<00:00,  7.60 MiB/s]


Extraction completed...:   0%|          | 0/628 [02:15<?, ? file/s]
Dl Completed...: 100%|██████████| 1/1 [02:15<00:00, 134.78s/ url]

Dl Size...: 100%|██████████| 827/827 [02:15<00:00,  7.60 MiB/s]


Extraction completed...:   0%|          | 0/629 [02:15<?, ? file/s]
Dl Completed...: 100%|██████████| 1/1 [02:15<00:00, 134.78s/ url]

Dl Size...: 100%|██████████| 827/827 [02:15<00:00,  7.60 MiB/s]


Extraction completed...:   0%|          | 0/630 [02:15<?, ? file/s]
Dl Completed...: 100%|██████████| 1/1 [02:15<00:00, 134.78s/ url]

Dl Size...: 100%|██████████| 827/827 [02:15<00:00,  7.60 MiB/s]


Extraction completed...:   0%|          | 0/631 [02:15<?, ? file/s]
Dl Completed...: 100%|██████████| 1/1 [02:15<00:00, 134.78s/ url]

Dl Size...: 100%|██████████| 827/827 [02:15<00:00,  7.60 MiB/s]


Extraction completed...:   0%|          | 0/632 [02:15<?, ? file/s]
Dl Completed...: 100%|██████████| 1/1 [02:15<00:00, 134.78s/ url]

Dl Size...: 100%|██████████| 827/827 [02:15<00:00,  7.60 MiB/s]


Extraction completed...:   0%|          | 0/633 [02:15<?, ? file/s]
Dl Completed...: 100%|██████████| 1/1 [02:15<00:00, 134.78s/ url]

Dl Size...: 100%|██████████| 827/827 [02:15<00:00,  7.60 MiB/s]


Extraction completed...:   0%|          | 0/634 [02:15<?, ? file/s]
Dl Completed...: 100%|██████████| 1/1 [02:15<00:00, 134.78s/ url]

Dl Size...: 100%|██████████| 827/827 [02:15<00:00,  7.60 MiB/s]


Extraction completed...:   0%|          | 0/635 [02:15<?, ? file/s]
Dl Completed...: 100%|██████████| 1/1 [02:15<00:00, 134.78s/ url]

Dl Size...: 100%|██████████| 827/827 [02:15<00:00,  7.60 MiB/s]


Extraction completed...:   0%|          | 0/636 [02:15<?, ? file/s]
Dl Completed...: 100%|██████████| 1/1 [02:15<00:00, 134.78s/ url]

Dl Size...: 100%|██████████| 827/827 [02:15<00:00,  7.60 MiB/s]


Extraction completed...:   0%|          | 0/637 [02:15<?, ? file/s]
Dl Completed...: 100%|██████████| 1/1 [02:15<00:00, 134.78s/ url]

Dl Size...: 100%|██████████| 827/827 [02:15<00:00,  7.60 MiB/s]


Extraction completed...:   0%|          | 0/638 [02:15<?, ? file/s]
Dl Completed...: 100%|██████████| 1/1 [02:15<00:00, 134.78s/ url]

Dl Size...: 100%|██████████| 827/827 [02:15<00:00,  7.60 MiB/s]


Extraction completed...:   0%|          | 0/639 [02:15<?, ? file/s]
Dl Completed...: 100%|██████████| 1/1 [02:15<00:00, 134.78s/ url]

Dl Size...: 100%|██████████| 827/827 [02:15<00:00,  7.60 MiB/s]


Extraction completed...:   0%|          | 0/640 [02:15<?, ? file/s]
Dl Completed...: 100%|██████████| 1/1 [02:15<00:00, 134.78s/ url]

Dl Size...: 100%|██████████| 827/827 [02:15<00:00,  7.60 MiB/s]


Extraction completed...:   0%|          | 0/641 [02:15<?, ? file/s]
Dl Completed...: 100%|██████████| 1/1 [02:15<00:00, 134.78s/ url]

Dl Size...: 100%|██████████| 827/827 [02:15<00:00,  7.60 MiB/s]


Extraction completed...:   0%|          | 0/642 [02:15<?, ? file/s]
Dl Completed...: 100%|██████████| 1/1 [02:15<00:00, 134.78s/ url]

Dl Size...: 100%|██████████| 827/827 [02:15<00:00,  7.60 MiB/s]


Extraction completed...:   0%|          | 0/643 [02:15<?, ? file/s]
Dl Completed...: 100%|██████████| 1/1 [02:15<00:00, 134.78s/ url]

Dl Size...: 100%|██████████| 827/827 [02:15<00:00,  7.60 MiB/s]


Extraction completed...:   0%|          | 0/644 [02:15<?, ? file/s]
Dl Completed...: 100%|██████████| 1/1 [02:15<00:00, 134.78s/ url]

Dl Size...: 100%|██████████| 827/827 [02:15<00:00,  7.60 MiB/s]


Extraction completed...:   0%|          | 0/645 [02:15<?, ? file/s]
Dl Completed...: 100%|██████████| 1/1 [02:15<00:00, 134.78s/ url]

Dl Size...: 100%|██████████| 827/827 [02:15<00:00,  7.60 MiB/s]


Extraction completed...:   0%|          | 0/646 [02:15<?, ? file/s]
Dl Completed...: 100%|██████████| 1/1 [02:15<00:00, 134.78s/ url]

Dl Size...: 100%|██████████| 827/827 [02:15<00:00,  7.60 MiB/s]


Extraction completed...:   0%|          | 0/647 [02:15<?, ? file/s]
Dl Completed...: 100%|██████████| 1/1 [02:15<00:00, 134.78s/ url]

Dl Size...: 100%|██████████| 827/827 [02:15<00:00,  7.60 MiB/s]


Extraction completed...:   0%|          | 0/648 [02:15<?, ? file/s]
Dl Completed...: 100%|██████████| 1/1 [02:15<00:00, 134.78s/ url]

Dl Size...: 100%|██████████| 827/827 [02:15<00:00,  7.60 MiB/s]


Extraction completed...:   0%|          | 0/649 [02:15<?, ? file/s]
Dl Completed...: 100%|██████████| 1/1 [02:15<00:00, 134.78s/ url]

Dl Size...: 100%|██████████| 827/827 [02:15<00:00,  7.60 MiB/s]


Extraction completed...:   0%|          | 0/650 [02:15<?, ? file/s]
Dl Completed...: 100%|██████████| 1/1 [02:15<00:00, 134.78s/ url]

Dl Size...: 100%|██████████| 827/827 [02:15<00:00,  7.60 MiB/s]


Extraction completed...:   0%|          | 0/651 [02:15<?, ? file/s]
Dl Completed...: 100%|██████████| 1/1 [02:15<00:00, 134.78s/ url]

Dl Size...: 100%|██████████| 827/827 [02:15<00:00,  7.60 MiB/s]


Extraction completed...:   0%|          | 0/652 [02:15<?, ? file/s]
Dl Completed...: 100%|██████████| 1/1 [02:15<00:00, 134.78s/ url]

Dl Size...: 100%|██████████| 827/827 [02:15<00:00,  7.60 MiB/s]


Extraction completed...:   0%|          | 0/653 [02:15<?, ? file/s]
Dl Completed...: 100%|██████████| 1/1 [02:15<00:00, 134.78s/ url]

Dl Size...: 100%|██████████| 827/827 [02:15<00:00,  7.60 MiB/s]


Extraction completed...:   0%|          | 0/654 [02:15<?, ? file/s]
Dl Completed...: 100%|██████████| 1/1 [02:15<00:00, 134.78s/ url]

Dl Size...: 100%|██████████| 827/827 [02:15<00:00,  7.60 MiB/s]


Extraction completed...:   0%|          | 0/655 [02:15<?, ? file/s]
Dl Completed...: 100%|██████████| 1/1 [02:15<00:00, 134.78s/ url]

Dl Size...: 100%|██████████| 827/827 [02:15<00:00,  7.60 MiB/s]


Extraction completed...:   0%|          | 0/656 [02:15<?, ? file/s]
Dl Completed...: 100%|██████████| 1/1 [02:15<00:00, 134.78s/ url]

Dl Size...: 100%|██████████| 827/827 [02:15<00:00,  7.60 MiB/s]


Extraction completed...:   0%|          | 0/657 [02:15<?, ? file/s]
Dl Completed...: 100%|██████████| 1/1 [02:15<00:00, 134.78s/ url]

Dl Size...: 100%|██████████| 827/827 [02:15<00:00,  7.60 MiB/s]


Extraction completed...:   0%|          | 0/658 [02:15<?, ? file/s]
Dl Completed...: 100%|██████████| 1/1 [02:15<00:00, 134.78s/ url]

Dl Size...: 100%|██████████| 827/827 [02:15<00:00,  7.60 MiB/s]


Extraction completed...:   0%|          | 0/659 [02:15<?, ? file/s]
Dl Completed...: 100%|██████████| 1/1 [02:15<00:00, 134.78s/ url]

Dl Size...: 100%|██████████| 827/827 [02:15<00:00,  7.60 MiB/s]


Extraction completed...:   0%|          | 0/660 [02:15<?, ? file/s]
Dl Completed...: 100%|██████████| 1/1 [02:15<00:00, 134.78s/ url]

Dl Size...: 100%|██████████| 827/827 [02:15<00:00,  7.60 MiB/s]


Extraction completed...:   0%|          | 0/661 [02:15<?, ? file/s]
Dl Completed...: 100%|██████████| 1/1 [02:15<00:00, 134.78s/ url]

Dl Size...: 100%|██████████| 827/827 [02:15<00:00,  7.60 MiB/s]


Extraction completed...:   0%|          | 0/662 [02:15<?, ? file/s]
Dl Completed...: 100%|██████████| 1/1 [02:15<00:00, 134.78s/ url]

Dl Size...: 100%|██████████| 827/827 [02:15<00:00,  7.60 MiB/s]


Extraction completed...:   0%|          | 0/663 [02:15<?, ? file/s]
Dl Completed...: 100%|██████████| 1/1 [02:15<00:00, 134.78s/ url]

Dl Size...: 100%|██████████| 827/827 [02:15<00:00,  7.60 MiB/s]


Extraction completed...:   0%|          | 0/664 [02:15<?, ? file/s]
Dl Completed...: 100%|██████████| 1/1 [02:15<00:00, 134.78s/ url]

Dl Size...: 100%|██████████| 827/827 [02:15<00:00,  7.60 MiB/s]


Extraction completed...:   0%|          | 0/665 [02:15<?, ? file/s]
Dl Completed...: 100%|██████████| 1/1 [02:15<00:00, 134.78s/ url]

Dl Size...: 100%|██████████| 827/827 [02:15<00:00,  7.60 MiB/s]


Extraction completed...:   0%|          | 0/666 [02:15<?, ? file/s]
Dl Completed...: 100%|██████████| 1/1 [02:15<00:00, 134.78s/ url]

Dl Size...: 100%|██████████| 827/827 [02:15<00:00,  7.60 MiB/s]


Extraction completed...:   0%|          | 0/667 [02:15<?, ? file/s]
Dl Completed...: 100%|██████████| 1/1 [02:15<00:00, 134.78s/ url]

Dl Size...: 100%|██████████| 827/827 [02:15<00:00,  7.60 MiB/s]


Extraction completed...:   0%|          | 0/668 [02:15<?, ? file/s]
Dl Completed...: 100%|██████████| 1/1 [02:15<00:00, 134.78s/ url]

Dl Size...: 100%|██████████| 827/827 [02:15<00:00,  7.60 MiB/s]


Extraction completed...:   0%|          | 0/669 [02:15<?, ? file/s]
Dl Completed...: 100%|██████████| 1/1 [02:15<00:00, 134.78s/ url]

Dl Size...: 100%|██████████| 827/827 [02:15<00:00,  7.60 MiB/s]


Extraction completed...:   0%|          | 0/670 [02:15<?, ? file/s]
Dl Completed...: 100%|██████████| 1/1 [02:15<00:00, 134.78s/ url]

Dl Size...: 100%|██████████| 827/827 [02:15<00:00,  7.60 MiB/s]


Extraction completed...:   0%|          | 0/671 [02:15<?, ? file/s]
Dl Completed...: 100%|██████████| 1/1 [02:15<00:00, 134.78s/ url]

Dl Size...: 100%|██████████| 827/827 [02:15<00:00,  7.60 MiB/s]


Extraction completed...:   0%|          | 0/672 [02:15<?, ? file/s]
Dl Completed...: 100%|██████████| 1/1 [02:15<00:00, 134.78s/ url]

Dl Size...: 100%|██████████| 827/827 [02:15<00:00,  7.60 MiB/s]


Extraction completed...:   0%|          | 0/673 [02:15<?, ? file/s]
Dl Completed...: 100%|██████████| 1/1 [02:15<00:00, 134.78s/ url]

Dl Size...: 100%|██████████| 827/827 [02:15<00:00,  7.60 MiB/s]


Extraction completed...:   0%|          | 0/674 [02:15<?, ? file/s]
Dl Completed...: 100%|██████████| 1/1 [02:15<00:00, 134.78s/ url]

Dl Size...: 100%|██████████| 827/827 [02:15<00:00,  7.60 MiB/s]


Extraction completed...:   0%|          | 0/675 [02:15<?, ? file/s]
Dl Completed...: 100%|██████████| 1/1 [02:15<00:00, 134.78s/ url]

Dl Size...: 100%|██████████| 827/827 [02:15<00:00,  7.60 MiB/s]


Extraction completed...:   0%|          | 0/676 [02:15<?, ? file/s]
Dl Completed...: 100%|██████████| 1/1 [02:15<00:00, 134.78s/ url]

Dl Size...: 100%|██████████| 827/827 [02:15<00:00,  7.60 MiB/s]


Extraction completed...:   0%|          | 0/677 [02:15<?, ? file/s]
Dl Completed...: 100%|██████████| 1/1 [02:15<00:00, 134.78s/ url]

Dl Size...: 100%|██████████| 827/827 [02:15<00:00,  7.60 MiB/s]


Extraction completed...:   0%|          | 0/678 [02:15<?, ? file/s]
Dl Completed...: 100%|██████████| 1/1 [02:15<00:00, 134.78s/ url]

Dl Size...: 100%|██████████| 827/827 [02:15<00:00,  7.60 MiB/s]


Extraction completed...:   0%|          | 0/679 [02:15<?, ? file/s]
Dl Completed...: 100%|██████████| 1/1 [02:15<00:00, 134.78s/ url]

Dl Size...: 100%|██████████| 827/827 [02:15<00:00,  7.60 MiB/s]


Extraction completed...:   0%|          | 0/680 [02:15<?, ? file/s]
Dl Completed...: 100%|██████████| 1/1 [02:15<00:00, 134.78s/ url]

Dl Size...: 100%|██████████| 827/827 [02:15<00:00,  7.60 MiB/s]


Extraction completed...:   0%|          | 0/681 [02:15<?, ? file/s]
Dl Completed...: 100%|██████████| 1/1 [02:15<00:00, 134.78s/ url]

Dl Size...: 100%|██████████| 827/827 [02:15<00:00,  7.60 MiB/s]


Extraction completed...:   0%|          | 0/682 [02:15<?, ? file/s]
Dl Completed...: 100%|██████████| 1/1 [02:15<00:00, 134.78s/ url]

Dl Size...: 100%|██████████| 827/827 [02:15<00:00,  7.60 MiB/s]


Extraction completed...:   0%|          | 0/683 [02:15<?, ? file/s]
Dl Completed...: 100%|██████████| 1/1 [02:15<00:00, 134.78s/ url]

Dl Size...: 100%|██████████| 827/827 [02:15<00:00,  7.60 MiB/s]


Extraction completed...:   0%|          | 0/684 [02:15<?, ? file/s]
Dl Completed...: 100%|██████████| 1/1 [02:15<00:00, 134.78s/ url]

Dl Size...: 100%|██████████| 827/827 [02:15<00:00,  7.60 MiB/s]


Extraction completed...:   0%|          | 0/685 [02:15<?, ? file/s]
Dl Completed...: 100%|██████████| 1/1 [02:15<00:00, 134.78s/ url]

Dl Size...: 100%|██████████| 827/827 [02:15<00:00,  7.60 MiB/s]


Extraction completed...:   0%|          | 0/686 [02:15<?, ? file/s]
Dl Completed...: 100%|██████████| 1/1 [02:15<00:00, 134.78s/ url]

Dl Size...: 100%|██████████| 827/827 [02:15<00:00,  7.60 MiB/s]


Extraction completed...:   0%|          | 0/687 [02:15<?, ? file/s]
Dl Completed...: 100%|██████████| 1/1 [02:15<00:00, 134.78s/ url]

Dl Size...: 100%|██████████| 827/827 [02:15<00:00,  7.60 MiB/s]


Extraction completed...:   0%|          | 0/688 [02:15<?, ? file/s]
Dl Completed...: 100%|██████████| 1/1 [02:15<00:00, 134.78s/ url]

Dl Size...: 100%|██████████| 827/827 [02:15<00:00,  7.60 MiB/s]


Extraction completed...:   0%|          | 0/689 [02:15<?, ? file/s]
Dl Completed...: 100%|██████████| 1/1 [02:15<00:00, 134.78s/ url]

Dl Size...: 100%|██████████| 827/827 [02:15<00:00,  7.60 MiB/s]


Extraction completed...:   0%|          | 0/690 [02:15<?, ? file/s]
Dl Completed...: 100%|██████████| 1/1 [02:15<00:00, 134.78s/ url]

Dl Size...: 100%|██████████| 827/827 [02:15<00:00,  7.60 MiB/s]


Extraction completed...:   0%|          | 0/691 [02:15<?, ? file/s]
Dl Completed...: 100%|██████████| 1/1 [02:15<00:00, 134.78s/ url]

Dl Size...: 100%|██████████| 827/827 [02:15<00:00,  7.60 MiB/s]


Extraction completed...:   0%|          | 0/692 [02:15<?, ? file/s]
Dl Completed...: 100%|██████████| 1/1 [02:15<00:00, 134.78s/ url]

Dl Size...: 100%|██████████| 827/827 [02:15<00:00,  7.60 MiB/s]


Extraction completed...:   0%|          | 0/693 [02:15<?, ? file/s]
Dl Completed...: 100%|██████████| 1/1 [02:15<00:00, 134.78s/ url]

Dl Size...: 100%|██████████| 827/827 [02:15<00:00,  7.60 MiB/s]


Extraction completed...:   0%|          | 0/694 [02:15<?, ? file/s]
Dl Completed...: 100%|██████████| 1/1 [02:15<00:00, 134.78s/ url]

Dl Size...: 100%|██████████| 827/827 [02:15<00:00,  7.60 MiB/s]


Extraction completed...:   0%|          | 0/695 [02:15<?, ? file/s]
Dl Completed...: 100%|██████████| 1/1 [02:15<00:00, 134.78s/ url]

Dl Size...: 100%|██████████| 827/827 [02:15<00:00,  7.60 MiB/s]


Extraction completed...:   0%|          | 0/696 [02:15<?, ? file/s]
Dl Completed...: 100%|██████████| 1/1 [02:15<00:00, 134.78s/ url]

Dl Size...: 100%|██████████| 827/827 [02:15<00:00,  7.60 MiB/s]


Extraction completed...:   0%|          | 0/697 [02:15<?, ? file/s]
Dl Completed...: 100%|██████████| 1/1 [02:15<00:00, 134.78s/ url]

Dl Size...: 100%|██████████| 827/827 [02:15<00:00,  7.60 MiB/s]


Extraction completed...:   0%|          | 0/698 [02:15<?, ? file/s]
Dl Completed...: 100%|██████████| 1/1 [02:15<00:00, 134.78s/ url]

Dl Size...: 100%|██████████| 827/827 [02:15<00:00,  7.60 MiB/s]


Extraction completed...:   0%|          | 0/699 [02:15<?, ? file/s]
Dl Completed...: 100%|██████████| 1/1 [02:15<00:00, 134.78s/ url]

Dl Size...: 100%|██████████| 827/827 [02:15<00:00,  7.60 MiB/s]


Extraction completed...:   0%|          | 0/700 [02:15<?, ? file/s]
Dl Completed...: 100%|██████████| 1/1 [02:15<00:00, 134.78s/ url]

Dl Size...: 100%|██████████| 827/827 [02:15<00:00,  7.60 MiB/s]


Extraction completed...:   0%|          | 0/701 [02:15<?, ? file/s]
Dl Completed...: 100%|██████████| 1/1 [02:15<00:00, 134.78s/ url]

Dl Size...: 100%|██████████| 827/827 [02:15<00:00,  7.60 MiB/s]


Extraction completed...:   0%|          | 0/702 [02:15<?, ? file/s]
Dl Completed...: 100%|██████████| 1/1 [02:15<00:00, 134.78s/ url]

Dl Size...: 100%|██████████| 827/827 [02:15<00:00,  7.60 MiB/s]


Extraction completed...:   0%|          | 0/703 [02:15<?, ? file/s]
Dl Completed...: 100%|██████████| 1/1 [02:15<00:00, 134.78s/ url]

Dl Size...: 100%|██████████| 827/827 [02:15<00:00,  7.60 MiB/s]


Extraction completed...:   0%|          | 0/704 [02:15<?, ? file/s]
Dl Completed...: 100%|██████████| 1/1 [02:15<00:00, 134.78s/ url]

Dl Size...: 100%|██████████| 827/827 [02:15<00:00,  7.60 MiB/s]


Extraction completed...:   0%|          | 0/705 [02:15<?, ? file/s]
Dl Completed...: 100%|██████████| 1/1 [02:15<00:00, 134.78s/ url]

Dl Size...: 100%|██████████| 827/827 [02:15<00:00,  7.60 MiB/s]


Extraction completed...:   0%|          | 0/706 [02:15<?, ? file/s]
Dl Completed...: 100%|██████████| 1/1 [02:15<00:00, 134.78s/ url]

Dl Size...: 100%|██████████| 827/827 [02:15<00:00,  7.60 MiB/s]


Extraction completed...:   0%|          | 0/707 [02:15<?, ? file/s]
Dl Completed...: 100%|██████████| 1/1 [02:15<00:00, 134.78s/ url]

Dl Size...: 100%|██████████| 827/827 [02:15<00:00,  7.60 MiB/s]


Extraction completed...:   0%|          | 0/708 [02:15<?, ? file/s]
Dl Completed...: 100%|██████████| 1/1 [02:15<00:00, 134.78s/ url]

Dl Size...: 100%|██████████| 827/827 [02:15<00:00,  7.60 MiB/s]


Extraction completed...:   0%|          | 0/709 [02:15<?, ? file/s]
Dl Completed...: 100%|██████████| 1/1 [02:15<00:00, 134.78s/ url]

Dl Size...: 100%|██████████| 827/827 [02:15<00:00,  7.60 MiB/s]


Extraction completed...:   0%|          | 0/710 [02:15<?, ? file/s]
Dl Completed...: 100%|██████████| 1/1 [02:15<00:00, 134.78s/ url]

Dl Size...: 100%|██████████| 827/827 [02:15<00:00,  7.60 MiB/s]


Extraction completed...:   0%|          | 0/711 [02:15<?, ? file/s]
Dl Completed...: 100%|██████████| 1/1 [02:15<00:00, 134.78s/ url]

Dl Size...: 100%|██████████| 827/827 [02:15<00:00,  7.60 MiB/s]


Extraction completed...:   0%|          | 0/712 [02:15<?, ? file/s]
Dl Completed...: 100%|██████████| 1/1 [02:15<00:00, 134.78s/ url]

Dl Size...: 100%|██████████| 827/827 [02:15<00:00,  7.60 MiB/s]


Extraction completed...:   0%|          | 0/713 [02:15<?, ? file/s]
Dl Completed...: 100%|██████████| 1/1 [02:15<00:00, 134.78s/ url]

Dl Size...: 100%|██████████| 827/827 [02:15<00:00,  7.60 MiB/s]


Extraction completed...:   0%|          | 0/714 [02:15<?, ? file/s]
Dl Completed...: 100%|██████████| 1/1 [02:15<00:00, 134.78s/ url]

Dl Size...: 100%|██████████| 827/827 [02:15<00:00,  7.60 MiB/s]


Extraction completed...:   0%|          | 0/715 [02:15<?, ? file/s]
Dl Completed...: 100%|██████████| 1/1 [02:15<00:00, 134.78s/ url]

Dl Size...: 100%|██████████| 827/827 [02:15<00:00,  7.60 MiB/s]


Extraction completed...:   0%|          | 0/716 [02:15<?, ? file/s]
Dl Completed...: 100%|██████████| 1/1 [02:15<00:00, 134.78s/ url]

Dl Size...: 100%|██████████| 827/827 [02:15<00:00,  7.60 MiB/s]


Extraction completed...:   0%|          | 0/717 [02:15<?, ? file/s]
Dl Completed...: 100%|██████████| 1/1 [02:15<00:00, 134.78s/ url]

Dl Size...: 100%|██████████| 827/827 [02:15<00:00,  7.60 MiB/s]


Extraction completed...:   0%|          | 0/718 [02:15<?, ? file/s]
Dl Completed...: 100%|██████████| 1/1 [02:15<00:00, 134.78s/ url]

Dl Size...: 100%|██████████| 827/827 [02:15<00:00,  7.60 MiB/s]


Extraction completed...:   0%|          | 0/719 [02:15<?, ? file/s]
Dl Completed...: 100%|██████████| 1/1 [02:15<00:00, 134.78s/ url]

Dl Size...: 100%|██████████| 827/827 [02:15<00:00,  7.60 MiB/s]


Extraction completed...:   0%|          | 0/720 [02:15<?, ? file/s]
Dl Completed...: 100%|██████████| 1/1 [02:15<00:00, 134.78s/ url]

Dl Size...: 100%|██████████| 827/827 [02:15<00:00,  7.60 MiB/s]


Extraction completed...:   0%|          | 0/721 [02:15<?, ? file/s]
Dl Completed...: 100%|██████████| 1/1 [02:15<00:00, 134.78s/ url]

Dl Size...: 100%|██████████| 827/827 [02:15<00:00,  7.60 MiB/s]


Extraction completed...:   0%|          | 0/722 [02:15<?, ? file/s]
Dl Completed...: 100%|██████████| 1/1 [02:15<00:00, 134.78s/ url]

Dl Size...: 100%|██████████| 827/827 [02:15<00:00,  7.60 MiB/s]


Extraction completed...:   0%|          | 0/723 [02:15<?, ? file/s]
Dl Completed...: 100%|██████████| 1/1 [02:15<00:00, 134.78s/ url]

Dl Size...: 100%|██████████| 827/827 [02:15<00:00,  7.60 MiB/s]


Extraction completed...:   0%|          | 0/724 [02:15<?, ? file/s]
Dl Completed...: 100%|██████████| 1/1 [02:15<00:00, 134.78s/ url]

Dl Size...: 100%|██████████| 827/827 [02:15<00:00,  7.60 MiB/s]


Extraction completed...:   0%|          | 0/725 [02:15<?, ? file/s]
Dl Completed...: 100%|██████████| 1/1 [02:15<00:00, 134.78s/ url]

Dl Size...: 100%|██████████| 827/827 [02:15<00:00,  7.60 MiB/s]


Extraction completed...:   0%|          | 0/726 [02:15<?, ? file/s]
Dl Completed...: 100%|██████████| 1/1 [02:15<00:00, 134.78s/ url]

Dl Size...: 100%|██████████| 827/827 [02:15<00:00,  7.60 MiB/s]


Extraction completed...:   0%|          | 0/727 [02:15<?, ? file/s]
Dl Completed...: 100%|██████████| 1/1 [02:15<00:00, 134.78s/ url]

Dl Size...: 100%|██████████| 827/827 [02:15<00:00,  7.60 MiB/s]


Extraction completed...:   0%|          | 0/728 [02:15<?, ? file/s]
Dl Completed...: 100%|██████████| 1/1 [02:15<00:00, 134.78s/ url]

Dl Size...: 100%|██████████| 827/827 [02:15<00:00,  7.60 MiB/s]


Extraction completed...:   0%|          | 0/729 [02:15<?, ? file/s]
Dl Completed...: 100%|██████████| 1/1 [02:15<00:00, 134.78s/ url]

Dl Size...: 100%|██████████| 827/827 [02:15<00:00,  7.60 MiB/s]


Extraction completed...:   0%|          | 0/730 [02:15<?, ? file/s]
Dl Completed...: 100%|██████████| 1/1 [02:15<00:00, 134.78s/ url]

Dl Size...: 100%|██████████| 827/827 [02:15<00:00,  7.60 MiB/s]


Extraction completed...:   0%|          | 0/731 [02:15<?, ? file/s]
Dl Completed...: 100%|██████████| 1/1 [02:15<00:00, 134.78s/ url]

Dl Size...: 100%|██████████| 827/827 [02:15<00:00,  7.60 MiB/s]


Extraction completed...:   0%|          | 0/732 [02:15<?, ? file/s]
Dl Completed...: 100%|██████████| 1/1 [02:15<00:00, 134.78s/ url]

Dl Size...: 100%|██████████| 827/827 [02:15<00:00,  7.60 MiB/s]


Extraction completed...:   0%|          | 0/733 [02:15<?, ? file/s]
Dl Completed...: 100%|██████████| 1/1 [02:15<00:00, 134.78s/ url]

Dl Size...: 100%|██████████| 827/827 [02:15<00:00,  7.60 MiB/s]


Extraction completed...:   0%|          | 0/734 [02:15<?, ? file/s]
Dl Completed...: 100%|██████████| 1/1 [02:15<00:00, 134.78s/ url]

Dl Size...: 100%|██████████| 827/827 [02:15<00:00,  7.60 MiB/s]


Extraction completed...:   0%|          | 0/735 [02:15<?, ? file/s]
Dl Completed...: 100%|██████████| 1/1 [02:15<00:00, 134.78s/ url]

Dl Size...: 100%|██████████| 827/827 [02:15<00:00,  7.60 MiB/s]


Extraction completed...:   0%|          | 0/736 [02:15<?, ? file/s]
Dl Completed...: 100%|██████████| 1/1 [02:15<00:00, 134.78s/ url]

Dl Size...: 100%|██████████| 827/827 [02:15<00:00,  7.60 MiB/s]


Extraction completed...:   0%|          | 0/737 [02:15<?, ? file/s]
Dl Completed...: 100%|██████████| 1/1 [02:15<00:00, 134.78s/ url]

Dl Size...: 100%|██████████| 827/827 [02:15<00:00,  7.60 MiB/s]


Extraction completed...:   0%|          | 0/738 [02:15<?, ? file/s]
Dl Completed...: 100%|██████████| 1/1 [02:15<00:00, 134.78s/ url]

Dl Size...: 100%|██████████| 827/827 [02:15<00:00,  7.60 MiB/s]


Extraction completed...:   0%|          | 0/739 [02:15<?, ? file/s]
Dl Completed...: 100%|██████████| 1/1 [02:15<00:00, 134.78s/ url]

Dl Size...: 100%|██████████| 827/827 [02:15<00:00,  7.60 MiB/s]


Extraction completed...:   0%|          | 0/740 [02:15<?, ? file/s]
Dl Completed...: 100%|██████████| 1/1 [02:15<00:00, 134.78s/ url]

Dl Size...: 100%|██████████| 827/827 [02:15<00:00,  7.60 MiB/s]


Extraction completed...:   0%|          | 0/741 [02:15<?, ? file/s]
Dl Completed...: 100%|██████████| 1/1 [02:15<00:00, 134.78s/ url]

Dl Size...: 100%|██████████| 827/827 [02:15<00:00,  7.60 MiB/s]


Extraction completed...:   0%|          | 0/742 [02:15<?, ? file/s]
Dl Completed...: 100%|██████████| 1/1 [02:15<00:00, 134.78s/ url]

Dl Size...: 100%|██████████| 827/827 [02:15<00:00,  7.60 MiB/s]


Extraction completed...:   0%|          | 0/743 [02:15<?, ? file/s]
Dl Completed...: 100%|██████████| 1/1 [02:15<00:00, 134.78s/ url]

Dl Size...: 100%|██████████| 827/827 [02:15<00:00,  7.60 MiB/s]


Extraction completed...:   0%|          | 0/744 [02:15<?, ? file/s]
Dl Completed...: 100%|██████████| 1/1 [02:15<00:00, 134.78s/ url]

Dl Size...: 100%|██████████| 827/827 [02:15<00:00,  7.60 MiB/s]


Extraction completed...:   0%|          | 0/745 [02:15<?, ? file/s]
Dl Completed...: 100%|██████████| 1/1 [02:15<00:00, 134.78s/ url]

Dl Size...: 100%|██████████| 827/827 [02:15<00:00,  7.60 MiB/s]


Extraction completed...:   0%|          | 0/746 [02:15<?, ? file/s]
Dl Completed...: 100%|██████████| 1/1 [02:15<00:00, 134.78s/ url]

Dl Size...: 100%|██████████| 827/827 [02:15<00:00,  7.60 MiB/s]


Extraction completed...:   0%|          | 0/747 [02:15<?, ? file/s]
Dl Completed...: 100%|██████████| 1/1 [02:15<00:00, 134.78s/ url]

Dl Size...: 100%|██████████| 827/827 [02:15<00:00,  7.60 MiB/s]


Extraction completed...:   0%|          | 0/748 [02:15<?, ? file/s]
Dl Completed...: 100%|██████████| 1/1 [02:15<00:00, 134.78s/ url]

Dl Size...: 100%|██████████| 827/827 [02:15<00:00,  7.60 MiB/s]


Extraction completed...:   0%|          | 0/749 [02:15<?, ? file/s]
Dl Completed...: 100%|██████████| 1/1 [02:15<00:00, 134.78s/ url]

Dl Size...: 100%|██████████| 827/827 [02:15<00:00,  7.60 MiB/s]


Extraction completed...:   0%|          | 0/750 [02:15<?, ? file/s]
Dl Completed...: 100%|██████████| 1/1 [02:15<00:00, 134.78s/ url]

Dl Size...: 100%|██████████| 827/827 [02:15<00:00,  7.60 MiB/s]


Extraction completed...:   0%|          | 0/751 [02:15<?, ? file/s]
Dl Completed...: 100%|██████████| 1/1 [02:15<00:00, 134.78s/ url]

Dl Size...: 100%|██████████| 827/827 [02:15<00:00,  7.60 MiB/s]


Extraction completed...:   0%|          | 0/752 [02:15<?, ? file/s]
Dl Completed...: 100%|██████████| 1/1 [02:15<00:00, 134.78s/ url]

Dl Size...: 100%|██████████| 827/827 [02:15<00:00,  7.60 MiB/s]


Extraction completed...:   0%|          | 0/753 [02:15<?, ? file/s]
Dl Completed...: 100%|██████████| 1/1 [02:15<00:00, 134.78s/ url]

Dl Size...: 100%|██████████| 827/827 [02:15<00:00,  7.60 MiB/s]


Extraction completed...:   0%|          | 0/754 [02:15<?, ? file/s]
Dl Completed...: 100%|██████████| 1/1 [02:15<00:00, 134.78s/ url]

Dl Size...: 100%|██████████| 827/827 [02:15<00:00,  7.60 MiB/s]


Extraction completed...:   0%|          | 0/755 [02:15<?, ? file/s]
Dl Completed...: 100%|██████████| 1/1 [02:15<00:00, 134.78s/ url]

Dl Size...: 100%|██████████| 827/827 [02:15<00:00,  7.60 MiB/s]


Extraction completed...:   0%|          | 0/756 [02:15<?, ? file/s]
Dl Completed...: 100%|██████████| 1/1 [02:15<00:00, 134.78s/ url]

Dl Size...: 100%|██████████| 827/827 [02:15<00:00,  7.60 MiB/s]


Extraction completed...:   0%|          | 0/757 [02:15<?, ? file/s]
Dl Completed...: 100%|██████████| 1/1 [02:15<00:00, 134.78s/ url]

Dl Size...: 100%|██████████| 827/827 [02:15<00:00,  7.60 MiB/s]


Extraction completed...:   0%|          | 0/758 [02:15<?, ? file/s]
Dl Completed...: 100%|██████████| 1/1 [02:15<00:00, 134.78s/ url]

Dl Size...: 100%|██████████| 827/827 [02:15<00:00,  7.60 MiB/s]


Extraction completed...:   0%|          | 0/759 [02:15<?, ? file/s]
Dl Completed...: 100%|██████████| 1/1 [02:15<00:00, 134.78s/ url]

Dl Size...: 100%|██████████| 827/827 [02:15<00:00,  7.60 MiB/s]


Extraction completed...:   0%|          | 0/760 [02:15<?, ? file/s]
Dl Completed...: 100%|██████████| 1/1 [02:15<00:00, 134.78s/ url]

Dl Size...: 100%|██████████| 827/827 [02:15<00:00,  7.60 MiB/s]


Extraction completed...:   0%|          | 0/761 [02:15<?, ? file/s]
Dl Completed...: 100%|██████████| 1/1 [02:15<00:00, 134.78s/ url]

Dl Size...: 100%|██████████| 827/827 [02:15<00:00,  7.60 MiB/s]


Extraction completed...:   0%|          | 0/762 [02:15<?, ? file/s]
Dl Completed...: 100%|██████████| 1/1 [02:15<00:00, 134.78s/ url]

Dl Size...: 100%|██████████| 827/827 [02:15<00:00,  7.60 MiB/s]


Extraction completed...:   0%|          | 0/763 [02:15<?, ? file/s]
Dl Completed...: 100%|██████████| 1/1 [02:15<00:00, 134.78s/ url]

Dl Size...: 100%|██████████| 827/827 [02:15<00:00,  7.60 MiB/s]


Extraction completed...:   0%|          | 0/764 [02:15<?, ? file/s]
Dl Completed...: 100%|██████████| 1/1 [02:15<00:00, 134.78s/ url]

Dl Size...: 100%|██████████| 827/827 [02:15<00:00,  7.60 MiB/s]


Extraction completed...:   0%|          | 0/765 [02:15<?, ? file/s]
Dl Completed...: 100%|██████████| 1/1 [02:15<00:00, 134.78s/ url]

Dl Size...: 100%|██████████| 827/827 [02:15<00:00,  7.60 MiB/s]


Extraction completed...:   0%|          | 0/766 [02:15<?, ? file/s]
Dl Completed...: 100%|██████████| 1/1 [02:15<00:00, 134.78s/ url]

Dl Size...: 100%|██████████| 827/827 [02:15<00:00,  7.60 MiB/s]


Extraction completed...:   0%|          | 0/767 [02:15<?, ? file/s]
Dl Completed...: 100%|██████████| 1/1 [02:15<00:00, 134.78s/ url]

Dl Size...: 100%|██████████| 827/827 [02:15<00:00,  7.60 MiB/s]


Extraction completed...:   0%|          | 0/768 [02:15<?, ? file/s]
Dl Completed...: 100%|██████████| 1/1 [02:15<00:00, 134.78s/ url]

Dl Size...: 100%|██████████| 827/827 [02:15<00:00,  7.60 MiB/s]


Extraction completed...:   0%|          | 0/769 [02:15<?, ? file/s]
Dl Completed...: 100%|██████████| 1/1 [02:15<00:00, 134.78s/ url]

Dl Size...: 100%|██████████| 827/827 [02:15<00:00,  7.60 MiB/s]


Extraction completed...:   0%|          | 0/770 [02:15<?, ? file/s]
Dl Completed...: 100%|██████████| 1/1 [02:15<00:00, 134.78s/ url]

Dl Size...: 100%|██████████| 827/827 [02:15<00:00,  7.60 MiB/s]


Extraction completed...:   0%|          | 0/771 [02:15<?, ? file/s]
Dl Completed...: 100%|██████████| 1/1 [02:15<00:00, 134.78s/ url]

Dl Size...: 100%|██████████| 827/827 [02:15<00:00,  7.60 MiB/s]


Extraction completed...:   0%|          | 0/772 [02:15<?, ? file/s]
Dl Completed...: 100%|██████████| 1/1 [02:15<00:00, 134.78s/ url]

Dl Size...: 100%|██████████| 827/827 [02:15<00:00,  7.60 MiB/s]


Extraction completed...:   0%|          | 0/773 [02:15<?, ? file/s]
Dl Completed...: 100%|██████████| 1/1 [02:15<00:00, 134.78s/ url]

Dl Size...: 100%|██████████| 827/827 [02:15<00:00,  7.60 MiB/s]


Extraction completed...:   0%|          | 0/774 [02:15<?, ? file/s]
Dl Completed...: 100%|██████████| 1/1 [02:15<00:00, 134.78s/ url]

Dl Size...: 100%|██████████| 827/827 [02:15<00:00,  7.60 MiB/s]


Extraction completed...:   0%|          | 0/775 [02:15<?, ? file/s]
Dl Completed...: 100%|██████████| 1/1 [02:15<00:00, 134.78s/ url]

Dl Size...: 100%|██████████| 827/827 [02:15<00:00,  7.60 MiB/s]


Extraction completed...:   0%|          | 0/776 [02:15<?, ? file/s]
Dl Completed...: 100%|██████████| 1/1 [02:15<00:00, 134.78s/ url]

Dl Size...: 100%|██████████| 827/827 [02:15<00:00,  7.60 MiB/s]


Extraction completed...:   0%|          | 0/777 [02:15<?, ? file/s]
Dl Completed...: 100%|██████████| 1/1 [02:15<00:00, 134.78s/ url]

Dl Size...: 100%|██████████| 827/827 [02:15<00:00,  7.60 MiB/s]


Extraction completed...:   0%|          | 0/778 [02:15<?, ? file/s]
Dl Completed...: 100%|██████████| 1/1 [02:15<00:00, 134.78s/ url]

Dl Size...: 100%|██████████| 827/827 [02:15<00:00,  7.60 MiB/s]


Extraction completed...:   0%|          | 0/779 [02:15<?, ? file/s]
Dl Completed...: 100%|██████████| 1/1 [02:15<00:00, 134.78s/ url]

Dl Size...: 100%|██████████| 827/827 [02:15<00:00,  7.60 MiB/s]


Extraction completed...:   0%|          | 0/780 [02:15<?, ? file/s]
Dl Completed...: 100%|██████████| 1/1 [02:15<00:00, 134.78s/ url]

Dl Size...: 100%|██████████| 827/827 [02:15<00:00,  7.60 MiB/s]


Extraction completed...:   0%|          | 0/781 [02:15<?, ? file/s]
Dl Completed...: 100%|██████████| 1/1 [02:15<00:00, 134.78s/ url]

Dl Size...: 100%|██████████| 827/827 [02:15<00:00,  7.60 MiB/s]


Extraction completed...:   0%|          | 0/782 [02:15<?, ? file/s]
Dl Completed...: 100%|██████████| 1/1 [02:15<00:00, 134.78s/ url]

Dl Size...: 100%|██████████| 827/827 [02:15<00:00,  7.60 MiB/s]


Extraction completed...:   0%|          | 0/783 [02:15<?, ? file/s]
Dl Completed...: 100%|██████████| 1/1 [02:15<00:00, 134.78s/ url]

Dl Size...: 100%|██████████| 827/827 [02:15<00:00,  7.60 MiB/s]


Extraction completed...:   0%|          | 0/784 [02:15<?, ? file/s]
Dl Completed...: 100%|██████████| 1/1 [02:15<00:00, 134.78s/ url]

Dl Size...: 100%|██████████| 827/827 [02:15<00:00,  7.60 MiB/s]


Extraction completed...:   0%|          | 0/785 [02:15<?, ? file/s]
Dl Completed...: 100%|██████████| 1/1 [02:15<00:00, 134.78s/ url]

Dl Size...: 100%|██████████| 827/827 [02:15<00:00,  7.60 MiB/s]


Extraction completed...:   0%|          | 0/786 [02:15<?, ? file/s]
Dl Completed...: 100%|██████████| 1/1 [02:15<00:00, 134.78s/ url]

Dl Size...: 100%|██████████| 827/827 [02:15<00:00,  7.60 MiB/s]


Extraction completed...:   0%|          | 0/787 [02:15<?, ? file/s]
Dl Completed...: 100%|██████████| 1/1 [02:15<00:00, 134.78s/ url]

Dl Size...: 100%|██████████| 827/827 [02:15<00:00,  7.60 MiB/s]


Extraction completed...:   0%|          | 0/788 [02:15<?, ? file/s]
Dl Completed...: 100%|██████████| 1/1 [02:15<00:00, 134.78s/ url]

Dl Size...: 100%|██████████| 827/827 [02:15<00:00,  7.60 MiB/s]


Extraction completed...:   0%|          | 0/789 [02:15<?, ? file/s]
Dl Completed...: 100%|██████████| 1/1 [02:15<00:00, 134.78s/ url]

Dl Size...: 100%|██████████| 827/827 [02:15<00:00,  7.60 MiB/s]


Extraction completed...:   0%|          | 0/790 [02:15<?, ? file/s]
Dl Completed...: 100%|██████████| 1/1 [02:15<00:00, 134.78s/ url]

Dl Size...: 100%|██████████| 827/827 [02:15<00:00,  7.60 MiB/s]


Extraction completed...:   0%|          | 0/791 [02:15<?, ? file/s]
Dl Completed...: 100%|██████████| 1/1 [02:15<00:00, 134.78s/ url]

Dl Size...: 100%|██████████| 827/827 [02:15<00:00,  7.60 MiB/s]


Extraction completed...:   0%|          | 0/792 [02:15<?, ? file/s]
Dl Completed...: 100%|██████████| 1/1 [02:15<00:00, 134.78s/ url]

Dl Size...: 100%|██████████| 827/827 [02:15<00:00,  7.60 MiB/s]


Extraction completed...:   0%|          | 0/793 [02:15<?, ? file/s]
Dl Completed...: 100%|██████████| 1/1 [02:15<00:00, 134.78s/ url]

Dl Size...: 100%|██████████| 827/827 [02:15<00:00,  7.60 MiB/s]


Extraction completed...:   0%|          | 0/794 [02:15<?, ? file/s]
Dl Completed...: 100%|██████████| 1/1 [02:15<00:00, 134.78s/ url]

Dl Size...: 100%|██████████| 827/827 [02:15<00:00,  7.60 MiB/s]


Extraction completed...:   0%|          | 0/795 [02:15<?, ? file/s]
Dl Completed...: 100%|██████████| 1/1 [02:15<00:00, 134.78s/ url]

Dl Size...: 100%|██████████| 827/827 [02:15<00:00,  7.60 MiB/s]


Extraction completed...:   0%|          | 0/796 [02:15<?, ? file/s]
Dl Completed...: 100%|██████████| 1/1 [02:15<00:00, 134.78s/ url]

Dl Size...: 100%|██████████| 827/827 [02:15<00:00,  7.60 MiB/s]


Extraction completed...:   0%|          | 0/797 [02:15<?, ? file/s]
Dl Completed...: 100%|██████████| 1/1 [02:15<00:00, 134.78s/ url]

Dl Size...: 100%|██████████| 827/827 [02:15<00:00,  7.60 MiB/s]


Extraction completed...:   0%|          | 0/798 [02:15<?, ? file/s]
Dl Completed...: 100%|██████████| 1/1 [02:15<00:00, 134.78s/ url]

Dl Size...: 100%|██████████| 827/827 [02:15<00:00,  7.60 MiB/s]


Extraction completed...:   0%|          | 0/799 [02:15<?, ? file/s]
Dl Completed...: 100%|██████████| 1/1 [02:15<00:00, 134.78s/ url]

Dl Size...: 100%|██████████| 827/827 [02:15<00:00,  7.60 MiB/s]


Extraction completed...:   0%|          | 0/800 [02:15<?, ? file/s]
Dl Completed...: 100%|██████████| 1/1 [02:15<00:00, 134.78s/ url]

Dl Size...: 100%|██████████| 827/827 [02:15<00:00,  7.60 MiB/s]


Extraction completed...:   0%|          | 0/801 [02:15<?, ? file/s]
Dl Completed...: 100%|██████████| 1/1 [02:15<00:00, 134.78s/ url]

Dl Size...: 100%|██████████| 827/827 [02:15<00:00,  7.60 MiB/s]


Extraction completed...:   0%|          | 0/802 [02:15<?, ? file/s]
Dl Completed...: 100%|██████████| 1/1 [02:15<00:00, 134.78s/ url]

Dl Size...: 100%|██████████| 827/827 [02:15<00:00,  7.60 MiB/s]


Extraction completed...:   0%|          | 0/803 [02:15<?, ? file/s]
Dl Completed...: 100%|██████████| 1/1 [02:15<00:00, 134.78s/ url]

Dl Size...: 100%|██████████| 827/827 [02:15<00:00,  7.60 MiB/s]


Extraction completed...:   0%|          | 0/804 [02:15<?, ? file/s]
Dl Completed...: 100%|██████████| 1/1 [02:15<00:00, 134.78s/ url]

Dl Size...: 100%|██████████| 827/827 [02:15<00:00,  7.60 MiB/s]


Extraction completed...:   0%|          | 0/805 [02:15<?, ? file/s]
Dl Completed...: 100%|██████████| 1/1 [02:15<00:00, 134.78s/ url]

Dl Size...: 100%|██████████| 827/827 [02:15<00:00,  7.60 MiB/s]


Extraction completed...:   0%|          | 0/806 [02:15<?, ? file/s]
Dl Completed...: 100%|██████████| 1/1 [02:15<00:00, 134.78s/ url]

Dl Size...: 100%|██████████| 827/827 [02:15<00:00,  7.60 MiB/s]


Extraction completed...:   0%|          | 0/807 [02:15<?, ? file/s]
Dl Completed...: 100%|██████████| 1/1 [02:15<00:00, 134.78s/ url]

Dl Size...: 100%|██████████| 827/827 [02:15<00:00,  7.60 MiB/s]


Extraction completed...:   0%|          | 0/808 [02:15<?, ? file/s]
Dl Completed...: 100%|██████████| 1/1 [02:15<00:00, 134.78s/ url]

Dl Size...: 100%|██████████| 827/827 [02:15<00:00,  7.60 MiB/s]


Extraction completed...:   0%|          | 0/809 [02:15<?, ? file/s]
Dl Completed...: 100%|██████████| 1/1 [02:15<00:00, 134.78s/ url]

Dl Size...: 100%|██████████| 827/827 [02:15<00:00,  7.60 MiB/s]


Extraction completed...:   0%|          | 0/810 [02:15<?, ? file/s]
Dl Completed...: 100%|██████████| 1/1 [02:15<00:00, 134.78s/ url]

Dl Size...: 100%|██████████| 827/827 [02:15<00:00,  7.60 MiB/s]


Extraction completed...:   0%|          | 0/811 [02:15<?, ? file/s]
Dl Completed...: 100%|██████████| 1/1 [02:15<00:00, 134.78s/ url]

Dl Size...: 100%|██████████| 827/827 [02:15<00:00,  7.60 MiB/s]


Extraction completed...:   0%|          | 0/812 [02:15<?, ? file/s]
Dl Completed...: 100%|██████████| 1/1 [02:15<00:00, 134.78s/ url]

Dl Size...: 100%|██████████| 827/827 [02:15<00:00,  7.60 MiB/s]


Extraction completed...:   0%|          | 0/813 [02:15<?, ? file/s]
Dl Completed...: 100%|██████████| 1/1 [02:15<00:00, 134.78s/ url]

Dl Size...: 100%|██████████| 827/827 [02:15<00:00,  7.60 MiB/s]


Extraction completed...:   0%|          | 0/814 [02:15<?, ? file/s]
Dl Completed...: 100%|██████████| 1/1 [02:15<00:00, 134.78s/ url]

Dl Size...: 100%|██████████| 827/827 [02:15<00:00,  7.60 MiB/s]


Extraction completed...:   0%|          | 0/815 [02:15<?, ? file/s]
Dl Completed...: 100%|██████████| 1/1 [02:15<00:00, 134.78s/ url]

Dl Size...: 100%|██████████| 827/827 [02:15<00:00,  7.60 MiB/s]


Extraction completed...:   0%|          | 0/816 [02:15<?, ? file/s]
Dl Completed...: 100%|██████████| 1/1 [02:15<00:00, 134.78s/ url]

Dl Size...: 100%|██████████| 827/827 [02:15<00:00,  7.60 MiB/s]


Extraction completed...:   0%|          | 0/817 [02:15<?, ? file/s]
Dl Completed...: 100%|██████████| 1/1 [02:15<00:00, 134.78s/ url]

Dl Size...: 100%|██████████| 827/827 [02:15<00:00,  7.60 MiB/s]


Extraction completed...:   0%|          | 0/818 [02:15<?, ? file/s]
Dl Completed...: 100%|██████████| 1/1 [02:15<00:00, 134.78s/ url]

Dl Size...: 100%|██████████| 827/827 [02:15<00:00,  7.60 MiB/s]


Extraction completed...:   0%|          | 0/819 [02:15<?, ? file/s]
Dl Completed...: 100%|██████████| 1/1 [02:15<00:00, 134.78s/ url]

Dl Size...: 100%|██████████| 827/827 [02:15<00:00,  7.60 MiB/s]


Extraction completed...:   0%|          | 0/820 [02:15<?, ? file/s]
Dl Completed...: 100%|██████████| 1/1 [02:15<00:00, 134.78s/ url]

Dl Size...: 100%|██████████| 827/827 [02:15<00:00,  7.60 MiB/s]


Extraction completed...:   0%|          | 0/821 [02:15<?, ? file/s]
Dl Completed...: 100%|██████████| 1/1 [02:15<00:00, 134.78s/ url]

Dl Size...: 100%|██████████| 827/827 [02:15<00:00,  7.60 MiB/s]


Extraction completed...:   0%|          | 0/822 [02:15<?, ? file/s]
Dl Completed...: 100%|██████████| 1/1 [02:15<00:00, 134.78s/ url]

Dl Size...: 100%|██████████| 827/827 [02:15<00:00,  7.60 MiB/s]


Extraction completed...:   0%|          | 0/823 [02:15<?, ? file/s]
Dl Completed...: 100%|██████████| 1/1 [02:15<00:00, 134.78s/ url]

Dl Size...: 100%|██████████| 827/827 [02:15<00:00,  7.60 MiB/s]


Extraction completed...:   0%|          | 0/824 [02:15<?, ? file/s]
Dl Completed...: 100%|██████████| 1/1 [02:15<00:00, 134.78s/ url]

Dl Size...: 100%|██████████| 827/827 [02:15<00:00,  7.60 MiB/s]


Extraction completed...:   0%|          | 0/825 [02:15<?, ? file/s]
Dl Completed...: 100%|██████████| 1/1 [02:15<00:00, 134.78s/ url]

Dl Size...: 100%|██████████| 827/827 [02:15<00:00,  7.60 MiB/s]


Extraction completed...:   0%|          | 0/826 [02:15<?, ? file/s]
Dl Completed...: 100%|██████████| 1/1 [02:15<00:00, 134.78s/ url]

Dl Size...: 100%|██████████| 827/827 [02:15<00:00,  7.60 MiB/s]


Extraction completed...:   0%|          | 0/827 [02:15<?, ? file/s]
Dl Completed...: 100%|██████████| 1/1 [02:15<00:00, 134.78s/ url]

Dl Size...: 100%|██████████| 827/827 [02:15<00:00,  7.60 MiB/s]


Extraction completed...:   0%|          | 0/828 [02:15<?, ? file/s]
Dl Completed...: 100%|██████████| 1/1 [02:15<00:00, 134.78s/ url]

Dl Size...: 100%|██████████| 827/827 [02:15<00:00,  7.60 MiB/s]


Extraction completed...:   0%|          | 0/829 [02:15<?, ? file/s]
Dl Completed...: 100%|██████████| 1/1 [02:15<00:00, 134.78s/ url]

Dl Size...: 100%|██████████| 827/827 [02:15<00:00,  7.60 MiB/s]


Extraction completed...:   0%|          | 0/830 [02:15<?, ? file/s]
Dl Completed...: 100%|██████████| 1/1 [02:15<00:00, 134.78s/ url]

Dl Size...: 100%|██████████| 827/827 [02:15<00:00,  7.60 MiB/s]


Extraction completed...:   0%|          | 0/831 [02:15<?, ? file/s]
Dl Completed...: 100%|██████████| 1/1 [02:15<00:00, 134.78s/ url]

Dl Size...: 100%|██████████| 827/827 [02:15<00:00,  7.60 MiB/s]


Extraction completed...:   0%|          | 0/832 [02:15<?, ? file/s]
Dl Completed...: 100%|██████████| 1/1 [02:15<00:00, 134.78s/ url]

Dl Size...: 100%|██████████| 827/827 [02:15<00:00,  7.60 MiB/s]


Extraction completed...:   0%|          | 0/833 [02:15<?, ? file/s]
Dl Completed...: 100%|██████████| 1/1 [02:15<00:00, 134.78s/ url]

Dl Size...: 100%|██████████| 827/827 [02:15<00:00,  7.60 MiB/s]


Extraction completed...:   0%|          | 0/834 [02:15<?, ? file/s]
Dl Completed...: 100%|██████████| 1/1 [02:15<00:00, 134.78s/ url]

Dl Size...: 100%|██████████| 827/827 [02:15<00:00,  7.60 MiB/s]


Extraction completed...:   0%|          | 0/835 [02:15<?, ? file/s]
Dl Completed...: 100%|██████████| 1/1 [02:15<00:00, 134.78s/ url]

Dl Size...: 100%|██████████| 827/827 [02:15<00:00,  7.60 MiB/s]


Extraction completed...:   0%|          | 0/836 [02:15<?, ? file/s]
Dl Completed...: 100%|██████████| 1/1 [02:15<00:00, 134.78s/ url]

Dl Size...: 100%|██████████| 827/827 [02:15<00:00,  7.60 MiB/s]


Extraction completed...:   0%|          | 0/837 [02:15<?, ? file/s]
Dl Completed...: 100%|██████████| 1/1 [02:15<00:00, 134.78s/ url]

Dl Size...: 100%|██████████| 827/827 [02:15<00:00,  7.60 MiB/s]


Extraction completed...:   0%|          | 0/838 [02:15<?, ? file/s]
Dl Completed...: 100%|██████████| 1/1 [02:15<00:00, 134.78s/ url]

Dl Size...: 100%|██████████| 827/827 [02:15<00:00,  7.60 MiB/s]


Extraction completed...:   0%|          | 0/839 [02:15<?, ? file/s]
Dl Completed...: 100%|██████████| 1/1 [02:15<00:00, 134.78s/ url]

Dl Size...: 100%|██████████| 827/827 [02:15<00:00,  7.60 MiB/s]


Extraction completed...:   0%|          | 0/840 [02:15<?, ? file/s]
Dl Completed...: 100%|██████████| 1/1 [02:15<00:00, 134.78s/ url]

Dl Size...: 100%|██████████| 827/827 [02:15<00:00,  7.60 MiB/s]


Extraction completed...:   0%|          | 0/841 [02:15<?, ? file/s]
Dl Completed...: 100%|██████████| 1/1 [02:15<00:00, 134.78s/ url]

Dl Size...: 100%|██████████| 827/827 [02:15<00:00,  7.60 MiB/s]


Extraction completed...:   0%|          | 0/842 [02:15<?, ? file/s]
Dl Completed...: 100%|██████████| 1/1 [02:15<00:00, 134.78s/ url]

Dl Size...: 100%|██████████| 827/827 [02:15<00:00,  7.60 MiB/s]


Extraction completed...:   0%|          | 0/843 [02:15<?, ? file/s]
Dl Completed...: 100%|██████████| 1/1 [02:15<00:00, 134.78s/ url]

Dl Size...: 100%|██████████| 827/827 [02:15<00:00,  7.60 MiB/s]


Extraction completed...:   0%|          | 0/844 [02:15<?, ? file/s]
Dl Completed...: 100%|██████████| 1/1 [02:15<00:00, 134.78s/ url]

Dl Size...: 100%|██████████| 827/827 [02:15<00:00,  7.60 MiB/s]


Extraction completed...:   0%|          | 0/845 [02:15<?, ? file/s]
Dl Completed...: 100%|██████████| 1/1 [02:15<00:00, 134.78s/ url]

Dl Size...: 100%|██████████| 827/827 [02:15<00:00,  7.60 MiB/s]


Extraction completed...:   0%|          | 0/846 [02:15<?, ? file/s]
Dl Completed...: 100%|██████████| 1/1 [02:15<00:00, 134.78s/ url]

Dl Size...: 100%|██████████| 827/827 [02:15<00:00,  7.60 MiB/s]


Extraction completed...:   0%|          | 0/847 [02:15<?, ? file/s]
Dl Completed...: 100%|██████████| 1/1 [02:15<00:00, 134.78s/ url]

Dl Size...: 100%|██████████| 827/827 [02:15<00:00,  7.60 MiB/s]


Extraction completed...:   0%|          | 0/848 [02:15<?, ? file/s]
Dl Completed...: 100%|██████████| 1/1 [02:15<00:00, 134.78s/ url]

Dl Size...: 100%|██████████| 827/827 [02:15<00:00,  7.60 MiB/s]


Extraction completed...:   0%|          | 0/849 [02:15<?, ? file/s]
Dl Completed...: 100%|██████████| 1/1 [02:15<00:00, 134.78s/ url]

Dl Size...: 100%|██████████| 827/827 [02:15<00:00,  7.60 MiB/s]


Extraction completed...:   0%|          | 0/850 [02:15<?, ? file/s]
Dl Completed...: 100%|██████████| 1/1 [02:15<00:00, 134.78s/ url]

Dl Size...: 100%|██████████| 827/827 [02:15<00:00,  7.60 MiB/s]


Extraction completed...:   0%|          | 0/851 [02:15<?, ? file/s]
Dl Completed...: 100%|██████████| 1/1 [02:15<00:00, 134.78s/ url]

Dl Size...: 100%|██████████| 827/827 [02:15<00:00,  7.60 MiB/s]


Extraction completed...:   0%|          | 0/852 [02:15<?, ? file/s]
Dl Completed...: 100%|██████████| 1/1 [02:15<00:00, 134.78s/ url]

Dl Size...: 100%|██████████| 827/827 [02:15<00:00,  7.60 MiB/s]


Extraction completed...:   0%|          | 0/853 [02:15<?, ? file/s]
Dl Completed...: 100%|██████████| 1/1 [02:15<00:00, 134.78s/ url]

Dl Size...: 100%|██████████| 827/827 [02:15<00:00,  7.60 MiB/s]


Extraction completed...:   0%|          | 0/854 [02:15<?, ? file/s]
Dl Completed...: 100%|██████████| 1/1 [02:15<00:00, 134.78s/ url]

Dl Size...: 100%|██████████| 827/827 [02:15<00:00,  7.60 MiB/s]


Extraction completed...:   0%|          | 0/855 [02:15<?, ? file/s]
Dl Completed...: 100%|██████████| 1/1 [02:15<00:00, 134.78s/ url]

Dl Size...: 100%|██████████| 827/827 [02:15<00:00,  7.60 MiB/s]


Extraction completed...:   0%|          | 0/856 [02:15<?, ? file/s]
Dl Completed...: 100%|██████████| 1/1 [02:15<00:00, 134.78s/ url]

Dl Size...: 100%|██████████| 827/827 [02:15<00:00,  7.60 MiB/s]


Extraction completed...:   0%|          | 0/857 [02:15<?, ? file/s]
Dl Completed...: 100%|██████████| 1/1 [02:15<00:00, 134.78s/ url]

Dl Size...: 100%|██████████| 827/827 [02:15<00:00,  7.60 MiB/s]


Extraction completed...:   0%|          | 0/858 [02:15<?, ? file/s]
Dl Completed...: 100%|██████████| 1/1 [02:15<00:00, 134.78s/ url]

Dl Size...: 100%|██████████| 827/827 [02:15<00:00,  7.60 MiB/s]


Extraction completed...:   0%|          | 0/859 [02:15<?, ? file/s]
Dl Completed...: 100%|██████████| 1/1 [02:15<00:00, 134.78s/ url]

Dl Size...: 100%|██████████| 827/827 [02:15<00:00,  7.60 MiB/s]


Extraction completed...:   0%|          | 0/860 [02:15<?, ? file/s]
Dl Completed...: 100%|██████████| 1/1 [02:15<00:00, 134.78s/ url]

Dl Size...: 100%|██████████| 827/827 [02:15<00:00,  7.60 MiB/s]


Extraction completed...:   0%|          | 0/861 [02:15<?, ? file/s]
Dl Completed...: 100%|██████████| 1/1 [02:15<00:00, 134.78s/ url]

Dl Size...: 100%|██████████| 827/827 [02:15<00:00,  7.60 MiB/s]


Extraction completed...:   0%|          | 0/862 [02:15<?, ? file/s]
Dl Completed...: 100%|██████████| 1/1 [02:15<00:00, 134.78s/ url]

Dl Size...: 100%|██████████| 827/827 [02:15<00:00,  7.60 MiB/s]


Extraction completed...:   0%|          | 0/863 [02:15<?, ? file/s]
Dl Completed...: 100%|██████████| 1/1 [02:15<00:00, 134.78s/ url]

Dl Size...: 100%|██████████| 827/827 [02:15<00:00,  7.60 MiB/s]


Extraction completed...:   0%|          | 0/864 [02:15<?, ? file/s]
Dl Completed...: 100%|██████████| 1/1 [02:15<00:00, 134.78s/ url]

Dl Size...: 100%|██████████| 827/827 [02:15<00:00,  7.60 MiB/s]


Extraction completed...:   0%|          | 0/865 [02:15<?, ? file/s]
Dl Completed...: 100%|██████████| 1/1 [02:15<00:00, 134.78s/ url]

Dl Size...: 100%|██████████| 827/827 [02:15<00:00,  7.60 MiB/s]


Extraction completed...:   0%|          | 0/866 [02:15<?, ? file/s]
Dl Completed...: 100%|██████████| 1/1 [02:15<00:00, 134.78s/ url]

Dl Size...: 100%|██████████| 827/827 [02:15<00:00,  7.60 MiB/s]


Extraction completed...:   0%|          | 0/867 [02:15<?, ? file/s]
Dl Completed...: 100%|██████████| 1/1 [02:15<00:00, 134.78s/ url]

Dl Size...: 100%|██████████| 827/827 [02:15<00:00,  7.60 MiB/s]


Extraction completed...:   0%|          | 0/868 [02:15<?, ? file/s]
Dl Completed...: 100%|██████████| 1/1 [02:15<00:00, 134.78s/ url]

Dl Size...: 100%|██████████| 827/827 [02:15<00:00,  7.60 MiB/s]


Extraction completed...:   0%|          | 0/869 [02:15<?, ? file/s]
Dl Completed...: 100%|██████████| 1/1 [02:15<00:00, 134.78s/ url]

Dl Size...: 100%|██████████| 827/827 [02:15<00:00,  7.60 MiB/s]


Extraction completed...:   0%|          | 0/870 [02:15<?, ? file/s]
Dl Completed...: 100%|██████████| 1/1 [02:15<00:00, 134.78s/ url]

Dl Size...: 100%|██████████| 827/827 [02:15<00:00,  7.60 MiB/s]


Extraction completed...:   0%|          | 0/871 [02:15<?, ? file/s]
Dl Completed...: 100%|██████████| 1/1 [02:15<00:00, 134.78s/ url]

Dl Size...: 100%|██████████| 827/827 [02:15<00:00,  7.60 MiB/s]


Extraction completed...:   0%|          | 0/872 [02:15<?, ? file/s]
Dl Completed...: 100%|██████████| 1/1 [02:15<00:00, 134.78s/ url]

Dl Size...: 100%|██████████| 827/827 [02:15<00:00,  7.60 MiB/s]


Extraction completed...:   0%|          | 0/873 [02:15<?, ? file/s]
Dl Completed...: 100%|██████████| 1/1 [02:15<00:00, 134.78s/ url]

Dl Size...: 100%|██████████| 827/827 [02:15<00:00,  7.60 MiB/s]


Extraction completed...:   0%|          | 0/874 [02:15<?, ? file/s]
Dl Completed...: 100%|██████████| 1/1 [02:15<00:00, 134.78s/ url]

Dl Size...: 100%|██████████| 827/827 [02:15<00:00,  7.60 MiB/s]


Extraction completed...:   0%|          | 0/875 [02:15<?, ? file/s]
Dl Completed...: 100%|██████████| 1/1 [02:15<00:00, 134.78s/ url]

Dl Size...: 100%|██████████| 827/827 [02:15<00:00,  7.60 MiB/s]


Extraction completed...:   0%|          | 0/876 [02:15<?, ? file/s]
Dl Completed...: 100%|██████████| 1/1 [02:15<00:00, 134.78s/ url]

Dl Size...: 100%|██████████| 827/827 [02:15<00:00,  7.60 MiB/s]


Extraction completed...:   0%|          | 0/877 [02:15<?, ? file/s]
Dl Completed...: 100%|██████████| 1/1 [02:15<00:00, 134.78s/ url]

Dl Size...: 100%|██████████| 827/827 [02:15<00:00,  7.60 MiB/s]


Extraction completed...:   0%|          | 0/878 [02:15<?, ? file/s]
Dl Completed...: 100%|██████████| 1/1 [02:15<00:00, 134.78s/ url]

Dl Size...: 100%|██████████| 827/827 [02:15<00:00,  7.60 MiB/s]


Extraction completed...:   0%|          | 0/879 [02:15<?, ? file/s]
Dl Completed...: 100%|██████████| 1/1 [02:15<00:00, 134.78s/ url]

Dl Size...: 100%|██████████| 827/827 [02:15<00:00,  7.60 MiB/s]


Extraction completed...:   0%|          | 0/880 [02:15<?, ? file/s]
Dl Completed...: 100%|██████████| 1/1 [02:15<00:00, 134.78s/ url]

Dl Size...: 100%|██████████| 827/827 [02:15<00:00,  7.60 MiB/s]


Extraction completed...:   0%|          | 0/881 [02:15<?, ? file/s]
Dl Completed...: 100%|██████████| 1/1 [02:15<00:00, 134.78s/ url]

Dl Size...: 100%|██████████| 827/827 [02:15<00:00,  7.60 MiB/s]


Extraction completed...:   0%|          | 0/882 [02:15<?, ? file/s]
Dl Completed...: 100%|██████████| 1/1 [02:15<00:00, 134.78s/ url]

Dl Size...: 100%|██████████| 827/827 [02:15<00:00,  7.60 MiB/s]


Extraction completed...:   0%|          | 0/883 [02:15<?, ? file/s]
Dl Completed...: 100%|██████████| 1/1 [02:15<00:00, 134.78s/ url]

Dl Size...: 100%|██████████| 827/827 [02:15<00:00,  7.60 MiB/s]


Extraction completed...:   0%|          | 0/884 [02:15<?, ? file/s]
Dl Completed...: 100%|██████████| 1/1 [02:15<00:00, 134.78s/ url]

Dl Size...: 100%|██████████| 827/827 [02:15<00:00,  7.60 MiB/s]


Extraction completed...:   0%|          | 0/885 [02:15<?, ? file/s]
Dl Completed...: 100%|██████████| 1/1 [02:15<00:00, 134.78s/ url]

Dl Size...: 100%|██████████| 827/827 [02:15<00:00,  7.60 MiB/s]


Extraction completed...:   0%|          | 0/886 [02:15<?, ? file/s]
Dl Completed...: 100%|██████████| 1/1 [02:15<00:00, 134.78s/ url]

Dl Size...: 100%|██████████| 827/827 [02:15<00:00,  7.60 MiB/s]


Extraction completed...:   0%|          | 0/887 [02:15<?, ? file/s]
Dl Completed...: 100%|██████████| 1/1 [02:15<00:00, 134.78s/ url]

Dl Size...: 100%|██████████| 827/827 [02:15<00:00,  7.60 MiB/s]


Extraction completed...:   0%|          | 0/888 [02:15<?, ? file/s]
Dl Completed...: 100%|██████████| 1/1 [02:15<00:00, 134.78s/ url]

Dl Size...: 100%|██████████| 827/827 [02:15<00:00,  7.60 MiB/s]


Extraction completed...:   0%|          | 0/889 [02:15<?, ? file/s]
Dl Completed...: 100%|██████████| 1/1 [02:15<00:00, 134.78s/ url]

Dl Size...: 100%|██████████| 827/827 [02:15<00:00,  7.60 MiB/s]


Extraction completed...:   0%|          | 0/890 [02:15<?, ? file/s]
Dl Completed...: 100%|██████████| 1/1 [02:15<00:00, 134.78s/ url]

Dl Size...: 100%|██████████| 827/827 [02:15<00:00,  7.60 MiB/s]


Extraction completed...:   0%|          | 0/891 [02:15<?, ? file/s]
Dl Completed...: 100%|██████████| 1/1 [02:15<00:00, 134.78s/ url]

Dl Size...: 100%|██████████| 827/827 [02:15<00:00,  7.60 MiB/s]


Extraction completed...:   0%|          | 0/892 [02:15<?, ? file/s]
Dl Completed...: 100%|██████████| 1/1 [02:15<00:00, 134.78s/ url]

Dl Size...: 100%|██████████| 827/827 [02:15<00:00,  7.60 MiB/s]


Extraction completed...:   0%|          | 0/893 [02:15<?, ? file/s]
Dl Completed...: 100%|██████████| 1/1 [02:15<00:00, 134.78s/ url]

Dl Size...: 100%|██████████| 827/827 [02:15<00:00,  7.60 MiB/s]


Extraction completed...:   0%|          | 0/894 [02:15<?, ? file/s]
Dl Completed...: 100%|██████████| 1/1 [02:15<00:00, 134.78s/ url]

Dl Size...: 100%|██████████| 827/827 [02:15<00:00,  7.60 MiB/s]


Extraction completed...:   0%|          | 0/895 [02:15<?, ? file/s]
Dl Completed...: 100%|██████████| 1/1 [02:15<00:00, 134.78s/ url]

Dl Size...: 100%|██████████| 827/827 [02:15<00:00,  7.60 MiB/s]


Extraction completed...:   0%|          | 0/896 [02:15<?, ? file/s]
Dl Completed...: 100%|██████████| 1/1 [02:15<00:00, 134.78s/ url]

Dl Size...: 100%|██████████| 827/827 [02:15<00:00,  7.60 MiB/s]


Extraction completed...:   0%|          | 0/897 [02:15<?, ? file/s]
Dl Completed...: 100%|██████████| 1/1 [02:15<00:00, 134.78s/ url]

Dl Size...: 100%|██████████| 827/827 [02:15<00:00,  7.60 MiB/s]


Extraction completed...:   0%|          | 0/898 [02:15<?, ? file/s]
Dl Completed...: 100%|██████████| 1/1 [02:15<00:00, 134.78s/ url]

Dl Size...: 100%|██████████| 827/827 [02:15<00:00,  7.60 MiB/s]


Extraction completed...:   0%|          | 0/899 [02:15<?, ? file/s]
Dl Completed...: 100%|██████████| 1/1 [02:15<00:00, 134.78s/ url]

Dl Size...: 100%|██████████| 827/827 [02:15<00:00,  7.60 MiB/s]


Extraction completed...:   0%|          | 0/900 [02:15<?, ? file/s]
Dl Completed...: 100%|██████████| 1/1 [02:15<00:00, 134.78s/ url]

Dl Size...: 100%|██████████| 827/827 [02:15<00:00,  7.60 MiB/s]


Extraction completed...:   0%|          | 0/901 [02:15<?, ? file/s]
Dl Completed...: 100%|██████████| 1/1 [02:15<00:00, 134.78s/ url]

Dl Size...: 100%|██████████| 827/827 [02:15<00:00,  7.60 MiB/s]


Extraction completed...:   0%|          | 0/902 [02:15<?, ? file/s]
Dl Completed...: 100%|██████████| 1/1 [02:15<00:00, 134.78s/ url]

Dl Size...: 100%|██████████| 827/827 [02:15<00:00,  7.60 MiB/s]


Extraction completed...:   0%|          | 0/903 [02:15<?, ? file/s]
Dl Completed...: 100%|██████████| 1/1 [02:15<00:00, 134.78s/ url]

Dl Size...: 100%|██████████| 827/827 [02:15<00:00,  7.60 MiB/s]


Extraction completed...:   0%|          | 0/904 [02:15<?, ? file/s]
Dl Completed...: 100%|██████████| 1/1 [02:15<00:00, 134.78s/ url]

Dl Size...: 100%|██████████| 827/827 [02:15<00:00,  7.60 MiB/s]


Extraction completed...:   0%|          | 0/905 [02:15<?, ? file/s]
Dl Completed...: 100%|██████████| 1/1 [02:15<00:00, 134.78s/ url]

Dl Size...: 100%|██████████| 827/827 [02:15<00:00,  7.60 MiB/s]


Extraction completed...:   0%|          | 0/906 [02:15<?, ? file/s]
Dl Completed...: 100%|██████████| 1/1 [02:15<00:00, 134.78s/ url]

Dl Size...: 100%|██████████| 827/827 [02:15<00:00,  7.60 MiB/s]


Extraction completed...:   0%|          | 0/907 [02:15<?, ? file/s]
Dl Completed...: 100%|██████████| 1/1 [02:15<00:00, 134.78s/ url]

Dl Size...: 100%|██████████| 827/827 [02:15<00:00,  7.60 MiB/s]


Extraction completed...:   0%|          | 0/908 [02:15<?, ? file/s]
Dl Completed...: 100%|██████████| 1/1 [02:15<00:00, 134.78s/ url]

Dl Size...: 100%|██████████| 827/827 [02:15<00:00,  7.60 MiB/s]


Extraction completed...:   0%|          | 0/909 [02:15<?, ? file/s]
Dl Completed...: 100%|██████████| 1/1 [02:15<00:00, 134.78s/ url]

Dl Size...: 100%|██████████| 827/827 [02:15<00:00,  7.60 MiB/s]


Extraction completed...:   0%|          | 0/910 [02:15<?, ? file/s]
Dl Completed...: 100%|██████████| 1/1 [02:15<00:00, 134.78s/ url]

Dl Size...: 100%|██████████| 827/827 [02:15<00:00,  7.60 MiB/s]


Extraction completed...:   0%|          | 0/911 [02:15<?, ? file/s]
Dl Completed...: 100%|██████████| 1/1 [02:15<00:00, 134.78s/ url]

Dl Size...: 100%|██████████| 827/827 [02:15<00:00,  7.60 MiB/s]


Extraction completed...:   0%|          | 0/912 [02:15<?, ? file/s]
Dl Completed...: 100%|██████████| 1/1 [02:15<00:00, 134.78s/ url]

Dl Size...: 100%|██████████| 827/827 [02:15<00:00,  7.60 MiB/s]


Extraction completed...:   0%|          | 0/913 [02:15<?, ? file/s]
Dl Completed...: 100%|██████████| 1/1 [02:15<00:00, 134.78s/ url]

Dl Size...: 100%|██████████| 827/827 [02:15<00:00,  7.60 MiB/s]


Extraction completed...:   0%|          | 0/914 [02:15<?, ? file/s]
Dl Completed...: 100%|██████████| 1/1 [02:15<00:00, 134.78s/ url]

Dl Size...: 100%|██████████| 827/827 [02:15<00:00,  7.60 MiB/s]


Extraction completed...:   0%|          | 0/915 [02:15<?, ? file/s]
Dl Completed...: 100%|██████████| 1/1 [02:15<00:00, 134.78s/ url]

Dl Size...: 100%|██████████| 827/827 [02:15<00:00,  7.60 MiB/s]


Extraction completed...:   0%|          | 0/916 [02:15<?, ? file/s]
Dl Completed...: 100%|██████████| 1/1 [02:15<00:00, 134.78s/ url]

Dl Size...: 100%|██████████| 827/827 [02:15<00:00,  7.60 MiB/s]


Extraction completed...:   0%|          | 0/917 [02:15<?, ? file/s]
Dl Completed...: 100%|██████████| 1/1 [02:15<00:00, 134.78s/ url]

Dl Size...: 100%|██████████| 827/827 [02:15<00:00,  7.60 MiB/s]


Extraction completed...:   0%|          | 0/918 [02:15<?, ? file/s]
Dl Completed...: 100%|██████████| 1/1 [02:15<00:00, 134.78s/ url]

Dl Size...: 100%|██████████| 827/827 [02:15<00:00,  7.60 MiB/s]


Extraction completed...:   0%|          | 0/919 [02:15<?, ? file/s]
Dl Completed...: 100%|██████████| 1/1 [02:15<00:00, 134.78s/ url]

Dl Size...: 100%|██████████| 827/827 [02:15<00:00,  7.60 MiB/s]


Extraction completed...:   0%|          | 0/920 [02:15<?, ? file/s]
Dl Completed...: 100%|██████████| 1/1 [02:15<00:00, 134.78s/ url]

Dl Size...: 100%|██████████| 827/827 [02:15<00:00,  7.60 MiB/s]


Extraction completed...:   0%|          | 0/921 [02:15<?, ? file/s]
Dl Completed...: 100%|██████████| 1/1 [02:15<00:00, 134.78s/ url]

Dl Size...: 100%|██████████| 827/827 [02:15<00:00,  7.60 MiB/s]


Extraction completed...:   0%|          | 0/922 [02:15<?, ? file/s]
Dl Completed...: 100%|██████████| 1/1 [02:15<00:00, 134.78s/ url]

Dl Size...: 100%|██████████| 827/827 [02:15<00:00,  7.60 MiB/s]


Extraction completed...:   0%|          | 0/923 [02:15<?, ? file/s]
Dl Completed...: 100%|██████████| 1/1 [02:15<00:00, 134.78s/ url]

Dl Size...: 100%|██████████| 827/827 [02:15<00:00,  7.60 MiB/s]


Extraction completed...:   0%|          | 0/924 [02:15<?, ? file/s]
Dl Completed...: 100%|██████████| 1/1 [02:15<00:00, 134.78s/ url]

Dl Size...: 100%|██████████| 827/827 [02:15<00:00,  7.60 MiB/s]


Extraction completed...:   0%|          | 0/925 [02:15<?, ? file/s]
Dl Completed...: 100%|██████████| 1/1 [02:15<00:00, 134.78s/ url]

Dl Size...: 100%|██████████| 827/827 [02:15<00:00,  7.60 MiB/s]


Extraction completed...:   0%|          | 0/926 [02:15<?, ? file/s]
Dl Completed...: 100%|██████████| 1/1 [02:15<00:00, 134.78s/ url]

Dl Size...: 100%|██████████| 827/827 [02:15<00:00,  7.60 MiB/s]


Extraction completed...:   0%|          | 0/927 [02:15<?, ? file/s]
Dl Completed...: 100%|██████████| 1/1 [02:15<00:00, 134.78s/ url]

Dl Size...: 100%|██████████| 827/827 [02:15<00:00,  7.60 MiB/s]


Extraction completed...:   0%|          | 0/928 [02:15<?, ? file/s]
Dl Completed...: 100%|██████████| 1/1 [02:15<00:00, 134.78s/ url]

Dl Size...: 100%|██████████| 827/827 [02:15<00:00,  7.60 MiB/s]


Extraction completed...:   0%|          | 0/929 [02:15<?, ? file/s]
Dl Completed...: 100%|██████████| 1/1 [02:15<00:00, 134.78s/ url]

Dl Size...: 100%|██████████| 827/827 [02:15<00:00,  7.60 MiB/s]


Extraction completed...:   0%|          | 0/930 [02:15<?, ? file/s]
Dl Completed...: 100%|██████████| 1/1 [02:15<00:00, 134.78s/ url]

Dl Size...: 100%|██████████| 827/827 [02:15<00:00,  7.60 MiB/s]


Extraction completed...:   0%|          | 0/931 [02:15<?, ? file/s]
Dl Completed...: 100%|██████████| 1/1 [02:15<00:00, 134.78s/ url]

Dl Size...: 100%|██████████| 827/827 [02:15<00:00,  7.60 MiB/s]


Extraction completed...:   0%|          | 0/932 [02:15<?, ? file/s]
Dl Completed...: 100%|██████████| 1/1 [02:15<00:00, 134.78s/ url]

Dl Size...: 100%|██████████| 827/827 [02:15<00:00,  7.60 MiB/s]


Extraction completed...:   0%|          | 0/933 [02:15<?, ? file/s]
Dl Completed...: 100%|██████████| 1/1 [02:15<00:00, 134.78s/ url]

Dl Size...: 100%|██████████| 827/827 [02:15<00:00,  7.60 MiB/s]


Extraction completed...:   0%|          | 0/934 [02:15<?, ? file/s]
Dl Completed...: 100%|██████████| 1/1 [02:15<00:00, 134.78s/ url]

Dl Size...: 100%|██████████| 827/827 [02:15<00:00,  7.60 MiB/s]


Extraction completed...:   0%|          | 0/935 [02:15<?, ? file/s]
Dl Completed...: 100%|██████████| 1/1 [02:15<00:00, 134.78s/ url]

Dl Size...: 100%|██████████| 827/827 [02:15<00:00,  7.60 MiB/s]


Extraction completed...:   0%|          | 0/936 [02:15<?, ? file/s]
Dl Completed...: 100%|██████████| 1/1 [02:15<00:00, 134.78s/ url]

Dl Size...: 100%|██████████| 827/827 [02:15<00:00,  7.60 MiB/s]


Extraction completed...:   0%|          | 0/937 [02:15<?, ? file/s]
Dl Completed...: 100%|██████████| 1/1 [02:15<00:00, 134.78s/ url]

Dl Size...: 100%|██████████| 827/827 [02:15<00:00,  7.60 MiB/s]


Extraction completed...:   0%|          | 0/938 [02:15<?, ? file/s]
Dl Completed...: 100%|██████████| 1/1 [02:15<00:00, 134.78s/ url]

Dl Size...: 100%|██████████| 827/827 [02:15<00:00,  7.60 MiB/s]


Extraction completed...:   0%|          | 0/939 [02:15<?, ? file/s]
Dl Completed...: 100%|██████████| 1/1 [02:15<00:00, 134.78s/ url]

Dl Size...: 100%|██████████| 827/827 [02:15<00:00,  7.60 MiB/s]


Extraction completed...:   0%|          | 0/940 [02:15<?, ? file/s]
Dl Completed...: 100%|██████████| 1/1 [02:15<00:00, 134.78s/ url]

Dl Size...: 100%|██████████| 827/827 [02:15<00:00,  7.60 MiB/s]


Extraction completed...:   0%|          | 0/941 [02:15<?, ? file/s]
Dl Completed...: 100%|██████████| 1/1 [02:15<00:00, 134.78s/ url]

Dl Size...: 100%|██████████| 827/827 [02:15<00:00,  7.60 MiB/s]


Extraction completed...:   0%|          | 0/942 [02:15<?, ? file/s]
Dl Completed...: 100%|██████████| 1/1 [02:15<00:00, 134.78s/ url]

Dl Size...: 100%|██████████| 827/827 [02:15<00:00,  7.60 MiB/s]


Extraction completed...:   0%|          | 0/943 [02:15<?, ? file/s]
Dl Completed...: 100%|██████████| 1/1 [02:15<00:00, 134.78s/ url]

Dl Size...: 100%|██████████| 827/827 [02:15<00:00,  7.60 MiB/s]


Extraction completed...:   0%|          | 0/944 [02:15<?, ? file/s]
Dl Completed...: 100%|██████████| 1/1 [02:15<00:00, 134.78s/ url]

Dl Size...: 100%|██████████| 827/827 [02:15<00:00,  7.60 MiB/s]


Extraction completed...:   0%|          | 0/945 [02:15<?, ? file/s]
Dl Completed...: 100%|██████████| 1/1 [02:15<00:00, 134.78s/ url]

Dl Size...: 100%|██████████| 827/827 [02:15<00:00,  7.60 MiB/s]


Extraction completed...:   0%|          | 0/946 [02:15<?, ? file/s]
Dl Completed...: 100%|██████████| 1/1 [02:15<00:00, 134.78s/ url]

Dl Size...: 100%|██████████| 827/827 [02:15<00:00,  7.60 MiB/s]


Extraction completed...:   0%|          | 0/947 [02:15<?, ? file/s]
Dl Completed...: 100%|██████████| 1/1 [02:15<00:00, 134.78s/ url]

Dl Size...: 100%|██████████| 827/827 [02:15<00:00,  7.60 MiB/s]


Extraction completed...:   0%|          | 0/948 [02:15<?, ? file/s]
Dl Completed...: 100%|██████████| 1/1 [02:15<00:00, 134.78s/ url]

Dl Size...: 100%|██████████| 827/827 [02:15<00:00,  7.60 MiB/s]


Extraction completed...:   0%|          | 0/949 [02:15<?, ? file/s]
Dl Completed...: 100%|██████████| 1/1 [02:15<00:00, 134.78s/ url]

Dl Size...: 100%|██████████| 827/827 [02:15<00:00,  7.60 MiB/s]


Extraction completed...:   0%|          | 0/950 [02:15<?, ? file/s]
Dl Completed...: 100%|██████████| 1/1 [02:15<00:00, 134.78s/ url]

Dl Size...: 100%|██████████| 827/827 [02:15<00:00,  7.60 MiB/s]


Extraction completed...:   0%|          | 0/951 [02:15<?, ? file/s]
Dl Completed...: 100%|██████████| 1/1 [02:15<00:00, 134.78s/ url]

Dl Size...: 100%|██████████| 827/827 [02:15<00:00,  7.60 MiB/s]


Extraction completed...:   0%|          | 0/952 [02:15<?, ? file/s]
Dl Completed...: 100%|██████████| 1/1 [02:15<00:00, 134.78s/ url]

Dl Size...: 100%|██████████| 827/827 [02:15<00:00,  7.60 MiB/s]


Extraction completed...:   0%|          | 0/953 [02:15<?, ? file/s]
Dl Completed...: 100%|██████████| 1/1 [02:15<00:00, 134.78s/ url]

Dl Size...: 100%|██████████| 827/827 [02:15<00:00,  7.60 MiB/s]


Extraction completed...:   0%|          | 0/954 [02:15<?, ? file/s]
Dl Completed...: 100%|██████████| 1/1 [02:15<00:00, 134.78s/ url]

Dl Size...: 100%|██████████| 827/827 [02:15<00:00,  7.60 MiB/s]


Extraction completed...:   0%|          | 0/955 [02:15<?, ? file/s]
Dl Completed...: 100%|██████████| 1/1 [02:15<00:00, 134.78s/ url]

Dl Size...: 100%|██████████| 827/827 [02:15<00:00,  7.60 MiB/s]


Extraction completed...:   0%|          | 0/956 [02:15<?, ? file/s]
Dl Completed...: 100%|██████████| 1/1 [02:15<00:00, 134.78s/ url]

Dl Size...: 100%|██████████| 827/827 [02:15<00:00,  7.60 MiB/s]


Extraction completed...:   0%|          | 0/957 [02:15<?, ? file/s]
Dl Completed...: 100%|██████████| 1/1 [02:15<00:00, 134.78s/ url]

Dl Size...: 100%|██████████| 827/827 [02:15<00:00,  7.60 MiB/s]


Extraction completed...:   0%|          | 0/958 [02:15<?, ? file/s]
Dl Completed...: 100%|██████████| 1/1 [02:15<00:00, 134.78s/ url]

Dl Size...: 100%|██████████| 827/827 [02:15<00:00,  7.60 MiB/s]


Extraction completed...:   0%|          | 0/959 [02:15<?, ? file/s]
Dl Completed...: 100%|██████████| 1/1 [02:15<00:00, 134.78s/ url]

Dl Size...: 100%|██████████| 827/827 [02:15<00:00,  7.60 MiB/s]


Extraction completed...:   0%|          | 0/960 [02:15<?, ? file/s]
Dl Completed...: 100%|██████████| 1/1 [02:15<00:00, 134.78s/ url]

Dl Size...: 100%|██████████| 827/827 [02:15<00:00,  7.60 MiB/s]


Extraction completed...:   0%|          | 0/961 [02:15<?, ? file/s]
Dl Completed...: 100%|██████████| 1/1 [02:15<00:00, 134.78s/ url]

Dl Size...: 100%|██████████| 827/827 [02:15<00:00,  7.60 MiB/s]


Extraction completed...:   0%|          | 0/962 [02:15<?, ? file/s]
Dl Completed...: 100%|██████████| 1/1 [02:15<00:00, 134.78s/ url]

Dl Size...: 100%|██████████| 827/827 [02:15<00:00,  7.60 MiB/s]


Extraction completed...:   0%|          | 0/963 [02:15<?, ? file/s]
Dl Completed...: 100%|██████████| 1/1 [02:15<00:00, 134.78s/ url]

Dl Size...: 100%|██████████| 827/827 [02:15<00:00,  7.60 MiB/s]


Extraction completed...:   0%|          | 0/964 [02:15<?, ? file/s]
Dl Completed...: 100%|██████████| 1/1 [02:15<00:00, 134.78s/ url]

Dl Size...: 100%|██████████| 827/827 [02:15<00:00,  7.60 MiB/s]


Extraction completed...:   0%|          | 0/965 [02:15<?, ? file/s]
Dl Completed...: 100%|██████████| 1/1 [02:15<00:00, 134.78s/ url]

Dl Size...: 100%|██████████| 827/827 [02:15<00:00,  7.60 MiB/s]


Extraction completed...:   0%|          | 0/966 [02:15<?, ? file/s]
Dl Completed...: 100%|██████████| 1/1 [02:15<00:00, 134.78s/ url]

Dl Size...: 100%|██████████| 827/827 [02:15<00:00,  7.60 MiB/s]


Extraction completed...:   0%|          | 0/967 [02:15<?, ? file/s]
Dl Completed...: 100%|██████████| 1/1 [02:15<00:00, 134.78s/ url]

Dl Size...: 100%|██████████| 827/827 [02:15<00:00,  7.60 MiB/s]


Extraction completed...:   0%|          | 0/968 [02:15<?, ? file/s]
Dl Completed...: 100%|██████████| 1/1 [02:15<00:00, 134.78s/ url]

Dl Size...: 100%|██████████| 827/827 [02:15<00:00,  7.60 MiB/s]


Extraction completed...:   0%|          | 0/969 [02:15<?, ? file/s]
Dl Completed...: 100%|██████████| 1/1 [02:15<00:00, 134.78s/ url]

Dl Size...: 100%|██████████| 827/827 [02:15<00:00,  7.60 MiB/s]


Extraction completed...:   0%|          | 0/970 [02:15<?, ? file/s]
Dl Completed...: 100%|██████████| 1/1 [02:15<00:00, 134.78s/ url]

Dl Size...: 100%|██████████| 827/827 [02:15<00:00,  7.60 MiB/s]


Extraction completed...:   0%|          | 0/971 [02:15<?, ? file/s]
Dl Completed...: 100%|██████████| 1/1 [02:15<00:00, 134.78s/ url]

Dl Size...: 100%|██████████| 827/827 [02:15<00:00,  7.60 MiB/s]


Extraction completed...:   0%|          | 0/972 [02:15<?, ? file/s]
Dl Completed...: 100%|██████████| 1/1 [02:15<00:00, 134.78s/ url]

Dl Size...: 100%|██████████| 827/827 [02:15<00:00,  7.60 MiB/s]


Extraction completed...:   0%|          | 0/973 [02:15<?, ? file/s]
Dl Completed...: 100%|██████████| 1/1 [02:15<00:00, 134.78s/ url]

Dl Size...: 100%|██████████| 827/827 [02:15<00:00,  7.60 MiB/s]


Extraction completed...:   0%|          | 0/974 [02:15<?, ? file/s]
Dl Completed...: 100%|██████████| 1/1 [02:15<00:00, 134.78s/ url]

Dl Size...: 100%|██████████| 827/827 [02:15<00:00,  7.60 MiB/s]


Extraction completed...:   0%|          | 0/975 [02:15<?, ? file/s]
Dl Completed...: 100%|██████████| 1/1 [02:15<00:00, 134.78s/ url]

Dl Size...: 100%|██████████| 827/827 [02:15<00:00,  7.60 MiB/s]


Extraction completed...:   0%|          | 0/976 [02:15<?, ? file/s]
Dl Completed...: 100%|██████████| 1/1 [02:15<00:00, 134.78s/ url]

Dl Size...: 100%|██████████| 827/827 [02:15<00:00,  7.60 MiB/s]


Extraction completed...:   0%|          | 0/977 [02:15<?, ? file/s]
Dl Completed...: 100%|██████████| 1/1 [02:15<00:00, 134.78s/ url]

Dl Size...: 100%|██████████| 827/827 [02:15<00:00,  7.60 MiB/s]


Extraction completed...:   0%|          | 0/978 [02:15<?, ? file/s]
Dl Completed...: 100%|██████████| 1/1 [02:15<00:00, 134.78s/ url]

Dl Size...: 100%|██████████| 827/827 [02:15<00:00,  7.60 MiB/s]


Extraction completed...:   0%|          | 0/979 [02:15<?, ? file/s]
Dl Completed...: 100%|██████████| 1/1 [02:15<00:00, 134.78s/ url]

Dl Size...: 100%|██████████| 827/827 [02:15<00:00,  7.60 MiB/s]


Extraction completed...:   0%|          | 0/980 [02:15<?, ? file/s]
Dl Completed...: 100%|██████████| 1/1 [02:15<00:00, 134.78s/ url]

Dl Size...: 100%|██████████| 827/827 [02:15<00:00,  7.60 MiB/s]


Extraction completed...:   0%|          | 0/981 [02:15<?, ? file/s]
Dl Completed...: 100%|██████████| 1/1 [02:15<00:00, 134.78s/ url]

Dl Size...: 100%|██████████| 827/827 [02:15<00:00,  7.60 MiB/s]


Extraction completed...:   0%|          | 0/982 [02:15<?, ? file/s]
Dl Completed...: 100%|██████████| 1/1 [02:15<00:00, 134.78s/ url]

Dl Size...: 100%|██████████| 827/827 [02:15<00:00,  7.60 MiB/s]


Extraction completed...:   0%|          | 0/983 [02:15<?, ? file/s]
Dl Completed...: 100%|██████████| 1/1 [02:15<00:00, 134.78s/ url]

Dl Size...: 100%|██████████| 827/827 [02:15<00:00,  7.60 MiB/s]


Extraction completed...:   0%|          | 0/984 [02:15<?, ? file/s]
Dl Completed...: 100%|██████████| 1/1 [02:15<00:00, 134.78s/ url]

Dl Size...: 100%|██████████| 827/827 [02:15<00:00,  7.60 MiB/s]


Extraction completed...:   0%|          | 0/985 [02:15<?, ? file/s]
Dl Completed...: 100%|██████████| 1/1 [02:15<00:00, 134.78s/ url]

Dl Size...: 100%|██████████| 827/827 [02:15<00:00,  7.60 MiB/s]


Extraction completed...:   0%|          | 0/986 [02:15<?, ? file/s]
Dl Completed...: 100%|██████████| 1/1 [02:15<00:00, 134.78s/ url]

Dl Size...: 100%|██████████| 827/827 [02:15<00:00,  7.60 MiB/s]


Extraction completed...:   0%|          | 0/987 [02:15<?, ? file/s]
Dl Completed...: 100%|██████████| 1/1 [02:15<00:00, 134.78s/ url]

Dl Size...: 100%|██████████| 827/827 [02:15<00:00,  7.60 MiB/s]


Extraction completed...:   0%|          | 0/988 [02:15<?, ? file/s]
Dl Completed...: 100%|██████████| 1/1 [02:15<00:00, 134.78s/ url]

Dl Size...: 100%|██████████| 827/827 [02:15<00:00,  7.60 MiB/s]


Extraction completed...:   0%|          | 0/989 [02:15<?, ? file/s]
Dl Completed...: 100%|██████████| 1/1 [02:15<00:00, 134.78s/ url]

Dl Size...: 100%|██████████| 827/827 [02:15<00:00,  7.60 MiB/s]


Extraction completed...:   0%|          | 0/990 [02:15<?, ? file/s]
Dl Completed...: 100%|██████████| 1/1 [02:15<00:00, 134.78s/ url]

Dl Size...: 100%|██████████| 827/827 [02:15<00:00,  7.60 MiB/s]


Extraction completed...:   0%|          | 0/991 [02:15<?, ? file/s]
Dl Completed...: 100%|██████████| 1/1 [02:15<00:00, 134.78s/ url]

Dl Size...: 100%|██████████| 827/827 [02:15<00:00,  7.60 MiB/s]


Extraction completed...:   0%|          | 0/992 [02:15<?, ? file/s]
Dl Completed...: 100%|██████████| 1/1 [02:15<00:00, 134.78s/ url]

Dl Size...: 100%|██████████| 827/827 [02:15<00:00,  7.60 MiB/s]


Extraction completed...:   0%|          | 0/993 [02:15<?, ? file/s]
Dl Completed...: 100%|██████████| 1/1 [02:15<00:00, 134.78s/ url]

Dl Size...: 100%|██████████| 827/827 [02:15<00:00,  7.60 MiB/s]


Extraction completed...:   0%|          | 0/994 [02:15<?, ? file/s]
Dl Completed...: 100%|██████████| 1/1 [02:15<00:00, 134.78s/ url]

Dl Size...: 100%|██████████| 827/827 [02:15<00:00,  7.60 MiB/s]


Extraction completed...:   0%|          | 0/995 [02:15<?, ? file/s]
Dl Completed...: 100%|██████████| 1/1 [02:15<00:00, 134.78s/ url]

Dl Size...: 100%|██████████| 827/827 [02:15<00:00,  7.60 MiB/s]


Extraction completed...:   0%|          | 0/996 [02:15<?, ? file/s]
Dl Completed...: 100%|██████████| 1/1 [02:15<00:00, 134.78s/ url]

Dl Size...: 100%|██████████| 827/827 [02:15<00:00,  7.60 MiB/s]


Extraction completed...:   0%|          | 0/997 [02:15<?, ? file/s]
Dl Completed...: 100%|██████████| 1/1 [02:15<00:00, 134.78s/ url]

Dl Size...: 100%|██████████| 827/827 [02:15<00:00,  7.60 MiB/s]


Extraction completed...:   0%|          | 0/998 [02:15<?, ? file/s]
Dl Completed...: 100%|██████████| 1/1 [02:15<00:00, 134.78s/ url]

Dl Size...: 100%|██████████| 827/827 [02:15<00:00,  7.60 MiB/s]


Extraction completed...:   0%|          | 0/999 [02:15<?, ? file/s]
Dl Completed...: 100%|██████████| 1/1 [02:15<00:00, 134.78s/ url]

Dl Size...: 100%|██████████| 827/827 [02:15<00:00,  7.60 MiB/s]


Extraction completed...:   0%|          | 0/1000 [02:15<?, ? file/s]
Dl Completed...: 100%|██████████| 1/1 [02:15<00:00, 134.78s/ url]

Dl Size...: 100%|██████████| 827/827 [02:15<00:00,  7.60 MiB/s]


Extraction completed...:   0%|          | 0/1001 [02:15<?, ? file/s]
Dl Completed...: 100%|██████████| 1/1 [02:15<00:00, 134.78s/ url]

Dl Size...: 100%|██████████| 827/827 [02:15<00:00,  7.60 MiB/s]


Extraction completed...:   0%|          | 0/1002 [02:15<?, ? file/s]
Dl Completed...: 100%|██████████| 1/1 [02:15<00:00, 134.78s/ url]

Dl Size...: 100%|██████████| 827/827 [02:15<00:00,  7.60 MiB/s]


Extraction completed...:   0%|          | 0/1003 [02:15<?, ? file/s]
Dl Completed...: 100%|██████████| 1/1 [02:15<00:00, 134.78s/ url]

Dl Size...: 100%|██████████| 827/827 [02:15<00:00,  7.60 MiB/s]


Extraction completed...:   0%|          | 0/1004 [02:15<?, ? file/s]
Dl Completed...: 100%|██████████| 1/1 [02:15<00:00, 134.78s/ url]

Dl Size...: 100%|██████████| 827/827 [02:15<00:00,  7.60 MiB/s]


Extraction completed...:   0%|          | 0/1005 [02:15<?, ? file/s]
Dl Completed...: 100%|██████████| 1/1 [02:15<00:00, 134.78s/ url]

Dl Size...: 100%|██████████| 827/827 [02:15<00:00,  7.60 MiB/s]


Extraction completed...:   0%|          | 0/1006 [02:15<?, ? file/s]
Dl Completed...: 100%|██████████| 1/1 [02:15<00:00, 134.78s/ url]

Dl Size...: 100%|██████████| 827/827 [02:15<00:00,  7.60 MiB/s]


Extraction completed...:   0%|          | 0/1007 [02:15<?, ? file/s]
Dl Completed...: 100%|██████████| 1/1 [02:15<00:00, 134.78s/ url]

Dl Size...: 100%|██████████| 827/827 [02:15<00:00,  7.60 MiB/s]


Extraction completed...:   0%|          | 0/1008 [02:15<?, ? file/s]
Dl Completed...: 100%|██████████| 1/1 [02:15<00:00, 134.78s/ url]

Dl Size...: 100%|██████████| 827/827 [02:15<00:00,  7.60 MiB/s]


Extraction completed...:   0%|          | 0/1009 [02:15<?, ? file/s]
Dl Completed...: 100%|██████████| 1/1 [02:15<00:00, 134.78s/ url]

Dl Size...: 100%|██████████| 827/827 [02:15<00:00,  7.60 MiB/s]


Extraction completed...:   0%|          | 0/1010 [02:15<?, ? file/s]
Dl Completed...: 100%|██████████| 1/1 [02:15<00:00, 134.78s/ url]

Dl Size...: 100%|██████████| 827/827 [02:15<00:00,  7.60 MiB/s]


Extraction completed...:   0%|          | 0/1011 [02:15<?, ? file/s]
Dl Completed...: 100%|██████████| 1/1 [02:15<00:00, 134.78s/ url]

Dl Size...: 100%|██████████| 827/827 [02:15<00:00,  7.60 MiB/s]


Extraction completed...:   0%|          | 0/1012 [02:15<?, ? file/s]
Dl Completed...: 100%|██████████| 1/1 [02:15<00:00, 134.78s/ url]

Dl Size...: 100%|██████████| 827/827 [02:15<00:00,  7.60 MiB/s]


Extraction completed...:   0%|          | 0/1013 [02:15<?, ? file/s]
Dl Completed...: 100%|██████████| 1/1 [02:15<00:00, 134.78s/ url]

Dl Size...: 100%|██████████| 827/827 [02:15<00:00,  7.60 MiB/s]


Extraction completed...:   0%|          | 0/1014 [02:15<?, ? file/s]
Dl Completed...: 100%|██████████| 1/1 [02:15<00:00, 134.78s/ url]

Dl Size...: 100%|██████████| 827/827 [02:15<00:00,  7.60 MiB/s]


Extraction completed...:   0%|          | 0/1015 [02:15<?, ? file/s]
Dl Completed...: 100%|██████████| 1/1 [02:15<00:00, 134.78s/ url]

Dl Size...: 100%|██████████| 827/827 [02:15<00:00,  7.60 MiB/s]


Extraction completed...:   0%|          | 0/1016 [02:15<?, ? file/s]
Dl Completed...: 100%|██████████| 1/1 [02:15<00:00, 134.78s/ url]

Dl Size...: 100%|██████████| 827/827 [02:15<00:00,  7.60 MiB/s]


Extraction completed...:   0%|          | 0/1017 [02:15<?, ? file/s]
Dl Completed...: 100%|██████████| 1/1 [02:15<00:00, 134.78s/ url]

Dl Size...: 100%|██████████| 827/827 [02:15<00:00,  7.60 MiB/s]


Extraction completed...:   0%|          | 0/1018 [02:15<?, ? file/s]
Dl Completed...: 100%|██████████| 1/1 [02:15<00:00, 134.78s/ url]

Dl Size...: 100%|██████████| 827/827 [02:15<00:00,  7.60 MiB/s]


Extraction completed...:   0%|          | 0/1019 [02:15<?, ? file/s]
Dl Completed...: 100%|██████████| 1/1 [02:15<00:00, 134.78s/ url]

Dl Size...: 100%|██████████| 827/827 [02:15<00:00,  7.60 MiB/s]


Extraction completed...:   0%|          | 0/1020 [02:15<?, ? file/s]
Dl Completed...: 100%|██████████| 1/1 [02:15<00:00, 134.78s/ url]

Dl Size...: 100%|██████████| 827/827 [02:15<00:00,  7.60 MiB/s]


Extraction completed...:   0%|          | 0/1021 [02:15<?, ? file/s]
Dl Completed...: 100%|██████████| 1/1 [02:15<00:00, 134.78s/ url]

Dl Size...: 100%|██████████| 827/827 [02:15<00:00,  7.60 MiB/s]


Extraction completed...:   0%|          | 0/1022 [02:15<?, ? file/s]
Dl Completed...: 100%|██████████| 1/1 [02:15<00:00, 134.78s/ url]

Dl Size...: 100%|██████████| 827/827 [02:15<00:00,  7.60 MiB/s]


Extraction completed...:   0%|          | 0/1023 [02:15<?, ? file/s]
Dl Completed...: 100%|██████████| 1/1 [02:15<00:00, 134.78s/ url]

Dl Size...: 100%|██████████| 827/827 [02:15<00:00,  7.60 MiB/s]


Extraction completed...:   0%|          | 0/1024 [02:15<?, ? file/s]
Dl Completed...: 100%|██████████| 1/1 [02:15<00:00, 134.78s/ url]

Dl Size...: 100%|██████████| 827/827 [02:15<00:00,  7.60 MiB/s]


Extraction completed...:   0%|          | 0/1025 [02:15<?, ? file/s]
Dl Completed...: 100%|██████████| 1/1 [02:15<00:00, 134.78s/ url]

Dl Size...: 100%|██████████| 827/827 [02:15<00:00,  7.60 MiB/s]


Extraction completed...:   0%|          | 0/1026 [02:15<?, ? file/s]
Dl Completed...: 100%|██████████| 1/1 [02:15<00:00, 134.78s/ url]

Dl Size...: 100%|██████████| 827/827 [02:15<00:00,  7.60 MiB/s]


Extraction completed...:   0%|          | 0/1027 [02:15<?, ? file/s]
Dl Completed...: 100%|██████████| 1/1 [02:15<00:00, 134.78s/ url]

Dl Size...: 100%|██████████| 827/827 [02:15<00:00,  7.60 MiB/s]


Extraction completed...:   0%|          | 0/1028 [02:15<?, ? file/s]
Dl Completed...: 100%|██████████| 1/1 [02:15<00:00, 134.78s/ url]

Dl Size...: 100%|██████████| 827/827 [02:15<00:00,  7.60 MiB/s]


Extraction completed...:   0%|          | 0/1029 [02:15<?, ? file/s]
Dl Completed...: 100%|██████████| 1/1 [02:15<00:00, 134.78s/ url]

Dl Size...: 100%|██████████| 827/827 [02:15<00:00,  7.60 MiB/s]


Extraction completed...:   0%|          | 0/1030 [02:15<?, ? file/s]
Dl Completed...: 100%|██████████| 1/1 [02:15<00:00, 134.78s/ url]

Dl Size...: 100%|██████████| 827/827 [02:15<00:00,  7.60 MiB/s]


Extraction completed...:   0%|          | 0/1031 [02:15<?, ? file/s]
Dl Completed...: 100%|██████████| 1/1 [02:15<00:00, 134.78s/ url]

Dl Size...: 100%|██████████| 827/827 [02:15<00:00,  7.60 MiB/s]


Extraction completed...:   0%|          | 0/1032 [02:15<?, ? file/s]
Dl Completed...: 100%|██████████| 1/1 [02:15<00:00, 134.78s/ url]

Dl Size...: 100%|██████████| 827/827 [02:15<00:00,  7.60 MiB/s]


Extraction completed...:   0%|          | 0/1033 [02:15<?, ? file/s]
Dl Completed...: 100%|██████████| 1/1 [02:15<00:00, 134.78s/ url]

Dl Size...: 100%|██████████| 827/827 [02:15<00:00,  7.60 MiB/s]


Extraction completed...:   0%|          | 0/1034 [02:15<?, ? file/s]
Dl Completed...: 100%|██████████| 1/1 [02:15<00:00, 134.78s/ url]

Dl Size...: 100%|██████████| 827/827 [02:15<00:00,  7.60 MiB/s]


Extraction completed...:   0%|          | 0/1035 [02:15<?, ? file/s]
Dl Completed...: 100%|██████████| 1/1 [02:15<00:00, 134.78s/ url]

Dl Size...: 100%|██████████| 827/827 [02:15<00:00,  7.60 MiB/s]


Extraction completed...:   0%|          | 0/1036 [02:15<?, ? file/s]
Dl Completed...: 100%|██████████| 1/1 [02:15<00:00, 134.78s/ url]

Dl Size...: 100%|██████████| 827/827 [02:15<00:00,  7.60 MiB/s]


Extraction completed...:   0%|          | 0/1037 [02:15<?, ? file/s]
Dl Completed...: 100%|██████████| 1/1 [02:15<00:00, 134.78s/ url]

Dl Size...: 100%|██████████| 827/827 [02:15<00:00,  7.60 MiB/s]


Extraction completed...:   0%|          | 0/1038 [02:15<?, ? file/s]
Dl Completed...: 100%|██████████| 1/1 [02:15<00:00, 134.78s/ url]

Dl Size...: 100%|██████████| 827/827 [02:15<00:00,  7.60 MiB/s]


Extraction completed...:   0%|          | 0/1039 [02:15<?, ? file/s]
Dl Completed...: 100%|██████████| 1/1 [02:15<00:00, 134.78s/ url]

Dl Size...: 100%|██████████| 827/827 [02:15<00:00,  7.60 MiB/s]


Extraction completed...:   0%|          | 0/1040 [02:15<?, ? file/s]
Dl Completed...: 100%|██████████| 1/1 [02:15<00:00, 134.78s/ url]

Dl Size...: 100%|██████████| 827/827 [02:15<00:00,  7.60 MiB/s]


Extraction completed...:   0%|          | 0/1041 [02:15<?, ? file/s]
Dl Completed...: 100%|██████████| 1/1 [02:15<00:00, 134.78s/ url]

Dl Size...: 100%|██████████| 827/827 [02:15<00:00,  7.60 MiB/s]


Extraction completed...:   0%|          | 0/1042 [02:15<?, ? file/s]
Dl Completed...: 100%|██████████| 1/1 [02:15<00:00, 134.78s/ url]

Dl Size...: 100%|██████████| 827/827 [02:15<00:00,  7.60 MiB/s]


Extraction completed...:   0%|          | 0/1043 [02:15<?, ? file/s]
Dl Completed...: 100%|██████████| 1/1 [02:15<00:00, 134.78s/ url]

Dl Size...: 100%|██████████| 827/827 [02:15<00:00,  7.60 MiB/s]


Extraction completed...:   0%|          | 0/1044 [02:15<?, ? file/s]
Dl Completed...: 100%|██████████| 1/1 [02:15<00:00, 134.78s/ url]

Dl Size...: 100%|██████████| 827/827 [02:15<00:00,  7.60 MiB/s]


Extraction completed...:   0%|          | 0/1045 [02:15<?, ? file/s]
Dl Completed...: 100%|██████████| 1/1 [02:15<00:00, 134.78s/ url]

Dl Size...: 100%|██████████| 827/827 [02:15<00:00,  7.60 MiB/s]


Extraction completed...:   0%|          | 0/1046 [02:15<?, ? file/s]
Dl Completed...: 100%|██████████| 1/1 [02:15<00:00, 134.78s/ url]

Dl Size...: 100%|██████████| 827/827 [02:15<00:00,  7.60 MiB/s]


Extraction completed...:   0%|          | 0/1047 [02:15<?, ? file/s]
Dl Completed...: 100%|██████████| 1/1 [02:15<00:00, 134.78s/ url]

Dl Size...: 100%|██████████| 827/827 [02:15<00:00,  7.60 MiB/s]


Extraction completed...:   0%|          | 0/1048 [02:15<?, ? file/s]
Dl Completed...: 100%|██████████| 1/1 [02:15<00:00, 134.78s/ url]

Dl Size...: 100%|██████████| 827/827 [02:15<00:00,  7.60 MiB/s]


Extraction completed...:   0%|          | 0/1049 [02:15<?, ? file/s]
Dl Completed...: 100%|██████████| 1/1 [02:15<00:00, 134.78s/ url]

Dl Size...: 100%|██████████| 827/827 [02:15<00:00,  7.60 MiB/s]


Extraction completed...:   0%|          | 0/1050 [02:15<?, ? file/s]
Dl Completed...: 100%|██████████| 1/1 [02:15<00:00, 134.78s/ url]

Dl Size...: 100%|██████████| 827/827 [02:15<00:00,  7.60 MiB/s]


Extraction completed...:   0%|          | 0/1051 [02:15<?, ? file/s]
Dl Completed...: 100%|██████████| 1/1 [02:15<00:00, 134.78s/ url]

Dl Size...: 100%|██████████| 827/827 [02:15<00:00,  7.60 MiB/s]


Extraction completed...:   0%|          | 0/1052 [02:15<?, ? file/s]
Dl Completed...: 100%|██████████| 1/1 [02:15<00:00, 134.78s/ url]

Dl Size...: 100%|██████████| 827/827 [02:15<00:00,  7.60 MiB/s]


Extraction completed...:   0%|          | 0/1053 [02:15<?, ? file/s]
Dl Completed...: 100%|██████████| 1/1 [02:15<00:00, 134.78s/ url]

Dl Size...: 100%|██████████| 827/827 [02:15<00:00,  7.60 MiB/s]


Extraction completed...:   0%|          | 0/1054 [02:15<?, ? file/s]
Dl Completed...: 100%|██████████| 1/1 [02:15<00:00, 134.78s/ url]

Dl Size...: 100%|██████████| 827/827 [02:15<00:00,  7.60 MiB/s]


Extraction completed...:   0%|          | 0/1055 [02:15<?, ? file/s]
Dl Completed...: 100%|██████████| 1/1 [02:15<00:00, 134.78s/ url]

Dl Size...: 100%|██████████| 827/827 [02:15<00:00,  7.60 MiB/s]


Extraction completed...:   0%|          | 0/1056 [02:15<?, ? file/s]
Dl Completed...: 100%|██████████| 1/1 [02:15<00:00, 134.78s/ url]

Dl Size...: 100%|██████████| 827/827 [02:15<00:00,  7.60 MiB/s]


Extraction completed...:   0%|          | 0/1057 [02:15<?, ? file/s]
Dl Completed...: 100%|██████████| 1/1 [02:15<00:00, 134.78s/ url]

Dl Size...: 100%|██████████| 827/827 [02:15<00:00,  7.60 MiB/s]


Extraction completed...:   0%|          | 0/1058 [02:15<?, ? file/s]
Dl Completed...: 100%|██████████| 1/1 [02:15<00:00, 134.78s/ url]

Dl Size...: 100%|██████████| 827/827 [02:15<00:00,  7.60 MiB/s]


Extraction completed...:   0%|          | 0/1059 [02:15<?, ? file/s]
Dl Completed...: 100%|██████████| 1/1 [02:15<00:00, 134.78s/ url]

Dl Size...: 100%|██████████| 827/827 [02:15<00:00,  7.60 MiB/s]


Extraction completed...:   0%|          | 0/1060 [02:15<?, ? file/s]
Dl Completed...: 100%|██████████| 1/1 [02:15<00:00, 134.78s/ url]

Dl Size...: 100%|██████████| 827/827 [02:15<00:00,  7.60 MiB/s]


Extraction completed...:   0%|          | 0/1061 [02:15<?, ? file/s]
Dl Completed...: 100%|██████████| 1/1 [02:15<00:00, 134.78s/ url]

Dl Size...: 100%|██████████| 827/827 [02:15<00:00,  7.60 MiB/s]


Extraction completed...:   0%|          | 0/1062 [02:15<?, ? file/s]
Dl Completed...: 100%|██████████| 1/1 [02:15<00:00, 134.78s/ url]

Dl Size...: 100%|██████████| 827/827 [02:15<00:00,  7.60 MiB/s]


Extraction completed...:   0%|          | 0/1063 [02:15<?, ? file/s]
Dl Completed...: 100%|██████████| 1/1 [02:15<00:00, 134.78s/ url]

Dl Size...: 100%|██████████| 827/827 [02:15<00:00,  7.60 MiB/s]


Extraction completed...:   0%|          | 0/1064 [02:15<?, ? file/s]
Dl Completed...: 100%|██████████| 1/1 [02:15<00:00, 134.78s/ url]

Dl Size...: 100%|██████████| 827/827 [02:15<00:00,  7.60 MiB/s]


Extraction completed...:   0%|          | 0/1065 [02:15<?, ? file/s]
Dl Completed...: 100%|██████████| 1/1 [02:15<00:00, 134.78s/ url]

Dl Size...: 100%|██████████| 827/827 [02:15<00:00,  7.60 MiB/s]


Extraction completed...:   0%|          | 0/1066 [02:15<?, ? file/s]
Dl Completed...: 100%|██████████| 1/1 [02:15<00:00, 134.78s/ url]

Dl Size...: 100%|██████████| 827/827 [02:15<00:00,  7.60 MiB/s]


Extraction completed...:   0%|          | 0/1067 [02:15<?, ? file/s]
Dl Completed...: 100%|██████████| 1/1 [02:15<00:00, 134.78s/ url]

Dl Size...: 100%|██████████| 827/827 [02:15<00:00,  7.60 MiB/s]


Extraction completed...:   0%|          | 0/1068 [02:15<?, ? file/s]
Dl Completed...: 100%|██████████| 1/1 [02:15<00:00, 134.78s/ url]

Dl Size...: 100%|██████████| 827/827 [02:15<00:00,  7.60 MiB/s]


Extraction completed...:   0%|          | 0/1069 [02:15<?, ? file/s]
Dl Completed...: 100%|██████████| 1/1 [02:15<00:00, 134.78s/ url]

Dl Size...: 100%|██████████| 827/827 [02:15<00:00,  7.60 MiB/s]


Extraction completed...:   0%|          | 0/1070 [02:15<?, ? file/s]
Dl Completed...: 100%|██████████| 1/1 [02:15<00:00, 134.78s/ url]

Dl Size...: 100%|██████████| 827/827 [02:15<00:00,  7.60 MiB/s]


Extraction completed...:   0%|          | 0/1071 [02:15<?, ? file/s]
Dl Completed...: 100%|██████████| 1/1 [02:15<00:00, 134.78s/ url]

Dl Size...: 100%|██████████| 827/827 [02:15<00:00,  7.60 MiB/s]


Extraction completed...:   0%|          | 0/1072 [02:15<?, ? file/s]
Dl Completed...: 100%|██████████| 1/1 [02:15<00:00, 134.78s/ url]

Dl Size...: 100%|██████████| 827/827 [02:15<00:00,  7.60 MiB/s]


Extraction completed...:   0%|          | 0/1073 [02:15<?, ? file/s]
Dl Completed...: 100%|██████████| 1/1 [02:15<00:00, 134.78s/ url]

Dl Size...: 100%|██████████| 827/827 [02:15<00:00,  7.60 MiB/s]


Extraction completed...:   0%|          | 0/1074 [02:15<?, ? file/s]
Dl Completed...: 100%|██████████| 1/1 [02:15<00:00, 134.78s/ url]

Dl Size...: 100%|██████████| 827/827 [02:15<00:00,  7.60 MiB/s]


Extraction completed...:   0%|          | 0/1075 [02:15<?, ? file/s]
Dl Completed...: 100%|██████████| 1/1 [02:15<00:00, 134.78s/ url]

Dl Size...: 100%|██████████| 827/827 [02:15<00:00,  7.60 MiB/s]


Extraction completed...:   0%|          | 0/1076 [02:15<?, ? file/s]
Dl Completed...: 100%|██████████| 1/1 [02:15<00:00, 134.78s/ url]

Dl Size...: 100%|██████████| 827/827 [02:15<00:00,  7.60 MiB/s]


Extraction completed...:   0%|          | 0/1077 [02:15<?, ? file/s]
Dl Completed...: 100%|██████████| 1/1 [02:15<00:00, 134.78s/ url]

Dl Size...: 100%|██████████| 827/827 [02:15<00:00,  7.60 MiB/s]


Extraction completed...:   0%|          | 0/1078 [02:15<?, ? file/s]
Dl Completed...: 100%|██████████| 1/1 [02:15<00:00, 134.78s/ url]

Dl Size...: 100%|██████████| 827/827 [02:15<00:00,  7.60 MiB/s]


Extraction completed...:   0%|          | 0/1079 [02:15<?, ? file/s]
Dl Completed...: 100%|██████████| 1/1 [02:15<00:00, 134.78s/ url]

Dl Size...: 100%|██████████| 827/827 [02:15<00:00,  7.60 MiB/s]


Extraction completed...:   0%|          | 0/1080 [02:15<?, ? file/s]
Dl Completed...: 100%|██████████| 1/1 [02:15<00:00, 134.78s/ url]

Dl Size...: 100%|██████████| 827/827 [02:15<00:00,  7.60 MiB/s]


Extraction completed...:   0%|          | 0/1081 [02:15<?, ? file/s]
Dl Completed...: 100%|██████████| 1/1 [02:15<00:00, 134.78s/ url]

Dl Size...: 100%|██████████| 827/827 [02:15<00:00,  7.60 MiB/s]


Extraction completed...:   0%|          | 0/1082 [02:15<?, ? file/s]
Dl Completed...: 100%|██████████| 1/1 [02:15<00:00, 134.78s/ url]

Dl Size...: 100%|██████████| 827/827 [02:15<00:00,  7.60 MiB/s]


Extraction completed...:   0%|          | 0/1083 [02:15<?, ? file/s]
Dl Completed...: 100%|██████████| 1/1 [02:15<00:00, 134.78s/ url]

Dl Size...: 100%|██████████| 827/827 [02:15<00:00,  7.60 MiB/s]


Extraction completed...:   0%|          | 0/1084 [02:15<?, ? file/s]
Dl Completed...: 100%|██████████| 1/1 [02:15<00:00, 134.78s/ url]

Dl Size...: 100%|██████████| 827/827 [02:15<00:00,  7.60 MiB/s]


Extraction completed...:   0%|          | 0/1085 [02:15<?, ? file/s]
Dl Completed...: 100%|██████████| 1/1 [02:15<00:00, 134.78s/ url]

Dl Size...: 100%|██████████| 827/827 [02:15<00:00,  7.60 MiB/s]


Extraction completed...:   0%|          | 0/1086 [02:15<?, ? file/s]
Dl Completed...: 100%|██████████| 1/1 [02:15<00:00, 134.78s/ url]

Dl Size...: 100%|██████████| 827/827 [02:15<00:00,  7.60 MiB/s]


Extraction completed...:   0%|          | 0/1087 [02:15<?, ? file/s]
Dl Completed...: 100%|██████████| 1/1 [02:15<00:00, 134.78s/ url]

Dl Size...: 100%|██████████| 827/827 [02:15<00:00,  7.60 MiB/s]


Extraction completed...:   0%|          | 0/1088 [02:15<?, ? file/s]
Dl Completed...: 100%|██████████| 1/1 [02:15<00:00, 134.78s/ url]

Dl Size...: 100%|██████████| 827/827 [02:15<00:00,  7.60 MiB/s]


Extraction completed...:   0%|          | 0/1089 [02:15<?, ? file/s]
Dl Completed...: 100%|██████████| 1/1 [02:15<00:00, 134.78s/ url]

Dl Size...: 100%|██████████| 827/827 [02:15<00:00,  7.60 MiB/s]


Extraction completed...:   0%|          | 0/1090 [02:15<?, ? file/s]
Dl Completed...: 100%|██████████| 1/1 [02:15<00:00, 134.78s/ url]

Dl Size...: 100%|██████████| 827/827 [02:15<00:00,  7.60 MiB/s]


Extraction completed...:   0%|          | 0/1091 [02:15<?, ? file/s]
Dl Completed...: 100%|██████████| 1/1 [02:15<00:00, 134.78s/ url]

Dl Size...: 100%|██████████| 827/827 [02:15<00:00,  7.60 MiB/s]


Extraction completed...:   0%|          | 0/1092 [02:15<?, ? file/s]
Dl Completed...: 100%|██████████| 1/1 [02:15<00:00, 134.78s/ url]

Dl Size...: 100%|██████████| 827/827 [02:15<00:00,  7.60 MiB/s]


Extraction completed...:   0%|          | 0/1093 [02:15<?, ? file/s]
Dl Completed...: 100%|██████████| 1/1 [02:15<00:00, 134.78s/ url]

Dl Size...: 100%|██████████| 827/827 [02:15<00:00,  7.60 MiB/s]


Extraction completed...:   0%|          | 0/1094 [02:15<?, ? file/s]
Dl Completed...: 100%|██████████| 1/1 [02:15<00:00, 134.78s/ url]

Dl Size...: 100%|██████████| 827/827 [02:15<00:00,  7.60 MiB/s]


Extraction completed...:   0%|          | 0/1095 [02:15<?, ? file/s]
Dl Completed...: 100%|██████████| 1/1 [02:15<00:00, 134.78s/ url]

Dl Size...: 100%|██████████| 827/827 [02:15<00:00,  7.60 MiB/s]


Extraction completed...:   0%|          | 0/1096 [02:15<?, ? file/s]
Dl Completed...: 100%|██████████| 1/1 [02:15<00:00, 134.78s/ url]

Dl Size...: 100%|██████████| 827/827 [02:15<00:00,  7.60 MiB/s]


Extraction completed...:   0%|          | 0/1097 [02:15<?, ? file/s]
Dl Completed...: 100%|██████████| 1/1 [02:15<00:00, 134.78s/ url]

Dl Size...: 100%|██████████| 827/827 [02:15<00:00,  7.60 MiB/s]


Extraction completed...:   0%|          | 0/1098 [02:15<?, ? file/s]
Dl Completed...: 100%|██████████| 1/1 [02:15<00:00, 134.78s/ url]

Dl Size...: 100%|██████████| 827/827 [02:15<00:00,  7.60 MiB/s]


Extraction completed...:   0%|          | 0/1099 [02:15<?, ? file/s]
Dl Completed...: 100%|██████████| 1/1 [02:15<00:00, 134.78s/ url]

Dl Size...: 100%|██████████| 827/827 [02:15<00:00,  7.60 MiB/s]


Extraction completed...:   0%|          | 0/1100 [02:15<?, ? file/s]
Dl Completed...: 100%|██████████| 1/1 [02:15<00:00, 134.78s/ url]

Dl Size...: 100%|██████████| 827/827 [02:15<00:00,  7.60 MiB/s]


Extraction completed...:   0%|          | 0/1101 [02:15<?, ? file/s]
Dl Completed...: 100%|██████████| 1/1 [02:15<00:00, 134.78s/ url]

Dl Size...: 100%|██████████| 827/827 [02:15<00:00,  7.60 MiB/s]


Extraction completed...:   0%|          | 0/1102 [02:15<?, ? file/s]
Dl Completed...: 100%|██████████| 1/1 [02:15<00:00, 134.78s/ url]

Dl Size...: 100%|██████████| 827/827 [02:15<00:00,  7.60 MiB/s]


Extraction completed...:   0%|          | 0/1103 [02:15<?, ? file/s]
Dl Completed...: 100%|██████████| 1/1 [02:15<00:00, 134.78s/ url]

Dl Size...: 100%|██████████| 827/827 [02:15<00:00,  7.60 MiB/s]


Extraction completed...:   0%|          | 0/1104 [02:15<?, ? file/s]
Dl Completed...: 100%|██████████| 1/1 [02:15<00:00, 134.78s/ url]

Dl Size...: 100%|██████████| 827/827 [02:15<00:00,  7.60 MiB/s]


Extraction completed...:   0%|          | 0/1105 [02:15<?, ? file/s]
Dl Completed...: 100%|██████████| 1/1 [02:15<00:00, 134.78s/ url]

Dl Size...: 100%|██████████| 827/827 [02:15<00:00,  7.60 MiB/s]


Extraction completed...:   0%|          | 0/1106 [02:15<?, ? file/s]
Dl Completed...: 100%|██████████| 1/1 [02:15<00:00, 134.78s/ url]

Dl Size...: 100%|██████████| 827/827 [02:15<00:00,  7.60 MiB/s]


Extraction completed...:   0%|          | 0/1107 [02:15<?, ? file/s]
Dl Completed...: 100%|██████████| 1/1 [02:15<00:00, 134.78s/ url]

Dl Size...: 100%|██████████| 827/827 [02:15<00:00,  7.60 MiB/s]


Extraction completed...:   0%|          | 0/1108 [02:15<?, ? file/s]
Dl Completed...: 100%|██████████| 1/1 [02:15<00:00, 134.78s/ url]

Dl Size...: 100%|██████████| 827/827 [02:15<00:00,  7.60 MiB/s]


Extraction completed...:   0%|          | 0/1109 [02:15<?, ? file/s]
Dl Completed...: 100%|██████████| 1/1 [02:15<00:00, 134.78s/ url]

Dl Size...: 100%|██████████| 827/827 [02:15<00:00,  7.60 MiB/s]


Extraction completed...:   0%|          | 0/1110 [02:15<?, ? file/s]
Dl Completed...: 100%|██████████| 1/1 [02:15<00:00, 134.78s/ url]

Dl Size...: 100%|██████████| 827/827 [02:15<00:00,  7.60 MiB/s]


Extraction completed...:   0%|          | 0/1111 [02:15<?, ? file/s]
Dl Completed...: 100%|██████████| 1/1 [02:15<00:00, 134.78s/ url]

Dl Size...: 100%|██████████| 827/827 [02:15<00:00,  7.60 MiB/s]


Extraction completed...:   0%|          | 0/1112 [02:15<?, ? file/s]
Dl Completed...: 100%|██████████| 1/1 [02:15<00:00, 134.78s/ url]

Dl Size...: 100%|██████████| 827/827 [02:15<00:00,  7.60 MiB/s]


Extraction completed...:   0%|          | 0/1113 [02:15<?, ? file/s]
Dl Completed...: 100%|██████████| 1/1 [02:15<00:00, 134.78s/ url]

Dl Size...: 100%|██████████| 827/827 [02:15<00:00,  7.60 MiB/s]


Extraction completed...:   0%|          | 0/1114 [02:15<?, ? file/s]
Dl Completed...: 100%|██████████| 1/1 [02:15<00:00, 134.78s/ url]

Dl Size...: 100%|██████████| 827/827 [02:15<00:00,  7.60 MiB/s]


Extraction completed...:   0%|          | 0/1115 [02:15<?, ? file/s]
Dl Completed...: 100%|██████████| 1/1 [02:15<00:00, 134.78s/ url]

Dl Size...: 100%|██████████| 827/827 [02:15<00:00,  7.60 MiB/s]


Extraction completed...:   0%|          | 0/1116 [02:15<?, ? file/s]
Dl Completed...: 100%|██████████| 1/1 [02:15<00:00, 134.78s/ url]

Dl Size...: 100%|██████████| 827/827 [02:15<00:00,  7.60 MiB/s]


Extraction completed...:   0%|          | 0/1117 [02:15<?, ? file/s]
Dl Completed...: 100%|██████████| 1/1 [02:15<00:00, 134.78s/ url]

Dl Size...: 100%|██████████| 827/827 [02:15<00:00,  7.60 MiB/s]


Extraction completed...:   0%|          | 0/1118 [02:15<?, ? file/s]
Dl Completed...: 100%|██████████| 1/1 [02:15<00:00, 134.78s/ url]

Dl Size...: 100%|██████████| 827/827 [02:15<00:00,  7.60 MiB/s]


Extraction completed...:   0%|          | 0/1119 [02:15<?, ? file/s]
Dl Completed...: 100%|██████████| 1/1 [02:15<00:00, 134.78s/ url]

Dl Size...: 100%|██████████| 827/827 [02:15<00:00,  7.60 MiB/s]


Extraction completed...:   0%|          | 0/1120 [02:15<?, ? file/s]
Dl Completed...: 100%|██████████| 1/1 [02:15<00:00, 134.78s/ url]

Dl Size...: 100%|██████████| 827/827 [02:15<00:00,  7.60 MiB/s]


Extraction completed...:   0%|          | 0/1121 [02:15<?, ? file/s]
Dl Completed...: 100%|██████████| 1/1 [02:15<00:00, 134.78s/ url]

Dl Size...: 100%|██████████| 827/827 [02:15<00:00,  7.60 MiB/s]


Extraction completed...:   0%|          | 0/1122 [02:15<?, ? file/s]
Dl Completed...: 100%|██████████| 1/1 [02:15<00:00, 134.78s/ url]

Dl Size...: 100%|██████████| 827/827 [02:15<00:00,  7.60 MiB/s]


Extraction completed...:   0%|          | 0/1123 [02:15<?, ? file/s]
Dl Completed...: 100%|██████████| 1/1 [02:15<00:00, 134.78s/ url]

Dl Size...: 100%|██████████| 827/827 [02:15<00:00,  7.60 MiB/s]


Extraction completed...:   0%|          | 0/1124 [02:15<?, ? file/s]
Dl Completed...: 100%|██████████| 1/1 [02:15<00:00, 134.78s/ url]

Dl Size...: 100%|██████████| 827/827 [02:15<00:00,  7.60 MiB/s]


Extraction completed...:   0%|          | 0/1125 [02:15<?, ? file/s]
Dl Completed...: 100%|██████████| 1/1 [02:15<00:00, 134.78s/ url]

Dl Size...: 100%|██████████| 827/827 [02:15<00:00,  7.60 MiB/s]


Extraction completed...:   0%|          | 0/1126 [02:15<?, ? file/s]
Dl Completed...: 100%|██████████| 1/1 [02:15<00:00, 134.78s/ url]

Dl Size...: 100%|██████████| 827/827 [02:15<00:00,  7.60 MiB/s]


Extraction completed...:   0%|          | 0/1127 [02:15<?, ? file/s]
Dl Completed...: 100%|██████████| 1/1 [02:15<00:00, 134.78s/ url]

Dl Size...: 100%|██████████| 827/827 [02:15<00:00,  7.60 MiB/s]


Extraction completed...:   0%|          | 0/1128 [02:15<?, ? file/s]
Dl Completed...: 100%|██████████| 1/1 [02:15<00:00, 134.78s/ url]

Dl Size...: 100%|██████████| 827/827 [02:15<00:00,  7.60 MiB/s]


Extraction completed...:   0%|          | 0/1129 [02:15<?, ? file/s]
Dl Completed...: 100%|██████████| 1/1 [02:15<00:00, 134.78s/ url]

Dl Size...: 100%|██████████| 827/827 [02:15<00:00,  7.60 MiB/s]


Extraction completed...:   0%|          | 0/1130 [02:15<?, ? file/s]
Dl Completed...: 100%|██████████| 1/1 [02:15<00:00, 134.78s/ url]

Dl Size...: 100%|██████████| 827/827 [02:15<00:00,  7.60 MiB/s]


Extraction completed...:   0%|          | 0/1131 [02:15<?, ? file/s]
Dl Completed...: 100%|██████████| 1/1 [02:15<00:00, 134.78s/ url]

Dl Size...: 100%|██████████| 827/827 [02:15<00:00,  7.60 MiB/s]


Extraction completed...:   0%|          | 0/1132 [02:15<?, ? file/s]
Dl Completed...: 100%|██████████| 1/1 [02:15<00:00, 134.78s/ url]

Dl Size...: 100%|██████████| 827/827 [02:15<00:00,  7.60 MiB/s]


Extraction completed...:   0%|          | 0/1133 [02:15<?, ? file/s]
Dl Completed...: 100%|██████████| 1/1 [02:15<00:00, 134.78s/ url]

Dl Size...: 100%|██████████| 827/827 [02:15<00:00,  7.60 MiB/s]


Extraction completed...:   0%|          | 0/1134 [02:15<?, ? file/s]
Dl Completed...: 100%|██████████| 1/1 [02:15<00:00, 134.78s/ url]

Dl Size...: 100%|██████████| 827/827 [02:15<00:00,  7.60 MiB/s]


Extraction completed...:   0%|          | 0/1135 [02:15<?, ? file/s]
Dl Completed...: 100%|██████████| 1/1 [02:15<00:00, 134.78s/ url]

Dl Size...: 100%|██████████| 827/827 [02:15<00:00,  7.60 MiB/s]


Extraction completed...:   0%|          | 0/1136 [02:15<?, ? file/s]
Dl Completed...: 100%|██████████| 1/1 [02:15<00:00, 134.78s/ url]

Dl Size...: 100%|██████████| 827/827 [02:15<00:00,  7.60 MiB/s]


Extraction completed...:   0%|          | 0/1137 [02:15<?, ? file/s]
Dl Completed...: 100%|██████████| 1/1 [02:15<00:00, 134.78s/ url]

Dl Size...: 100%|██████████| 827/827 [02:15<00:00,  7.60 MiB/s]


Extraction completed...:   0%|          | 0/1138 [02:15<?, ? file/s]
Dl Completed...: 100%|██████████| 1/1 [02:15<00:00, 134.78s/ url]

Dl Size...: 100%|██████████| 827/827 [02:15<00:00,  7.60 MiB/s]


Extraction completed...:   0%|          | 0/1139 [02:15<?, ? file/s]
Dl Completed...: 100%|██████████| 1/1 [02:15<00:00, 134.78s/ url]

Dl Size...: 100%|██████████| 827/827 [02:15<00:00,  7.60 MiB/s]


Extraction completed...:   0%|          | 0/1140 [02:15<?, ? file/s]
Dl Completed...: 100%|██████████| 1/1 [02:15<00:00, 134.78s/ url]

Dl Size...: 100%|██████████| 827/827 [02:15<00:00,  7.60 MiB/s]


Extraction completed...:   0%|          | 0/1141 [02:15<?, ? file/s]
Dl Completed...: 100%|██████████| 1/1 [02:15<00:00, 134.78s/ url]

Dl Size...: 100%|██████████| 827/827 [02:15<00:00,  7.60 MiB/s]


Extraction completed...:   0%|          | 0/1142 [02:15<?, ? file/s]
Dl Completed...: 100%|██████████| 1/1 [02:15<00:00, 134.78s/ url]

Dl Size...: 100%|██████████| 827/827 [02:15<00:00,  7.60 MiB/s]


Extraction completed...:   0%|          | 0/1143 [02:15<?, ? file/s]
Dl Completed...: 100%|██████████| 1/1 [02:15<00:00, 134.78s/ url]

Dl Size...: 100%|██████████| 827/827 [02:15<00:00,  7.60 MiB/s]


Extraction completed...:   0%|          | 0/1144 [02:15<?, ? file/s]
Dl Completed...: 100%|██████████| 1/1 [02:15<00:00, 134.78s/ url]

Dl Size...: 100%|██████████| 827/827 [02:15<00:00,  7.60 MiB/s]


Extraction completed...:   0%|          | 0/1145 [02:15<?, ? file/s]
Dl Completed...: 100%|██████████| 1/1 [02:15<00:00, 134.78s/ url]

Dl Size...: 100%|██████████| 827/827 [02:15<00:00,  7.60 MiB/s]


Extraction completed...:   0%|          | 0/1146 [02:15<?, ? file/s]
Dl Completed...: 100%|██████████| 1/1 [02:15<00:00, 134.78s/ url]

Dl Size...: 100%|██████████| 827/827 [02:15<00:00,  7.60 MiB/s]


Extraction completed...:   0%|          | 0/1147 [02:15<?, ? file/s]
Dl Completed...: 100%|██████████| 1/1 [02:15<00:00, 134.78s/ url]

Dl Size...: 100%|██████████| 827/827 [02:15<00:00,  7.60 MiB/s]


Extraction completed...:   0%|          | 0/1148 [02:15<?, ? file/s]
Dl Completed...: 100%|██████████| 1/1 [02:15<00:00, 134.78s/ url]

Dl Size...: 100%|██████████| 827/827 [02:15<00:00,  7.60 MiB/s]


Extraction completed...:   0%|          | 0/1149 [02:15<?, ? file/s]
Dl Completed...: 100%|██████████| 1/1 [02:15<00:00, 134.78s/ url]

Dl Size...: 100%|██████████| 827/827 [02:15<00:00,  7.60 MiB/s]


Extraction completed...:   0%|          | 0/1150 [02:15<?, ? file/s]
Dl Completed...: 100%|██████████| 1/1 [02:15<00:00, 134.78s/ url]

Dl Size...: 100%|██████████| 827/827 [02:15<00:00,  7.60 MiB/s]


Extraction completed...:   0%|          | 0/1151 [02:15<?, ? file/s]
Dl Completed...: 100%|██████████| 1/1 [02:15<00:00, 134.78s/ url]

Dl Size...: 100%|██████████| 827/827 [02:15<00:00,  7.60 MiB/s]


Extraction completed...:   0%|          | 0/1152 [02:15<?, ? file/s]
Dl Completed...: 100%|██████████| 1/1 [02:15<00:00, 134.78s/ url]

Dl Size...: 100%|██████████| 827/827 [02:15<00:00,  7.60 MiB/s]


Extraction completed...:   0%|          | 0/1153 [02:15<?, ? file/s]
Dl Completed...: 100%|██████████| 1/1 [02:15<00:00, 134.78s/ url]

Dl Size...: 100%|██████████| 827/827 [02:15<00:00,  7.60 MiB/s]


Extraction completed...:   0%|          | 0/1154 [02:15<?, ? file/s]
Dl Completed...: 100%|██████████| 1/1 [02:15<00:00, 134.78s/ url]

Dl Size...: 100%|██████████| 827/827 [02:15<00:00,  7.60 MiB/s]


Extraction completed...:   0%|          | 0/1155 [02:15<?, ? file/s]
Dl Completed...: 100%|██████████| 1/1 [02:15<00:00, 134.78s/ url]

Dl Size...: 100%|██████████| 827/827 [02:15<00:00,  7.60 MiB/s]


Extraction completed...:   0%|          | 0/1156 [02:15<?, ? file/s]
Dl Completed...: 100%|██████████| 1/1 [02:15<00:00, 134.78s/ url]

Dl Size...: 100%|██████████| 827/827 [02:15<00:00,  7.60 MiB/s]


Extraction completed...:   0%|          | 0/1157 [02:15<?, ? file/s]
Dl Completed...: 100%|██████████| 1/1 [02:15<00:00, 134.78s/ url]

Dl Size...: 100%|██████████| 827/827 [02:15<00:00,  7.60 MiB/s]


Extraction completed...:   0%|          | 0/1158 [02:15<?, ? file/s]
Dl Completed...: 100%|██████████| 1/1 [02:15<00:00, 134.78s/ url]

Dl Size...: 100%|██████████| 827/827 [02:15<00:00,  7.60 MiB/s]


Extraction completed...:   0%|          | 0/1159 [02:15<?, ? file/s]
Dl Completed...: 100%|██████████| 1/1 [02:15<00:00, 134.78s/ url]

Dl Size...: 100%|██████████| 827/827 [02:15<00:00,  7.60 MiB/s]


Extraction completed...:   0%|          | 0/1160 [02:15<?, ? file/s]
Dl Completed...: 100%|██████████| 1/1 [02:15<00:00, 134.78s/ url]

Dl Size...: 100%|██████████| 827/827 [02:15<00:00,  7.60 MiB/s]


Extraction completed...:   0%|          | 0/1161 [02:15<?, ? file/s]
Dl Completed...: 100%|██████████| 1/1 [02:15<00:00, 134.78s/ url]

Dl Size...: 100%|██████████| 827/827 [02:15<00:00,  7.60 MiB/s]


Extraction completed...:   0%|          | 0/1162 [02:15<?, ? file/s]
Dl Completed...: 100%|██████████| 1/1 [02:15<00:00, 134.78s/ url]

Dl Size...: 100%|██████████| 827/827 [02:15<00:00,  7.60 MiB/s]


Extraction completed...:   0%|          | 0/1163 [02:15<?, ? file/s]
Dl Completed...: 100%|██████████| 1/1 [02:15<00:00, 134.78s/ url]

Dl Size...: 100%|██████████| 827/827 [02:15<00:00,  7.60 MiB/s]


Extraction completed...:   0%|          | 0/1164 [02:15<?, ? file/s]
Dl Completed...: 100%|██████████| 1/1 [02:15<00:00, 134.78s/ url]

Dl Size...: 100%|██████████| 827/827 [02:15<00:00,  7.60 MiB/s]


Extraction completed...:   0%|          | 0/1165 [02:15<?, ? file/s]
Dl Completed...: 100%|██████████| 1/1 [02:15<00:00, 134.78s/ url]

Dl Size...: 100%|██████████| 827/827 [02:15<00:00,  7.60 MiB/s]


Extraction completed...:   0%|          | 0/1166 [02:15<?, ? file/s]
Dl Completed...: 100%|██████████| 1/1 [02:15<00:00, 134.78s/ url]

Dl Size...: 100%|██████████| 827/827 [02:15<00:00,  7.60 MiB/s]


Extraction completed...:   0%|          | 0/1167 [02:15<?, ? file/s]
Dl Completed...: 100%|██████████| 1/1 [02:15<00:00, 134.78s/ url]

Dl Size...: 100%|██████████| 827/827 [02:15<00:00,  7.60 MiB/s]


Extraction completed...:   0%|          | 0/1168 [02:15<?, ? file/s]
Dl Completed...: 100%|██████████| 1/1 [02:15<00:00, 134.78s/ url]

Dl Size...: 100%|██████████| 827/827 [02:15<00:00,  7.60 MiB/s]


Extraction completed...:   0%|          | 0/1169 [02:15<?, ? file/s]
Dl Completed...: 100%|██████████| 1/1 [02:15<00:00, 134.78s/ url]

Dl Size...: 100%|██████████| 827/827 [02:15<00:00,  7.60 MiB/s]


Extraction completed...:   0%|          | 0/1170 [02:15<?, ? file/s]
Dl Completed...: 100%|██████████| 1/1 [02:15<00:00, 134.78s/ url]

Dl Size...: 100%|██████████| 827/827 [02:15<00:00,  7.60 MiB/s]


Extraction completed...:   0%|          | 0/1171 [02:15<?, ? file/s]
Dl Completed...: 100%|██████████| 1/1 [02:15<00:00, 134.78s/ url]

Dl Size...: 100%|██████████| 827/827 [02:15<00:00,  7.60 MiB/s]


Extraction completed...:   0%|          | 0/1172 [02:15<?, ? file/s]
Dl Completed...: 100%|██████████| 1/1 [02:15<00:00, 134.78s/ url]

Dl Size...: 100%|██████████| 827/827 [02:15<00:00,  7.60 MiB/s]


Extraction completed...:   0%|          | 0/1173 [02:15<?, ? file/s]
Dl Completed...: 100%|██████████| 1/1 [02:15<00:00, 134.78s/ url]

Dl Size...: 100%|██████████| 827/827 [02:15<00:00,  7.60 MiB/s]


Extraction completed...:   0%|          | 0/1174 [02:15<?, ? file/s]
Dl Completed...: 100%|██████████| 1/1 [02:15<00:00, 134.78s/ url]

Dl Size...: 100%|██████████| 827/827 [02:15<00:00,  7.60 MiB/s]


Extraction completed...:   0%|          | 0/1175 [02:15<?, ? file/s]
Dl Completed...: 100%|██████████| 1/1 [02:15<00:00, 134.78s/ url]

Dl Size...: 100%|██████████| 827/827 [02:15<00:00,  7.60 MiB/s]


Extraction completed...:   0%|          | 0/1176 [02:15<?, ? file/s]
Dl Completed...: 100%|██████████| 1/1 [02:15<00:00, 134.78s/ url]

Dl Size...: 100%|██████████| 827/827 [02:15<00:00,  7.60 MiB/s]


Extraction completed...:   0%|          | 0/1177 [02:15<?, ? file/s]
Dl Completed...: 100%|██████████| 1/1 [02:15<00:00, 134.78s/ url]

Dl Size...: 100%|██████████| 827/827 [02:15<00:00,  7.60 MiB/s]


Extraction completed...:   0%|          | 0/1178 [02:15<?, ? file/s]
Dl Completed...: 100%|██████████| 1/1 [02:15<00:00, 134.78s/ url]

Dl Size...: 100%|██████████| 827/827 [02:15<00:00,  7.60 MiB/s]


Extraction completed...:   0%|          | 0/1179 [02:15<?, ? file/s]
Dl Completed...: 100%|██████████| 1/1 [02:15<00:00, 134.78s/ url]

Dl Size...: 100%|██████████| 827/827 [02:15<00:00,  7.60 MiB/s]


Extraction completed...:   0%|          | 0/1180 [02:15<?, ? file/s]
Dl Completed...: 100%|██████████| 1/1 [02:15<00:00, 134.78s/ url]

Dl Size...: 100%|██████████| 827/827 [02:15<00:00,  7.60 MiB/s]


Extraction completed...:   0%|          | 0/1181 [02:15<?, ? file/s]
Dl Completed...: 100%|██████████| 1/1 [02:15<00:00, 134.78s/ url]

Dl Size...: 100%|██████████| 827/827 [02:15<00:00,  7.60 MiB/s]


Extraction completed...:   0%|          | 0/1182 [02:15<?, ? file/s]
Dl Completed...: 100%|██████████| 1/1 [02:15<00:00, 134.78s/ url]

Dl Size...: 100%|██████████| 827/827 [02:15<00:00,  7.60 MiB/s]


Extraction completed...:   0%|          | 0/1183 [02:15<?, ? file/s]
Dl Completed...: 100%|██████████| 1/1 [02:15<00:00, 134.78s/ url]

Dl Size...: 100%|██████████| 827/827 [02:15<00:00,  7.60 MiB/s]


Extraction completed...:   0%|          | 0/1184 [02:15<?, ? file/s]
Dl Completed...: 100%|██████████| 1/1 [02:15<00:00, 134.78s/ url]

Dl Size...: 100%|██████████| 827/827 [02:15<00:00,  7.60 MiB/s]


Extraction completed...:   0%|          | 0/1185 [02:15<?, ? file/s]
Dl Completed...: 100%|██████████| 1/1 [02:15<00:00, 134.78s/ url]

Dl Size...: 100%|██████████| 827/827 [02:15<00:00,  7.60 MiB/s]


Extraction completed...:   0%|          | 0/1186 [02:15<?, ? file/s]
Dl Completed...: 100%|██████████| 1/1 [02:15<00:00, 134.78s/ url]

Dl Size...: 100%|██████████| 827/827 [02:15<00:00,  7.60 MiB/s]


Extraction completed...:   0%|          | 0/1187 [02:15<?, ? file/s]
Dl Completed...: 100%|██████████| 1/1 [02:15<00:00, 134.78s/ url]

Dl Size...: 100%|██████████| 827/827 [02:15<00:00,  7.60 MiB/s]


Extraction completed...:   0%|          | 0/1188 [02:15<?, ? file/s]
Dl Completed...: 100%|██████████| 1/1 [02:15<00:00, 134.78s/ url]

Dl Size...: 100%|██████████| 827/827 [02:15<00:00,  7.60 MiB/s]


Extraction completed...:   0%|          | 0/1189 [02:15<?, ? file/s]
Dl Completed...: 100%|██████████| 1/1 [02:15<00:00, 134.78s/ url]

Dl Size...: 100%|██████████| 827/827 [02:15<00:00,  7.60 MiB/s]


Extraction completed...:   0%|          | 0/1190 [02:15<?, ? file/s]
Dl Completed...: 100%|██████████| 1/1 [02:15<00:00, 134.78s/ url]

Dl Size...: 100%|██████████| 827/827 [02:15<00:00,  7.60 MiB/s]


Extraction completed...:   0%|          | 0/1191 [02:15<?, ? file/s]
Dl Completed...: 100%|██████████| 1/1 [02:15<00:00, 134.78s/ url]

Dl Size...: 100%|██████████| 827/827 [02:15<00:00,  7.60 MiB/s]


Extraction completed...:   0%|          | 0/1192 [02:15<?, ? file/s]
Dl Completed...: 100%|██████████| 1/1 [02:15<00:00, 134.78s/ url]

Dl Size...: 100%|██████████| 827/827 [02:15<00:00,  7.60 MiB/s]


Extraction completed...:   0%|          | 0/1193 [02:15<?, ? file/s]
Dl Completed...: 100%|██████████| 1/1 [02:15<00:00, 134.78s/ url]

Dl Size...: 100%|██████████| 827/827 [02:15<00:00,  7.60 MiB/s]


Extraction completed...:   0%|          | 0/1194 [02:15<?, ? file/s]
Dl Completed...: 100%|██████████| 1/1 [02:15<00:00, 134.78s/ url]

Dl Size...: 100%|██████████| 827/827 [02:15<00:00,  7.60 MiB/s]


Extraction completed...:   0%|          | 0/1195 [02:15<?, ? file/s]
Dl Completed...: 100%|██████████| 1/1 [02:15<00:00, 134.78s/ url]

Dl Size...: 100%|██████████| 827/827 [02:15<00:00,  7.60 MiB/s]


Extraction completed...:   0%|          | 0/1196 [02:15<?, ? file/s]
Dl Completed...: 100%|██████████| 1/1 [02:15<00:00, 134.78s/ url]

Dl Size...: 100%|██████████| 827/827 [02:15<00:00,  7.60 MiB/s]


Extraction completed...:   0%|          | 0/1197 [02:15<?, ? file/s]
Dl Completed...: 100%|██████████| 1/1 [02:15<00:00, 134.78s/ url]

Dl Size...: 100%|██████████| 827/827 [02:15<00:00,  7.60 MiB/s]


Extraction completed...:   0%|          | 0/1198 [02:15<?, ? file/s]
Dl Completed...: 100%|██████████| 1/1 [02:15<00:00, 134.78s/ url]

Dl Size...: 100%|██████████| 827/827 [02:15<00:00,  7.60 MiB/s]


Extraction completed...:   0%|          | 0/1199 [02:15<?, ? file/s]
Dl Completed...: 100%|██████████| 1/1 [02:15<00:00, 134.78s/ url]

Dl Size...: 100%|██████████| 827/827 [02:15<00:00,  7.60 MiB/s]


Extraction completed...:   0%|          | 0/1200 [02:15<?, ? file/s]
Dl Completed...: 100%|██████████| 1/1 [02:15<00:00, 134.78s/ url]

Dl Size...: 100%|██████████| 827/827 [02:15<00:00,  7.60 MiB/s]


Extraction completed...:   0%|          | 0/1201 [02:15<?, ? file/s]
Dl Completed...: 100%|██████████| 1/1 [02:15<00:00, 134.78s/ url]

Dl Size...: 100%|██████████| 827/827 [02:15<00:00,  7.60 MiB/s]


Extraction completed...:   0%|          | 0/1202 [02:15<?, ? file/s]
Dl Completed...: 100%|██████████| 1/1 [02:15<00:00, 134.78s/ url]

Dl Size...: 100%|██████████| 827/827 [02:15<00:00,  7.60 MiB/s]


Extraction completed...:   0%|          | 0/1203 [02:15<?, ? file/s]
Dl Completed...: 100%|██████████| 1/1 [02:15<00:00, 134.78s/ url]

Dl Size...: 100%|██████████| 827/827 [02:15<00:00,  7.60 MiB/s]


Extraction completed...:   0%|          | 0/1204 [02:15<?, ? file/s]
Dl Completed...: 100%|██████████| 1/1 [02:15<00:00, 134.78s/ url]

Dl Size...: 100%|██████████| 827/827 [02:15<00:00,  7.60 MiB/s]


Extraction completed...:   0%|          | 0/1205 [02:15<?, ? file/s]
Dl Completed...: 100%|██████████| 1/1 [02:15<00:00, 134.78s/ url]

Dl Size...: 100%|██████████| 827/827 [02:15<00:00,  7.60 MiB/s]


Extraction completed...:   0%|          | 0/1206 [02:15<?, ? file/s]
Dl Completed...: 100%|██████████| 1/1 [02:15<00:00, 134.78s/ url]

Dl Size...: 100%|██████████| 827/827 [02:15<00:00,  7.60 MiB/s]


Extraction completed...:   0%|          | 0/1207 [02:15<?, ? file/s]
Dl Completed...: 100%|██████████| 1/1 [02:15<00:00, 134.78s/ url]

Dl Size...: 100%|██████████| 827/827 [02:15<00:00,  7.60 MiB/s]


Extraction completed...:   0%|          | 0/1208 [02:15<?, ? file/s]
Dl Completed...: 100%|██████████| 1/1 [02:15<00:00, 134.78s/ url]

Dl Size...: 100%|██████████| 827/827 [02:15<00:00,  7.60 MiB/s]


Extraction completed...:   0%|          | 0/1209 [02:15<?, ? file/s]
Dl Completed...: 100%|██████████| 1/1 [02:15<00:00, 134.78s/ url]

Dl Size...: 100%|██████████| 827/827 [02:15<00:00,  7.60 MiB/s]


Extraction completed...:   0%|          | 0/1210 [02:15<?, ? file/s]
Dl Completed...: 100%|██████████| 1/1 [02:15<00:00, 134.78s/ url]

Dl Size...: 100%|██████████| 827/827 [02:15<00:00,  7.60 MiB/s]


Extraction completed...:   0%|          | 0/1211 [02:15<?, ? file/s]
Dl Completed...: 100%|██████████| 1/1 [02:15<00:00, 134.78s/ url]

Dl Size...: 100%|██████████| 827/827 [02:15<00:00,  7.60 MiB/s]


Extraction completed...:   0%|          | 0/1212 [02:15<?, ? file/s]
Dl Completed...: 100%|██████████| 1/1 [02:15<00:00, 134.78s/ url]

Dl Size...: 100%|██████████| 827/827 [02:15<00:00,  7.60 MiB/s]


Extraction completed...:   0%|          | 0/1213 [02:15<?, ? file/s]
Dl Completed...: 100%|██████████| 1/1 [02:15<00:00, 134.78s/ url]

Dl Size...: 100%|██████████| 827/827 [02:15<00:00,  7.60 MiB/s]


Extraction completed...:   0%|          | 0/1214 [02:15<?, ? file/s]
Dl Completed...: 100%|██████████| 1/1 [02:15<00:00, 134.78s/ url]

Dl Size...: 100%|██████████| 827/827 [02:15<00:00,  7.60 MiB/s]


Extraction completed...:   0%|          | 0/1215 [02:15<?, ? file/s]
Dl Completed...: 100%|██████████| 1/1 [02:15<00:00, 134.78s/ url]

Dl Size...: 100%|██████████| 827/827 [02:15<00:00,  7.60 MiB/s]


Extraction completed...:   0%|          | 0/1216 [02:15<?, ? file/s]
Dl Completed...: 100%|██████████| 1/1 [02:15<00:00, 134.78s/ url]

Dl Size...: 100%|██████████| 827/827 [02:15<00:00,  7.60 MiB/s]


Extraction completed...:   0%|          | 0/1217 [02:15<?, ? file/s]
Dl Completed...: 100%|██████████| 1/1 [02:15<00:00, 134.78s/ url]

Dl Size...: 100%|██████████| 827/827 [02:15<00:00,  7.60 MiB/s]


Extraction completed...:   0%|          | 0/1218 [02:15<?, ? file/s]
Dl Completed...: 100%|██████████| 1/1 [02:15<00:00, 134.78s/ url]

Dl Size...: 100%|██████████| 827/827 [02:15<00:00,  7.60 MiB/s]


Extraction completed...:   0%|          | 0/1219 [02:15<?, ? file/s]
Dl Completed...: 100%|██████████| 1/1 [02:15<00:00, 134.78s/ url]

Dl Size...: 100%|██████████| 827/827 [02:15<00:00,  7.60 MiB/s]


Extraction completed...:   0%|          | 0/1220 [02:15<?, ? file/s]
Dl Completed...: 100%|██████████| 1/1 [02:15<00:00, 134.78s/ url]

Dl Size...: 100%|██████████| 827/827 [02:15<00:00,  7.60 MiB/s]


Extraction completed...:   0%|          | 0/1221 [02:15<?, ? file/s]
Dl Completed...: 100%|██████████| 1/1 [02:15<00:00, 134.78s/ url]

Dl Size...: 100%|██████████| 827/827 [02:15<00:00,  7.60 MiB/s]


Extraction completed...:   0%|          | 0/1222 [02:15<?, ? file/s]
Dl Completed...: 100%|██████████| 1/1 [02:15<00:00, 134.78s/ url]

Dl Size...: 100%|██████████| 827/827 [02:15<00:00,  7.60 MiB/s]


Extraction completed...:   0%|          | 0/1223 [02:15<?, ? file/s]
Dl Completed...: 100%|██████████| 1/1 [02:15<00:00, 134.78s/ url]

Dl Size...: 100%|██████████| 827/827 [02:15<00:00,  7.60 MiB/s]


Extraction completed...:   0%|          | 0/1224 [02:15<?, ? file/s]
Dl Completed...: 100%|██████████| 1/1 [02:15<00:00, 134.78s/ url]

Dl Size...: 100%|██████████| 827/827 [02:15<00:00,  7.60 MiB/s]


Extraction completed...:   0%|          | 0/1225 [02:15<?, ? file/s]
Dl Completed...: 100%|██████████| 1/1 [02:15<00:00, 134.78s/ url]

Dl Size...: 100%|██████████| 827/827 [02:15<00:00,  7.60 MiB/s]


Extraction completed...:   0%|          | 0/1226 [02:15<?, ? file/s]
Dl Completed...: 100%|██████████| 1/1 [02:15<00:00, 134.78s/ url]

Dl Size...: 100%|██████████| 827/827 [02:15<00:00,  7.60 MiB/s]


Extraction completed...:   0%|          | 0/1227 [02:15<?, ? file/s]
Dl Completed...: 100%|██████████| 1/1 [02:15<00:00, 134.78s/ url]

Dl Size...: 100%|██████████| 827/827 [02:15<00:00,  7.60 MiB/s]


Extraction completed...:   0%|          | 0/1228 [02:15<?, ? file/s]
Dl Completed...: 100%|██████████| 1/1 [02:15<00:00, 134.78s/ url]

Dl Size...: 100%|██████████| 827/827 [02:15<00:00,  7.60 MiB/s]


Extraction completed...:   0%|          | 0/1229 [02:15<?, ? file/s]
Dl Completed...: 100%|██████████| 1/1 [02:15<00:00, 134.78s/ url]

Dl Size...: 100%|██████████| 827/827 [02:15<00:00,  7.60 MiB/s]


Extraction completed...:   0%|          | 0/1230 [02:15<?, ? file/s]
Dl Completed...: 100%|██████████| 1/1 [02:15<00:00, 134.78s/ url]

Dl Size...: 100%|██████████| 827/827 [02:15<00:00,  7.60 MiB/s]


Extraction completed...:   0%|          | 0/1231 [02:15<?, ? file/s]
Dl Completed...: 100%|██████████| 1/1 [02:15<00:00, 134.78s/ url]

Dl Size...: 100%|██████████| 827/827 [02:15<00:00,  7.60 MiB/s]


Extraction completed...:   0%|          | 0/1232 [02:15<?, ? file/s]
Dl Completed...: 100%|██████████| 1/1 [02:15<00:00, 134.78s/ url]

Dl Size...: 100%|██████████| 827/827 [02:15<00:00,  7.60 MiB/s]


Extraction completed...:   0%|          | 0/1233 [02:15<?, ? file/s]
Dl Completed...: 100%|██████████| 1/1 [02:15<00:00, 134.78s/ url]

Dl Size...: 100%|██████████| 827/827 [02:15<00:00,  7.60 MiB/s]


Extraction completed...:   0%|          | 0/1234 [02:15<?, ? file/s]
Dl Completed...: 100%|██████████| 1/1 [02:15<00:00, 134.78s/ url]

Dl Size...: 100%|██████████| 827/827 [02:15<00:00,  7.60 MiB/s]


Extraction completed...:   0%|          | 0/1235 [02:15<?, ? file/s]
Dl Completed...: 100%|██████████| 1/1 [02:15<00:00, 134.78s/ url]

Dl Size...: 100%|██████████| 827/827 [02:15<00:00,  7.60 MiB/s]


Extraction completed...:   0%|          | 0/1236 [02:15<?, ? file/s]
Dl Completed...: 100%|██████████| 1/1 [02:15<00:00, 134.78s/ url]

Dl Size...: 100%|██████████| 827/827 [02:15<00:00,  7.60 MiB/s]


Extraction completed...:   0%|          | 0/1237 [02:15<?, ? file/s]
Dl Completed...: 100%|██████████| 1/1 [02:15<00:00, 134.78s/ url]

Dl Size...: 100%|██████████| 827/827 [02:15<00:00,  7.60 MiB/s]


Extraction completed...:   0%|          | 0/1238 [02:15<?, ? file/s]
Dl Completed...: 100%|██████████| 1/1 [02:15<00:00, 134.78s/ url]

Dl Size...: 100%|██████████| 827/827 [02:15<00:00,  7.60 MiB/s]


Extraction completed...:   0%|          | 0/1239 [02:15<?, ? file/s]
Dl Completed...: 100%|██████████| 1/1 [02:15<00:00, 134.78s/ url]

Dl Size...: 100%|██████████| 827/827 [02:15<00:00,  7.60 MiB/s]


Extraction completed...:   0%|          | 0/1240 [02:15<?, ? file/s]
Dl Completed...: 100%|██████████| 1/1 [02:15<00:00, 134.78s/ url]

Dl Size...: 100%|██████████| 827/827 [02:15<00:00,  7.60 MiB/s]


Extraction completed...:   0%|          | 0/1241 [02:15<?, ? file/s]
Dl Completed...: 100%|██████████| 1/1 [02:15<00:00, 134.78s/ url]

Dl Size...: 100%|██████████| 827/827 [02:15<00:00,  7.60 MiB/s]


Extraction completed...:   0%|          | 0/1242 [02:15<?, ? file/s]
Dl Completed...: 100%|██████████| 1/1 [02:15<00:00, 134.78s/ url]

Dl Size...: 100%|██████████| 827/827 [02:15<00:00,  7.60 MiB/s]


Extraction completed...:   0%|          | 0/1243 [02:15<?, ? file/s]
Dl Completed...: 100%|██████████| 1/1 [02:15<00:00, 134.78s/ url]

Dl Size...: 100%|██████████| 827/827 [02:15<00:00,  7.60 MiB/s]


Extraction completed...:   0%|          | 0/1244 [02:15<?, ? file/s]
Dl Completed...: 100%|██████████| 1/1 [02:15<00:00, 134.78s/ url]

Dl Size...: 100%|██████████| 827/827 [02:15<00:00,  7.60 MiB/s]


Extraction completed...:   0%|          | 0/1245 [02:15<?, ? file/s]
Dl Completed...: 100%|██████████| 1/1 [02:15<00:00, 134.78s/ url]

Dl Size...: 100%|██████████| 827/827 [02:15<00:00,  7.60 MiB/s]


Extraction completed...:   0%|          | 0/1246 [02:15<?, ? file/s]
Dl Completed...: 100%|██████████| 1/1 [02:15<00:00, 134.78s/ url]

Dl Size...: 100%|██████████| 827/827 [02:15<00:00,  7.60 MiB/s]


Extraction completed...:   0%|          | 0/1247 [02:15<?, ? file/s]
Dl Completed...: 100%|██████████| 1/1 [02:15<00:00, 134.78s/ url]

Dl Size...: 100%|██████████| 827/827 [02:15<00:00,  7.60 MiB/s]


Extraction completed...:   0%|          | 0/1248 [02:15<?, ? file/s]
Dl Completed...: 100%|██████████| 1/1 [02:15<00:00, 134.78s/ url]

Dl Size...: 100%|██████████| 827/827 [02:15<00:00,  7.60 MiB/s]


Extraction completed...:   0%|          | 0/1249 [02:15<?, ? file/s]
Dl Completed...: 100%|██████████| 1/1 [02:15<00:00, 134.78s/ url]

Dl Size...: 100%|██████████| 827/827 [02:15<00:00,  7.60 MiB/s]


Extraction completed...:   0%|          | 0/1250 [02:15<?, ? file/s]
Dl Completed...: 100%|██████████| 1/1 [02:15<00:00, 134.78s/ url]

Dl Size...: 100%|██████████| 827/827 [02:15<00:00,  7.60 MiB/s]


Extraction completed...:   0%|          | 0/1251 [02:15<?, ? file/s]
Dl Completed...: 100%|██████████| 1/1 [02:15<00:00, 134.78s/ url]

Dl Size...: 100%|██████████| 827/827 [02:15<00:00,  7.60 MiB/s]


Extraction completed...:   0%|          | 0/1252 [02:15<?, ? file/s]
Dl Completed...: 100%|██████████| 1/1 [02:15<00:00, 134.78s/ url]

Dl Size...: 100%|██████████| 827/827 [02:15<00:00,  7.60 MiB/s]


Extraction completed...:   0%|          | 0/1253 [02:15<?, ? file/s]
Dl Completed...: 100%|██████████| 1/1 [02:15<00:00, 134.78s/ url]

Dl Size...: 100%|██████████| 827/827 [02:15<00:00,  7.60 MiB/s]


Extraction completed...:   0%|          | 0/1254 [02:15<?, ? file/s]
Dl Completed...: 100%|██████████| 1/1 [02:15<00:00, 134.78s/ url]

Dl Size...: 100%|██████████| 827/827 [02:15<00:00,  7.60 MiB/s]


Extraction completed...:   0%|          | 0/1255 [02:15<?, ? file/s]
Dl Completed...: 100%|██████████| 1/1 [02:15<00:00, 134.78s/ url]

Dl Size...: 100%|██████████| 827/827 [02:15<00:00,  7.60 MiB/s]


Extraction completed...:   0%|          | 0/1256 [02:15<?, ? file/s]
Dl Completed...: 100%|██████████| 1/1 [02:15<00:00, 134.78s/ url]

Dl Size...: 100%|██████████| 827/827 [02:15<00:00,  7.60 MiB/s]


Extraction completed...:   0%|          | 0/1257 [02:15<?, ? file/s]
Dl Completed...: 100%|██████████| 1/1 [02:15<00:00, 134.78s/ url]

Dl Size...: 100%|██████████| 827/827 [02:15<00:00,  7.60 MiB/s]


Extraction completed...:   0%|          | 0/1258 [02:15<?, ? file/s]
Dl Completed...: 100%|██████████| 1/1 [02:15<00:00, 134.78s/ url]

Dl Size...: 100%|██████████| 827/827 [02:15<00:00,  7.60 MiB/s]


Extraction completed...:   0%|          | 0/1259 [02:15<?, ? file/s]
Dl Completed...: 100%|██████████| 1/1 [02:15<00:00, 134.78s/ url]

Dl Size...: 100%|██████████| 827/827 [02:15<00:00,  7.60 MiB/s]


Extraction completed...:   0%|          | 0/1260 [02:15<?, ? file/s]
Dl Completed...: 100%|██████████| 1/1 [02:15<00:00, 134.78s/ url]

Dl Size...: 100%|██████████| 827/827 [02:15<00:00,  7.60 MiB/s]


Extraction completed...:   0%|          | 0/1261 [02:15<?, ? file/s]
Dl Completed...: 100%|██████████| 1/1 [02:15<00:00, 134.78s/ url]

Dl Size...: 100%|██████████| 827/827 [02:15<00:00,  7.60 MiB/s]


Extraction completed...:   0%|          | 0/1262 [02:15<?, ? file/s]
Dl Completed...: 100%|██████████| 1/1 [02:15<00:00, 134.78s/ url]

Dl Size...: 100%|██████████| 827/827 [02:15<00:00,  7.60 MiB/s]


Extraction completed...:   0%|          | 0/1263 [02:15<?, ? file/s]
Dl Completed...: 100%|██████████| 1/1 [02:15<00:00, 134.78s/ url]

Dl Size...: 100%|██████████| 827/827 [02:15<00:00,  7.60 MiB/s]


Extraction completed...:   0%|          | 0/1264 [02:15<?, ? file/s]
Dl Completed...: 100%|██████████| 1/1 [02:15<00:00, 134.78s/ url]

Dl Size...: 100%|██████████| 827/827 [02:15<00:00,  7.60 MiB/s]


Extraction completed...:   0%|          | 0/1265 [02:15<?, ? file/s]
Dl Completed...: 100%|██████████| 1/1 [02:15<00:00, 134.78s/ url]

Dl Size...: 100%|██████████| 827/827 [02:15<00:00,  7.60 MiB/s]


Extraction completed...:   0%|          | 0/1266 [02:15<?, ? file/s]
Dl Completed...: 100%|██████████| 1/1 [02:15<00:00, 134.78s/ url]

Dl Size...: 100%|██████████| 827/827 [02:15<00:00,  7.60 MiB/s]


Extraction completed...:   0%|          | 0/1267 [02:15<?, ? file/s]
Dl Completed...: 100%|██████████| 1/1 [02:15<00:00, 134.78s/ url]

Dl Size...: 100%|██████████| 827/827 [02:15<00:00,  7.60 MiB/s]


Extraction completed...:   0%|          | 0/1268 [02:15<?, ? file/s]
Dl Completed...: 100%|██████████| 1/1 [02:15<00:00, 134.78s/ url]

Dl Size...: 100%|██████████| 827/827 [02:15<00:00,  7.60 MiB/s]


Extraction completed...:   0%|          | 0/1269 [02:15<?, ? file/s]
Dl Completed...: 100%|██████████| 1/1 [02:15<00:00, 134.78s/ url]

Dl Size...: 100%|██████████| 827/827 [02:15<00:00,  7.60 MiB/s]


Extraction completed...:   0%|          | 0/1270 [02:15<?, ? file/s]
Dl Completed...: 100%|██████████| 1/1 [02:15<00:00, 134.78s/ url]

Dl Size...: 100%|██████████| 827/827 [02:15<00:00,  7.60 MiB/s]


Extraction completed...:   0%|          | 0/1271 [02:15<?, ? file/s]
Dl Completed...: 100%|██████████| 1/1 [02:15<00:00, 134.78s/ url]

Dl Size...: 100%|██████████| 827/827 [02:15<00:00,  7.60 MiB/s]


Extraction completed...:   0%|          | 0/1272 [02:15<?, ? file/s]
Dl Completed...: 100%|██████████| 1/1 [02:15<00:00, 134.78s/ url]

Dl Size...: 100%|██████████| 827/827 [02:15<00:00,  7.60 MiB/s]


Extraction completed...:   0%|          | 0/1273 [02:15<?, ? file/s]
Dl Completed...: 100%|██████████| 1/1 [02:15<00:00, 134.78s/ url]

Dl Size...: 100%|██████████| 827/827 [02:15<00:00,  7.60 MiB/s]


Extraction completed...:   0%|          | 0/1274 [02:15<?, ? file/s]
Dl Completed...: 100%|██████████| 1/1 [02:15<00:00, 134.78s/ url]

Dl Size...: 100%|██████████| 827/827 [02:15<00:00,  7.60 MiB/s]


Extraction completed...:   0%|          | 0/1275 [02:15<?, ? file/s]
Dl Completed...: 100%|██████████| 1/1 [02:15<00:00, 134.78s/ url]

Dl Size...: 100%|██████████| 827/827 [02:15<00:00,  7.60 MiB/s]


Extraction completed...:   0%|          | 0/1276 [02:15<?, ? file/s]
Dl Completed...: 100%|██████████| 1/1 [02:15<00:00, 134.78s/ url]

Dl Size...: 100%|██████████| 827/827 [02:15<00:00,  7.60 MiB/s]


Extraction completed...:   0%|          | 0/1277 [02:15<?, ? file/s]
Dl Completed...: 100%|██████████| 1/1 [02:15<00:00, 134.78s/ url]

Dl Size...: 100%|██████████| 827/827 [02:15<00:00,  7.60 MiB/s]


Extraction completed...:   0%|          | 0/1278 [02:15<?, ? file/s]
Dl Completed...: 100%|██████████| 1/1 [02:15<00:00, 134.78s/ url]

Dl Size...: 100%|██████████| 827/827 [02:15<00:00,  7.60 MiB/s]


Extraction completed...:   0%|          | 0/1279 [02:15<?, ? file/s]
Dl Completed...: 100%|██████████| 1/1 [02:15<00:00, 134.78s/ url]

Dl Size...: 100%|██████████| 827/827 [02:15<00:00,  7.60 MiB/s]


Extraction completed...:   0%|          | 0/1280 [02:15<?, ? file/s]
Dl Completed...: 100%|██████████| 1/1 [02:15<00:00, 134.78s/ url]

Dl Size...: 100%|██████████| 827/827 [02:15<00:00,  7.60 MiB/s]


Extraction completed...:   0%|          | 0/1281 [02:15<?, ? file/s]
Dl Completed...: 100%|██████████| 1/1 [02:15<00:00, 134.78s/ url]

Dl Size...: 100%|██████████| 827/827 [02:15<00:00,  7.60 MiB/s]


Extraction completed...:   0%|          | 0/1282 [02:15<?, ? file/s]
Dl Completed...: 100%|██████████| 1/1 [02:15<00:00, 134.78s/ url]

Dl Size...: 100%|██████████| 827/827 [02:15<00:00,  7.60 MiB/s]


Extraction completed...:   0%|          | 0/1283 [02:15<?, ? file/s]
Dl Completed...: 100%|██████████| 1/1 [02:15<00:00, 134.78s/ url]

Dl Size...: 100%|██████████| 827/827 [02:15<00:00,  7.60 MiB/s]


Extraction completed...:   0%|          | 0/1284 [02:15<?, ? file/s]
Dl Completed...: 100%|██████████| 1/1 [02:15<00:00, 134.78s/ url]

Dl Size...: 100%|██████████| 827/827 [02:15<00:00,  7.60 MiB/s]


Extraction completed...:   0%|          | 0/1285 [02:15<?, ? file/s]
Dl Completed...: 100%|██████████| 1/1 [02:15<00:00, 134.78s/ url]

Dl Size...: 100%|██████████| 827/827 [02:15<00:00,  7.60 MiB/s]


Extraction completed...:   0%|          | 0/1286 [02:15<?, ? file/s]
Dl Completed...: 100%|██████████| 1/1 [02:15<00:00, 134.78s/ url]

Dl Size...: 100%|██████████| 827/827 [02:15<00:00,  7.60 MiB/s]


Extraction completed...:   0%|          | 0/1287 [02:15<?, ? file/s]
Dl Completed...: 100%|██████████| 1/1 [02:15<00:00, 134.78s/ url]

Dl Size...: 100%|██████████| 827/827 [02:15<00:00,  7.60 MiB/s]


Extraction completed...:   0%|          | 0/1288 [02:15<?, ? file/s]
Dl Completed...: 100%|██████████| 1/1 [02:15<00:00, 134.78s/ url]

Dl Size...: 100%|██████████| 827/827 [02:15<00:00,  7.60 MiB/s]


Extraction completed...:   0%|          | 0/1289 [02:15<?, ? file/s]
Dl Completed...: 100%|██████████| 1/1 [02:15<00:00, 134.78s/ url]

Dl Size...: 100%|██████████| 827/827 [02:15<00:00,  7.60 MiB/s]


Extraction completed...:   0%|          | 0/1290 [02:15<?, ? file/s]
Dl Completed...: 100%|██████████| 1/1 [02:15<00:00, 134.78s/ url]

Dl Size...: 100%|██████████| 827/827 [02:15<00:00,  7.60 MiB/s]


Extraction completed...:   0%|          | 0/1291 [02:15<?, ? file/s]
Dl Completed...: 100%|██████████| 1/1 [02:15<00:00, 134.78s/ url]

Dl Size...: 100%|██████████| 827/827 [02:15<00:00,  7.60 MiB/s]


Extraction completed...:   0%|          | 0/1292 [02:15<?, ? file/s]
Dl Completed...: 100%|██████████| 1/1 [02:15<00:00, 134.78s/ url]

Dl Size...: 100%|██████████| 827/827 [02:15<00:00,  7.60 MiB/s]


Extraction completed...:   0%|          | 0/1293 [02:15<?, ? file/s]
Dl Completed...: 100%|██████████| 1/1 [02:15<00:00, 134.78s/ url]

Dl Size...: 100%|██████████| 827/827 [02:15<00:00,  7.60 MiB/s]


Extraction completed...:   0%|          | 0/1294 [02:15<?, ? file/s]
Dl Completed...: 100%|██████████| 1/1 [02:15<00:00, 134.78s/ url]

Dl Size...: 100%|██████████| 827/827 [02:15<00:00,  7.60 MiB/s]


Extraction completed...:   0%|          | 0/1295 [02:15<?, ? file/s]
Dl Completed...: 100%|██████████| 1/1 [02:15<00:00, 134.78s/ url]

Dl Size...: 100%|██████████| 827/827 [02:15<00:00,  7.60 MiB/s]


Extraction completed...:   0%|          | 0/1296 [02:15<?, ? file/s]
Dl Completed...: 100%|██████████| 1/1 [02:15<00:00, 134.78s/ url]

Dl Size...: 100%|██████████| 827/827 [02:15<00:00,  7.60 MiB/s]


Extraction completed...:   0%|          | 0/1297 [02:15<?, ? file/s]
Dl Completed...: 100%|██████████| 1/1 [02:15<00:00, 134.78s/ url]

Dl Size...: 100%|██████████| 827/827 [02:15<00:00,  7.60 MiB/s]


Extraction completed...:   0%|          | 0/1298 [02:15<?, ? file/s]
Dl Completed...: 100%|██████████| 1/1 [02:15<00:00, 134.78s/ url]

Dl Size...: 100%|██████████| 827/827 [02:15<00:00,  7.60 MiB/s]


Extraction completed...:   0%|          | 0/1299 [02:15<?, ? file/s]
Dl Completed...: 100%|██████████| 1/1 [02:15<00:00, 134.78s/ url]

Dl Size...: 100%|██████████| 827/827 [02:15<00:00,  7.60 MiB/s]


Extraction completed...:   0%|          | 0/1300 [02:15<?, ? file/s]
Dl Completed...: 100%|██████████| 1/1 [02:15<00:00, 134.78s/ url]

Dl Size...: 100%|██████████| 827/827 [02:15<00:00,  7.60 MiB/s]


Extraction completed...:   0%|          | 0/1301 [02:15<?, ? file/s]
Dl Completed...: 100%|██████████| 1/1 [02:15<00:00, 134.78s/ url]

Dl Size...: 100%|██████████| 827/827 [02:15<00:00,  7.60 MiB/s]


Extraction completed...:   0%|          | 0/1302 [02:15<?, ? file/s]
Dl Completed...: 100%|██████████| 1/1 [02:15<00:00, 134.78s/ url]

Dl Size...: 100%|██████████| 827/827 [02:15<00:00,  7.60 MiB/s]


Extraction completed...:   0%|          | 0/1303 [02:15<?, ? file/s]
Dl Completed...: 100%|██████████| 1/1 [02:15<00:00, 134.78s/ url]

Dl Size...: 100%|██████████| 827/827 [02:15<00:00,  7.60 MiB/s]


Extraction completed...:   0%|          | 0/1304 [02:15<?, ? file/s]
Dl Completed...: 100%|██████████| 1/1 [02:15<00:00, 134.78s/ url]

Dl Size...: 100%|██████████| 827/827 [02:15<00:00,  7.60 MiB/s]


Extraction completed...:   0%|          | 0/1305 [02:15<?, ? file/s]
Dl Completed...: 100%|██████████| 1/1 [02:15<00:00, 134.78s/ url]

Dl Size...: 100%|██████████| 827/827 [02:15<00:00,  7.60 MiB/s]


Extraction completed...:   0%|          | 0/1306 [02:15<?, ? file/s]
Dl Completed...: 100%|██████████| 1/1 [02:15<00:00, 134.78s/ url]

Dl Size...: 100%|██████████| 827/827 [02:15<00:00,  7.60 MiB/s]


Extraction completed...:   0%|          | 0/1307 [02:15<?, ? file/s]
Dl Completed...: 100%|██████████| 1/1 [02:15<00:00, 134.78s/ url]

Dl Size...: 100%|██████████| 827/827 [02:15<00:00,  7.60 MiB/s]


Extraction completed...:   0%|          | 0/1308 [02:15<?, ? file/s]
Dl Completed...: 100%|██████████| 1/1 [02:15<00:00, 134.78s/ url]

Dl Size...: 100%|██████████| 827/827 [02:15<00:00,  7.60 MiB/s]


Extraction completed...:   0%|          | 0/1309 [02:15<?, ? file/s]
Dl Completed...: 100%|██████████| 1/1 [02:15<00:00, 134.78s/ url]

Dl Size...: 100%|██████████| 827/827 [02:15<00:00,  7.60 MiB/s]


Extraction completed...:   0%|          | 0/1310 [02:15<?, ? file/s]
Dl Completed...: 100%|██████████| 1/1 [02:15<00:00, 134.78s/ url]

Dl Size...: 100%|██████████| 827/827 [02:15<00:00,  7.60 MiB/s]


Extraction completed...:   0%|          | 0/1311 [02:15<?, ? file/s]
Dl Completed...: 100%|██████████| 1/1 [02:15<00:00, 134.78s/ url]

Dl Size...: 100%|██████████| 827/827 [02:15<00:00,  7.60 MiB/s]


Extraction completed...:   0%|          | 0/1312 [02:15<?, ? file/s]
Dl Completed...: 100%|██████████| 1/1 [02:15<00:00, 134.78s/ url]

Dl Size...: 100%|██████████| 827/827 [02:15<00:00,  7.60 MiB/s]


Extraction completed...:   0%|          | 0/1313 [02:15<?, ? file/s]
Dl Completed...: 100%|██████████| 1/1 [02:15<00:00, 134.78s/ url]

Dl Size...: 100%|██████████| 827/827 [02:15<00:00,  7.60 MiB/s]


Extraction completed...:   0%|          | 0/1314 [02:15<?, ? file/s]
Dl Completed...: 100%|██████████| 1/1 [02:15<00:00, 134.78s/ url]

Dl Size...: 100%|██████████| 827/827 [02:15<00:00,  7.60 MiB/s]


Extraction completed...:   0%|          | 0/1315 [02:15<?, ? file/s]
Dl Completed...: 100%|██████████| 1/1 [02:15<00:00, 134.78s/ url]

Dl Size...: 100%|██████████| 827/827 [02:15<00:00,  7.60 MiB/s]


Extraction completed...:   0%|          | 0/1316 [02:15<?, ? file/s]
Dl Completed...: 100%|██████████| 1/1 [02:15<00:00, 134.78s/ url]

Dl Size...: 100%|██████████| 827/827 [02:15<00:00,  7.60 MiB/s]


Extraction completed...:   0%|          | 0/1317 [02:15<?, ? file/s]
Dl Completed...: 100%|██████████| 1/1 [02:15<00:00, 134.78s/ url]

Dl Size...: 100%|██████████| 827/827 [02:15<00:00,  7.60 MiB/s]


Extraction completed...:   0%|          | 0/1318 [02:15<?, ? file/s]
Dl Completed...: 100%|██████████| 1/1 [02:15<00:00, 134.78s/ url]

Dl Size...: 100%|██████████| 827/827 [02:15<00:00,  7.60 MiB/s]


Extraction completed...:   0%|          | 0/1319 [02:15<?, ? file/s]
Dl Completed...: 100%|██████████| 1/1 [02:15<00:00, 134.78s/ url]

Dl Size...: 100%|██████████| 827/827 [02:15<00:00,  7.60 MiB/s]


Extraction completed...:   0%|          | 0/1320 [02:15<?, ? file/s]
Dl Completed...: 100%|██████████| 1/1 [02:15<00:00, 134.78s/ url]

Dl Size...: 100%|██████████| 827/827 [02:15<00:00,  7.60 MiB/s]


Extraction completed...:   0%|          | 0/1321 [02:15<?, ? file/s]
Dl Completed...: 100%|██████████| 1/1 [02:15<00:00, 134.78s/ url]

Dl Size...: 100%|██████████| 827/827 [02:15<00:00,  7.60 MiB/s]


Extraction completed...:   0%|          | 0/1322 [02:15<?, ? file/s]
Dl Completed...: 100%|██████████| 1/1 [02:15<00:00, 134.78s/ url]

Dl Size...: 100%|██████████| 827/827 [02:15<00:00,  7.60 MiB/s]


Extraction completed...:   0%|          | 0/1323 [02:15<?, ? file/s]
Dl Completed...: 100%|██████████| 1/1 [02:15<00:00, 134.78s/ url]

Dl Size...: 100%|██████████| 827/827 [02:15<00:00,  7.60 MiB/s]


Extraction completed...:   0%|          | 0/1324 [02:15<?, ? file/s]
Dl Completed...: 100%|██████████| 1/1 [02:15<00:00, 134.78s/ url]

Dl Size...: 100%|██████████| 827/827 [02:15<00:00,  7.60 MiB/s]


Extraction completed...:   0%|          | 0/1325 [02:15<?, ? file/s]
Dl Completed...: 100%|██████████| 1/1 [02:15<00:00, 134.78s/ url]

Dl Size...: 100%|██████████| 827/827 [02:15<00:00,  7.60 MiB/s]


Extraction completed...:   0%|          | 0/1326 [02:15<?, ? file/s]
Dl Completed...: 100%|██████████| 1/1 [02:15<00:00, 134.78s/ url]

Dl Size...: 100%|██████████| 827/827 [02:15<00:00,  7.60 MiB/s]


Extraction completed...:   0%|          | 0/1327 [02:15<?, ? file/s]
Dl Completed...: 100%|██████████| 1/1 [02:15<00:00, 134.78s/ url]

Dl Size...: 100%|██████████| 827/827 [02:15<00:00,  7.60 MiB/s]


Extraction completed...:   0%|          | 0/1328 [02:15<?, ? file/s]
Dl Completed...: 100%|██████████| 1/1 [02:15<00:00, 134.78s/ url]

Dl Size...: 100%|██████████| 827/827 [02:15<00:00,  7.60 MiB/s]


Extraction completed...:   0%|          | 0/1329 [02:15<?, ? file/s]
Dl Completed...: 100%|██████████| 1/1 [02:15<00:00, 134.78s/ url]

Dl Size...: 100%|██████████| 827/827 [02:15<00:00,  7.60 MiB/s]


Extraction completed...:   0%|          | 0/1330 [02:15<?, ? file/s]
Dl Completed...: 100%|██████████| 1/1 [02:15<00:00, 134.78s/ url]

Dl Size...: 100%|██████████| 827/827 [02:15<00:00,  7.60 MiB/s]


Extraction completed...:   0%|          | 0/1331 [02:15<?, ? file/s]
Dl Completed...: 100%|██████████| 1/1 [02:15<00:00, 134.78s/ url]

Dl Size...: 100%|██████████| 827/827 [02:15<00:00,  7.60 MiB/s]


Extraction completed...:   0%|          | 0/1332 [02:15<?, ? file/s]
Dl Completed...: 100%|██████████| 1/1 [02:15<00:00, 134.78s/ url]

Dl Size...: 100%|██████████| 827/827 [02:15<00:00,  7.60 MiB/s]


Extraction completed...:   0%|          | 0/1333 [02:15<?, ? file/s]
Dl Completed...: 100%|██████████| 1/1 [02:15<00:00, 134.78s/ url]

Dl Size...: 100%|██████████| 827/827 [02:15<00:00,  7.60 MiB/s]


Extraction completed...:   0%|          | 0/1334 [02:15<?, ? file/s]
Dl Completed...: 100%|██████████| 1/1 [02:15<00:00, 134.78s/ url]

Dl Size...: 100%|██████████| 827/827 [02:15<00:00,  7.60 MiB/s]


Extraction completed...:   0%|          | 0/1335 [02:15<?, ? file/s]
Dl Completed...: 100%|██████████| 1/1 [02:15<00:00, 134.78s/ url]

Dl Size...: 100%|██████████| 827/827 [02:15<00:00,  7.60 MiB/s]


Extraction completed...:   0%|          | 0/1336 [02:15<?, ? file/s]
Dl Completed...: 100%|██████████| 1/1 [02:15<00:00, 134.78s/ url]

Dl Size...: 100%|██████████| 827/827 [02:15<00:00,  7.60 MiB/s]


Extraction completed...:   0%|          | 0/1337 [02:15<?, ? file/s]
Dl Completed...: 100%|██████████| 1/1 [02:15<00:00, 134.78s/ url]

Dl Size...: 100%|██████████| 827/827 [02:15<00:00,  7.60 MiB/s]


Extraction completed...:   0%|          | 0/1338 [02:15<?, ? file/s]
Dl Completed...: 100%|██████████| 1/1 [02:15<00:00, 134.78s/ url]

Dl Size...: 100%|██████████| 827/827 [02:15<00:00,  7.60 MiB/s]


Extraction completed...:   0%|          | 0/1339 [02:15<?, ? file/s]
Dl Completed...: 100%|██████████| 1/1 [02:15<00:00, 134.78s/ url]

Dl Size...: 100%|██████████| 827/827 [02:15<00:00,  7.60 MiB/s]


Extraction completed...:   0%|          | 0/1340 [02:15<?, ? file/s]
Dl Completed...: 100%|██████████| 1/1 [02:15<00:00, 134.78s/ url]

Dl Size...: 100%|██████████| 827/827 [02:15<00:00,  7.60 MiB/s]


Extraction completed...:   0%|          | 0/1341 [02:15<?, ? file/s]
Dl Completed...: 100%|██████████| 1/1 [02:15<00:00, 134.78s/ url]

Dl Size...: 100%|██████████| 827/827 [02:15<00:00,  7.60 MiB/s]


Extraction completed...:   0%|          | 0/1342 [02:15<?, ? file/s]
Dl Completed...: 100%|██████████| 1/1 [02:15<00:00, 134.78s/ url]

Dl Size...: 100%|██████████| 827/827 [02:15<00:00,  7.60 MiB/s]


Extraction completed...:   0%|          | 0/1343 [02:15<?, ? file/s]
Dl Completed...: 100%|██████████| 1/1 [02:15<00:00, 134.78s/ url]

Dl Size...: 100%|██████████| 827/827 [02:15<00:00,  7.60 MiB/s]


Extraction completed...:   0%|          | 0/1344 [02:15<?, ? file/s]
Dl Completed...: 100%|██████████| 1/1 [02:15<00:00, 134.78s/ url]

Dl Size...: 100%|██████████| 827/827 [02:15<00:00,  7.60 MiB/s]


Extraction completed...:   0%|          | 0/1345 [02:15<?, ? file/s]
Dl Completed...: 100%|██████████| 1/1 [02:15<00:00, 134.78s/ url]

Dl Size...: 100%|██████████| 827/827 [02:15<00:00,  7.60 MiB/s]


Extraction completed...:   0%|          | 0/1346 [02:15<?, ? file/s]
Dl Completed...: 100%|██████████| 1/1 [02:15<00:00, 134.78s/ url]

Dl Size...: 100%|██████████| 827/827 [02:15<00:00,  7.60 MiB/s]


Extraction completed...:   0%|          | 0/1347 [02:15<?, ? file/s]
Dl Completed...: 100%|██████████| 1/1 [02:15<00:00, 134.78s/ url]

Dl Size...: 100%|██████████| 827/827 [02:15<00:00,  7.60 MiB/s]


Extraction completed...:   0%|          | 0/1348 [02:15<?, ? file/s]
Dl Completed...: 100%|██████████| 1/1 [02:15<00:00, 134.78s/ url]

Dl Size...: 100%|██████████| 827/827 [02:15<00:00,  7.60 MiB/s]


Extraction completed...:   0%|          | 0/1349 [02:15<?, ? file/s]
Dl Completed...: 100%|██████████| 1/1 [02:15<00:00, 134.78s/ url]

Dl Size...: 100%|██████████| 827/827 [02:15<00:00,  7.60 MiB/s]


Extraction completed...:   0%|          | 0/1350 [02:15<?, ? file/s]
Dl Completed...: 100%|██████████| 1/1 [02:15<00:00, 134.78s/ url]

Dl Size...: 100%|██████████| 827/827 [02:15<00:00,  7.60 MiB/s]


Extraction completed...:   0%|          | 0/1351 [02:15<?, ? file/s]
Dl Completed...: 100%|██████████| 1/1 [02:15<00:00, 134.78s/ url]

Dl Size...: 100%|██████████| 827/827 [02:15<00:00,  7.60 MiB/s]


Extraction completed...:   0%|          | 0/1352 [02:15<?, ? file/s]
Dl Completed...: 100%|██████████| 1/1 [02:15<00:00, 134.78s/ url]

Dl Size...: 100%|██████████| 827/827 [02:15<00:00,  7.60 MiB/s]


Extraction completed...:   0%|          | 0/1353 [02:15<?, ? file/s]
Dl Completed...: 100%|██████████| 1/1 [02:15<00:00, 134.78s/ url]

Dl Size...: 100%|██████████| 827/827 [02:15<00:00,  7.60 MiB/s]


Extraction completed...:   0%|          | 0/1354 [02:15<?, ? file/s]
Dl Completed...: 100%|██████████| 1/1 [02:15<00:00, 134.78s/ url]

Dl Size...: 100%|██████████| 827/827 [02:15<00:00,  7.60 MiB/s]


Extraction completed...:   0%|          | 0/1355 [02:15<?, ? file/s]
Dl Completed...: 100%|██████████| 1/1 [02:15<00:00, 134.78s/ url]

Dl Size...: 100%|██████████| 827/827 [02:15<00:00,  7.60 MiB/s]


Extraction completed...:   0%|          | 0/1356 [02:15<?, ? file/s]
Dl Completed...: 100%|██████████| 1/1 [02:15<00:00, 134.78s/ url]

Dl Size...: 100%|██████████| 827/827 [02:15<00:00,  7.60 MiB/s]


Extraction completed...:   0%|          | 0/1357 [02:15<?, ? file/s]
Dl Completed...: 100%|██████████| 1/1 [02:15<00:00, 134.78s/ url]

Dl Size...: 100%|██████████| 827/827 [02:15<00:00,  7.60 MiB/s]


Extraction completed...:   0%|          | 0/1358 [02:15<?, ? file/s]
Dl Completed...: 100%|██████████| 1/1 [02:15<00:00, 134.78s/ url]

Dl Size...: 100%|██████████| 827/827 [02:15<00:00,  7.60 MiB/s]


Extraction completed...:   0%|          | 0/1359 [02:15<?, ? file/s]
Dl Completed...: 100%|██████████| 1/1 [02:15<00:00, 134.78s/ url]

Dl Size...: 100%|██████████| 827/827 [02:15<00:00,  7.60 MiB/s]


Extraction completed...:   0%|          | 0/1360 [02:15<?, ? file/s]
Dl Completed...: 100%|██████████| 1/1 [02:15<00:00, 134.78s/ url]

Dl Size...: 100%|██████████| 827/827 [02:15<00:00,  7.60 MiB/s]


Extraction completed...:   0%|          | 0/1361 [02:15<?, ? file/s]
Dl Completed...: 100%|██████████| 1/1 [02:15<00:00, 134.78s/ url]

Dl Size...: 100%|██████████| 827/827 [02:15<00:00,  7.60 MiB/s]


Extraction completed...:   0%|          | 0/1362 [02:15<?, ? file/s]
Dl Completed...: 100%|██████████| 1/1 [02:15<00:00, 134.78s/ url]

Dl Size...: 100%|██████████| 827/827 [02:15<00:00,  7.60 MiB/s]


Extraction completed...:   0%|          | 0/1363 [02:15<?, ? file/s]
Dl Completed...: 100%|██████████| 1/1 [02:15<00:00, 134.78s/ url]

Dl Size...: 100%|██████████| 827/827 [02:15<00:00,  7.60 MiB/s]


Extraction completed...:   0%|          | 0/1364 [02:15<?, ? file/s]
Dl Completed...: 100%|██████████| 1/1 [02:15<00:00, 134.78s/ url]

Dl Size...: 100%|██████████| 827/827 [02:15<00:00,  7.60 MiB/s]


Extraction completed...:   0%|          | 0/1365 [02:15<?, ? file/s]
Dl Completed...: 100%|██████████| 1/1 [02:15<00:00, 134.78s/ url]

Dl Size...: 100%|██████████| 827/827 [02:15<00:00,  7.60 MiB/s]


Extraction completed...:   0%|          | 0/1366 [02:15<?, ? file/s]
Dl Completed...: 100%|██████████| 1/1 [02:15<00:00, 134.78s/ url]

Dl Size...: 100%|██████████| 827/827 [02:15<00:00,  7.60 MiB/s]


Extraction completed...:   0%|          | 0/1367 [02:15<?, ? file/s]
Dl Completed...: 100%|██████████| 1/1 [02:15<00:00, 134.78s/ url]

Dl Size...: 100%|██████████| 827/827 [02:15<00:00,  7.60 MiB/s]


Extraction completed...:   0%|          | 0/1368 [02:15<?, ? file/s]
Dl Completed...: 100%|██████████| 1/1 [02:15<00:00, 134.78s/ url]

Dl Size...: 100%|██████████| 827/827 [02:15<00:00,  7.60 MiB/s]


Extraction completed...:   0%|          | 0/1369 [02:15<?, ? file/s]
Dl Completed...: 100%|██████████| 1/1 [02:15<00:00, 134.78s/ url]

Dl Size...: 100%|██████████| 827/827 [02:15<00:00,  7.60 MiB/s]


Extraction completed...:   0%|          | 0/1370 [02:15<?, ? file/s]
Dl Completed...: 100%|██████████| 1/1 [02:15<00:00, 134.78s/ url]

Dl Size...: 100%|██████████| 827/827 [02:15<00:00,  7.60 MiB/s]


Extraction completed...:   0%|          | 0/1371 [02:15<?, ? file/s]
Dl Completed...: 100%|██████████| 1/1 [02:15<00:00, 134.78s/ url]

Dl Size...: 100%|██████████| 827/827 [02:15<00:00,  7.60 MiB/s]


Extraction completed...:   0%|          | 0/1372 [02:15<?, ? file/s]
Dl Completed...: 100%|██████████| 1/1 [02:15<00:00, 134.78s/ url]

Dl Size...: 100%|██████████| 827/827 [02:15<00:00,  7.60 MiB/s]


Extraction completed...:   0%|          | 0/1373 [02:15<?, ? file/s]
Dl Completed...: 100%|██████████| 1/1 [02:15<00:00, 134.78s/ url]

Dl Size...: 100%|██████████| 827/827 [02:15<00:00,  7.60 MiB/s]


Extraction completed...:   0%|          | 0/1374 [02:15<?, ? file/s]
Dl Completed...: 100%|██████████| 1/1 [02:15<00:00, 134.78s/ url]

Dl Size...: 100%|██████████| 827/827 [02:15<00:00,  7.60 MiB/s]


Extraction completed...:   0%|          | 0/1375 [02:15<?, ? file/s]
Dl Completed...: 100%|██████████| 1/1 [02:15<00:00, 134.78s/ url]

Dl Size...: 100%|██████████| 827/827 [02:15<00:00,  7.60 MiB/s]


Extraction completed...:   0%|          | 0/1376 [02:15<?, ? file/s]
Dl Completed...: 100%|██████████| 1/1 [02:15<00:00, 134.78s/ url]

Dl Size...: 100%|██████████| 827/827 [02:15<00:00,  7.60 MiB/s]


Extraction completed...:   0%|          | 0/1377 [02:15<?, ? file/s]
Dl Completed...: 100%|██████████| 1/1 [02:15<00:00, 134.78s/ url]

Dl Size...: 100%|██████████| 827/827 [02:15<00:00,  7.60 MiB/s]


Extraction completed...:   0%|          | 0/1378 [02:15<?, ? file/s]
Dl Completed...: 100%|██████████| 1/1 [02:15<00:00, 134.78s/ url]

Dl Size...: 100%|██████████| 827/827 [02:15<00:00,  7.60 MiB/s]


Extraction completed...:   0%|          | 0/1379 [02:15<?, ? file/s]
Dl Completed...: 100%|██████████| 1/1 [02:15<00:00, 134.78s/ url]

Dl Size...: 100%|██████████| 827/827 [02:15<00:00,  7.60 MiB/s]


Extraction completed...:   0%|          | 0/1380 [02:15<?, ? file/s]
Dl Completed...: 100%|██████████| 1/1 [02:15<00:00, 134.78s/ url]

Dl Size...: 100%|██████████| 827/827 [02:15<00:00,  7.60 MiB/s]


Extraction completed...:   0%|          | 0/1381 [02:15<?, ? file/s]
Dl Completed...: 100%|██████████| 1/1 [02:15<00:00, 134.78s/ url]

Dl Size...: 100%|██████████| 827/827 [02:15<00:00,  7.60 MiB/s]


Extraction completed...:   0%|          | 0/1382 [02:15<?, ? file/s]
Dl Completed...: 100%|██████████| 1/1 [02:15<00:00, 134.78s/ url]

Dl Size...: 100%|██████████| 827/827 [02:15<00:00,  7.60 MiB/s]


Extraction completed...:   0%|          | 0/1383 [02:15<?, ? file/s]
Dl Completed...: 100%|██████████| 1/1 [02:15<00:00, 134.78s/ url]

Dl Size...: 100%|██████████| 827/827 [02:15<00:00,  7.60 MiB/s]


Extraction completed...:   0%|          | 0/1384 [02:15<?, ? file/s]
Dl Completed...: 100%|██████████| 1/1 [02:15<00:00, 134.78s/ url]

Dl Size...: 100%|██████████| 827/827 [02:15<00:00,  7.60 MiB/s]


Extraction completed...:   0%|          | 0/1385 [02:15<?, ? file/s]
Dl Completed...: 100%|██████████| 1/1 [02:15<00:00, 134.78s/ url]

Dl Size...: 100%|██████████| 827/827 [02:15<00:00,  7.60 MiB/s]


Extraction completed...:   0%|          | 0/1386 [02:15<?, ? file/s]
Dl Completed...: 100%|██████████| 1/1 [02:15<00:00, 134.78s/ url]

Dl Size...: 100%|██████████| 827/827 [02:15<00:00,  7.60 MiB/s]


Extraction completed...:   0%|          | 0/1387 [02:15<?, ? file/s]
Dl Completed...: 100%|██████████| 1/1 [02:15<00:00, 134.78s/ url]

Dl Size...: 100%|██████████| 827/827 [02:15<00:00,  7.60 MiB/s]


Extraction completed...:   0%|          | 0/1388 [02:15<?, ? file/s]
Dl Completed...: 100%|██████████| 1/1 [02:15<00:00, 134.78s/ url]

Dl Size...: 100%|██████████| 827/827 [02:15<00:00,  7.60 MiB/s]


Extraction completed...:   0%|          | 0/1389 [02:15<?, ? file/s]
Dl Completed...: 100%|██████████| 1/1 [02:15<00:00, 134.78s/ url]

Dl Size...: 100%|██████████| 827/827 [02:15<00:00,  7.60 MiB/s]


Extraction completed...:   0%|          | 0/1390 [02:15<?, ? file/s]
Dl Completed...: 100%|██████████| 1/1 [02:15<00:00, 134.78s/ url]

Dl Size...: 100%|██████████| 827/827 [02:15<00:00,  7.60 MiB/s]


Extraction completed...:   0%|          | 0/1391 [02:15<?, ? file/s]
Dl Completed...: 100%|██████████| 1/1 [02:15<00:00, 134.78s/ url]

Dl Size...: 100%|██████████| 827/827 [02:15<00:00,  7.60 MiB/s]


Extraction completed...:   0%|          | 0/1392 [02:15<?, ? file/s]
Dl Completed...: 100%|██████████| 1/1 [02:15<00:00, 134.78s/ url]

Dl Size...: 100%|██████████| 827/827 [02:15<00:00,  7.60 MiB/s]


Extraction completed...:   0%|          | 0/1393 [02:15<?, ? file/s]
Dl Completed...: 100%|██████████| 1/1 [02:15<00:00, 134.78s/ url]

Dl Size...: 100%|██████████| 827/827 [02:15<00:00,  7.60 MiB/s]


Extraction completed...:   0%|          | 0/1394 [02:15<?, ? file/s]
Dl Completed...: 100%|██████████| 1/1 [02:15<00:00, 134.78s/ url]

Dl Size...: 100%|██████████| 827/827 [02:15<00:00,  7.60 MiB/s]


Extraction completed...:   0%|          | 0/1395 [02:15<?, ? file/s]
Dl Completed...: 100%|██████████| 1/1 [02:15<00:00, 134.78s/ url]

Dl Size...: 100%|██████████| 827/827 [02:15<00:00,  7.60 MiB/s]


Extraction completed...:   0%|          | 0/1396 [02:15<?, ? file/s]
Dl Completed...: 100%|██████████| 1/1 [02:15<00:00, 134.78s/ url]

Dl Size...: 100%|██████████| 827/827 [02:15<00:00,  7.60 MiB/s]


Extraction completed...:   0%|          | 0/1397 [02:15<?, ? file/s]
Dl Completed...: 100%|██████████| 1/1 [02:15<00:00, 134.78s/ url]

Dl Size...: 100%|██████████| 827/827 [02:15<00:00,  7.60 MiB/s]


Extraction completed...:   0%|          | 0/1398 [02:15<?, ? file/s]
Dl Completed...: 100%|██████████| 1/1 [02:15<00:00, 134.78s/ url]

Dl Size...: 100%|██████████| 827/827 [02:15<00:00,  7.60 MiB/s]


Extraction completed...:   0%|          | 0/1399 [02:15<?, ? file/s]
Dl Completed...: 100%|██████████| 1/1 [02:15<00:00, 134.78s/ url]

Dl Size...: 100%|██████████| 827/827 [02:15<00:00,  7.60 MiB/s]


Extraction completed...:   0%|          | 0/1400 [02:15<?, ? file/s]
Dl Completed...: 100%|██████████| 1/1 [02:15<00:00, 134.78s/ url]

Dl Size...: 100%|██████████| 827/827 [02:15<00:00,  7.60 MiB/s]


Extraction completed...:   0%|          | 0/1401 [02:15<?, ? file/s]
Dl Completed...: 100%|██████████| 1/1 [02:15<00:00, 134.78s/ url]

Dl Size...: 100%|██████████| 827/827 [02:15<00:00,  7.60 MiB/s]


Extraction completed...:   0%|          | 0/1402 [02:15<?, ? file/s]
Dl Completed...: 100%|██████████| 1/1 [02:15<00:00, 134.78s/ url]

Dl Size...: 100%|██████████| 827/827 [02:15<00:00,  7.60 MiB/s]


Extraction completed...:   0%|          | 0/1403 [02:15<?, ? file/s]
Dl Completed...: 100%|██████████| 1/1 [02:15<00:00, 134.78s/ url]

Dl Size...: 100%|██████████| 827/827 [02:15<00:00,  7.60 MiB/s]


Extraction completed...:   0%|          | 0/1404 [02:15<?, ? file/s]
Dl Completed...: 100%|██████████| 1/1 [02:15<00:00, 134.78s/ url]

Dl Size...: 100%|██████████| 827/827 [02:15<00:00,  7.60 MiB/s]


Extraction completed...:   0%|          | 0/1405 [02:15<?, ? file/s]
Dl Completed...: 100%|██████████| 1/1 [02:15<00:00, 134.78s/ url]

Dl Size...: 100%|██████████| 827/827 [02:15<00:00,  7.60 MiB/s]


Extraction completed...:   0%|          | 0/1406 [02:15<?, ? file/s]
Dl Completed...: 100%|██████████| 1/1 [02:15<00:00, 134.78s/ url]

Dl Size...: 100%|██████████| 827/827 [02:15<00:00,  7.60 MiB/s]


Extraction completed...:   0%|          | 0/1407 [02:15<?, ? file/s]
Dl Completed...: 100%|██████████| 1/1 [02:15<00:00, 134.78s/ url]

Dl Size...: 100%|██████████| 827/827 [02:15<00:00,  7.60 MiB/s]


Extraction completed...:   0%|          | 0/1408 [02:15<?, ? file/s]
Dl Completed...: 100%|██████████| 1/1 [02:15<00:00, 134.78s/ url]

Dl Size...: 100%|██████████| 827/827 [02:15<00:00,  7.60 MiB/s]


Extraction completed...:   0%|          | 0/1409 [02:15<?, ? file/s]
Dl Completed...: 100%|██████████| 1/1 [02:15<00:00, 134.78s/ url]

Dl Size...: 100%|██████████| 827/827 [02:15<00:00,  7.60 MiB/s]


Extraction completed...:   0%|          | 0/1410 [02:15<?, ? file/s]
Dl Completed...: 100%|██████████| 1/1 [02:15<00:00, 134.78s/ url]

Dl Size...: 100%|██████████| 827/827 [02:15<00:00,  7.60 MiB/s]


Extraction completed...:   0%|          | 0/1411 [02:15<?, ? file/s]
Dl Completed...: 100%|██████████| 1/1 [02:15<00:00, 134.78s/ url]

Dl Size...: 100%|██████████| 827/827 [02:15<00:00,  7.60 MiB/s]


Extraction completed...:   0%|          | 0/1412 [02:15<?, ? file/s]
Dl Completed...: 100%|██████████| 1/1 [02:15<00:00, 134.78s/ url]

Dl Size...: 100%|██████████| 827/827 [02:15<00:00,  7.60 MiB/s]


Extraction completed...:   0%|          | 0/1413 [02:15<?, ? file/s]
Dl Completed...: 100%|██████████| 1/1 [02:15<00:00, 134.78s/ url]

Dl Size...: 100%|██████████| 827/827 [02:15<00:00,  7.60 MiB/s]


Extraction completed...:   0%|          | 0/1414 [02:15<?, ? file/s]
Dl Completed...: 100%|██████████| 1/1 [02:15<00:00, 134.78s/ url]

Dl Size...: 100%|██████████| 827/827 [02:15<00:00,  7.60 MiB/s]


Extraction completed...:   0%|          | 0/1415 [02:15<?, ? file/s]
Dl Completed...: 100%|██████████| 1/1 [02:15<00:00, 134.78s/ url]

Dl Size...: 100%|██████████| 827/827 [02:15<00:00,  7.60 MiB/s]


Extraction completed...:   0%|          | 0/1416 [02:15<?, ? file/s]
Dl Completed...: 100%|██████████| 1/1 [02:15<00:00, 134.78s/ url]

Dl Size...: 100%|██████████| 827/827 [02:15<00:00,  7.60 MiB/s]


Extraction completed...:   0%|          | 0/1417 [02:15<?, ? file/s]
Dl Completed...: 100%|██████████| 1/1 [02:15<00:00, 134.78s/ url]

Dl Size...: 100%|██████████| 827/827 [02:15<00:00,  7.60 MiB/s]


Extraction completed...:   0%|          | 0/1418 [02:15<?, ? file/s]
Dl Completed...: 100%|██████████| 1/1 [02:15<00:00, 134.78s/ url]

Dl Size...: 100%|██████████| 827/827 [02:15<00:00,  7.60 MiB/s]


Extraction completed...:   0%|          | 0/1419 [02:15<?, ? file/s]
Dl Completed...: 100%|██████████| 1/1 [02:15<00:00, 134.78s/ url]

Dl Size...: 100%|██████████| 827/827 [02:15<00:00,  7.60 MiB/s]


Extraction completed...:   0%|          | 0/1420 [02:15<?, ? file/s]
Dl Completed...: 100%|██████████| 1/1 [02:15<00:00, 134.78s/ url]

Dl Size...: 100%|██████████| 827/827 [02:15<00:00,  7.60 MiB/s]


Extraction completed...:   0%|          | 0/1421 [02:15<?, ? file/s]
Dl Completed...: 100%|██████████| 1/1 [02:15<00:00, 134.78s/ url]

Dl Size...: 100%|██████████| 827/827 [02:15<00:00,  7.60 MiB/s]


Extraction completed...:   0%|          | 0/1422 [02:15<?, ? file/s]
Dl Completed...: 100%|██████████| 1/1 [02:15<00:00, 134.78s/ url]

Dl Size...: 100%|██████████| 827/827 [02:15<00:00,  7.60 MiB/s]


Extraction completed...:   0%|          | 0/1423 [02:15<?, ? file/s]
Dl Completed...: 100%|██████████| 1/1 [02:15<00:00, 134.78s/ url]

Dl Size...: 100%|██████████| 827/827 [02:15<00:00,  7.60 MiB/s]


Extraction completed...:   0%|          | 0/1424 [02:15<?, ? file/s]
Dl Completed...: 100%|██████████| 1/1 [02:15<00:00, 134.78s/ url]

Dl Size...: 100%|██████████| 827/827 [02:15<00:00,  7.60 MiB/s]


Extraction completed...:   0%|          | 0/1425 [02:15<?, ? file/s]
Dl Completed...: 100%|██████████| 1/1 [02:15<00:00, 134.78s/ url]

Dl Size...: 100%|██████████| 827/827 [02:15<00:00,  7.60 MiB/s]


Extraction completed...:   0%|          | 0/1426 [02:15<?, ? file/s]
Dl Completed...: 100%|██████████| 1/1 [02:15<00:00, 134.78s/ url]

Dl Size...: 100%|██████████| 827/827 [02:15<00:00,  7.60 MiB/s]


Extraction completed...:   0%|          | 0/1427 [02:15<?, ? file/s]
Dl Completed...: 100%|██████████| 1/1 [02:15<00:00, 134.78s/ url]

Dl Size...: 100%|██████████| 827/827 [02:15<00:00,  7.60 MiB/s]


Extraction completed...:   0%|          | 0/1428 [02:15<?, ? file/s]
Dl Completed...: 100%|██████████| 1/1 [02:15<00:00, 134.78s/ url]

Dl Size...: 100%|██████████| 827/827 [02:15<00:00,  7.60 MiB/s]


Extraction completed...:   0%|          | 0/1429 [02:15<?, ? file/s]
Dl Completed...: 100%|██████████| 1/1 [02:15<00:00, 134.78s/ url]

Dl Size...: 100%|██████████| 827/827 [02:15<00:00,  7.60 MiB/s]


Extraction completed...:   0%|          | 0/1430 [02:15<?, ? file/s]
Dl Completed...: 100%|██████████| 1/1 [02:15<00:00, 134.78s/ url]

Dl Size...: 100%|██████████| 827/827 [02:15<00:00,  7.60 MiB/s]


Extraction completed...:   0%|          | 0/1431 [02:15<?, ? file/s]
Dl Completed...: 100%|██████████| 1/1 [02:15<00:00, 134.78s/ url]

Dl Size...: 100%|██████████| 827/827 [02:15<00:00,  7.60 MiB/s]


Extraction completed...:   0%|          | 0/1432 [02:15<?, ? file/s]
Dl Completed...: 100%|██████████| 1/1 [02:15<00:00, 134.78s/ url]

Dl Size...: 100%|██████████| 827/827 [02:15<00:00,  7.60 MiB/s]


Extraction completed...:   0%|          | 0/1433 [02:15<?, ? file/s]
Dl Completed...: 100%|██████████| 1/1 [02:15<00:00, 134.78s/ url]

Dl Size...: 100%|██████████| 827/827 [02:15<00:00,  7.60 MiB/s]


Extraction completed...:   0%|          | 0/1434 [02:15<?, ? file/s]
Dl Completed...: 100%|██████████| 1/1 [02:15<00:00, 134.78s/ url]

Dl Size...: 100%|██████████| 827/827 [02:15<00:00,  7.60 MiB/s]


Extraction completed...:   0%|          | 0/1435 [02:15<?, ? file/s]
Dl Completed...: 100%|██████████| 1/1 [02:15<00:00, 134.78s/ url]

Dl Size...: 100%|██████████| 827/827 [02:15<00:00,  7.60 MiB/s]


Extraction completed...:   0%|          | 0/1436 [02:15<?, ? file/s]
Dl Completed...: 100%|██████████| 1/1 [02:15<00:00, 134.78s/ url]

Dl Size...: 100%|██████████| 827/827 [02:15<00:00,  7.60 MiB/s]


Extraction completed...:   0%|          | 0/1437 [02:15<?, ? file/s]
Dl Completed...: 100%|██████████| 1/1 [02:15<00:00, 134.78s/ url]

Dl Size...: 100%|██████████| 827/827 [02:15<00:00,  7.60 MiB/s]


Extraction completed...:   0%|          | 0/1438 [02:15<?, ? file/s]
Dl Completed...: 100%|██████████| 1/1 [02:15<00:00, 134.78s/ url]

Dl Size...: 100%|██████████| 827/827 [02:15<00:00,  7.60 MiB/s]


Extraction completed...:   0%|          | 0/1439 [02:15<?, ? file/s]
Dl Completed...: 100%|██████████| 1/1 [02:15<00:00, 134.78s/ url]

Dl Size...: 100%|██████████| 827/827 [02:15<00:00,  7.60 MiB/s]


Extraction completed...:   0%|          | 0/1440 [02:15<?, ? file/s]
Dl Completed...: 100%|██████████| 1/1 [02:15<00:00, 134.78s/ url]

Dl Size...: 100%|██████████| 827/827 [02:15<00:00,  7.60 MiB/s]


Extraction completed...:   0%|          | 0/1441 [02:15<?, ? file/s]
Dl Completed...: 100%|██████████| 1/1 [02:15<00:00, 134.78s/ url]

Dl Size...: 100%|██████████| 827/827 [02:15<00:00,  7.60 MiB/s]


Extraction completed...:   0%|          | 0/1442 [02:15<?, ? file/s]
Dl Completed...: 100%|██████████| 1/1 [02:15<00:00, 134.78s/ url]

Dl Size...: 100%|██████████| 827/827 [02:15<00:00,  7.60 MiB/s]


Extraction completed...:   0%|          | 0/1443 [02:15<?, ? file/s]
Dl Completed...: 100%|██████████| 1/1 [02:15<00:00, 134.78s/ url]

Dl Size...: 100%|██████████| 827/827 [02:15<00:00,  7.60 MiB/s]


Extraction completed...:   0%|          | 0/1444 [02:15<?, ? file/s]
Dl Completed...: 100%|██████████| 1/1 [02:15<00:00, 134.78s/ url]

Dl Size...: 100%|██████████| 827/827 [02:15<00:00,  7.60 MiB/s]


Extraction completed...:   0%|          | 0/1445 [02:15<?, ? file/s]
Dl Completed...: 100%|██████████| 1/1 [02:15<00:00, 134.78s/ url]

Dl Size...: 100%|██████████| 827/827 [02:15<00:00,  7.60 MiB/s]


Extraction completed...:   0%|          | 0/1446 [02:15<?, ? file/s]
Dl Completed...: 100%|██████████| 1/1 [02:15<00:00, 134.78s/ url]

Dl Size...: 100%|██████████| 827/827 [02:15<00:00,  7.60 MiB/s]


Extraction completed...:   0%|          | 0/1447 [02:15<?, ? file/s]
Dl Completed...: 100%|██████████| 1/1 [02:15<00:00, 134.78s/ url]

Dl Size...: 100%|██████████| 827/827 [02:15<00:00,  7.60 MiB/s]


Extraction completed...:   0%|          | 0/1448 [02:15<?, ? file/s]
Dl Completed...: 100%|██████████| 1/1 [02:15<00:00, 134.78s/ url]

Dl Size...: 100%|██████████| 827/827 [02:15<00:00,  7.60 MiB/s]


Extraction completed...:   0%|          | 0/1449 [02:15<?, ? file/s]
Dl Completed...: 100%|██████████| 1/1 [02:15<00:00, 134.78s/ url]

Dl Size...: 100%|██████████| 827/827 [02:15<00:00,  7.60 MiB/s]


Extraction completed...:   0%|          | 0/1450 [02:15<?, ? file/s]
Dl Completed...: 100%|██████████| 1/1 [02:15<00:00, 134.78s/ url]

Dl Size...: 100%|██████████| 827/827 [02:15<00:00,  7.60 MiB/s]


Extraction completed...:   0%|          | 0/1451 [02:15<?, ? file/s]
Dl Completed...: 100%|██████████| 1/1 [02:15<00:00, 134.78s/ url]

Dl Size...: 100%|██████████| 827/827 [02:15<00:00,  7.60 MiB/s]


Extraction completed...:   0%|          | 0/1452 [02:15<?, ? file/s]
Dl Completed...: 100%|██████████| 1/1 [02:15<00:00, 134.78s/ url]

Dl Size...: 100%|██████████| 827/827 [02:15<00:00,  7.60 MiB/s]


Extraction completed...:   0%|          | 0/1453 [02:15<?, ? file/s]
Dl Completed...: 100%|██████████| 1/1 [02:15<00:00, 134.78s/ url]

Dl Size...: 100%|██████████| 827/827 [02:15<00:00,  7.60 MiB/s]


Extraction completed...:   0%|          | 0/1454 [02:15<?, ? file/s]
Dl Completed...: 100%|██████████| 1/1 [02:15<00:00, 134.78s/ url]

Dl Size...: 100%|██████████| 827/827 [02:15<00:00,  7.60 MiB/s]


Extraction completed...:   0%|          | 0/1455 [02:15<?, ? file/s]
Dl Completed...: 100%|██████████| 1/1 [02:15<00:00, 134.78s/ url]

Dl Size...: 100%|██████████| 827/827 [02:15<00:00,  7.60 MiB/s]


Extraction completed...:   0%|          | 0/1456 [02:15<?, ? file/s]
Dl Completed...: 100%|██████████| 1/1 [02:15<00:00, 134.78s/ url]

Dl Size...: 100%|██████████| 827/827 [02:15<00:00,  7.60 MiB/s]


Extraction completed...:   0%|          | 0/1457 [02:15<?, ? file/s]
Dl Completed...: 100%|██████████| 1/1 [02:15<00:00, 134.78s/ url]

Dl Size...: 100%|██████████| 827/827 [02:15<00:00,  7.60 MiB/s]


Extraction completed...:   0%|          | 0/1458 [02:15<?, ? file/s]
Dl Completed...: 100%|██████████| 1/1 [02:15<00:00, 134.78s/ url]

Dl Size...: 100%|██████████| 827/827 [02:15<00:00,  7.60 MiB/s]


Extraction completed...:   0%|          | 0/1459 [02:15<?, ? file/s]
Dl Completed...: 100%|██████████| 1/1 [02:15<00:00, 134.78s/ url]

Dl Size...: 100%|██████████| 827/827 [02:15<00:00,  7.60 MiB/s]


Extraction completed...:   0%|          | 0/1460 [02:15<?, ? file/s]
Dl Completed...: 100%|██████████| 1/1 [02:15<00:00, 134.78s/ url]

Dl Size...: 100%|██████████| 827/827 [02:15<00:00,  7.60 MiB/s]


Extraction completed...:   0%|          | 0/1461 [02:15<?, ? file/s]
Dl Completed...: 100%|██████████| 1/1 [02:15<00:00, 134.78s/ url]

Dl Size...: 100%|██████████| 827/827 [02:15<00:00,  7.60 MiB/s]


Extraction completed...:   0%|          | 0/1462 [02:15<?, ? file/s]
Dl Completed...: 100%|██████████| 1/1 [02:15<00:00, 134.78s/ url]

Dl Size...: 100%|██████████| 827/827 [02:15<00:00,  7.60 MiB/s]


Extraction completed...:   0%|          | 0/1463 [02:15<?, ? file/s]
Dl Completed...: 100%|██████████| 1/1 [02:15<00:00, 134.78s/ url]

Dl Size...: 100%|██████████| 827/827 [02:15<00:00,  7.60 MiB/s]


Extraction completed...:   0%|          | 0/1464 [02:15<?, ? file/s]
Dl Completed...: 100%|██████████| 1/1 [02:15<00:00, 134.78s/ url]

Dl Size...: 100%|██████████| 827/827 [02:15<00:00,  7.60 MiB/s]


Extraction completed...:   0%|          | 0/1465 [02:15<?, ? file/s]
Dl Completed...: 100%|██████████| 1/1 [02:15<00:00, 134.78s/ url]

Dl Size...: 100%|██████████| 827/827 [02:15<00:00,  7.60 MiB/s]


Extraction completed...:   0%|          | 0/1466 [02:15<?, ? file/s]
Dl Completed...: 100%|██████████| 1/1 [02:15<00:00, 134.78s/ url]

Dl Size...: 100%|██████████| 827/827 [02:15<00:00,  7.60 MiB/s]


Extraction completed...:   0%|          | 0/1467 [02:15<?, ? file/s]
Dl Completed...: 100%|██████████| 1/1 [02:15<00:00, 134.78s/ url]

Dl Size...: 100%|██████████| 827/827 [02:15<00:00,  7.60 MiB/s]


Extraction completed...:   0%|          | 0/1468 [02:15<?, ? file/s]
Dl Completed...: 100%|██████████| 1/1 [02:15<00:00, 134.78s/ url]

Dl Size...: 100%|██████████| 827/827 [02:15<00:00,  7.60 MiB/s]


Extraction completed...:   0%|          | 0/1469 [02:15<?, ? file/s]
Dl Completed...: 100%|██████████| 1/1 [02:15<00:00, 134.78s/ url]

Dl Size...: 100%|██████████| 827/827 [02:15<00:00,  7.60 MiB/s]


Extraction completed...:   0%|          | 0/1470 [02:15<?, ? file/s]
Dl Completed...: 100%|██████████| 1/1 [02:15<00:00, 134.78s/ url]

Dl Size...: 100%|██████████| 827/827 [02:15<00:00,  7.60 MiB/s]


Extraction completed...:   0%|          | 0/1471 [02:15<?, ? file/s]
Dl Completed...: 100%|██████████| 1/1 [02:15<00:00, 134.78s/ url]

Dl Size...: 100%|██████████| 827/827 [02:15<00:00,  7.60 MiB/s]


Extraction completed...:   0%|          | 0/1472 [02:15<?, ? file/s]
Dl Completed...: 100%|██████████| 1/1 [02:15<00:00, 134.78s/ url]

Dl Size...: 100%|██████████| 827/827 [02:15<00:00,  7.60 MiB/s]


Extraction completed...:   0%|          | 0/1473 [02:15<?, ? file/s]
Dl Completed...: 100%|██████████| 1/1 [02:15<00:00, 134.78s/ url]

Dl Size...: 100%|██████████| 827/827 [02:15<00:00,  7.60 MiB/s]


Extraction completed...:   0%|          | 0/1474 [02:15<?, ? file/s]
Dl Completed...: 100%|██████████| 1/1 [02:15<00:00, 134.78s/ url]

Dl Size...: 100%|██████████| 827/827 [02:15<00:00,  7.60 MiB/s]


Extraction completed...:   0%|          | 0/1475 [02:15<?, ? file/s]
Dl Completed...: 100%|██████████| 1/1 [02:15<00:00, 134.78s/ url]

Dl Size...: 100%|██████████| 827/827 [02:15<00:00,  7.60 MiB/s]


Extraction completed...:   0%|          | 0/1476 [02:15<?, ? file/s]
Dl Completed...: 100%|██████████| 1/1 [02:15<00:00, 134.78s/ url]

Dl Size...: 100%|██████████| 827/827 [02:15<00:00,  7.60 MiB/s]


Extraction completed...:   0%|          | 0/1477 [02:15<?, ? file/s]
Dl Completed...: 100%|██████████| 1/1 [02:15<00:00, 134.78s/ url]

Dl Size...: 100%|██████████| 827/827 [02:15<00:00,  7.60 MiB/s]


Extraction completed...:   0%|          | 0/1478 [02:15<?, ? file/s]
Dl Completed...: 100%|██████████| 1/1 [02:15<00:00, 134.78s/ url]

Dl Size...: 100%|██████████| 827/827 [02:15<00:00,  7.60 MiB/s]


Extraction completed...:   0%|          | 0/1479 [02:15<?, ? file/s]
Dl Completed...: 100%|██████████| 1/1 [02:15<00:00, 134.78s/ url]

Dl Size...: 100%|██████████| 827/827 [02:15<00:00,  7.60 MiB/s]


Extraction completed...:   0%|          | 0/1480 [02:15<?, ? file/s]
Dl Completed...: 100%|██████████| 1/1 [02:15<00:00, 134.78s/ url]

Dl Size...: 100%|██████████| 827/827 [02:15<00:00,  7.60 MiB/s]


Extraction completed...:   0%|          | 0/1481 [02:15<?, ? file/s]
Dl Completed...: 100%|██████████| 1/1 [02:15<00:00, 134.78s/ url]

Dl Size...: 100%|██████████| 827/827 [02:15<00:00,  7.60 MiB/s]


Extraction completed...:   0%|          | 0/1482 [02:15<?, ? file/s]
Dl Completed...: 100%|██████████| 1/1 [02:15<00:00, 134.78s/ url]

Dl Size...: 100%|██████████| 827/827 [02:15<00:00,  7.60 MiB/s]


Extraction completed...:   0%|          | 0/1483 [02:15<?, ? file/s]
Dl Completed...: 100%|██████████| 1/1 [02:15<00:00, 134.78s/ url]

Dl Size...: 100%|██████████| 827/827 [02:15<00:00,  7.60 MiB/s]


Extraction completed...:   0%|          | 0/1484 [02:15<?, ? file/s]
Dl Completed...: 100%|██████████| 1/1 [02:15<00:00, 134.78s/ url]

Dl Size...: 100%|██████████| 827/827 [02:15<00:00,  7.60 MiB/s]


Extraction completed...:   0%|          | 0/1485 [02:15<?, ? file/s]
Dl Completed...: 100%|██████████| 1/1 [02:15<00:00, 134.78s/ url]

Dl Size...: 100%|██████████| 827/827 [02:15<00:00,  7.60 MiB/s]


Extraction completed...:   0%|          | 0/1486 [02:15<?, ? file/s]
Dl Completed...: 100%|██████████| 1/1 [02:15<00:00, 134.78s/ url]

Dl Size...: 100%|██████████| 827/827 [02:15<00:00,  7.60 MiB/s]


Extraction completed...:   0%|          | 0/1487 [02:15<?, ? file/s]
Dl Completed...: 100%|██████████| 1/1 [02:15<00:00, 134.78s/ url]

Dl Size...: 100%|██████████| 827/827 [02:15<00:00,  7.60 MiB/s]


Extraction completed...:   0%|          | 0/1488 [02:15<?, ? file/s]
Dl Completed...: 100%|██████████| 1/1 [02:15<00:00, 134.78s/ url]

Dl Size...: 100%|██████████| 827/827 [02:15<00:00,  7.60 MiB/s]


Extraction completed...:   0%|          | 0/1489 [02:15<?, ? file/s]
Dl Completed...: 100%|██████████| 1/1 [02:15<00:00, 134.78s/ url]

Dl Size...: 100%|██████████| 827/827 [02:15<00:00,  7.60 MiB/s]


Extraction completed...:   0%|          | 0/1490 [02:15<?, ? file/s]
Dl Completed...: 100%|██████████| 1/1 [02:15<00:00, 134.78s/ url]

Dl Size...: 100%|██████████| 827/827 [02:15<00:00,  7.60 MiB/s]


Extraction completed...:   0%|          | 0/1491 [02:15<?, ? file/s]
Dl Completed...: 100%|██████████| 1/1 [02:15<00:00, 134.78s/ url]

Dl Size...: 100%|██████████| 827/827 [02:15<00:00,  7.60 MiB/s]


Extraction completed...:   0%|          | 0/1492 [02:15<?, ? file/s]
Dl Completed...: 100%|██████████| 1/1 [02:15<00:00, 134.78s/ url]

Dl Size...: 100%|██████████| 827/827 [02:15<00:00,  7.60 MiB/s]


Extraction completed...:   0%|          | 0/1493 [02:15<?, ? file/s]
Dl Completed...: 100%|██████████| 1/1 [02:15<00:00, 134.78s/ url]

Dl Size...: 100%|██████████| 827/827 [02:15<00:00,  7.60 MiB/s]


Extraction completed...:   0%|          | 0/1494 [02:15<?, ? file/s]
Dl Completed...: 100%|██████████| 1/1 [02:15<00:00, 134.78s/ url]

Dl Size...: 100%|██████████| 827/827 [02:15<00:00,  7.60 MiB/s]


Extraction completed...:   0%|          | 0/1495 [02:15<?, ? file/s]
Dl Completed...: 100%|██████████| 1/1 [02:15<00:00, 134.78s/ url]

Dl Size...: 100%|██████████| 827/827 [02:15<00:00,  7.60 MiB/s]


Extraction completed...:   0%|          | 0/1496 [02:15<?, ? file/s]
Dl Completed...: 100%|██████████| 1/1 [02:15<00:00, 134.78s/ url]

Dl Size...: 100%|██████████| 827/827 [02:15<00:00,  7.60 MiB/s]


Extraction completed...:   0%|          | 0/1497 [02:15<?, ? file/s]
Dl Completed...: 100%|██████████| 1/1 [02:15<00:00, 134.78s/ url]

Dl Size...: 100%|██████████| 827/827 [02:15<00:00,  7.60 MiB/s]


Extraction completed...:   0%|          | 0/1498 [02:15<?, ? file/s]
Dl Completed...: 100%|██████████| 1/1 [02:15<00:00, 134.78s/ url]

Dl Size...: 100%|██████████| 827/827 [02:15<00:00,  7.60 MiB/s]


Extraction completed...:   0%|          | 0/1499 [02:15<?, ? file/s]
Dl Completed...: 100%|██████████| 1/1 [02:15<00:00, 134.78s/ url]

Dl Size...: 100%|██████████| 827/827 [02:15<00:00,  7.60 MiB/s]


Extraction completed...:   0%|          | 0/1500 [02:15<?, ? file/s]
Dl Completed...: 100%|██████████| 1/1 [02:15<00:00, 134.78s/ url]

Dl Size...: 100%|██████████| 827/827 [02:15<00:00,  7.60 MiB/s]


Extraction completed...:   0%|          | 0/1501 [02:15<?, ? file/s]
Dl Completed...: 100%|██████████| 1/1 [02:15<00:00, 134.78s/ url]

Dl Size...: 100%|██████████| 827/827 [02:15<00:00,  7.60 MiB/s]


Extraction completed...:   0%|          | 0/1502 [02:15<?, ? file/s]
Dl Completed...: 100%|██████████| 1/1 [02:15<00:00, 134.78s/ url]

Dl Size...: 100%|██████████| 827/827 [02:15<00:00,  7.60 MiB/s]


Extraction completed...:   0%|          | 0/1503 [02:15<?, ? file/s]
Dl Completed...: 100%|██████████| 1/1 [02:15<00:00, 134.78s/ url]

Dl Size...: 100%|██████████| 827/827 [02:15<00:00,  7.60 MiB/s]


Extraction completed...:   0%|          | 0/1504 [02:15<?, ? file/s]
Dl Completed...: 100%|██████████| 1/1 [02:15<00:00, 134.78s/ url]

Dl Size...: 100%|██████████| 827/827 [02:15<00:00,  7.60 MiB/s]


Extraction completed...:   0%|          | 0/1505 [02:15<?, ? file/s]
Dl Completed...: 100%|██████████| 1/1 [02:15<00:00, 134.78s/ url]

Dl Size...: 100%|██████████| 827/827 [02:15<00:00,  7.60 MiB/s]


Extraction completed...:   0%|          | 0/1506 [02:15<?, ? file/s]
Dl Completed...: 100%|██████████| 1/1 [02:15<00:00, 134.78s/ url]

Dl Size...: 100%|██████████| 827/827 [02:15<00:00,  7.60 MiB/s]


Extraction completed...:   0%|          | 0/1507 [02:15<?, ? file/s]
Dl Completed...: 100%|██████████| 1/1 [02:15<00:00, 134.78s/ url]

Dl Size...: 100%|██████████| 827/827 [02:15<00:00,  7.60 MiB/s]


Extraction completed...:   0%|          | 0/1508 [02:15<?, ? file/s]
Dl Completed...: 100%|██████████| 1/1 [02:15<00:00, 134.78s/ url]

Dl Size...: 100%|██████████| 827/827 [02:15<00:00,  7.60 MiB/s]


Extraction completed...:   0%|          | 0/1509 [02:15<?, ? file/s]
Dl Completed...: 100%|██████████| 1/1 [02:15<00:00, 134.78s/ url]

Dl Size...: 100%|██████████| 827/827 [02:15<00:00,  7.60 MiB/s]


Extraction completed...:   0%|          | 0/1510 [02:15<?, ? file/s]
Dl Completed...: 100%|██████████| 1/1 [02:15<00:00, 134.78s/ url]

Dl Size...: 100%|██████████| 827/827 [02:15<00:00,  7.60 MiB/s]


Extraction completed...:   0%|          | 0/1511 [02:15<?, ? file/s]
Dl Completed...: 100%|██████████| 1/1 [02:15<00:00, 134.78s/ url]

Dl Size...: 100%|██████████| 827/827 [02:15<00:00,  7.60 MiB/s]


Extraction completed...:   0%|          | 0/1512 [02:15<?, ? file/s]
Dl Completed...: 100%|██████████| 1/1 [02:15<00:00, 134.78s/ url]

Dl Size...: 100%|██████████| 827/827 [02:15<00:00,  7.60 MiB/s]


Extraction completed...:   0%|          | 0/1513 [02:15<?, ? file/s]
Dl Completed...: 100%|██████████| 1/1 [02:15<00:00, 134.78s/ url]

Dl Size...: 100%|██████████| 827/827 [02:15<00:00,  7.60 MiB/s]


Extraction completed...:   0%|          | 0/1514 [02:15<?, ? file/s]
Dl Completed...: 100%|██████████| 1/1 [02:15<00:00, 134.78s/ url]

Dl Size...: 100%|██████████| 827/827 [02:15<00:00,  7.60 MiB/s]


Extraction completed...:   0%|          | 0/1515 [02:15<?, ? file/s]
Dl Completed...: 100%|██████████| 1/1 [02:15<00:00, 134.78s/ url]

Dl Size...: 100%|██████████| 827/827 [02:15<00:00,  7.60 MiB/s]


Extraction completed...:   0%|          | 0/1516 [02:15<?, ? file/s]
Dl Completed...: 100%|██████████| 1/1 [02:15<00:00, 134.78s/ url]

Dl Size...: 100%|██████████| 827/827 [02:15<00:00,  7.60 MiB/s]


Extraction completed...:   0%|          | 0/1517 [02:15<?, ? file/s]
Dl Completed...: 100%|██████████| 1/1 [02:15<00:00, 134.78s/ url]

Dl Size...: 100%|██████████| 827/827 [02:15<00:00,  7.60 MiB/s]


Extraction completed...:   0%|          | 0/1518 [02:15<?, ? file/s]
Dl Completed...: 100%|██████████| 1/1 [02:15<00:00, 134.78s/ url]

Dl Size...: 100%|██████████| 827/827 [02:15<00:00,  7.60 MiB/s]


Extraction completed...:   0%|          | 0/1519 [02:15<?, ? file/s]
Dl Completed...: 100%|██████████| 1/1 [02:15<00:00, 134.78s/ url]

Dl Size...: 100%|██████████| 827/827 [02:15<00:00,  7.60 MiB/s]


Extraction completed...:   0%|          | 0/1520 [02:15<?, ? file/s]
Dl Completed...: 100%|██████████| 1/1 [02:15<00:00, 134.78s/ url]

Dl Size...: 100%|██████████| 827/827 [02:15<00:00,  7.60 MiB/s]


Extraction completed...:   0%|          | 0/1521 [02:15<?, ? file/s]
Dl Completed...: 100%|██████████| 1/1 [02:15<00:00, 134.78s/ url]

Dl Size...: 100%|██████████| 827/827 [02:15<00:00,  7.60 MiB/s]


Extraction completed...:   0%|          | 0/1522 [02:15<?, ? file/s]
Dl Completed...: 100%|██████████| 1/1 [02:15<00:00, 134.78s/ url]

Dl Size...: 100%|██████████| 827/827 [02:15<00:00,  7.60 MiB/s]


Extraction completed...:   0%|          | 0/1523 [02:15<?, ? file/s]
Dl Completed...: 100%|██████████| 1/1 [02:15<00:00, 134.78s/ url]

Dl Size...: 100%|██████████| 827/827 [02:15<00:00,  7.60 MiB/s]


Extraction completed...:   0%|          | 0/1524 [02:15<?, ? file/s]
Dl Completed...: 100%|██████████| 1/1 [02:15<00:00, 134.78s/ url]

Dl Size...: 100%|██████████| 827/827 [02:15<00:00,  7.60 MiB/s]


Extraction completed...:   0%|          | 0/1525 [02:15<?, ? file/s]
Dl Completed...: 100%|██████████| 1/1 [02:15<00:00, 134.78s/ url]

Dl Size...: 100%|██████████| 827/827 [02:15<00:00,  7.60 MiB/s]


Extraction completed...:   0%|          | 0/1526 [02:15<?, ? file/s]
Dl Completed...: 100%|██████████| 1/1 [02:15<00:00, 134.78s/ url]

Dl Size...: 100%|██████████| 827/827 [02:15<00:00,  7.60 MiB/s]


Extraction completed...:   0%|          | 0/1527 [02:15<?, ? file/s]
Dl Completed...: 100%|██████████| 1/1 [02:15<00:00, 134.78s/ url]

Dl Size...: 100%|██████████| 827/827 [02:15<00:00,  7.60 MiB/s]


Extraction completed...:   0%|          | 0/1528 [02:15<?, ? file/s]
Dl Completed...: 100%|██████████| 1/1 [02:15<00:00, 134.78s/ url]

Dl Size...: 100%|██████████| 827/827 [02:15<00:00,  7.60 MiB/s]


Extraction completed...:   0%|          | 0/1529 [02:15<?, ? file/s]
Dl Completed...: 100%|██████████| 1/1 [02:15<00:00, 134.78s/ url]

Dl Size...: 100%|██████████| 827/827 [02:15<00:00,  7.60 MiB/s]


Extraction completed...:   0%|          | 0/1530 [02:15<?, ? file/s]
Dl Completed...: 100%|██████████| 1/1 [02:15<00:00, 134.78s/ url]

Dl Size...: 100%|██████████| 827/827 [02:15<00:00,  7.60 MiB/s]


Extraction completed...:   0%|          | 0/1531 [02:15<?, ? file/s]
Dl Completed...: 100%|██████████| 1/1 [02:15<00:00, 134.78s/ url]

Dl Size...: 100%|██████████| 827/827 [02:15<00:00,  7.60 MiB/s]


Extraction completed...:   0%|          | 0/1532 [02:15<?, ? file/s]
Dl Completed...: 100%|██████████| 1/1 [02:15<00:00, 134.78s/ url]

Dl Size...: 100%|██████████| 827/827 [02:15<00:00,  7.60 MiB/s]


Extraction completed...:   0%|          | 0/1533 [02:15<?, ? file/s]
Dl Completed...: 100%|██████████| 1/1 [02:15<00:00, 134.78s/ url]

Dl Size...: 100%|██████████| 827/827 [02:15<00:00,  7.60 MiB/s]


Extraction completed...:   0%|          | 0/1534 [02:15<?, ? file/s]
Dl Completed...: 100%|██████████| 1/1 [02:15<00:00, 134.78s/ url]

Dl Size...: 100%|██████████| 827/827 [02:15<00:00,  7.60 MiB/s]


Extraction completed...:   0%|          | 0/1535 [02:15<?, ? file/s]
Dl Completed...: 100%|██████████| 1/1 [02:15<00:00, 134.78s/ url]

Dl Size...: 100%|██████████| 827/827 [02:15<00:00,  7.60 MiB/s]


Extraction completed...:   0%|          | 0/1536 [02:15<?, ? file/s]
Dl Completed...: 100%|██████████| 1/1 [02:15<00:00, 134.78s/ url]

Dl Size...: 100%|██████████| 827/827 [02:15<00:00,  7.60 MiB/s]


Extraction completed...:   0%|          | 0/1537 [02:15<?, ? file/s]
Dl Completed...: 100%|██████████| 1/1 [02:15<00:00, 134.78s/ url]

Dl Size...: 100%|██████████| 827/827 [02:15<00:00,  7.60 MiB/s]


Extraction completed...:   0%|          | 0/1538 [02:15<?, ? file/s]
Dl Completed...: 100%|██████████| 1/1 [02:15<00:00, 134.78s/ url]

Dl Size...: 100%|██████████| 827/827 [02:15<00:00,  7.60 MiB/s]


Extraction completed...:   0%|          | 0/1539 [02:15<?, ? file/s]
Dl Completed...: 100%|██████████| 1/1 [02:15<00:00, 134.78s/ url]

Dl Size...: 100%|██████████| 827/827 [02:15<00:00,  7.60 MiB/s]


Extraction completed...:   0%|          | 0/1540 [02:15<?, ? file/s]
Dl Completed...: 100%|██████████| 1/1 [02:15<00:00, 134.78s/ url]

Dl Size...: 100%|██████████| 827/827 [02:15<00:00,  7.60 MiB/s]


Extraction completed...:   0%|          | 0/1541 [02:15<?, ? file/s]
Dl Completed...: 100%|██████████| 1/1 [02:15<00:00, 134.78s/ url]

Dl Size...: 100%|██████████| 827/827 [02:15<00:00,  7.60 MiB/s]


Extraction completed...:   0%|          | 0/1542 [02:15<?, ? file/s]
Dl Completed...: 100%|██████████| 1/1 [02:15<00:00, 134.78s/ url]

Dl Size...: 100%|██████████| 827/827 [02:15<00:00,  7.60 MiB/s]


Extraction completed...:   0%|          | 0/1543 [02:15<?, ? file/s]
Dl Completed...: 100%|██████████| 1/1 [02:15<00:00, 134.78s/ url]

Dl Size...: 100%|██████████| 827/827 [02:15<00:00,  7.60 MiB/s]


Extraction completed...:   0%|          | 0/1544 [02:15<?, ? file/s]
Dl Completed...: 100%|██████████| 1/1 [02:15<00:00, 134.78s/ url]

Dl Size...: 100%|██████████| 827/827 [02:15<00:00,  7.60 MiB/s]


Extraction completed...:   0%|          | 0/1545 [02:15<?, ? file/s]
Dl Completed...: 100%|██████████| 1/1 [02:15<00:00, 134.78s/ url]

Dl Size...: 100%|██████████| 827/827 [02:15<00:00,  7.60 MiB/s]


Extraction completed...:   0%|          | 0/1546 [02:15<?, ? file/s]
Dl Completed...: 100%|██████████| 1/1 [02:15<00:00, 134.78s/ url]

Dl Size...: 100%|██████████| 827/827 [02:15<00:00,  7.60 MiB/s]


Extraction completed...:   0%|          | 0/1547 [02:15<?, ? file/s]
Dl Completed...: 100%|██████████| 1/1 [02:15<00:00, 134.78s/ url]

Dl Size...: 100%|██████████| 827/827 [02:15<00:00,  7.60 MiB/s]


Extraction completed...:   0%|          | 0/1548 [02:15<?, ? file/s]
Dl Completed...: 100%|██████████| 1/1 [02:15<00:00, 134.78s/ url]

Dl Size...: 100%|██████████| 827/827 [02:15<00:00,  7.60 MiB/s]


Extraction completed...:   0%|          | 0/1549 [02:15<?, ? file/s]
Dl Completed...: 100%|██████████| 1/1 [02:15<00:00, 134.78s/ url]

Dl Size...: 100%|██████████| 827/827 [02:15<00:00,  7.60 MiB/s]


Extraction completed...:   0%|          | 0/1550 [02:15<?, ? file/s]
Dl Completed...: 100%|██████████| 1/1 [02:15<00:00, 134.78s/ url]

Dl Size...: 100%|██████████| 827/827 [02:15<00:00,  7.60 MiB/s]


Extraction completed...:   0%|          | 0/1551 [02:15<?, ? file/s]
Dl Completed...: 100%|██████████| 1/1 [02:15<00:00, 134.78s/ url]

Dl Size...: 100%|██████████| 827/827 [02:15<00:00,  7.60 MiB/s]


Extraction completed...:   0%|          | 0/1552 [02:15<?, ? file/s]
Dl Completed...: 100%|██████████| 1/1 [02:15<00:00, 134.78s/ url]

Dl Size...: 100%|██████████| 827/827 [02:15<00:00,  7.60 MiB/s]


Extraction completed...:   0%|          | 0/1553 [02:15<?, ? file/s]
Dl Completed...: 100%|██████████| 1/1 [02:15<00:00, 134.78s/ url]

Dl Size...: 100%|██████████| 827/827 [02:15<00:00,  7.60 MiB/s]


Extraction completed...:   0%|          | 0/1554 [02:15<?, ? file/s]
Dl Completed...: 100%|██████████| 1/1 [02:15<00:00, 134.78s/ url]

Dl Size...: 100%|██████████| 827/827 [02:15<00:00,  7.60 MiB/s]


Extraction completed...:   0%|          | 0/1555 [02:15<?, ? file/s]
Dl Completed...: 100%|██████████| 1/1 [02:15<00:00, 134.78s/ url]

Dl Size...: 100%|██████████| 827/827 [02:15<00:00,  7.60 MiB/s]


Extraction completed...:   0%|          | 0/1556 [02:15<?, ? file/s]
Dl Completed...: 100%|██████████| 1/1 [02:15<00:00, 134.78s/ url]

Dl Size...: 100%|██████████| 827/827 [02:15<00:00,  7.60 MiB/s]


Extraction completed...:   0%|          | 0/1557 [02:15<?, ? file/s]
Dl Completed...: 100%|██████████| 1/1 [02:15<00:00, 134.78s/ url]

Dl Size...: 100%|██████████| 827/827 [02:15<00:00,  7.60 MiB/s]


Extraction completed...:   0%|          | 0/1558 [02:15<?, ? file/s]
Dl Completed...: 100%|██████████| 1/1 [02:15<00:00, 134.78s/ url]

Dl Size...: 100%|██████████| 827/827 [02:15<00:00,  7.60 MiB/s]


Extraction completed...:   0%|          | 0/1559 [02:15<?, ? file/s]
Dl Completed...: 100%|██████████| 1/1 [02:15<00:00, 134.78s/ url]

Dl Size...: 100%|██████████| 827/827 [02:15<00:00,  7.60 MiB/s]


Extraction completed...:   0%|          | 0/1560 [02:15<?, ? file/s]
Dl Completed...: 100%|██████████| 1/1 [02:15<00:00, 134.78s/ url]

Dl Size...: 100%|██████████| 827/827 [02:15<00:00,  7.60 MiB/s]


Extraction completed...:   0%|          | 0/1561 [02:15<?, ? file/s]
Dl Completed...: 100%|██████████| 1/1 [02:15<00:00, 134.78s/ url]

Dl Size...: 100%|██████████| 827/827 [02:15<00:00,  7.60 MiB/s]


Extraction completed...:   0%|          | 0/1562 [02:15<?, ? file/s]
Dl Completed...: 100%|██████████| 1/1 [02:15<00:00, 134.78s/ url]

Dl Size...: 100%|██████████| 827/827 [02:15<00:00,  7.60 MiB/s]


Extraction completed...:   0%|          | 0/1563 [02:15<?, ? file/s]
Dl Completed...: 100%|██████████| 1/1 [02:15<00:00, 134.78s/ url]

Dl Size...: 100%|██████████| 827/827 [02:15<00:00,  7.60 MiB/s]


Extraction completed...:   0%|          | 0/1564 [02:15<?, ? file/s]
Dl Completed...: 100%|██████████| 1/1 [02:15<00:00, 134.78s/ url]

Dl Size...: 100%|██████████| 827/827 [02:15<00:00,  7.60 MiB/s]


Extraction completed...:   0%|          | 0/1565 [02:15<?, ? file/s]
Dl Completed...: 100%|██████████| 1/1 [02:15<00:00, 134.78s/ url]

Dl Size...: 100%|██████████| 827/827 [02:15<00:00,  7.60 MiB/s]


Extraction completed...:   0%|          | 0/1566 [02:15<?, ? file/s]
Dl Completed...: 100%|██████████| 1/1 [02:15<00:00, 134.78s/ url]

Dl Size...: 100%|██████████| 827/827 [02:15<00:00,  7.60 MiB/s]


Extraction completed...:   0%|          | 0/1567 [02:15<?, ? file/s]
Dl Completed...: 100%|██████████| 1/1 [02:15<00:00, 134.78s/ url]

Dl Size...: 100%|██████████| 827/827 [02:15<00:00,  7.60 MiB/s]


Extraction completed...:   0%|          | 0/1568 [02:15<?, ? file/s]
Dl Completed...: 100%|██████████| 1/1 [02:15<00:00, 134.78s/ url]

Dl Size...: 100%|██████████| 827/827 [02:15<00:00,  7.60 MiB/s]


Extraction completed...:   0%|          | 0/1569 [02:15<?, ? file/s]
Dl Completed...: 100%|██████████| 1/1 [02:15<00:00, 134.78s/ url]

Dl Size...: 100%|██████████| 827/827 [02:15<00:00,  7.60 MiB/s]


Extraction completed...:   0%|          | 0/1570 [02:15<?, ? file/s]
Dl Completed...: 100%|██████████| 1/1 [02:15<00:00, 134.78s/ url]

Dl Size...: 100%|██████████| 827/827 [02:15<00:00,  7.60 MiB/s]


Extraction completed...:   0%|          | 0/1571 [02:15<?, ? file/s]
Dl Completed...: 100%|██████████| 1/1 [02:15<00:00, 134.78s/ url]

Dl Size...: 100%|██████████| 827/827 [02:15<00:00,  7.60 MiB/s]


Extraction completed...:   0%|          | 0/1572 [02:15<?, ? file/s]
Dl Completed...: 100%|██████████| 1/1 [02:15<00:00, 134.78s/ url]

Dl Size...: 100%|██████████| 827/827 [02:15<00:00,  7.60 MiB/s]


Extraction completed...:   0%|          | 0/1573 [02:15<?, ? file/s]
Dl Completed...: 100%|██████████| 1/1 [02:15<00:00, 134.78s/ url]

Dl Size...: 100%|██████████| 827/827 [02:15<00:00,  7.60 MiB/s]


Extraction completed...:   0%|          | 0/1574 [02:15<?, ? file/s]
Dl Completed...: 100%|██████████| 1/1 [02:15<00:00, 134.78s/ url]

Dl Size...: 100%|██████████| 827/827 [02:15<00:00,  7.60 MiB/s]


Extraction completed...:   0%|          | 0/1575 [02:15<?, ? file/s]
Dl Completed...: 100%|██████████| 1/1 [02:15<00:00, 134.78s/ url]

Dl Size...: 100%|██████████| 827/827 [02:15<00:00,  7.60 MiB/s]


Extraction completed...:   0%|          | 0/1576 [02:15<?, ? file/s]
Dl Completed...: 100%|██████████| 1/1 [02:15<00:00, 134.78s/ url]

Dl Size...: 100%|██████████| 827/827 [02:15<00:00,  7.60 MiB/s]


Extraction completed...:   0%|          | 0/1577 [02:15<?, ? file/s]
Dl Completed...: 100%|██████████| 1/1 [02:15<00:00, 134.78s/ url]

Dl Size...: 100%|██████████| 827/827 [02:15<00:00,  7.60 MiB/s]


Extraction completed...:   0%|          | 0/1578 [02:15<?, ? file/s]
Dl Completed...: 100%|██████████| 1/1 [02:15<00:00, 134.78s/ url]

Dl Size...: 100%|██████████| 827/827 [02:15<00:00,  7.60 MiB/s]


Extraction completed...:   0%|          | 0/1579 [02:15<?, ? file/s]
Dl Completed...: 100%|██████████| 1/1 [02:15<00:00, 134.78s/ url]

Dl Size...: 100%|██████████| 827/827 [02:15<00:00,  7.60 MiB/s]


Extraction completed...:   0%|          | 0/1580 [02:15<?, ? file/s]
Dl Completed...: 100%|██████████| 1/1 [02:15<00:00, 134.78s/ url]

Dl Size...: 100%|██████████| 827/827 [02:15<00:00,  7.60 MiB/s]


Extraction completed...:   0%|          | 0/1581 [02:15<?, ? file/s]
Dl Completed...: 100%|██████████| 1/1 [02:15<00:00, 134.78s/ url]

Dl Size...: 100%|██████████| 827/827 [02:15<00:00,  7.60 MiB/s]


Extraction completed...:   0%|          | 0/1582 [02:15<?, ? file/s]
Dl Completed...: 100%|██████████| 1/1 [02:15<00:00, 134.78s/ url]

Dl Size...: 100%|██████████| 827/827 [02:15<00:00,  7.60 MiB/s]


Extraction completed...:   0%|          | 0/1583 [02:15<?, ? file/s]
Dl Completed...: 100%|██████████| 1/1 [02:15<00:00, 134.78s/ url]

Dl Size...: 100%|██████████| 827/827 [02:15<00:00,  7.60 MiB/s]


Extraction completed...:   0%|          | 0/1584 [02:15<?, ? file/s]
Dl Completed...: 100%|██████████| 1/1 [02:15<00:00, 134.78s/ url]

Dl Size...: 100%|██████████| 827/827 [02:15<00:00,  7.60 MiB/s]


Extraction completed...:   0%|          | 0/1585 [02:15<?, ? file/s]
Dl Completed...: 100%|██████████| 1/1 [02:15<00:00, 134.78s/ url]

Dl Size...: 100%|██████████| 827/827 [02:15<00:00,  7.60 MiB/s]


Extraction completed...:   0%|          | 0/1586 [02:15<?, ? file/s]
Dl Completed...: 100%|██████████| 1/1 [02:15<00:00, 134.78s/ url]

Dl Size...: 100%|██████████| 827/827 [02:15<00:00,  7.60 MiB/s]


Extraction completed...:   0%|          | 0/1587 [02:15<?, ? file/s]
Dl Completed...: 100%|██████████| 1/1 [02:15<00:00, 134.78s/ url]

Dl Size...: 100%|██████████| 827/827 [02:15<00:00,  7.60 MiB/s]


Extraction completed...:   0%|          | 0/1588 [02:15<?, ? file/s]
Dl Completed...: 100%|██████████| 1/1 [02:15<00:00, 134.78s/ url]

Dl Size...: 100%|██████████| 827/827 [02:15<00:00,  7.60 MiB/s]


Extraction completed...:   0%|          | 0/1589 [02:15<?, ? file/s]
Dl Completed...: 100%|██████████| 1/1 [02:15<00:00, 134.78s/ url]

Dl Size...: 100%|██████████| 827/827 [02:15<00:00,  7.60 MiB/s]


Extraction completed...:   0%|          | 0/1590 [02:15<?, ? file/s]
Dl Completed...: 100%|██████████| 1/1 [02:15<00:00, 134.78s/ url]

Dl Size...: 100%|██████████| 827/827 [02:15<00:00,  7.60 MiB/s]


Extraction completed...:   0%|          | 0/1591 [02:15<?, ? file/s]
Dl Completed...: 100%|██████████| 1/1 [02:15<00:00, 134.78s/ url]

Dl Size...: 100%|██████████| 827/827 [02:15<00:00,  7.60 MiB/s]


Extraction completed...:   0%|          | 0/1592 [02:15<?, ? file/s]
Dl Completed...: 100%|██████████| 1/1 [02:15<00:00, 134.78s/ url]

Dl Size...: 100%|██████████| 827/827 [02:15<00:00,  7.60 MiB/s]


Extraction completed...:   0%|          | 0/1593 [02:15<?, ? file/s]
Dl Completed...: 100%|██████████| 1/1 [02:15<00:00, 134.78s/ url]

Dl Size...: 100%|██████████| 827/827 [02:15<00:00,  7.60 MiB/s]


Extraction completed...:   0%|          | 0/1594 [02:15<?, ? file/s]
Dl Completed...: 100%|██████████| 1/1 [02:15<00:00, 134.78s/ url]

Dl Size...: 100%|██████████| 827/827 [02:15<00:00,  7.60 MiB/s]


Extraction completed...:   0%|          | 0/1595 [02:15<?, ? file/s]
Dl Completed...: 100%|██████████| 1/1 [02:15<00:00, 134.78s/ url]

Dl Size...: 100%|██████████| 827/827 [02:15<00:00,  7.60 MiB/s]


Extraction completed...:   0%|          | 0/1596 [02:15<?, ? file/s]
Dl Completed...: 100%|██████████| 1/1 [02:15<00:00, 134.78s/ url]

Dl Size...: 100%|██████████| 827/827 [02:15<00:00,  7.60 MiB/s]


Extraction completed...:   0%|          | 0/1597 [02:15<?, ? file/s]
Dl Completed...: 100%|██████████| 1/1 [02:15<00:00, 134.78s/ url]

Dl Size...: 100%|██████████| 827/827 [02:15<00:00,  7.60 MiB/s]


Extraction completed...:   0%|          | 0/1598 [02:15<?, ? file/s]
Dl Completed...: 100%|██████████| 1/1 [02:15<00:00, 134.78s/ url]

Dl Size...: 100%|██████████| 827/827 [02:15<00:00,  7.60 MiB/s]


Extraction completed...:   0%|          | 0/1599 [02:15<?, ? file/s]
Dl Completed...: 100%|██████████| 1/1 [02:15<00:00, 134.78s/ url]

Dl Size...: 100%|██████████| 827/827 [02:15<00:00,  7.60 MiB/s]


Extraction completed...:   0%|          | 0/1600 [02:15<?, ? file/s]
Dl Completed...: 100%|██████████| 1/1 [02:15<00:00, 134.78s/ url]

Dl Size...: 100%|██████████| 827/827 [02:15<00:00,  7.60 MiB/s]


Extraction completed...:   0%|          | 0/1601 [02:15<?, ? file/s]
Dl Completed...: 100%|██████████| 1/1 [02:15<00:00, 134.78s/ url]

Dl Size...: 100%|██████████| 827/827 [02:15<00:00,  7.60 MiB/s]


Extraction completed...:   0%|          | 0/1602 [02:15<?, ? file/s]
Dl Completed...: 100%|██████████| 1/1 [02:15<00:00, 134.78s/ url]

Dl Size...: 100%|██████████| 827/827 [02:15<00:00,  7.60 MiB/s]


Extraction completed...:   0%|          | 0/1603 [02:15<?, ? file/s]
Dl Completed...: 100%|██████████| 1/1 [02:15<00:00, 134.78s/ url]

Dl Size...: 100%|██████████| 827/827 [02:15<00:00,  7.60 MiB/s]


Extraction completed...:   0%|          | 0/1604 [02:15<?, ? file/s]
Dl Completed...: 100%|██████████| 1/1 [02:15<00:00, 134.78s/ url]

Dl Size...: 100%|██████████| 827/827 [02:15<00:00,  7.60 MiB/s]


Extraction completed...:   0%|          | 0/1605 [02:15<?, ? file/s]
Dl Completed...: 100%|██████████| 1/1 [02:15<00:00, 134.78s/ url]

Dl Size...: 100%|██████████| 827/827 [02:15<00:00,  7.60 MiB/s]


Extraction completed...:   0%|          | 0/1606 [02:15<?, ? file/s]
Dl Completed...: 100%|██████████| 1/1 [02:15<00:00, 134.78s/ url]

Dl Size...: 100%|██████████| 827/827 [02:15<00:00,  7.60 MiB/s]


Extraction completed...:   0%|          | 0/1607 [02:15<?, ? file/s]
Dl Completed...: 100%|██████████| 1/1 [02:15<00:00, 134.78s/ url]

Dl Size...: 100%|██████████| 827/827 [02:15<00:00,  7.60 MiB/s]


Extraction completed...:   0%|          | 0/1608 [02:15<?, ? file/s]
Dl Completed...: 100%|██████████| 1/1 [02:15<00:00, 134.78s/ url]

Dl Size...: 100%|██████████| 827/827 [02:15<00:00,  7.60 MiB/s]


Extraction completed...:   0%|          | 0/1609 [02:15<?, ? file/s]
Dl Completed...: 100%|██████████| 1/1 [02:15<00:00, 134.78s/ url]

Dl Size...: 100%|██████████| 827/827 [02:15<00:00,  7.60 MiB/s]


Extraction completed...:   0%|          | 0/1610 [02:15<?, ? file/s]
Dl Completed...: 100%|██████████| 1/1 [02:15<00:00, 134.78s/ url]

Dl Size...: 100%|██████████| 827/827 [02:15<00:00,  7.60 MiB/s]


Extraction completed...:   0%|          | 0/1611 [02:15<?, ? file/s]
Dl Completed...: 100%|██████████| 1/1 [02:15<00:00, 134.78s/ url]

Dl Size...: 100%|██████████| 827/827 [02:15<00:00,  7.60 MiB/s]


Extraction completed...:   0%|          | 0/1612 [02:15<?, ? file/s]
Dl Completed...: 100%|██████████| 1/1 [02:15<00:00, 134.78s/ url]

Dl Size...: 100%|██████████| 827/827 [02:15<00:00,  7.60 MiB/s]


Extraction completed...:   0%|          | 0/1613 [02:15<?, ? file/s]
Dl Completed...: 100%|██████████| 1/1 [02:15<00:00, 134.78s/ url]

Dl Size...: 100%|██████████| 827/827 [02:15<00:00,  7.60 MiB/s]


Extraction completed...:   0%|          | 0/1614 [02:15<?, ? file/s]
Dl Completed...: 100%|██████████| 1/1 [02:15<00:00, 134.78s/ url]

Dl Size...: 100%|██████████| 827/827 [02:15<00:00,  7.60 MiB/s]


Extraction completed...:   0%|          | 0/1615 [02:15<?, ? file/s]
Dl Completed...: 100%|██████████| 1/1 [02:15<00:00, 134.78s/ url]

Dl Size...: 100%|██████████| 827/827 [02:15<00:00,  7.60 MiB/s]


Extraction completed...:   0%|          | 0/1616 [02:15<?, ? file/s]
Dl Completed...: 100%|██████████| 1/1 [02:15<00:00, 134.78s/ url]

Dl Size...: 100%|██████████| 827/827 [02:15<00:00,  7.60 MiB/s]


Extraction completed...:   0%|          | 0/1617 [02:15<?, ? file/s]
Dl Completed...: 100%|██████████| 1/1 [02:15<00:00, 134.78s/ url]

Dl Size...: 100%|██████████| 827/827 [02:15<00:00,  7.60 MiB/s]


Extraction completed...:   0%|          | 0/1618 [02:15<?, ? file/s]
Dl Completed...: 100%|██████████| 1/1 [02:15<00:00, 134.78s/ url]

Dl Size...: 100%|██████████| 827/827 [02:15<00:00,  7.60 MiB/s]


Extraction completed...:   0%|          | 0/1619 [02:15<?, ? file/s]
Dl Completed...: 100%|██████████| 1/1 [02:15<00:00, 134.78s/ url]

Dl Size...: 100%|██████████| 827/827 [02:15<00:00,  7.60 MiB/s]


Extraction completed...:   0%|          | 0/1620 [02:15<?, ? file/s]
Dl Completed...: 100%|██████████| 1/1 [02:15<00:00, 134.78s/ url]

Dl Size...: 100%|██████████| 827/827 [02:15<00:00,  7.60 MiB/s]


Extraction completed...:   0%|          | 0/1621 [02:15<?, ? file/s]
Dl Completed...: 100%|██████████| 1/1 [02:15<00:00, 134.78s/ url]

Dl Size...: 100%|██████████| 827/827 [02:15<00:00,  7.60 MiB/s]


Extraction completed...:   0%|          | 0/1622 [02:15<?, ? file/s]
Dl Completed...: 100%|██████████| 1/1 [02:15<00:00, 134.78s/ url]

Dl Size...: 100%|██████████| 827/827 [02:15<00:00,  7.60 MiB/s]


Extraction completed...:   0%|          | 0/1623 [02:15<?, ? file/s]
Dl Completed...: 100%|██████████| 1/1 [02:15<00:00, 134.78s/ url]

Dl Size...: 100%|██████████| 827/827 [02:15<00:00,  7.60 MiB/s]


Extraction completed...:   0%|          | 0/1624 [02:15<?, ? file/s]
Dl Completed...: 100%|██████████| 1/1 [02:15<00:00, 134.78s/ url]

Dl Size...: 100%|██████████| 827/827 [02:15<00:00,  7.60 MiB/s]


Extraction completed...:   0%|          | 0/1625 [02:15<?, ? file/s]
Dl Completed...: 100%|██████████| 1/1 [02:15<00:00, 134.78s/ url]

Dl Size...: 100%|██████████| 827/827 [02:15<00:00,  7.60 MiB/s]


Extraction completed...:   0%|          | 0/1626 [02:15<?, ? file/s]
Dl Completed...: 100%|██████████| 1/1 [02:15<00:00, 134.78s/ url]

Dl Size...: 100%|██████████| 827/827 [02:15<00:00,  7.60 MiB/s]


Extraction completed...:   0%|          | 0/1627 [02:15<?, ? file/s]
Dl Completed...: 100%|██████████| 1/1 [02:15<00:00, 134.78s/ url]

Dl Size...: 100%|██████████| 827/827 [02:15<00:00,  7.60 MiB/s]


Extraction completed...:   0%|          | 0/1628 [02:15<?, ? file/s]
Dl Completed...: 100%|██████████| 1/1 [02:15<00:00, 134.78s/ url]

Dl Size...: 100%|██████████| 827/827 [02:15<00:00,  7.60 MiB/s]


Extraction completed...:   0%|          | 0/1629 [02:15<?, ? file/s]
Dl Completed...: 100%|██████████| 1/1 [02:15<00:00, 134.78s/ url]

Dl Size...: 100%|██████████| 827/827 [02:15<00:00,  7.60 MiB/s]


Extraction completed...:   0%|          | 0/1630 [02:15<?, ? file/s]
Dl Completed...: 100%|██████████| 1/1 [02:15<00:00, 134.78s/ url]

Dl Size...: 100%|██████████| 827/827 [02:15<00:00,  7.60 MiB/s]


Extraction completed...:   0%|          | 0/1631 [02:15<?, ? file/s]
Dl Completed...: 100%|██████████| 1/1 [02:15<00:00, 134.78s/ url]

Dl Size...: 100%|██████████| 827/827 [02:15<00:00,  7.60 MiB/s]


Extraction completed...:   0%|          | 0/1632 [02:15<?, ? file/s]
Dl Completed...: 100%|██████████| 1/1 [02:15<00:00, 134.78s/ url]

Dl Size...: 100%|██████████| 827/827 [02:15<00:00,  7.60 MiB/s]


Extraction completed...:   0%|          | 0/1633 [02:15<?, ? file/s]
Dl Completed...: 100%|██████████| 1/1 [02:15<00:00, 134.78s/ url]

Dl Size...: 100%|██████████| 827/827 [02:15<00:00,  7.60 MiB/s]


Extraction completed...:   0%|          | 0/1634 [02:15<?, ? file/s]
Dl Completed...: 100%|██████████| 1/1 [02:15<00:00, 134.78s/ url]

Dl Size...: 100%|██████████| 827/827 [02:15<00:00,  7.60 MiB/s]


Extraction completed...:   0%|          | 0/1635 [02:15<?, ? file/s]
Dl Completed...: 100%|██████████| 1/1 [02:15<00:00, 134.78s/ url]

Dl Size...: 100%|██████████| 827/827 [02:15<00:00,  7.60 MiB/s]


Extraction completed...:   0%|          | 0/1636 [02:15<?, ? file/s]
Dl Completed...: 100%|██████████| 1/1 [02:15<00:00, 134.78s/ url]

Dl Size...: 100%|██████████| 827/827 [02:15<00:00,  7.60 MiB/s]


Extraction completed...:   0%|          | 0/1637 [02:15<?, ? file/s]
Dl Completed...: 100%|██████████| 1/1 [02:15<00:00, 134.78s/ url]

Dl Size...: 100%|██████████| 827/827 [02:15<00:00,  7.60 MiB/s]


Extraction completed...:   0%|          | 0/1638 [02:15<?, ? file/s]
Dl Completed...: 100%|██████████| 1/1 [02:15<00:00, 134.78s/ url]

Dl Size...: 100%|██████████| 827/827 [02:15<00:00,  7.60 MiB/s]


Extraction completed...:   0%|          | 0/1639 [02:15<?, ? file/s]
Dl Completed...: 100%|██████████| 1/1 [02:15<00:00, 134.78s/ url]

Dl Size...: 100%|██████████| 827/827 [02:15<00:00,  7.60 MiB/s]


Extraction completed...:   0%|          | 0/1640 [02:15<?, ? file/s]
Dl Completed...: 100%|██████████| 1/1 [02:15<00:00, 134.78s/ url]

Dl Size...: 100%|██████████| 827/827 [02:15<00:00,  7.60 MiB/s]


Extraction completed...:   0%|          | 0/1641 [02:15<?, ? file/s]
Dl Completed...: 100%|██████████| 1/1 [02:15<00:00, 134.78s/ url]

Dl Size...: 100%|██████████| 827/827 [02:15<00:00,  7.60 MiB/s]


Extraction completed...:   0%|          | 0/1642 [02:15<?, ? file/s]
Dl Completed...: 100%|██████████| 1/1 [02:15<00:00, 134.78s/ url]

Dl Size...: 100%|██████████| 827/827 [02:15<00:00,  7.60 MiB/s]


Extraction completed...:   0%|          | 0/1643 [02:15<?, ? file/s]
Dl Completed...: 100%|██████████| 1/1 [02:15<00:00, 134.78s/ url]

Dl Size...: 100%|██████████| 827/827 [02:15<00:00,  7.60 MiB/s]


Extraction completed...:   0%|          | 0/1644 [02:15<?, ? file/s]
Dl Completed...: 100%|██████████| 1/1 [02:15<00:00, 134.78s/ url]

Dl Size...: 100%|██████████| 827/827 [02:15<00:00,  7.60 MiB/s]


Extraction completed...:   0%|          | 0/1645 [02:15<?, ? file/s]
Dl Completed...: 100%|██████████| 1/1 [02:15<00:00, 134.78s/ url]

Dl Size...: 100%|██████████| 827/827 [02:15<00:00,  7.60 MiB/s]


Extraction completed...:   0%|          | 0/1646 [02:15<?, ? file/s]
Dl Completed...: 100%|██████████| 1/1 [02:15<00:00, 134.78s/ url]

Dl Size...: 100%|██████████| 827/827 [02:15<00:00,  7.60 MiB/s]


Extraction completed...:   0%|          | 0/1647 [02:15<?, ? file/s]
Dl Completed...: 100%|██████████| 1/1 [02:15<00:00, 134.78s/ url]

Dl Size...: 100%|██████████| 827/827 [02:15<00:00,  7.60 MiB/s]


Extraction completed...:   0%|          | 0/1648 [02:15<?, ? file/s]
Dl Completed...: 100%|██████████| 1/1 [02:15<00:00, 134.78s/ url]

Dl Size...: 100%|██████████| 827/827 [02:15<00:00,  7.60 MiB/s]


Extraction completed...:   0%|          | 0/1649 [02:15<?, ? file/s]
Dl Completed...: 100%|██████████| 1/1 [02:15<00:00, 134.78s/ url]

Dl Size...: 100%|██████████| 827/827 [02:15<00:00,  7.60 MiB/s]


Extraction completed...:   0%|          | 0/1650 [02:15<?, ? file/s]
Dl Completed...: 100%|██████████| 1/1 [02:15<00:00, 134.78s/ url]

Dl Size...: 100%|██████████| 827/827 [02:15<00:00,  7.60 MiB/s]


Extraction completed...:   0%|          | 0/1651 [02:15<?, ? file/s]
Dl Completed...: 100%|██████████| 1/1 [02:15<00:00, 134.78s/ url]

Dl Size...: 100%|██████████| 827/827 [02:15<00:00,  7.60 MiB/s]


Extraction completed...:   0%|          | 0/1652 [02:15<?, ? file/s]
Dl Completed...: 100%|██████████| 1/1 [02:15<00:00, 134.78s/ url]

Dl Size...: 100%|██████████| 827/827 [02:15<00:00,  7.60 MiB/s]


Extraction completed...:   0%|          | 0/1653 [02:15<?, ? file/s]
Dl Completed...: 100%|██████████| 1/1 [02:15<00:00, 134.78s/ url]

Dl Size...: 100%|██████████| 827/827 [02:15<00:00,  7.60 MiB/s]


Extraction completed...:   0%|          | 0/1654 [02:15<?, ? file/s]
Dl Completed...: 100%|██████████| 1/1 [02:15<00:00, 134.78s/ url]

Dl Size...: 100%|██████████| 827/827 [02:15<00:00,  7.60 MiB/s]


Extraction completed...:   0%|          | 0/1655 [02:15<?, ? file/s]
Dl Completed...: 100%|██████████| 1/1 [02:15<00:00, 134.78s/ url]

Dl Size...: 100%|██████████| 827/827 [02:15<00:00,  7.60 MiB/s]


Extraction completed...:   0%|          | 0/1656 [02:15<?, ? file/s]
Dl Completed...: 100%|██████████| 1/1 [02:15<00:00, 134.78s/ url]

Dl Size...: 100%|██████████| 827/827 [02:15<00:00,  7.60 MiB/s]


Extraction completed...:   0%|          | 0/1657 [02:15<?, ? file/s]
Dl Completed...: 100%|██████████| 1/1 [02:15<00:00, 134.78s/ url]

Dl Size...: 100%|██████████| 827/827 [02:15<00:00,  7.60 MiB/s]


Extraction completed...:   0%|          | 0/1658 [02:15<?, ? file/s]
Dl Completed...: 100%|██████████| 1/1 [02:15<00:00, 134.78s/ url]

Dl Size...: 100%|██████████| 827/827 [02:15<00:00,  7.60 MiB/s]


Extraction completed...:   0%|          | 0/1659 [02:15<?, ? file/s]
Dl Completed...: 100%|██████████| 1/1 [02:15<00:00, 134.78s/ url]

Dl Size...: 100%|██████████| 827/827 [02:15<00:00,  7.60 MiB/s]


Extraction completed...:   0%|          | 0/1660 [02:15<?, ? file/s]
Dl Completed...: 100%|██████████| 1/1 [02:15<00:00, 134.78s/ url]

Dl Size...: 100%|██████████| 827/827 [02:15<00:00,  7.60 MiB/s]


Extraction completed...:   0%|          | 0/1661 [02:15<?, ? file/s]
Dl Completed...: 100%|██████████| 1/1 [02:15<00:00, 134.78s/ url]

Dl Size...: 100%|██████████| 827/827 [02:15<00:00,  7.60 MiB/s]


Extraction completed...:   0%|          | 0/1662 [02:15<?, ? file/s]
Dl Completed...: 100%|██████████| 1/1 [02:15<00:00, 134.78s/ url]

Dl Size...: 100%|██████████| 827/827 [02:15<00:00,  7.60 MiB/s]


Extraction completed...:   0%|          | 0/1663 [02:15<?, ? file/s]
Dl Completed...: 100%|██████████| 1/1 [02:15<00:00, 134.78s/ url]

Dl Size...: 100%|██████████| 827/827 [02:15<00:00,  7.60 MiB/s]


Extraction completed...:   0%|          | 0/1664 [02:15<?, ? file/s]
Dl Completed...: 100%|██████████| 1/1 [02:15<00:00, 134.78s/ url]

Dl Size...: 100%|██████████| 827/827 [02:15<00:00,  7.60 MiB/s]


Extraction completed...:   0%|          | 0/1665 [02:15<?, ? file/s]
Dl Completed...: 100%|██████████| 1/1 [02:15<00:00, 134.78s/ url]

Dl Size...: 100%|██████████| 827/827 [02:15<00:00,  7.60 MiB/s]


Extraction completed...:   0%|          | 0/1666 [02:15<?, ? file/s]
Dl Completed...: 100%|██████████| 1/1 [02:15<00:00, 134.78s/ url]

Dl Size...: 100%|██████████| 827/827 [02:15<00:00,  7.60 MiB/s]


Extraction completed...:   0%|          | 0/1667 [02:15<?, ? file/s]
Dl Completed...: 100%|██████████| 1/1 [02:15<00:00, 134.78s/ url]

Dl Size...: 100%|██████████| 827/827 [02:15<00:00,  7.60 MiB/s]


Extraction completed...:   0%|          | 0/1668 [02:15<?, ? file/s]
Dl Completed...: 100%|██████████| 1/1 [02:15<00:00, 134.78s/ url]

Dl Size...: 100%|██████████| 827/827 [02:15<00:00,  7.60 MiB/s]


Extraction completed...:   0%|          | 0/1669 [02:15<?, ? file/s]
Dl Completed...: 100%|██████████| 1/1 [02:15<00:00, 134.78s/ url]

Dl Size...: 100%|██████████| 827/827 [02:15<00:00,  7.60 MiB/s]


Extraction completed...:   0%|          | 0/1670 [02:15<?, ? file/s]
Dl Completed...: 100%|██████████| 1/1 [02:15<00:00, 134.78s/ url]

Dl Size...: 100%|██████████| 827/827 [02:15<00:00,  7.60 MiB/s]


Extraction completed...:   0%|          | 0/1671 [02:15<?, ? file/s]
Dl Completed...: 100%|██████████| 1/1 [02:15<00:00, 134.78s/ url]

Dl Size...: 100%|██████████| 827/827 [02:15<00:00,  7.60 MiB/s]


Extraction completed...:   0%|          | 0/1672 [02:15<?, ? file/s]
Dl Completed...: 100%|██████████| 1/1 [02:15<00:00, 134.78s/ url]

Dl Size...: 100%|██████████| 827/827 [02:15<00:00,  7.60 MiB/s]


Extraction completed...:   0%|          | 0/1673 [02:15<?, ? file/s]
Dl Completed...: 100%|██████████| 1/1 [02:15<00:00, 134.78s/ url]

Dl Size...: 100%|██████████| 827/827 [02:15<00:00,  7.60 MiB/s]


Extraction completed...:   0%|          | 0/1674 [02:15<?, ? file/s]
Dl Completed...: 100%|██████████| 1/1 [02:15<00:00, 134.78s/ url]

Dl Size...: 100%|██████████| 827/827 [02:15<00:00,  7.60 MiB/s]


Extraction completed...:   0%|          | 0/1675 [02:15<?, ? file/s]
Dl Completed...: 100%|██████████| 1/1 [02:15<00:00, 134.78s/ url]

Dl Size...: 100%|██████████| 827/827 [02:15<00:00,  7.60 MiB/s]


Extraction completed...:   0%|          | 0/1676 [02:15<?, ? file/s]
Dl Completed...: 100%|██████████| 1/1 [02:15<00:00, 134.78s/ url]

Dl Size...: 100%|██████████| 827/827 [02:15<00:00,  7.60 MiB/s]


Extraction completed...:   0%|          | 0/1677 [02:15<?, ? file/s]
Dl Completed...: 100%|██████████| 1/1 [02:15<00:00, 134.78s/ url]

Dl Size...: 100%|██████████| 827/827 [02:15<00:00,  7.60 MiB/s]


Extraction completed...:   0%|          | 0/1678 [02:15<?, ? file/s]
Dl Completed...: 100%|██████████| 1/1 [02:15<00:00, 134.78s/ url]

Dl Size...: 100%|██████████| 827/827 [02:15<00:00,  7.60 MiB/s]


Extraction completed...:   0%|          | 0/1679 [02:15<?, ? file/s]
Dl Completed...: 100%|██████████| 1/1 [02:15<00:00, 134.78s/ url]

Dl Size...: 100%|██████████| 827/827 [02:15<00:00,  7.60 MiB/s]


Extraction completed...:   0%|          | 0/1680 [02:15<?, ? file/s]
Dl Completed...: 100%|██████████| 1/1 [02:15<00:00, 134.78s/ url]

Dl Size...: 100%|██████████| 827/827 [02:15<00:00,  7.60 MiB/s]


Extraction completed...:   0%|          | 0/1681 [02:15<?, ? file/s]
Dl Completed...: 100%|██████████| 1/1 [02:15<00:00, 134.78s/ url]

Dl Size...: 100%|██████████| 827/827 [02:15<00:00,  7.60 MiB/s]


Extraction completed...:   0%|          | 0/1682 [02:15<?, ? file/s]
Dl Completed...: 100%|██████████| 1/1 [02:15<00:00, 134.78s/ url]

Dl Size...: 100%|██████████| 827/827 [02:15<00:00,  7.60 MiB/s]


Extraction completed...:   0%|          | 0/1683 [02:15<?, ? file/s]
Dl Completed...: 100%|██████████| 1/1 [02:15<00:00, 134.78s/ url]

Dl Size...: 100%|██████████| 827/827 [02:15<00:00,  7.60 MiB/s]


Extraction completed...:   0%|          | 0/1684 [02:15<?, ? file/s]
Dl Completed...: 100%|██████████| 1/1 [02:15<00:00, 134.78s/ url]

Dl Size...: 100%|██████████| 827/827 [02:15<00:00,  7.60 MiB/s]


Extraction completed...:   0%|          | 0/1685 [02:15<?, ? file/s]
Dl Completed...: 100%|██████████| 1/1 [02:15<00:00, 134.78s/ url]

Dl Size...: 100%|██████████| 827/827 [02:15<00:00,  7.60 MiB/s]


Extraction completed...:   0%|          | 0/1686 [02:15<?, ? file/s]
Dl Completed...: 100%|██████████| 1/1 [02:15<00:00, 134.78s/ url]

Dl Size...: 100%|██████████| 827/827 [02:15<00:00,  7.60 MiB/s]


Extraction completed...:   0%|          | 0/1687 [02:15<?, ? file/s]
Dl Completed...: 100%|██████████| 1/1 [02:15<00:00, 134.78s/ url]

Dl Size...: 100%|██████████| 827/827 [02:15<00:00,  7.60 MiB/s]


Extraction completed...:   0%|          | 0/1688 [02:15<?, ? file/s]
Dl Completed...: 100%|██████████| 1/1 [02:15<00:00, 134.78s/ url]

Dl Size...: 100%|██████████| 827/827 [02:15<00:00,  7.60 MiB/s]


Extraction completed...:   0%|          | 0/1689 [02:15<?, ? file/s]
Dl Completed...: 100%|██████████| 1/1 [02:15<00:00, 134.78s/ url]

Dl Size...: 100%|██████████| 827/827 [02:15<00:00,  7.60 MiB/s]


Extraction completed...:   0%|          | 0/1690 [02:15<?, ? file/s]
Dl Completed...: 100%|██████████| 1/1 [02:15<00:00, 134.78s/ url]

Dl Size...: 100%|██████████| 827/827 [02:15<00:00,  7.60 MiB/s]


Extraction completed...:   0%|          | 0/1691 [02:15<?, ? file/s]
Dl Completed...: 100%|██████████| 1/1 [02:15<00:00, 134.78s/ url]

Dl Size...: 100%|██████████| 827/827 [02:15<00:00,  7.60 MiB/s]


Extraction completed...:   0%|          | 0/1692 [02:15<?, ? file/s]
Dl Completed...: 100%|██████████| 1/1 [02:15<00:00, 134.78s/ url]

Dl Size...: 100%|██████████| 827/827 [02:15<00:00,  7.60 MiB/s]


Extraction completed...:   0%|          | 0/1693 [02:15<?, ? file/s]
Dl Completed...: 100%|██████████| 1/1 [02:15<00:00, 134.78s/ url]

Dl Size...: 100%|██████████| 827/827 [02:15<00:00,  7.60 MiB/s]


Extraction completed...:   0%|          | 0/1694 [02:15<?, ? file/s]
Dl Completed...: 100%|██████████| 1/1 [02:15<00:00, 134.78s/ url]

Dl Size...: 100%|██████████| 827/827 [02:15<00:00,  7.60 MiB/s]


Extraction completed...:   0%|          | 0/1695 [02:15<?, ? file/s]
Dl Completed...: 100%|██████████| 1/1 [02:15<00:00, 134.78s/ url]

Dl Size...: 100%|██████████| 827/827 [02:15<00:00,  7.60 MiB/s]


Extraction completed...:   0%|          | 0/1696 [02:15<?, ? file/s]
Dl Completed...: 100%|██████████| 1/1 [02:15<00:00, 134.78s/ url]

Dl Size...: 100%|██████████| 827/827 [02:15<00:00,  7.60 MiB/s]


Extraction completed...:   0%|          | 0/1697 [02:15<?, ? file/s]
Dl Completed...: 100%|██████████| 1/1 [02:15<00:00, 134.78s/ url]

Dl Size...: 100%|██████████| 827/827 [02:15<00:00,  7.60 MiB/s]


Extraction completed...:   0%|          | 0/1698 [02:15<?, ? file/s]
Dl Completed...: 100%|██████████| 1/1 [02:15<00:00, 134.78s/ url]

Dl Size...: 100%|██████████| 827/827 [02:15<00:00,  7.60 MiB/s]


Extraction completed...:   0%|          | 0/1699 [02:15<?, ? file/s]
Dl Completed...: 100%|██████████| 1/1 [02:15<00:00, 134.78s/ url]

Dl Size...: 100%|██████████| 827/827 [02:15<00:00,  7.60 MiB/s]


Extraction completed...:   0%|          | 0/1700 [02:15<?, ? file/s]
Dl Completed...: 100%|██████████| 1/1 [02:15<00:00, 134.78s/ url]

Dl Size...: 100%|██████████| 827/827 [02:15<00:00,  7.60 MiB/s]


Extraction completed...:   0%|          | 0/1701 [02:15<?, ? file/s]
Dl Completed...: 100%|██████████| 1/1 [02:15<00:00, 134.78s/ url]

Dl Size...: 100%|██████████| 827/827 [02:15<00:00,  7.60 MiB/s]


Extraction completed...:   0%|          | 0/1702 [02:15<?, ? file/s]
Dl Completed...: 100%|██████████| 1/1 [02:15<00:00, 134.78s/ url]

Dl Size...: 100%|██████████| 827/827 [02:15<00:00,  7.60 MiB/s]


Extraction completed...:   0%|          | 0/1703 [02:15<?, ? file/s]
Dl Completed...: 100%|██████████| 1/1 [02:15<00:00, 134.78s/ url]

Dl Size...: 100%|██████████| 827/827 [02:15<00:00,  7.60 MiB/s]


Extraction completed...:   0%|          | 0/1704 [02:15<?, ? file/s]
Dl Completed...: 100%|██████████| 1/1 [02:15<00:00, 134.78s/ url]

Dl Size...: 100%|██████████| 827/827 [02:15<00:00,  7.60 MiB/s]


Extraction completed...:   0%|          | 0/1705 [02:15<?, ? file/s]
Dl Completed...: 100%|██████████| 1/1 [02:15<00:00, 134.78s/ url]

Dl Size...: 100%|██████████| 827/827 [02:15<00:00,  7.60 MiB/s]


Extraction completed...:   0%|          | 0/1706 [02:15<?, ? file/s]
Dl Completed...: 100%|██████████| 1/1 [02:15<00:00, 134.78s/ url]

Dl Size...: 100%|██████████| 827/827 [02:15<00:00,  7.60 MiB/s]


Extraction completed...:   0%|          | 0/1707 [02:15<?, ? file/s]
Dl Completed...: 100%|██████████| 1/1 [02:15<00:00, 134.78s/ url]

Dl Size...: 100%|██████████| 827/827 [02:15<00:00,  7.60 MiB/s]


Extraction completed...:   0%|          | 0/1708 [02:15<?, ? file/s]
Dl Completed...: 100%|██████████| 1/1 [02:15<00:00, 134.78s/ url]

Dl Size...: 100%|██████████| 827/827 [02:15<00:00,  7.60 MiB/s]


Extraction completed...:   0%|          | 0/1709 [02:15<?, ? file/s]
Dl Completed...: 100%|██████████| 1/1 [02:15<00:00, 134.78s/ url]

Dl Size...: 100%|██████████| 827/827 [02:15<00:00,  7.60 MiB/s]


Extraction completed...:   0%|          | 0/1710 [02:15<?, ? file/s]
Dl Completed...: 100%|██████████| 1/1 [02:15<00:00, 134.78s/ url]

Dl Size...: 100%|██████████| 827/827 [02:15<00:00,  7.60 MiB/s]


Extraction completed...:   0%|          | 0/1711 [02:15<?, ? file/s]
Dl Completed...: 100%|██████████| 1/1 [02:15<00:00, 134.78s/ url]

Dl Size...: 100%|██████████| 827/827 [02:15<00:00,  7.60 MiB/s]


Extraction completed...:   0%|          | 0/1712 [02:15<?, ? file/s]
Dl Completed...: 100%|██████████| 1/1 [02:15<00:00, 134.78s/ url]

Dl Size...: 100%|██████████| 827/827 [02:15<00:00,  7.60 MiB/s]


Extraction completed...:   0%|          | 0/1713 [02:15<?, ? file/s]
Dl Completed...: 100%|██████████| 1/1 [02:15<00:00, 134.78s/ url]

Dl Size...: 100%|██████████| 827/827 [02:15<00:00,  7.60 MiB/s]


Extraction completed...:   0%|          | 0/1714 [02:15<?, ? file/s]
Dl Completed...: 100%|██████████| 1/1 [02:15<00:00, 134.78s/ url]

Dl Size...: 100%|██████████| 827/827 [02:15<00:00,  7.60 MiB/s]


Extraction completed...:   0%|          | 0/1715 [02:15<?, ? file/s]
Dl Completed...: 100%|██████████| 1/1 [02:15<00:00, 134.78s/ url]

Dl Size...: 100%|██████████| 827/827 [02:15<00:00,  7.60 MiB/s]


Extraction completed...:   0%|          | 0/1716 [02:15<?, ? file/s]
Dl Completed...: 100%|██████████| 1/1 [02:15<00:00, 134.78s/ url]

Dl Size...: 100%|██████████| 827/827 [02:15<00:00,  7.60 MiB/s]


Extraction completed...:   0%|          | 0/1717 [02:15<?, ? file/s]
Dl Completed...: 100%|██████████| 1/1 [02:15<00:00, 134.78s/ url]

Dl Size...: 100%|██████████| 827/827 [02:15<00:00,  7.60 MiB/s]


Extraction completed...:   0%|          | 0/1718 [02:15<?, ? file/s]
Dl Completed...: 100%|██████████| 1/1 [02:15<00:00, 134.78s/ url]

Dl Size...: 100%|██████████| 827/827 [02:15<00:00,  7.60 MiB/s]


Extraction completed...:   0%|          | 0/1719 [02:15<?, ? file/s]
Dl Completed...: 100%|██████████| 1/1 [02:15<00:00, 134.78s/ url]

Dl Size...: 100%|██████████| 827/827 [02:15<00:00,  7.60 MiB/s]


Extraction completed...:   0%|          | 0/1720 [02:15<?, ? file/s]
Dl Completed...: 100%|██████████| 1/1 [02:15<00:00, 134.78s/ url]

Dl Size...: 100%|██████████| 827/827 [02:15<00:00,  7.60 MiB/s]


Extraction completed...:   0%|          | 0/1721 [02:15<?, ? file/s]
Dl Completed...: 100%|██████████| 1/1 [02:15<00:00, 134.78s/ url]

Dl Size...: 100%|██████████| 827/827 [02:15<00:00,  7.60 MiB/s]


Extraction completed...:   0%|          | 0/1722 [02:15<?, ? file/s]
Dl Completed...: 100%|██████████| 1/1 [02:15<00:00, 134.78s/ url]

Dl Size...: 100%|██████████| 827/827 [02:15<00:00,  7.60 MiB/s]


Extraction completed...:   0%|          | 0/1723 [02:15<?, ? file/s]
Dl Completed...: 100%|██████████| 1/1 [02:15<00:00, 134.78s/ url]

Dl Size...: 100%|██████████| 827/827 [02:15<00:00,  7.60 MiB/s]


Extraction completed...:   0%|          | 0/1724 [02:15<?, ? file/s]
Dl Completed...: 100%|██████████| 1/1 [02:15<00:00, 134.78s/ url]

Dl Size...: 100%|██████████| 827/827 [02:15<00:00,  7.60 MiB/s]


Extraction completed...:   0%|          | 0/1725 [02:15<?, ? file/s]
Dl Completed...: 100%|██████████| 1/1 [02:15<00:00, 134.78s/ url]

Dl Size...: 100%|██████████| 827/827 [02:15<00:00,  7.60 MiB/s]


Extraction completed...:   0%|          | 0/1726 [02:15<?, ? file/s]
Dl Completed...: 100%|██████████| 1/1 [02:15<00:00, 134.78s/ url]

Dl Size...: 100%|██████████| 827/827 [02:15<00:00,  7.60 MiB/s]


Extraction completed...:   0%|          | 0/1727 [02:15<?, ? file/s]
Dl Completed...: 100%|██████████| 1/1 [02:15<00:00, 134.78s/ url]

Dl Size...: 100%|██████████| 827/827 [02:15<00:00,  7.60 MiB/s]


Extraction completed...:   0%|          | 0/1728 [02:15<?, ? file/s]
Dl Completed...: 100%|██████████| 1/1 [02:15<00:00, 134.78s/ url]

Dl Size...: 100%|██████████| 827/827 [02:15<00:00,  7.60 MiB/s]


Extraction completed...:   0%|          | 0/1729 [02:15<?, ? file/s]
Dl Completed...: 100%|██████████| 1/1 [02:15<00:00, 134.78s/ url]

Dl Size...: 100%|██████████| 827/827 [02:15<00:00,  7.60 MiB/s]


Extraction completed...:   0%|          | 0/1730 [02:15<?, ? file/s]
Dl Completed...: 100%|██████████| 1/1 [02:15<00:00, 134.78s/ url]

Dl Size...: 100%|██████████| 827/827 [02:15<00:00,  7.60 MiB/s]


Extraction completed...:   0%|          | 0/1731 [02:15<?, ? file/s]
Dl Completed...: 100%|██████████| 1/1 [02:15<00:00, 134.78s/ url]

Dl Size...: 100%|██████████| 827/827 [02:15<00:00,  7.60 MiB/s]


Extraction completed...:   0%|          | 0/1732 [02:15<?, ? file/s]
Dl Completed...: 100%|██████████| 1/1 [02:15<00:00, 134.78s/ url]

Dl Size...: 100%|██████████| 827/827 [02:15<00:00,  7.60 MiB/s]


Extraction completed...:   0%|          | 0/1733 [02:15<?, ? file/s]
Dl Completed...: 100%|██████████| 1/1 [02:16<00:00, 134.78s/ url]

Dl Size...: 100%|██████████| 827/827 [02:16<00:00,  7.60 MiB/s]


Extraction completed...:   0%|          | 0/1734 [02:16<?, ? file/s]
Dl Completed...: 100%|██████████| 1/1 [02:16<00:00, 134.78s/ url]

Dl Size...: 100%|██████████| 827/827 [02:16<00:00,  7.60 MiB/s]


Extraction completed...:   0%|          | 0/1735 [02:16<?, ? file/s]
Dl Completed...: 100%|██████████| 1/1 [02:16<00:00, 134.78s/ url]

Dl Size...: 100%|██████████| 827/827 [02:16<00:00,  7.60 MiB/s]


Extraction completed...:   0%|          | 0/1736 [02:16<?, ? file/s]
Dl Completed...: 100%|██████████| 1/1 [02:16<00:00, 134.78s/ url]

Dl Size...: 100%|██████████| 827/827 [02:16<00:00,  7.60 MiB/s]


Extraction completed...:   0%|          | 0/1737 [02:16<?, ? file/s]
Dl Completed...: 100%|██████████| 1/1 [02:16<00:00, 134.78s/ url]

Dl Size...: 100%|██████████| 827/827 [02:16<00:00,  7.60 MiB/s]


Extraction completed...:   0%|          | 0/1738 [02:16<?, ? file/s]
Dl Completed...: 100%|██████████| 1/1 [02:16<00:00, 134.78s/ url]

Dl Size...: 100%|██████████| 827/827 [02:16<00:00,  7.60 MiB/s]


Extraction completed...:   0%|          | 0/1739 [02:16<?, ? file/s]
Dl Completed...: 100%|██████████| 1/1 [02:16<00:00, 134.78s/ url]

Dl Size...: 100%|██████████| 827/827 [02:16<00:00,  7.60 MiB/s]


Extraction completed...:   0%|          | 0/1740 [02:16<?, ? file/s]
Dl Completed...: 100%|██████████| 1/1 [02:16<00:00, 134.78s/ url]

Dl Size...: 100%|██████████| 827/827 [02:16<00:00,  7.60 MiB/s]


Extraction completed...:   0%|          | 0/1741 [02:16<?, ? file/s]
Dl Completed...: 100%|██████████| 1/1 [02:16<00:00, 134.78s/ url]

Dl Size...: 100%|██████████| 827/827 [02:16<00:00,  7.60 MiB/s]


Extraction completed...:   0%|          | 0/1742 [02:16<?, ? file/s]
Dl Completed...: 100%|██████████| 1/1 [02:16<00:00, 134.78s/ url]

Dl Size...: 100%|██████████| 827/827 [02:16<00:00,  7.60 MiB/s]


Extraction completed...:   0%|          | 0/1743 [02:16<?, ? file/s]
Dl Completed...: 100%|██████████| 1/1 [02:16<00:00, 134.78s/ url]

Dl Size...: 100%|██████████| 827/827 [02:16<00:00,  7.60 MiB/s]


Extraction completed...:   0%|          | 0/1744 [02:16<?, ? file/s]
Dl Completed...: 100%|██████████| 1/1 [02:16<00:00, 134.78s/ url]

Dl Size...: 100%|██████████| 827/827 [02:16<00:00,  7.60 MiB/s]


Extraction completed...:   0%|          | 0/1745 [02:16<?, ? file/s]
Dl Completed...: 100%|██████████| 1/1 [02:16<00:00, 134.78s/ url]

Dl Size...: 100%|██████████| 827/827 [02:16<00:00,  7.60 MiB/s]


Extraction completed...:   0%|          | 0/1746 [02:16<?, ? file/s]
Dl Completed...: 100%|██████████| 1/1 [02:16<00:00, 134.78s/ url]

Dl Size...: 100%|██████████| 827/827 [02:16<00:00,  7.60 MiB/s]


Extraction completed...:   0%|          | 0/1747 [02:16<?, ? file/s]
Dl Completed...: 100%|██████████| 1/1 [02:16<00:00, 134.78s/ url]

Dl Size...: 100%|██████████| 827/827 [02:16<00:00,  7.60 MiB/s]


Extraction completed...:   0%|          | 0/1748 [02:16<?, ? file/s]
Dl Completed...: 100%|██████████| 1/1 [02:16<00:00, 134.78s/ url]

Dl Size...: 100%|██████████| 827/827 [02:16<00:00,  7.60 MiB/s]


Extraction completed...:   0%|          | 0/1749 [02:16<?, ? file/s]
Dl Completed...: 100%|██████████| 1/1 [02:16<00:00, 134.78s/ url]

Dl Size...: 100%|██████████| 827/827 [02:16<00:00,  7.60 MiB/s]


Extraction completed...:   0%|          | 0/1750 [02:16<?, ? file/s]
Dl Completed...: 100%|██████████| 1/1 [02:16<00:00, 134.78s/ url]

Dl Size...: 100%|██████████| 827/827 [02:16<00:00,  7.60 MiB/s]


Extraction completed...:   0%|          | 0/1751 [02:16<?, ? file/s]
Dl Completed...: 100%|██████████| 1/1 [02:16<00:00, 134.78s/ url]

Dl Size...: 100%|██████████| 827/827 [02:16<00:00,  7.60 MiB/s]


Extraction completed...:   0%|          | 0/1752 [02:16<?, ? file/s]
Dl Completed...: 100%|██████████| 1/1 [02:16<00:00, 134.78s/ url]

Dl Size...: 100%|██████████| 827/827 [02:16<00:00,  7.60 MiB/s]


Extraction completed...:   0%|          | 0/1753 [02:16<?, ? file/s]
Dl Completed...: 100%|██████████| 1/1 [02:16<00:00, 134.78s/ url]

Dl Size...: 100%|██████████| 827/827 [02:16<00:00,  7.60 MiB/s]


Extraction completed...:   0%|          | 0/1754 [02:16<?, ? file/s]
Dl Completed...: 100%|██████████| 1/1 [02:16<00:00, 134.78s/ url]

Dl Size...: 100%|██████████| 827/827 [02:16<00:00,  7.60 MiB/s]


Extraction completed...:   0%|          | 0/1755 [02:16<?, ? file/s]
Dl Completed...: 100%|██████████| 1/1 [02:16<00:00, 134.78s/ url]

Dl Size...: 100%|██████████| 827/827 [02:16<00:00,  7.60 MiB/s]


Extraction completed...:   0%|          | 0/1756 [02:16<?, ? file/s]
Dl Completed...: 100%|██████████| 1/1 [02:16<00:00, 134.78s/ url]

Dl Size...: 100%|██████████| 827/827 [02:16<00:00,  7.60 MiB/s]


Extraction completed...:   0%|          | 0/1757 [02:16<?, ? file/s]
Dl Completed...: 100%|██████████| 1/1 [02:16<00:00, 134.78s/ url]

Dl Size...: 100%|██████████| 827/827 [02:16<00:00,  7.60 MiB/s]


Extraction completed...:   0%|          | 0/1758 [02:16<?, ? file/s]
Dl Completed...: 100%|██████████| 1/1 [02:16<00:00, 134.78s/ url]

Dl Size...: 100%|██████████| 827/827 [02:16<00:00,  7.60 MiB/s]


Extraction completed...:   0%|          | 0/1759 [02:16<?, ? file/s]
Dl Completed...: 100%|██████████| 1/1 [02:16<00:00, 134.78s/ url]

Dl Size...: 100%|██████████| 827/827 [02:16<00:00,  7.60 MiB/s]


Extraction completed...:   0%|          | 0/1760 [02:16<?, ? file/s]
Dl Completed...: 100%|██████████| 1/1 [02:16<00:00, 134.78s/ url]

Dl Size...: 100%|██████████| 827/827 [02:16<00:00,  7.60 MiB/s]


Extraction completed...:   0%|          | 0/1761 [02:16<?, ? file/s]
Dl Completed...: 100%|██████████| 1/1 [02:16<00:00, 134.78s/ url]

Dl Size...: 100%|██████████| 827/827 [02:16<00:00,  7.60 MiB/s]


Extraction completed...:   0%|          | 0/1762 [02:16<?, ? file/s]
Dl Completed...: 100%|██████████| 1/1 [02:16<00:00, 134.78s/ url]

Dl Size...: 100%|██████████| 827/827 [02:16<00:00,  7.60 MiB/s]


Extraction completed...:   0%|          | 0/1763 [02:16<?, ? file/s]
Dl Completed...: 100%|██████████| 1/1 [02:16<00:00, 134.78s/ url]

Dl Size...: 100%|██████████| 827/827 [02:16<00:00,  7.60 MiB/s]


Extraction completed...:   0%|          | 0/1764 [02:16<?, ? file/s]
Dl Completed...: 100%|██████████| 1/1 [02:16<00:00, 134.78s/ url]

Dl Size...: 100%|██████████| 827/827 [02:16<00:00,  7.60 MiB/s]


Extraction completed...:   0%|          | 0/1765 [02:16<?, ? file/s]
Dl Completed...: 100%|██████████| 1/1 [02:16<00:00, 134.78s/ url]

Dl Size...: 100%|██████████| 827/827 [02:16<00:00,  7.60 MiB/s]


Extraction completed...:   0%|          | 0/1766 [02:16<?, ? file/s]
Dl Completed...: 100%|██████████| 1/1 [02:16<00:00, 134.78s/ url]

Dl Size...: 100%|██████████| 827/827 [02:16<00:00,  7.60 MiB/s]


Extraction completed...:   0%|          | 0/1767 [02:16<?, ? file/s]
Dl Completed...: 100%|██████████| 1/1 [02:16<00:00, 134.78s/ url]

Dl Size...: 100%|██████████| 827/827 [02:16<00:00,  7.60 MiB/s]


Extraction completed...:   0%|          | 0/1768 [02:16<?, ? file/s]
Dl Completed...: 100%|██████████| 1/1 [02:16<00:00, 134.78s/ url]

Dl Size...: 100%|██████████| 827/827 [02:16<00:00,  7.60 MiB/s]


Extraction completed...:   0%|          | 0/1769 [02:16<?, ? file/s]
Dl Completed...: 100%|██████████| 1/1 [02:16<00:00, 134.78s/ url]

Dl Size...: 100%|██████████| 827/827 [02:16<00:00,  7.60 MiB/s]


Extraction completed...:   0%|          | 0/1770 [02:16<?, ? file/s]
Dl Completed...: 100%|██████████| 1/1 [02:16<00:00, 134.78s/ url]

Dl Size...: 100%|██████████| 827/827 [02:16<00:00,  7.60 MiB/s]


Extraction completed...:   0%|          | 0/1771 [02:16<?, ? file/s]
Dl Completed...: 100%|██████████| 1/1 [02:16<00:00, 134.78s/ url]

Dl Size...: 100%|██████████| 827/827 [02:16<00:00,  7.60 MiB/s]


Extraction completed...:   0%|          | 0/1772 [02:16<?, ? file/s]
Dl Completed...: 100%|██████████| 1/1 [02:16<00:00, 134.78s/ url]

Dl Size...: 100%|██████████| 827/827 [02:16<00:00,  7.60 MiB/s]


Extraction completed...:   0%|          | 0/1773 [02:16<?, ? file/s]
Dl Completed...: 100%|██████████| 1/1 [02:16<00:00, 134.78s/ url]

Dl Size...: 100%|██████████| 827/827 [02:16<00:00,  7.60 MiB/s]


Extraction completed...:   0%|          | 0/1774 [02:16<?, ? file/s]
Dl Completed...: 100%|██████████| 1/1 [02:16<00:00, 134.78s/ url]

Dl Size...: 100%|██████████| 827/827 [02:16<00:00,  7.60 MiB/s]


Extraction completed...:   0%|          | 0/1775 [02:16<?, ? file/s]
Dl Completed...: 100%|██████████| 1/1 [02:16<00:00, 134.78s/ url]

Dl Size...: 100%|██████████| 827/827 [02:16<00:00,  7.60 MiB/s]


Extraction completed...:   0%|          | 0/1776 [02:16<?, ? file/s]
Dl Completed...: 100%|██████████| 1/1 [02:16<00:00, 134.78s/ url]

Dl Size...: 100%|██████████| 827/827 [02:16<00:00,  7.60 MiB/s]


Extraction completed...:   0%|          | 0/1777 [02:16<?, ? file/s]
Dl Completed...: 100%|██████████| 1/1 [02:16<00:00, 134.78s/ url]

Dl Size...: 100%|██████████| 827/827 [02:16<00:00,  7.60 MiB/s]


Extraction completed...:   0%|          | 0/1778 [02:16<?, ? file/s]
Dl Completed...: 100%|██████████| 1/1 [02:16<00:00, 134.78s/ url]

Dl Size...: 100%|██████████| 827/827 [02:16<00:00,  7.60 MiB/s]


Extraction completed...:   0%|          | 0/1779 [02:16<?, ? file/s]
Dl Completed...: 100%|██████████| 1/1 [02:16<00:00, 134.78s/ url]

Dl Size...: 100%|██████████| 827/827 [02:16<00:00,  7.60 MiB/s]


Extraction completed...:   0%|          | 0/1780 [02:16<?, ? file/s]
Dl Completed...: 100%|██████████| 1/1 [02:16<00:00, 134.78s/ url]

Dl Size...: 100%|██████████| 827/827 [02:16<00:00,  7.60 MiB/s]


Extraction completed...:   0%|          | 0/1781 [02:16<?, ? file/s]
Dl Completed...: 100%|██████████| 1/1 [02:16<00:00, 134.78s/ url]

Dl Size...: 100%|██████████| 827/827 [02:16<00:00,  7.60 MiB/s]


Extraction completed...:   0%|          | 0/1782 [02:16<?, ? file/s]
Dl Completed...: 100%|██████████| 1/1 [02:16<00:00, 134.78s/ url]

Dl Size...: 100%|██████████| 827/827 [02:16<00:00,  7.60 MiB/s]


Extraction completed...:   0%|          | 0/1783 [02:16<?, ? file/s]
Dl Completed...: 100%|██████████| 1/1 [02:16<00:00, 134.78s/ url]

Dl Size...: 100%|██████████| 827/827 [02:16<00:00,  7.60 MiB/s]


Extraction completed...:   0%|          | 0/1784 [02:16<?, ? file/s]
Dl Completed...: 100%|██████████| 1/1 [02:16<00:00, 134.78s/ url]

Dl Size...: 100%|██████████| 827/827 [02:16<00:00,  7.60 MiB/s]


Extraction completed...:   0%|          | 0/1785 [02:16<?, ? file/s]
Dl Completed...: 100%|██████████| 1/1 [02:16<00:00, 134.78s/ url]

Dl Size...: 100%|██████████| 827/827 [02:16<00:00,  7.60 MiB/s]


Extraction completed...:   0%|          | 0/1786 [02:16<?, ? file/s]
Dl Completed...: 100%|██████████| 1/1 [02:16<00:00, 134.78s/ url]

Dl Size...: 100%|██████████| 827/827 [02:16<00:00,  7.60 MiB/s]


Extraction completed...:   0%|          | 0/1787 [02:16<?, ? file/s]
Dl Completed...: 100%|██████████| 1/1 [02:16<00:00, 134.78s/ url]

Dl Size...: 100%|██████████| 827/827 [02:16<00:00,  7.60 MiB/s]


Extraction completed...:   0%|          | 0/1788 [02:16<?, ? file/s]
Dl Completed...: 100%|██████████| 1/1 [02:16<00:00, 134.78s/ url]

Dl Size...: 100%|██████████| 827/827 [02:16<00:00,  7.60 MiB/s]


Extraction completed...:   0%|          | 0/1789 [02:16<?, ? file/s]
Dl Completed...: 100%|██████████| 1/1 [02:16<00:00, 134.78s/ url]

Dl Size...: 100%|██████████| 827/827 [02:16<00:00,  7.60 MiB/s]


Extraction completed...:   0%|          | 0/1790 [02:16<?, ? file/s]
Dl Completed...: 100%|██████████| 1/1 [02:16<00:00, 134.78s/ url]

Dl Size...: 100%|██████████| 827/827 [02:16<00:00,  7.60 MiB/s]


Extraction completed...:   0%|          | 0/1791 [02:16<?, ? file/s]
Dl Completed...: 100%|██████████| 1/1 [02:16<00:00, 134.78s/ url]

Dl Size...: 100%|██████████| 827/827 [02:16<00:00,  7.60 MiB/s]


Extraction completed...:   0%|          | 0/1792 [02:16<?, ? file/s]
Dl Completed...: 100%|██████████| 1/1 [02:16<00:00, 134.78s/ url]

Dl Size...: 100%|██████████| 827/827 [02:16<00:00,  7.60 MiB/s]


Extraction completed...:   0%|          | 0/1793 [02:16<?, ? file/s]
Dl Completed...: 100%|██████████| 1/1 [02:16<00:00, 134.78s/ url]

Dl Size...: 100%|██████████| 827/827 [02:16<00:00,  7.60 MiB/s]


Extraction completed...:   0%|          | 0/1794 [02:16<?, ? file/s]
Dl Completed...: 100%|██████████| 1/1 [02:16<00:00, 134.78s/ url]

Dl Size...: 100%|██████████| 827/827 [02:16<00:00,  7.60 MiB/s]


Extraction completed...:   0%|          | 0/1795 [02:16<?, ? file/s]
Dl Completed...: 100%|██████████| 1/1 [02:16<00:00, 134.78s/ url]

Dl Size...: 100%|██████████| 827/827 [02:16<00:00,  7.60 MiB/s]


Extraction completed...:   0%|          | 0/1796 [02:16<?, ? file/s]
Dl Completed...: 100%|██████████| 1/1 [02:16<00:00, 134.78s/ url]

Dl Size...: 100%|██████████| 827/827 [02:16<00:00,  7.60 MiB/s]


Extraction completed...:   0%|          | 0/1797 [02:16<?, ? file/s]
Dl Completed...: 100%|██████████| 1/1 [02:16<00:00, 134.78s/ url]

Dl Size...: 100%|██████████| 827/827 [02:16<00:00,  7.60 MiB/s]


Extraction completed...:   0%|          | 0/1798 [02:16<?, ? file/s]
Dl Completed...: 100%|██████████| 1/1 [02:16<00:00, 134.78s/ url]

Dl Size...: 100%|██████████| 827/827 [02:16<00:00,  7.60 MiB/s]


Extraction completed...:   0%|          | 0/1799 [02:16<?, ? file/s]
Dl Completed...: 100%|██████████| 1/1 [02:16<00:00, 134.78s/ url]

Dl Size...: 100%|██████████| 827/827 [02:16<00:00,  7.60 MiB/s]


Extraction completed...:   0%|          | 0/1800 [02:16<?, ? file/s]
Dl Completed...: 100%|██████████| 1/1 [02:16<00:00, 134.78s/ url]

Dl Size...: 100%|██████████| 827/827 [02:16<00:00,  7.60 MiB/s]


Extraction completed...:   0%|          | 0/1801 [02:16<?, ? file/s]
Dl Completed...: 100%|██████████| 1/1 [02:16<00:00, 134.78s/ url]

Dl Size...: 100%|██████████| 827/827 [02:16<00:00,  7.60 MiB/s]


Extraction completed...:   0%|          | 0/1802 [02:16<?, ? file/s]
Dl Completed...: 100%|██████████| 1/1 [02:16<00:00, 134.78s/ url]

Dl Size...: 100%|██████████| 827/827 [02:16<00:00,  7.60 MiB/s]


Extraction completed...:   0%|          | 0/1803 [02:16<?, ? file/s]
Dl Completed...: 100%|██████████| 1/1 [02:16<00:00, 134.78s/ url]

Dl Size...: 100%|██████████| 827/827 [02:16<00:00,  7.60 MiB/s]


Extraction completed...:   0%|          | 0/1804 [02:16<?, ? file/s]
Dl Completed...: 100%|██████████| 1/1 [02:16<00:00, 134.78s/ url]

Dl Size...: 100%|██████████| 827/827 [02:16<00:00,  7.60 MiB/s]


Extraction completed...:   0%|          | 0/1805 [02:16<?, ? file/s]
Dl Completed...: 100%|██████████| 1/1 [02:16<00:00, 134.78s/ url]

Dl Size...: 100%|██████████| 827/827 [02:16<00:00,  7.60 MiB/s]


Extraction completed...:   0%|          | 0/1806 [02:16<?, ? file/s]
Dl Completed...: 100%|██████████| 1/1 [02:16<00:00, 134.78s/ url]

Dl Size...: 100%|██████████| 827/827 [02:16<00:00,  7.60 MiB/s]


Extraction completed...:   0%|          | 0/1807 [02:16<?, ? file/s]
Dl Completed...: 100%|██████████| 1/1 [02:16<00:00, 134.78s/ url]

Dl Size...: 100%|██████████| 827/827 [02:16<00:00,  7.60 MiB/s]


Extraction completed...:   0%|          | 0/1808 [02:16<?, ? file/s]
Dl Completed...: 100%|██████████| 1/1 [02:16<00:00, 134.78s/ url]

Dl Size...: 100%|██████████| 827/827 [02:16<00:00,  7.60 MiB/s]


Extraction completed...:   0%|          | 0/1809 [02:16<?, ? file/s]
Dl Completed...: 100%|██████████| 1/1 [02:16<00:00, 134.78s/ url]

Dl Size...: 100%|██████████| 827/827 [02:16<00:00,  7.60 MiB/s]


Extraction completed...:   0%|          | 0/1810 [02:16<?, ? file/s]
Dl Completed...: 100%|██████████| 1/1 [02:16<00:00, 134.78s/ url]

Dl Size...: 100%|██████████| 827/827 [02:16<00:00,  7.60 MiB/s]


Extraction completed...:   0%|          | 0/1811 [02:16<?, ? file/s]
Dl Completed...: 100%|██████████| 1/1 [02:16<00:00, 134.78s/ url]

Dl Size...: 100%|██████████| 827/827 [02:16<00:00,  7.60 MiB/s]


Extraction completed...:   0%|          | 0/1812 [02:16<?, ? file/s]
Dl Completed...: 100%|██████████| 1/1 [02:16<00:00, 134.78s/ url]

Dl Size...: 100%|██████████| 827/827 [02:16<00:00,  7.60 MiB/s]


Extraction completed...:   0%|          | 0/1813 [02:16<?, ? file/s]
Dl Completed...: 100%|██████████| 1/1 [02:16<00:00, 134.78s/ url]

Dl Size...: 100%|██████████| 827/827 [02:16<00:00,  7.60 MiB/s]


Extraction completed...:   0%|          | 0/1814 [02:16<?, ? file/s]
Dl Completed...: 100%|██████████| 1/1 [02:16<00:00, 134.78s/ url]

Dl Size...: 100%|██████████| 827/827 [02:16<00:00,  7.60 MiB/s]


Extraction completed...:   0%|          | 0/1815 [02:16<?, ? file/s]
Dl Completed...: 100%|██████████| 1/1 [02:16<00:00, 134.78s/ url]

Dl Size...: 100%|██████████| 827/827 [02:16<00:00,  7.60 MiB/s]


Extraction completed...:   0%|          | 0/1816 [02:16<?, ? file/s]
Dl Completed...: 100%|██████████| 1/1 [02:16<00:00, 134.78s/ url]

Dl Size...: 100%|██████████| 827/827 [02:16<00:00,  7.60 MiB/s]


Extraction completed...:   0%|          | 0/1817 [02:16<?, ? file/s]
Dl Completed...: 100%|██████████| 1/1 [02:16<00:00, 134.78s/ url]

Dl Size...: 100%|██████████| 827/827 [02:16<00:00,  7.60 MiB/s]


Extraction completed...:   0%|          | 0/1818 [02:16<?, ? file/s]
Dl Completed...: 100%|██████████| 1/1 [02:16<00:00, 134.78s/ url]

Dl Size...: 100%|██████████| 827/827 [02:16<00:00,  7.60 MiB/s]


Extraction completed...:   0%|          | 0/1819 [02:16<?, ? file/s]
Dl Completed...: 100%|██████████| 1/1 [02:16<00:00, 134.78s/ url]

Dl Size...: 100%|██████████| 827/827 [02:16<00:00,  7.60 MiB/s]


Extraction completed...:   0%|          | 0/1820 [02:16<?, ? file/s]
Dl Completed...: 100%|██████████| 1/1 [02:16<00:00, 134.78s/ url]

Dl Size...: 100%|██████████| 827/827 [02:16<00:00,  7.60 MiB/s]


Extraction completed...:   0%|          | 0/1821 [02:16<?, ? file/s]
Dl Completed...: 100%|██████████| 1/1 [02:16<00:00, 134.78s/ url]

Dl Size...: 100%|██████████| 827/827 [02:16<00:00,  7.60 MiB/s]


Extraction completed...:   0%|          | 0/1822 [02:16<?, ? file/s]
Dl Completed...: 100%|██████████| 1/1 [02:16<00:00, 134.78s/ url]

Dl Size...: 100%|██████████| 827/827 [02:16<00:00,  7.60 MiB/s]


Extraction completed...:   0%|          | 0/1823 [02:16<?, ? file/s]
Dl Completed...: 100%|██████████| 1/1 [02:16<00:00, 134.78s/ url]

Dl Size...: 100%|██████████| 827/827 [02:16<00:00,  7.60 MiB/s]


Extraction completed...:   0%|          | 0/1824 [02:16<?, ? file/s]
Dl Completed...: 100%|██████████| 1/1 [02:16<00:00, 134.78s/ url]

Dl Size...: 100%|██████████| 827/827 [02:16<00:00,  7.60 MiB/s]


Extraction completed...:   0%|          | 0/1825 [02:16<?, ? file/s]
Dl Completed...: 100%|██████████| 1/1 [02:16<00:00, 134.78s/ url]

Dl Size...: 100%|██████████| 827/827 [02:16<00:00,  7.60 MiB/s]


Extraction completed...:   0%|          | 0/1826 [02:16<?, ? file/s]
Dl Completed...: 100%|██████████| 1/1 [02:16<00:00, 134.78s/ url]

Dl Size...: 100%|██████████| 827/827 [02:16<00:00,  7.60 MiB/s]


Extraction completed...:   0%|          | 0/1827 [02:16<?, ? file/s]
Dl Completed...: 100%|██████████| 1/1 [02:16<00:00, 134.78s/ url]

Dl Size...: 100%|██████████| 827/827 [02:16<00:00,  7.60 MiB/s]


Extraction completed...:   0%|          | 0/1828 [02:16<?, ? file/s]
Dl Completed...: 100%|██████████| 1/1 [02:16<00:00, 134.78s/ url]

Dl Size...: 100%|██████████| 827/827 [02:16<00:00,  7.60 MiB/s]


Extraction completed...:   0%|          | 0/1829 [02:16<?, ? file/s]
Dl Completed...: 100%|██████████| 1/1 [02:16<00:00, 134.78s/ url]

Dl Size...: 100%|██████████| 827/827 [02:16<00:00,  7.60 MiB/s]


Extraction completed...:   0%|          | 0/1830 [02:16<?, ? file/s]
Dl Completed...: 100%|██████████| 1/1 [02:16<00:00, 134.78s/ url]

Dl Size...: 100%|██████████| 827/827 [02:16<00:00,  7.60 MiB/s]


Extraction completed...:   0%|          | 0/1831 [02:16<?, ? file/s]
Dl Completed...: 100%|██████████| 1/1 [02:16<00:00, 134.78s/ url]

Dl Size...: 100%|██████████| 827/827 [02:16<00:00,  7.60 MiB/s]


Extraction completed...:   0%|          | 0/1832 [02:16<?, ? file/s]
Dl Completed...: 100%|██████████| 1/1 [02:16<00:00, 134.78s/ url]

Dl Size...: 100%|██████████| 827/827 [02:16<00:00,  7.60 MiB/s]


Extraction completed...:   0%|          | 0/1833 [02:16<?, ? file/s]
Dl Completed...: 100%|██████████| 1/1 [02:16<00:00, 134.78s/ url]

Dl Size...: 100%|██████████| 827/827 [02:16<00:00,  7.60 MiB/s]


Extraction completed...:   0%|          | 0/1834 [02:16<?, ? file/s]
Dl Completed...: 100%|██████████| 1/1 [02:16<00:00, 134.78s/ url]

Dl Size...: 100%|██████████| 827/827 [02:16<00:00,  7.60 MiB/s]


Extraction completed...:   0%|          | 0/1835 [02:16<?, ? file/s]
Dl Completed...: 100%|██████████| 1/1 [02:16<00:00, 134.78s/ url]

Dl Size...: 100%|██████████| 827/827 [02:16<00:00,  7.60 MiB/s]


Extraction completed...:   0%|          | 0/1836 [02:16<?, ? file/s]
Dl Completed...: 100%|██████████| 1/1 [02:16<00:00, 134.78s/ url]

Dl Size...: 100%|██████████| 827/827 [02:16<00:00,  7.60 MiB/s]


Extraction completed...:   0%|          | 0/1837 [02:16<?, ? file/s]
Dl Completed...: 100%|██████████| 1/1 [02:16<00:00, 134.78s/ url]

Dl Size...: 100%|██████████| 827/827 [02:16<00:00,  7.60 MiB/s]


Extraction completed...:   0%|          | 0/1838 [02:16<?, ? file/s]
Dl Completed...: 100%|██████████| 1/1 [02:16<00:00, 134.78s/ url]

Dl Size...: 100%|██████████| 827/827 [02:16<00:00,  7.60 MiB/s]


Extraction completed...:   0%|          | 0/1839 [02:16<?, ? file/s]
Dl Completed...: 100%|██████████| 1/1 [02:16<00:00, 134.78s/ url]

Dl Size...: 100%|██████████| 827/827 [02:16<00:00,  7.60 MiB/s]


Extraction completed...:   0%|          | 0/1840 [02:16<?, ? file/s]
Dl Completed...: 100%|██████████| 1/1 [02:16<00:00, 134.78s/ url]

Dl Size...: 100%|██████████| 827/827 [02:16<00:00,  7.60 MiB/s]


Extraction completed...:   0%|          | 0/1841 [02:16<?, ? file/s]
Dl Completed...: 100%|██████████| 1/1 [02:16<00:00, 134.78s/ url]

Dl Size...: 100%|██████████| 827/827 [02:16<00:00,  7.60 MiB/s]


Extraction completed...:   0%|          | 0/1842 [02:16<?, ? file/s]
Dl Completed...: 100%|██████████| 1/1 [02:16<00:00, 134.78s/ url]

Dl Size...: 100%|██████████| 827/827 [02:16<00:00,  7.60 MiB/s]


Extraction completed...:   0%|          | 0/1843 [02:16<?, ? file/s]
Dl Completed...: 100%|██████████| 1/1 [02:16<00:00, 134.78s/ url]

Dl Size...: 100%|██████████| 827/827 [02:16<00:00,  7.60 MiB/s]


Extraction completed...:   0%|          | 0/1844 [02:16<?, ? file/s]
Dl Completed...: 100%|██████████| 1/1 [02:16<00:00, 134.78s/ url]

Dl Size...: 100%|██████████| 827/827 [02:16<00:00,  7.60 MiB/s]


Extraction completed...:   0%|          | 0/1845 [02:16<?, ? file/s]
Dl Completed...: 100%|██████████| 1/1 [02:16<00:00, 134.78s/ url]

Dl Size...: 100%|██████████| 827/827 [02:16<00:00,  7.60 MiB/s]


Extraction completed...:   0%|          | 0/1846 [02:16<?, ? file/s]
Dl Completed...: 100%|██████████| 1/1 [02:16<00:00, 134.78s/ url]

Dl Size...: 100%|██████████| 827/827 [02:16<00:00,  7.60 MiB/s]


Extraction completed...:   0%|          | 0/1847 [02:16<?, ? file/s]
Dl Completed...: 100%|██████████| 1/1 [02:16<00:00, 134.78s/ url]

Dl Size...: 100%|██████████| 827/827 [02:16<00:00,  7.60 MiB/s]


Extraction completed...:   0%|          | 0/1848 [02:16<?, ? file/s]
Dl Completed...: 100%|██████████| 1/1 [02:16<00:00, 134.78s/ url]

Dl Size...: 100%|██████████| 827/827 [02:16<00:00,  7.60 MiB/s]


Extraction completed...:   0%|          | 0/1849 [02:16<?, ? file/s]
Dl Completed...: 100%|██████████| 1/1 [02:16<00:00, 134.78s/ url]

Dl Size...: 100%|██████████| 827/827 [02:16<00:00,  7.60 MiB/s]


Extraction completed...:   0%|          | 0/1850 [02:16<?, ? file/s]
Dl Completed...: 100%|██████████| 1/1 [02:16<00:00, 134.78s/ url]

Dl Size...: 100%|██████████| 827/827 [02:16<00:00,  7.60 MiB/s]


Extraction completed...:   0%|          | 0/1851 [02:16<?, ? file/s]
Dl Completed...: 100%|██████████| 1/1 [02:16<00:00, 134.78s/ url]

Dl Size...: 100%|██████████| 827/827 [02:16<00:00,  7.60 MiB/s]


Extraction completed...:   0%|          | 0/1852 [02:16<?, ? file/s]
Dl Completed...: 100%|██████████| 1/1 [02:16<00:00, 134.78s/ url]

Dl Size...: 100%|██████████| 827/827 [02:16<00:00,  7.60 MiB/s]


Extraction completed...:   0%|          | 0/1853 [02:16<?, ? file/s]
Dl Completed...: 100%|██████████| 1/1 [02:16<00:00, 134.78s/ url]

Dl Size...: 100%|██████████| 827/827 [02:16<00:00,  7.60 MiB/s]


Extraction completed...:   0%|          | 0/1854 [02:16<?, ? file/s]
Dl Completed...: 100%|██████████| 1/1 [02:16<00:00, 134.78s/ url]

Dl Size...: 100%|██████████| 827/827 [02:16<00:00,  7.60 MiB/s]


Extraction completed...:   0%|          | 0/1855 [02:16<?, ? file/s]
Dl Completed...: 100%|██████████| 1/1 [02:16<00:00, 134.78s/ url]

Dl Size...: 100%|██████████| 827/827 [02:16<00:00,  7.60 MiB/s]


Extraction completed...:   0%|          | 0/1856 [02:16<?, ? file/s]
Dl Completed...: 100%|██████████| 1/1 [02:16<00:00, 134.78s/ url]

Dl Size...: 100%|██████████| 827/827 [02:16<00:00,  7.60 MiB/s]


Extraction completed...:   0%|          | 0/1857 [02:16<?, ? file/s]
Dl Completed...: 100%|██████████| 1/1 [02:16<00:00, 134.78s/ url]

Dl Size...: 100%|██████████| 827/827 [02:16<00:00,  7.60 MiB/s]


Extraction completed...:   0%|          | 0/1858 [02:16<?, ? file/s]
Dl Completed...: 100%|██████████| 1/1 [02:16<00:00, 134.78s/ url]

Dl Size...: 100%|██████████| 827/827 [02:16<00:00,  7.60 MiB/s]


Extraction completed...:   0%|          | 0/1859 [02:16<?, ? file/s]
Dl Completed...: 100%|██████████| 1/1 [02:16<00:00, 134.78s/ url]

Dl Size...: 100%|██████████| 827/827 [02:16<00:00,  7.60 MiB/s]


Extraction completed...:   0%|          | 0/1860 [02:16<?, ? file/s]
Dl Completed...: 100%|██████████| 1/1 [02:16<00:00, 134.78s/ url]

Dl Size...: 100%|██████████| 827/827 [02:16<00:00,  7.60 MiB/s]


Extraction completed...:   0%|          | 0/1861 [02:16<?, ? file/s]
Dl Completed...: 100%|██████████| 1/1 [02:16<00:00, 134.78s/ url]

Dl Size...: 100%|██████████| 827/827 [02:16<00:00,  7.60 MiB/s]


Extraction completed...:   0%|          | 0/1862 [02:16<?, ? file/s]
Dl Completed...: 100%|██████████| 1/1 [02:16<00:00, 134.78s/ url]

Dl Size...: 100%|██████████| 827/827 [02:16<00:00,  7.60 MiB/s]


Extraction completed...:   0%|          | 0/1863 [02:16<?, ? file/s]
Dl Completed...: 100%|██████████| 1/1 [02:16<00:00, 134.78s/ url]

Dl Size...: 100%|██████████| 827/827 [02:16<00:00,  7.60 MiB/s]


Extraction completed...:   0%|          | 0/1864 [02:16<?, ? file/s]
Dl Completed...: 100%|██████████| 1/1 [02:16<00:00, 134.78s/ url]

Dl Size...: 100%|██████████| 827/827 [02:16<00:00,  7.60 MiB/s]


Extraction completed...:   0%|          | 0/1865 [02:16<?, ? file/s]
Dl Completed...: 100%|██████████| 1/1 [02:16<00:00, 134.78s/ url]

Dl Size...: 100%|██████████| 827/827 [02:16<00:00,  7.60 MiB/s]


Extraction completed...:   0%|          | 0/1866 [02:16<?, ? file/s]
Dl Completed...: 100%|██████████| 1/1 [02:16<00:00, 134.78s/ url]

Dl Size...: 100%|██████████| 827/827 [02:16<00:00,  7.60 MiB/s]


Extraction completed...:   0%|          | 0/1867 [02:16<?, ? file/s]
Dl Completed...: 100%|██████████| 1/1 [02:16<00:00, 134.78s/ url]

Dl Size...: 100%|██████████| 827/827 [02:16<00:00,  7.60 MiB/s]


Extraction completed...:   0%|          | 0/1868 [02:16<?, ? file/s]
Dl Completed...: 100%|██████████| 1/1 [02:16<00:00, 134.78s/ url]

Dl Size...: 100%|██████████| 827/827 [02:16<00:00,  7.60 MiB/s]


Extraction completed...:   0%|          | 0/1869 [02:16<?, ? file/s]
Dl Completed...: 100%|██████████| 1/1 [02:16<00:00, 134.78s/ url]

Dl Size...: 100%|██████████| 827/827 [02:16<00:00,  7.60 MiB/s]


Extraction completed...:   0%|          | 0/1870 [02:16<?, ? file/s]
Dl Completed...: 100%|██████████| 1/1 [02:16<00:00, 134.78s/ url]

Dl Size...: 100%|██████████| 827/827 [02:16<00:00,  7.60 MiB/s]


Extraction completed...:   0%|          | 0/1871 [02:16<?, ? file/s]
Dl Completed...: 100%|██████████| 1/1 [02:16<00:00, 134.78s/ url]

Dl Size...: 100%|██████████| 827/827 [02:16<00:00,  7.60 MiB/s]


Extraction completed...:   0%|          | 0/1872 [02:16<?, ? file/s]
Dl Completed...: 100%|██████████| 1/1 [02:16<00:00, 134.78s/ url]

Dl Size...: 100%|██████████| 827/827 [02:16<00:00,  7.60 MiB/s]


Extraction completed...:   0%|          | 0/1873 [02:16<?, ? file/s]
Dl Completed...: 100%|██████████| 1/1 [02:16<00:00, 134.78s/ url]

Dl Size...: 100%|██████████| 827/827 [02:16<00:00,  7.60 MiB/s]


Extraction completed...:   0%|          | 0/1874 [02:16<?, ? file/s]
Dl Completed...: 100%|██████████| 1/1 [02:16<00:00, 134.78s/ url]

Dl Size...: 100%|██████████| 827/827 [02:16<00:00,  7.60 MiB/s]


Extraction completed...:   0%|          | 0/1875 [02:16<?, ? file/s]
Dl Completed...: 100%|██████████| 1/1 [02:16<00:00, 134.78s/ url]

Dl Size...: 100%|██████████| 827/827 [02:16<00:00,  7.60 MiB/s]


Extraction completed...:   0%|          | 0/1876 [02:16<?, ? file/s]
Dl Completed...: 100%|██████████| 1/1 [02:16<00:00, 134.78s/ url]

Dl Size...: 100%|██████████| 827/827 [02:16<00:00,  7.60 MiB/s]


Extraction completed...:   0%|          | 0/1877 [02:16<?, ? file/s]
Dl Completed...: 100%|██████████| 1/1 [02:16<00:00, 134.78s/ url]

Dl Size...: 100%|██████████| 827/827 [02:16<00:00,  7.60 MiB/s]


Extraction completed...:   0%|          | 0/1878 [02:16<?, ? file/s]
Dl Completed...: 100%|██████████| 1/1 [02:16<00:00, 134.78s/ url]

Dl Size...: 100%|██████████| 827/827 [02:16<00:00,  7.60 MiB/s]


Extraction completed...:   0%|          | 0/1879 [02:16<?, ? file/s]
Dl Completed...: 100%|██████████| 1/1 [02:16<00:00, 134.78s/ url]

Dl Size...: 100%|██████████| 827/827 [02:16<00:00,  7.60 MiB/s]


Extraction completed...:   0%|          | 0/1880 [02:16<?, ? file/s]
Dl Completed...: 100%|██████████| 1/1 [02:16<00:00, 134.78s/ url]

Dl Size...: 100%|██████████| 827/827 [02:16<00:00,  7.60 MiB/s]


Extraction completed...:   0%|          | 0/1881 [02:16<?, ? file/s]
Dl Completed...: 100%|██████████| 1/1 [02:16<00:00, 134.78s/ url]

Dl Size...: 100%|██████████| 827/827 [02:16<00:00,  7.60 MiB/s]


Extraction completed...:   0%|          | 0/1882 [02:16<?, ? file/s]
Dl Completed...: 100%|██████████| 1/1 [02:16<00:00, 134.78s/ url]

Dl Size...: 100%|██████████| 827/827 [02:16<00:00,  7.60 MiB/s]


Extraction completed...:   0%|          | 0/1883 [02:16<?, ? file/s]
Dl Completed...: 100%|██████████| 1/1 [02:16<00:00, 134.78s/ url]

Dl Size...: 100%|██████████| 827/827 [02:16<00:00,  7.60 MiB/s]


Extraction completed...:   0%|          | 0/1884 [02:16<?, ? file/s]
Dl Completed...: 100%|██████████| 1/1 [02:16<00:00, 134.78s/ url]

Dl Size...: 100%|██████████| 827/827 [02:16<00:00,  7.60 MiB/s]


Extraction completed...:   0%|          | 0/1885 [02:16<?, ? file/s]
Dl Completed...: 100%|██████████| 1/1 [02:16<00:00, 134.78s/ url]

Dl Size...: 100%|██████████| 827/827 [02:16<00:00,  7.60 MiB/s]


Extraction completed...:   0%|          | 0/1886 [02:16<?, ? file/s]
Dl Completed...: 100%|██████████| 1/1 [02:16<00:00, 134.78s/ url]

Dl Size...: 100%|██████████| 827/827 [02:16<00:00,  7.60 MiB/s]


Extraction completed...:   0%|          | 0/1887 [02:16<?, ? file/s]
Dl Completed...: 100%|██████████| 1/1 [02:16<00:00, 134.78s/ url]

Dl Size...: 100%|██████████| 827/827 [02:16<00:00,  7.60 MiB/s]


Extraction completed...:   0%|          | 0/1888 [02:16<?, ? file/s]
Dl Completed...: 100%|██████████| 1/1 [02:16<00:00, 134.78s/ url]

Dl Size...: 100%|██████████| 827/827 [02:16<00:00,  7.60 MiB/s]


Extraction completed...:   0%|          | 0/1889 [02:16<?, ? file/s]
Dl Completed...: 100%|██████████| 1/1 [02:16<00:00, 134.78s/ url]

Dl Size...: 100%|██████████| 827/827 [02:16<00:00,  7.60 MiB/s]


Extraction completed...:   0%|          | 0/1890 [02:16<?, ? file/s]
Dl Completed...: 100%|██████████| 1/1 [02:16<00:00, 134.78s/ url]

Dl Size...: 100%|██████████| 827/827 [02:16<00:00,  7.60 MiB/s]


Extraction completed...:   0%|          | 0/1891 [02:16<?, ? file/s]
Dl Completed...: 100%|██████████| 1/1 [02:16<00:00, 134.78s/ url]

Dl Size...: 100%|██████████| 827/827 [02:16<00:00,  7.60 MiB/s]


Extraction completed...:   0%|          | 0/1892 [02:16<?, ? file/s]
Dl Completed...: 100%|██████████| 1/1 [02:16<00:00, 134.78s/ url]

Dl Size...: 100%|██████████| 827/827 [02:16<00:00,  7.60 MiB/s]


Extraction completed...:   0%|          | 0/1893 [02:16<?, ? file/s]
Dl Completed...: 100%|██████████| 1/1 [02:16<00:00, 134.78s/ url]

Dl Size...: 100%|██████████| 827/827 [02:16<00:00,  7.60 MiB/s]


Extraction completed...:   0%|          | 0/1894 [02:16<?, ? file/s]
Dl Completed...: 100%|██████████| 1/1 [02:16<00:00, 134.78s/ url]

Dl Size...: 100%|██████████| 827/827 [02:16<00:00,  7.60 MiB/s]


Extraction completed...:   0%|          | 0/1895 [02:16<?, ? file/s]
Dl Completed...: 100%|██████████| 1/1 [02:16<00:00, 134.78s/ url]

Dl Size...: 100%|██████████| 827/827 [02:16<00:00,  7.60 MiB/s]


Extraction completed...:   0%|          | 0/1896 [02:16<?, ? file/s]
Dl Completed...: 100%|██████████| 1/1 [02:16<00:00, 134.78s/ url]

Dl Size...: 100%|██████████| 827/827 [02:16<00:00,  7.60 MiB/s]


Extraction completed...:   0%|          | 0/1897 [02:16<?, ? file/s]
Dl Completed...: 100%|██████████| 1/1 [02:16<00:00, 134.78s/ url]

Dl Size...: 100%|██████████| 827/827 [02:16<00:00,  7.60 MiB/s]


Extraction completed...:   0%|          | 0/1898 [02:16<?, ? file/s]
Dl Completed...: 100%|██████████| 1/1 [02:16<00:00, 134.78s/ url]

Dl Size...: 100%|██████████| 827/827 [02:16<00:00,  7.60 MiB/s]


Extraction completed...:   0%|          | 0/1899 [02:16<?, ? file/s]
Dl Completed...: 100%|██████████| 1/1 [02:16<00:00, 134.78s/ url]

Dl Size...: 100%|██████████| 827/827 [02:16<00:00,  7.60 MiB/s]


Extraction completed...:   0%|          | 0/1900 [02:16<?, ? file/s]
Dl Completed...: 100%|██████████| 1/1 [02:16<00:00, 134.78s/ url]

Dl Size...: 100%|██████████| 827/827 [02:16<00:00,  7.60 MiB/s]


Extraction completed...:   0%|          | 0/1901 [02:16<?, ? file/s]
Dl Completed...: 100%|██████████| 1/1 [02:16<00:00, 134.78s/ url]

Dl Size...: 100%|██████████| 827/827 [02:16<00:00,  7.60 MiB/s]


Extraction completed...:   0%|          | 0/1902 [02:16<?, ? file/s]
Dl Completed...: 100%|██████████| 1/1 [02:16<00:00, 134.78s/ url]

Dl Size...: 100%|██████████| 827/827 [02:16<00:00,  7.60 MiB/s]


Extraction completed...:   0%|          | 0/1903 [02:16<?, ? file/s]
Dl Completed...: 100%|██████████| 1/1 [02:16<00:00, 134.78s/ url]

Dl Size...: 100%|██████████| 827/827 [02:16<00:00,  7.60 MiB/s]


Extraction completed...:   0%|          | 0/1904 [02:16<?, ? file/s]
Dl Completed...: 100%|██████████| 1/1 [02:16<00:00, 134.78s/ url]

Dl Size...: 100%|██████████| 827/827 [02:16<00:00,  7.60 MiB/s]


Extraction completed...:   0%|          | 0/1905 [02:16<?, ? file/s]
Dl Completed...: 100%|██████████| 1/1 [02:16<00:00, 134.78s/ url]

Dl Size...: 100%|██████████| 827/827 [02:16<00:00,  7.60 MiB/s]


Extraction completed...:   0%|          | 0/1906 [02:16<?, ? file/s]
Dl Completed...: 100%|██████████| 1/1 [02:16<00:00, 134.78s/ url]

Dl Size...: 100%|██████████| 827/827 [02:16<00:00,  7.60 MiB/s]


Extraction completed...:   0%|          | 0/1907 [02:16<?, ? file/s]
Dl Completed...: 100%|██████████| 1/1 [02:16<00:00, 134.78s/ url]

Dl Size...: 100%|██████████| 827/827 [02:16<00:00,  7.60 MiB/s]


Extraction completed...:   0%|          | 0/1908 [02:16<?, ? file/s]
Dl Completed...: 100%|██████████| 1/1 [02:16<00:00, 134.78s/ url]

Dl Size...: 100%|██████████| 827/827 [02:16<00:00,  7.60 MiB/s]


Extraction completed...:   0%|          | 0/1909 [02:16<?, ? file/s]
Dl Completed...: 100%|██████████| 1/1 [02:16<00:00, 134.78s/ url]

Dl Size...: 100%|██████████| 827/827 [02:16<00:00,  7.60 MiB/s]


Extraction completed...:   0%|          | 0/1910 [02:16<?, ? file/s]
Dl Completed...: 100%|██████████| 1/1 [02:16<00:00, 134.78s/ url]

Dl Size...: 100%|██████████| 827/827 [02:16<00:00,  7.60 MiB/s]


Extraction completed...:   0%|          | 0/1911 [02:16<?, ? file/s]
Dl Completed...: 100%|██████████| 1/1 [02:16<00:00, 134.78s/ url]

Dl Size...: 100%|██████████| 827/827 [02:16<00:00,  7.60 MiB/s]


Extraction completed...:   0%|          | 0/1912 [02:16<?, ? file/s]
Dl Completed...: 100%|██████████| 1/1 [02:16<00:00, 134.78s/ url]

Dl Size...: 100%|██████████| 827/827 [02:16<00:00,  7.60 MiB/s]


Extraction completed...:   0%|          | 0/1913 [02:16<?, ? file/s]
Dl Completed...: 100%|██████████| 1/1 [02:16<00:00, 134.78s/ url]

Dl Size...: 100%|██████████| 827/827 [02:16<00:00,  7.60 MiB/s]


Extraction completed...:   0%|          | 0/1914 [02:16<?, ? file/s]
Dl Completed...: 100%|██████████| 1/1 [02:16<00:00, 134.78s/ url]

Dl Size...: 100%|██████████| 827/827 [02:16<00:00,  7.60 MiB/s]


Extraction completed...:   0%|          | 0/1915 [02:16<?, ? file/s]
Dl Completed...: 100%|██████████| 1/1 [02:16<00:00, 134.78s/ url]

Dl Size...: 100%|██████████| 827/827 [02:16<00:00,  7.60 MiB/s]


Extraction completed...:   0%|          | 0/1916 [02:16<?, ? file/s]
Dl Completed...: 100%|██████████| 1/1 [02:16<00:00, 134.78s/ url]

Dl Size...: 100%|██████████| 827/827 [02:16<00:00,  7.60 MiB/s]


Extraction completed...:   0%|          | 0/1917 [02:16<?, ? file/s]
Dl Completed...: 100%|██████████| 1/1 [02:16<00:00, 134.78s/ url]

Dl Size...: 100%|██████████| 827/827 [02:16<00:00,  7.60 MiB/s]


Extraction completed...:   0%|          | 0/1918 [02:16<?, ? file/s]
Dl Completed...: 100%|██████████| 1/1 [02:16<00:00, 134.78s/ url]

Dl Size...: 100%|██████████| 827/827 [02:16<00:00,  7.60 MiB/s]


Extraction completed...:   0%|          | 0/1919 [02:16<?, ? file/s]
Dl Completed...: 100%|██████████| 1/1 [02:16<00:00, 134.78s/ url]

Dl Size...: 100%|██████████| 827/827 [02:16<00:00,  7.60 MiB/s]


Extraction completed...:   0%|          | 0/1920 [02:16<?, ? file/s]
Dl Completed...: 100%|██████████| 1/1 [02:16<00:00, 134.78s/ url]

Dl Size...: 100%|██████████| 827/827 [02:16<00:00,  7.60 MiB/s]


Extraction completed...:   0%|          | 0/1921 [02:16<?, ? file/s]
Dl Completed...: 100%|██████████| 1/1 [02:16<00:00, 134.78s/ url]

Dl Size...: 100%|██████████| 827/827 [02:16<00:00,  7.60 MiB/s]


Extraction completed...:   0%|          | 0/1922 [02:16<?, ? file/s]
Dl Completed...: 100%|██████████| 1/1 [02:16<00:00, 134.78s/ url]

Dl Size...: 100%|██████████| 827/827 [02:16<00:00,  7.60 MiB/s]


Extraction completed...:   0%|          | 0/1923 [02:16<?, ? file/s]
Dl Completed...: 100%|██████████| 1/1 [02:16<00:00, 134.78s/ url]

Dl Size...: 100%|██████████| 827/827 [02:16<00:00,  7.60 MiB/s]


Extraction completed...:   0%|          | 0/1924 [02:16<?, ? file/s]
Dl Completed...: 100%|██████████| 1/1 [02:16<00:00, 134.78s/ url]

Dl Size...: 100%|██████████| 827/827 [02:16<00:00,  7.60 MiB/s]


Extraction completed...:   0%|          | 0/1925 [02:16<?, ? file/s]
Dl Completed...: 100%|██████████| 1/1 [02:16<00:00, 134.78s/ url]

Dl Size...: 100%|██████████| 827/827 [02:16<00:00,  7.60 MiB/s]


Extraction completed...:   0%|          | 0/1926 [02:16<?, ? file/s]
Dl Completed...: 100%|██████████| 1/1 [02:16<00:00, 134.78s/ url]

Dl Size...: 100%|██████████| 827/827 [02:16<00:00,  7.60 MiB/s]


Extraction completed...:   0%|          | 0/1927 [02:16<?, ? file/s]
Dl Completed...: 100%|██████████| 1/1 [02:16<00:00, 134.78s/ url]

Dl Size...: 100%|██████████| 827/827 [02:16<00:00,  7.60 MiB/s]


Extraction completed...:   0%|          | 0/1928 [02:16<?, ? file/s]
Dl Completed...: 100%|██████████| 1/1 [02:16<00:00, 134.78s/ url]

Dl Size...: 100%|██████████| 827/827 [02:16<00:00,  7.60 MiB/s]


Extraction completed...:   0%|          | 0/1929 [02:16<?, ? file/s]
Dl Completed...: 100%|██████████| 1/1 [02:16<00:00, 134.78s/ url]

Dl Size...: 100%|██████████| 827/827 [02:16<00:00,  7.60 MiB/s]


Extraction completed...:   0%|          | 0/1930 [02:16<?, ? file/s]
Dl Completed...: 100%|██████████| 1/1 [02:16<00:00, 134.78s/ url]

Dl Size...: 100%|██████████| 827/827 [02:16<00:00,  7.60 MiB/s]


Extraction completed...:   0%|          | 0/1931 [02:16<?, ? file/s]
Dl Completed...: 100%|██████████| 1/1 [02:16<00:00, 134.78s/ url]

Dl Size...: 100%|██████████| 827/827 [02:16<00:00,  7.60 MiB/s]


Extraction completed...:   0%|          | 0/1932 [02:16<?, ? file/s]
Dl Completed...: 100%|██████████| 1/1 [02:16<00:00, 134.78s/ url]

Dl Size...: 100%|██████████| 827/827 [02:16<00:00,  7.60 MiB/s]


Extraction completed...:   0%|          | 0/1933 [02:16<?, ? file/s]
Dl Completed...: 100%|██████████| 1/1 [02:16<00:00, 134.78s/ url]

Dl Size...: 100%|██████████| 827/827 [02:16<00:00,  7.60 MiB/s]


Extraction completed...:   0%|          | 0/1934 [02:16<?, ? file/s]
Dl Completed...: 100%|██████████| 1/1 [02:16<00:00, 134.78s/ url]

Dl Size...: 100%|██████████| 827/827 [02:16<00:00,  7.60 MiB/s]


Extraction completed...:   0%|          | 0/1935 [02:16<?, ? file/s]
Dl Completed...: 100%|██████████| 1/1 [02:16<00:00, 134.78s/ url]

Dl Size...: 100%|██████████| 827/827 [02:16<00:00,  7.60 MiB/s]


Extraction completed...:   0%|          | 0/1936 [02:16<?, ? file/s]
Dl Completed...: 100%|██████████| 1/1 [02:16<00:00, 134.78s/ url]

Dl Size...: 100%|██████████| 827/827 [02:16<00:00,  7.60 MiB/s]


Extraction completed...:   0%|          | 0/1937 [02:16<?, ? file/s]
Dl Completed...: 100%|██████████| 1/1 [02:16<00:00, 134.78s/ url]

Dl Size...: 100%|██████████| 827/827 [02:16<00:00,  7.60 MiB/s]


Extraction completed...:   0%|          | 0/1938 [02:16<?, ? file/s]
Dl Completed...: 100%|██████████| 1/1 [02:16<00:00, 134.78s/ url]

Dl Size...: 100%|██████████| 827/827 [02:16<00:00,  7.60 MiB/s]


Extraction completed...:   0%|          | 0/1939 [02:16<?, ? file/s]
Dl Completed...: 100%|██████████| 1/1 [02:16<00:00, 134.78s/ url]

Dl Size...: 100%|██████████| 827/827 [02:16<00:00,  7.60 MiB/s]


Extraction completed...:   0%|          | 0/1940 [02:16<?, ? file/s]
Dl Completed...: 100%|██████████| 1/1 [02:16<00:00, 134.78s/ url]

Dl Size...: 100%|██████████| 827/827 [02:16<00:00,  7.60 MiB/s]


Extraction completed...:   0%|          | 0/1941 [02:16<?, ? file/s]
Dl Completed...: 100%|██████████| 1/1 [02:16<00:00, 134.78s/ url]

Dl Size...: 100%|██████████| 827/827 [02:16<00:00,  7.60 MiB/s]


Extraction completed...:   0%|          | 0/1942 [02:16<?, ? file/s]
Dl Completed...: 100%|██████████| 1/1 [02:16<00:00, 134.78s/ url]

Dl Size...: 100%|██████████| 827/827 [02:16<00:00,  7.60 MiB/s]


Extraction completed...:   0%|          | 0/1943 [02:16<?, ? file/s]
Dl Completed...: 100%|██████████| 1/1 [02:16<00:00, 134.78s/ url]

Dl Size...: 100%|██████████| 827/827 [02:16<00:00,  7.60 MiB/s]


Extraction completed...:   0%|          | 0/1944 [02:16<?, ? file/s]
Dl Completed...: 100%|██████████| 1/1 [02:16<00:00, 134.78s/ url]

Dl Size...: 100%|██████████| 827/827 [02:16<00:00,  7.60 MiB/s]


Extraction completed...:   0%|          | 0/1945 [02:16<?, ? file/s]
Dl Completed...: 100%|██████████| 1/1 [02:16<00:00, 134.78s/ url]

Dl Size...: 100%|██████████| 827/827 [02:16<00:00,  7.60 MiB/s]


Extraction completed...:   0%|          | 0/1946 [02:16<?, ? file/s]
Dl Completed...: 100%|██████████| 1/1 [02:16<00:00, 134.78s/ url]

Dl Size...: 100%|██████████| 827/827 [02:16<00:00,  7.60 MiB/s]


Extraction completed...:   0%|          | 0/1947 [02:16<?, ? file/s]
Dl Completed...: 100%|██████████| 1/1 [02:16<00:00, 134.78s/ url]

Dl Size...: 100%|██████████| 827/827 [02:16<00:00,  7.60 MiB/s]


Extraction completed...:   0%|          | 0/1948 [02:16<?, ? file/s]
Dl Completed...: 100%|██████████| 1/1 [02:16<00:00, 134.78s/ url]

Dl Size...: 100%|██████████| 827/827 [02:16<00:00,  7.60 MiB/s]


Extraction completed...:   0%|          | 0/1949 [02:16<?, ? file/s]
Dl Completed...: 100%|██████████| 1/1 [02:16<00:00, 134.78s/ url]

Dl Size...: 100%|██████████| 827/827 [02:16<00:00,  7.60 MiB/s]


Extraction completed...:   0%|          | 0/1950 [02:16<?, ? file/s]
Dl Completed...: 100%|██████████| 1/1 [02:16<00:00, 134.78s/ url]

Dl Size...: 100%|██████████| 827/827 [02:16<00:00,  7.60 MiB/s]


Extraction completed...:   0%|          | 0/1951 [02:16<?, ? file/s]
Dl Completed...: 100%|██████████| 1/1 [02:16<00:00, 134.78s/ url]

Dl Size...: 100%|██████████| 827/827 [02:16<00:00,  7.60 MiB/s]


Extraction completed...:   0%|          | 0/1952 [02:16<?, ? file/s]
Dl Completed...: 100%|██████████| 1/1 [02:16<00:00, 134.78s/ url]

Dl Size...: 100%|██████████| 827/827 [02:16<00:00,  7.60 MiB/s]


Extraction completed...:   0%|          | 0/1953 [02:16<?, ? file/s]
Dl Completed...: 100%|██████████| 1/1 [02:16<00:00, 134.78s/ url]

Dl Size...: 100%|██████████| 827/827 [02:16<00:00,  7.60 MiB/s]


Extraction completed...:   0%|          | 0/1954 [02:16<?, ? file/s]
Dl Completed...: 100%|██████████| 1/1 [02:16<00:00, 134.78s/ url]

Dl Size...: 100%|██████████| 827/827 [02:16<00:00,  7.60 MiB/s]


Extraction completed...:   0%|          | 0/1955 [02:16<?, ? file/s]
Dl Completed...: 100%|██████████| 1/1 [02:16<00:00, 134.78s/ url]

Dl Size...: 100%|██████████| 827/827 [02:16<00:00,  7.60 MiB/s]


Extraction completed...:   0%|          | 0/1956 [02:16<?, ? file/s]
Dl Completed...: 100%|██████████| 1/1 [02:16<00:00, 134.78s/ url]

Dl Size...: 100%|██████████| 827/827 [02:16<00:00,  7.60 MiB/s]


Extraction completed...:   0%|          | 0/1957 [02:16<?, ? file/s]
Dl Completed...: 100%|██████████| 1/1 [02:16<00:00, 134.78s/ url]

Dl Size...: 100%|██████████| 827/827 [02:16<00:00,  7.60 MiB/s]


Extraction completed...:   0%|          | 0/1958 [02:16<?, ? file/s]
Dl Completed...: 100%|██████████| 1/1 [02:16<00:00, 134.78s/ url]

Dl Size...: 100%|██████████| 827/827 [02:16<00:00,  7.60 MiB/s]


Extraction completed...:   0%|          | 0/1959 [02:16<?, ? file/s]
Dl Completed...: 100%|██████████| 1/1 [02:16<00:00, 134.78s/ url]

Dl Size...: 100%|██████████| 827/827 [02:16<00:00,  7.60 MiB/s]


Extraction completed...:   0%|          | 0/1960 [02:16<?, ? file/s]
Dl Completed...: 100%|██████████| 1/1 [02:16<00:00, 134.78s/ url]

Dl Size...: 100%|██████████| 827/827 [02:16<00:00,  7.60 MiB/s]


Extraction completed...:   0%|          | 0/1961 [02:16<?, ? file/s]
Dl Completed...: 100%|██████████| 1/1 [02:16<00:00, 134.78s/ url]

Dl Size...: 100%|██████████| 827/827 [02:16<00:00,  7.60 MiB/s]


Extraction completed...:   0%|          | 0/1962 [02:16<?, ? file/s]
Dl Completed...: 100%|██████████| 1/1 [02:16<00:00, 134.78s/ url]

Dl Size...: 100%|██████████| 827/827 [02:16<00:00,  7.60 MiB/s]


Extraction completed...:   0%|          | 0/1963 [02:16<?, ? file/s]
Dl Completed...: 100%|██████████| 1/1 [02:16<00:00, 134.78s/ url]

Dl Size...: 100%|██████████| 827/827 [02:16<00:00,  7.60 MiB/s]


Extraction completed...:   0%|          | 0/1964 [02:16<?, ? file/s]
Dl Completed...: 100%|██████████| 1/1 [02:16<00:00, 134.78s/ url]

Dl Size...: 100%|██████████| 827/827 [02:16<00:00,  7.60 MiB/s]


Extraction completed...:   0%|          | 0/1965 [02:16<?, ? file/s]
Dl Completed...: 100%|██████████| 1/1 [02:16<00:00, 134.78s/ url]

Dl Size...: 100%|██████████| 827/827 [02:16<00:00,  7.60 MiB/s]


Extraction completed...:   0%|          | 0/1966 [02:16<?, ? file/s]
Dl Completed...: 100%|██████████| 1/1 [02:16<00:00, 134.78s/ url]

Dl Size...: 100%|██████████| 827/827 [02:16<00:00,  7.60 MiB/s]


Extraction completed...:   0%|          | 0/1967 [02:16<?, ? file/s]
Dl Completed...: 100%|██████████| 1/1 [02:16<00:00, 134.78s/ url]

Dl Size...: 100%|██████████| 827/827 [02:16<00:00,  7.60 MiB/s]


Extraction completed...:   0%|          | 0/1968 [02:16<?, ? file/s]
Dl Completed...: 100%|██████████| 1/1 [02:16<00:00, 134.78s/ url]

Dl Size...: 100%|██████████| 827/827 [02:16<00:00,  7.60 MiB/s]


Extraction completed...:   0%|          | 0/1969 [02:16<?, ? file/s]
Dl Completed...: 100%|██████████| 1/1 [02:16<00:00, 134.78s/ url]

Dl Size...: 100%|██████████| 827/827 [02:16<00:00,  7.60 MiB/s]


Extraction completed...:   0%|          | 0/1970 [02:16<?, ? file/s]
Dl Completed...: 100%|██████████| 1/1 [02:16<00:00, 134.78s/ url]

Dl Size...: 100%|██████████| 827/827 [02:16<00:00,  7.60 MiB/s]


Extraction completed...:   0%|          | 0/1971 [02:16<?, ? file/s]
Dl Completed...: 100%|██████████| 1/1 [02:16<00:00, 134.78s/ url]

Dl Size...: 100%|██████████| 827/827 [02:16<00:00,  7.60 MiB/s]


Extraction completed...:   0%|          | 0/1972 [02:16<?, ? file/s]
Dl Completed...: 100%|██████████| 1/1 [02:16<00:00, 134.78s/ url]

Dl Size...: 100%|██████████| 827/827 [02:16<00:00,  7.60 MiB/s]


Extraction completed...:   0%|          | 0/1973 [02:16<?, ? file/s]
Dl Completed...: 100%|██████████| 1/1 [02:16<00:00, 134.78s/ url]

Dl Size...: 100%|██████████| 827/827 [02:16<00:00,  7.60 MiB/s]


Extraction completed...:   0%|          | 0/1974 [02:16<?, ? file/s]
Dl Completed...: 100%|██████████| 1/1 [02:16<00:00, 134.78s/ url]

Dl Size...: 100%|██████████| 827/827 [02:16<00:00,  7.60 MiB/s]


Extraction completed...:   0%|          | 0/1975 [02:16<?, ? file/s]
Dl Completed...: 100%|██████████| 1/1 [02:16<00:00, 134.78s/ url]

Dl Size...: 100%|██████████| 827/827 [02:16<00:00,  7.60 MiB/s]


Extraction completed...:   0%|          | 0/1976 [02:16<?, ? file/s]
Dl Completed...: 100%|██████████| 1/1 [02:16<00:00, 134.78s/ url]

Dl Size...: 100%|██████████| 827/827 [02:16<00:00,  7.60 MiB/s]


Extraction completed...:   0%|          | 0/1977 [02:16<?, ? file/s]
Dl Completed...: 100%|██████████| 1/1 [02:16<00:00, 134.78s/ url]

Dl Size...: 100%|██████████| 827/827 [02:16<00:00,  7.60 MiB/s]


Extraction completed...:   0%|          | 0/1978 [02:16<?, ? file/s]
Dl Completed...: 100%|██████████| 1/1 [02:16<00:00, 134.78s/ url]

Dl Size...: 100%|██████████| 827/827 [02:16<00:00,  7.60 MiB/s]


Extraction completed...:   0%|          | 0/1979 [02:16<?, ? file/s]
Dl Completed...: 100%|██████████| 1/1 [02:16<00:00, 134.78s/ url]

Dl Size...: 100%|██████████| 827/827 [02:16<00:00,  7.60 MiB/s]


Extraction completed...:   0%|          | 0/1980 [02:16<?, ? file/s]
Dl Completed...: 100%|██████████| 1/1 [02:16<00:00, 134.78s/ url]

Dl Size...: 100%|██████████| 827/827 [02:16<00:00,  7.60 MiB/s]


Extraction completed...:   0%|          | 0/1981 [02:16<?, ? file/s]
Dl Completed...: 100%|██████████| 1/1 [02:16<00:00, 134.78s/ url]

Dl Size...: 100%|██████████| 827/827 [02:16<00:00,  7.60 MiB/s]


Extraction completed...:   0%|          | 0/1982 [02:16<?, ? file/s]
Dl Completed...: 100%|██████████| 1/1 [02:16<00:00, 134.78s/ url]

Dl Size...: 100%|██████████| 827/827 [02:16<00:00,  7.60 MiB/s]


Extraction completed...:   0%|          | 0/1983 [02:16<?, ? file/s]
Dl Completed...: 100%|██████████| 1/1 [02:16<00:00, 134.78s/ url]

Dl Size...: 100%|██████████| 827/827 [02:16<00:00,  7.60 MiB/s]


Extraction completed...:   0%|          | 0/1984 [02:16<?, ? file/s]
Dl Completed...: 100%|██████████| 1/1 [02:16<00:00, 134.78s/ url]

Dl Size...: 100%|██████████| 827/827 [02:16<00:00,  7.60 MiB/s]


Extraction completed...:   0%|          | 0/1985 [02:16<?, ? file/s]
Dl Completed...: 100%|██████████| 1/1 [02:16<00:00, 134.78s/ url]

Dl Size...: 100%|██████████| 827/827 [02:16<00:00,  7.60 MiB/s]


Extraction completed...:   0%|          | 0/1986 [02:16<?, ? file/s]
Dl Completed...: 100%|██████████| 1/1 [02:16<00:00, 134.78s/ url]

Dl Size...: 100%|██████████| 827/827 [02:16<00:00,  7.60 MiB/s]


Extraction completed...:   0%|          | 0/1987 [02:16<?, ? file/s]
Dl Completed...: 100%|██████████| 1/1 [02:16<00:00, 134.78s/ url]

Dl Size...: 100%|██████████| 827/827 [02:16<00:00,  7.60 MiB/s]


Extraction completed...:   0%|          | 0/1988 [02:16<?, ? file/s]
Dl Completed...: 100%|██████████| 1/1 [02:16<00:00, 134.78s/ url]

Dl Size...: 100%|██████████| 827/827 [02:16<00:00,  7.60 MiB/s]


Extraction completed...:   0%|          | 0/1989 [02:16<?, ? file/s]
Dl Completed...: 100%|██████████| 1/1 [02:16<00:00, 134.78s/ url]

Dl Size...: 100%|██████████| 827/827 [02:16<00:00,  7.60 MiB/s]


Extraction completed...:   0%|          | 0/1990 [02:16<?, ? file/s]
Dl Completed...: 100%|██████████| 1/1 [02:16<00:00, 134.78s/ url]

Dl Size...: 100%|██████████| 827/827 [02:16<00:00,  7.60 MiB/s]


Extraction completed...:   0%|          | 0/1991 [02:16<?, ? file/s]
Dl Completed...: 100%|██████████| 1/1 [02:16<00:00, 134.78s/ url]

Dl Size...: 100%|██████████| 827/827 [02:16<00:00,  7.60 MiB/s]


Extraction completed...:   0%|          | 0/1992 [02:16<?, ? file/s]
Dl Completed...: 100%|██████████| 1/1 [02:16<00:00, 134.78s/ url]

Dl Size...: 100%|██████████| 827/827 [02:16<00:00,  7.60 MiB/s]


Extraction completed...:   0%|          | 0/1993 [02:16<?, ? file/s]
Dl Completed...: 100%|██████████| 1/1 [02:16<00:00, 134.78s/ url]

Dl Size...: 100%|██████████| 827/827 [02:16<00:00,  7.60 MiB/s]


Extraction completed...:   0%|          | 0/1994 [02:16<?, ? file/s]
Dl Completed...: 100%|██████████| 1/1 [02:16<00:00, 134.78s/ url]

Dl Size...: 100%|██████████| 827/827 [02:16<00:00,  7.60 MiB/s]


Extraction completed...:   0%|          | 0/1995 [02:16<?, ? file/s]
Dl Completed...: 100%|██████████| 1/1 [02:16<00:00, 134.78s/ url]

Dl Size...: 100%|██████████| 827/827 [02:16<00:00,  7.60 MiB/s]


Extraction completed...:   0%|          | 0/1996 [02:16<?, ? file/s]
Dl Completed...: 100%|██████████| 1/1 [02:16<00:00, 134.78s/ url]

Dl Size...: 100%|██████████| 827/827 [02:16<00:00,  7.60 MiB/s]


Extraction completed...:   0%|          | 0/1997 [02:16<?, ? file/s]
Dl Completed...: 100%|██████████| 1/1 [02:16<00:00, 134.78s/ url]

Dl Size...: 100%|██████████| 827/827 [02:16<00:00,  7.60 MiB/s]


Extraction completed...:   0%|          | 0/1998 [02:16<?, ? file/s]
Dl Completed...: 100%|██████████| 1/1 [02:16<00:00, 134.78s/ url]

Dl Size...: 100%|██████████| 827/827 [02:16<00:00,  7.60 MiB/s]


Extraction completed...:   0%|          | 0/1999 [02:16<?, ? file/s]
Dl Completed...: 100%|██████████| 1/1 [02:16<00:00, 134.78s/ url]

Dl Size...: 100%|██████████| 827/827 [02:16<00:00,  7.60 MiB/s]


Extraction completed...:   0%|          | 0/2000 [02:16<?, ? file/s]
Dl Completed...: 100%|██████████| 1/1 [02:16<00:00, 134.78s/ url]

Dl Size...: 100%|██████████| 827/827 [02:16<00:00,  7.60 MiB/s]


Extraction completed...:   0%|          | 0/2001 [02:16<?, ? file/s]
Dl Completed...: 100%|██████████| 1/1 [02:16<00:00, 134.78s/ url]

Dl Size...: 100%|██████████| 827/827 [02:16<00:00,  7.60 MiB/s]


Extraction completed...:   0%|          | 0/2002 [02:16<?, ? file/s]
Dl Completed...: 100%|██████████| 1/1 [02:16<00:00, 134.78s/ url]

Dl Size...: 100%|██████████| 827/827 [02:16<00:00,  7.60 MiB/s]


Extraction completed...:   0%|          | 0/2003 [02:16<?, ? file/s]
Dl Completed...: 100%|██████████| 1/1 [02:16<00:00, 134.78s/ url]

Dl Size...: 100%|██████████| 827/827 [02:16<00:00,  7.60 MiB/s]


Extraction completed...:   0%|          | 0/2004 [02:16<?, ? file/s]
Dl Completed...: 100%|██████████| 1/1 [02:16<00:00, 134.78s/ url]

Dl Size...: 100%|██████████| 827/827 [02:16<00:00,  7.60 MiB/s]


Extraction completed...:   0%|          | 0/2005 [02:16<?, ? file/s]
Dl Completed...: 100%|██████████| 1/1 [02:16<00:00, 134.78s/ url]

Dl Size...: 100%|██████████| 827/827 [02:16<00:00,  7.60 MiB/s]


Extraction completed...:   0%|          | 0/2006 [02:16<?, ? file/s]
Dl Completed...: 100%|██████████| 1/1 [02:16<00:00, 134.78s/ url]

Dl Size...: 100%|██████████| 827/827 [02:16<00:00,  7.60 MiB/s]


Extraction completed...:   0%|          | 0/2007 [02:16<?, ? file/s]
Dl Completed...: 100%|██████████| 1/1 [02:16<00:00, 134.78s/ url]

Dl Size...: 100%|██████████| 827/827 [02:16<00:00,  7.60 MiB/s]


Extraction completed...:   0%|          | 0/2008 [02:16<?, ? file/s]
Dl Completed...: 100%|██████████| 1/1 [02:16<00:00, 134.78s/ url]

Dl Size...: 100%|██████████| 827/827 [02:16<00:00,  7.60 MiB/s]


Extraction completed...:   0%|          | 0/2009 [02:16<?, ? file/s]
Dl Completed...: 100%|██████████| 1/1 [02:16<00:00, 134.78s/ url]

Dl Size...: 100%|██████████| 827/827 [02:16<00:00,  7.60 MiB/s]


Extraction completed...:   0%|          | 0/2010 [02:16<?, ? file/s]
Dl Completed...: 100%|██████████| 1/1 [02:16<00:00, 134.78s/ url]

Dl Size...: 100%|██████████| 827/827 [02:16<00:00,  7.60 MiB/s]


Extraction completed...:   0%|          | 0/2011 [02:16<?, ? file/s]
Dl Completed...: 100%|██████████| 1/1 [02:16<00:00, 134.78s/ url]

Dl Size...: 100%|██████████| 827/827 [02:16<00:00,  7.60 MiB/s]


Extraction completed...:   0%|          | 0/2012 [02:16<?, ? file/s]
Dl Completed...: 100%|██████████| 1/1 [02:16<00:00, 134.78s/ url]

Dl Size...: 100%|██████████| 827/827 [02:16<00:00,  7.60 MiB/s]


Extraction completed...:   0%|          | 0/2013 [02:16<?, ? file/s]
Dl Completed...: 100%|██████████| 1/1 [02:16<00:00, 134.78s/ url]

Dl Size...: 100%|██████████| 827/827 [02:16<00:00,  7.60 MiB/s]


Extraction completed...:   0%|          | 0/2014 [02:16<?, ? file/s]
Dl Completed...: 100%|██████████| 1/1 [02:16<00:00, 134.78s/ url]

Dl Size...: 100%|██████████| 827/827 [02:16<00:00,  7.60 MiB/s]


Extraction completed...:   0%|          | 0/2015 [02:16<?, ? file/s]
Dl Completed...: 100%|██████████| 1/1 [02:16<00:00, 134.78s/ url]

Dl Size...: 100%|██████████| 827/827 [02:16<00:00,  7.60 MiB/s]


Extraction completed...:   0%|          | 0/2016 [02:16<?, ? file/s]
Dl Completed...: 100%|██████████| 1/1 [02:16<00:00, 134.78s/ url]

Dl Size...: 100%|██████████| 827/827 [02:16<00:00,  7.60 MiB/s]


Extraction completed...:   0%|          | 0/2017 [02:16<?, ? file/s]
Dl Completed...: 100%|██████████| 1/1 [02:16<00:00, 134.78s/ url]

Dl Size...: 100%|██████████| 827/827 [02:16<00:00,  7.60 MiB/s]


Extraction completed...:   0%|          | 0/2018 [02:16<?, ? file/s]
Dl Completed...: 100%|██████████| 1/1 [02:16<00:00, 134.78s/ url]

Dl Size...: 100%|██████████| 827/827 [02:16<00:00,  7.60 MiB/s]


Extraction completed...:   0%|          | 0/2019 [02:16<?, ? file/s]
Dl Completed...: 100%|██████████| 1/1 [02:16<00:00, 134.78s/ url]

Dl Size...: 100%|██████████| 827/827 [02:16<00:00,  7.60 MiB/s]


Extraction completed...:   0%|          | 0/2020 [02:16<?, ? file/s]
Dl Completed...: 100%|██████████| 1/1 [02:16<00:00, 134.78s/ url]

Dl Size...: 100%|██████████| 827/827 [02:16<00:00,  7.60 MiB/s]


Extraction completed...:   0%|          | 0/2021 [02:16<?, ? file/s]
Dl Completed...: 100%|██████████| 1/1 [02:16<00:00, 134.78s/ url]

Dl Size...: 100%|██████████| 827/827 [02:16<00:00,  7.60 MiB/s]


Extraction completed...:   0%|          | 0/2022 [02:16<?, ? file/s]
Dl Completed...: 100%|██████████| 1/1 [02:16<00:00, 134.78s/ url]

Dl Size...: 100%|██████████| 827/827 [02:16<00:00,  7.60 MiB/s]


Extraction completed...:   0%|          | 0/2023 [02:16<?, ? file/s]
Dl Completed...: 100%|██████████| 1/1 [02:16<00:00, 134.78s/ url]

Dl Size...: 100%|██████████| 827/827 [02:16<00:00,  7.60 MiB/s]


Extraction completed...:   0%|          | 0/2024 [02:16<?, ? file/s]
Dl Completed...: 100%|██████████| 1/1 [02:16<00:00, 134.78s/ url]

Dl Size...: 100%|██████████| 827/827 [02:16<00:00,  7.60 MiB/s]


Extraction completed...:   0%|          | 0/2025 [02:16<?, ? file/s]
Dl Completed...: 100%|██████████| 1/1 [02:16<00:00, 134.78s/ url]

Dl Size...: 100%|██████████| 827/827 [02:16<00:00,  7.60 MiB/s]


Extraction completed...:   0%|          | 0/2026 [02:16<?, ? file/s]
Dl Completed...: 100%|██████████| 1/1 [02:16<00:00, 134.78s/ url]

Dl Size...: 100%|██████████| 827/827 [02:16<00:00,  7.60 MiB/s]


Extraction completed...:   0%|          | 0/2027 [02:16<?, ? file/s]
Dl Completed...: 100%|██████████| 1/1 [02:16<00:00, 134.78s/ url]

Dl Size...: 100%|██████████| 827/827 [02:16<00:00,  7.60 MiB/s]


Extraction completed...:   0%|          | 0/2028 [02:16<?, ? file/s]
Dl Completed...: 100%|██████████| 1/1 [02:16<00:00, 134.78s/ url]

Dl Size...: 100%|██████████| 827/827 [02:16<00:00,  7.60 MiB/s]


Extraction completed...:   0%|          | 0/2029 [02:16<?, ? file/s]
Dl Completed...: 100%|██████████| 1/1 [02:16<00:00, 134.78s/ url]

Dl Size...: 100%|██████████| 827/827 [02:16<00:00,  7.60 MiB/s]


Extraction completed...:   0%|          | 0/2030 [02:16<?, ? file/s]
Dl Completed...: 100%|██████████| 1/1 [02:16<00:00, 134.78s/ url]

Dl Size...: 100%|██████████| 827/827 [02:16<00:00,  7.60 MiB/s]


Extraction completed...:   0%|          | 0/2031 [02:16<?, ? file/s]
Dl Completed...: 100%|██████████| 1/1 [02:16<00:00, 134.78s/ url]

Dl Size...: 100%|██████████| 827/827 [02:16<00:00,  7.60 MiB/s]


Extraction completed...:   0%|          | 0/2032 [02:16<?, ? file/s]
Dl Completed...: 100%|██████████| 1/1 [02:16<00:00, 134.78s/ url]

Dl Size...: 100%|██████████| 827/827 [02:16<00:00,  7.60 MiB/s]


Extraction completed...:   0%|          | 0/2033 [02:16<?, ? file/s]
Dl Completed...: 100%|██████████| 1/1 [02:16<00:00, 134.78s/ url]

Dl Size...: 100%|██████████| 827/827 [02:16<00:00,  7.60 MiB/s]


Extraction completed...:   0%|          | 0/2034 [02:16<?, ? file/s]
Dl Completed...: 100%|██████████| 1/1 [02:16<00:00, 134.78s/ url]

Dl Size...: 100%|██████████| 827/827 [02:16<00:00,  7.60 MiB/s]


Extraction completed...:   0%|          | 0/2035 [02:16<?, ? file/s]
Dl Completed...: 100%|██████████| 1/1 [02:16<00:00, 134.78s/ url]

Dl Size...: 100%|██████████| 827/827 [02:16<00:00,  7.60 MiB/s]


Extraction completed...:   0%|          | 0/2036 [02:16<?, ? file/s]
Dl Completed...: 100%|██████████| 1/1 [02:16<00:00, 134.78s/ url]

Dl Size...: 100%|██████████| 827/827 [02:16<00:00,  7.60 MiB/s]


Extraction completed...:   0%|          | 0/2037 [02:16<?, ? file/s]
Dl Completed...: 100%|██████████| 1/1 [02:16<00:00, 134.78s/ url]

Dl Size...: 100%|██████████| 827/827 [02:16<00:00,  7.60 MiB/s]


Extraction completed...:   0%|          | 0/2038 [02:16<?, ? file/s]
Dl Completed...: 100%|██████████| 1/1 [02:16<00:00, 134.78s/ url]

Dl Size...: 100%|██████████| 827/827 [02:16<00:00,  7.60 MiB/s]


Extraction completed...:   0%|          | 0/2039 [02:16<?, ? file/s]
Dl Completed...: 100%|██████████| 1/1 [02:16<00:00, 134.78s/ url]

Dl Size...: 100%|██████████| 827/827 [02:16<00:00,  7.60 MiB/s]


Extraction completed...:   0%|          | 0/2040 [02:16<?, ? file/s]
Dl Completed...: 100%|██████████| 1/1 [02:16<00:00, 134.78s/ url]

Dl Size...: 100%|██████████| 827/827 [02:16<00:00,  7.60 MiB/s]


Extraction completed...:   0%|          | 0/2041 [02:16<?, ? file/s]
Dl Completed...: 100%|██████████| 1/1 [02:16<00:00, 134.78s/ url]

Dl Size...: 100%|██████████| 827/827 [02:16<00:00,  7.60 MiB/s]


Extraction completed...:   0%|          | 0/2042 [02:16<?, ? file/s]
Dl Completed...: 100%|██████████| 1/1 [02:16<00:00, 134.78s/ url]

Dl Size...: 100%|██████████| 827/827 [02:16<00:00,  7.60 MiB/s]


Extraction completed...:   0%|          | 0/2043 [02:16<?, ? file/s]
Dl Completed...: 100%|██████████| 1/1 [02:16<00:00, 134.78s/ url]

Dl Size...: 100%|██████████| 827/827 [02:16<00:00,  7.60 MiB/s]


Extraction completed...:   0%|          | 0/2044 [02:16<?, ? file/s]
Dl Completed...: 100%|██████████| 1/1 [02:16<00:00, 134.78s/ url]

Dl Size...: 100%|██████████| 827/827 [02:16<00:00,  7.60 MiB/s]


Extraction completed...:   0%|          | 0/2045 [02:16<?, ? file/s]
Dl Completed...: 100%|██████████| 1/1 [02:16<00:00, 134.78s/ url]

Dl Size...: 100%|██████████| 827/827 [02:16<00:00,  7.60 MiB/s]


Extraction completed...:   0%|          | 0/2046 [02:16<?, ? file/s]
Dl Completed...: 100%|██████████| 1/1 [02:16<00:00, 134.78s/ url]

Dl Size...: 100%|██████████| 827/827 [02:16<00:00,  7.60 MiB/s]


Extraction completed...:   0%|          | 0/2047 [02:16<?, ? file/s]
Dl Completed...: 100%|██████████| 1/1 [02:16<00:00, 134.78s/ url]

Dl Size...: 100%|██████████| 827/827 [02:16<00:00,  7.60 MiB/s]


Extraction completed...:   0%|          | 0/2048 [02:16<?, ? file/s]
Dl Completed...: 100%|██████████| 1/1 [02:16<00:00, 134.78s/ url]

Dl Size...: 100%|██████████| 827/827 [02:16<00:00,  7.60 MiB/s]


Extraction completed...:   0%|          | 0/2049 [02:16<?, ? file/s]
Dl Completed...: 100%|██████████| 1/1 [02:16<00:00, 134.78s/ url]

Dl Size...: 100%|██████████| 827/827 [02:16<00:00,  7.60 MiB/s]


Extraction completed...:   0%|          | 0/2050 [02:16<?, ? file/s]
Dl Completed...: 100%|██████████| 1/1 [02:16<00:00, 134.78s/ url]

Dl Size...: 100%|██████████| 827/827 [02:16<00:00,  7.60 MiB/s]


Extraction completed...:   0%|          | 0/2051 [02:16<?, ? file/s]
Dl Completed...: 100%|██████████| 1/1 [02:16<00:00, 134.78s/ url]

Dl Size...: 100%|██████████| 827/827 [02:16<00:00,  7.60 MiB/s]


Extraction completed...:   0%|          | 0/2052 [02:16<?, ? file/s]
Dl Completed...: 100%|██████████| 1/1 [02:16<00:00, 134.78s/ url]

Dl Size...: 100%|██████████| 827/827 [02:16<00:00,  7.60 MiB/s]


Extraction completed...:   0%|          | 0/2053 [02:16<?, ? file/s]
Dl Completed...: 100%|██████████| 1/1 [02:16<00:00, 134.78s/ url]

Dl Size...: 100%|██████████| 827/827 [02:16<00:00,  7.60 MiB/s]


Extraction completed...:   0%|          | 0/2054 [02:16<?, ? file/s]
Dl Completed...: 100%|██████████| 1/1 [02:16<00:00, 134.78s/ url]

Dl Size...: 100%|██████████| 827/827 [02:16<00:00,  7.60 MiB/s]


Extraction completed...:   0%|          | 0/2055 [02:16<?, ? file/s]
Dl Completed...: 100%|██████████| 1/1 [02:16<00:00, 134.78s/ url]

Dl Size...: 100%|██████████| 827/827 [02:16<00:00,  7.60 MiB/s]


Extraction completed...:   0%|          | 0/2056 [02:16<?, ? file/s]
Dl Completed...: 100%|██████████| 1/1 [02:16<00:00, 134.78s/ url]

Dl Size...: 100%|██████████| 827/827 [02:16<00:00,  7.60 MiB/s]


Extraction completed...:   0%|          | 0/2057 [02:16<?, ? file/s]
Dl Completed...: 100%|██████████| 1/1 [02:16<00:00, 134.78s/ url]

Dl Size...: 100%|██████████| 827/827 [02:16<00:00,  7.60 MiB/s]


Extraction completed...:   0%|          | 0/2058 [02:16<?, ? file/s]
Dl Completed...: 100%|██████████| 1/1 [02:16<00:00, 134.78s/ url]

Dl Size...: 100%|██████████| 827/827 [02:16<00:00,  7.60 MiB/s]


Extraction completed...:   0%|          | 0/2059 [02:16<?, ? file/s]
Dl Completed...: 100%|██████████| 1/1 [02:16<00:00, 134.78s/ url]

Dl Size...: 100%|██████████| 827/827 [02:16<00:00,  7.60 MiB/s]


Extraction completed...:   0%|          | 0/2060 [02:16<?, ? file/s]
Dl Completed...: 100%|██████████| 1/1 [02:16<00:00, 134.78s/ url]

Dl Size...: 100%|██████████| 827/827 [02:16<00:00,  7.60 MiB/s]


Extraction completed...:   0%|          | 0/2061 [02:16<?, ? file/s]
Dl Completed...: 100%|██████████| 1/1 [02:16<00:00, 134.78s/ url]

Dl Size...: 100%|██████████| 827/827 [02:16<00:00,  7.60 MiB/s]


Extraction completed...:   0%|          | 0/2062 [02:16<?, ? file/s]
Dl Completed...: 100%|██████████| 1/1 [02:16<00:00, 134.78s/ url]

Dl Size...: 100%|██████████| 827/827 [02:16<00:00,  7.60 MiB/s]


Extraction completed...:   0%|          | 0/2063 [02:16<?, ? file/s]
Dl Completed...: 100%|██████████| 1/1 [02:16<00:00, 134.78s/ url]

Dl Size...: 100%|██████████| 827/827 [02:16<00:00,  7.60 MiB/s]


Extraction completed...:   0%|          | 0/2064 [02:16<?, ? file/s]
Dl Completed...: 100%|██████████| 1/1 [02:16<00:00, 134.78s/ url]

Dl Size...: 100%|██████████| 827/827 [02:16<00:00,  7.60 MiB/s]


Extraction completed...:   0%|          | 0/2065 [02:16<?, ? file/s]
Dl Completed...: 100%|██████████| 1/1 [02:16<00:00, 134.78s/ url]

Dl Size...: 100%|██████████| 827/827 [02:16<00:00,  7.60 MiB/s]


Extraction completed...:   0%|          | 0/2066 [02:16<?, ? file/s]
Dl Completed...: 100%|██████████| 1/1 [02:16<00:00, 134.78s/ url]

Dl Size...: 100%|██████████| 827/827 [02:16<00:00,  7.60 MiB/s]


Extraction completed...:   0%|          | 0/2067 [02:16<?, ? file/s]
Dl Completed...: 100%|██████████| 1/1 [02:16<00:00, 134.78s/ url]

Dl Size...: 100%|██████████| 827/827 [02:16<00:00,  7.60 MiB/s]


Extraction completed...:   0%|          | 0/2068 [02:16<?, ? file/s]
Dl Completed...: 100%|██████████| 1/1 [02:16<00:00, 134.78s/ url]

Dl Size...: 100%|██████████| 827/827 [02:16<00:00,  7.60 MiB/s]


Extraction completed...:   0%|          | 0/2069 [02:16<?, ? file/s]
Dl Completed...: 100%|██████████| 1/1 [02:16<00:00, 134.78s/ url]

Dl Size...: 100%|██████████| 827/827 [02:16<00:00,  7.60 MiB/s]


Extraction completed...:   0%|          | 0/2070 [02:16<?, ? file/s]
Dl Completed...: 100%|██████████| 1/1 [02:16<00:00, 134.78s/ url]

Dl Size...: 100%|██████████| 827/827 [02:16<00:00,  7.60 MiB/s]


Extraction completed...:   0%|          | 0/2071 [02:16<?, ? file/s]
Dl Completed...: 100%|██████████| 1/1 [02:16<00:00, 134.78s/ url]

Dl Size...: 100%|██████████| 827/827 [02:16<00:00,  7.60 MiB/s]


Extraction completed...:   0%|          | 0/2072 [02:16<?, ? file/s]
Dl Completed...: 100%|██████████| 1/1 [02:16<00:00, 134.78s/ url]

Dl Size...: 100%|██████████| 827/827 [02:16<00:00,  7.60 MiB/s]


Extraction completed...:   0%|          | 0/2073 [02:16<?, ? file/s]
Dl Completed...: 100%|██████████| 1/1 [02:16<00:00, 134.78s/ url]

Dl Size...: 100%|██████████| 827/827 [02:16<00:00,  7.60 MiB/s]


Extraction completed...:   0%|          | 0/2074 [02:16<?, ? file/s]
Dl Completed...: 100%|██████████| 1/1 [02:16<00:00, 134.78s/ url]

Dl Size...: 100%|██████████| 827/827 [02:16<00:00,  7.60 MiB/s]


Extraction completed...:   0%|          | 0/2075 [02:16<?, ? file/s]
Dl Completed...: 100%|██████████| 1/1 [02:16<00:00, 134.78s/ url]

Dl Size...: 100%|██████████| 827/827 [02:16<00:00,  7.60 MiB/s]


Extraction completed...:   0%|          | 0/2076 [02:16<?, ? file/s]
Dl Completed...: 100%|██████████| 1/1 [02:16<00:00, 134.78s/ url]

Dl Size...: 100%|██████████| 827/827 [02:16<00:00,  7.60 MiB/s]


Extraction completed...:   0%|          | 0/2077 [02:16<?, ? file/s]
Dl Completed...: 100%|██████████| 1/1 [02:16<00:00, 134.78s/ url]

Dl Size...: 100%|██████████| 827/827 [02:16<00:00,  7.60 MiB/s]


Extraction completed...:   0%|          | 0/2078 [02:16<?, ? file/s]
Dl Completed...: 100%|██████████| 1/1 [02:16<00:00, 134.78s/ url]

Dl Size...: 100%|██████████| 827/827 [02:16<00:00,  7.60 MiB/s]


Extraction completed...:   0%|          | 0/2079 [02:16<?, ? file/s]
Dl Completed...: 100%|██████████| 1/1 [02:16<00:00, 134.78s/ url]

Dl Size...: 100%|██████████| 827/827 [02:16<00:00,  7.60 MiB/s]


Extraction completed...:   0%|          | 0/2080 [02:16<?, ? file/s]
Dl Completed...: 100%|██████████| 1/1 [02:16<00:00, 134.78s/ url]

Dl Size...: 100%|██████████| 827/827 [02:16<00:00,  7.60 MiB/s]


Extraction completed...:   0%|          | 0/2081 [02:16<?, ? file/s]
Dl Completed...: 100%|██████████| 1/1 [02:16<00:00, 134.78s/ url]

Dl Size...: 100%|██████████| 827/827 [02:16<00:00,  7.60 MiB/s]


Extraction completed...:   0%|          | 0/2082 [02:16<?, ? file/s]
Dl Completed...: 100%|██████████| 1/1 [02:16<00:00, 134.78s/ url]

Dl Size...: 100%|██████████| 827/827 [02:16<00:00,  7.60 MiB/s]


Extraction completed...:   0%|          | 0/2083 [02:16<?, ? file/s]
Dl Completed...: 100%|██████████| 1/1 [02:16<00:00, 134.78s/ url]

Dl Size...: 100%|██████████| 827/827 [02:16<00:00,  7.60 MiB/s]


Extraction completed...:   0%|          | 0/2084 [02:16<?, ? file/s]
Dl Completed...: 100%|██████████| 1/1 [02:16<00:00, 134.78s/ url]

Dl Size...: 100%|██████████| 827/827 [02:16<00:00,  7.60 MiB/s]


Extraction completed...:   0%|          | 0/2085 [02:16<?, ? file/s]
Dl Completed...: 100%|██████████| 1/1 [02:16<00:00, 134.78s/ url]

Dl Size...: 100%|██████████| 827/827 [02:16<00:00,  7.60 MiB/s]


Extraction completed...:   0%|          | 0/2086 [02:16<?, ? file/s]
Dl Completed...: 100%|██████████| 1/1 [02:16<00:00, 134.78s/ url]

Dl Size...: 100%|██████████| 827/827 [02:16<00:00,  7.60 MiB/s]


Extraction completed...:   0%|          | 0/2087 [02:16<?, ? file/s]
Dl Completed...: 100%|██████████| 1/1 [02:16<00:00, 134.78s/ url]

Dl Size...: 100%|██████████| 827/827 [02:16<00:00,  7.60 MiB/s]


Extraction completed...:   0%|          | 0/2088 [02:16<?, ? file/s]
Dl Completed...: 100%|██████████| 1/1 [02:16<00:00, 134.78s/ url]

Dl Size...: 100%|██████████| 827/827 [02:16<00:00,  7.60 MiB/s]


Extraction completed...:   0%|          | 0/2089 [02:16<?, ? file/s]
Dl Completed...: 100%|██████████| 1/1 [02:16<00:00, 134.78s/ url]

Dl Size...: 100%|██████████| 827/827 [02:16<00:00,  7.60 MiB/s]


Extraction completed...:   0%|          | 0/2090 [02:16<?, ? file/s]
Dl Completed...: 100%|██████████| 1/1 [02:16<00:00, 134.78s/ url]

Dl Size...: 100%|██████████| 827/827 [02:16<00:00,  7.60 MiB/s]


Extraction completed...:   0%|          | 0/2091 [02:16<?, ? file/s]
Dl Completed...: 100%|██████████| 1/1 [02:16<00:00, 134.78s/ url]

Dl Size...: 100%|██████████| 827/827 [02:16<00:00,  7.60 MiB/s]


Extraction completed...:   0%|          | 0/2092 [02:16<?, ? file/s]
Dl Completed...: 100%|██████████| 1/1 [02:16<00:00, 134.78s/ url]

Dl Size...: 100%|██████████| 827/827 [02:16<00:00,  7.60 MiB/s]


Extraction completed...:   0%|          | 0/2093 [02:16<?, ? file/s]
Dl Completed...: 100%|██████████| 1/1 [02:16<00:00, 134.78s/ url]

Dl Size...: 100%|██████████| 827/827 [02:16<00:00,  7.60 MiB/s]


Extraction completed...:   0%|          | 0/2094 [02:16<?, ? file/s]
Dl Completed...: 100%|██████████| 1/1 [02:16<00:00, 134.78s/ url]

Dl Size...: 100%|██████████| 827/827 [02:16<00:00,  7.60 MiB/s]


Extraction completed...:   0%|          | 0/2095 [02:16<?, ? file/s]
Dl Completed...: 100%|██████████| 1/1 [02:16<00:00, 134.78s/ url]

Dl Size...: 100%|██████████| 827/827 [02:16<00:00,  7.60 MiB/s]


Extraction completed...:   0%|          | 0/2096 [02:16<?, ? file/s]
Dl Completed...: 100%|██████████| 1/1 [02:16<00:00, 134.78s/ url]

Dl Size...: 100%|██████████| 827/827 [02:16<00:00,  7.60 MiB/s]


Extraction completed...:   0%|          | 0/2097 [02:16<?, ? file/s]
Dl Completed...: 100%|██████████| 1/1 [02:16<00:00, 134.78s/ url]

Dl Size...: 100%|██████████| 827/827 [02:16<00:00,  7.60 MiB/s]


Extraction completed...:   0%|          | 0/2098 [02:16<?, ? file/s]
Dl Completed...: 100%|██████████| 1/1 [02:16<00:00, 134.78s/ url]

Dl Size...: 100%|██████████| 827/827 [02:16<00:00,  7.60 MiB/s]


Extraction completed...:   0%|          | 0/2099 [02:16<?, ? file/s]
Dl Completed...: 100%|██████████| 1/1 [02:16<00:00, 134.78s/ url]

Dl Size...: 100%|██████████| 827/827 [02:16<00:00,  7.60 MiB/s]


Extraction completed...:   0%|          | 0/2100 [02:16<?, ? file/s]
Dl Completed...: 100%|██████████| 1/1 [02:16<00:00, 134.78s/ url]

Dl Size...: 100%|██████████| 827/827 [02:16<00:00,  7.60 MiB/s]


Extraction completed...:   0%|          | 0/2101 [02:16<?, ? file/s]
Dl Completed...: 100%|██████████| 1/1 [02:16<00:00, 134.78s/ url]

Dl Size...: 100%|██████████| 827/827 [02:16<00:00,  7.60 MiB/s]


Extraction completed...:   0%|          | 0/2102 [02:16<?, ? file/s]
Dl Completed...: 100%|██████████| 1/1 [02:16<00:00, 134.78s/ url]

Dl Size...: 100%|██████████| 827/827 [02:16<00:00,  7.60 MiB/s]


Extraction completed...:   0%|          | 0/2103 [02:16<?, ? file/s]
Dl Completed...: 100%|██████████| 1/1 [02:16<00:00, 134.78s/ url]

Dl Size...: 100%|██████████| 827/827 [02:16<00:00,  7.60 MiB/s]


Extraction completed...:   0%|          | 0/2104 [02:16<?, ? file/s]
Dl Completed...: 100%|██████████| 1/1 [02:16<00:00, 134.78s/ url]

Dl Size...: 100%|██████████| 827/827 [02:16<00:00,  7.60 MiB/s]


Extraction completed...:   0%|          | 0/2105 [02:16<?, ? file/s]
Dl Completed...: 100%|██████████| 1/1 [02:16<00:00, 134.78s/ url]

Dl Size...: 100%|██████████| 827/827 [02:16<00:00,  7.60 MiB/s]


Extraction completed...:   0%|          | 0/2106 [02:16<?, ? file/s]
Dl Completed...: 100%|██████████| 1/1 [02:16<00:00, 134.78s/ url]

Dl Size...: 100%|██████████| 827/827 [02:16<00:00,  7.60 MiB/s]


Extraction completed...:   0%|          | 0/2107 [02:16<?, ? file/s]
Dl Completed...: 100%|██████████| 1/1 [02:16<00:00, 134.78s/ url]

Dl Size...: 100%|██████████| 827/827 [02:16<00:00,  7.60 MiB/s]


Extraction completed...:   0%|          | 0/2108 [02:16<?, ? file/s]
Dl Completed...: 100%|██████████| 1/1 [02:16<00:00, 134.78s/ url]

Dl Size...: 100%|██████████| 827/827 [02:16<00:00,  7.60 MiB/s]


Extraction completed...:   0%|          | 0/2109 [02:16<?, ? file/s]
Dl Completed...: 100%|██████████| 1/1 [02:16<00:00, 134.78s/ url]

Dl Size...: 100%|██████████| 827/827 [02:16<00:00,  7.60 MiB/s]


Extraction completed...:   0%|          | 0/2110 [02:16<?, ? file/s]
Dl Completed...: 100%|██████████| 1/1 [02:16<00:00, 134.78s/ url]

Dl Size...: 100%|██████████| 827/827 [02:16<00:00,  7.60 MiB/s]


Extraction completed...:   0%|          | 0/2111 [02:16<?, ? file/s]
Dl Completed...: 100%|██████████| 1/1 [02:16<00:00, 134.78s/ url]

Dl Size...: 100%|██████████| 827/827 [02:16<00:00,  7.60 MiB/s]


Extraction completed...:   0%|          | 0/2112 [02:16<?, ? file/s]
Dl Completed...: 100%|██████████| 1/1 [02:16<00:00, 134.78s/ url]

Dl Size...: 100%|██████████| 827/827 [02:16<00:00,  7.60 MiB/s]


Extraction completed...:   0%|          | 0/2113 [02:16<?, ? file/s]
Dl Completed...: 100%|██████████| 1/1 [02:16<00:00, 134.78s/ url]

Dl Size...: 100%|██████████| 827/827 [02:16<00:00,  7.60 MiB/s]


Extraction completed...:   0%|          | 0/2114 [02:16<?, ? file/s]
Dl Completed...: 100%|██████████| 1/1 [02:16<00:00, 134.78s/ url]

Dl Size...: 100%|██████████| 827/827 [02:16<00:00,  7.60 MiB/s]


Extraction completed...:   0%|          | 0/2115 [02:16<?, ? file/s]
Dl Completed...: 100%|██████████| 1/1 [02:16<00:00, 134.78s/ url]

Dl Size...: 100%|██████████| 827/827 [02:16<00:00,  7.60 MiB/s]


Extraction completed...:   0%|          | 0/2116 [02:16<?, ? file/s]
Dl Completed...: 100%|██████████| 1/1 [02:16<00:00, 134.78s/ url]

Dl Size...: 100%|██████████| 827/827 [02:16<00:00,  7.60 MiB/s]


Extraction completed...:   0%|          | 0/2117 [02:16<?, ? file/s]
Dl Completed...: 100%|██████████| 1/1 [02:16<00:00, 134.78s/ url]

Dl Size...: 100%|██████████| 827/827 [02:16<00:00,  7.60 MiB/s]


Extraction completed...:   0%|          | 0/2118 [02:16<?, ? file/s]
Dl Completed...: 100%|██████████| 1/1 [02:16<00:00, 134.78s/ url]

Dl Size...: 100%|██████████| 827/827 [02:16<00:00,  7.60 MiB/s]


Extraction completed...:   0%|          | 0/2119 [02:16<?, ? file/s]
Dl Completed...: 100%|██████████| 1/1 [02:16<00:00, 134.78s/ url]

Dl Size...: 100%|██████████| 827/827 [02:16<00:00,  7.60 MiB/s]


Extraction completed...:   0%|          | 0/2120 [02:16<?, ? file/s]
Dl Completed...: 100%|██████████| 1/1 [02:16<00:00, 134.78s/ url]

Dl Size...: 100%|██████████| 827/827 [02:16<00:00,  7.60 MiB/s]


Extraction completed...:   0%|          | 0/2121 [02:16<?, ? file/s]
Dl Completed...: 100%|██████████| 1/1 [02:16<00:00, 134.78s/ url]

Dl Size...: 100%|██████████| 827/827 [02:16<00:00,  7.60 MiB/s]


Extraction completed...:   0%|          | 0/2122 [02:16<?, ? file/s]
Dl Completed...: 100%|██████████| 1/1 [02:16<00:00, 134.78s/ url]

Dl Size...: 100%|██████████| 827/827 [02:16<00:00,  7.60 MiB/s]


Extraction completed...:   0%|          | 0/2123 [02:16<?, ? file/s]
Dl Completed...: 100%|██████████| 1/1 [02:16<00:00, 134.78s/ url]

Dl Size...: 100%|██████████| 827/827 [02:16<00:00,  7.60 MiB/s]


Extraction completed...:   0%|          | 0/2124 [02:16<?, ? file/s]
Dl Completed...: 100%|██████████| 1/1 [02:16<00:00, 134.78s/ url]

Dl Size...: 100%|██████████| 827/827 [02:16<00:00,  7.60 MiB/s]


Extraction completed...:   0%|          | 0/2125 [02:16<?, ? file/s]
Dl Completed...: 100%|██████████| 1/1 [02:16<00:00, 134.78s/ url]

Dl Size...: 100%|██████████| 827/827 [02:16<00:00,  7.60 MiB/s]


Extraction completed...:   0%|          | 0/2126 [02:16<?, ? file/s]
Dl Completed...: 100%|██████████| 1/1 [02:16<00:00, 134.78s/ url]

Dl Size...: 100%|██████████| 827/827 [02:16<00:00,  7.60 MiB/s]


Extraction completed...:   0%|          | 0/2127 [02:16<?, ? file/s]
Dl Completed...: 100%|██████████| 1/1 [02:16<00:00, 134.78s/ url]

Dl Size...: 100%|██████████| 827/827 [02:16<00:00,  7.60 MiB/s]


Extraction completed...:   0%|          | 0/2128 [02:16<?, ? file/s]
Dl Completed...: 100%|██████████| 1/1 [02:16<00:00, 134.78s/ url]

Dl Size...: 100%|██████████| 827/827 [02:16<00:00,  7.60 MiB/s]


Extraction completed...:   0%|          | 0/2129 [02:16<?, ? file/s]
Dl Completed...: 100%|██████████| 1/1 [02:16<00:00, 134.78s/ url]

Dl Size...: 100%|██████████| 827/827 [02:16<00:00,  7.60 MiB/s]


Extraction completed...:   0%|          | 0/2130 [02:16<?, ? file/s]
Dl Completed...: 100%|██████████| 1/1 [02:16<00:00, 134.78s/ url]

Dl Size...: 100%|██████████| 827/827 [02:16<00:00,  7.60 MiB/s]


Extraction completed...:   0%|          | 0/2131 [02:16<?, ? file/s]
Dl Completed...: 100%|██████████| 1/1 [02:16<00:00, 134.78s/ url]

Dl Size...: 100%|██████████| 827/827 [02:16<00:00,  7.60 MiB/s]


Extraction completed...:   0%|          | 0/2132 [02:16<?, ? file/s]
Dl Completed...: 100%|██████████| 1/1 [02:16<00:00, 134.78s/ url]

Dl Size...: 100%|██████████| 827/827 [02:16<00:00,  7.60 MiB/s]


Extraction completed...:   0%|          | 0/2133 [02:16<?, ? file/s]
Dl Completed...: 100%|██████████| 1/1 [02:16<00:00, 134.78s/ url]

Dl Size...: 100%|██████████| 827/827 [02:16<00:00,  7.60 MiB/s]


Extraction completed...:   0%|          | 0/2134 [02:16<?, ? file/s]
Dl Completed...: 100%|██████████| 1/1 [02:16<00:00, 134.78s/ url]

Dl Size...: 100%|██████████| 827/827 [02:16<00:00,  7.60 MiB/s]


Extraction completed...:   0%|          | 0/2135 [02:16<?, ? file/s]
Dl Completed...: 100%|██████████| 1/1 [02:16<00:00, 134.78s/ url]

Dl Size...: 100%|██████████| 827/827 [02:16<00:00,  7.60 MiB/s]


Extraction completed...:   0%|          | 0/2136 [02:16<?, ? file/s]
Dl Completed...: 100%|██████████| 1/1 [02:16<00:00, 134.78s/ url]

Dl Size...: 100%|██████████| 827/827 [02:16<00:00,  7.60 MiB/s]


Extraction completed...:   0%|          | 0/2137 [02:16<?, ? file/s]
Dl Completed...: 100%|██████████| 1/1 [02:16<00:00, 134.78s/ url]

Dl Size...: 100%|██████████| 827/827 [02:16<00:00,  7.60 MiB/s]


Extraction completed...:   0%|          | 0/2138 [02:16<?, ? file/s]
Dl Completed...: 100%|██████████| 1/1 [02:16<00:00, 134.78s/ url]

Dl Size...: 100%|██████████| 827/827 [02:16<00:00,  7.60 MiB/s]


Extraction completed...:   0%|          | 0/2139 [02:16<?, ? file/s]
Dl Completed...: 100%|██████████| 1/1 [02:16<00:00, 134.78s/ url]

Dl Size...: 100%|██████████| 827/827 [02:16<00:00,  7.60 MiB/s]


Extraction completed...:   0%|          | 0/2140 [02:16<?, ? file/s]
Dl Completed...: 100%|██████████| 1/1 [02:16<00:00, 134.78s/ url]

Dl Size...: 100%|██████████| 827/827 [02:16<00:00,  7.60 MiB/s]


Extraction completed...:   0%|          | 0/2141 [02:16<?, ? file/s]
Dl Completed...: 100%|██████████| 1/1 [02:16<00:00, 134.78s/ url]

Dl Size...: 100%|██████████| 827/827 [02:16<00:00,  7.60 MiB/s]


Extraction completed...:   0%|          | 0/2142 [02:16<?, ? file/s]
Dl Completed...: 100%|██████████| 1/1 [02:16<00:00, 134.78s/ url]

Dl Size...: 100%|██████████| 827/827 [02:16<00:00,  7.60 MiB/s]


Extraction completed...:   0%|          | 0/2143 [02:16<?, ? file/s]
Dl Completed...: 100%|██████████| 1/1 [02:16<00:00, 134.78s/ url]

Dl Size...: 100%|██████████| 827/827 [02:16<00:00,  7.60 MiB/s]


Extraction completed...:   0%|          | 0/2144 [02:16<?, ? file/s]
Dl Completed...: 100%|██████████| 1/1 [02:16<00:00, 134.78s/ url]

Dl Size...: 100%|██████████| 827/827 [02:16<00:00,  7.60 MiB/s]


Extraction completed...:   0%|          | 0/2145 [02:16<?, ? file/s]
Dl Completed...: 100%|██████████| 1/1 [02:16<00:00, 134.78s/ url]

Dl Size...: 100%|██████████| 827/827 [02:16<00:00,  7.60 MiB/s]


Extraction completed...:   0%|          | 0/2146 [02:16<?, ? file/s]
Dl Completed...: 100%|██████████| 1/1 [02:16<00:00, 134.78s/ url]

Dl Size...: 100%|██████████| 827/827 [02:16<00:00,  7.60 MiB/s]


Extraction completed...:   0%|          | 0/2147 [02:16<?, ? file/s]
Dl Completed...: 100%|██████████| 1/1 [02:16<00:00, 134.78s/ url]

Dl Size...: 100%|██████████| 827/827 [02:16<00:00,  7.60 MiB/s]


Extraction completed...:   0%|          | 0/2148 [02:16<?, ? file/s]
Dl Completed...: 100%|██████████| 1/1 [02:16<00:00, 134.78s/ url]

Dl Size...: 100%|██████████| 827/827 [02:16<00:00,  7.60 MiB/s]


Extraction completed...:   0%|          | 0/2149 [02:16<?, ? file/s]
Dl Completed...: 100%|██████████| 1/1 [02:16<00:00, 134.78s/ url]

Dl Size...: 100%|██████████| 827/827 [02:16<00:00,  7.60 MiB/s]


Extraction completed...:   0%|          | 0/2150 [02:16<?, ? file/s]
Dl Completed...: 100%|██████████| 1/1 [02:16<00:00, 134.78s/ url]

Dl Size...: 100%|██████████| 827/827 [02:16<00:00,  7.60 MiB/s]


Extraction completed...:   0%|          | 0/2151 [02:16<?, ? file/s]
Dl Completed...: 100%|██████████| 1/1 [02:16<00:00, 134.78s/ url]

Dl Size...: 100%|██████████| 827/827 [02:16<00:00,  7.60 MiB/s]


Extraction completed...:   0%|          | 0/2152 [02:16<?, ? file/s]
Dl Completed...: 100%|██████████| 1/1 [02:16<00:00, 134.78s/ url]

Dl Size...: 100%|██████████| 827/827 [02:16<00:00,  7.60 MiB/s]


Extraction completed...:   0%|          | 0/2153 [02:16<?, ? file/s]
Dl Completed...: 100%|██████████| 1/1 [02:16<00:00, 134.78s/ url]

Dl Size...: 100%|██████████| 827/827 [02:16<00:00,  7.60 MiB/s]


Extraction completed...:   0%|          | 0/2154 [02:16<?, ? file/s]
Dl Completed...: 100%|██████████| 1/1 [02:16<00:00, 134.78s/ url]

Dl Size...: 100%|██████████| 827/827 [02:16<00:00,  7.60 MiB/s]


Extraction completed...:   0%|          | 0/2155 [02:16<?, ? file/s]
Dl Completed...: 100%|██████████| 1/1 [02:16<00:00, 134.78s/ url]

Dl Size...: 100%|██████████| 827/827 [02:16<00:00,  7.60 MiB/s]


Extraction completed...:   0%|          | 0/2156 [02:16<?, ? file/s]
Dl Completed...: 100%|██████████| 1/1 [02:16<00:00, 134.78s/ url]

Dl Size...: 100%|██████████| 827/827 [02:16<00:00,  7.60 MiB/s]


Extraction completed...:   0%|          | 0/2157 [02:16<?, ? file/s]
Dl Completed...: 100%|██████████| 1/1 [02:16<00:00, 134.78s/ url]

Dl Size...: 100%|██████████| 827/827 [02:16<00:00,  7.60 MiB/s]


Extraction completed...:   0%|          | 0/2158 [02:16<?, ? file/s]
Dl Completed...: 100%|██████████| 1/1 [02:16<00:00, 134.78s/ url]

Dl Size...: 100%|██████████| 827/827 [02:16<00:00,  7.60 MiB/s]


Extraction completed...:   0%|          | 0/2159 [02:16<?, ? file/s]
Dl Completed...: 100%|██████████| 1/1 [02:16<00:00, 134.78s/ url]

Dl Size...: 100%|██████████| 827/827 [02:16<00:00,  7.60 MiB/s]


Extraction completed...:   0%|          | 0/2160 [02:16<?, ? file/s]
Dl Completed...: 100%|██████████| 1/1 [02:16<00:00, 134.78s/ url]

Dl Size...: 100%|██████████| 827/827 [02:16<00:00,  7.60 MiB/s]


Extraction completed...:   0%|          | 0/2161 [02:16<?, ? file/s]
Dl Completed...: 100%|██████████| 1/1 [02:16<00:00, 134.78s/ url]

Dl Size...: 100%|██████████| 827/827 [02:16<00:00,  7.60 MiB/s]


Extraction completed...:   0%|          | 0/2162 [02:16<?, ? file/s]
Dl Completed...: 100%|██████████| 1/1 [02:16<00:00, 134.78s/ url]

Dl Size...: 100%|██████████| 827/827 [02:16<00:00,  7.60 MiB/s]


Extraction completed...:   0%|          | 0/2163 [02:16<?, ? file/s]
Dl Completed...: 100%|██████████| 1/1 [02:16<00:00, 134.78s/ url]

Dl Size...: 100%|██████████| 827/827 [02:16<00:00,  7.60 MiB/s]


Extraction completed...:   0%|          | 0/2164 [02:16<?, ? file/s]
Dl Completed...: 100%|██████████| 1/1 [02:16<00:00, 134.78s/ url]

Dl Size...: 100%|██████████| 827/827 [02:16<00:00,  7.60 MiB/s]


Extraction completed...:   0%|          | 0/2165 [02:16<?, ? file/s]
Dl Completed...: 100%|██████████| 1/1 [02:16<00:00, 134.78s/ url]

Dl Size...: 100%|██████████| 827/827 [02:16<00:00,  7.60 MiB/s]


Extraction completed...:   0%|          | 0/2166 [02:16<?, ? file/s]
Dl Completed...: 100%|██████████| 1/1 [02:16<00:00, 134.78s/ url]

Dl Size...: 100%|██████████| 827/827 [02:16<00:00,  7.60 MiB/s]


Extraction completed...:   0%|          | 0/2167 [02:16<?, ? file/s]
Dl Completed...: 100%|██████████| 1/1 [02:16<00:00, 134.78s/ url]

Dl Size...: 100%|██████████| 827/827 [02:16<00:00,  7.60 MiB/s]


Extraction completed...:   0%|          | 0/2168 [02:16<?, ? file/s]
Dl Completed...: 100%|██████████| 1/1 [02:16<00:00, 134.78s/ url]

Dl Size...: 100%|██████████| 827/827 [02:16<00:00,  7.60 MiB/s]


Extraction completed...:   0%|          | 0/2169 [02:16<?, ? file/s]
Dl Completed...: 100%|██████████| 1/1 [02:16<00:00, 134.78s/ url]

Dl Size...: 100%|██████████| 827/827 [02:16<00:00,  7.60 MiB/s]


Extraction completed...:   0%|          | 0/2170 [02:16<?, ? file/s]
Dl Completed...: 100%|██████████| 1/1 [02:16<00:00, 134.78s/ url]

Dl Size...: 100%|██████████| 827/827 [02:16<00:00,  7.60 MiB/s]


Extraction completed...:   0%|          | 0/2171 [02:16<?, ? file/s]
Dl Completed...: 100%|██████████| 1/1 [02:16<00:00, 134.78s/ url]

Dl Size...: 100%|██████████| 827/827 [02:16<00:00,  7.60 MiB/s]


Extraction completed...:   0%|          | 0/2172 [02:16<?, ? file/s]
Dl Completed...: 100%|██████████| 1/1 [02:16<00:00, 134.78s/ url]

Dl Size...: 100%|██████████| 827/827 [02:16<00:00,  7.60 MiB/s]


Extraction completed...:   0%|          | 0/2173 [02:16<?, ? file/s]
Dl Completed...: 100%|██████████| 1/1 [02:16<00:00, 134.78s/ url]

Dl Size...: 100%|██████████| 827/827 [02:16<00:00,  7.60 MiB/s]


Extraction completed...:   0%|          | 0/2174 [02:16<?, ? file/s]
Dl Completed...: 100%|██████████| 1/1 [02:16<00:00, 134.78s/ url]

Dl Size...: 100%|██████████| 827/827 [02:16<00:00,  7.60 MiB/s]


Extraction completed...:   0%|          | 0/2175 [02:16<?, ? file/s]
Dl Completed...: 100%|██████████| 1/1 [02:16<00:00, 134.78s/ url]

Dl Size...: 100%|██████████| 827/827 [02:16<00:00,  7.60 MiB/s]


Extraction completed...:   0%|          | 0/2176 [02:16<?, ? file/s]
Dl Completed...: 100%|██████████| 1/1 [02:16<00:00, 134.78s/ url]

Dl Size...: 100%|██████████| 827/827 [02:16<00:00,  7.60 MiB/s]


Extraction completed...:   0%|          | 0/2177 [02:16<?, ? file/s]
Dl Completed...: 100%|██████████| 1/1 [02:16<00:00, 134.78s/ url]

Dl Size...: 100%|██████████| 827/827 [02:16<00:00,  7.60 MiB/s]


Extraction completed...:   0%|          | 0/2178 [02:16<?, ? file/s]
Dl Completed...: 100%|██████████| 1/1 [02:16<00:00, 134.78s/ url]

Dl Size...: 100%|██████████| 827/827 [02:16<00:00,  7.60 MiB/s]


Extraction completed...:   0%|          | 0/2179 [02:16<?, ? file/s]
Dl Completed...: 100%|██████████| 1/1 [02:16<00:00, 134.78s/ url]

Dl Size...: 100%|██████████| 827/827 [02:16<00:00,  7.60 MiB/s]


Extraction completed...:   0%|          | 0/2180 [02:16<?, ? file/s]
Dl Completed...: 100%|██████████| 1/1 [02:16<00:00, 134.78s/ url]

Dl Size...: 100%|██████████| 827/827 [02:16<00:00,  7.60 MiB/s]


Extraction completed...:   0%|          | 0/2181 [02:16<?, ? file/s]
Dl Completed...: 100%|██████████| 1/1 [02:16<00:00, 134.78s/ url]

Dl Size...: 100%|██████████| 827/827 [02:16<00:00,  7.60 MiB/s]


Extraction completed...:   0%|          | 0/2182 [02:16<?, ? file/s]
Dl Completed...: 100%|██████████| 1/1 [02:16<00:00, 134.78s/ url]

Dl Size...: 100%|██████████| 827/827 [02:16<00:00,  7.60 MiB/s]


Extraction completed...:   0%|          | 0/2183 [02:16<?, ? file/s]
Dl Completed...: 100%|██████████| 1/1 [02:16<00:00, 134.78s/ url]

Dl Size...: 100%|██████████| 827/827 [02:16<00:00,  7.60 MiB/s]


Extraction completed...:   0%|          | 0/2184 [02:16<?, ? file/s]
Dl Completed...: 100%|██████████| 1/1 [02:16<00:00, 134.78s/ url]

Dl Size...: 100%|██████████| 827/827 [02:16<00:00,  7.60 MiB/s]


Extraction completed...:   0%|          | 0/2185 [02:16<?, ? file/s]
Dl Completed...: 100%|██████████| 1/1 [02:16<00:00, 134.78s/ url]

Dl Size...: 100%|██████████| 827/827 [02:16<00:00,  7.60 MiB/s]


Extraction completed...:   0%|          | 0/2186 [02:16<?, ? file/s]
Dl Completed...: 100%|██████████| 1/1 [02:16<00:00, 134.78s/ url]

Dl Size...: 100%|██████████| 827/827 [02:16<00:00,  7.60 MiB/s]


Extraction completed...:   0%|          | 0/2187 [02:16<?, ? file/s]
Dl Completed...: 100%|██████████| 1/1 [02:16<00:00, 134.78s/ url]

Dl Size...: 100%|██████████| 827/827 [02:16<00:00,  7.60 MiB/s]


Extraction completed...:   0%|          | 0/2188 [02:16<?, ? file/s]
Dl Completed...: 100%|██████████| 1/1 [02:16<00:00, 134.78s/ url]

Dl Size...: 100%|██████████| 827/827 [02:16<00:00,  7.60 MiB/s]


Extraction completed...:   0%|          | 0/2189 [02:16<?, ? file/s]
Dl Completed...: 100%|██████████| 1/1 [02:16<00:00, 134.78s/ url]

Dl Size...: 100%|██████████| 827/827 [02:16<00:00,  7.60 MiB/s]


Extraction completed...:   0%|          | 0/2190 [02:16<?, ? file/s]
Dl Completed...: 100%|██████████| 1/1 [02:16<00:00, 134.78s/ url]

Dl Size...: 100%|██████████| 827/827 [02:16<00:00,  7.60 MiB/s]


Extraction completed...:   0%|          | 0/2191 [02:16<?, ? file/s]
Dl Completed...: 100%|██████████| 1/1 [02:16<00:00, 134.78s/ url]

Dl Size...: 100%|██████████| 827/827 [02:16<00:00,  7.60 MiB/s]


Extraction completed...:   0%|          | 0/2192 [02:16<?, ? file/s]
Dl Completed...: 100%|██████████| 1/1 [02:16<00:00, 134.78s/ url]

Dl Size...: 100%|██████████| 827/827 [02:16<00:00,  7.60 MiB/s]


Extraction completed...:   0%|          | 0/2193 [02:16<?, ? file/s]
Dl Completed...: 100%|██████████| 1/1 [02:16<00:00, 134.78s/ url]

Dl Size...: 100%|██████████| 827/827 [02:16<00:00,  7.60 MiB/s]


Extraction completed...:   0%|          | 0/2194 [02:16<?, ? file/s]
Dl Completed...: 100%|██████████| 1/1 [02:16<00:00, 134.78s/ url]

Dl Size...: 100%|██████████| 827/827 [02:16<00:00,  7.60 MiB/s]


Extraction completed...:   0%|          | 0/2195 [02:16<?, ? file/s]
Dl Completed...: 100%|██████████| 1/1 [02:16<00:00, 134.78s/ url]

Dl Size...: 100%|██████████| 827/827 [02:16<00:00,  7.60 MiB/s]


Extraction completed...:   0%|          | 0/2196 [02:16<?, ? file/s]
Dl Completed...: 100%|██████████| 1/1 [02:16<00:00, 134.78s/ url]

Dl Size...: 100%|██████████| 827/827 [02:16<00:00,  7.60 MiB/s]


Extraction completed...:   0%|          | 0/2197 [02:16<?, ? file/s]
Dl Completed...: 100%|██████████| 1/1 [02:16<00:00, 134.78s/ url]

Dl Size...: 100%|██████████| 827/827 [02:16<00:00,  7.60 MiB/s]


Extraction completed...:   0%|          | 0/2198 [02:16<?, ? file/s]
Dl Completed...: 100%|██████████| 1/1 [02:16<00:00, 134.78s/ url]

Dl Size...: 100%|██████████| 827/827 [02:16<00:00,  7.60 MiB/s]


Extraction completed...:   0%|          | 0/2199 [02:16<?, ? file/s]
Dl Completed...: 100%|██████████| 1/1 [02:16<00:00, 134.78s/ url]

Dl Size...: 100%|██████████| 827/827 [02:16<00:00,  7.60 MiB/s]


Extraction completed...:   0%|          | 0/2200 [02:16<?, ? file/s]
Dl Completed...: 100%|██████████| 1/1 [02:16<00:00, 134.78s/ url]

Dl Size...: 100%|██████████| 827/827 [02:16<00:00,  7.60 MiB/s]


Extraction completed...:   0%|          | 0/2201 [02:16<?, ? file/s]
Dl Completed...: 100%|██████████| 1/1 [02:16<00:00, 134.78s/ url]

Dl Size...: 100%|██████████| 827/827 [02:16<00:00,  7.60 MiB/s]


Extraction completed...:   0%|          | 0/2202 [02:16<?, ? file/s]
Dl Completed...: 100%|██████████| 1/1 [02:16<00:00, 134.78s/ url]

Dl Size...: 100%|██████████| 827/827 [02:16<00:00,  7.60 MiB/s]


Extraction completed...:   0%|          | 0/2203 [02:16<?, ? file/s]
Dl Completed...: 100%|██████████| 1/1 [02:16<00:00, 134.78s/ url]

Dl Size...: 100%|██████████| 827/827 [02:16<00:00,  7.60 MiB/s]


Extraction completed...:   0%|          | 0/2204 [02:16<?, ? file/s]
Dl Completed...: 100%|██████████| 1/1 [02:16<00:00, 134.78s/ url]

Dl Size...: 100%|██████████| 827/827 [02:16<00:00,  7.60 MiB/s]


Extraction completed...:   0%|          | 0/2205 [02:16<?, ? file/s]
Dl Completed...: 100%|██████████| 1/1 [02:16<00:00, 134.78s/ url]

Dl Size...: 100%|██████████| 827/827 [02:16<00:00,  7.60 MiB/s]


Extraction completed...:   0%|          | 0/2206 [02:16<?, ? file/s]
Dl Completed...: 100%|██████████| 1/1 [02:16<00:00, 134.78s/ url]

Dl Size...: 100%|██████████| 827/827 [02:16<00:00,  7.60 MiB/s]


Extraction completed...:   0%|          | 0/2207 [02:16<?, ? file/s]
Dl Completed...: 100%|██████████| 1/1 [02:16<00:00, 134.78s/ url]

Dl Size...: 100%|██████████| 827/827 [02:16<00:00,  7.60 MiB/s]


Extraction completed...:   0%|          | 0/2208 [02:16<?, ? file/s]
Dl Completed...: 100%|██████████| 1/1 [02:16<00:00, 134.78s/ url]

Dl Size...: 100%|██████████| 827/827 [02:16<00:00,  7.60 MiB/s]


Extraction completed...:   0%|          | 0/2209 [02:16<?, ? file/s]
Dl Completed...: 100%|██████████| 1/1 [02:16<00:00, 134.78s/ url]

Dl Size...: 100%|██████████| 827/827 [02:16<00:00,  7.60 MiB/s]


Extraction completed...:   0%|          | 0/2210 [02:16<?, ? file/s]
Dl Completed...: 100%|██████████| 1/1 [02:16<00:00, 134.78s/ url]

Dl Size...: 100%|██████████| 827/827 [02:16<00:00,  7.60 MiB/s]


Extraction completed...:   0%|          | 0/2211 [02:16<?, ? file/s]
Dl Completed...: 100%|██████████| 1/1 [02:16<00:00, 134.78s/ url]

Dl Size...: 100%|██████████| 827/827 [02:16<00:00,  7.60 MiB/s]


Extraction completed...:   0%|          | 0/2212 [02:16<?, ? file/s]
Dl Completed...: 100%|██████████| 1/1 [02:16<00:00, 134.78s/ url]

Dl Size...: 100%|██████████| 827/827 [02:16<00:00,  7.60 MiB/s]


Extraction completed...:   0%|          | 0/2213 [02:16<?, ? file/s]
Dl Completed...: 100%|██████████| 1/1 [02:16<00:00, 134.78s/ url]

Dl Size...: 100%|██████████| 827/827 [02:16<00:00,  7.60 MiB/s]


Extraction completed...:   0%|          | 0/2214 [02:16<?, ? file/s]
Dl Completed...: 100%|██████████| 1/1 [02:16<00:00, 134.78s/ url]

Dl Size...: 100%|██████████| 827/827 [02:16<00:00,  7.60 MiB/s]


Extraction completed...:   0%|          | 0/2215 [02:16<?, ? file/s]
Dl Completed...: 100%|██████████| 1/1 [02:16<00:00, 134.78s/ url]

Dl Size...: 100%|██████████| 827/827 [02:16<00:00,  7.60 MiB/s]


Extraction completed...:   0%|          | 0/2216 [02:16<?, ? file/s]
Dl Completed...: 100%|██████████| 1/1 [02:16<00:00, 134.78s/ url]

Dl Size...: 100%|██████████| 827/827 [02:16<00:00,  7.60 MiB/s]


Extraction completed...:   0%|          | 0/2217 [02:16<?, ? file/s]
Dl Completed...: 100%|██████████| 1/1 [02:16<00:00, 134.78s/ url]

Dl Size...: 100%|██████████| 827/827 [02:16<00:00,  7.60 MiB/s]


Extraction completed...:   0%|          | 0/2218 [02:16<?, ? file/s]
Dl Completed...: 100%|██████████| 1/1 [02:16<00:00, 134.78s/ url]

Dl Size...: 100%|██████████| 827/827 [02:16<00:00,  7.60 MiB/s]


Extraction completed...:   0%|          | 0/2219 [02:16<?, ? file/s]
Dl Completed...: 100%|██████████| 1/1 [02:16<00:00, 134.78s/ url]

Dl Size...: 100%|██████████| 827/827 [02:16<00:00,  7.60 MiB/s]


Extraction completed...:   0%|          | 0/2220 [02:16<?, ? file/s]
Dl Completed...: 100%|██████████| 1/1 [02:16<00:00, 134.78s/ url]

Dl Size...: 100%|██████████| 827/827 [02:16<00:00,  7.60 MiB/s]


Extraction completed...:   0%|          | 0/2221 [02:16<?, ? file/s]
Dl Completed...: 100%|██████████| 1/1 [02:16<00:00, 134.78s/ url]

Dl Size...: 100%|██████████| 827/827 [02:16<00:00,  7.60 MiB/s]


Extraction completed...:   0%|          | 0/2222 [02:16<?, ? file/s]
Dl Completed...: 100%|██████████| 1/1 [02:16<00:00, 134.78s/ url]

Dl Size...: 100%|██████████| 827/827 [02:16<00:00,  7.60 MiB/s]


Extraction completed...:   0%|          | 0/2223 [02:16<?, ? file/s]
Dl Completed...: 100%|██████████| 1/1 [02:16<00:00, 134.78s/ url]

Dl Size...: 100%|██████████| 827/827 [02:16<00:00,  7.60 MiB/s]


Extraction completed...:   0%|          | 0/2224 [02:16<?, ? file/s]
Dl Completed...: 100%|██████████| 1/1 [02:16<00:00, 134.78s/ url]

Dl Size...: 100%|██████████| 827/827 [02:16<00:00,  7.60 MiB/s]


Extraction completed...:   0%|          | 0/2225 [02:16<?, ? file/s]
Dl Completed...: 100%|██████████| 1/1 [02:16<00:00, 134.78s/ url]

Dl Size...: 100%|██████████| 827/827 [02:16<00:00,  7.60 MiB/s]


Extraction completed...:   0%|          | 0/2226 [02:16<?, ? file/s]
Dl Completed...: 100%|██████████| 1/1 [02:16<00:00, 134.78s/ url]

Dl Size...: 100%|██████████| 827/827 [02:16<00:00,  7.60 MiB/s]


Extraction completed...:   0%|          | 0/2227 [02:16<?, ? file/s]
Dl Completed...: 100%|██████████| 1/1 [02:16<00:00, 134.78s/ url]

Dl Size...: 100%|██████████| 827/827 [02:16<00:00,  7.60 MiB/s]


Extraction completed...:   0%|          | 0/2228 [02:16<?, ? file/s]
Dl Completed...: 100%|██████████| 1/1 [02:16<00:00, 134.78s/ url]

Dl Size...: 100%|██████████| 827/827 [02:16<00:00,  7.60 MiB/s]


Extraction completed...:   0%|          | 0/2229 [02:16<?, ? file/s]
Dl Completed...: 100%|██████████| 1/1 [02:16<00:00, 134.78s/ url]

Dl Size...: 100%|██████████| 827/827 [02:16<00:00,  7.60 MiB/s]


Extraction completed...:   0%|          | 0/2230 [02:16<?, ? file/s]
Dl Completed...: 100%|██████████| 1/1 [02:16<00:00, 134.78s/ url]

Dl Size...: 100%|██████████| 827/827 [02:16<00:00,  7.60 MiB/s]


Extraction completed...:   0%|          | 0/2231 [02:16<?, ? file/s]
Dl Completed...: 100%|██████████| 1/1 [02:16<00:00, 134.78s/ url]

Dl Size...: 100%|██████████| 827/827 [02:16<00:00,  7.60 MiB/s]


Extraction completed...:   0%|          | 0/2232 [02:16<?, ? file/s]
Dl Completed...: 100%|██████████| 1/1 [02:16<00:00, 134.78s/ url]

Dl Size...: 100%|██████████| 827/827 [02:16<00:00,  7.60 MiB/s]


Extraction completed...:   0%|          | 0/2233 [02:16<?, ? file/s]
Dl Completed...: 100%|██████████| 1/1 [02:16<00:00, 134.78s/ url]

Dl Size...: 100%|██████████| 827/827 [02:16<00:00,  7.60 MiB/s]


Extraction completed...:   0%|          | 0/2234 [02:16<?, ? file/s]
Dl Completed...: 100%|██████████| 1/1 [02:16<00:00, 134.78s/ url]

Dl Size...: 100%|██████████| 827/827 [02:16<00:00,  7.60 MiB/s]


Extraction completed...:   0%|          | 0/2235 [02:16<?, ? file/s]
Dl Completed...: 100%|██████████| 1/1 [02:16<00:00, 134.78s/ url]

Dl Size...: 100%|██████████| 827/827 [02:16<00:00,  7.60 MiB/s]


Extraction completed...:   0%|          | 0/2236 [02:16<?, ? file/s]
Dl Completed...: 100%|██████████| 1/1 [02:16<00:00, 134.78s/ url]

Dl Size...: 100%|██████████| 827/827 [02:16<00:00,  7.60 MiB/s]


Extraction completed...:   0%|          | 0/2237 [02:16<?, ? file/s]
Dl Completed...: 100%|██████████| 1/1 [02:16<00:00, 134.78s/ url]

Dl Size...: 100%|██████████| 827/827 [02:16<00:00,  7.60 MiB/s]


Extraction completed...:   0%|          | 0/2238 [02:16<?, ? file/s]
Dl Completed...: 100%|██████████| 1/1 [02:16<00:00, 134.78s/ url]

Dl Size...: 100%|██████████| 827/827 [02:16<00:00,  7.60 MiB/s]


Extraction completed...:   0%|          | 0/2239 [02:16<?, ? file/s]
Dl Completed...: 100%|██████████| 1/1 [02:16<00:00, 134.78s/ url]

Dl Size...: 100%|██████████| 827/827 [02:16<00:00,  7.60 MiB/s]


Extraction completed...:   0%|          | 0/2240 [02:16<?, ? file/s]
Dl Completed...: 100%|██████████| 1/1 [02:16<00:00, 134.78s/ url]

Dl Size...: 100%|██████████| 827/827 [02:16<00:00,  7.60 MiB/s]


Extraction completed...:   0%|          | 0/2241 [02:16<?, ? file/s]
Dl Completed...: 100%|██████████| 1/1 [02:16<00:00, 134.78s/ url]

Dl Size...: 100%|██████████| 827/827 [02:16<00:00,  7.60 MiB/s]


Extraction completed...:   0%|          | 0/2242 [02:16<?, ? file/s]
Dl Completed...: 100%|██████████| 1/1 [02:16<00:00, 134.78s/ url]

Dl Size...: 100%|██████████| 827/827 [02:16<00:00,  7.60 MiB/s]


Extraction completed...:   0%|          | 0/2243 [02:16<?, ? file/s]
Dl Completed...: 100%|██████████| 1/1 [02:16<00:00, 134.78s/ url]

Dl Size...: 100%|██████████| 827/827 [02:16<00:00,  7.60 MiB/s]


Extraction completed...:   0%|          | 0/2244 [02:16<?, ? file/s]
Dl Completed...: 100%|██████████| 1/1 [02:16<00:00, 134.78s/ url]

Dl Size...: 100%|██████████| 827/827 [02:16<00:00,  7.60 MiB/s]


Extraction completed...:   0%|          | 0/2245 [02:16<?, ? file/s]
Dl Completed...: 100%|██████████| 1/1 [02:16<00:00, 134.78s/ url]

Dl Size...: 100%|██████████| 827/827 [02:16<00:00,  7.60 MiB/s]


Extraction completed...:   0%|          | 0/2246 [02:16<?, ? file/s]
Dl Completed...: 100%|██████████| 1/1 [02:16<00:00, 134.78s/ url]

Dl Size...: 100%|██████████| 827/827 [02:16<00:00,  7.60 MiB/s]


Extraction completed...:   0%|          | 0/2247 [02:16<?, ? file/s]
Dl Completed...: 100%|██████████| 1/1 [02:16<00:00, 134.78s/ url]

Dl Size...: 100%|██████████| 827/827 [02:16<00:00,  7.60 MiB/s]


Extraction completed...:   0%|          | 0/2248 [02:16<?, ? file/s]
Dl Completed...: 100%|██████████| 1/1 [02:16<00:00, 134.78s/ url]

Dl Size...: 100%|██████████| 827/827 [02:16<00:00,  7.60 MiB/s]


Extraction completed...:   0%|          | 0/2249 [02:16<?, ? file/s]
Dl Completed...: 100%|██████████| 1/1 [02:16<00:00, 134.78s/ url]

Dl Size...: 100%|██████████| 827/827 [02:16<00:00,  7.60 MiB/s]


Extraction completed...:   0%|          | 0/2250 [02:16<?, ? file/s]
Dl Completed...: 100%|██████████| 1/1 [02:16<00:00, 134.78s/ url]

Dl Size...: 100%|██████████| 827/827 [02:16<00:00,  7.60 MiB/s]


Extraction completed...:   0%|          | 0/2251 [02:16<?, ? file/s]
Dl Completed...: 100%|██████████| 1/1 [02:16<00:00, 134.78s/ url]

Dl Size...: 100%|██████████| 827/827 [02:16<00:00,  7.60 MiB/s]


Extraction completed...:   0%|          | 0/2252 [02:16<?, ? file/s]
Dl Completed...: 100%|██████████| 1/1 [02:16<00:00, 134.78s/ url]

Dl Size...: 100%|██████████| 827/827 [02:16<00:00,  7.60 MiB/s]


Extraction completed...:   0%|          | 0/2253 [02:16<?, ? file/s]
Dl Completed...: 100%|██████████| 1/1 [02:16<00:00, 134.78s/ url]

Dl Size...: 100%|██████████| 827/827 [02:16<00:00,  7.60 MiB/s]


Extraction completed...:   0%|          | 0/2254 [02:16<?, ? file/s]
Dl Completed...: 100%|██████████| 1/1 [02:16<00:00, 134.78s/ url]

Dl Size...: 100%|██████████| 827/827 [02:16<00:00,  7.60 MiB/s]


Extraction completed...:   0%|          | 0/2255 [02:16<?, ? file/s]
Dl Completed...: 100%|██████████| 1/1 [02:16<00:00, 134.78s/ url]

Dl Size...: 100%|██████████| 827/827 [02:16<00:00,  7.60 MiB/s]


Extraction completed...:   0%|          | 0/2256 [02:16<?, ? file/s]
Dl Completed...: 100%|██████████| 1/1 [02:16<00:00, 134.78s/ url]

Dl Size...: 100%|██████████| 827/827 [02:16<00:00,  7.60 MiB/s]


Extraction completed...:   0%|          | 0/2257 [02:16<?, ? file/s]
Dl Completed...: 100%|██████████| 1/1 [02:16<00:00, 134.78s/ url]

Dl Size...: 100%|██████████| 827/827 [02:16<00:00,  7.60 MiB/s]


Extraction completed...:   0%|          | 0/2258 [02:16<?, ? file/s]
Dl Completed...: 100%|██████████| 1/1 [02:16<00:00, 134.78s/ url]

Dl Size...: 100%|██████████| 827/827 [02:16<00:00,  7.60 MiB/s]


Extraction completed...:   0%|          | 0/2259 [02:16<?, ? file/s]
Dl Completed...: 100%|██████████| 1/1 [02:16<00:00, 134.78s/ url]

Dl Size...: 100%|██████████| 827/827 [02:16<00:00,  7.60 MiB/s]


Extraction completed...:   0%|          | 0/2260 [02:16<?, ? file/s]
Dl Completed...: 100%|██████████| 1/1 [02:16<00:00, 134.78s/ url]

Dl Size...: 100%|██████████| 827/827 [02:16<00:00,  7.60 MiB/s]


Extraction completed...:   0%|          | 0/2261 [02:16<?, ? file/s]
Dl Completed...: 100%|██████████| 1/1 [02:16<00:00, 134.78s/ url]

Dl Size...: 100%|██████████| 827/827 [02:16<00:00,  7.60 MiB/s]


Extraction completed...:   0%|          | 0/2262 [02:16<?, ? file/s]
Dl Completed...: 100%|██████████| 1/1 [02:16<00:00, 134.78s/ url]

Dl Size...: 100%|██████████| 827/827 [02:16<00:00,  7.60 MiB/s]


Extraction completed...:   0%|          | 0/2263 [02:16<?, ? file/s]
Dl Completed...: 100%|██████████| 1/1 [02:16<00:00, 134.78s/ url]

Dl Size...: 100%|██████████| 827/827 [02:16<00:00,  7.60 MiB/s]


Extraction completed...:   0%|          | 0/2264 [02:16<?, ? file/s]
Dl Completed...: 100%|██████████| 1/1 [02:16<00:00, 134.78s/ url]

Dl Size...: 100%|██████████| 827/827 [02:16<00:00,  7.60 MiB/s]


Extraction completed...:   0%|          | 0/2265 [02:16<?, ? file/s]
Dl Completed...: 100%|██████████| 1/1 [02:16<00:00, 134.78s/ url]

Dl Size...: 100%|██████████| 827/827 [02:16<00:00,  7.60 MiB/s]


Extraction completed...:   0%|          | 0/2266 [02:16<?, ? file/s]
Dl Completed...: 100%|██████████| 1/1 [02:16<00:00, 134.78s/ url]

Dl Size...: 100%|██████████| 827/827 [02:16<00:00,  7.60 MiB/s]


Extraction completed...:   0%|          | 0/2267 [02:16<?, ? file/s]
Dl Completed...: 100%|██████████| 1/1 [02:16<00:00, 134.78s/ url]

Dl Size...: 100%|██████████| 827/827 [02:16<00:00,  7.60 MiB/s]


Extraction completed...:   0%|          | 0/2268 [02:16<?, ? file/s]
Dl Completed...: 100%|██████████| 1/1 [02:16<00:00, 134.78s/ url]

Dl Size...: 100%|██████████| 827/827 [02:16<00:00,  7.60 MiB/s]


Extraction completed...:   0%|          | 0/2269 [02:16<?, ? file/s]
Dl Completed...: 100%|██████████| 1/1 [02:16<00:00, 134.78s/ url]

Dl Size...: 100%|██████████| 827/827 [02:16<00:00,  7.60 MiB/s]


Extraction completed...:   0%|          | 0/2270 [02:16<?, ? file/s]
Dl Completed...: 100%|██████████| 1/1 [02:16<00:00, 134.78s/ url]

Dl Size...: 100%|██████████| 827/827 [02:16<00:00,  7.60 MiB/s]


Extraction completed...:   0%|          | 0/2271 [02:16<?, ? file/s]
Dl Completed...: 100%|██████████| 1/1 [02:16<00:00, 134.78s/ url]

Dl Size...: 100%|██████████| 827/827 [02:16<00:00,  7.60 MiB/s]


Extraction completed...:   0%|          | 0/2272 [02:16<?, ? file/s]
Dl Completed...: 100%|██████████| 1/1 [02:16<00:00, 134.78s/ url]

Dl Size...: 100%|██████████| 827/827 [02:16<00:00,  7.60 MiB/s]


Extraction completed...:   0%|          | 0/2273 [02:16<?, ? file/s]
Dl Completed...: 100%|██████████| 1/1 [02:16<00:00, 134.78s/ url]

Dl Size...: 100%|██████████| 827/827 [02:16<00:00,  7.60 MiB/s]


Extraction completed...:   0%|          | 0/2274 [02:16<?, ? file/s]
Dl Completed...: 100%|██████████| 1/1 [02:16<00:00, 134.78s/ url]

Dl Size...: 100%|██████████| 827/827 [02:16<00:00,  7.60 MiB/s]


Extraction completed...:   0%|          | 0/2275 [02:16<?, ? file/s]
Dl Completed...: 100%|██████████| 1/1 [02:16<00:00, 134.78s/ url]

Dl Size...: 100%|██████████| 827/827 [02:16<00:00,  7.60 MiB/s]


Extraction completed...:   0%|          | 0/2276 [02:16<?, ? file/s]
Dl Completed...: 100%|██████████| 1/1 [02:16<00:00, 134.78s/ url]

Dl Size...: 100%|██████████| 827/827 [02:16<00:00,  7.60 MiB/s]


Extraction completed...:   0%|          | 0/2277 [02:16<?, ? file/s]
Dl Completed...: 100%|██████████| 1/1 [02:16<00:00, 134.78s/ url]

Dl Size...: 100%|██████████| 827/827 [02:16<00:00,  7.60 MiB/s]


Extraction completed...:   0%|          | 0/2278 [02:16<?, ? file/s]
Dl Completed...: 100%|██████████| 1/1 [02:16<00:00, 134.78s/ url]

Dl Size...: 100%|██████████| 827/827 [02:16<00:00,  7.60 MiB/s]


Extraction completed...:   0%|          | 0/2279 [02:16<?, ? file/s]
Dl Completed...: 100%|██████████| 1/1 [02:16<00:00, 134.78s/ url]

Dl Size...: 100%|██████████| 827/827 [02:16<00:00,  7.60 MiB/s]


Extraction completed...:   0%|          | 0/2280 [02:16<?, ? file/s]
Dl Completed...: 100%|██████████| 1/1 [02:16<00:00, 134.78s/ url]

Dl Size...: 100%|██████████| 827/827 [02:16<00:00,  7.60 MiB/s]


Extraction completed...:   0%|          | 0/2281 [02:16<?, ? file/s]
Dl Completed...: 100%|██████████| 1/1 [02:16<00:00, 134.78s/ url]

Dl Size...: 100%|██████████| 827/827 [02:16<00:00,  7.60 MiB/s]


Extraction completed...:   0%|          | 0/2282 [02:16<?, ? file/s]
Dl Completed...: 100%|██████████| 1/1 [02:16<00:00, 134.78s/ url]

Dl Size...: 100%|██████████| 827/827 [02:16<00:00,  7.60 MiB/s]


Extraction completed...:   0%|          | 0/2283 [02:16<?, ? file/s]
Dl Completed...: 100%|██████████| 1/1 [02:16<00:00, 134.78s/ url]

Dl Size...: 100%|██████████| 827/827 [02:16<00:00,  7.60 MiB/s]


Extraction completed...:   0%|          | 0/2284 [02:16<?, ? file/s]
Dl Completed...: 100%|██████████| 1/1 [02:16<00:00, 134.78s/ url]

Dl Size...: 100%|██████████| 827/827 [02:16<00:00,  7.60 MiB/s]


Extraction completed...:   0%|          | 0/2285 [02:16<?, ? file/s]
Dl Completed...: 100%|██████████| 1/1 [02:16<00:00, 134.78s/ url]

Dl Size...: 100%|██████████| 827/827 [02:16<00:00,  7.60 MiB/s]


Extraction completed...:   0%|          | 0/2286 [02:16<?, ? file/s]
Dl Completed...: 100%|██████████| 1/1 [02:16<00:00, 134.78s/ url]

Dl Size...: 100%|██████████| 827/827 [02:16<00:00,  7.60 MiB/s]


Extraction completed...:   0%|          | 0/2287 [02:16<?, ? file/s]
Dl Completed...: 100%|██████████| 1/1 [02:16<00:00, 134.78s/ url]

Dl Size...: 100%|██████████| 827/827 [02:16<00:00,  7.60 MiB/s]


Extraction completed...:   0%|          | 0/2288 [02:16<?, ? file/s]
Dl Completed...: 100%|██████████| 1/1 [02:16<00:00, 134.78s/ url]

Dl Size...: 100%|██████████| 827/827 [02:16<00:00,  7.60 MiB/s]


Extraction completed...:   0%|          | 0/2289 [02:16<?, ? file/s]
Dl Completed...: 100%|██████████| 1/1 [02:16<00:00, 134.78s/ url]

Dl Size...: 100%|██████████| 827/827 [02:16<00:00,  7.60 MiB/s]


Extraction completed...:   0%|          | 0/2290 [02:16<?, ? file/s]
Dl Completed...: 100%|██████████| 1/1 [02:16<00:00, 134.78s/ url]

Dl Size...: 100%|██████████| 827/827 [02:16<00:00,  7.60 MiB/s]


Extraction completed...:   0%|          | 0/2291 [02:16<?, ? file/s]
Dl Completed...: 100%|██████████| 1/1 [02:16<00:00, 134.78s/ url]

Dl Size...: 100%|██████████| 827/827 [02:16<00:00,  7.60 MiB/s]


Extraction completed...:   0%|          | 0/2292 [02:16<?, ? file/s]
Dl Completed...: 100%|██████████| 1/1 [02:16<00:00, 134.78s/ url]

Dl Size...: 100%|██████████| 827/827 [02:16<00:00,  7.60 MiB/s]


Extraction completed...:   0%|          | 0/2293 [02:16<?, ? file/s]
Dl Completed...: 100%|██████████| 1/1 [02:16<00:00, 134.78s/ url]

Dl Size...: 100%|██████████| 827/827 [02:16<00:00,  7.60 MiB/s]


Extraction completed...:   0%|          | 0/2294 [02:16<?, ? file/s]
Dl Completed...: 100%|██████████| 1/1 [02:16<00:00, 134.78s/ url]

Dl Size...: 100%|██████████| 827/827 [02:16<00:00,  7.60 MiB/s]


Extraction completed...:   0%|          | 0/2295 [02:16<?, ? file/s]
Dl Completed...: 100%|██████████| 1/1 [02:16<00:00, 134.78s/ url]

Dl Size...: 100%|██████████| 827/827 [02:16<00:00,  7.60 MiB/s]


Extraction completed...:   0%|          | 0/2296 [02:16<?, ? file/s]
Dl Completed...: 100%|██████████| 1/1 [02:16<00:00, 134.78s/ url]

Dl Size...: 100%|██████████| 827/827 [02:16<00:00,  7.60 MiB/s]


Extraction completed...:   0%|          | 0/2297 [02:16<?, ? file/s]
Dl Completed...: 100%|██████████| 1/1 [02:16<00:00, 134.78s/ url]

Dl Size...: 100%|██████████| 827/827 [02:16<00:00,  7.60 MiB/s]


Extraction completed...:   0%|          | 0/2298 [02:16<?, ? file/s]
Dl Completed...: 100%|██████████| 1/1 [02:16<00:00, 134.78s/ url]

Dl Size...: 100%|██████████| 827/827 [02:16<00:00,  7.60 MiB/s]


Extraction completed...:   0%|          | 0/2299 [02:16<?, ? file/s]
Dl Completed...: 100%|██████████| 1/1 [02:16<00:00, 134.78s/ url]

Dl Size...: 100%|██████████| 827/827 [02:16<00:00,  7.60 MiB/s]


Extraction completed...:   0%|          | 0/2300 [02:16<?, ? file/s]
Dl Completed...: 100%|██████████| 1/1 [02:16<00:00, 134.78s/ url]

Dl Size...: 100%|██████████| 827/827 [02:16<00:00,  7.60 MiB/s]


Extraction completed...:   0%|          | 0/2301 [02:16<?, ? file/s]
Dl Completed...: 100%|██████████| 1/1 [02:16<00:00, 134.78s/ url]

Dl Size...: 100%|██████████| 827/827 [02:16<00:00,  7.60 MiB/s]


Extraction completed...:   0%|          | 0/2302 [02:16<?, ? file/s]
Dl Completed...: 100%|██████████| 1/1 [02:16<00:00, 134.78s/ url]

Dl Size...: 100%|██████████| 827/827 [02:16<00:00,  7.60 MiB/s]


Extraction completed...:   0%|          | 0/2303 [02:16<?, ? file/s]
Dl Completed...: 100%|██████████| 1/1 [02:16<00:00, 134.78s/ url]

Dl Size...: 100%|██████████| 827/827 [02:16<00:00,  7.60 MiB/s]


Extraction completed...:   0%|          | 0/2304 [02:16<?, ? file/s]
Dl Completed...: 100%|██████████| 1/1 [02:16<00:00, 134.78s/ url]

Dl Size...: 100%|██████████| 827/827 [02:16<00:00,  7.60 MiB/s]


Extraction completed...:   0%|          | 0/2305 [02:16<?, ? file/s]
Dl Completed...: 100%|██████████| 1/1 [02:16<00:00, 134.78s/ url]

Dl Size...: 100%|██████████| 827/827 [02:16<00:00,  7.60 MiB/s]


Extraction completed...:   0%|          | 0/2306 [02:16<?, ? file/s]
Dl Completed...: 100%|██████████| 1/1 [02:16<00:00, 134.78s/ url]

Dl Size...: 100%|██████████| 827/827 [02:16<00:00,  7.60 MiB/s]


Extraction completed...:   0%|          | 0/2307 [02:16<?, ? file/s]
Dl Completed...: 100%|██████████| 1/1 [02:16<00:00, 134.78s/ url]

Dl Size...: 100%|██████████| 827/827 [02:16<00:00,  7.60 MiB/s]


Extraction completed...:   0%|          | 0/2308 [02:16<?, ? file/s]
Dl Completed...: 100%|██████████| 1/1 [02:16<00:00, 134.78s/ url]

Dl Size...: 100%|██████████| 827/827 [02:16<00:00,  7.60 MiB/s]


Extraction completed...:   0%|          | 0/2309 [02:16<?, ? file/s]
Dl Completed...: 100%|██████████| 1/1 [02:16<00:00, 134.78s/ url]

Dl Size...: 100%|██████████| 827/827 [02:16<00:00,  7.60 MiB/s]


Extraction completed...:   0%|          | 0/2310 [02:16<?, ? file/s]
Dl Completed...: 100%|██████████| 1/1 [02:16<00:00, 134.78s/ url]

Dl Size...: 100%|██████████| 827/827 [02:16<00:00,  7.60 MiB/s]


Extraction completed...:   0%|          | 0/2311 [02:16<?, ? file/s]
Dl Completed...: 100%|██████████| 1/1 [02:16<00:00, 134.78s/ url]

Dl Size...: 100%|██████████| 827/827 [02:16<00:00,  7.60 MiB/s]


Extraction completed...:   0%|          | 0/2312 [02:16<?, ? file/s]
Dl Completed...: 100%|██████████| 1/1 [02:16<00:00, 134.78s/ url]

Dl Size...: 100%|██████████| 827/827 [02:16<00:00,  7.60 MiB/s]


Extraction completed...:   0%|          | 0/2313 [02:16<?, ? file/s]
Dl Completed...: 100%|██████████| 1/1 [02:16<00:00, 134.78s/ url]

Dl Size...: 100%|██████████| 827/827 [02:16<00:00,  7.60 MiB/s]


Extraction completed...:   0%|          | 0/2314 [02:16<?, ? file/s]
Dl Completed...: 100%|██████████| 1/1 [02:16<00:00, 134.78s/ url]

Dl Size...: 100%|██████████| 827/827 [02:16<00:00,  7.60 MiB/s]


Extraction completed...:   0%|          | 0/2315 [02:16<?, ? file/s]
Dl Completed...: 100%|██████████| 1/1 [02:16<00:00, 134.78s/ url]

Dl Size...: 100%|██████████| 827/827 [02:16<00:00,  7.60 MiB/s]


Extraction completed...:   0%|          | 0/2316 [02:16<?, ? file/s]
Dl Completed...: 100%|██████████| 1/1 [02:16<00:00, 134.78s/ url]

Dl Size...: 100%|██████████| 827/827 [02:16<00:00,  7.60 MiB/s]


Extraction completed...:   0%|          | 0/2317 [02:16<?, ? file/s]
Dl Completed...: 100%|██████████| 1/1 [02:16<00:00, 134.78s/ url]

Dl Size...: 100%|██████████| 827/827 [02:16<00:00,  7.60 MiB/s]


Extraction completed...:   0%|          | 0/2318 [02:16<?, ? file/s]
Dl Completed...: 100%|██████████| 1/1 [02:16<00:00, 134.78s/ url]

Dl Size...: 100%|██████████| 827/827 [02:16<00:00,  7.60 MiB/s]


Extraction completed...:   0%|          | 0/2319 [02:16<?, ? file/s]
Dl Completed...: 100%|██████████| 1/1 [02:16<00:00, 134.78s/ url]

Dl Size...: 100%|██████████| 827/827 [02:16<00:00,  7.60 MiB/s]


Extraction completed...:   0%|          | 0/2320 [02:16<?, ? file/s]
Dl Completed...: 100%|██████████| 1/1 [02:16<00:00, 134.78s/ url]

Dl Size...: 100%|██████████| 827/827 [02:16<00:00,  7.60 MiB/s]


Extraction completed...:   0%|          | 0/2321 [02:16<?, ? file/s]
Dl Completed...: 100%|██████████| 1/1 [02:16<00:00, 134.78s/ url]

Dl Size...: 100%|██████████| 827/827 [02:16<00:00,  7.60 MiB/s]


Extraction completed...:   0%|          | 0/2322 [02:16<?, ? file/s]
Dl Completed...: 100%|██████████| 1/1 [02:16<00:00, 134.78s/ url]

Dl Size...: 100%|██████████| 827/827 [02:16<00:00,  7.60 MiB/s]


Extraction completed...:   0%|          | 0/2323 [02:16<?, ? file/s]
Dl Completed...: 100%|██████████| 1/1 [02:16<00:00, 134.78s/ url]

Dl Size...: 100%|██████████| 827/827 [02:16<00:00,  7.60 MiB/s]


Extraction completed...:   0%|          | 0/2324 [02:16<?, ? file/s]
Dl Completed...: 100%|██████████| 1/1 [02:16<00:00, 134.78s/ url]

Dl Size...: 100%|██████████| 827/827 [02:16<00:00,  7.60 MiB/s]


Extraction completed...:   0%|          | 0/2325 [02:16<?, ? file/s]
Dl Completed...: 100%|██████████| 1/1 [02:16<00:00, 134.78s/ url]

Dl Size...: 100%|██████████| 827/827 [02:16<00:00,  7.60 MiB/s]


Extraction completed...:   0%|          | 0/2326 [02:16<?, ? file/s]
Dl Completed...: 100%|██████████| 1/1 [02:16<00:00, 134.78s/ url]

Dl Size...: 100%|██████████| 827/827 [02:16<00:00,  7.60 MiB/s]


Extraction completed...:   0%|          | 0/2327 [02:16<?, ? file/s]
Dl Completed...: 100%|██████████| 1/1 [02:16<00:00, 134.78s/ url]

Dl Size...: 100%|██████████| 827/827 [02:16<00:00,  7.60 MiB/s]


Extraction completed...:   0%|          | 0/2328 [02:16<?, ? file/s]
Dl Completed...: 100%|██████████| 1/1 [02:16<00:00, 134.78s/ url]

Dl Size...: 100%|██████████| 827/827 [02:16<00:00,  7.60 MiB/s]


Extraction completed...:   0%|          | 0/2329 [02:16<?, ? file/s]
Dl Completed...: 100%|██████████| 1/1 [02:16<00:00, 134.78s/ url]

Dl Size...: 100%|██████████| 827/827 [02:16<00:00,  7.60 MiB/s]


Extraction completed...:   0%|          | 0/2330 [02:16<?, ? file/s]
Dl Completed...: 100%|██████████| 1/1 [02:16<00:00, 134.78s/ url]

Dl Size...: 100%|██████████| 827/827 [02:16<00:00,  7.60 MiB/s]


Extraction completed...:   0%|          | 0/2331 [02:16<?, ? file/s]
Dl Completed...: 100%|██████████| 1/1 [02:16<00:00, 134.78s/ url]

Dl Size...: 100%|██████████| 827/827 [02:16<00:00,  7.60 MiB/s]


Extraction completed...:   0%|          | 0/2332 [02:16<?, ? file/s]
Dl Completed...: 100%|██████████| 1/1 [02:16<00:00, 134.78s/ url]

Dl Size...: 100%|██████████| 827/827 [02:16<00:00,  7.60 MiB/s]


Extraction completed...:   0%|          | 0/2333 [02:16<?, ? file/s]
Dl Completed...: 100%|██████████| 1/1 [02:16<00:00, 134.78s/ url]

Dl Size...: 100%|██████████| 827/827 [02:16<00:00,  7.60 MiB/s]


Extraction completed...:   0%|          | 0/2334 [02:16<?, ? file/s]
Dl Completed...: 100%|██████████| 1/1 [02:16<00:00, 134.78s/ url]

Dl Size...: 100%|██████████| 827/827 [02:16<00:00,  7.60 MiB/s]


Extraction completed...:   0%|          | 0/2335 [02:16<?, ? file/s]
Dl Completed...: 100%|██████████| 1/1 [02:16<00:00, 134.78s/ url]

Dl Size...: 100%|██████████| 827/827 [02:16<00:00,  7.60 MiB/s]


Extraction completed...:   0%|          | 0/2336 [02:16<?, ? file/s]
Dl Completed...: 100%|██████████| 1/1 [02:16<00:00, 134.78s/ url]

Dl Size...: 100%|██████████| 827/827 [02:16<00:00,  7.60 MiB/s]


Extraction completed...:   0%|          | 0/2337 [02:16<?, ? file/s]
Dl Completed...: 100%|██████████| 1/1 [02:16<00:00, 134.78s/ url]

Dl Size...: 100%|██████████| 827/827 [02:16<00:00,  7.60 MiB/s]


Extraction completed...:   0%|          | 0/2338 [02:16<?, ? file/s]
Dl Completed...: 100%|██████████| 1/1 [02:16<00:00, 134.78s/ url]

Dl Size...: 100%|██████████| 827/827 [02:16<00:00,  7.60 MiB/s]


Extraction completed...:   0%|          | 0/2339 [02:16<?, ? file/s]
Dl Completed...: 100%|██████████| 1/1 [02:16<00:00, 134.78s/ url]

Dl Size...: 100%|██████████| 827/827 [02:16<00:00,  7.60 MiB/s]


Extraction completed...:   0%|          | 0/2340 [02:16<?, ? file/s]
Dl Completed...: 100%|██████████| 1/1 [02:16<00:00, 134.78s/ url]

Dl Size...: 100%|██████████| 827/827 [02:16<00:00,  7.60 MiB/s]


Extraction completed...:   0%|          | 0/2341 [02:16<?, ? file/s]
Dl Completed...: 100%|██████████| 1/1 [02:16<00:00, 134.78s/ url]

Dl Size...: 100%|██████████| 827/827 [02:16<00:00,  7.60 MiB/s]


Extraction completed...:   0%|          | 0/2342 [02:16<?, ? file/s]
Dl Completed...: 100%|██████████| 1/1 [02:16<00:00, 134.78s/ url]

Dl Size...: 100%|██████████| 827/827 [02:16<00:00,  7.60 MiB/s]


Extraction completed...:   0%|          | 0/2343 [02:16<?, ? file/s]
Dl Completed...: 100%|██████████| 1/1 [02:16<00:00, 134.78s/ url]

Dl Size...: 100%|██████████| 827/827 [02:16<00:00,  7.60 MiB/s]


Extraction completed...:   0%|          | 0/2344 [02:16<?, ? file/s]
Dl Completed...: 100%|██████████| 1/1 [02:16<00:00, 134.78s/ url]

Dl Size...: 100%|██████████| 827/827 [02:16<00:00,  7.60 MiB/s]


Extraction completed...:   0%|          | 0/2345 [02:16<?, ? file/s]
Dl Completed...: 100%|██████████| 1/1 [02:16<00:00, 134.78s/ url]

Dl Size...: 100%|██████████| 827/827 [02:16<00:00,  7.60 MiB/s]


Extraction completed...:   0%|          | 0/2346 [02:16<?, ? file/s]
Dl Completed...: 100%|██████████| 1/1 [02:16<00:00, 134.78s/ url]

Dl Size...: 100%|██████████| 827/827 [02:16<00:00,  7.60 MiB/s]


Extraction completed...:   0%|          | 0/2347 [02:16<?, ? file/s]
Dl Completed...: 100%|██████████| 1/1 [02:16<00:00, 134.78s/ url]

Dl Size...: 100%|██████████| 827/827 [02:16<00:00,  7.60 MiB/s]


Extraction completed...:   0%|          | 0/2348 [02:16<?, ? file/s]
Dl Completed...: 100%|██████████| 1/1 [02:16<00:00, 134.78s/ url]

Dl Size...: 100%|██████████| 827/827 [02:16<00:00,  7.60 MiB/s]


Extraction completed...:   0%|          | 0/2349 [02:16<?, ? file/s]
Dl Completed...: 100%|██████████| 1/1 [02:16<00:00, 134.78s/ url]

Dl Size...: 100%|██████████| 827/827 [02:16<00:00,  7.60 MiB/s]


Extraction completed...:   0%|          | 0/2350 [02:16<?, ? file/s]
Dl Completed...: 100%|██████████| 1/1 [02:16<00:00, 134.78s/ url]

Dl Size...: 100%|██████████| 827/827 [02:16<00:00,  7.60 MiB/s]


Extraction completed...:   0%|          | 0/2351 [02:16<?, ? file/s]
Dl Completed...: 100%|██████████| 1/1 [02:16<00:00, 134.78s/ url]

Dl Size...: 100%|██████████| 827/827 [02:16<00:00,  7.60 MiB/s]


Extraction completed...:   0%|          | 0/2352 [02:16<?, ? file/s]
Dl Completed...: 100%|██████████| 1/1 [02:16<00:00, 134.78s/ url]

Dl Size...: 100%|██████████| 827/827 [02:16<00:00,  7.60 MiB/s]


Extraction completed...:   0%|          | 0/2353 [02:16<?, ? file/s]
Dl Completed...: 100%|██████████| 1/1 [02:16<00:00, 134.78s/ url]

Dl Size...: 100%|██████████| 827/827 [02:16<00:00,  7.60 MiB/s]


Extraction completed...:   0%|          | 0/2354 [02:16<?, ? file/s]
Dl Completed...: 100%|██████████| 1/1 [02:16<00:00, 134.78s/ url]

Dl Size...: 100%|██████████| 827/827 [02:16<00:00,  7.60 MiB/s]


Extraction completed...:   0%|          | 0/2355 [02:16<?, ? file/s]
Dl Completed...: 100%|██████████| 1/1 [02:16<00:00, 134.78s/ url]

Dl Size...: 100%|██████████| 827/827 [02:16<00:00,  7.60 MiB/s]


Extraction completed...:   0%|          | 0/2356 [02:16<?, ? file/s]
Dl Completed...: 100%|██████████| 1/1 [02:16<00:00, 134.78s/ url]

Dl Size...: 100%|██████████| 827/827 [02:16<00:00,  7.60 MiB/s]


Extraction completed...:   0%|          | 0/2357 [02:16<?, ? file/s]
Dl Completed...: 100%|██████████| 1/1 [02:16<00:00, 134.78s/ url]

Dl Size...: 100%|██████████| 827/827 [02:16<00:00,  7.60 MiB/s]


Extraction completed...:   0%|          | 0/2358 [02:16<?, ? file/s]
Dl Completed...: 100%|██████████| 1/1 [02:16<00:00, 134.78s/ url]

Dl Size...: 100%|██████████| 827/827 [02:16<00:00,  7.60 MiB/s]


Extraction completed...:   0%|          | 0/2359 [02:16<?, ? file/s]
Dl Completed...: 100%|██████████| 1/1 [02:16<00:00, 134.78s/ url]

Dl Size...: 100%|██████████| 827/827 [02:16<00:00,  7.60 MiB/s]


Extraction completed...:   0%|          | 0/2360 [02:16<?, ? file/s]
Dl Completed...: 100%|██████████| 1/1 [02:16<00:00, 134.78s/ url]

Dl Size...: 100%|██████████| 827/827 [02:16<00:00,  7.60 MiB/s]


Extraction completed...:   0%|          | 0/2361 [02:16<?, ? file/s]
Dl Completed...: 100%|██████████| 1/1 [02:16<00:00, 134.78s/ url]

Dl Size...: 100%|██████████| 827/827 [02:16<00:00,  7.60 MiB/s]


Extraction completed...:   0%|          | 0/2362 [02:16<?, ? file/s]
Dl Completed...: 100%|██████████| 1/1 [02:16<00:00, 134.78s/ url]

Dl Size...: 100%|██████████| 827/827 [02:16<00:00,  7.60 MiB/s]


Extraction completed...:   0%|          | 0/2363 [02:16<?, ? file/s]
Dl Completed...: 100%|██████████| 1/1 [02:16<00:00, 134.78s/ url]

Dl Size...: 100%|██████████| 827/827 [02:16<00:00,  7.60 MiB/s]


Extraction completed...:   0%|          | 0/2364 [02:16<?, ? file/s]
Dl Completed...: 100%|██████████| 1/1 [02:16<00:00, 134.78s/ url]

Dl Size...: 100%|██████████| 827/827 [02:16<00:00,  7.60 MiB/s]


Extraction completed...:   0%|          | 0/2365 [02:16<?, ? file/s]
Dl Completed...: 100%|██████████| 1/1 [02:16<00:00, 134.78s/ url]

Dl Size...: 100%|██████████| 827/827 [02:16<00:00,  7.60 MiB/s]


Extraction completed...:   0%|          | 0/2366 [02:16<?, ? file/s]
Dl Completed...: 100%|██████████| 1/1 [02:16<00:00, 134.78s/ url]

Dl Size...: 100%|██████████| 827/827 [02:16<00:00,  7.60 MiB/s]


Extraction completed...:   0%|          | 0/2367 [02:16<?, ? file/s]
Dl Completed...: 100%|██████████| 1/1 [02:16<00:00, 134.78s/ url]

Dl Size...: 100%|██████████| 827/827 [02:16<00:00,  7.60 MiB/s]


Extraction completed...:   0%|          | 0/2368 [02:16<?, ? file/s]
Dl Completed...: 100%|██████████| 1/1 [02:16<00:00, 134.78s/ url]

Dl Size...: 100%|██████████| 827/827 [02:16<00:00,  7.60 MiB/s]


Extraction completed...:   0%|          | 0/2369 [02:16<?, ? file/s]
Dl Completed...: 100%|██████████| 1/1 [02:16<00:00, 134.78s/ url]

Dl Size...: 100%|██████████| 827/827 [02:16<00:00,  7.60 MiB/s]


Extraction completed...:   0%|          | 0/2370 [02:16<?, ? file/s]
Dl Completed...: 100%|██████████| 1/1 [02:16<00:00, 134.78s/ url]

Dl Size...: 100%|██████████| 827/827 [02:16<00:00,  7.60 MiB/s]


Extraction completed...:   0%|          | 0/2371 [02:16<?, ? file/s]
Dl Completed...: 100%|██████████| 1/1 [02:16<00:00, 134.78s/ url]

Dl Size...: 100%|██████████| 827/827 [02:16<00:00,  7.60 MiB/s]


Extraction completed...:   0%|          | 0/2372 [02:16<?, ? file/s]
Dl Completed...: 100%|██████████| 1/1 [02:16<00:00, 134.78s/ url]

Dl Size...: 100%|██████████| 827/827 [02:16<00:00,  7.60 MiB/s]


Extraction completed...:   0%|          | 0/2373 [02:16<?, ? file/s]
Dl Completed...: 100%|██████████| 1/1 [02:16<00:00, 134.78s/ url]

Dl Size...: 100%|██████████| 827/827 [02:16<00:00,  7.60 MiB/s]


Extraction completed...:   0%|          | 0/2374 [02:16<?, ? file/s]
Dl Completed...: 100%|██████████| 1/1 [02:16<00:00, 134.78s/ url]

Dl Size...: 100%|██████████| 827/827 [02:16<00:00,  7.60 MiB/s]


Extraction completed...:   0%|          | 0/2375 [02:16<?, ? file/s]
Dl Completed...: 100%|██████████| 1/1 [02:16<00:00, 134.78s/ url]

Dl Size...: 100%|██████████| 827/827 [02:16<00:00,  7.60 MiB/s]


Extraction completed...:   0%|          | 0/2376 [02:16<?, ? file/s]
Dl Completed...: 100%|██████████| 1/1 [02:16<00:00, 134.78s/ url]

Dl Size...: 100%|██████████| 827/827 [02:16<00:00,  7.60 MiB/s]


Extraction completed...:   0%|          | 0/2377 [02:16<?, ? file/s]
Dl Completed...: 100%|██████████| 1/1 [02:16<00:00, 134.78s/ url]

Dl Size...: 100%|██████████| 827/827 [02:16<00:00,  7.60 MiB/s]


Extraction completed...:   0%|          | 0/2378 [02:16<?, ? file/s]
Dl Completed...: 100%|██████████| 1/1 [02:16<00:00, 134.78s/ url]

Dl Size...: 100%|██████████| 827/827 [02:16<00:00,  7.60 MiB/s]


Extraction completed...:   0%|          | 0/2379 [02:16<?, ? file/s]
Dl Completed...: 100%|██████████| 1/1 [02:16<00:00, 134.78s/ url]

Dl Size...: 100%|██████████| 827/827 [02:16<00:00,  7.60 MiB/s]


Extraction completed...:   0%|          | 0/2380 [02:16<?, ? file/s]
Dl Completed...: 100%|██████████| 1/1 [02:16<00:00, 134.78s/ url]

Dl Size...: 100%|██████████| 827/827 [02:16<00:00,  7.60 MiB/s]


Extraction completed...:   0%|          | 0/2381 [02:16<?, ? file/s]
Dl Completed...: 100%|██████████| 1/1 [02:16<00:00, 134.78s/ url]

Dl Size...: 100%|██████████| 827/827 [02:16<00:00,  7.60 MiB/s]


Extraction completed...:   0%|          | 0/2382 [02:16<?, ? file/s]
Dl Completed...: 100%|██████████| 1/1 [02:16<00:00, 134.78s/ url]

Dl Size...: 100%|██████████| 827/827 [02:16<00:00,  7.60 MiB/s]


Extraction completed...:   0%|          | 0/2383 [02:16<?, ? file/s]
Dl Completed...: 100%|██████████| 1/1 [02:16<00:00, 134.78s/ url]

Dl Size...: 100%|██████████| 827/827 [02:16<00:00,  7.60 MiB/s]


Extraction completed...:   0%|          | 0/2384 [02:16<?, ? file/s]
Dl Completed...: 100%|██████████| 1/1 [02:16<00:00, 134.78s/ url]

Dl Size...: 100%|██████████| 827/827 [02:16<00:00,  7.60 MiB/s]


Extraction completed...:   0%|          | 0/2385 [02:16<?, ? file/s]
Dl Completed...: 100%|██████████| 1/1 [02:16<00:00, 134.78s/ url]

Dl Size...: 100%|██████████| 827/827 [02:16<00:00,  7.60 MiB/s]


Extraction completed...:   0%|          | 0/2386 [02:16<?, ? file/s]
Dl Completed...: 100%|██████████| 1/1 [02:16<00:00, 134.78s/ url]

Dl Size...: 100%|██████████| 827/827 [02:16<00:00,  7.60 MiB/s]


Extraction completed...:   0%|          | 0/2387 [02:16<?, ? file/s]
Dl Completed...: 100%|██████████| 1/1 [02:16<00:00, 134.78s/ url]

Dl Size...: 100%|██████████| 827/827 [02:16<00:00,  7.60 MiB/s]


Extraction completed...:   0%|          | 0/2388 [02:16<?, ? file/s]
Dl Completed...: 100%|██████████| 1/1 [02:16<00:00, 134.78s/ url]

Dl Size...: 100%|██████████| 827/827 [02:16<00:00,  7.60 MiB/s]


Extraction completed...:   0%|          | 0/2389 [02:16<?, ? file/s]
Dl Completed...: 100%|██████████| 1/1 [02:16<00:00, 134.78s/ url]

Dl Size...: 100%|██████████| 827/827 [02:16<00:00,  7.60 MiB/s]


Extraction completed...:   0%|          | 0/2390 [02:16<?, ? file/s]
Dl Completed...: 100%|██████████| 1/1 [02:16<00:00, 134.78s/ url]

Dl Size...: 100%|██████████| 827/827 [02:16<00:00,  7.60 MiB/s]


Extraction completed...:   0%|          | 0/2391 [02:16<?, ? file/s]
Dl Completed...: 100%|██████████| 1/1 [02:16<00:00, 134.78s/ url]

Dl Size...: 100%|██████████| 827/827 [02:16<00:00,  7.60 MiB/s]


Extraction completed...:   0%|          | 0/2392 [02:16<?, ? file/s]
Dl Completed...: 100%|██████████| 1/1 [02:16<00:00, 134.78s/ url]

Dl Size...: 100%|██████████| 827/827 [02:16<00:00,  7.60 MiB/s]


Extraction completed...:   0%|          | 0/2393 [02:16<?, ? file/s]
Dl Completed...: 100%|██████████| 1/1 [02:16<00:00, 134.78s/ url]

Dl Size...: 100%|██████████| 827/827 [02:16<00:00,  7.60 MiB/s]


Extraction completed...:   0%|          | 0/2394 [02:16<?, ? file/s]
Dl Completed...: 100%|██████████| 1/1 [02:16<00:00, 134.78s/ url]

Dl Size...: 100%|██████████| 827/827 [02:16<00:00,  7.60 MiB/s]


Extraction completed...:   0%|          | 0/2395 [02:16<?, ? file/s]
Dl Completed...: 100%|██████████| 1/1 [02:16<00:00, 134.78s/ url]

Dl Size...: 100%|██████████| 827/827 [02:16<00:00,  7.60 MiB/s]


Extraction completed...:   0%|          | 0/2396 [02:16<?, ? file/s]
Dl Completed...: 100%|██████████| 1/1 [02:16<00:00, 134.78s/ url]

Dl Size...: 100%|██████████| 827/827 [02:16<00:00,  7.60 MiB/s]


Extraction completed...:   0%|          | 0/2397 [02:16<?, ? file/s]
Dl Completed...: 100%|██████████| 1/1 [02:16<00:00, 134.78s/ url]

Dl Size...: 100%|██████████| 827/827 [02:16<00:00,  7.60 MiB/s]


Extraction completed...:   0%|          | 0/2398 [02:16<?, ? file/s]
Dl Completed...: 100%|██████████| 1/1 [02:16<00:00, 134.78s/ url]

Dl Size...: 100%|██████████| 827/827 [02:16<00:00,  7.60 MiB/s]


Extraction completed...:   0%|          | 0/2399 [02:16<?, ? file/s]
Dl Completed...: 100%|██████████| 1/1 [02:16<00:00, 134.78s/ url]

Dl Size...: 100%|██████████| 827/827 [02:16<00:00,  7.60 MiB/s]


Extraction completed...:   0%|          | 0/2400 [02:16<?, ? file/s]
Dl Completed...: 100%|██████████| 1/1 [02:16<00:00, 134.78s/ url]

Dl Size...: 100%|██████████| 827/827 [02:16<00:00,  7.60 MiB/s]


Extraction completed...:   0%|          | 0/2401 [02:16<?, ? file/s]
Dl Completed...: 100%|██████████| 1/1 [02:16<00:00, 134.78s/ url]

Dl Size...: 100%|██████████| 827/827 [02:16<00:00,  7.60 MiB/s]


Extraction completed...:   0%|          | 0/2402 [02:16<?, ? file/s]
Dl Completed...: 100%|██████████| 1/1 [02:16<00:00, 134.78s/ url]

Dl Size...: 100%|██████████| 827/827 [02:16<00:00,  7.60 MiB/s]


Extraction completed...:   0%|          | 0/2403 [02:16<?, ? file/s]
Dl Completed...: 100%|██████████| 1/1 [02:16<00:00, 134.78s/ url]

Dl Size...: 100%|██████████| 827/827 [02:16<00:00,  7.60 MiB/s]


Extraction completed...:   0%|          | 0/2404 [02:16<?, ? file/s]
Dl Completed...: 100%|██████████| 1/1 [02:16<00:00, 134.78s/ url]

Dl Size...: 100%|██████████| 827/827 [02:16<00:00,  7.60 MiB/s]


Extraction completed...:   0%|          | 0/2405 [02:16<?, ? file/s]
Dl Completed...: 100%|██████████| 1/1 [02:16<00:00, 134.78s/ url]

Dl Size...: 100%|██████████| 827/827 [02:16<00:00,  7.60 MiB/s]


Extraction completed...:   0%|          | 0/2406 [02:16<?, ? file/s]
Dl Completed...: 100%|██████████| 1/1 [02:16<00:00, 134.78s/ url]

Dl Size...: 100%|██████████| 827/827 [02:16<00:00,  7.60 MiB/s]


Extraction completed...:   0%|          | 0/2407 [02:16<?, ? file/s]
Dl Completed...: 100%|██████████| 1/1 [02:16<00:00, 134.78s/ url]

Dl Size...: 100%|██████████| 827/827 [02:16<00:00,  7.60 MiB/s]


Extraction completed...:   0%|          | 0/2408 [02:16<?, ? file/s]
Dl Completed...: 100%|██████████| 1/1 [02:16<00:00, 134.78s/ url]

Dl Size...: 100%|██████████| 827/827 [02:16<00:00,  7.60 MiB/s]


Extraction completed...:   0%|          | 0/2409 [02:16<?, ? file/s]
Dl Completed...: 100%|██████████| 1/1 [02:16<00:00, 134.78s/ url]

Dl Size...: 100%|██████████| 827/827 [02:16<00:00,  7.60 MiB/s]


Extraction completed...:   0%|          | 0/2410 [02:16<?, ? file/s]
Dl Completed...: 100%|██████████| 1/1 [02:16<00:00, 134.78s/ url]

Dl Size...: 100%|██████████| 827/827 [02:16<00:00,  7.60 MiB/s]


Extraction completed...:   0%|          | 0/2411 [02:16<?, ? file/s]
Dl Completed...: 100%|██████████| 1/1 [02:16<00:00, 134.78s/ url]

Dl Size...: 100%|██████████| 827/827 [02:16<00:00,  7.60 MiB/s]


Extraction completed...:   0%|          | 0/2412 [02:16<?, ? file/s]
Dl Completed...: 100%|██████████| 1/1 [02:16<00:00, 134.78s/ url]

Dl Size...: 100%|██████████| 827/827 [02:16<00:00,  7.60 MiB/s]


Extraction completed...:   0%|          | 0/2413 [02:16<?, ? file/s]
Dl Completed...: 100%|██████████| 1/1 [02:16<00:00, 134.78s/ url]

Dl Size...: 100%|██████████| 827/827 [02:16<00:00,  7.60 MiB/s]


Extraction completed...:   0%|          | 0/2414 [02:16<?, ? file/s]
Dl Completed...: 100%|██████████| 1/1 [02:16<00:00, 134.78s/ url]

Dl Size...: 100%|██████████| 827/827 [02:16<00:00,  7.60 MiB/s]


Extraction completed...:   0%|          | 0/2415 [02:16<?, ? file/s]
Dl Completed...: 100%|██████████| 1/1 [02:16<00:00, 134.78s/ url]

Dl Size...: 100%|██████████| 827/827 [02:16<00:00,  7.60 MiB/s]


Extraction completed...:   0%|          | 0/2416 [02:16<?, ? file/s]
Dl Completed...: 100%|██████████| 1/1 [02:16<00:00, 134.78s/ url]

Dl Size...: 100%|██████████| 827/827 [02:16<00:00,  7.60 MiB/s]


Extraction completed...:   0%|          | 0/2417 [02:16<?, ? file/s]
Dl Completed...: 100%|██████████| 1/1 [02:16<00:00, 134.78s/ url]

Dl Size...: 100%|██████████| 827/827 [02:16<00:00,  7.60 MiB/s]


Extraction completed...:   0%|          | 0/2418 [02:16<?, ? file/s]
Dl Completed...: 100%|██████████| 1/1 [02:16<00:00, 134.78s/ url]

Dl Size...: 100%|██████████| 827/827 [02:16<00:00,  7.60 MiB/s]


Extraction completed...:   0%|          | 0/2419 [02:16<?, ? file/s]
Dl Completed...: 100%|██████████| 1/1 [02:16<00:00, 134.78s/ url]

Dl Size...: 100%|██████████| 827/827 [02:16<00:00,  7.60 MiB/s]


Extraction completed...:   0%|          | 0/2420 [02:16<?, ? file/s]
Dl Completed...: 100%|██████████| 1/1 [02:16<00:00, 134.78s/ url]

Dl Size...: 100%|██████████| 827/827 [02:16<00:00,  7.60 MiB/s]


Extraction completed...:   0%|          | 0/2421 [02:16<?, ? file/s]
Dl Completed...: 100%|██████████| 1/1 [02:16<00:00, 134.78s/ url]

Dl Size...: 100%|██████████| 827/827 [02:16<00:00,  7.60 MiB/s]


Extraction completed...:   0%|          | 0/2422 [02:16<?, ? file/s]
Dl Completed...: 100%|██████████| 1/1 [02:16<00:00, 134.78s/ url]

Dl Size...: 100%|██████████| 827/827 [02:16<00:00,  7.60 MiB/s]


Extraction completed...:   0%|          | 0/2423 [02:16<?, ? file/s]
Dl Completed...: 100%|██████████| 1/1 [02:16<00:00, 134.78s/ url]

Dl Size...: 100%|██████████| 827/827 [02:16<00:00,  7.60 MiB/s]


Extraction completed...:   0%|          | 0/2424 [02:16<?, ? file/s]
Dl Completed...: 100%|██████████| 1/1 [02:16<00:00, 134.78s/ url]

Dl Size...: 100%|██████████| 827/827 [02:16<00:00,  7.60 MiB/s]


Extraction completed...:   0%|          | 0/2425 [02:16<?, ? file/s]
Dl Completed...: 100%|██████████| 1/1 [02:16<00:00, 134.78s/ url]

Dl Size...: 100%|██████████| 827/827 [02:16<00:00,  7.60 MiB/s]


Extraction completed...:   0%|          | 0/2426 [02:16<?, ? file/s]
Dl Completed...: 100%|██████████| 1/1 [02:16<00:00, 134.78s/ url]

Dl Size...: 100%|██████████| 827/827 [02:16<00:00,  7.60 MiB/s]


Extraction completed...:   0%|          | 0/2427 [02:16<?, ? file/s]
Dl Completed...: 100%|██████████| 1/1 [02:16<00:00, 134.78s/ url]

Dl Size...: 100%|██████████| 827/827 [02:16<00:00,  7.60 MiB/s]


Extraction completed...:   0%|          | 0/2428 [02:16<?, ? file/s]
Dl Completed...: 100%|██████████| 1/1 [02:16<00:00, 134.78s/ url]

Dl Size...: 100%|██████████| 827/827 [02:16<00:00,  7.60 MiB/s]


Extraction completed...:   0%|          | 0/2429 [02:16<?, ? file/s]
Dl Completed...: 100%|██████████| 1/1 [02:16<00:00, 134.78s/ url]

Dl Size...: 100%|██████████| 827/827 [02:16<00:00,  7.60 MiB/s]


Extraction completed...:   0%|          | 0/2430 [02:16<?, ? file/s]
Dl Completed...: 100%|██████████| 1/1 [02:16<00:00, 134.78s/ url]

Dl Size...: 100%|██████████| 827/827 [02:16<00:00,  7.60 MiB/s]


Extraction completed...:   0%|          | 0/2431 [02:16<?, ? file/s]
Dl Completed...: 100%|██████████| 1/1 [02:16<00:00, 134.78s/ url]

Dl Size...: 100%|██████████| 827/827 [02:16<00:00,  7.60 MiB/s]


Extraction completed...:   0%|          | 0/2432 [02:16<?, ? file/s]
Dl Completed...: 100%|██████████| 1/1 [02:16<00:00, 134.78s/ url]

Dl Size...: 100%|██████████| 827/827 [02:16<00:00,  7.60 MiB/s]


Extraction completed...:   0%|          | 0/2433 [02:16<?, ? file/s]
Dl Completed...: 100%|██████████| 1/1 [02:16<00:00, 134.78s/ url]

Dl Size...: 100%|██████████| 827/827 [02:16<00:00,  7.60 MiB/s]


Extraction completed...:   0%|          | 0/2434 [02:16<?, ? file/s]
Dl Completed...: 100%|██████████| 1/1 [02:16<00:00, 134.78s/ url]

Dl Size...: 100%|██████████| 827/827 [02:16<00:00,  7.60 MiB/s]


Extraction completed...:   0%|          | 0/2435 [02:16<?, ? file/s]
Dl Completed...: 100%|██████████| 1/1 [02:16<00:00, 134.78s/ url]

Dl Size...: 100%|██████████| 827/827 [02:16<00:00,  7.60 MiB/s]


Extraction completed...:   0%|          | 0/2436 [02:16<?, ? file/s]
Dl Completed...: 100%|██████████| 1/1 [02:16<00:00, 134.78s/ url]

Dl Size...: 100%|██████████| 827/827 [02:16<00:00,  7.60 MiB/s]


Extraction completed...:   0%|          | 0/2437 [02:16<?, ? file/s]
Dl Completed...: 100%|██████████| 1/1 [02:16<00:00, 134.78s/ url]

Dl Size...: 100%|██████████| 827/827 [02:16<00:00,  7.60 MiB/s]


Extraction completed...:   0%|          | 0/2438 [02:16<?, ? file/s]
Dl Completed...: 100%|██████████| 1/1 [02:16<00:00, 134.78s/ url]

Dl Size...: 100%|██████████| 827/827 [02:16<00:00,  7.60 MiB/s]


Extraction completed...:   0%|          | 0/2439 [02:16<?, ? file/s]
Dl Completed...: 100%|██████████| 1/1 [02:16<00:00, 134.78s/ url]

Dl Size...: 100%|██████████| 827/827 [02:16<00:00,  7.60 MiB/s]


Extraction completed...:   0%|          | 0/2440 [02:16<?, ? file/s]
Dl Completed...: 100%|██████████| 1/1 [02:16<00:00, 134.78s/ url]

Dl Size...: 100%|██████████| 827/827 [02:16<00:00,  7.60 MiB/s]


Extraction completed...:   0%|          | 0/2441 [02:16<?, ? file/s]
Dl Completed...: 100%|██████████| 1/1 [02:16<00:00, 134.78s/ url]

Dl Size...: 100%|██████████| 827/827 [02:16<00:00,  7.60 MiB/s]


Extraction completed...:   0%|          | 0/2442 [02:16<?, ? file/s]
Dl Completed...: 100%|██████████| 1/1 [02:16<00:00, 134.78s/ url]

Dl Size...: 100%|██████████| 827/827 [02:16<00:00,  7.60 MiB/s]


Extraction completed...:   0%|          | 0/2443 [02:16<?, ? file/s]
Dl Completed...: 100%|██████████| 1/1 [02:16<00:00, 134.78s/ url]

Dl Size...: 100%|██████████| 827/827 [02:16<00:00,  7.60 MiB/s]


Extraction completed...:   0%|          | 0/2444 [02:16<?, ? file/s]
Dl Completed...: 100%|██████████| 1/1 [02:16<00:00, 134.78s/ url]

Dl Size...: 100%|██████████| 827/827 [02:16<00:00,  7.60 MiB/s]


Extraction completed...:   0%|          | 0/2445 [02:16<?, ? file/s]
Dl Completed...: 100%|██████████| 1/1 [02:16<00:00, 134.78s/ url]

Dl Size...: 100%|██████████| 827/827 [02:16<00:00,  7.60 MiB/s]


Extraction completed...:   0%|          | 0/2446 [02:16<?, ? file/s]
Dl Completed...: 100%|██████████| 1/1 [02:16<00:00, 134.78s/ url]

Dl Size...: 100%|██████████| 827/827 [02:16<00:00,  7.60 MiB/s]


Extraction completed...:   0%|          | 0/2447 [02:16<?, ? file/s]
Dl Completed...: 100%|██████████| 1/1 [02:16<00:00, 134.78s/ url]

Dl Size...: 100%|██████████| 827/827 [02:16<00:00,  7.60 MiB/s]


Extraction completed...:   0%|          | 0/2448 [02:16<?, ? file/s]
Dl Completed...: 100%|██████████| 1/1 [02:16<00:00, 134.78s/ url]

Dl Size...: 100%|██████████| 827/827 [02:16<00:00,  7.60 MiB/s]


Extraction completed...:   0%|          | 0/2449 [02:16<?, ? file/s]
Dl Completed...: 100%|██████████| 1/1 [02:16<00:00, 134.78s/ url]

Dl Size...: 100%|██████████| 827/827 [02:16<00:00,  7.60 MiB/s]


Extraction completed...:   0%|          | 0/2450 [02:16<?, ? file/s]
Dl Completed...: 100%|██████████| 1/1 [02:16<00:00, 134.78s/ url]

Dl Size...: 100%|██████████| 827/827 [02:16<00:00,  7.60 MiB/s]


Extraction completed...:   0%|          | 0/2451 [02:16<?, ? file/s]
Dl Completed...: 100%|██████████| 1/1 [02:16<00:00, 134.78s/ url]

Dl Size...: 100%|██████████| 827/827 [02:16<00:00,  7.60 MiB/s]


Extraction completed...:   0%|          | 0/2452 [02:16<?, ? file/s]
Dl Completed...: 100%|██████████| 1/1 [02:16<00:00, 134.78s/ url]

Dl Size...: 100%|██████████| 827/827 [02:16<00:00,  7.60 MiB/s]


Extraction completed...:   0%|          | 0/2453 [02:16<?, ? file/s]
Dl Completed...: 100%|██████████| 1/1 [02:16<00:00, 134.78s/ url]

Dl Size...: 100%|██████████| 827/827 [02:16<00:00,  7.60 MiB/s]


Extraction completed...:   0%|          | 0/2454 [02:16<?, ? file/s]
Dl Completed...: 100%|██████████| 1/1 [02:16<00:00, 134.78s/ url]

Dl Size...: 100%|██████████| 827/827 [02:16<00:00,  7.60 MiB/s]


Extraction completed...:   0%|          | 0/2455 [02:16<?, ? file/s]
Dl Completed...: 100%|██████████| 1/1 [02:16<00:00, 134.78s/ url]

Dl Size...: 100%|██████████| 827/827 [02:16<00:00,  7.60 MiB/s]


Extraction completed...:   0%|          | 0/2456 [02:16<?, ? file/s]
Dl Completed...: 100%|██████████| 1/1 [02:16<00:00, 134.78s/ url]

Dl Size...: 100%|██████████| 827/827 [02:16<00:00,  7.60 MiB/s]


Extraction completed...:   0%|          | 0/2457 [02:16<?, ? file/s]
Dl Completed...: 100%|██████████| 1/1 [02:16<00:00, 134.78s/ url]

Dl Size...: 100%|██████████| 827/827 [02:16<00:00,  7.60 MiB/s]


Extraction completed...:   0%|          | 0/2458 [02:16<?, ? file/s]
Dl Completed...: 100%|██████████| 1/1 [02:16<00:00, 134.78s/ url]

Dl Size...: 100%|██████████| 827/827 [02:16<00:00,  7.60 MiB/s]


Extraction completed...:   0%|          | 0/2459 [02:16<?, ? file/s]
Dl Completed...: 100%|██████████| 1/1 [02:16<00:00, 134.78s/ url]

Dl Size...: 100%|██████████| 827/827 [02:16<00:00,  7.60 MiB/s]


Extraction completed...:   0%|          | 0/2460 [02:16<?, ? file/s]
Dl Completed...: 100%|██████████| 1/1 [02:16<00:00, 134.78s/ url]

Dl Size...: 100%|██████████| 827/827 [02:16<00:00,  7.60 MiB/s]


Extraction completed...:   0%|          | 0/2461 [02:16<?, ? file/s]
Dl Completed...: 100%|██████████| 1/1 [02:16<00:00, 134.78s/ url]

Dl Size...: 100%|██████████| 827/827 [02:16<00:00,  7.60 MiB/s]


Extraction completed...:   0%|          | 0/2462 [02:16<?, ? file/s]
Dl Completed...: 100%|██████████| 1/1 [02:16<00:00, 134.78s/ url]

Dl Size...: 100%|██████████| 827/827 [02:16<00:00,  7.60 MiB/s]


Extraction completed...:   0%|          | 0/2463 [02:16<?, ? file/s]
Dl Completed...: 100%|██████████| 1/1 [02:16<00:00, 134.78s/ url]

Dl Size...: 100%|██████████| 827/827 [02:16<00:00,  7.60 MiB/s]


Extraction completed...:   0%|          | 0/2464 [02:16<?, ? file/s]
Dl Completed...: 100%|██████████| 1/1 [02:16<00:00, 134.78s/ url]

Dl Size...: 100%|██████████| 827/827 [02:16<00:00,  7.60 MiB/s]


Extraction completed...:   0%|          | 0/2465 [02:16<?, ? file/s]
Dl Completed...: 100%|██████████| 1/1 [02:16<00:00, 134.78s/ url]

Dl Size...: 100%|██████████| 827/827 [02:16<00:00,  7.60 MiB/s]


Extraction completed...:   0%|          | 0/2466 [02:16<?, ? file/s]
Dl Completed...: 100%|██████████| 1/1 [02:16<00:00, 134.78s/ url]

Dl Size...: 100%|██████████| 827/827 [02:16<00:00,  7.60 MiB/s]


Extraction completed...:   0%|          | 0/2467 [02:16<?, ? file/s]
Dl Completed...: 100%|██████████| 1/1 [02:16<00:00, 134.78s/ url]

Dl Size...: 100%|██████████| 827/827 [02:16<00:00,  7.60 MiB/s]


Extraction completed...:   0%|          | 0/2468 [02:16<?, ? file/s]
Dl Completed...: 100%|██████████| 1/1 [02:16<00:00, 134.78s/ url]

Dl Size...: 100%|██████████| 827/827 [02:16<00:00,  7.60 MiB/s]


Extraction completed...:   0%|          | 0/2469 [02:16<?, ? file/s]
Dl Completed...: 100%|██████████| 1/1 [02:16<00:00, 134.78s/ url]

Dl Size...: 100%|██████████| 827/827 [02:16<00:00,  7.60 MiB/s]


Extraction completed...:   0%|          | 0/2470 [02:16<?, ? file/s]
Dl Completed...: 100%|██████████| 1/1 [02:16<00:00, 134.78s/ url]

Dl Size...: 100%|██████████| 827/827 [02:16<00:00,  7.60 MiB/s]


Extraction completed...:   0%|          | 0/2471 [02:16<?, ? file/s]
Dl Completed...: 100%|██████████| 1/1 [02:16<00:00, 134.78s/ url]

Dl Size...: 100%|██████████| 827/827 [02:16<00:00,  7.60 MiB/s]


Extraction completed...:   0%|          | 0/2472 [02:16<?, ? file/s]
Dl Completed...: 100%|██████████| 1/1 [02:16<00:00, 134.78s/ url]

Dl Size...: 100%|██████████| 827/827 [02:16<00:00,  7.60 MiB/s]


Extraction completed...:   0%|          | 0/2473 [02:16<?, ? file/s]
Dl Completed...: 100%|██████████| 1/1 [02:16<00:00, 134.78s/ url]

Dl Size...: 100%|██████████| 827/827 [02:16<00:00,  7.60 MiB/s]


Extraction completed...:   0%|          | 0/2474 [02:16<?, ? file/s]
Dl Completed...: 100%|██████████| 1/1 [02:16<00:00, 134.78s/ url]

Dl Size...: 100%|██████████| 827/827 [02:16<00:00,  7.60 MiB/s]


Extraction completed...:   0%|          | 0/2475 [02:16<?, ? file/s]
Dl Completed...: 100%|██████████| 1/1 [02:16<00:00, 134.78s/ url]

Dl Size...: 100%|██████████| 827/827 [02:16<00:00,  7.60 MiB/s]


Extraction completed...:   0%|          | 0/2476 [02:16<?, ? file/s]
Dl Completed...: 100%|██████████| 1/1 [02:16<00:00, 134.78s/ url]

Dl Size...: 100%|██████████| 827/827 [02:16<00:00,  7.60 MiB/s]


Extraction completed...:   0%|          | 0/2477 [02:16<?, ? file/s]
Dl Completed...: 100%|██████████| 1/1 [02:16<00:00, 134.78s/ url]

Dl Size...: 100%|██████████| 827/827 [02:16<00:00,  7.60 MiB/s]


Extraction completed...:   0%|          | 0/2478 [02:16<?, ? file/s]
Dl Completed...: 100%|██████████| 1/1 [02:16<00:00, 134.78s/ url]

Dl Size...: 100%|██████████| 827/827 [02:16<00:00,  7.60 MiB/s]


Extraction completed...:   0%|          | 0/2479 [02:16<?, ? file/s]
Dl Completed...: 100%|██████████| 1/1 [02:16<00:00, 134.78s/ url]

Dl Size...: 100%|██████████| 827/827 [02:16<00:00,  7.60 MiB/s]


Extraction completed...:   0%|          | 0/2480 [02:16<?, ? file/s]
Dl Completed...: 100%|██████████| 1/1 [02:16<00:00, 134.78s/ url]

Dl Size...: 100%|██████████| 827/827 [02:16<00:00,  7.60 MiB/s]


Extraction completed...:   0%|          | 0/2481 [02:16<?, ? file/s]
Dl Completed...: 100%|██████████| 1/1 [02:16<00:00, 134.78s/ url]

Dl Size...: 100%|██████████| 827/827 [02:16<00:00,  7.60 MiB/s]


Extraction completed...:   0%|          | 0/2482 [02:16<?, ? file/s]
Dl Completed...: 100%|██████████| 1/1 [02:16<00:00, 134.78s/ url]

Dl Size...: 100%|██████████| 827/827 [02:16<00:00,  7.60 MiB/s]


Extraction completed...:   0%|          | 0/2483 [02:16<?, ? file/s]
Dl Completed...: 100%|██████████| 1/1 [02:16<00:00, 134.78s/ url]

Dl Size...: 100%|██████████| 827/827 [02:16<00:00,  7.60 MiB/s]


Extraction completed...:   0%|          | 0/2484 [02:16<?, ? file/s]
Dl Completed...: 100%|██████████| 1/1 [02:16<00:00, 134.78s/ url]

Dl Size...: 100%|██████████| 827/827 [02:16<00:00,  7.60 MiB/s]


Extraction completed...:   0%|          | 0/2485 [02:16<?, ? file/s]
Dl Completed...: 100%|██████████| 1/1 [02:16<00:00, 134.78s/ url]

Dl Size...: 100%|██████████| 827/827 [02:16<00:00,  7.60 MiB/s]


Extraction completed...:   0%|          | 0/2486 [02:16<?, ? file/s]
Dl Completed...: 100%|██████████| 1/1 [02:16<00:00, 134.78s/ url]

Dl Size...: 100%|██████████| 827/827 [02:16<00:00,  7.60 MiB/s]


Extraction completed...:   0%|          | 0/2487 [02:16<?, ? file/s]
Dl Completed...: 100%|██████████| 1/1 [02:16<00:00, 134.78s/ url]

Dl Size...: 100%|██████████| 827/827 [02:16<00:00,  7.60 MiB/s]


Extraction completed...:   0%|          | 0/2488 [02:16<?, ? file/s]
Dl Completed...: 100%|██████████| 1/1 [02:16<00:00, 134.78s/ url]

Dl Size...: 100%|██████████| 827/827 [02:16<00:00,  7.60 MiB/s]


Extraction completed...:   0%|          | 0/2489 [02:16<?, ? file/s]
Dl Completed...: 100%|██████████| 1/1 [02:16<00:00, 134.78s/ url]

Dl Size...: 100%|██████████| 827/827 [02:16<00:00,  7.60 MiB/s]


Extraction completed...:   0%|          | 0/2490 [02:16<?, ? file/s]
Dl Completed...: 100%|██████████| 1/1 [02:16<00:00, 134.78s/ url]

Dl Size...: 100%|██████████| 827/827 [02:16<00:00,  7.60 MiB/s]


Extraction completed...:   0%|          | 0/2491 [02:16<?, ? file/s]
Dl Completed...: 100%|██████████| 1/1 [02:16<00:00, 134.78s/ url]

Dl Size...: 100%|██████████| 827/827 [02:16<00:00,  7.60 MiB/s]


Extraction completed...:   0%|          | 0/2492 [02:16<?, ? file/s]
Dl Completed...: 100%|██████████| 1/1 [02:16<00:00, 134.78s/ url]

Dl Size...: 100%|██████████| 827/827 [02:16<00:00,  7.60 MiB/s]


Extraction completed...:   0%|          | 0/2493 [02:16<?, ? file/s]
Dl Completed...: 100%|██████████| 1/1 [02:16<00:00, 134.78s/ url]

Dl Size...: 100%|██████████| 827/827 [02:16<00:00,  7.60 MiB/s]


Extraction completed...:   0%|          | 0/2494 [02:16<?, ? file/s]
Dl Completed...: 100%|██████████| 1/1 [02:16<00:00, 134.78s/ url]

Dl Size...: 100%|██████████| 827/827 [02:16<00:00,  7.60 MiB/s]


Extraction completed...:   0%|          | 0/2495 [02:16<?, ? file/s]
Dl Completed...: 100%|██████████| 1/1 [02:16<00:00, 134.78s/ url]

Dl Size...: 100%|██████████| 827/827 [02:16<00:00,  7.60 MiB/s]


Extraction completed...:   0%|          | 0/2496 [02:16<?, ? file/s]
Dl Completed...: 100%|██████████| 1/1 [02:16<00:00, 134.78s/ url]

Dl Size...: 100%|██████████| 827/827 [02:16<00:00,  7.60 MiB/s]


Extraction completed...:   0%|          | 0/2497 [02:16<?, ? file/s]
Dl Completed...: 100%|██████████| 1/1 [02:16<00:00, 134.78s/ url]

Dl Size...: 100%|██████████| 827/827 [02:16<00:00,  7.60 MiB/s]


Extraction completed...:   0%|          | 0/2498 [02:16<?, ? file/s]
Dl Completed...: 100%|██████████| 1/1 [02:16<00:00, 134.78s/ url]

Dl Size...: 100%|██████████| 827/827 [02:16<00:00,  7.60 MiB/s]


Extraction completed...:   0%|          | 0/2499 [02:16<?, ? file/s]
Dl Completed...: 100%|██████████| 1/1 [02:16<00:00, 134.78s/ url]

Dl Size...: 100%|██████████| 827/827 [02:16<00:00,  7.60 MiB/s]


Extraction completed...:   0%|          | 0/2500 [02:16<?, ? file/s]
Dl Completed...: 100%|██████████| 1/1 [02:16<00:00, 134.78s/ url]

Dl Size...: 100%|██████████| 827/827 [02:16<00:00,  7.60 MiB/s]


Extraction completed...:   0%|          | 0/2501 [02:16<?, ? file/s]
Dl Completed...: 100%|██████████| 1/1 [02:16<00:00, 134.78s/ url]

Dl Size...: 100%|██████████| 827/827 [02:16<00:00,  7.60 MiB/s]


Extraction completed...:   0%|          | 0/2502 [02:16<?, ? file/s]
Dl Completed...: 100%|██████████| 1/1 [02:16<00:00, 134.78s/ url]

Dl Size...: 100%|██████████| 827/827 [02:16<00:00,  7.60 MiB/s]


Extraction completed...:   0%|          | 0/2503 [02:16<?, ? file/s]
Dl Completed...: 100%|██████████| 1/1 [02:16<00:00, 134.78s/ url]

Dl Size...: 100%|██████████| 827/827 [02:16<00:00,  7.60 MiB/s]


Extraction completed...:   0%|          | 0/2504 [02:16<?, ? file/s]
Dl Completed...: 100%|██████████| 1/1 [02:16<00:00, 134.78s/ url]

Dl Size...: 100%|██████████| 827/827 [02:16<00:00,  7.60 MiB/s]


Extraction completed...:   0%|          | 0/2505 [02:16<?, ? file/s]
Dl Completed...: 100%|██████████| 1/1 [02:16<00:00, 134.78s/ url]

Dl Size...: 100%|██████████| 827/827 [02:16<00:00,  7.60 MiB/s]


Extraction completed...:   0%|          | 0/2506 [02:16<?, ? file/s]
Dl Completed...: 100%|██████████| 1/1 [02:16<00:00, 134.78s/ url]

Dl Size...: 100%|██████████| 827/827 [02:16<00:00,  7.60 MiB/s]


Extraction completed...:   0%|          | 0/2507 [02:16<?, ? file/s]
Dl Completed...: 100%|██████████| 1/1 [02:16<00:00, 134.78s/ url]

Dl Size...: 100%|██████████| 827/827 [02:16<00:00,  7.60 MiB/s]


Extraction completed...:   0%|          | 0/2508 [02:16<?, ? file/s]
Dl Completed...: 100%|██████████| 1/1 [02:16<00:00, 134.78s/ url]

Dl Size...: 100%|██████████| 827/827 [02:16<00:00,  7.60 MiB/s]


Extraction completed...:   0%|          | 0/2509 [02:16<?, ? file/s]
Dl Completed...: 100%|██████████| 1/1 [02:16<00:00, 134.78s/ url]

Dl Size...: 100%|██████████| 827/827 [02:16<00:00,  7.60 MiB/s]


Extraction completed...:   0%|          | 0/2510 [02:16<?, ? file/s]
Dl Completed...: 100%|██████████| 1/1 [02:16<00:00, 134.78s/ url]

Dl Size...: 100%|██████████| 827/827 [02:16<00:00,  7.60 MiB/s]


Extraction completed...:   0%|          | 0/2511 [02:16<?, ? file/s]
Dl Completed...: 100%|██████████| 1/1 [02:16<00:00, 134.78s/ url]

Dl Size...: 100%|██████████| 827/827 [02:16<00:00,  7.60 MiB/s]


Extraction completed...:   0%|          | 0/2512 [02:16<?, ? file/s]
Dl Completed...: 100%|██████████| 1/1 [02:16<00:00, 134.78s/ url]

Dl Size...: 100%|██████████| 827/827 [02:16<00:00,  7.60 MiB/s]


Extraction completed...:   0%|          | 0/2513 [02:16<?, ? file/s]
Dl Completed...: 100%|██████████| 1/1 [02:16<00:00, 134.78s/ url]

Dl Size...: 100%|██████████| 827/827 [02:16<00:00,  7.60 MiB/s]


Extraction completed...:   0%|          | 0/2514 [02:16<?, ? file/s]
Dl Completed...: 100%|██████████| 1/1 [02:16<00:00, 134.78s/ url]

Dl Size...: 100%|██████████| 827/827 [02:16<00:00,  7.60 MiB/s]


Extraction completed...:   0%|          | 0/2515 [02:16<?, ? file/s]
Dl Completed...: 100%|██████████| 1/1 [02:16<00:00, 134.78s/ url]

Dl Size...: 100%|██████████| 827/827 [02:16<00:00,  7.60 MiB/s]


Extraction completed...:   0%|          | 0/2516 [02:16<?, ? file/s]
Dl Completed...: 100%|██████████| 1/1 [02:16<00:00, 134.78s/ url]

Dl Size...: 100%|██████████| 827/827 [02:16<00:00,  7.60 MiB/s]


Extraction completed...:   0%|          | 0/2517 [02:16<?, ? file/s]
Dl Completed...: 100%|██████████| 1/1 [02:16<00:00, 134.78s/ url]

Dl Size...: 100%|██████████| 827/827 [02:16<00:00,  7.60 MiB/s]


Extraction completed...:   0%|          | 0/2518 [02:16<?, ? file/s]
Dl Completed...: 100%|██████████| 1/1 [02:16<00:00, 134.78s/ url]

Dl Size...: 100%|██████████| 827/827 [02:16<00:00,  7.60 MiB/s]


Extraction completed...:   0%|          | 0/2519 [02:16<?, ? file/s]
Dl Completed...: 100%|██████████| 1/1 [02:16<00:00, 134.78s/ url]

Dl Size...: 100%|██████████| 827/827 [02:16<00:00,  7.60 MiB/s]


Extraction completed...:   0%|          | 0/2520 [02:16<?, ? file/s]
Dl Completed...: 100%|██████████| 1/1 [02:16<00:00, 134.78s/ url]

Dl Size...: 100%|██████████| 827/827 [02:16<00:00,  7.60 MiB/s]


Extraction completed...:   0%|          | 0/2521 [02:16<?, ? file/s]
Dl Completed...: 100%|██████████| 1/1 [02:16<00:00, 134.78s/ url]

Dl Size...: 100%|██████████| 827/827 [02:16<00:00,  7.60 MiB/s]


Extraction completed...:   0%|          | 0/2522 [02:16<?, ? file/s]
Dl Completed...: 100%|██████████| 1/1 [02:16<00:00, 134.78s/ url]

Dl Size...: 100%|██████████| 827/827 [02:16<00:00,  7.60 MiB/s]


Extraction completed...:   0%|          | 0/2523 [02:16<?, ? file/s]
Dl Completed...: 100%|██████████| 1/1 [02:16<00:00, 134.78s/ url]

Dl Size...: 100%|██████████| 827/827 [02:16<00:00,  7.60 MiB/s]


Extraction completed...:   0%|          | 0/2524 [02:16<?, ? file/s]
Dl Completed...: 100%|██████████| 1/1 [02:16<00:00, 134.78s/ url]

Dl Size...: 100%|██████████| 827/827 [02:16<00:00,  7.60 MiB/s]


Extraction completed...:   0%|          | 0/2525 [02:16<?, ? file/s]
Dl Completed...: 100%|██████████| 1/1 [02:16<00:00, 134.78s/ url]

Dl Size...: 100%|██████████| 827/827 [02:16<00:00,  7.60 MiB/s]


Extraction completed...:   0%|          | 0/2526 [02:16<?, ? file/s]
Dl Completed...: 100%|██████████| 1/1 [02:16<00:00, 134.78s/ url]

Dl Size...: 100%|██████████| 827/827 [02:16<00:00,  7.60 MiB/s]


Extraction completed...:   0%|          | 0/2527 [02:16<?, ? file/s]
Dl Completed...: 100%|██████████| 1/1 [02:16<00:00, 134.78s/ url]

Dl Size...: 100%|██████████| 827/827 [02:16<00:00,  7.60 MiB/s]


Extraction completed...:   0%|          | 0/2528 [02:16<?, ? file/s]
Dl Completed...: 100%|██████████| 1/1 [02:16<00:00, 134.78s/ url]

Dl Size...: 100%|██████████| 827/827 [02:16<00:00,  7.60 MiB/s]


Extraction completed...:   0%|          | 0/2529 [02:16<?, ? file/s]
Dl Completed...: 100%|██████████| 1/1 [02:16<00:00, 134.78s/ url]

Dl Size...: 100%|██████████| 827/827 [02:16<00:00,  7.60 MiB/s]


Extraction completed...:   0%|          | 0/2530 [02:16<?, ? file/s]
Dl Completed...: 100%|██████████| 1/1 [02:16<00:00, 134.78s/ url]

Dl Size...: 100%|██████████| 827/827 [02:16<00:00,  7.60 MiB/s]


Extraction completed...:   0%|          | 0/2531 [02:16<?, ? file/s]
Dl Completed...: 100%|██████████| 1/1 [02:16<00:00, 134.78s/ url]

Dl Size...: 100%|██████████| 827/827 [02:16<00:00,  7.60 MiB/s]


Extraction completed...:   0%|          | 0/2532 [02:16<?, ? file/s]
Dl Completed...: 100%|██████████| 1/1 [02:16<00:00, 134.78s/ url]

Dl Size...: 100%|██████████| 827/827 [02:16<00:00,  7.60 MiB/s]


Extraction completed...:   0%|          | 0/2533 [02:16<?, ? file/s]
Dl Completed...: 100%|██████████| 1/1 [02:16<00:00, 134.78s/ url]

Dl Size...: 100%|██████████| 827/827 [02:16<00:00,  7.60 MiB/s]


Extraction completed...:   0%|          | 0/2534 [02:16<?, ? file/s]
Dl Completed...: 100%|██████████| 1/1 [02:16<00:00, 134.78s/ url]

Dl Size...: 100%|██████████| 827/827 [02:16<00:00,  7.60 MiB/s]


Extraction completed...:   0%|          | 0/2535 [02:16<?, ? file/s]
Dl Completed...: 100%|██████████| 1/1 [02:16<00:00, 134.78s/ url]

Dl Size...: 100%|██████████| 827/827 [02:16<00:00,  7.60 MiB/s]


Extraction completed...:   0%|          | 0/2536 [02:16<?, ? file/s]
Dl Completed...: 100%|██████████| 1/1 [02:16<00:00, 134.78s/ url]

Dl Size...: 100%|██████████| 827/827 [02:16<00:00,  7.60 MiB/s]


Extraction completed...:   0%|          | 0/2537 [02:16<?, ? file/s]
Dl Completed...: 100%|██████████| 1/1 [02:16<00:00, 134.78s/ url]

Dl Size...: 100%|██████████| 827/827 [02:16<00:00,  7.60 MiB/s]


Extraction completed...:   0%|          | 0/2538 [02:16<?, ? file/s]
Dl Completed...: 100%|██████████| 1/1 [02:16<00:00, 134.78s/ url]

Dl Size...: 100%|██████████| 827/827 [02:16<00:00,  7.60 MiB/s]


Extraction completed...:   0%|          | 0/2539 [02:16<?, ? file/s]
Dl Completed...: 100%|██████████| 1/1 [02:16<00:00, 134.78s/ url]

Dl Size...: 100%|██████████| 827/827 [02:16<00:00,  7.60 MiB/s]


Extraction completed...:   0%|          | 0/2540 [02:16<?, ? file/s]
Dl Completed...: 100%|██████████| 1/1 [02:16<00:00, 134.78s/ url]

Dl Size...: 100%|██████████| 827/827 [02:16<00:00,  7.60 MiB/s]


Extraction completed...:   0%|          | 0/2541 [02:16<?, ? file/s]
Dl Completed...: 100%|██████████| 1/1 [02:16<00:00, 134.78s/ url]

Dl Size...: 100%|██████████| 827/827 [02:16<00:00,  7.60 MiB/s]


Extraction completed...:   0%|          | 0/2542 [02:16<?, ? file/s]
Dl Completed...: 100%|██████████| 1/1 [02:16<00:00, 134.78s/ url]

Dl Size...: 100%|██████████| 827/827 [02:16<00:00,  7.60 MiB/s]


Extraction completed...:   0%|          | 0/2543 [02:16<?, ? file/s]
Dl Completed...: 100%|██████████| 1/1 [02:16<00:00, 134.78s/ url]

Dl Size...: 100%|██████████| 827/827 [02:16<00:00,  7.60 MiB/s]


Extraction completed...:   0%|          | 0/2544 [02:16<?, ? file/s]
Dl Completed...: 100%|██████████| 1/1 [02:16<00:00, 134.78s/ url]

Dl Size...: 100%|██████████| 827/827 [02:16<00:00,  7.60 MiB/s]


Extraction completed...:   0%|          | 0/2545 [02:16<?, ? file/s]
Dl Completed...: 100%|██████████| 1/1 [02:16<00:00, 134.78s/ url]

Dl Size...: 100%|██████████| 827/827 [02:16<00:00,  7.60 MiB/s]


Extraction completed...:   0%|          | 0/2546 [02:16<?, ? file/s]
Dl Completed...: 100%|██████████| 1/1 [02:16<00:00, 134.78s/ url]

Dl Size...: 100%|██████████| 827/827 [02:16<00:00,  7.60 MiB/s]


Extraction completed...:   0%|          | 0/2547 [02:16<?, ? file/s]
Dl Completed...: 100%|██████████| 1/1 [02:16<00:00, 134.78s/ url]

Dl Size...: 100%|██████████| 827/827 [02:16<00:00,  7.60 MiB/s]


Extraction completed...:   0%|          | 0/2548 [02:16<?, ? file/s]
Dl Completed...: 100%|██████████| 1/1 [02:16<00:00, 134.78s/ url]

Dl Size...: 100%|██████████| 827/827 [02:16<00:00,  7.60 MiB/s]


Extraction completed...:   0%|          | 0/2549 [02:16<?, ? file/s]
Dl Completed...: 100%|██████████| 1/1 [02:16<00:00, 134.78s/ url]

Dl Size...: 100%|██████████| 827/827 [02:16<00:00,  7.60 MiB/s]


Extraction completed...:   0%|          | 0/2550 [02:16<?, ? file/s]
Dl Completed...: 100%|██████████| 1/1 [02:16<00:00, 134.78s/ url]

Dl Size...: 100%|██████████| 827/827 [02:16<00:00,  7.60 MiB/s]


Extraction completed...:   0%|          | 0/2551 [02:16<?, ? file/s]
Dl Completed...: 100%|██████████| 1/1 [02:16<00:00, 134.78s/ url]

Dl Size...: 100%|██████████| 827/827 [02:16<00:00,  7.60 MiB/s]


Extraction completed...:   0%|          | 0/2552 [02:16<?, ? file/s]
Dl Completed...: 100%|██████████| 1/1 [02:16<00:00, 134.78s/ url]

Dl Size...: 100%|██████████| 827/827 [02:16<00:00,  7.60 MiB/s]


Extraction completed...:   0%|          | 0/2553 [02:16<?, ? file/s]
Dl Completed...: 100%|██████████| 1/1 [02:16<00:00, 134.78s/ url]

Dl Size...: 100%|██████████| 827/827 [02:16<00:00,  7.60 MiB/s]


Extraction completed...:   0%|          | 0/2554 [02:16<?, ? file/s]
Dl Completed...: 100%|██████████| 1/1 [02:16<00:00, 134.78s/ url]

Dl Size...: 100%|██████████| 827/827 [02:16<00:00,  7.60 MiB/s]


Extraction completed...:   0%|          | 0/2555 [02:16<?, ? file/s]
Dl Completed...: 100%|██████████| 1/1 [02:16<00:00, 134.78s/ url]

Dl Size...: 100%|██████████| 827/827 [02:16<00:00,  7.60 MiB/s]


Extraction completed...:   0%|          | 0/2556 [02:16<?, ? file/s]
Dl Completed...: 100%|██████████| 1/1 [02:16<00:00, 134.78s/ url]

Dl Size...: 100%|██████████| 827/827 [02:16<00:00,  7.60 MiB/s]


Extraction completed...:   0%|          | 0/2557 [02:16<?, ? file/s]
Dl Completed...: 100%|██████████| 1/1 [02:16<00:00, 134.78s/ url]

Dl Size...: 100%|██████████| 827/827 [02:16<00:00,  7.60 MiB/s]


Extraction completed...:   0%|          | 0/2558 [02:16<?, ? file/s]
Dl Completed...: 100%|██████████| 1/1 [02:16<00:00, 134.78s/ url]

Dl Size...: 100%|██████████| 827/827 [02:16<00:00,  7.60 MiB/s]


Extraction completed...:   0%|          | 0/2559 [02:16<?, ? file/s]
Dl Completed...: 100%|██████████| 1/1 [02:16<00:00, 134.78s/ url]

Dl Size...: 100%|██████████| 827/827 [02:16<00:00,  7.60 MiB/s]


Extraction completed...:   0%|          | 0/2560 [02:16<?, ? file/s]
Dl Completed...: 100%|██████████| 1/1 [02:16<00:00, 134.78s/ url]

Dl Size...: 100%|██████████| 827/827 [02:16<00:00,  7.60 MiB/s]


Extraction completed...:   0%|          | 0/2561 [02:16<?, ? file/s]
Dl Completed...: 100%|██████████| 1/1 [02:16<00:00, 134.78s/ url]

Dl Size...: 100%|██████████| 827/827 [02:16<00:00,  7.60 MiB/s]


Extraction completed...:   0%|          | 0/2562 [02:16<?, ? file/s]
Dl Completed...: 100%|██████████| 1/1 [02:16<00:00, 134.78s/ url]

Dl Size...: 100%|██████████| 827/827 [02:16<00:00,  7.60 MiB/s]


Extraction completed...:   0%|          | 0/2563 [02:16<?, ? file/s]
Dl Completed...: 100%|██████████| 1/1 [02:16<00:00, 134.78s/ url]

Dl Size...: 100%|██████████| 827/827 [02:16<00:00,  7.60 MiB/s]


Extraction completed...:   0%|          | 0/2564 [02:16<?, ? file/s]
Dl Completed...: 100%|██████████| 1/1 [02:16<00:00, 134.78s/ url]

Dl Size...: 100%|██████████| 827/827 [02:16<00:00,  7.60 MiB/s]


Extraction completed...:   0%|          | 0/2565 [02:16<?, ? file/s]
Dl Completed...: 100%|██████████| 1/1 [02:16<00:00, 134.78s/ url]

Dl Size...: 100%|██████████| 827/827 [02:16<00:00,  7.60 MiB/s]


Extraction completed...:   0%|          | 0/2566 [02:16<?, ? file/s]
Dl Completed...: 100%|██████████| 1/1 [02:16<00:00, 134.78s/ url]

Dl Size...: 100%|██████████| 827/827 [02:16<00:00,  7.60 MiB/s]


Extraction completed...:   0%|          | 0/2567 [02:16<?, ? file/s]
Dl Completed...: 100%|██████████| 1/1 [02:16<00:00, 134.78s/ url]

Dl Size...: 100%|██████████| 827/827 [02:16<00:00,  7.60 MiB/s]


Extraction completed...:   0%|          | 0/2568 [02:16<?, ? file/s]
Dl Completed...: 100%|██████████| 1/1 [02:16<00:00, 134.78s/ url]

Dl Size...: 100%|██████████| 827/827 [02:16<00:00,  7.60 MiB/s]


Extraction completed...:   0%|          | 0/2569 [02:16<?, ? file/s]
Dl Completed...: 100%|██████████| 1/1 [02:16<00:00, 134.78s/ url]

Dl Size...: 100%|██████████| 827/827 [02:16<00:00,  7.60 MiB/s]


Extraction completed...:   0%|          | 0/2570 [02:16<?, ? file/s]
Dl Completed...: 100%|██████████| 1/1 [02:16<00:00, 134.78s/ url]

Dl Size...: 100%|██████████| 827/827 [02:16<00:00,  7.60 MiB/s]


Extraction completed...:   0%|          | 0/2571 [02:16<?, ? file/s]
Dl Completed...: 100%|██████████| 1/1 [02:16<00:00, 134.78s/ url]

Dl Size...: 100%|██████████| 827/827 [02:16<00:00,  7.60 MiB/s]


Extraction completed...:   0%|          | 0/2572 [02:16<?, ? file/s]
Dl Completed...: 100%|██████████| 1/1 [02:16<00:00, 134.78s/ url]

Dl Size...: 100%|██████████| 827/827 [02:16<00:00,  7.60 MiB/s]


Extraction completed...:   0%|          | 0/2573 [02:16<?, ? file/s]
Dl Completed...: 100%|██████████| 1/1 [02:16<00:00, 134.78s/ url]

Dl Size...: 100%|██████████| 827/827 [02:16<00:00,  7.60 MiB/s]


Extraction completed...:   0%|          | 0/2574 [02:16<?, ? file/s]
Dl Completed...: 100%|██████████| 1/1 [02:16<00:00, 134.78s/ url]

Dl Size...: 100%|██████████| 827/827 [02:16<00:00,  7.60 MiB/s]


Extraction completed...:   0%|          | 0/2575 [02:16<?, ? file/s]
Dl Completed...: 100%|██████████| 1/1 [02:16<00:00, 134.78s/ url]

Dl Size...: 100%|██████████| 827/827 [02:16<00:00,  7.60 MiB/s]


Extraction completed...:   0%|          | 0/2576 [02:16<?, ? file/s]
Dl Completed...: 100%|██████████| 1/1 [02:16<00:00, 134.78s/ url]

Dl Size...: 100%|██████████| 827/827 [02:16<00:00,  7.60 MiB/s]


Extraction completed...:   0%|          | 0/2577 [02:16<?, ? file/s]
Dl Completed...: 100%|██████████| 1/1 [02:16<00:00, 134.78s/ url]

Dl Size...: 100%|██████████| 827/827 [02:16<00:00,  7.60 MiB/s]


Extraction completed...:   0%|          | 0/2578 [02:16<?, ? file/s]
Dl Completed...: 100%|██████████| 1/1 [02:16<00:00, 134.78s/ url]

Dl Size...: 100%|██████████| 827/827 [02:16<00:00,  7.60 MiB/s]


Extraction completed...:   0%|          | 0/2579 [02:16<?, ? file/s]
Dl Completed...: 100%|██████████| 1/1 [02:16<00:00, 134.78s/ url]

Dl Size...: 100%|██████████| 827/827 [02:16<00:00,  7.60 MiB/s]


Extraction completed...:   0%|          | 0/2580 [02:16<?, ? file/s]
Dl Completed...: 100%|██████████| 1/1 [02:16<00:00, 134.78s/ url]

Dl Size...: 100%|██████████| 827/827 [02:16<00:00,  7.60 MiB/s]


Extraction completed...:   0%|          | 0/2581 [02:16<?, ? file/s]
Dl Completed...: 100%|██████████| 1/1 [02:16<00:00, 134.78s/ url]

Dl Size...: 100%|██████████| 827/827 [02:16<00:00,  7.60 MiB/s]


Extraction completed...:   0%|          | 0/2582 [02:16<?, ? file/s]
Dl Completed...: 100%|██████████| 1/1 [02:16<00:00, 134.78s/ url]

Dl Size...: 100%|██████████| 827/827 [02:16<00:00,  7.60 MiB/s]


Extraction completed...:   0%|          | 0/2583 [02:16<?, ? file/s]
Dl Completed...: 100%|██████████| 1/1 [02:16<00:00, 134.78s/ url]

Dl Size...: 100%|██████████| 827/827 [02:16<00:00,  7.60 MiB/s]


Extraction completed...:   0%|          | 0/2584 [02:16<?, ? file/s]
Dl Completed...: 100%|██████████| 1/1 [02:16<00:00, 134.78s/ url]

Dl Size...: 100%|██████████| 827/827 [02:16<00:00,  7.60 MiB/s]


Extraction completed...:   0%|          | 0/2585 [02:16<?, ? file/s]
Dl Completed...: 100%|██████████| 1/1 [02:16<00:00, 134.78s/ url]

Dl Size...: 100%|██████████| 827/827 [02:16<00:00,  7.60 MiB/s]


Extraction completed...:   0%|          | 0/2586 [02:16<?, ? file/s]
Dl Completed...: 100%|██████████| 1/1 [02:16<00:00, 134.78s/ url]

Dl Size...: 100%|██████████| 827/827 [02:16<00:00,  7.60 MiB/s]


Extraction completed...:   0%|          | 0/2587 [02:16<?, ? file/s]
Dl Completed...: 100%|██████████| 1/1 [02:16<00:00, 134.78s/ url]

Dl Size...: 100%|██████████| 827/827 [02:16<00:00,  7.60 MiB/s]


Extraction completed...:   0%|          | 0/2588 [02:16<?, ? file/s]
Dl Completed...: 100%|██████████| 1/1 [02:16<00:00, 134.78s/ url]

Dl Size...: 100%|██████████| 827/827 [02:16<00:00,  7.60 MiB/s]


Extraction completed...:   0%|          | 0/2589 [02:16<?, ? file/s]
Dl Completed...: 100%|██████████| 1/1 [02:16<00:00, 134.78s/ url]

Dl Size...: 100%|██████████| 827/827 [02:16<00:00,  7.60 MiB/s]


Extraction completed...:   0%|          | 0/2590 [02:16<?, ? file/s]
Dl Completed...: 100%|██████████| 1/1 [02:16<00:00, 134.78s/ url]

Dl Size...: 100%|██████████| 827/827 [02:16<00:00,  7.60 MiB/s]


Extraction completed...:   0%|          | 0/2591 [02:16<?, ? file/s]
Dl Completed...: 100%|██████████| 1/1 [02:16<00:00, 134.78s/ url]

Dl Size...: 100%|██████████| 827/827 [02:16<00:00,  7.60 MiB/s]


Extraction completed...:   0%|          | 0/2592 [02:16<?, ? file/s]
Dl Completed...: 100%|██████████| 1/1 [02:16<00:00, 134.78s/ url]

Dl Size...: 100%|██████████| 827/827 [02:16<00:00,  7.60 MiB/s]


Extraction completed...:   0%|          | 0/2593 [02:16<?, ? file/s]
Dl Completed...: 100%|██████████| 1/1 [02:16<00:00, 134.78s/ url]

Dl Size...: 100%|██████████| 827/827 [02:16<00:00,  7.60 MiB/s]


Extraction completed...:   0%|          | 0/2594 [02:16<?, ? file/s]
Dl Completed...: 100%|██████████| 1/1 [02:16<00:00, 134.78s/ url]

Dl Size...: 100%|██████████| 827/827 [02:16<00:00,  7.60 MiB/s]


Extraction completed...:   0%|          | 0/2595 [02:16<?, ? file/s]
Dl Completed...: 100%|██████████| 1/1 [02:16<00:00, 134.78s/ url]

Dl Size...: 100%|██████████| 827/827 [02:16<00:00,  7.60 MiB/s]


Extraction completed...:   0%|          | 0/2596 [02:16<?, ? file/s]
Dl Completed...: 100%|██████████| 1/1 [02:16<00:00, 134.78s/ url]

Dl Size...: 100%|██████████| 827/827 [02:16<00:00,  7.60 MiB/s]


Extraction completed...:   0%|          | 0/2597 [02:16<?, ? file/s]
Dl Completed...: 100%|██████████| 1/1 [02:16<00:00, 134.78s/ url]

Dl Size...: 100%|██████████| 827/827 [02:16<00:00,  7.60 MiB/s]


Extraction completed...:   0%|          | 0/2598 [02:16<?, ? file/s]
Dl Completed...: 100%|██████████| 1/1 [02:16<00:00, 134.78s/ url]

Dl Size...: 100%|██████████| 827/827 [02:16<00:00,  7.60 MiB/s]


Extraction completed...:   0%|          | 0/2599 [02:16<?, ? file/s]
Dl Completed...: 100%|██████████| 1/1 [02:16<00:00, 134.78s/ url]

Dl Size...: 100%|██████████| 827/827 [02:16<00:00,  7.60 MiB/s]


Extraction completed...:   0%|          | 0/2600 [02:16<?, ? file/s]
Dl Completed...: 100%|██████████| 1/1 [02:16<00:00, 134.78s/ url]

Dl Size...: 100%|██████████| 827/827 [02:16<00:00,  7.60 MiB/s]


Extraction completed...:   0%|          | 0/2601 [02:16<?, ? file/s]
Dl Completed...: 100%|██████████| 1/1 [02:16<00:00, 134.78s/ url]

Dl Size...: 100%|██████████| 827/827 [02:16<00:00,  7.60 MiB/s]


Extraction completed...:   0%|          | 0/2602 [02:16<?, ? file/s]
Dl Completed...: 100%|██████████| 1/1 [02:16<00:00, 134.78s/ url]

Dl Size...: 100%|██████████| 827/827 [02:16<00:00,  7.60 MiB/s]


Extraction completed...:   0%|          | 0/2603 [02:16<?, ? file/s]
Dl Completed...: 100%|██████████| 1/1 [02:16<00:00, 134.78s/ url]

Dl Size...: 100%|██████████| 827/827 [02:16<00:00,  7.60 MiB/s]


Extraction completed...:   0%|          | 0/2604 [02:16<?, ? file/s]
Dl Completed...: 100%|██████████| 1/1 [02:16<00:00, 134.78s/ url]

Dl Size...: 100%|██████████| 827/827 [02:16<00:00,  7.60 MiB/s]


Extraction completed...:   0%|          | 0/2605 [02:16<?, ? file/s]
Dl Completed...: 100%|██████████| 1/1 [02:16<00:00, 134.78s/ url]

Dl Size...: 100%|██████████| 827/827 [02:16<00:00,  7.60 MiB/s]


Extraction completed...:   0%|          | 0/2606 [02:16<?, ? file/s]
Dl Completed...: 100%|██████████| 1/1 [02:16<00:00, 134.78s/ url]

Dl Size...: 100%|██████████| 827/827 [02:16<00:00,  7.60 MiB/s]


Extraction completed...:   0%|          | 0/2607 [02:16<?, ? file/s]
Dl Completed...: 100%|██████████| 1/1 [02:16<00:00, 134.78s/ url]

Dl Size...: 100%|██████████| 827/827 [02:16<00:00,  7.60 MiB/s]


Extraction completed...:   0%|          | 0/2608 [02:16<?, ? file/s]
Dl Completed...: 100%|██████████| 1/1 [02:16<00:00, 134.78s/ url]

Dl Size...: 100%|██████████| 827/827 [02:16<00:00,  7.60 MiB/s]


Extraction completed...:   0%|          | 0/2609 [02:16<?, ? file/s]
Dl Completed...: 100%|██████████| 1/1 [02:16<00:00, 134.78s/ url]

Dl Size...: 100%|██████████| 827/827 [02:16<00:00,  7.60 MiB/s]


Extraction completed...:   0%|          | 0/2610 [02:16<?, ? file/s]
Dl Completed...: 100%|██████████| 1/1 [02:16<00:00, 134.78s/ url]

Dl Size...: 100%|██████████| 827/827 [02:16<00:00,  7.60 MiB/s]


Extraction completed...:   0%|          | 0/2611 [02:16<?, ? file/s]
Dl Completed...: 100%|██████████| 1/1 [02:16<00:00, 134.78s/ url]

Dl Size...: 100%|██████████| 827/827 [02:16<00:00,  7.60 MiB/s]


Extraction completed...:   0%|          | 0/2612 [02:16<?, ? file/s]
Dl Completed...: 100%|██████████| 1/1 [02:16<00:00, 134.78s/ url]

Dl Size...: 100%|██████████| 827/827 [02:16<00:00,  7.60 MiB/s]


Extraction completed...:   0%|          | 0/2613 [02:16<?, ? file/s]
Dl Completed...: 100%|██████████| 1/1 [02:16<00:00, 134.78s/ url]

Dl Size...: 100%|██████████| 827/827 [02:16<00:00,  7.60 MiB/s]


Extraction completed...:   0%|          | 0/2614 [02:16<?, ? file/s]
Dl Completed...: 100%|██████████| 1/1 [02:16<00:00, 134.78s/ url]

Dl Size...: 100%|██████████| 827/827 [02:16<00:00,  7.60 MiB/s]


Extraction completed...:   0%|          | 0/2615 [02:16<?, ? file/s]
Dl Completed...: 100%|██████████| 1/1 [02:16<00:00, 134.78s/ url]

Dl Size...: 100%|██████████| 827/827 [02:16<00:00,  7.60 MiB/s]


Extraction completed...:   0%|          | 0/2616 [02:16<?, ? file/s]
Dl Completed...: 100%|██████████| 1/1 [02:16<00:00, 134.78s/ url]

Dl Size...: 100%|██████████| 827/827 [02:16<00:00,  7.60 MiB/s]


Extraction completed...:   0%|          | 0/2617 [02:16<?, ? file/s]
Dl Completed...: 100%|██████████| 1/1 [02:16<00:00, 134.78s/ url]

Dl Size...: 100%|██████████| 827/827 [02:16<00:00,  7.60 MiB/s]


Extraction completed...:   0%|          | 0/2618 [02:16<?, ? file/s]
Dl Completed...: 100%|██████████| 1/1 [02:16<00:00, 134.78s/ url]

Dl Size...: 100%|██████████| 827/827 [02:16<00:00,  7.60 MiB/s]


Extraction completed...:   0%|          | 0/2619 [02:16<?, ? file/s]
Dl Completed...: 100%|██████████| 1/1 [02:16<00:00, 134.78s/ url]

Dl Size...: 100%|██████████| 827/827 [02:16<00:00,  7.60 MiB/s]


Extraction completed...:   0%|          | 0/2620 [02:16<?, ? file/s]
Dl Completed...: 100%|██████████| 1/1 [02:16<00:00, 134.78s/ url]

Dl Size...: 100%|██████████| 827/827 [02:16<00:00,  7.60 MiB/s]


Extraction completed...:   0%|          | 0/2621 [02:16<?, ? file/s]
Dl Completed...: 100%|██████████| 1/1 [02:16<00:00, 134.78s/ url]

Dl Size...: 100%|██████████| 827/827 [02:16<00:00,  7.60 MiB/s]


Extraction completed...:   0%|          | 0/2622 [02:16<?, ? file/s]
Dl Completed...: 100%|██████████| 1/1 [02:16<00:00, 134.78s/ url]

Dl Size...: 100%|██████████| 827/827 [02:16<00:00,  7.60 MiB/s]


Extraction completed...:   0%|          | 0/2623 [02:16<?, ? file/s]
Dl Completed...: 100%|██████████| 1/1 [02:16<00:00, 134.78s/ url]

Dl Size...: 100%|██████████| 827/827 [02:16<00:00,  7.60 MiB/s]


Extraction completed...:   0%|          | 0/2624 [02:16<?, ? file/s]
Dl Completed...: 100%|██████████| 1/1 [02:16<00:00, 134.78s/ url]

Dl Size...: 100%|██████████| 827/827 [02:16<00:00,  7.60 MiB/s]


Extraction completed...:   0%|          | 0/2625 [02:16<?, ? file/s]
Dl Completed...: 100%|██████████| 1/1 [02:16<00:00, 134.78s/ url]

Dl Size...: 100%|██████████| 827/827 [02:16<00:00,  7.60 MiB/s]


Extraction completed...:   0%|          | 0/2626 [02:16<?, ? file/s]
Dl Completed...: 100%|██████████| 1/1 [02:16<00:00, 134.78s/ url]

Dl Size...: 100%|██████████| 827/827 [02:16<00:00,  7.60 MiB/s]


Extraction completed...:   0%|          | 0/2627 [02:16<?, ? file/s]
Dl Completed...: 100%|██████████| 1/1 [02:16<00:00, 134.78s/ url]

Dl Size...: 100%|██████████| 827/827 [02:16<00:00,  7.60 MiB/s]


Extraction completed...:   0%|          | 0/2628 [02:16<?, ? file/s]
Dl Completed...: 100%|██████████| 1/1 [02:16<00:00, 134.78s/ url]

Dl Size...: 100%|██████████| 827/827 [02:16<00:00,  7.60 MiB/s]


Extraction completed...:   0%|          | 0/2629 [02:16<?, ? file/s]
Dl Completed...: 100%|██████████| 1/1 [02:16<00:00, 134.78s/ url]

Dl Size...: 100%|██████████| 827/827 [02:16<00:00,  7.60 MiB/s]


Extraction completed...:   0%|          | 0/2630 [02:16<?, ? file/s]
Dl Completed...: 100%|██████████| 1/1 [02:16<00:00, 134.78s/ url]

Dl Size...: 100%|██████████| 827/827 [02:16<00:00,  7.60 MiB/s]


Extraction completed...:   0%|          | 0/2631 [02:16<?, ? file/s]
Dl Completed...: 100%|██████████| 1/1 [02:16<00:00, 134.78s/ url]

Dl Size...: 100%|██████████| 827/827 [02:16<00:00,  7.60 MiB/s]


Extraction completed...:   0%|          | 0/2632 [02:16<?, ? file/s]
Dl Completed...: 100%|██████████| 1/1 [02:16<00:00, 134.78s/ url]

Dl Size...: 100%|██████████| 827/827 [02:16<00:00,  7.60 MiB/s]


Extraction completed...:   0%|          | 0/2633 [02:16<?, ? file/s]
Dl Completed...: 100%|██████████| 1/1 [02:16<00:00, 134.78s/ url]

Dl Size...: 100%|██████████| 827/827 [02:16<00:00,  7.60 MiB/s]


Extraction completed...:   0%|          | 0/2634 [02:16<?, ? file/s]
Dl Completed...: 100%|██████████| 1/1 [02:16<00:00, 134.78s/ url]

Dl Size...: 100%|██████████| 827/827 [02:16<00:00,  7.60 MiB/s]


Extraction completed...:   0%|          | 0/2635 [02:16<?, ? file/s]
Dl Completed...: 100%|██████████| 1/1 [02:16<00:00, 134.78s/ url]

Dl Size...: 100%|██████████| 827/827 [02:16<00:00,  7.60 MiB/s]


Extraction completed...:   0%|          | 0/2636 [02:16<?, ? file/s]
Dl Completed...: 100%|██████████| 1/1 [02:16<00:00, 134.78s/ url]

Dl Size...: 100%|██████████| 827/827 [02:16<00:00,  7.60 MiB/s]


Extraction completed...:   0%|          | 0/2637 [02:16<?, ? file/s]
Dl Completed...: 100%|██████████| 1/1 [02:16<00:00, 134.78s/ url]

Dl Size...: 100%|██████████| 827/827 [02:16<00:00,  7.60 MiB/s]


Extraction completed...:   0%|          | 0/2638 [02:16<?, ? file/s]
Dl Completed...: 100%|██████████| 1/1 [02:16<00:00, 134.78s/ url]

Dl Size...: 100%|██████████| 827/827 [02:16<00:00,  7.60 MiB/s]


Extraction completed...:   0%|          | 0/2639 [02:16<?, ? file/s]
Dl Completed...: 100%|██████████| 1/1 [02:16<00:00, 134.78s/ url]

Dl Size...: 100%|██████████| 827/827 [02:16<00:00,  7.60 MiB/s]


Extraction completed...:   0%|          | 0/2640 [02:16<?, ? file/s]
Dl Completed...: 100%|██████████| 1/1 [02:16<00:00, 134.78s/ url]

Dl Size...: 100%|██████████| 827/827 [02:16<00:00,  7.60 MiB/s]


Extraction completed...:   0%|          | 0/2641 [02:16<?, ? file/s]
Dl Completed...: 100%|██████████| 1/1 [02:16<00:00, 134.78s/ url]

Dl Size...: 100%|██████████| 827/827 [02:16<00:00,  7.60 MiB/s]


Extraction completed...:   0%|          | 0/2642 [02:16<?, ? file/s]
Dl Completed...: 100%|██████████| 1/1 [02:16<00:00, 134.78s/ url]

Dl Size...: 100%|██████████| 827/827 [02:16<00:00,  7.60 MiB/s]


Extraction completed...:   0%|          | 0/2643 [02:16<?, ? file/s]
Dl Completed...: 100%|██████████| 1/1 [02:16<00:00, 134.78s/ url]

Dl Size...: 100%|██████████| 827/827 [02:16<00:00,  7.60 MiB/s]


Extraction completed...:   0%|          | 0/2644 [02:16<?, ? file/s]
Dl Completed...: 100%|██████████| 1/1 [02:16<00:00, 134.78s/ url]

Dl Size...: 100%|██████████| 827/827 [02:16<00:00,  7.60 MiB/s]


Extraction completed...:   0%|          | 0/2645 [02:16<?, ? file/s]
Dl Completed...: 100%|██████████| 1/1 [02:16<00:00, 134.78s/ url]

Dl Size...: 100%|██████████| 827/827 [02:16<00:00,  7.60 MiB/s]


Extraction completed...:   0%|          | 0/2646 [02:16<?, ? file/s]
Dl Completed...: 100%|██████████| 1/1 [02:16<00:00, 134.78s/ url]

Dl Size...: 100%|██████████| 827/827 [02:16<00:00,  7.60 MiB/s]


Extraction completed...:   0%|          | 0/2647 [02:16<?, ? file/s]
Dl Completed...: 100%|██████████| 1/1 [02:16<00:00, 134.78s/ url]

Dl Size...: 100%|██████████| 827/827 [02:16<00:00,  7.60 MiB/s]


Extraction completed...:   0%|          | 0/2648 [02:16<?, ? file/s]
Dl Completed...: 100%|██████████| 1/1 [02:16<00:00, 134.78s/ url]

Dl Size...: 100%|██████████| 827/827 [02:16<00:00,  7.60 MiB/s]


Extraction completed...:   0%|          | 0/2649 [02:16<?, ? file/s]
Dl Completed...: 100%|██████████| 1/1 [02:16<00:00, 134.78s/ url]

Dl Size...: 100%|██████████| 827/827 [02:16<00:00,  7.60 MiB/s]


Extraction completed...:   0%|          | 0/2650 [02:16<?, ? file/s]
Dl Completed...: 100%|██████████| 1/1 [02:16<00:00, 134.78s/ url]

Dl Size...: 100%|██████████| 827/827 [02:16<00:00,  7.60 MiB/s]


Extraction completed...:   0%|          | 0/2651 [02:16<?, ? file/s]
Dl Completed...: 100%|██████████| 1/1 [02:16<00:00, 134.78s/ url]

Dl Size...: 100%|██████████| 827/827 [02:16<00:00,  7.60 MiB/s]


Extraction completed...:   0%|          | 0/2652 [02:16<?, ? file/s]
Dl Completed...: 100%|██████████| 1/1 [02:16<00:00, 134.78s/ url]

Dl Size...: 100%|██████████| 827/827 [02:16<00:00,  7.60 MiB/s]


Extraction completed...:   0%|          | 0/2653 [02:16<?, ? file/s]
Dl Completed...: 100%|██████████| 1/1 [02:16<00:00, 134.78s/ url]

Dl Size...: 100%|██████████| 827/827 [02:16<00:00,  7.60 MiB/s]


Extraction completed...:   0%|          | 0/2654 [02:16<?, ? file/s]
Dl Completed...: 100%|██████████| 1/1 [02:16<00:00, 134.78s/ url]

Dl Size...: 100%|██████████| 827/827 [02:16<00:00,  7.60 MiB/s]


Extraction completed...:   0%|          | 0/2655 [02:16<?, ? file/s]
Dl Completed...: 100%|██████████| 1/1 [02:16<00:00, 134.78s/ url]

Dl Size...: 100%|██████████| 827/827 [02:16<00:00,  7.60 MiB/s]


Extraction completed...:   0%|          | 0/2656 [02:16<?, ? file/s]
Dl Completed...: 100%|██████████| 1/1 [02:16<00:00, 134.78s/ url]

Dl Size...: 100%|██████████| 827/827 [02:16<00:00,  7.60 MiB/s]


Extraction completed...:   0%|          | 0/2657 [02:16<?, ? file/s]
Dl Completed...: 100%|██████████| 1/1 [02:16<00:00, 134.78s/ url]

Dl Size...: 100%|██████████| 827/827 [02:16<00:00,  7.60 MiB/s]


Extraction completed...:   0%|          | 0/2658 [02:16<?, ? file/s]
Dl Completed...: 100%|██████████| 1/1 [02:16<00:00, 134.78s/ url]

Dl Size...: 100%|██████████| 827/827 [02:16<00:00,  7.60 MiB/s]


Extraction completed...:   0%|          | 0/2659 [02:16<?, ? file/s]
Dl Completed...: 100%|██████████| 1/1 [02:16<00:00, 134.78s/ url]

Dl Size...: 100%|██████████| 827/827 [02:16<00:00,  7.60 MiB/s]


Extraction completed...:   0%|          | 0/2660 [02:16<?, ? file/s]
Dl Completed...: 100%|██████████| 1/1 [02:16<00:00, 134.78s/ url]

Dl Size...: 100%|██████████| 827/827 [02:16<00:00,  7.60 MiB/s]


Extraction completed...:   0%|          | 0/2661 [02:16<?, ? file/s]
Dl Completed...: 100%|██████████| 1/1 [02:16<00:00, 134.78s/ url]

Dl Size...: 100%|██████████| 827/827 [02:16<00:00,  7.60 MiB/s]


Extraction completed...:   0%|          | 0/2662 [02:16<?, ? file/s]
Dl Completed...: 100%|██████████| 1/1 [02:16<00:00, 134.78s/ url]

Dl Size...: 100%|██████████| 827/827 [02:16<00:00,  7.60 MiB/s]


Extraction completed...:   0%|          | 0/2663 [02:16<?, ? file/s]
Dl Completed...: 100%|██████████| 1/1 [02:16<00:00, 134.78s/ url]

Dl Size...: 100%|██████████| 827/827 [02:16<00:00,  7.60 MiB/s]


Extraction completed...:   0%|          | 0/2664 [02:16<?, ? file/s]
Dl Completed...: 100%|██████████| 1/1 [02:16<00:00, 134.78s/ url]

Dl Size...: 100%|██████████| 827/827 [02:16<00:00,  7.60 MiB/s]


Extraction completed...:   0%|          | 0/2665 [02:16<?, ? file/s]
Dl Completed...: 100%|██████████| 1/1 [02:16<00:00, 134.78s/ url]

Dl Size...: 100%|██████████| 827/827 [02:16<00:00,  7.60 MiB/s]


Extraction completed...:   0%|          | 0/2666 [02:16<?, ? file/s]
Dl Completed...: 100%|██████████| 1/1 [02:16<00:00, 134.78s/ url]

Dl Size...: 100%|██████████| 827/827 [02:16<00:00,  7.60 MiB/s]


Extraction completed...:   0%|          | 0/2667 [02:16<?, ? file/s]
Dl Completed...: 100%|██████████| 1/1 [02:16<00:00, 134.78s/ url]

Dl Size...: 100%|██████████| 827/827 [02:16<00:00,  7.60 MiB/s]


Extraction completed...:   0%|          | 0/2668 [02:16<?, ? file/s]
Dl Completed...: 100%|██████████| 1/1 [02:16<00:00, 134.78s/ url]

Dl Size...: 100%|██████████| 827/827 [02:16<00:00,  7.60 MiB/s]


Extraction completed...:   0%|          | 0/2669 [02:16<?, ? file/s]
Dl Completed...: 100%|██████████| 1/1 [02:16<00:00, 134.78s/ url]

Dl Size...: 100%|██████████| 827/827 [02:16<00:00,  7.60 MiB/s]


Extraction completed...:   0%|          | 0/2670 [02:16<?, ? file/s]
Dl Completed...: 100%|██████████| 1/1 [02:16<00:00, 134.78s/ url]

Dl Size...: 100%|██████████| 827/827 [02:16<00:00,  7.60 MiB/s]


Extraction completed...:   0%|          | 0/2671 [02:16<?, ? file/s]
Dl Completed...: 100%|██████████| 1/1 [02:16<00:00, 134.78s/ url]

Dl Size...: 100%|██████████| 827/827 [02:16<00:00,  7.60 MiB/s]


Extraction completed...:   0%|          | 0/2672 [02:16<?, ? file/s]
Dl Completed...: 100%|██████████| 1/1 [02:16<00:00, 134.78s/ url]

Dl Size...: 100%|██████████| 827/827 [02:16<00:00,  7.60 MiB/s]


Extraction completed...:   0%|          | 0/2673 [02:16<?, ? file/s]
Dl Completed...: 100%|██████████| 1/1 [02:16<00:00, 134.78s/ url]

Dl Size...: 100%|██████████| 827/827 [02:16<00:00,  7.60 MiB/s]


Extraction completed...:   0%|          | 0/2674 [02:16<?, ? file/s]
Dl Completed...: 100%|██████████| 1/1 [02:16<00:00, 134.78s/ url]

Dl Size...: 100%|██████████| 827/827 [02:16<00:00,  7.60 MiB/s]


Extraction completed...:   0%|          | 0/2675 [02:16<?, ? file/s]
Dl Completed...: 100%|██████████| 1/1 [02:16<00:00, 134.78s/ url]

Dl Size...: 100%|██████████| 827/827 [02:16<00:00,  7.60 MiB/s]


Extraction completed...:   0%|          | 0/2676 [02:16<?, ? file/s]
Dl Completed...: 100%|██████████| 1/1 [02:16<00:00, 134.78s/ url]

Dl Size...: 100%|██████████| 827/827 [02:16<00:00,  7.60 MiB/s]


Extraction completed...:   0%|          | 0/2677 [02:16<?, ? file/s]
Dl Completed...: 100%|██████████| 1/1 [02:16<00:00, 134.78s/ url]

Dl Size...: 100%|██████████| 827/827 [02:16<00:00,  7.60 MiB/s]


Extraction completed...:   0%|          | 0/2678 [02:16<?, ? file/s]
Dl Completed...: 100%|██████████| 1/1 [02:16<00:00, 134.78s/ url]

Dl Size...: 100%|██████████| 827/827 [02:16<00:00,  7.60 MiB/s]


Extraction completed...:   0%|          | 0/2679 [02:16<?, ? file/s]
Dl Completed...: 100%|██████████| 1/1 [02:16<00:00, 134.78s/ url]

Dl Size...: 100%|██████████| 827/827 [02:16<00:00,  7.60 MiB/s]


Extraction completed...:   0%|          | 0/2680 [02:16<?, ? file/s]
Dl Completed...: 100%|██████████| 1/1 [02:16<00:00, 134.78s/ url]

Dl Size...: 100%|██████████| 827/827 [02:16<00:00,  7.60 MiB/s]


Extraction completed...:   0%|          | 0/2681 [02:16<?, ? file/s]
Dl Completed...: 100%|██████████| 1/1 [02:16<00:00, 134.78s/ url]

Dl Size...: 100%|██████████| 827/827 [02:16<00:00,  7.60 MiB/s]


Extraction completed...:   0%|          | 0/2682 [02:16<?, ? file/s]
Dl Completed...: 100%|██████████| 1/1 [02:16<00:00, 134.78s/ url]

Dl Size...: 100%|██████████| 827/827 [02:16<00:00,  7.60 MiB/s]


Extraction completed...:   0%|          | 0/2683 [02:16<?, ? file/s]
Dl Completed...: 100%|██████████| 1/1 [02:16<00:00, 134.78s/ url]

Dl Size...: 100%|██████████| 827/827 [02:16<00:00,  7.60 MiB/s]


Extraction completed...:   0%|          | 0/2684 [02:16<?, ? file/s]
Dl Completed...: 100%|██████████| 1/1 [02:16<00:00, 134.78s/ url]

Dl Size...: 100%|██████████| 827/827 [02:16<00:00,  7.60 MiB/s]


Extraction completed...:   0%|          | 0/2685 [02:16<?, ? file/s]
Dl Completed...: 100%|██████████| 1/1 [02:16<00:00, 134.78s/ url]

Dl Size...: 100%|██████████| 827/827 [02:16<00:00,  7.60 MiB/s]


Extraction completed...:   0%|          | 0/2686 [02:16<?, ? file/s]
Dl Completed...: 100%|██████████| 1/1 [02:16<00:00, 134.78s/ url]

Dl Size...: 100%|██████████| 827/827 [02:16<00:00,  7.60 MiB/s]


Extraction completed...:   0%|          | 0/2687 [02:16<?, ? file/s]
Dl Completed...: 100%|██████████| 1/1 [02:16<00:00, 134.78s/ url]

Dl Size...: 100%|██████████| 827/827 [02:16<00:00,  7.60 MiB/s]


Extraction completed...:   0%|          | 0/2688 [02:16<?, ? file/s]
Dl Completed...: 100%|██████████| 1/1 [02:16<00:00, 134.78s/ url]

Dl Size...: 100%|██████████| 827/827 [02:16<00:00,  7.60 MiB/s]


Extraction completed...:   0%|          | 0/2689 [02:16<?, ? file/s]
Dl Completed...: 100%|██████████| 1/1 [02:16<00:00, 134.78s/ url]

Dl Size...: 100%|██████████| 827/827 [02:16<00:00,  7.60 MiB/s]


Extraction completed...:   0%|          | 0/2690 [02:16<?, ? file/s]
Dl Completed...: 100%|██████████| 1/1 [02:16<00:00, 134.78s/ url]

Dl Size...: 100%|██████████| 827/827 [02:16<00:00,  7.60 MiB/s]


Extraction completed...:   0%|          | 0/2691 [02:16<?, ? file/s]
Dl Completed...: 100%|██████████| 1/1 [02:16<00:00, 134.78s/ url]

Dl Size...: 100%|██████████| 827/827 [02:16<00:00,  7.60 MiB/s]


Extraction completed...:   0%|          | 0/2692 [02:16<?, ? file/s]
Dl Completed...: 100%|██████████| 1/1 [02:16<00:00, 134.78s/ url]

Dl Size...: 100%|██████████| 827/827 [02:16<00:00,  7.60 MiB/s]


Extraction completed...:   0%|          | 0/2693 [02:16<?, ? file/s]
Dl Completed...: 100%|██████████| 1/1 [02:16<00:00, 134.78s/ url]

Dl Size...: 100%|██████████| 827/827 [02:16<00:00,  7.60 MiB/s]


Extraction completed...:   0%|          | 0/2694 [02:16<?, ? file/s]
Dl Completed...: 100%|██████████| 1/1 [02:16<00:00, 134.78s/ url]

Dl Size...: 100%|██████████| 827/827 [02:16<00:00,  7.60 MiB/s]


Extraction completed...:   0%|          | 0/2695 [02:16<?, ? file/s]
Dl Completed...: 100%|██████████| 1/1 [02:16<00:00, 134.78s/ url]

Dl Size...: 100%|██████████| 827/827 [02:16<00:00,  7.60 MiB/s]


Extraction completed...:   0%|          | 0/2696 [02:16<?, ? file/s]
Dl Completed...: 100%|██████████| 1/1 [02:16<00:00, 134.78s/ url]

Dl Size...: 100%|██████████| 827/827 [02:16<00:00,  7.60 MiB/s]


Extraction completed...:   0%|          | 0/2697 [02:16<?, ? file/s]
Dl Completed...: 100%|██████████| 1/1 [02:16<00:00, 134.78s/ url]

Dl Size...: 100%|██████████| 827/827 [02:16<00:00,  7.60 MiB/s]


Extraction completed...:   0%|          | 0/2698 [02:16<?, ? file/s]
Dl Completed...: 100%|██████████| 1/1 [02:16<00:00, 134.78s/ url]

Dl Size...: 100%|██████████| 827/827 [02:16<00:00,  7.60 MiB/s]


Extraction completed...:   0%|          | 0/2699 [02:16<?, ? file/s]
Dl Completed...: 100%|██████████| 1/1 [02:16<00:00, 134.78s/ url]

Dl Size...: 100%|██████████| 827/827 [02:16<00:00,  7.60 MiB/s]


Extraction completed...:   0%|          | 0/2700 [02:16<?, ? file/s]
Dl Completed...: 100%|██████████| 1/1 [02:16<00:00, 134.78s/ url]

Dl Size...: 100%|██████████| 827/827 [02:16<00:00,  7.60 MiB/s]


Extraction completed...:   0%|          | 0/2701 [02:16<?, ? file/s]
Dl Completed...: 100%|██████████| 1/1 [02:16<00:00, 134.78s/ url]

Dl Size...: 100%|██████████| 827/827 [02:16<00:00,  7.60 MiB/s]


Extraction completed...:   0%|          | 0/2702 [02:16<?, ? file/s]
Dl Completed...: 100%|██████████| 1/1 [02:16<00:00, 134.78s/ url]

Dl Size...: 100%|██████████| 827/827 [02:16<00:00,  7.60 MiB/s]


Extraction completed...:   0%|          | 0/2703 [02:16<?, ? file/s]
Dl Completed...: 100%|██████████| 1/1 [02:16<00:00, 134.78s/ url]

Dl Size...: 100%|██████████| 827/827 [02:16<00:00,  7.60 MiB/s]


Extraction completed...:   0%|          | 0/2704 [02:16<?, ? file/s]
Dl Completed...: 100%|██████████| 1/1 [02:16<00:00, 134.78s/ url]

Dl Size...: 100%|██████████| 827/827 [02:16<00:00,  7.60 MiB/s]


Extraction completed...:   0%|          | 0/2705 [02:16<?, ? file/s]
Dl Completed...: 100%|██████████| 1/1 [02:16<00:00, 134.78s/ url]

Dl Size...: 100%|██████████| 827/827 [02:16<00:00,  7.60 MiB/s]


Extraction completed...:   0%|          | 0/2706 [02:16<?, ? file/s]
Dl Completed...: 100%|██████████| 1/1 [02:16<00:00, 134.78s/ url]

Dl Size...: 100%|██████████| 827/827 [02:16<00:00,  7.60 MiB/s]


Extraction completed...:   0%|          | 0/2707 [02:16<?, ? file/s]
Dl Completed...: 100%|██████████| 1/1 [02:16<00:00, 134.78s/ url]

Dl Size...: 100%|██████████| 827/827 [02:16<00:00,  7.60 MiB/s]


Extraction completed...:   0%|          | 0/2708 [02:16<?, ? file/s]
Dl Completed...: 100%|██████████| 1/1 [02:16<00:00, 134.78s/ url]

Dl Size...: 100%|██████████| 827/827 [02:16<00:00,  7.60 MiB/s]


Extraction completed...:   0%|          | 0/2709 [02:16<?, ? file/s]
Dl Completed...: 100%|██████████| 1/1 [02:16<00:00, 134.78s/ url]

Dl Size...: 100%|██████████| 827/827 [02:16<00:00,  7.60 MiB/s]


Extraction completed...:   0%|          | 0/2710 [02:16<?, ? file/s]
Dl Completed...: 100%|██████████| 1/1 [02:16<00:00, 134.78s/ url]

Dl Size...: 100%|██████████| 827/827 [02:16<00:00,  7.60 MiB/s]


Extraction completed...:   0%|          | 0/2711 [02:16<?, ? file/s]
Dl Completed...: 100%|██████████| 1/1 [02:16<00:00, 134.78s/ url]

Dl Size...: 100%|██████████| 827/827 [02:16<00:00,  7.60 MiB/s]


Extraction completed...:   0%|          | 0/2712 [02:16<?, ? file/s]
Dl Completed...: 100%|██████████| 1/1 [02:16<00:00, 134.78s/ url]

Dl Size...: 100%|██████████| 827/827 [02:16<00:00,  7.60 MiB/s]


Extraction completed...:   0%|          | 0/2713 [02:16<?, ? file/s]
Dl Completed...: 100%|██████████| 1/1 [02:16<00:00, 134.78s/ url]

Dl Size...: 100%|██████████| 827/827 [02:16<00:00,  7.60 MiB/s]


Extraction completed...:   0%|          | 0/2714 [02:16<?, ? file/s]
Dl Completed...: 100%|██████████| 1/1 [02:16<00:00, 134.78s/ url]

Dl Size...: 100%|██████████| 827/827 [02:16<00:00,  7.60 MiB/s]


Extraction completed...:   0%|          | 0/2715 [02:16<?, ? file/s]
Dl Completed...: 100%|██████████| 1/1 [02:16<00:00, 134.78s/ url]

Dl Size...: 100%|██████████| 827/827 [02:16<00:00,  7.60 MiB/s]


Extraction completed...:   0%|          | 0/2716 [02:16<?, ? file/s]
Dl Completed...: 100%|██████████| 1/1 [02:16<00:00, 134.78s/ url]

Dl Size...: 100%|██████████| 827/827 [02:16<00:00,  7.60 MiB/s]


Extraction completed...:   0%|          | 0/2717 [02:16<?, ? file/s]
Dl Completed...: 100%|██████████| 1/1 [02:16<00:00, 134.78s/ url]

Dl Size...: 100%|██████████| 827/827 [02:16<00:00,  7.60 MiB/s]


Extraction completed...:   0%|          | 0/2718 [02:16<?, ? file/s]
Dl Completed...: 100%|██████████| 1/1 [02:16<00:00, 134.78s/ url]

Dl Size...: 100%|██████████| 827/827 [02:16<00:00,  7.60 MiB/s]


Extraction completed...:   0%|          | 0/2719 [02:16<?, ? file/s]
Dl Completed...: 100%|██████████| 1/1 [02:16<00:00, 134.78s/ url]

Dl Size...: 100%|██████████| 827/827 [02:16<00:00,  7.60 MiB/s]


Extraction completed...:   0%|          | 0/2720 [02:16<?, ? file/s]
Dl Completed...: 100%|██████████| 1/1 [02:16<00:00, 134.78s/ url]

Dl Size...: 100%|██████████| 827/827 [02:16<00:00,  7.60 MiB/s]


Extraction completed...:   0%|          | 0/2721 [02:16<?, ? file/s]
Dl Completed...: 100%|██████████| 1/1 [02:16<00:00, 134.78s/ url]

Dl Size...: 100%|██████████| 827/827 [02:16<00:00,  7.60 MiB/s]


Extraction completed...:   0%|          | 0/2722 [02:16<?, ? file/s]
Dl Completed...: 100%|██████████| 1/1 [02:16<00:00, 134.78s/ url]

Dl Size...: 100%|██████████| 827/827 [02:16<00:00,  7.60 MiB/s]


Extraction completed...:   0%|          | 0/2723 [02:16<?, ? file/s]
Dl Completed...: 100%|██████████| 1/1 [02:16<00:00, 134.78s/ url]

Dl Size...: 100%|██████████| 827/827 [02:16<00:00,  7.60 MiB/s]


Extraction completed...:   0%|          | 0/2724 [02:16<?, ? file/s]
Dl Completed...: 100%|██████████| 1/1 [02:16<00:00, 134.78s/ url]

Dl Size...: 100%|██████████| 827/827 [02:16<00:00,  7.60 MiB/s]


Extraction completed...:   0%|          | 0/2725 [02:16<?, ? file/s]
Dl Completed...: 100%|██████████| 1/1 [02:16<00:00, 134.78s/ url]

Dl Size...: 100%|██████████| 827/827 [02:16<00:00,  7.60 MiB/s]


Extraction completed...:   0%|          | 0/2726 [02:16<?, ? file/s]
Dl Completed...: 100%|██████████| 1/1 [02:16<00:00, 134.78s/ url]

Dl Size...: 100%|██████████| 827/827 [02:16<00:00,  7.60 MiB/s]


Extraction completed...:   0%|          | 0/2727 [02:16<?, ? file/s]
Dl Completed...: 100%|██████████| 1/1 [02:16<00:00, 134.78s/ url]

Dl Size...: 100%|██████████| 827/827 [02:16<00:00,  7.60 MiB/s]


Extraction completed...:   0%|          | 0/2728 [02:16<?, ? file/s]
Dl Completed...: 100%|██████████| 1/1 [02:16<00:00, 134.78s/ url]

Dl Size...: 100%|██████████| 827/827 [02:16<00:00,  7.60 MiB/s]


Extraction completed...:   0%|          | 0/2729 [02:16<?, ? file/s]
Dl Completed...: 100%|██████████| 1/1 [02:16<00:00, 134.78s/ url]

Dl Size...: 100%|██████████| 827/827 [02:16<00:00,  7.60 MiB/s]


Extraction completed...:   0%|          | 0/2730 [02:16<?, ? file/s]
Dl Completed...: 100%|██████████| 1/1 [02:16<00:00, 134.78s/ url]

Dl Size...: 100%|██████████| 827/827 [02:16<00:00,  7.60 MiB/s]


Extraction completed...:   0%|          | 0/2731 [02:16<?, ? file/s]
Dl Completed...: 100%|██████████| 1/1 [02:16<00:00, 134.78s/ url]

Dl Size...: 100%|██████████| 827/827 [02:16<00:00,  7.60 MiB/s]


Extraction completed...:   0%|          | 0/2732 [02:16<?, ? file/s]
Dl Completed...: 100%|██████████| 1/1 [02:16<00:00, 134.78s/ url]

Dl Size...: 100%|██████████| 827/827 [02:16<00:00,  7.60 MiB/s]


Extraction completed...:   0%|          | 0/2733 [02:16<?, ? file/s]
Dl Completed...: 100%|██████████| 1/1 [02:16<00:00, 134.78s/ url]

Dl Size...: 100%|██████████| 827/827 [02:16<00:00,  7.60 MiB/s]


Extraction completed...:   0%|          | 0/2734 [02:16<?, ? file/s]
Dl Completed...: 100%|██████████| 1/1 [02:16<00:00, 134.78s/ url]

Dl Size...: 100%|██████████| 827/827 [02:16<00:00,  7.60 MiB/s]


Extraction completed...:   0%|          | 0/2735 [02:16<?, ? file/s]
Dl Completed...: 100%|██████████| 1/1 [02:16<00:00, 134.78s/ url]

Dl Size...: 100%|██████████| 827/827 [02:16<00:00,  7.60 MiB/s]


Extraction completed...:   0%|          | 0/2736 [02:16<?, ? file/s]
Dl Completed...: 100%|██████████| 1/1 [02:16<00:00, 134.78s/ url]

Dl Size...: 100%|██████████| 827/827 [02:16<00:00,  7.60 MiB/s]


Extraction completed...:   0%|          | 0/2737 [02:16<?, ? file/s]
Dl Completed...: 100%|██████████| 1/1 [02:16<00:00, 134.78s/ url]

Dl Size...: 100%|██████████| 827/827 [02:16<00:00,  7.60 MiB/s]


Extraction completed...:   0%|          | 0/2738 [02:16<?, ? file/s]
Dl Completed...: 100%|██████████| 1/1 [02:16<00:00, 134.78s/ url]

Dl Size...: 100%|██████████| 827/827 [02:16<00:00,  7.60 MiB/s]


Extraction completed...:   0%|          | 0/2739 [02:16<?, ? file/s]
Dl Completed...: 100%|██████████| 1/1 [02:16<00:00, 134.78s/ url]

Dl Size...: 100%|██████████| 827/827 [02:16<00:00,  7.60 MiB/s]


Extraction completed...:   0%|          | 0/2740 [02:16<?, ? file/s]
Dl Completed...: 100%|██████████| 1/1 [02:16<00:00, 134.78s/ url]

Dl Size...: 100%|██████████| 827/827 [02:16<00:00,  7.60 MiB/s]


Extraction completed...:   0%|          | 0/2741 [02:16<?, ? file/s]
Dl Completed...: 100%|██████████| 1/1 [02:16<00:00, 134.78s/ url]

Dl Size...: 100%|██████████| 827/827 [02:16<00:00,  7.60 MiB/s]


Extraction completed...:   0%|          | 0/2742 [02:16<?, ? file/s]
Dl Completed...: 100%|██████████| 1/1 [02:16<00:00, 134.78s/ url]

Dl Size...: 100%|██████████| 827/827 [02:16<00:00,  7.60 MiB/s]


Extraction completed...:   0%|          | 0/2743 [02:16<?, ? file/s]
Dl Completed...: 100%|██████████| 1/1 [02:16<00:00, 134.78s/ url]

Dl Size...: 100%|██████████| 827/827 [02:16<00:00,  7.60 MiB/s]


Extraction completed...:   0%|          | 0/2744 [02:16<?, ? file/s]
Dl Completed...: 100%|██████████| 1/1 [02:16<00:00, 134.78s/ url]

Dl Size...: 100%|██████████| 827/827 [02:16<00:00,  7.60 MiB/s]


Extraction completed...:   0%|          | 0/2745 [02:16<?, ? file/s]
Dl Completed...: 100%|██████████| 1/1 [02:16<00:00, 134.78s/ url]

Dl Size...: 100%|██████████| 827/827 [02:16<00:00,  7.60 MiB/s]


Extraction completed...:   0%|          | 0/2746 [02:16<?, ? file/s]
Dl Completed...: 100%|██████████| 1/1 [02:16<00:00, 134.78s/ url]

Dl Size...: 100%|██████████| 827/827 [02:16<00:00,  7.60 MiB/s]


Extraction completed...:   0%|          | 0/2747 [02:16<?, ? file/s]
Dl Completed...: 100%|██████████| 1/1 [02:16<00:00, 134.78s/ url]

Dl Size...: 100%|██████████| 827/827 [02:16<00:00,  7.60 MiB/s]


Extraction completed...:   0%|          | 0/2748 [02:16<?, ? file/s]
Dl Completed...: 100%|██████████| 1/1 [02:16<00:00, 134.78s/ url]

Dl Size...: 100%|██████████| 827/827 [02:16<00:00,  7.60 MiB/s]


Extraction completed...:   0%|          | 0/2749 [02:16<?, ? file/s]
Dl Completed...: 100%|██████████| 1/1 [02:16<00:00, 134.78s/ url]

Dl Size...: 100%|██████████| 827/827 [02:16<00:00,  7.60 MiB/s]


Extraction completed...:   0%|          | 0/2750 [02:16<?, ? file/s]
Dl Completed...: 100%|██████████| 1/1 [02:16<00:00, 134.78s/ url]

Dl Size...: 100%|██████████| 827/827 [02:16<00:00,  7.60 MiB/s]


Extraction completed...:   0%|          | 0/2751 [02:16<?, ? file/s]
Dl Completed...: 100%|██████████| 1/1 [02:16<00:00, 134.78s/ url]

Dl Size...: 100%|██████████| 827/827 [02:16<00:00,  7.60 MiB/s]


Extraction completed...:   0%|          | 0/2752 [02:16<?, ? file/s]
Dl Completed...: 100%|██████████| 1/1 [02:16<00:00, 134.78s/ url]

Dl Size...: 100%|██████████| 827/827 [02:16<00:00,  7.60 MiB/s]


Extraction completed...:   0%|          | 0/2753 [02:16<?, ? file/s]
Dl Completed...: 100%|██████████| 1/1 [02:16<00:00, 134.78s/ url]

Dl Size...: 100%|██████████| 827/827 [02:16<00:00,  7.60 MiB/s]


Extraction completed...:   0%|          | 0/2754 [02:16<?, ? file/s]
Dl Completed...: 100%|██████████| 1/1 [02:16<00:00, 134.78s/ url]

Dl Size...: 100%|██████████| 827/827 [02:16<00:00,  7.60 MiB/s]


Extraction completed...:   0%|          | 0/2755 [02:16<?, ? file/s]
Dl Completed...: 100%|██████████| 1/1 [02:16<00:00, 134.78s/ url]

Dl Size...: 100%|██████████| 827/827 [02:16<00:00,  7.60 MiB/s]


Extraction completed...:   0%|          | 0/2756 [02:16<?, ? file/s]
Dl Completed...: 100%|██████████| 1/1 [02:16<00:00, 134.78s/ url]

Dl Size...: 100%|██████████| 827/827 [02:16<00:00,  7.60 MiB/s]


Extraction completed...:   0%|          | 0/2757 [02:16<?, ? file/s]
Dl Completed...: 100%|██████████| 1/1 [02:16<00:00, 134.78s/ url]

Dl Size...: 100%|██████████| 827/827 [02:16<00:00,  7.60 MiB/s]


Extraction completed...:   0%|          | 0/2758 [02:16<?, ? file/s]
Dl Completed...: 100%|██████████| 1/1 [02:16<00:00, 134.78s/ url]

Dl Size...: 100%|██████████| 827/827 [02:16<00:00,  7.60 MiB/s]


Extraction completed...:   0%|          | 0/2759 [02:16<?, ? file/s]
Dl Completed...: 100%|██████████| 1/1 [02:16<00:00, 134.78s/ url]

Dl Size...: 100%|██████████| 827/827 [02:16<00:00,  7.60 MiB/s]


Extraction completed...:   0%|          | 0/2760 [02:16<?, ? file/s]
Dl Completed...: 100%|██████████| 1/1 [02:16<00:00, 134.78s/ url]

Dl Size...: 100%|██████████| 827/827 [02:16<00:00,  7.60 MiB/s]


Extraction completed...:   0%|          | 0/2761 [02:16<?, ? file/s]
Dl Completed...: 100%|██████████| 1/1 [02:16<00:00, 134.78s/ url]

Dl Size...: 100%|██████████| 827/827 [02:16<00:00,  7.60 MiB/s]


Extraction completed...:   0%|          | 0/2762 [02:16<?, ? file/s]
Dl Completed...: 100%|██████████| 1/1 [02:16<00:00, 134.78s/ url]

Dl Size...: 100%|██████████| 827/827 [02:16<00:00,  7.60 MiB/s]


Extraction completed...:   0%|          | 0/2763 [02:16<?, ? file/s]
Dl Completed...: 100%|██████████| 1/1 [02:16<00:00, 134.78s/ url]

Dl Size...: 100%|██████████| 827/827 [02:16<00:00,  7.60 MiB/s]


Extraction completed...:   0%|          | 0/2764 [02:16<?, ? file/s]
Dl Completed...: 100%|██████████| 1/1 [02:16<00:00, 134.78s/ url]

Dl Size...: 100%|██████████| 827/827 [02:16<00:00,  7.60 MiB/s]


Extraction completed...:   0%|          | 0/2765 [02:16<?, ? file/s]
Dl Completed...: 100%|██████████| 1/1 [02:16<00:00, 134.78s/ url]

Dl Size...: 100%|██████████| 827/827 [02:16<00:00,  7.60 MiB/s]


Extraction completed...:   0%|          | 0/2766 [02:16<?, ? file/s]
Dl Completed...: 100%|██████████| 1/1 [02:16<00:00, 134.78s/ url]

Dl Size...: 100%|██████████| 827/827 [02:16<00:00,  7.60 MiB/s]


Extraction completed...:   0%|          | 0/2767 [02:16<?, ? file/s]
Dl Completed...: 100%|██████████| 1/1 [02:16<00:00, 134.78s/ url]

Dl Size...: 100%|██████████| 827/827 [02:16<00:00,  7.60 MiB/s]


Extraction completed...:   0%|          | 0/2768 [02:16<?, ? file/s]
Dl Completed...: 100%|██████████| 1/1 [02:16<00:00, 134.78s/ url]

Dl Size...: 100%|██████████| 827/827 [02:16<00:00,  7.60 MiB/s]


Extraction completed...:   0%|          | 0/2769 [02:16<?, ? file/s]
Dl Completed...: 100%|██████████| 1/1 [02:16<00:00, 134.78s/ url]

Dl Size...: 100%|██████████| 827/827 [02:16<00:00,  7.60 MiB/s]


Extraction completed...:   0%|          | 0/2770 [02:16<?, ? file/s]
Dl Completed...: 100%|██████████| 1/1 [02:16<00:00, 134.78s/ url]

Dl Size...: 100%|██████████| 827/827 [02:16<00:00,  7.60 MiB/s]


Extraction completed...:   0%|          | 0/2771 [02:16<?, ? file/s]
Dl Completed...: 100%|██████████| 1/1 [02:16<00:00, 134.78s/ url]

Dl Size...: 100%|██████████| 827/827 [02:16<00:00,  7.60 MiB/s]


Extraction completed...:   0%|          | 0/2772 [02:16<?, ? file/s]
Dl Completed...: 100%|██████████| 1/1 [02:16<00:00, 134.78s/ url]

Dl Size...: 100%|██████████| 827/827 [02:16<00:00,  7.60 MiB/s]


Extraction completed...:   0%|          | 0/2773 [02:16<?, ? file/s]
Dl Completed...: 100%|██████████| 1/1 [02:16<00:00, 134.78s/ url]

Dl Size...: 100%|██████████| 827/827 [02:16<00:00,  7.60 MiB/s]


Extraction completed...:   0%|          | 0/2774 [02:16<?, ? file/s]
Dl Completed...: 100%|██████████| 1/1 [02:16<00:00, 134.78s/ url]

Dl Size...: 100%|██████████| 827/827 [02:16<00:00,  7.60 MiB/s]


Extraction completed...:   0%|          | 0/2775 [02:16<?, ? file/s]
Dl Completed...: 100%|██████████| 1/1 [02:16<00:00, 134.78s/ url]

Dl Size...: 100%|██████████| 827/827 [02:16<00:00,  7.60 MiB/s]


Extraction completed...:   0%|          | 0/2776 [02:16<?, ? file/s]
Dl Completed...: 100%|██████████| 1/1 [02:16<00:00, 134.78s/ url]

Dl Size...: 100%|██████████| 827/827 [02:16<00:00,  7.60 MiB/s]


Extraction completed...:   0%|          | 0/2777 [02:16<?, ? file/s]
Dl Completed...: 100%|██████████| 1/1 [02:16<00:00, 134.78s/ url]

Dl Size...: 100%|██████████| 827/827 [02:16<00:00,  7.60 MiB/s]


Extraction completed...:   0%|          | 0/2778 [02:16<?, ? file/s]
Dl Completed...: 100%|██████████| 1/1 [02:16<00:00, 134.78s/ url]

Dl Size...: 100%|██████████| 827/827 [02:16<00:00,  7.60 MiB/s]


Extraction completed...:   0%|          | 0/2779 [02:16<?, ? file/s]
Dl Completed...: 100%|██████████| 1/1 [02:16<00:00, 134.78s/ url]

Dl Size...: 100%|██████████| 827/827 [02:16<00:00,  7.60 MiB/s]


Extraction completed...:   0%|          | 0/2780 [02:16<?, ? file/s]
Dl Completed...: 100%|██████████| 1/1 [02:16<00:00, 134.78s/ url]

Dl Size...: 100%|██████████| 827/827 [02:16<00:00,  7.60 MiB/s]


Extraction completed...:   0%|          | 0/2781 [02:16<?, ? file/s]
Dl Completed...: 100%|██████████| 1/1 [02:16<00:00, 134.78s/ url]

Dl Size...: 100%|██████████| 827/827 [02:16<00:00,  7.60 MiB/s]


Extraction completed...:   0%|          | 0/2782 [02:16<?, ? file/s]
Dl Completed...: 100%|██████████| 1/1 [02:16<00:00, 134.78s/ url]

Dl Size...: 100%|██████████| 827/827 [02:16<00:00,  7.60 MiB/s]


Extraction completed...:   0%|          | 0/2783 [02:16<?, ? file/s]
Dl Completed...: 100%|██████████| 1/1 [02:16<00:00, 134.78s/ url]

Dl Size...: 100%|██████████| 827/827 [02:16<00:00,  7.60 MiB/s]


Extraction completed...:   0%|          | 0/2784 [02:16<?, ? file/s]
Dl Completed...: 100%|██████████| 1/1 [02:16<00:00, 134.78s/ url]

Dl Size...: 100%|██████████| 827/827 [02:16<00:00,  7.60 MiB/s]


Extraction completed...:   0%|          | 0/2785 [02:16<?, ? file/s]
Dl Completed...: 100%|██████████| 1/1 [02:16<00:00, 134.78s/ url]

Dl Size...: 100%|██████████| 827/827 [02:16<00:00,  7.60 MiB/s]


Extraction completed...:   0%|          | 0/2786 [02:16<?, ? file/s]
Dl Completed...: 100%|██████████| 1/1 [02:16<00:00, 134.78s/ url]

Dl Size...: 100%|██████████| 827/827 [02:16<00:00,  7.60 MiB/s]


Extraction completed...:   0%|          | 0/2787 [02:16<?, ? file/s]
Dl Completed...: 100%|██████████| 1/1 [02:16<00:00, 134.78s/ url]

Dl Size...: 100%|██████████| 827/827 [02:16<00:00,  7.60 MiB/s]


Extraction completed...:   0%|          | 0/2788 [02:16<?, ? file/s]
Dl Completed...: 100%|██████████| 1/1 [02:16<00:00, 134.78s/ url]

Dl Size...: 100%|██████████| 827/827 [02:16<00:00,  7.60 MiB/s]


Extraction completed...:   0%|          | 0/2789 [02:16<?, ? file/s]
Dl Completed...: 100%|██████████| 1/1 [02:16<00:00, 134.78s/ url]

Dl Size...: 100%|██████████| 827/827 [02:16<00:00,  7.60 MiB/s]


Extraction completed...:   0%|          | 0/2790 [02:16<?, ? file/s]
Dl Completed...: 100%|██████████| 1/1 [02:16<00:00, 134.78s/ url]

Dl Size...: 100%|██████████| 827/827 [02:16<00:00,  7.60 MiB/s]


Extraction completed...:   0%|          | 0/2791 [02:16<?, ? file/s]
Dl Completed...: 100%|██████████| 1/1 [02:16<00:00, 134.78s/ url]

Dl Size...: 100%|██████████| 827/827 [02:16<00:00,  7.60 MiB/s]


Extraction completed...:   0%|          | 0/2792 [02:16<?, ? file/s]
Dl Completed...: 100%|██████████| 1/1 [02:16<00:00, 134.78s/ url]

Dl Size...: 100%|██████████| 827/827 [02:16<00:00,  7.60 MiB/s]


Extraction completed...:   0%|          | 0/2793 [02:16<?, ? file/s]
Dl Completed...: 100%|██████████| 1/1 [02:16<00:00, 134.78s/ url]

Dl Size...: 100%|██████████| 827/827 [02:16<00:00,  7.60 MiB/s]


Extraction completed...:   0%|          | 0/2794 [02:16<?, ? file/s]
Dl Completed...: 100%|██████████| 1/1 [02:16<00:00, 134.78s/ url]

Dl Size...: 100%|██████████| 827/827 [02:16<00:00,  7.60 MiB/s]


Extraction completed...:   0%|          | 0/2795 [02:16<?, ? file/s]
Dl Completed...: 100%|██████████| 1/1 [02:16<00:00, 134.78s/ url]

Dl Size...: 100%|██████████| 827/827 [02:16<00:00,  7.60 MiB/s]


Extraction completed...:   0%|          | 0/2796 [02:16<?, ? file/s]
Dl Completed...: 100%|██████████| 1/1 [02:16<00:00, 134.78s/ url]

Dl Size...: 100%|██████████| 827/827 [02:16<00:00,  7.60 MiB/s]


Extraction completed...:   0%|          | 0/2797 [02:16<?, ? file/s]
Dl Completed...: 100%|██████████| 1/1 [02:16<00:00, 134.78s/ url]

Dl Size...: 100%|██████████| 827/827 [02:16<00:00,  7.60 MiB/s]


Extraction completed...:   0%|          | 0/2798 [02:16<?, ? file/s]
Dl Completed...: 100%|██████████| 1/1 [02:16<00:00, 134.78s/ url]

Dl Size...: 100%|██████████| 827/827 [02:16<00:00,  7.60 MiB/s]


Extraction completed...:   0%|          | 0/2799 [02:16<?, ? file/s]
Dl Completed...: 100%|██████████| 1/1 [02:16<00:00, 134.78s/ url]

Dl Size...: 100%|██████████| 827/827 [02:16<00:00,  7.60 MiB/s]


Extraction completed...:   0%|          | 0/2800 [02:16<?, ? file/s]
Dl Completed...: 100%|██████████| 1/1 [02:16<00:00, 134.78s/ url]

Dl Size...: 100%|██████████| 827/827 [02:16<00:00,  7.60 MiB/s]


Extraction completed...:   0%|          | 0/2801 [02:16<?, ? file/s]
Dl Completed...: 100%|██████████| 1/1 [02:16<00:00, 134.78s/ url]

Dl Size...: 100%|██████████| 827/827 [02:16<00:00,  7.60 MiB/s]


Extraction completed...:   0%|          | 0/2802 [02:16<?, ? file/s]
Dl Completed...: 100%|██████████| 1/1 [02:16<00:00, 134.78s/ url]

Dl Size...: 100%|██████████| 827/827 [02:16<00:00,  7.60 MiB/s]


Extraction completed...:   0%|          | 0/2803 [02:16<?, ? file/s]
Dl Completed...: 100%|██████████| 1/1 [02:16<00:00, 134.78s/ url]

Dl Size...: 100%|██████████| 827/827 [02:16<00:00,  7.60 MiB/s]


Extraction completed...:   0%|          | 0/2804 [02:16<?, ? file/s]
Dl Completed...: 100%|██████████| 1/1 [02:16<00:00, 134.78s/ url]

Dl Size...: 100%|██████████| 827/827 [02:16<00:00,  7.60 MiB/s]


Extraction completed...:   0%|          | 0/2805 [02:16<?, ? file/s]
Dl Completed...: 100%|██████████| 1/1 [02:16<00:00, 134.78s/ url]

Dl Size...: 100%|██████████| 827/827 [02:16<00:00,  7.60 MiB/s]


Extraction completed...:   0%|          | 0/2806 [02:16<?, ? file/s]
Dl Completed...: 100%|██████████| 1/1 [02:16<00:00, 134.78s/ url]

Dl Size...: 100%|██████████| 827/827 [02:16<00:00,  7.60 MiB/s]


Extraction completed...:   0%|          | 0/2807 [02:16<?, ? file/s]
Dl Completed...: 100%|██████████| 1/1 [02:16<00:00, 134.78s/ url]

Dl Size...: 100%|██████████| 827/827 [02:16<00:00,  7.60 MiB/s]


Extraction completed...:   0%|          | 0/2808 [02:16<?, ? file/s]
Dl Completed...: 100%|██████████| 1/1 [02:16<00:00, 134.78s/ url]

Dl Size...: 100%|██████████| 827/827 [02:16<00:00,  7.60 MiB/s]


Extraction completed...:   0%|          | 0/2809 [02:16<?, ? file/s]
Dl Completed...: 100%|██████████| 1/1 [02:16<00:00, 134.78s/ url]

Dl Size...: 100%|██████████| 827/827 [02:16<00:00,  7.60 MiB/s]


Extraction completed...:   0%|          | 0/2810 [02:16<?, ? file/s]
Dl Completed...: 100%|██████████| 1/1 [02:16<00:00, 134.78s/ url]

Dl Size...: 100%|██████████| 827/827 [02:16<00:00,  7.60 MiB/s]


Extraction completed...:   0%|          | 0/2811 [02:16<?, ? file/s]
Dl Completed...: 100%|██████████| 1/1 [02:16<00:00, 134.78s/ url]

Dl Size...: 100%|██████████| 827/827 [02:16<00:00,  7.60 MiB/s]


Extraction completed...:   0%|          | 0/2812 [02:16<?, ? file/s]
Dl Completed...: 100%|██████████| 1/1 [02:16<00:00, 134.78s/ url]

Dl Size...: 100%|██████████| 827/827 [02:16<00:00,  7.60 MiB/s]


Extraction completed...:   0%|          | 0/2813 [02:16<?, ? file/s]
Dl Completed...: 100%|██████████| 1/1 [02:16<00:00, 134.78s/ url]

Dl Size...: 100%|██████████| 827/827 [02:16<00:00,  7.60 MiB/s]


Extraction completed...:   0%|          | 0/2814 [02:16<?, ? file/s]
Dl Completed...: 100%|██████████| 1/1 [02:16<00:00, 134.78s/ url]

Dl Size...: 100%|██████████| 827/827 [02:16<00:00,  7.60 MiB/s]


Extraction completed...:   0%|          | 0/2815 [02:16<?, ? file/s]
Dl Completed...: 100%|██████████| 1/1 [02:16<00:00, 134.78s/ url]

Dl Size...: 100%|██████████| 827/827 [02:16<00:00,  7.60 MiB/s]


Extraction completed...:   0%|          | 0/2816 [02:16<?, ? file/s]
Dl Completed...: 100%|██████████| 1/1 [02:16<00:00, 134.78s/ url]

Dl Size...: 100%|██████████| 827/827 [02:16<00:00,  7.60 MiB/s]


Extraction completed...:   0%|          | 0/2817 [02:16<?, ? file/s]
Dl Completed...: 100%|██████████| 1/1 [02:16<00:00, 134.78s/ url]

Dl Size...: 100%|██████████| 827/827 [02:16<00:00,  7.60 MiB/s]


Extraction completed...:   0%|          | 0/2818 [02:16<?, ? file/s]
Dl Completed...: 100%|██████████| 1/1 [02:16<00:00, 134.78s/ url]

Dl Size...: 100%|██████████| 827/827 [02:16<00:00,  7.60 MiB/s]


Extraction completed...:   0%|          | 0/2819 [02:16<?, ? file/s]
Dl Completed...: 100%|██████████| 1/1 [02:16<00:00, 134.78s/ url]

Dl Size...: 100%|██████████| 827/827 [02:16<00:00,  7.60 MiB/s]


Extraction completed...:   0%|          | 0/2820 [02:16<?, ? file/s]
Dl Completed...: 100%|██████████| 1/1 [02:16<00:00, 134.78s/ url]

Dl Size...: 100%|██████████| 827/827 [02:16<00:00,  7.60 MiB/s]


Extraction completed...:   0%|          | 0/2821 [02:16<?, ? file/s]
Dl Completed...: 100%|██████████| 1/1 [02:16<00:00, 134.78s/ url]

Dl Size...: 100%|██████████| 827/827 [02:16<00:00,  7.60 MiB/s]


Extraction completed...:   0%|          | 0/2822 [02:16<?, ? file/s]
Dl Completed...: 100%|██████████| 1/1 [02:16<00:00, 134.78s/ url]

Dl Size...: 100%|██████████| 827/827 [02:16<00:00,  7.60 MiB/s]


Extraction completed...:   0%|          | 0/2823 [02:16<?, ? file/s]
Dl Completed...: 100%|██████████| 1/1 [02:16<00:00, 134.78s/ url]

Dl Size...: 100%|██████████| 827/827 [02:16<00:00,  7.60 MiB/s]


Extraction completed...:   0%|          | 0/2824 [02:16<?, ? file/s]
Dl Completed...: 100%|██████████| 1/1 [02:16<00:00, 134.78s/ url]

Dl Size...: 100%|██████████| 827/827 [02:16<00:00,  7.60 MiB/s]


Extraction completed...:   0%|          | 0/2825 [02:16<?, ? file/s]
Dl Completed...: 100%|██████████| 1/1 [02:16<00:00, 134.78s/ url]

Dl Size...: 100%|██████████| 827/827 [02:16<00:00,  7.60 MiB/s]


Extraction completed...:   0%|          | 0/2826 [02:16<?, ? file/s]
Dl Completed...: 100%|██████████| 1/1 [02:16<00:00, 134.78s/ url]

Dl Size...: 100%|██████████| 827/827 [02:16<00:00,  7.60 MiB/s]


Extraction completed...:   0%|          | 0/2827 [02:16<?, ? file/s]
Dl Completed...: 100%|██████████| 1/1 [02:16<00:00, 134.78s/ url]

Dl Size...: 100%|██████████| 827/827 [02:16<00:00,  7.60 MiB/s]


Extraction completed...:   0%|          | 0/2828 [02:16<?, ? file/s]
Dl Completed...: 100%|██████████| 1/1 [02:16<00:00, 134.78s/ url]

Dl Size...: 100%|██████████| 827/827 [02:16<00:00,  7.60 MiB/s]


Extraction completed...:   0%|          | 0/2829 [02:16<?, ? file/s]
Dl Completed...: 100%|██████████| 1/1 [02:16<00:00, 134.78s/ url]

Dl Size...: 100%|██████████| 827/827 [02:16<00:00,  7.60 MiB/s]


Extraction completed...:   0%|          | 0/2830 [02:16<?, ? file/s]
Dl Completed...: 100%|██████████| 1/1 [02:16<00:00, 134.78s/ url]

Dl Size...: 100%|██████████| 827/827 [02:16<00:00,  7.60 MiB/s]


Extraction completed...:   0%|          | 0/2831 [02:16<?, ? file/s]
Dl Completed...: 100%|██████████| 1/1 [02:16<00:00, 134.78s/ url]

Dl Size...: 100%|██████████| 827/827 [02:16<00:00,  7.60 MiB/s]


Extraction completed...:   0%|          | 0/2832 [02:16<?, ? file/s]
Dl Completed...: 100%|██████████| 1/1 [02:16<00:00, 134.78s/ url]

Dl Size...: 100%|██████████| 827/827 [02:16<00:00,  7.60 MiB/s]


Extraction completed...:   0%|          | 0/2833 [02:16<?, ? file/s]
Dl Completed...: 100%|██████████| 1/1 [02:16<00:00, 134.78s/ url]

Dl Size...: 100%|██████████| 827/827 [02:16<00:00,  7.60 MiB/s]


Extraction completed...:   0%|          | 0/2834 [02:16<?, ? file/s]
Dl Completed...: 100%|██████████| 1/1 [02:16<00:00, 134.78s/ url]

Dl Size...: 100%|██████████| 827/827 [02:16<00:00,  7.60 MiB/s]


Extraction completed...:   0%|          | 0/2835 [02:16<?, ? file/s]
Dl Completed...: 100%|██████████| 1/1 [02:16<00:00, 134.78s/ url]

Dl Size...: 100%|██████████| 827/827 [02:16<00:00,  7.60 MiB/s]


Extraction completed...:   0%|          | 0/2836 [02:16<?, ? file/s]
Dl Completed...: 100%|██████████| 1/1 [02:16<00:00, 134.78s/ url]

Dl Size...: 100%|██████████| 827/827 [02:16<00:00,  7.60 MiB/s]


Extraction completed...:   0%|          | 0/2837 [02:16<?, ? file/s]
Dl Completed...: 100%|██████████| 1/1 [02:16<00:00, 134.78s/ url]

Dl Size...: 100%|██████████| 827/827 [02:16<00:00,  7.60 MiB/s]


Extraction completed...:   0%|          | 0/2838 [02:16<?, ? file/s]
Dl Completed...: 100%|██████████| 1/1 [02:16<00:00, 134.78s/ url]

Dl Size...: 100%|██████████| 827/827 [02:16<00:00,  7.60 MiB/s]


Extraction completed...:   0%|          | 0/2839 [02:16<?, ? file/s]
Dl Completed...: 100%|██████████| 1/1 [02:16<00:00, 134.78s/ url]

Dl Size...: 100%|██████████| 827/827 [02:16<00:00,  7.60 MiB/s]


Extraction completed...:   0%|          | 0/2840 [02:16<?, ? file/s]
Dl Completed...: 100%|██████████| 1/1 [02:16<00:00, 134.78s/ url]

Dl Size...: 100%|██████████| 827/827 [02:16<00:00,  7.60 MiB/s]


Extraction completed...:   0%|          | 0/2841 [02:16<?, ? file/s]
Dl Completed...: 100%|██████████| 1/1 [02:16<00:00, 134.78s/ url]

Dl Size...: 100%|██████████| 827/827 [02:16<00:00,  7.60 MiB/s]


Extraction completed...:   0%|          | 0/2842 [02:16<?, ? file/s]
Dl Completed...: 100%|██████████| 1/1 [02:16<00:00, 134.78s/ url]

Dl Size...: 100%|██████████| 827/827 [02:16<00:00,  7.60 MiB/s]


Extraction completed...:   0%|          | 0/2843 [02:16<?, ? file/s]
Dl Completed...: 100%|██████████| 1/1 [02:16<00:00, 134.78s/ url]

Dl Size...: 100%|██████████| 827/827 [02:16<00:00,  7.60 MiB/s]


Extraction completed...:   0%|          | 0/2844 [02:16<?, ? file/s]
Dl Completed...: 100%|██████████| 1/1 [02:16<00:00, 134.78s/ url]

Dl Size...: 100%|██████████| 827/827 [02:16<00:00,  7.60 MiB/s]


Extraction completed...:   0%|          | 0/2845 [02:16<?, ? file/s]
Dl Completed...: 100%|██████████| 1/1 [02:16<00:00, 134.78s/ url]

Dl Size...: 100%|██████████| 827/827 [02:16<00:00,  7.60 MiB/s]


Extraction completed...:   0%|          | 0/2846 [02:16<?, ? file/s]
Dl Completed...: 100%|██████████| 1/1 [02:16<00:00, 134.78s/ url]

Dl Size...: 100%|██████████| 827/827 [02:16<00:00,  7.60 MiB/s]


Extraction completed...:   0%|          | 0/2847 [02:16<?, ? file/s]
Dl Completed...: 100%|██████████| 1/1 [02:16<00:00, 134.78s/ url]

Dl Size...: 100%|██████████| 827/827 [02:16<00:00,  7.60 MiB/s]


Extraction completed...:   0%|          | 0/2848 [02:16<?, ? file/s]
Dl Completed...: 100%|██████████| 1/1 [02:16<00:00, 134.78s/ url]

Dl Size...: 100%|██████████| 827/827 [02:16<00:00,  7.60 MiB/s]


Extraction completed...:   0%|          | 0/2849 [02:16<?, ? file/s]
Dl Completed...: 100%|██████████| 1/1 [02:16<00:00, 134.78s/ url]

Dl Size...: 100%|██████████| 827/827 [02:16<00:00,  7.60 MiB/s]


Extraction completed...:   0%|          | 0/2850 [02:16<?, ? file/s]
Dl Completed...: 100%|██████████| 1/1 [02:16<00:00, 134.78s/ url]

Dl Size...: 100%|██████████| 827/827 [02:16<00:00,  7.60 MiB/s]


Extraction completed...:   0%|          | 0/2851 [02:16<?, ? file/s]
Dl Completed...: 100%|██████████| 1/1 [02:16<00:00, 134.78s/ url]

Dl Size...: 100%|██████████| 827/827 [02:16<00:00,  7.60 MiB/s]


Extraction completed...:   0%|          | 0/2852 [02:16<?, ? file/s]
Dl Completed...: 100%|██████████| 1/1 [02:16<00:00, 134.78s/ url]

Dl Size...: 100%|██████████| 827/827 [02:16<00:00,  7.60 MiB/s]


Extraction completed...:   0%|          | 0/2853 [02:16<?, ? file/s]
Dl Completed...: 100%|██████████| 1/1 [02:16<00:00, 134.78s/ url]

Dl Size...: 100%|██████████| 827/827 [02:16<00:00,  7.60 MiB/s]


Extraction completed...:   0%|          | 0/2854 [02:16<?, ? file/s]
Dl Completed...: 100%|██████████| 1/1 [02:16<00:00, 134.78s/ url]

Dl Size...: 100%|██████████| 827/827 [02:16<00:00,  7.60 MiB/s]


Extraction completed...:   0%|          | 0/2855 [02:16<?, ? file/s]
Dl Completed...: 100%|██████████| 1/1 [02:16<00:00, 134.78s/ url]

Dl Size...: 100%|██████████| 827/827 [02:16<00:00,  7.60 MiB/s]


Extraction completed...:   0%|          | 0/2856 [02:16<?, ? file/s]
Dl Completed...: 100%|██████████| 1/1 [02:16<00:00, 134.78s/ url]

Dl Size...: 100%|██████████| 827/827 [02:16<00:00,  7.60 MiB/s]


Extraction completed...:   0%|          | 0/2857 [02:16<?, ? file/s]
Dl Completed...: 100%|██████████| 1/1 [02:16<00:00, 134.78s/ url]

Dl Size...: 100%|██████████| 827/827 [02:16<00:00,  7.60 MiB/s]


Extraction completed...:   0%|          | 0/2858 [02:16<?, ? file/s]
Dl Completed...: 100%|██████████| 1/1 [02:16<00:00, 134.78s/ url]

Dl Size...: 100%|██████████| 827/827 [02:16<00:00,  7.60 MiB/s]


Extraction completed...:   0%|          | 0/2859 [02:16<?, ? file/s]
Dl Completed...: 100%|██████████| 1/1 [02:16<00:00, 134.78s/ url]

Dl Size...: 100%|██████████| 827/827 [02:16<00:00,  7.60 MiB/s]


Extraction completed...:   0%|          | 0/2860 [02:16<?, ? file/s]
Dl Completed...: 100%|██████████| 1/1 [02:16<00:00, 134.78s/ url]

Dl Size...: 100%|██████████| 827/827 [02:16<00:00,  7.60 MiB/s]


Extraction completed...:   0%|          | 0/2861 [02:16<?, ? file/s]
Dl Completed...: 100%|██████████| 1/1 [02:16<00:00, 134.78s/ url]

Dl Size...: 100%|██████████| 827/827 [02:16<00:00,  7.60 MiB/s]


Extraction completed...:   0%|          | 0/2862 [02:16<?, ? file/s]
Dl Completed...: 100%|██████████| 1/1 [02:16<00:00, 134.78s/ url]

Dl Size...: 100%|██████████| 827/827 [02:16<00:00,  7.60 MiB/s]


Extraction completed...:   0%|          | 0/2863 [02:16<?, ? file/s]
Dl Completed...: 100%|██████████| 1/1 [02:16<00:00, 134.78s/ url]

Dl Size...: 100%|██████████| 827/827 [02:16<00:00,  7.60 MiB/s]


Extraction completed...:   0%|          | 0/2864 [02:16<?, ? file/s]
Dl Completed...: 100%|██████████| 1/1 [02:16<00:00, 134.78s/ url]

Dl Size...: 100%|██████████| 827/827 [02:16<00:00,  7.60 MiB/s]


Extraction completed...:   0%|          | 0/2865 [02:16<?, ? file/s]
Dl Completed...: 100%|██████████| 1/1 [02:16<00:00, 134.78s/ url]

Dl Size...: 100%|██████████| 827/827 [02:16<00:00,  7.60 MiB/s]


Extraction completed...:   0%|          | 0/2866 [02:16<?, ? file/s]
Dl Completed...: 100%|██████████| 1/1 [02:16<00:00, 134.78s/ url]

Dl Size...: 100%|██████████| 827/827 [02:16<00:00,  7.60 MiB/s]


Extraction completed...:   0%|          | 0/2867 [02:16<?, ? file/s]
Dl Completed...: 100%|██████████| 1/1 [02:16<00:00, 134.78s/ url]

Dl Size...: 100%|██████████| 827/827 [02:16<00:00,  7.60 MiB/s]


Extraction completed...:   0%|          | 0/2868 [02:16<?, ? file/s]
Dl Completed...: 100%|██████████| 1/1 [02:16<00:00, 134.78s/ url]

Dl Size...: 100%|██████████| 827/827 [02:16<00:00,  7.60 MiB/s]


Extraction completed...:   0%|          | 0/2869 [02:16<?, ? file/s]
Dl Completed...: 100%|██████████| 1/1 [02:16<00:00, 134.78s/ url]

Dl Size...: 100%|██████████| 827/827 [02:16<00:00,  7.60 MiB/s]


Extraction completed...:   0%|          | 0/2870 [02:16<?, ? file/s]
Dl Completed...: 100%|██████████| 1/1 [02:16<00:00, 134.78s/ url]

Dl Size...: 100%|██████████| 827/827 [02:16<00:00,  7.60 MiB/s]


Extraction completed...:   0%|          | 0/2871 [02:16<?, ? file/s]
Dl Completed...: 100%|██████████| 1/1 [02:16<00:00, 134.78s/ url]

Dl Size...: 100%|██████████| 827/827 [02:16<00:00,  7.60 MiB/s]


Extraction completed...:   0%|          | 0/2872 [02:16<?, ? file/s]
Dl Completed...: 100%|██████████| 1/1 [02:16<00:00, 134.78s/ url]

Dl Size...: 100%|██████████| 827/827 [02:16<00:00,  7.60 MiB/s]


Extraction completed...:   0%|          | 0/2873 [02:16<?, ? file/s]
Dl Completed...: 100%|██████████| 1/1 [02:16<00:00, 134.78s/ url]

Dl Size...: 100%|██████████| 827/827 [02:16<00:00,  7.60 MiB/s]


Extraction completed...:   0%|          | 0/2874 [02:16<?, ? file/s]
Dl Completed...: 100%|██████████| 1/1 [02:16<00:00, 134.78s/ url]

Dl Size...: 100%|██████████| 827/827 [02:16<00:00,  7.60 MiB/s]


Extraction completed...:   0%|          | 0/2875 [02:16<?, ? file/s]
Dl Completed...: 100%|██████████| 1/1 [02:16<00:00, 134.78s/ url]

Dl Size...: 100%|██████████| 827/827 [02:16<00:00,  7.60 MiB/s]


Extraction completed...:   0%|          | 0/2876 [02:16<?, ? file/s]
Dl Completed...: 100%|██████████| 1/1 [02:16<00:00, 134.78s/ url]

Dl Size...: 100%|██████████| 827/827 [02:16<00:00,  7.60 MiB/s]


Extraction completed...:   0%|          | 0/2877 [02:16<?, ? file/s]
Dl Completed...: 100%|██████████| 1/1 [02:16<00:00, 134.78s/ url]

Dl Size...: 100%|██████████| 827/827 [02:16<00:00,  7.60 MiB/s]


Extraction completed...:   0%|          | 0/2878 [02:16<?, ? file/s]
Dl Completed...: 100%|██████████| 1/1 [02:16<00:00, 134.78s/ url]

Dl Size...: 100%|██████████| 827/827 [02:16<00:00,  7.60 MiB/s]


Extraction completed...:   0%|          | 0/2879 [02:16<?, ? file/s]
Dl Completed...: 100%|██████████| 1/1 [02:16<00:00, 134.78s/ url]

Dl Size...: 100%|██████████| 827/827 [02:16<00:00,  7.60 MiB/s]


Extraction completed...:   0%|          | 0/2880 [02:16<?, ? file/s]
Dl Completed...: 100%|██████████| 1/1 [02:16<00:00, 134.78s/ url]

Dl Size...: 100%|██████████| 827/827 [02:16<00:00,  7.60 MiB/s]


Extraction completed...:   0%|          | 0/2881 [02:16<?, ? file/s]
Dl Completed...: 100%|██████████| 1/1 [02:16<00:00, 134.78s/ url]

Dl Size...: 100%|██████████| 827/827 [02:16<00:00,  7.60 MiB/s]


Extraction completed...:   0%|          | 0/2882 [02:16<?, ? file/s]
Dl Completed...: 100%|██████████| 1/1 [02:16<00:00, 134.78s/ url]

Dl Size...: 100%|██████████| 827/827 [02:16<00:00,  7.60 MiB/s]


Extraction completed...:   0%|          | 0/2883 [02:16<?, ? file/s]
Dl Completed...: 100%|██████████| 1/1 [02:16<00:00, 134.78s/ url]

Dl Size...: 100%|██████████| 827/827 [02:16<00:00,  7.60 MiB/s]


Extraction completed...:   0%|          | 0/2884 [02:16<?, ? file/s]
Dl Completed...: 100%|██████████| 1/1 [02:16<00:00, 134.78s/ url]

Dl Size...: 100%|██████████| 827/827 [02:16<00:00,  7.60 MiB/s]


Extraction completed...:   0%|          | 0/2885 [02:16<?, ? file/s]
Dl Completed...: 100%|██████████| 1/1 [02:16<00:00, 134.78s/ url]

Dl Size...: 100%|██████████| 827/827 [02:16<00:00,  7.60 MiB/s]


Extraction completed...:   0%|          | 0/2886 [02:16<?, ? file/s]
Dl Completed...: 100%|██████████| 1/1 [02:16<00:00, 134.78s/ url]

Dl Size...: 100%|██████████| 827/827 [02:16<00:00,  7.60 MiB/s]


Extraction completed...:   0%|          | 0/2887 [02:16<?, ? file/s]
Dl Completed...: 100%|██████████| 1/1 [02:16<00:00, 134.78s/ url]

Dl Size...: 100%|██████████| 827/827 [02:16<00:00,  7.60 MiB/s]


Extraction completed...:   0%|          | 0/2888 [02:16<?, ? file/s]
Dl Completed...: 100%|██████████| 1/1 [02:16<00:00, 134.78s/ url]

Dl Size...: 100%|██████████| 827/827 [02:16<00:00,  7.60 MiB/s]


Extraction completed...:   0%|          | 0/2889 [02:16<?, ? file/s]
Dl Completed...: 100%|██████████| 1/1 [02:16<00:00, 134.78s/ url]

Dl Size...: 100%|██████████| 827/827 [02:16<00:00,  7.60 MiB/s]


Extraction completed...:   0%|          | 0/2890 [02:16<?, ? file/s]
Dl Completed...: 100%|██████████| 1/1 [02:16<00:00, 134.78s/ url]

Dl Size...: 100%|██████████| 827/827 [02:16<00:00,  7.60 MiB/s]


Extraction completed...:   0%|          | 0/2891 [02:16<?, ? file/s]
Dl Completed...: 100%|██████████| 1/1 [02:16<00:00, 134.78s/ url]

Dl Size...: 100%|██████████| 827/827 [02:16<00:00,  7.60 MiB/s]


Extraction completed...:   0%|          | 0/2892 [02:16<?, ? file/s]
Dl Completed...: 100%|██████████| 1/1 [02:16<00:00, 134.78s/ url]

Dl Size...: 100%|██████████| 827/827 [02:16<00:00,  7.60 MiB/s]


Extraction completed...:   0%|          | 0/2893 [02:16<?, ? file/s]
Dl Completed...: 100%|██████████| 1/1 [02:16<00:00, 134.78s/ url]

Dl Size...: 100%|██████████| 827/827 [02:16<00:00,  7.60 MiB/s]


Extraction completed...:   0%|          | 0/2894 [02:16<?, ? file/s]
Dl Completed...: 100%|██████████| 1/1 [02:16<00:00, 134.78s/ url]

Dl Size...: 100%|██████████| 827/827 [02:16<00:00,  7.60 MiB/s]


Extraction completed...:   0%|          | 0/2895 [02:16<?, ? file/s]
Dl Completed...: 100%|██████████| 1/1 [02:16<00:00, 134.78s/ url]

Dl Size...: 100%|██████████| 827/827 [02:16<00:00,  7.60 MiB/s]


Extraction completed...:   0%|          | 0/2896 [02:16<?, ? file/s]
Dl Completed...: 100%|██████████| 1/1 [02:16<00:00, 134.78s/ url]

Dl Size...: 100%|██████████| 827/827 [02:16<00:00,  7.60 MiB/s]


Extraction completed...:   0%|          | 0/2897 [02:16<?, ? file/s]
Dl Completed...: 100%|██████████| 1/1 [02:16<00:00, 134.78s/ url]

Dl Size...: 100%|██████████| 827/827 [02:16<00:00,  7.60 MiB/s]


Extraction completed...:   0%|          | 0/2898 [02:16<?, ? file/s]
Dl Completed...: 100%|██████████| 1/1 [02:16<00:00, 134.78s/ url]

Dl Size...: 100%|██████████| 827/827 [02:16<00:00,  7.60 MiB/s]


Extraction completed...:   0%|          | 0/2899 [02:16<?, ? file/s]
Dl Completed...: 100%|██████████| 1/1 [02:16<00:00, 134.78s/ url]

Dl Size...: 100%|██████████| 827/827 [02:16<00:00,  7.60 MiB/s]


Extraction completed...:   0%|          | 0/2900 [02:16<?, ? file/s]
Dl Completed...: 100%|██████████| 1/1 [02:16<00:00, 134.78s/ url]

Dl Size...: 100%|██████████| 827/827 [02:16<00:00,  7.60 MiB/s]


Extraction completed...:   0%|          | 0/2901 [02:16<?, ? file/s]
Dl Completed...: 100%|██████████| 1/1 [02:16<00:00, 134.78s/ url]

Dl Size...: 100%|██████████| 827/827 [02:16<00:00,  7.60 MiB/s]


Extraction completed...:   0%|          | 0/2902 [02:16<?, ? file/s]
Dl Completed...: 100%|██████████| 1/1 [02:16<00:00, 134.78s/ url]

Dl Size...: 100%|██████████| 827/827 [02:16<00:00,  7.60 MiB/s]


Extraction completed...:   0%|          | 0/2903 [02:16<?, ? file/s]
Dl Completed...: 100%|██████████| 1/1 [02:16<00:00, 134.78s/ url]

Dl Size...: 100%|██████████| 827/827 [02:16<00:00,  7.60 MiB/s]


Extraction completed...:   0%|          | 0/2904 [02:16<?, ? file/s]
Dl Completed...: 100%|██████████| 1/1 [02:16<00:00, 134.78s/ url]

Dl Size...: 100%|██████████| 827/827 [02:16<00:00,  7.60 MiB/s]


Extraction completed...:   0%|          | 0/2905 [02:16<?, ? file/s]
Dl Completed...: 100%|██████████| 1/1 [02:16<00:00, 134.78s/ url]

Dl Size...: 100%|██████████| 827/827 [02:16<00:00,  7.60 MiB/s]


Extraction completed...:   0%|          | 0/2906 [02:16<?, ? file/s]
Dl Completed...: 100%|██████████| 1/1 [02:16<00:00, 134.78s/ url]

Dl Size...: 100%|██████████| 827/827 [02:16<00:00,  7.60 MiB/s]


Extraction completed...:   0%|          | 0/2907 [02:16<?, ? file/s]
Dl Completed...: 100%|██████████| 1/1 [02:16<00:00, 134.78s/ url]

Dl Size...: 100%|██████████| 827/827 [02:16<00:00,  7.60 MiB/s]


Extraction completed...:   0%|          | 0/2908 [02:16<?, ? file/s]
Dl Completed...: 100%|██████████| 1/1 [02:16<00:00, 134.78s/ url]

Dl Size...: 100%|██████████| 827/827 [02:16<00:00,  7.60 MiB/s]


Extraction completed...:   0%|          | 0/2909 [02:16<?, ? file/s]
Dl Completed...: 100%|██████████| 1/1 [02:16<00:00, 134.78s/ url]

Dl Size...: 100%|██████████| 827/827 [02:16<00:00,  7.60 MiB/s]


Extraction completed...:   0%|          | 0/2910 [02:16<?, ? file/s]
Dl Completed...: 100%|██████████| 1/1 [02:16<00:00, 134.78s/ url]

Dl Size...: 100%|██████████| 827/827 [02:16<00:00,  7.60 MiB/s]


Extraction completed...:   0%|          | 0/2911 [02:16<?, ? file/s]
Dl Completed...: 100%|██████████| 1/1 [02:16<00:00, 134.78s/ url]

Dl Size...: 100%|██████████| 827/827 [02:16<00:00,  7.60 MiB/s]


Extraction completed...:   0%|          | 0/2912 [02:16<?, ? file/s]
Dl Completed...: 100%|██████████| 1/1 [02:16<00:00, 134.78s/ url]

Dl Size...: 100%|██████████| 827/827 [02:16<00:00,  7.60 MiB/s]


Extraction completed...:   0%|          | 0/2913 [02:16<?, ? file/s]
Dl Completed...: 100%|██████████| 1/1 [02:16<00:00, 134.78s/ url]

Dl Size...: 100%|██████████| 827/827 [02:16<00:00,  7.60 MiB/s]


Extraction completed...:   0%|          | 0/2914 [02:16<?, ? file/s]
Dl Completed...: 100%|██████████| 1/1 [02:16<00:00, 134.78s/ url]

Dl Size...: 100%|██████████| 827/827 [02:16<00:00,  7.60 MiB/s]


Extraction completed...:   0%|          | 0/2915 [02:16<?, ? file/s]
Dl Completed...: 100%|██████████| 1/1 [02:16<00:00, 134.78s/ url]

Dl Size...: 100%|██████████| 827/827 [02:16<00:00,  7.60 MiB/s]


Extraction completed...:   0%|          | 0/2916 [02:16<?, ? file/s]
Dl Completed...: 100%|██████████| 1/1 [02:16<00:00, 134.78s/ url]

Dl Size...: 100%|██████████| 827/827 [02:16<00:00,  7.60 MiB/s]


Extraction completed...:   0%|          | 0/2917 [02:16<?, ? file/s]
Dl Completed...: 100%|██████████| 1/1 [02:16<00:00, 134.78s/ url]

Dl Size...: 100%|██████████| 827/827 [02:16<00:00,  7.60 MiB/s]


Extraction completed...:   0%|          | 0/2918 [02:16<?, ? file/s]
Dl Completed...: 100%|██████████| 1/1 [02:16<00:00, 134.78s/ url]

Dl Size...: 100%|██████████| 827/827 [02:16<00:00,  7.60 MiB/s]


Extraction completed...:   0%|          | 0/2919 [02:16<?, ? file/s]
Dl Completed...: 100%|██████████| 1/1 [02:16<00:00, 134.78s/ url]

Dl Size...: 100%|██████████| 827/827 [02:16<00:00,  7.60 MiB/s]


Extraction completed...:   0%|          | 0/2920 [02:16<?, ? file/s]
Dl Completed...: 100%|██████████| 1/1 [02:16<00:00, 134.78s/ url]

Dl Size...: 100%|██████████| 827/827 [02:16<00:00,  7.60 MiB/s]


Extraction completed...:   0%|          | 0/2921 [02:16<?, ? file/s]
Dl Completed...: 100%|██████████| 1/1 [02:16<00:00, 134.78s/ url]

Dl Size...: 100%|██████████| 827/827 [02:16<00:00,  7.60 MiB/s]


Extraction completed...:   0%|          | 0/2922 [02:16<?, ? file/s]
Dl Completed...: 100%|██████████| 1/1 [02:16<00:00, 134.78s/ url]

Dl Size...: 100%|██████████| 827/827 [02:16<00:00,  7.60 MiB/s]


Extraction completed...:   0%|          | 0/2923 [02:16<?, ? file/s]
Dl Completed...: 100%|██████████| 1/1 [02:16<00:00, 134.78s/ url]

Dl Size...: 100%|██████████| 827/827 [02:16<00:00,  7.60 MiB/s]


Extraction completed...:   0%|          | 0/2924 [02:16<?, ? file/s]
Dl Completed...: 100%|██████████| 1/1 [02:16<00:00, 134.78s/ url]

Dl Size...: 100%|██████████| 827/827 [02:16<00:00,  7.60 MiB/s]


Extraction completed...:   0%|          | 0/2925 [02:16<?, ? file/s]
Dl Completed...: 100%|██████████| 1/1 [02:16<00:00, 134.78s/ url]

Dl Size...: 100%|██████████| 827/827 [02:16<00:00,  7.60 MiB/s]


Extraction completed...:   0%|          | 0/2926 [02:16<?, ? file/s]
Dl Completed...: 100%|██████████| 1/1 [02:16<00:00, 134.78s/ url]

Dl Size...: 100%|██████████| 827/827 [02:16<00:00,  7.60 MiB/s]


Extraction completed...:   0%|          | 0/2927 [02:16<?, ? file/s]
Dl Completed...: 100%|██████████| 1/1 [02:16<00:00, 134.78s/ url]

Dl Size...: 100%|██████████| 827/827 [02:16<00:00,  7.60 MiB/s]


Extraction completed...:   0%|          | 0/2928 [02:16<?, ? file/s]
Dl Completed...: 100%|██████████| 1/1 [02:16<00:00, 134.78s/ url]

Dl Size...: 100%|██████████| 827/827 [02:16<00:00,  7.60 MiB/s]


Extraction completed...:   0%|          | 0/2929 [02:16<?, ? file/s]
Dl Completed...: 100%|██████████| 1/1 [02:16<00:00, 134.78s/ url]

Dl Size...: 100%|██████████| 827/827 [02:16<00:00,  7.60 MiB/s]


Extraction completed...:   0%|          | 0/2930 [02:16<?, ? file/s]
Dl Completed...: 100%|██████████| 1/1 [02:16<00:00, 134.78s/ url]

Dl Size...: 100%|██████████| 827/827 [02:16<00:00,  7.60 MiB/s]


Extraction completed...:   0%|          | 0/2931 [02:16<?, ? file/s]
Dl Completed...: 100%|██████████| 1/1 [02:16<00:00, 134.78s/ url]

Dl Size...: 100%|██████████| 827/827 [02:16<00:00,  7.60 MiB/s]


Extraction completed...:   0%|          | 0/2932 [02:16<?, ? file/s]
Dl Completed...: 100%|██████████| 1/1 [02:16<00:00, 134.78s/ url]

Dl Size...: 100%|██████████| 827/827 [02:16<00:00,  7.60 MiB/s]


Extraction completed...:   0%|          | 0/2933 [02:16<?, ? file/s]
Dl Completed...: 100%|██████████| 1/1 [02:16<00:00, 134.78s/ url]

Dl Size...: 100%|██████████| 827/827 [02:16<00:00,  7.60 MiB/s]


Extraction completed...:   0%|          | 0/2934 [02:16<?, ? file/s]
Dl Completed...: 100%|██████████| 1/1 [02:16<00:00, 134.78s/ url]

Dl Size...: 100%|██████████| 827/827 [02:16<00:00,  7.60 MiB/s]


Extraction completed...:   0%|          | 0/2935 [02:16<?, ? file/s]
Dl Completed...: 100%|██████████| 1/1 [02:16<00:00, 134.78s/ url]

Dl Size...: 100%|██████████| 827/827 [02:16<00:00,  7.60 MiB/s]


Extraction completed...:   0%|          | 0/2936 [02:16<?, ? file/s]
Dl Completed...: 100%|██████████| 1/1 [02:16<00:00, 134.78s/ url]

Dl Size...: 100%|██████████| 827/827 [02:16<00:00,  7.60 MiB/s]


Extraction completed...:   0%|          | 0/2937 [02:16<?, ? file/s]
Dl Completed...: 100%|██████████| 1/1 [02:16<00:00, 134.78s/ url]

Dl Size...: 100%|██████████| 827/827 [02:16<00:00,  7.60 MiB/s]


Extraction completed...:   0%|          | 0/2938 [02:16<?, ? file/s]
Dl Completed...: 100%|██████████| 1/1 [02:16<00:00, 134.78s/ url]

Dl Size...: 100%|██████████| 827/827 [02:16<00:00,  7.60 MiB/s]


Extraction completed...:   0%|          | 0/2939 [02:16<?, ? file/s]
Dl Completed...: 100%|██████████| 1/1 [02:16<00:00, 134.78s/ url]

Dl Size...: 100%|██████████| 827/827 [02:16<00:00,  7.60 MiB/s]


Extraction completed...:   0%|          | 0/2940 [02:16<?, ? file/s]
Dl Completed...: 100%|██████████| 1/1 [02:16<00:00, 134.78s/ url]

Dl Size...: 100%|██████████| 827/827 [02:16<00:00,  7.60 MiB/s]


Extraction completed...:   0%|          | 0/2941 [02:16<?, ? file/s]
Dl Completed...: 100%|██████████| 1/1 [02:16<00:00, 134.78s/ url]

Dl Size...: 100%|██████████| 827/827 [02:16<00:00,  7.60 MiB/s]


Extraction completed...:   0%|          | 0/2942 [02:16<?, ? file/s]
Dl Completed...: 100%|██████████| 1/1 [02:16<00:00, 134.78s/ url]

Dl Size...: 100%|██████████| 827/827 [02:16<00:00,  7.60 MiB/s]


Extraction completed...:   0%|          | 0/2943 [02:16<?, ? file/s]
Dl Completed...: 100%|██████████| 1/1 [02:16<00:00, 134.78s/ url]

Dl Size...: 100%|██████████| 827/827 [02:16<00:00,  7.60 MiB/s]


Extraction completed...:   0%|          | 0/2944 [02:16<?, ? file/s]
Dl Completed...: 100%|██████████| 1/1 [02:16<00:00, 134.78s/ url]

Dl Size...: 100%|██████████| 827/827 [02:16<00:00,  7.60 MiB/s]


Extraction completed...:   0%|          | 0/2945 [02:16<?, ? file/s]
Dl Completed...: 100%|██████████| 1/1 [02:16<00:00, 134.78s/ url]

Dl Size...: 100%|██████████| 827/827 [02:16<00:00,  7.60 MiB/s]


Extraction completed...:   0%|          | 0/2946 [02:16<?, ? file/s]
Dl Completed...: 100%|██████████| 1/1 [02:16<00:00, 134.78s/ url]

Dl Size...: 100%|██████████| 827/827 [02:16<00:00,  7.60 MiB/s]


Extraction completed...:   0%|          | 0/2947 [02:16<?, ? file/s]
Dl Completed...: 100%|██████████| 1/1 [02:16<00:00, 134.78s/ url]

Dl Size...: 100%|██████████| 827/827 [02:16<00:00,  7.60 MiB/s]


Extraction completed...:   0%|          | 0/2948 [02:16<?, ? file/s]
Dl Completed...: 100%|██████████| 1/1 [02:16<00:00, 134.78s/ url]

Dl Size...: 100%|██████████| 827/827 [02:16<00:00,  7.60 MiB/s]


Extraction completed...:   0%|          | 0/2949 [02:16<?, ? file/s]
Dl Completed...: 100%|██████████| 1/1 [02:16<00:00, 134.78s/ url]

Dl Size...: 100%|██████████| 827/827 [02:16<00:00,  7.60 MiB/s]


Extraction completed...:   0%|          | 0/2950 [02:16<?, ? file/s]
Dl Completed...: 100%|██████████| 1/1 [02:16<00:00, 134.78s/ url]

Dl Size...: 100%|██████████| 827/827 [02:16<00:00,  7.60 MiB/s]


Extraction completed...:   0%|          | 0/2951 [02:16<?, ? file/s]
Dl Completed...: 100%|██████████| 1/1 [02:16<00:00, 134.78s/ url]

Dl Size...: 100%|██████████| 827/827 [02:16<00:00,  7.60 MiB/s]


Extraction completed...:   0%|          | 0/2952 [02:16<?, ? file/s]
Dl Completed...: 100%|██████████| 1/1 [02:16<00:00, 134.78s/ url]

Dl Size...: 100%|██████████| 827/827 [02:16<00:00,  7.60 MiB/s]


Extraction completed...:   0%|          | 0/2953 [02:16<?, ? file/s]
Dl Completed...: 100%|██████████| 1/1 [02:16<00:00, 134.78s/ url]

Dl Size...: 100%|██████████| 827/827 [02:16<00:00,  7.60 MiB/s]


Extraction completed...:   0%|          | 0/2954 [02:16<?, ? file/s]
Dl Completed...: 100%|██████████| 1/1 [02:16<00:00, 134.78s/ url]

Dl Size...: 100%|██████████| 827/827 [02:16<00:00,  7.60 MiB/s]


Extraction completed...:   0%|          | 0/2955 [02:16<?, ? file/s]
Dl Completed...: 100%|██████████| 1/1 [02:16<00:00, 134.78s/ url]

Dl Size...: 100%|██████████| 827/827 [02:16<00:00,  7.60 MiB/s]


Extraction completed...:   0%|          | 0/2956 [02:16<?, ? file/s]
Dl Completed...: 100%|██████████| 1/1 [02:16<00:00, 134.78s/ url]

Dl Size...: 100%|██████████| 827/827 [02:16<00:00,  7.60 MiB/s]


Extraction completed...:   0%|          | 0/2957 [02:16<?, ? file/s]
Dl Completed...: 100%|██████████| 1/1 [02:16<00:00, 134.78s/ url]

Dl Size...: 100%|██████████| 827/827 [02:16<00:00,  7.60 MiB/s]


Extraction completed...:   0%|          | 0/2958 [02:16<?, ? file/s]
Dl Completed...: 100%|██████████| 1/1 [02:16<00:00, 134.78s/ url]

Dl Size...: 100%|██████████| 827/827 [02:16<00:00,  7.60 MiB/s]


Extraction completed...:   0%|          | 0/2959 [02:16<?, ? file/s]
Dl Completed...: 100%|██████████| 1/1 [02:16<00:00, 134.78s/ url]

Dl Size...: 100%|██████████| 827/827 [02:16<00:00,  7.60 MiB/s]


Extraction completed...:   0%|          | 0/2960 [02:16<?, ? file/s]
Dl Completed...: 100%|██████████| 1/1 [02:16<00:00, 134.78s/ url]

Dl Size...: 100%|██████████| 827/827 [02:16<00:00,  7.60 MiB/s]


Extraction completed...:   0%|          | 0/2961 [02:16<?, ? file/s]
Dl Completed...: 100%|██████████| 1/1 [02:16<00:00, 134.78s/ url]

Dl Size...: 100%|██████████| 827/827 [02:16<00:00,  7.60 MiB/s]


Extraction completed...:   0%|          | 0/2962 [02:16<?, ? file/s]
Dl Completed...: 100%|██████████| 1/1 [02:16<00:00, 134.78s/ url]

Dl Size...: 100%|██████████| 827/827 [02:16<00:00,  7.60 MiB/s]


Extraction completed...:   0%|          | 0/2963 [02:16<?, ? file/s]
Dl Completed...: 100%|██████████| 1/1 [02:16<00:00, 134.78s/ url]

Dl Size...: 100%|██████████| 827/827 [02:16<00:00,  7.60 MiB/s]


Extraction completed...:   0%|          | 0/2964 [02:16<?, ? file/s]
Dl Completed...: 100%|██████████| 1/1 [02:16<00:00, 134.78s/ url]

Dl Size...: 100%|██████████| 827/827 [02:16<00:00,  7.60 MiB/s]


Extraction completed...:   0%|          | 0/2965 [02:16<?, ? file/s]
Dl Completed...: 100%|██████████| 1/1 [02:16<00:00, 134.78s/ url]

Dl Size...: 100%|██████████| 827/827 [02:16<00:00,  7.60 MiB/s]


Extraction completed...:   0%|          | 0/2966 [02:16<?, ? file/s]
Dl Completed...: 100%|██████████| 1/1 [02:16<00:00, 134.78s/ url]

Dl Size...: 100%|██████████| 827/827 [02:16<00:00,  7.60 MiB/s]


Extraction completed...:   0%|          | 0/2967 [02:16<?, ? file/s]
Dl Completed...: 100%|██████████| 1/1 [02:16<00:00, 134.78s/ url]

Dl Size...: 100%|██████████| 827/827 [02:16<00:00,  7.60 MiB/s]


Extraction completed...:   0%|          | 0/2968 [02:16<?, ? file/s]
Dl Completed...: 100%|██████████| 1/1 [02:16<00:00, 134.78s/ url]

Dl Size...: 100%|██████████| 827/827 [02:16<00:00,  7.60 MiB/s]


Extraction completed...:   0%|          | 0/2969 [02:16<?, ? file/s]
Dl Completed...: 100%|██████████| 1/1 [02:16<00:00, 134.78s/ url]

Dl Size...: 100%|██████████| 827/827 [02:16<00:00,  7.60 MiB/s]


Extraction completed...:   0%|          | 0/2970 [02:16<?, ? file/s]
Dl Completed...: 100%|██████████| 1/1 [02:16<00:00, 134.78s/ url]

Dl Size...: 100%|██████████| 827/827 [02:16<00:00,  7.60 MiB/s]


Extraction completed...:   0%|          | 0/2971 [02:16<?, ? file/s]
Dl Completed...: 100%|██████████| 1/1 [02:16<00:00, 134.78s/ url]

Dl Size...: 100%|██████████| 827/827 [02:16<00:00,  7.60 MiB/s]


Extraction completed...:   0%|          | 0/2972 [02:16<?, ? file/s]
Dl Completed...: 100%|██████████| 1/1 [02:16<00:00, 134.78s/ url]

Dl Size...: 100%|██████████| 827/827 [02:16<00:00,  7.60 MiB/s]


Extraction completed...:   0%|          | 0/2973 [02:16<?, ? file/s]
Dl Completed...: 100%|██████████| 1/1 [02:16<00:00, 134.78s/ url]

Dl Size...: 100%|██████████| 827/827 [02:16<00:00,  7.60 MiB/s]


Extraction completed...:   0%|          | 0/2974 [02:16<?, ? file/s]
Dl Completed...: 100%|██████████| 1/1 [02:16<00:00, 134.78s/ url]

Dl Size...: 100%|██████████| 827/827 [02:16<00:00,  7.60 MiB/s]


Extraction completed...:   0%|          | 0/2975 [02:16<?, ? file/s]
Dl Completed...: 100%|██████████| 1/1 [02:16<00:00, 134.78s/ url]

Dl Size...: 100%|██████████| 827/827 [02:16<00:00,  7.60 MiB/s]


Extraction completed...:   0%|          | 0/2976 [02:16<?, ? file/s]
Dl Completed...: 100%|██████████| 1/1 [02:16<00:00, 134.78s/ url]

Dl Size...: 100%|██████████| 827/827 [02:16<00:00,  7.60 MiB/s]


Extraction completed...:   0%|          | 0/2977 [02:16<?, ? file/s]
Dl Completed...: 100%|██████████| 1/1 [02:16<00:00, 134.78s/ url]

Dl Size...: 100%|██████████| 827/827 [02:16<00:00,  7.60 MiB/s]


Extraction completed...:   0%|          | 0/2978 [02:16<?, ? file/s]
Dl Completed...: 100%|██████████| 1/1 [02:16<00:00, 134.78s/ url]

Dl Size...: 100%|██████████| 827/827 [02:16<00:00,  7.60 MiB/s]


Extraction completed...:   0%|          | 0/2979 [02:16<?, ? file/s]
Dl Completed...: 100%|██████████| 1/1 [02:16<00:00, 134.78s/ url]

Dl Size...: 100%|██████████| 827/827 [02:16<00:00,  7.60 MiB/s]


Extraction completed...:   0%|          | 0/2980 [02:16<?, ? file/s]
Dl Completed...: 100%|██████████| 1/1 [02:16<00:00, 134.78s/ url]

Dl Size...: 100%|██████████| 827/827 [02:16<00:00,  7.60 MiB/s]


Extraction completed...:   0%|          | 0/2981 [02:16<?, ? file/s]
Dl Completed...: 100%|██████████| 1/1 [02:16<00:00, 134.78s/ url]

Dl Size...: 100%|██████████| 827/827 [02:16<00:00,  7.60 MiB/s]


Extraction completed...:   0%|          | 0/2982 [02:16<?, ? file/s]
Dl Completed...: 100%|██████████| 1/1 [02:16<00:00, 134.78s/ url]

Dl Size...: 100%|██████████| 827/827 [02:16<00:00,  7.60 MiB/s]


Extraction completed...:   0%|          | 0/2983 [02:16<?, ? file/s]
Dl Completed...: 100%|██████████| 1/1 [02:16<00:00, 134.78s/ url]

Dl Size...: 100%|██████████| 827/827 [02:16<00:00,  7.60 MiB/s]


Extraction completed...:   0%|          | 0/2984 [02:16<?, ? file/s]
Dl Completed...: 100%|██████████| 1/1 [02:16<00:00, 134.78s/ url]

Dl Size...: 100%|██████████| 827/827 [02:16<00:00,  7.60 MiB/s]


Extraction completed...:   0%|          | 0/2985 [02:16<?, ? file/s]
Dl Completed...: 100%|██████████| 1/1 [02:16<00:00, 134.78s/ url]

Dl Size...: 100%|██████████| 827/827 [02:16<00:00,  7.60 MiB/s]


Extraction completed...:   0%|          | 0/2986 [02:16<?, ? file/s]
Dl Completed...: 100%|██████████| 1/1 [02:16<00:00, 134.78s/ url]

Dl Size...: 100%|██████████| 827/827 [02:16<00:00,  7.60 MiB/s]


Extraction completed...:   0%|          | 0/2987 [02:16<?, ? file/s]
Dl Completed...: 100%|██████████| 1/1 [02:16<00:00, 134.78s/ url]

Dl Size...: 100%|██████████| 827/827 [02:16<00:00,  7.60 MiB/s]


Extraction completed...:   0%|          | 0/2988 [02:16<?, ? file/s]
Dl Completed...: 100%|██████████| 1/1 [02:16<00:00, 134.78s/ url]

Dl Size...: 100%|██████████| 827/827 [02:16<00:00,  7.60 MiB/s]


Extraction completed...:   0%|          | 0/2989 [02:16<?, ? file/s]
Dl Completed...: 100%|██████████| 1/1 [02:16<00:00, 134.78s/ url]

Dl Size...: 100%|██████████| 827/827 [02:16<00:00,  7.60 MiB/s]


Extraction completed...:   0%|          | 0/2990 [02:16<?, ? file/s]
Dl Completed...: 100%|██████████| 1/1 [02:16<00:00, 134.78s/ url]

Dl Size...: 100%|██████████| 827/827 [02:16<00:00,  7.60 MiB/s]


Extraction completed...:   0%|          | 0/2991 [02:16<?, ? file/s]
Dl Completed...: 100%|██████████| 1/1 [02:16<00:00, 134.78s/ url]

Dl Size...: 100%|██████████| 827/827 [02:16<00:00,  7.60 MiB/s]


Extraction completed...:   0%|          | 0/2992 [02:16<?, ? file/s]
Dl Completed...: 100%|██████████| 1/1 [02:16<00:00, 134.78s/ url]

Dl Size...: 100%|██████████| 827/827 [02:16<00:00,  7.60 MiB/s]


Extraction completed...:   0%|          | 0/2993 [02:16<?, ? file/s]
Dl Completed...: 100%|██████████| 1/1 [02:16<00:00, 134.78s/ url]

Dl Size...: 100%|██████████| 827/827 [02:16<00:00,  7.60 MiB/s]


Extraction completed...:   0%|          | 0/2994 [02:16<?, ? file/s]
Dl Completed...: 100%|██████████| 1/1 [02:16<00:00, 134.78s/ url]

Dl Size...: 100%|██████████| 827/827 [02:16<00:00,  7.60 MiB/s]


Extraction completed...:   0%|          | 0/2995 [02:16<?, ? file/s]
Dl Completed...: 100%|██████████| 1/1 [02:16<00:00, 134.78s/ url]

Dl Size...: 100%|██████████| 827/827 [02:16<00:00,  7.60 MiB/s]


Extraction completed...:   0%|          | 0/2996 [02:16<?, ? file/s]
Dl Completed...: 100%|██████████| 1/1 [02:16<00:00, 134.78s/ url]

Dl Size...: 100%|██████████| 827/827 [02:16<00:00,  7.60 MiB/s]


Extraction completed...:   0%|          | 0/2997 [02:16<?, ? file/s]
Dl Completed...: 100%|██████████| 1/1 [02:16<00:00, 134.78s/ url]

Dl Size...: 100%|██████████| 827/827 [02:16<00:00,  7.60 MiB/s]


Extraction completed...:   0%|          | 0/2998 [02:16<?, ? file/s]
Dl Completed...: 100%|██████████| 1/1 [02:16<00:00, 134.78s/ url]

Dl Size...: 100%|██████████| 827/827 [02:16<00:00,  7.60 MiB/s]


Extraction completed...:   0%|          | 0/2999 [02:16<?, ? file/s]
Dl Completed...: 100%|██████████| 1/1 [02:16<00:00, 134.78s/ url]

Dl Size...: 100%|██████████| 827/827 [02:16<00:00,  7.60 MiB/s]


Extraction completed...:   0%|          | 0/3000 [02:16<?, ? file/s]
Dl Completed...: 100%|██████████| 1/1 [02:16<00:00, 134.78s/ url]

Dl Size...: 100%|██████████| 827/827 [02:16<00:00,  7.60 MiB/s]


Extraction completed...:   0%|          | 0/3001 [02:16<?, ? file/s]
Dl Completed...: 100%|██████████| 1/1 [02:16<00:00, 134.78s/ url]

Dl Size...: 100%|██████████| 827/827 [02:16<00:00,  7.60 MiB/s]


Extraction completed...:   0%|          | 0/3002 [02:16<?, ? file/s]
Dl Completed...: 100%|██████████| 1/1 [02:16<00:00, 134.78s/ url]

Dl Size...: 100%|██████████| 827/827 [02:16<00:00,  7.60 MiB/s]


Extraction completed...:   0%|          | 0/3003 [02:16<?, ? file/s]
Dl Completed...: 100%|██████████| 1/1 [02:16<00:00, 134.78s/ url]

Dl Size...: 100%|██████████| 827/827 [02:16<00:00,  7.60 MiB/s]


Extraction completed...:   0%|          | 0/3004 [02:16<?, ? file/s]
Dl Completed...: 100%|██████████| 1/1 [02:16<00:00, 134.78s/ url]

Dl Size...: 100%|██████████| 827/827 [02:16<00:00,  7.60 MiB/s]


Extraction completed...:   0%|          | 0/3005 [02:16<?, ? file/s]
Dl Completed...: 100%|██████████| 1/1 [02:16<00:00, 134.78s/ url]

Dl Size...: 100%|██████████| 827/827 [02:16<00:00,  7.60 MiB/s]


Extraction completed...:   0%|          | 0/3006 [02:16<?, ? file/s]
Dl Completed...: 100%|██████████| 1/1 [02:16<00:00, 134.78s/ url]

Dl Size...: 100%|██████████| 827/827 [02:16<00:00,  7.60 MiB/s]


Extraction completed...:   0%|          | 0/3007 [02:16<?, ? file/s]
Dl Completed...: 100%|██████████| 1/1 [02:16<00:00, 134.78s/ url]

Dl Size...: 100%|██████████| 827/827 [02:16<00:00,  7.60 MiB/s]


Extraction completed...:   0%|          | 0/3008 [02:16<?, ? file/s]
Dl Completed...: 100%|██████████| 1/1 [02:16<00:00, 134.78s/ url]

Dl Size...: 100%|██████████| 827/827 [02:16<00:00,  7.60 MiB/s]


Extraction completed...:   0%|          | 0/3009 [02:16<?, ? file/s]
Dl Completed...: 100%|██████████| 1/1 [02:16<00:00, 134.78s/ url]

Dl Size...: 100%|██████████| 827/827 [02:16<00:00,  7.60 MiB/s]


Extraction completed...:   0%|          | 0/3010 [02:16<?, ? file/s]
Dl Completed...: 100%|██████████| 1/1 [02:16<00:00, 134.78s/ url]

Dl Size...: 100%|██████████| 827/827 [02:16<00:00,  7.60 MiB/s]


Extraction completed...:   0%|          | 0/3011 [02:16<?, ? file/s]
Dl Completed...: 100%|██████████| 1/1 [02:16<00:00, 134.78s/ url]

Dl Size...: 100%|██████████| 827/827 [02:16<00:00,  7.60 MiB/s]


Extraction completed...:   0%|          | 0/3012 [02:16<?, ? file/s]
Dl Completed...: 100%|██████████| 1/1 [02:16<00:00, 134.78s/ url]

Dl Size...: 100%|██████████| 827/827 [02:16<00:00,  7.60 MiB/s]


Extraction completed...:   0%|          | 0/3013 [02:16<?, ? file/s]
Dl Completed...: 100%|██████████| 1/1 [02:16<00:00, 134.78s/ url]

Dl Size...: 100%|██████████| 827/827 [02:16<00:00,  7.60 MiB/s]


Extraction completed...:   0%|          | 0/3014 [02:16<?, ? file/s]
Dl Completed...: 100%|██████████| 1/1 [02:16<00:00, 134.78s/ url]

Dl Size...: 100%|██████████| 827/827 [02:16<00:00,  7.60 MiB/s]


Extraction completed...:   0%|          | 0/3015 [02:16<?, ? file/s]
Dl Completed...: 100%|██████████| 1/1 [02:16<00:00, 134.78s/ url]

Dl Size...: 100%|██████████| 827/827 [02:16<00:00,  7.60 MiB/s]


Extraction completed...:   0%|          | 0/3016 [02:16<?, ? file/s]
Dl Completed...: 100%|██████████| 1/1 [02:16<00:00, 134.78s/ url]

Dl Size...: 100%|██████████| 827/827 [02:16<00:00,  7.60 MiB/s]


Extraction completed...:   0%|          | 0/3017 [02:16<?, ? file/s]
Dl Completed...: 100%|██████████| 1/1 [02:16<00:00, 134.78s/ url]

Dl Size...: 100%|██████████| 827/827 [02:16<00:00,  7.60 MiB/s]


Extraction completed...:   0%|          | 0/3018 [02:16<?, ? file/s]
Dl Completed...: 100%|██████████| 1/1 [02:16<00:00, 134.78s/ url]

Dl Size...: 100%|██████████| 827/827 [02:16<00:00,  7.60 MiB/s]


Extraction completed...:   0%|          | 0/3019 [02:16<?, ? file/s]
Dl Completed...: 100%|██████████| 1/1 [02:16<00:00, 134.78s/ url]

Dl Size...: 100%|██████████| 827/827 [02:16<00:00,  7.60 MiB/s]


Extraction completed...:   0%|          | 0/3020 [02:16<?, ? file/s]
Dl Completed...: 100%|██████████| 1/1 [02:16<00:00, 134.78s/ url]

Dl Size...: 100%|██████████| 827/827 [02:16<00:00,  7.60 MiB/s]


Extraction completed...:   0%|          | 0/3021 [02:16<?, ? file/s]
Dl Completed...: 100%|██████████| 1/1 [02:16<00:00, 134.78s/ url]

Dl Size...: 100%|██████████| 827/827 [02:16<00:00,  7.60 MiB/s]


Extraction completed...:   0%|          | 0/3022 [02:16<?, ? file/s]
Dl Completed...: 100%|██████████| 1/1 [02:16<00:00, 134.78s/ url]

Dl Size...: 100%|██████████| 827/827 [02:16<00:00,  7.60 MiB/s]


Extraction completed...:   0%|          | 0/3023 [02:16<?, ? file/s]
Dl Completed...: 100%|██████████| 1/1 [02:16<00:00, 134.78s/ url]

Dl Size...: 100%|██████████| 827/827 [02:16<00:00,  7.60 MiB/s]


Extraction completed...:   0%|          | 0/3024 [02:16<?, ? file/s]
Dl Completed...: 100%|██████████| 1/1 [02:16<00:00, 134.78s/ url]

Dl Size...: 100%|██████████| 827/827 [02:16<00:00,  7.60 MiB/s]


Extraction completed...:   0%|          | 0/3025 [02:16<?, ? file/s]
Dl Completed...: 100%|██████████| 1/1 [02:16<00:00, 134.78s/ url]

Dl Size...: 100%|██████████| 827/827 [02:16<00:00,  7.60 MiB/s]


Extraction completed...:   0%|          | 0/3026 [02:16<?, ? file/s]
Dl Completed...: 100%|██████████| 1/1 [02:16<00:00, 134.78s/ url]

Dl Size...: 100%|██████████| 827/827 [02:16<00:00,  7.60 MiB/s]


Extraction completed...:   0%|          | 0/3027 [02:16<?, ? file/s]
Dl Completed...: 100%|██████████| 1/1 [02:16<00:00, 134.78s/ url]

Dl Size...: 100%|██████████| 827/827 [02:16<00:00,  7.60 MiB/s]


Extraction completed...:   0%|          | 0/3028 [02:16<?, ? file/s]
Dl Completed...: 100%|██████████| 1/1 [02:16<00:00, 134.78s/ url]

Dl Size...: 100%|██████████| 827/827 [02:16<00:00,  7.60 MiB/s]


Extraction completed...:   0%|          | 0/3029 [02:16<?, ? file/s]
Dl Completed...: 100%|██████████| 1/1 [02:16<00:00, 134.78s/ url]

Dl Size...: 100%|██████████| 827/827 [02:16<00:00,  7.60 MiB/s]


Extraction completed...:   0%|          | 0/3030 [02:16<?, ? file/s]
Dl Completed...: 100%|██████████| 1/1 [02:16<00:00, 134.78s/ url]

Dl Size...: 100%|██████████| 827/827 [02:16<00:00,  7.60 MiB/s]


Extraction completed...:   0%|          | 0/3031 [02:16<?, ? file/s]
Dl Completed...: 100%|██████████| 1/1 [02:16<00:00, 134.78s/ url]

Dl Size...: 100%|██████████| 827/827 [02:16<00:00,  7.60 MiB/s]


Extraction completed...:   0%|          | 0/3032 [02:16<?, ? file/s]
Dl Completed...: 100%|██████████| 1/1 [02:16<00:00, 134.78s/ url]

Dl Size...: 100%|██████████| 827/827 [02:16<00:00,  7.60 MiB/s]


Extraction completed...:   0%|          | 0/3033 [02:16<?, ? file/s]
Dl Completed...: 100%|██████████| 1/1 [02:16<00:00, 134.78s/ url]

Dl Size...: 100%|██████████| 827/827 [02:16<00:00,  7.60 MiB/s]


Extraction completed...:   0%|          | 0/3034 [02:16<?, ? file/s]
Dl Completed...: 100%|██████████| 1/1 [02:16<00:00, 134.78s/ url]

Dl Size...: 100%|██████████| 827/827 [02:16<00:00,  7.60 MiB/s]


Extraction completed...:   0%|          | 0/3035 [02:16<?, ? file/s]
Dl Completed...: 100%|██████████| 1/1 [02:16<00:00, 134.78s/ url]

Dl Size...: 100%|██████████| 827/827 [02:16<00:00,  7.60 MiB/s]


Extraction completed...:   0%|          | 0/3036 [02:16<?, ? file/s]
Dl Completed...: 100%|██████████| 1/1 [02:16<00:00, 134.78s/ url]

Dl Size...: 100%|██████████| 827/827 [02:16<00:00,  7.60 MiB/s]


Extraction completed...:   0%|          | 0/3037 [02:16<?, ? file/s]
Dl Completed...: 100%|██████████| 1/1 [02:16<00:00, 134.78s/ url]

Dl Size...: 100%|██████████| 827/827 [02:16<00:00,  7.60 MiB/s]


Extraction completed...:   0%|          | 0/3038 [02:16<?, ? file/s]
Dl Completed...: 100%|██████████| 1/1 [02:16<00:00, 134.78s/ url]

Dl Size...: 100%|██████████| 827/827 [02:16<00:00,  7.60 MiB/s]


Extraction completed...:   0%|          | 0/3039 [02:16<?, ? file/s]
Dl Completed...: 100%|██████████| 1/1 [02:16<00:00, 134.78s/ url]

Dl Size...: 100%|██████████| 827/827 [02:16<00:00,  7.60 MiB/s]


Extraction completed...:   0%|          | 0/3040 [02:16<?, ? file/s]
Dl Completed...: 100%|██████████| 1/1 [02:16<00:00, 134.78s/ url]

Dl Size...: 100%|██████████| 827/827 [02:16<00:00,  7.60 MiB/s]


Extraction completed...:   0%|          | 0/3041 [02:16<?, ? file/s]
Dl Completed...: 100%|██████████| 1/1 [02:16<00:00, 134.78s/ url]

Dl Size...: 100%|██████████| 827/827 [02:16<00:00,  7.60 MiB/s]


Extraction completed...:   0%|          | 0/3042 [02:16<?, ? file/s]
Dl Completed...: 100%|██████████| 1/1 [02:16<00:00, 134.78s/ url]

Dl Size...: 100%|██████████| 827/827 [02:16<00:00,  7.60 MiB/s]


Extraction completed...:   0%|          | 0/3043 [02:16<?, ? file/s]
Dl Completed...: 100%|██████████| 1/1 [02:16<00:00, 134.78s/ url]

Dl Size...: 100%|██████████| 827/827 [02:16<00:00,  7.60 MiB/s]


Extraction completed...:   0%|          | 0/3044 [02:16<?, ? file/s]
Dl Completed...: 100%|██████████| 1/1 [02:16<00:00, 134.78s/ url]

Dl Size...: 100%|██████████| 827/827 [02:16<00:00,  7.60 MiB/s]


Extraction completed...:   0%|          | 0/3045 [02:16<?, ? file/s]
Dl Completed...: 100%|██████████| 1/1 [02:16<00:00, 134.78s/ url]

Dl Size...: 100%|██████████| 827/827 [02:16<00:00,  7.60 MiB/s]


Extraction completed...:   0%|          | 0/3046 [02:16<?, ? file/s]
Dl Completed...: 100%|██████████| 1/1 [02:16<00:00, 134.78s/ url]

Dl Size...: 100%|██████████| 827/827 [02:16<00:00,  7.60 MiB/s]


Extraction completed...:   0%|          | 0/3047 [02:16<?, ? file/s]
Dl Completed...: 100%|██████████| 1/1 [02:16<00:00, 134.78s/ url]

Dl Size...: 100%|██████████| 827/827 [02:16<00:00,  7.60 MiB/s]


Extraction completed...:   0%|          | 0/3048 [02:16<?, ? file/s]
Dl Completed...: 100%|██████████| 1/1 [02:16<00:00, 134.78s/ url]

Dl Size...: 100%|██████████| 827/827 [02:16<00:00,  7.60 MiB/s]


Extraction completed...:   0%|          | 0/3049 [02:16<?, ? file/s]
Dl Completed...: 100%|██████████| 1/1 [02:16<00:00, 134.78s/ url]

Dl Size...: 100%|██████████| 827/827 [02:16<00:00,  7.60 MiB/s]


Extraction completed...:   0%|          | 0/3050 [02:16<?, ? file/s]
Dl Completed...: 100%|██████████| 1/1 [02:16<00:00, 134.78s/ url]

Dl Size...: 100%|██████████| 827/827 [02:16<00:00,  7.60 MiB/s]


Extraction completed...:   0%|          | 0/3051 [02:16<?, ? file/s]
Dl Completed...: 100%|██████████| 1/1 [02:16<00:00, 134.78s/ url]

Dl Size...: 100%|██████████| 827/827 [02:16<00:00,  7.60 MiB/s]


Extraction completed...:   0%|          | 0/3052 [02:16<?, ? file/s]
Dl Completed...: 100%|██████████| 1/1 [02:16<00:00, 134.78s/ url]

Dl Size...: 100%|██████████| 827/827 [02:16<00:00,  7.60 MiB/s]


Extraction completed...:   0%|          | 0/3053 [02:16<?, ? file/s]
Dl Completed...: 100%|██████████| 1/1 [02:16<00:00, 134.78s/ url]

Dl Size...: 100%|██████████| 827/827 [02:16<00:00,  7.60 MiB/s]


Extraction completed...:   0%|          | 0/3054 [02:16<?, ? file/s]
Dl Completed...: 100%|██████████| 1/1 [02:16<00:00, 134.78s/ url]

Dl Size...: 100%|██████████| 827/827 [02:16<00:00,  7.60 MiB/s]


Extraction completed...:   0%|          | 0/3055 [02:16<?, ? file/s]
Dl Completed...: 100%|██████████| 1/1 [02:16<00:00, 134.78s/ url]

Dl Size...: 100%|██████████| 827/827 [02:16<00:00,  7.60 MiB/s]


Extraction completed...:   0%|          | 0/3056 [02:16<?, ? file/s]
Dl Completed...: 100%|██████████| 1/1 [02:16<00:00, 134.78s/ url]

Dl Size...: 100%|██████████| 827/827 [02:16<00:00,  7.60 MiB/s]


Extraction completed...:   0%|          | 0/3057 [02:16<?, ? file/s]
Dl Completed...: 100%|██████████| 1/1 [02:16<00:00, 134.78s/ url]

Dl Size...: 100%|██████████| 827/827 [02:16<00:00,  7.60 MiB/s]


Extraction completed...:   0%|          | 0/3058 [02:16<?, ? file/s]
Dl Completed...: 100%|██████████| 1/1 [02:16<00:00, 134.78s/ url]

Dl Size...: 100%|██████████| 827/827 [02:16<00:00,  7.60 MiB/s]


Extraction completed...:   0%|          | 0/3059 [02:16<?, ? file/s]
Dl Completed...: 100%|██████████| 1/1 [02:16<00:00, 134.78s/ url]

Dl Size...: 100%|██████████| 827/827 [02:16<00:00,  7.60 MiB/s]


Extraction completed...:   0%|          | 0/3060 [02:16<?, ? file/s]
Dl Completed...: 100%|██████████| 1/1 [02:16<00:00, 134.78s/ url]

Dl Size...: 100%|██████████| 827/827 [02:16<00:00,  7.60 MiB/s]


Extraction completed...:   0%|          | 0/3061 [02:16<?, ? file/s]
Dl Completed...: 100%|██████████| 1/1 [02:16<00:00, 134.78s/ url]

Dl Size...: 100%|██████████| 827/827 [02:16<00:00,  7.60 MiB/s]


Extraction completed...:   0%|          | 0/3062 [02:16<?, ? file/s]
Dl Completed...: 100%|██████████| 1/1 [02:16<00:00, 134.78s/ url]

Dl Size...: 100%|██████████| 827/827 [02:16<00:00,  7.60 MiB/s]


Extraction completed...:   0%|          | 0/3063 [02:16<?, ? file/s]
Dl Completed...: 100%|██████████| 1/1 [02:16<00:00, 134.78s/ url]

Dl Size...: 100%|██████████| 827/827 [02:16<00:00,  7.60 MiB/s]


Extraction completed...:   0%|          | 0/3064 [02:16<?, ? file/s]
Dl Completed...: 100%|██████████| 1/1 [02:16<00:00, 134.78s/ url]

Dl Size...: 100%|██████████| 827/827 [02:16<00:00,  7.60 MiB/s]


Extraction completed...:   0%|          | 0/3065 [02:16<?, ? file/s]
Dl Completed...: 100%|██████████| 1/1 [02:16<00:00, 134.78s/ url]

Dl Size...: 100%|██████████| 827/827 [02:16<00:00,  7.60 MiB/s]


Extraction completed...:   0%|          | 0/3066 [02:16<?, ? file/s]
Dl Completed...: 100%|██████████| 1/1 [02:16<00:00, 134.78s/ url]

Dl Size...: 100%|██████████| 827/827 [02:16<00:00,  7.60 MiB/s]


Extraction completed...:   0%|          | 0/3067 [02:16<?, ? file/s]
Dl Completed...: 100%|██████████| 1/1 [02:16<00:00, 134.78s/ url]

Dl Size...: 100%|██████████| 827/827 [02:16<00:00,  7.60 MiB/s]


Extraction completed...:   0%|          | 0/3068 [02:16<?, ? file/s]
Dl Completed...: 100%|██████████| 1/1 [02:16<00:00, 134.78s/ url]

Dl Size...: 100%|██████████| 827/827 [02:16<00:00,  7.60 MiB/s]


Extraction completed...:   0%|          | 0/3069 [02:16<?, ? file/s]
Dl Completed...: 100%|██████████| 1/1 [02:16<00:00, 134.78s/ url]

Dl Size...: 100%|██████████| 827/827 [02:16<00:00,  7.60 MiB/s]


Extraction completed...:   0%|          | 0/3070 [02:16<?, ? file/s]
Dl Completed...: 100%|██████████| 1/1 [02:16<00:00, 134.78s/ url]

Dl Size...: 100%|██████████| 827/827 [02:16<00:00,  7.60 MiB/s]


Extraction completed...:   0%|          | 0/3071 [02:16<?, ? file/s]
Dl Completed...: 100%|██████████| 1/1 [02:16<00:00, 134.78s/ url]

Dl Size...: 100%|██████████| 827/827 [02:16<00:00,  7.60 MiB/s]


Extraction completed...:   0%|          | 0/3072 [02:16<?, ? file/s]
Dl Completed...: 100%|██████████| 1/1 [02:16<00:00, 134.78s/ url]

Dl Size...: 100%|██████████| 827/827 [02:16<00:00,  7.60 MiB/s]


Extraction completed...:   0%|          | 0/3073 [02:16<?, ? file/s]
Dl Completed...: 100%|██████████| 1/1 [02:16<00:00, 134.78s/ url]

Dl Size...: 100%|██████████| 827/827 [02:16<00:00,  7.60 MiB/s]


Extraction completed...:   0%|          | 0/3074 [02:16<?, ? file/s]
Dl Completed...: 100%|██████████| 1/1 [02:16<00:00, 134.78s/ url]

Dl Size...: 100%|██████████| 827/827 [02:16<00:00,  7.60 MiB/s]


Extraction completed...:   0%|          | 0/3075 [02:16<?, ? file/s]
Dl Completed...: 100%|██████████| 1/1 [02:16<00:00, 134.78s/ url]

Dl Size...: 100%|██████████| 827/827 [02:16<00:00,  7.60 MiB/s]


Extraction completed...:   0%|          | 0/3076 [02:16<?, ? file/s]
Dl Completed...: 100%|██████████| 1/1 [02:16<00:00, 134.78s/ url]

Dl Size...: 100%|██████████| 827/827 [02:16<00:00,  7.60 MiB/s]


Extraction completed...:   0%|          | 0/3077 [02:16<?, ? file/s]
Dl Completed...: 100%|██████████| 1/1 [02:16<00:00, 134.78s/ url]

Dl Size...: 100%|██████████| 827/827 [02:16<00:00,  7.60 MiB/s]


Extraction completed...:   0%|          | 0/3078 [02:16<?, ? file/s]
Dl Completed...: 100%|██████████| 1/1 [02:16<00:00, 134.78s/ url]

Dl Size...: 100%|██████████| 827/827 [02:16<00:00,  7.60 MiB/s]


Extraction completed...:   0%|          | 0/3079 [02:16<?, ? file/s]
Dl Completed...: 100%|██████████| 1/1 [02:16<00:00, 134.78s/ url]

Dl Size...: 100%|██████████| 827/827 [02:16<00:00,  7.60 MiB/s]


Extraction completed...:   0%|          | 0/3080 [02:16<?, ? file/s]
Dl Completed...: 100%|██████████| 1/1 [02:16<00:00, 134.78s/ url]

Dl Size...: 100%|██████████| 827/827 [02:16<00:00,  7.60 MiB/s]


Extraction completed...:   0%|          | 0/3081 [02:16<?, ? file/s]
Dl Completed...: 100%|██████████| 1/1 [02:16<00:00, 134.78s/ url]

Dl Size...: 100%|██████████| 827/827 [02:16<00:00,  7.60 MiB/s]


Extraction completed...:   0%|          | 0/3082 [02:16<?, ? file/s]
Dl Completed...: 100%|██████████| 1/1 [02:16<00:00, 134.78s/ url]

Dl Size...: 100%|██████████| 827/827 [02:16<00:00,  7.60 MiB/s]


Extraction completed...:   0%|          | 0/3083 [02:16<?, ? file/s]
Dl Completed...: 100%|██████████| 1/1 [02:16<00:00, 134.78s/ url]

Dl Size...: 100%|██████████| 827/827 [02:16<00:00,  7.60 MiB/s]


Extraction completed...:   0%|          | 0/3084 [02:16<?, ? file/s]
Dl Completed...: 100%|██████████| 1/1 [02:16<00:00, 134.78s/ url]

Dl Size...: 100%|██████████| 827/827 [02:16<00:00,  7.60 MiB/s]


Extraction completed...:   0%|          | 0/3085 [02:16<?, ? file/s]
Dl Completed...: 100%|██████████| 1/1 [02:16<00:00, 134.78s/ url]

Dl Size...: 100%|██████████| 827/827 [02:16<00:00,  7.60 MiB/s]


Extraction completed...:   0%|          | 0/3086 [02:16<?, ? file/s]
Dl Completed...: 100%|██████████| 1/1 [02:16<00:00, 134.78s/ url]

Dl Size...: 100%|██████████| 827/827 [02:16<00:00,  7.60 MiB/s]


Extraction completed...:   0%|          | 0/3087 [02:16<?, ? file/s]
Dl Completed...: 100%|██████████| 1/1 [02:16<00:00, 134.78s/ url]

Dl Size...: 100%|██████████| 827/827 [02:16<00:00,  7.60 MiB/s]


Extraction completed...:   0%|          | 0/3088 [02:16<?, ? file/s]
Dl Completed...: 100%|██████████| 1/1 [02:16<00:00, 134.78s/ url]

Dl Size...: 100%|██████████| 827/827 [02:16<00:00,  7.60 MiB/s]


Extraction completed...:   0%|          | 0/3089 [02:16<?, ? file/s]
Dl Completed...: 100%|██████████| 1/1 [02:16<00:00, 134.78s/ url]

Dl Size...: 100%|██████████| 827/827 [02:16<00:00,  7.60 MiB/s]


Extraction completed...:   0%|          | 0/3090 [02:16<?, ? file/s]
Dl Completed...: 100%|██████████| 1/1 [02:16<00:00, 134.78s/ url]

Dl Size...: 100%|██████████| 827/827 [02:16<00:00,  7.60 MiB/s]


Extraction completed...:   0%|          | 0/3091 [02:16<?, ? file/s]
Dl Completed...: 100%|██████████| 1/1 [02:16<00:00, 134.78s/ url]

Dl Size...: 100%|██████████| 827/827 [02:16<00:00,  7.60 MiB/s]


Extraction completed...:   0%|          | 0/3092 [02:16<?, ? file/s]
Dl Completed...: 100%|██████████| 1/1 [02:16<00:00, 134.78s/ url]

Dl Size...: 100%|██████████| 827/827 [02:16<00:00,  7.60 MiB/s]


Extraction completed...:   0%|          | 0/3093 [02:16<?, ? file/s]
Dl Completed...: 100%|██████████| 1/1 [02:16<00:00, 134.78s/ url]

Dl Size...: 100%|██████████| 827/827 [02:16<00:00,  7.60 MiB/s]


Extraction completed...:   0%|          | 0/3094 [02:16<?, ? file/s]
Dl Completed...: 100%|██████████| 1/1 [02:16<00:00, 134.78s/ url]

Dl Size...: 100%|██████████| 827/827 [02:16<00:00,  7.60 MiB/s]


Extraction completed...:   0%|          | 0/3095 [02:16<?, ? file/s]
Dl Completed...: 100%|██████████| 1/1 [02:16<00:00, 134.78s/ url]

Dl Size...: 100%|██████████| 827/827 [02:16<00:00,  7.60 MiB/s]


Extraction completed...:   0%|          | 0/3096 [02:16<?, ? file/s]
Dl Completed...: 100%|██████████| 1/1 [02:16<00:00, 134.78s/ url]

Dl Size...: 100%|██████████| 827/827 [02:16<00:00,  7.60 MiB/s]


Extraction completed...:   0%|          | 0/3097 [02:16<?, ? file/s]
Dl Completed...: 100%|██████████| 1/1 [02:16<00:00, 134.78s/ url]

Dl Size...: 100%|██████████| 827/827 [02:16<00:00,  7.60 MiB/s]


Extraction completed...:   0%|          | 0/3098 [02:16<?, ? file/s]
Dl Completed...: 100%|██████████| 1/1 [02:16<00:00, 134.78s/ url]

Dl Size...: 100%|██████████| 827/827 [02:16<00:00,  7.60 MiB/s]


Extraction completed...:   0%|          | 0/3099 [02:16<?, ? file/s]
Dl Completed...: 100%|██████████| 1/1 [02:16<00:00, 134.78s/ url]

Dl Size...: 100%|██████████| 827/827 [02:16<00:00,  7.60 MiB/s]


Extraction completed...:   0%|          | 0/3100 [02:16<?, ? file/s]
Dl Completed...: 100%|██████████| 1/1 [02:16<00:00, 134.78s/ url]

Dl Size...: 100%|██████████| 827/827 [02:16<00:00,  7.60 MiB/s]


Extraction completed...:   0%|          | 0/3101 [02:16<?, ? file/s]
Dl Completed...: 100%|██████████| 1/1 [02:16<00:00, 134.78s/ url]

Dl Size...: 100%|██████████| 827/827 [02:16<00:00,  7.60 MiB/s]


Extraction completed...:   0%|          | 0/3102 [02:16<?, ? file/s]
Dl Completed...: 100%|██████████| 1/1 [02:16<00:00, 134.78s/ url]

Dl Size...: 100%|██████████| 827/827 [02:16<00:00,  7.60 MiB/s]


Extraction completed...:   0%|          | 0/3103 [02:16<?, ? file/s]
Dl Completed...: 100%|██████████| 1/1 [02:16<00:00, 134.78s/ url]

Dl Size...: 100%|██████████| 827/827 [02:16<00:00,  7.60 MiB/s]


Extraction completed...:   0%|          | 0/3104 [02:16<?, ? file/s]
Dl Completed...: 100%|██████████| 1/1 [02:16<00:00, 134.78s/ url]

Dl Size...: 100%|██████████| 827/827 [02:16<00:00,  7.60 MiB/s]


Extraction completed...:   0%|          | 0/3105 [02:16<?, ? file/s]
Dl Completed...: 100%|██████████| 1/1 [02:16<00:00, 134.78s/ url]

Dl Size...: 100%|██████████| 827/827 [02:16<00:00,  7.60 MiB/s]


Extraction completed...:   0%|          | 0/3106 [02:16<?, ? file/s]
Dl Completed...: 100%|██████████| 1/1 [02:16<00:00, 134.78s/ url]

Dl Size...: 100%|██████████| 827/827 [02:16<00:00,  7.60 MiB/s]


Extraction completed...:   0%|          | 0/3107 [02:16<?, ? file/s]
Dl Completed...: 100%|██████████| 1/1 [02:16<00:00, 134.78s/ url]

Dl Size...: 100%|██████████| 827/827 [02:16<00:00,  7.60 MiB/s]


Extraction completed...:   0%|          | 0/3108 [02:16<?, ? file/s]
Dl Completed...: 100%|██████████| 1/1 [02:16<00:00, 134.78s/ url]

Dl Size...: 100%|██████████| 827/827 [02:16<00:00,  7.60 MiB/s]


Extraction completed...:   0%|          | 0/3109 [02:16<?, ? file/s]
Dl Completed...: 100%|██████████| 1/1 [02:16<00:00, 134.78s/ url]

Dl Size...: 100%|██████████| 827/827 [02:16<00:00,  7.60 MiB/s]


Extraction completed...:   0%|          | 0/3110 [02:16<?, ? file/s]
Dl Completed...: 100%|██████████| 1/1 [02:16<00:00, 134.78s/ url]

Dl Size...: 100%|██████████| 827/827 [02:16<00:00,  7.60 MiB/s]


Extraction completed...:   0%|          | 0/3111 [02:16<?, ? file/s]
Dl Completed...: 100%|██████████| 1/1 [02:16<00:00, 134.78s/ url]

Dl Size...: 100%|██████████| 827/827 [02:16<00:00,  7.60 MiB/s]


Extraction completed...:   0%|          | 0/3112 [02:16<?, ? file/s]
Dl Completed...: 100%|██████████| 1/1 [02:16<00:00, 134.78s/ url]

Dl Size...: 100%|██████████| 827/827 [02:16<00:00,  7.60 MiB/s]


Extraction completed...:   0%|          | 0/3113 [02:16<?, ? file/s]
Dl Completed...: 100%|██████████| 1/1 [02:16<00:00, 134.78s/ url]

Dl Size...: 100%|██████████| 827/827 [02:16<00:00,  7.60 MiB/s]


Extraction completed...:   0%|          | 0/3114 [02:16<?, ? file/s]
Dl Completed...: 100%|██████████| 1/1 [02:16<00:00, 134.78s/ url]

Dl Size...: 100%|██████████| 827/827 [02:16<00:00,  7.60 MiB/s]


Extraction completed...:   0%|          | 0/3115 [02:16<?, ? file/s]
Dl Completed...: 100%|██████████| 1/1 [02:16<00:00, 134.78s/ url]

Dl Size...: 100%|██████████| 827/827 [02:16<00:00,  7.60 MiB/s]


Extraction completed...:   0%|          | 0/3116 [02:16<?, ? file/s]
Dl Completed...: 100%|██████████| 1/1 [02:16<00:00, 134.78s/ url]

Dl Size...: 100%|██████████| 827/827 [02:16<00:00,  7.60